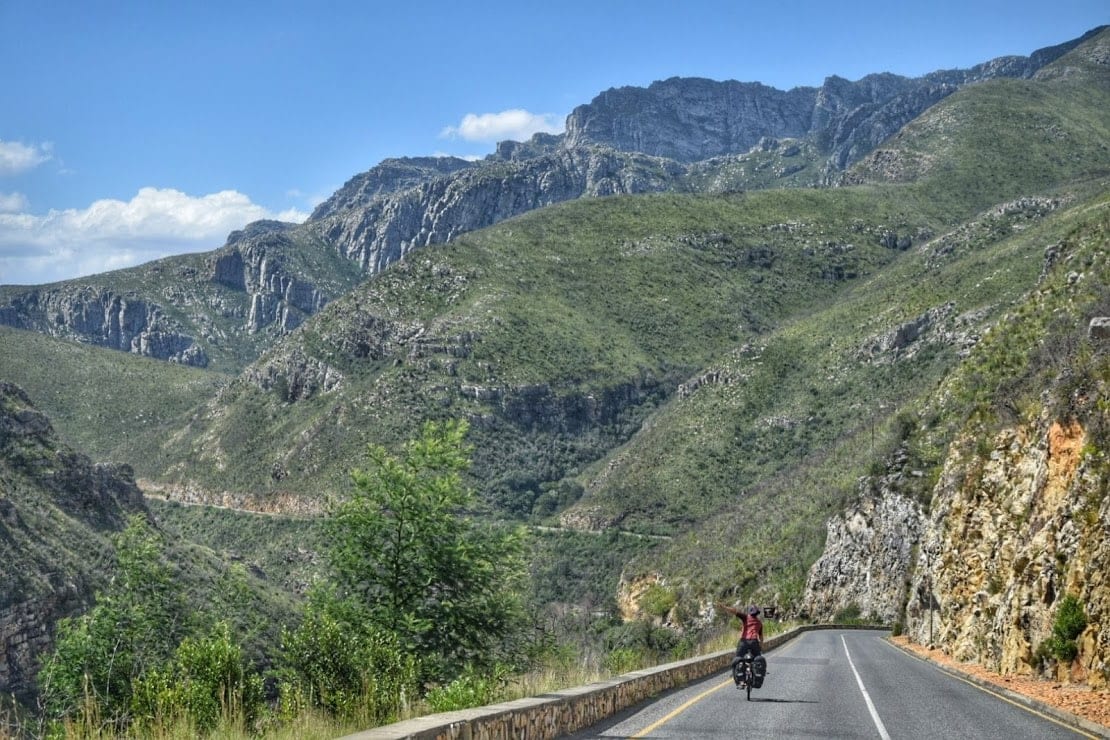 Cycle Touring South Africa, a complete guide to organizing your bike trip
a list of major cycling events in SA and our complete bicycle touring itinerary from Cape Town to Swaziland
If you ended up here that must be because the idea of cycling South Africa crossed your mind, and let me tell you straight away, it's a very good idea. Whether what you are looking for is a long-distance bicycle tour, a short bike trip, or participating in one of the many road cycling or Mountain Bike events in South Africa, this guide hopes to help you turn this idea into reality.
South Africa is a huge country, with such a diverse landscape to give every kind of bike enthusiast the proper cup of tea. Mountains, deserts, long coastlines, forests, rolling hills, and barren peaks, there's more than a biof everything in South Africa.
Many long-distance bicycle travelers decide to skip South Africa or cross it quickly on their Cape to Cairo route. The reason we often heard is that they consider this country too "westernized", not interesting enough. After having cycled for 3 months in South Africa we can say that it is not completely true.
Cape Town is a beautiful modern city deserving to be visited, some services in the country (especially supermarkets and guesthouses) meet the first-world standards, but it is enough to leave the cities to get into traditional villages and great diversity, old cultural traditions are still living and you can find them if you look hard. Furthermore, among African countries, South Africa is the one that offers safaris at more reasonable costs.
South Africa though, is sadly known for the regime of racial segregation, apartheid, officially ended a quarter of a century ago but which left obvious consequences in society and many issues, one above all that of the land, still unresolved.
The average income gap between rich and poor is among the highest in the world (several studies give it the 1st place), thus making the crime rate figures scary. Understanding the unicity of the South African past and present history is definitely part of the trip, and one of the most interesting, at least for us.
Apart from political issues, South Africa is a wonderful country, one of the most beautiful we've visited. From Cape Town with its Table Mountains and beautiful coastline, we started pedaling east across mountains, desertic landscapes and countryside to reach the incredible Kingdom of Lesotho before returning to the sea in Durban.
In this article, we hope to provide useful information about the costs of a bike trip in South Africa, where to sleep, what to eat, and much more.
You will also find our bicycle touring itinerary complete with GPX track to download. Each section of the itinerary links to another article where we describe that portion of the route in detail and again present a route map and a downloadable GPX track.
This series of articles amounts to a total of above 40 thousand words, probably the most detailed info about cycling in South Africa to be found online.
Ours is a journey by bicycle but the info reported here can be used by anyone regardless his/her chosen means of transport. You can rent a car or travel by local minibus or hitchhike and still enjoy this route and info.
Check Also
Cycling in Zimbabwe – the full guide for one of the most surprising Southern African countries
Traveling through Mozambique – advice, tips, and what not to miss
7 Most Bizarre South African Christian Pastors
Where to sleep when cycling South Africa
Disclosure: Some of our articles contain affiliate links. This comes at no additional cost for you and helps us keep this website up and running. (as Amazon Associates we earn commission from qualifying purchases)
There is no shortage of sleeping solutions in South Africa, hotels and guest houses are everywhere, and even campsites are easy to find, especially along the coast.
Furthermore, South Africa is the country where up to now we have found more hospitality from the locals through WarmShowers and Couchsurfing but also simply asking to mount the tent in someone's property or being directly invited to local people's houses.
There's a fact though to be kept in mind, South Africa is a big and sparsely populated country, sometimes there are big distances between towns and not all of these have accommodation available.
You might be forced to ride longer than expected or find a place to wild camp anyway. Asking permission to the locals is always the best practice in our humble opinion, be a cycle tourer don't be a criminal.
If you want a list of sites that offer free accommodation this article. Check also this list of volunteering websites based on "help exchange".
Guesthouses and hotels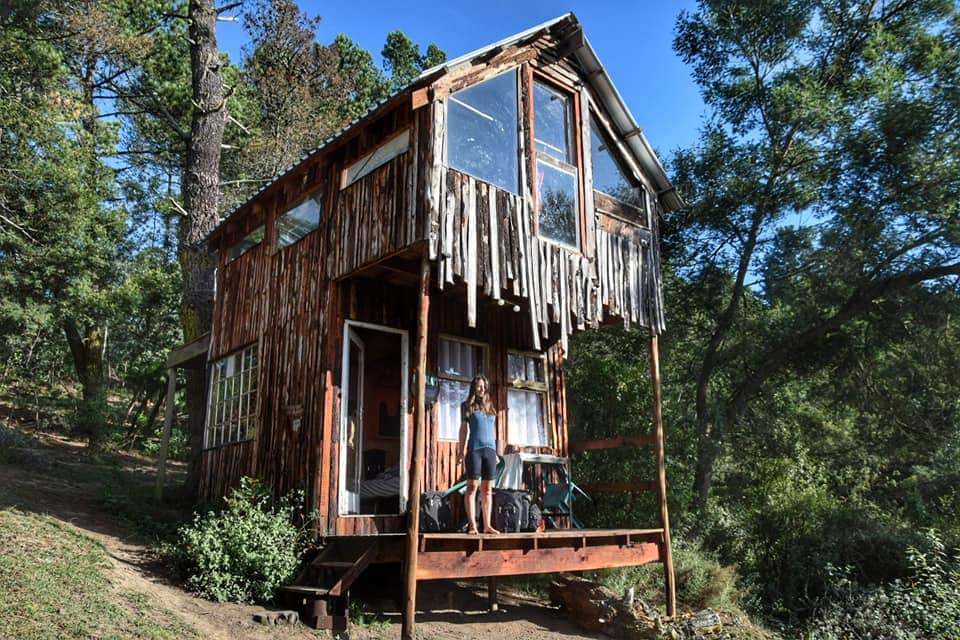 The average price for a double room with private bathroom in a guest house is about 500 Rand (about 30 euros), in the hostels, which are called backpackers here, a bed in a dorm with shared bathroom usually costs about 200 R per person.
Many guesthouses and hostels have a kitchen that guests can use, if it is not a complete kitchen there is usually at least a microwave and a kettle.
Some guesthouses offer dinner for around 100 R per person. You have to check where these places are, you might not be close to restaurants or supermarkets and so you need to get ready before you arrive, especially in the countryside and in small towns, food shops close quite early, sometimes even at 5 pm and even earlier on Saturday, only the bigger supermarkets are open on Sunday.
Even though these prices are not on the cheap side, what you get for your money is a way higher value compared to most countries. Most guesthouses are really cozy and always clean, very often they even have swimming pools! A really nice treat after a long day cycle touring in South Africa.
In recent years though, there have been serious problems with the state electricity provider Eskom, load shedding are very frequent throughout the country so you might be disappointed in having to wait for the power to come back to get your deserved shower.
South African properties usually have large gardens and lots of storage space so finding a safe place to store your bicycle is rarely a problem.
Wild camping and hospitality in South Africa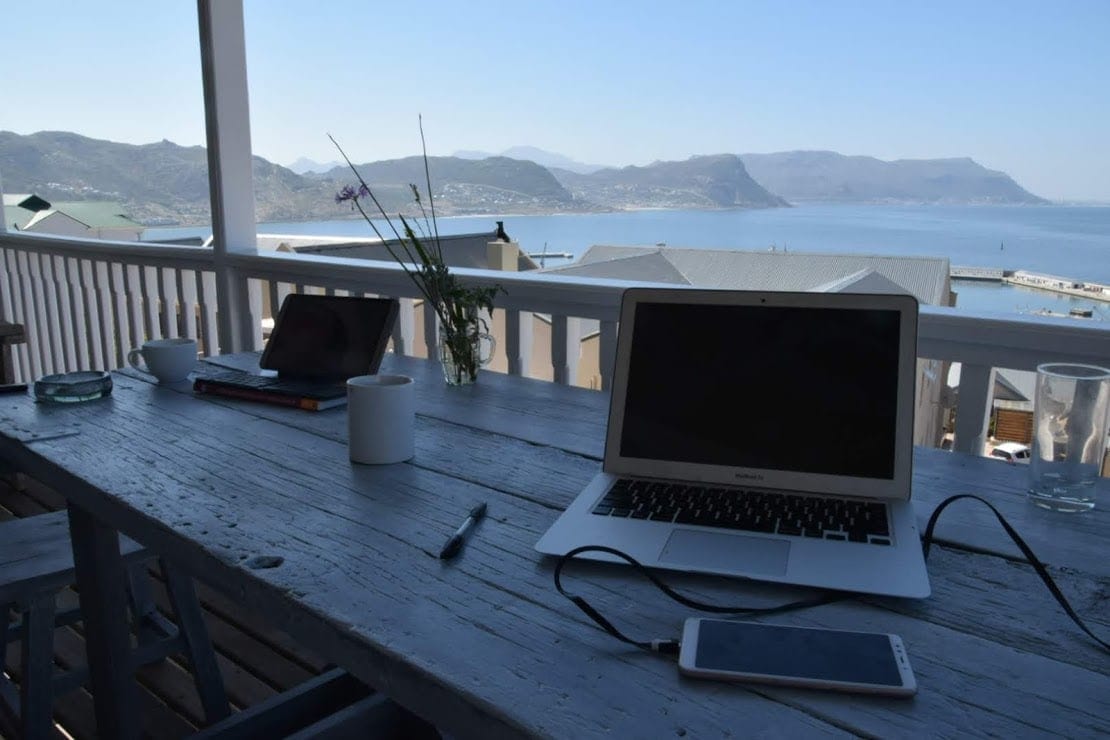 We have not camped freely in South Africa, we have been hosted 80% of the nights and for the remaining nights we have relied on hostels or campsites.
We had the impression that finding a quiet place to pitch a tent for the night is not so simple, almost 100% of the land is fenced with barbed wire and we didn't really feel like trying to climb over.
It is much simpler and safer to go to one of the many farms you will meet and ask if you can pitch a tent for the night, you will almost certainly be welcomed and maybe even offered a bed.
So we really do not recommend wild camping, you'll probably being trespassing on someone's property or end up in a nature reserve which can be a bit dangerous at night because of the many "wild" animals.
We have used WarmShowers most of the time and found a fantastic hospitality network. Unlike Europe, users, even if fewer in number, always respond to requests. You will be offered a good warm dinner, a comfortable bed and lots of wine.
Sometimes we also used Couchsurfing and several times we were invited to sleep at home by people we met along the way. Most of the times you'll stay in beautiful homes, some had swimming pools, trampolines, and all sort of amenities.
Campsites in South Africa

South Africans have a huge camping culture, although this might be a bit different from what some of our cycling readers might expect.
When South Africans go camping, they usually pack up their "bakkies" (4×4) with enough goods to survive a zombie apocalypse.
Barbecue is a MUST, it is called "braai" here, that will be the first Afrikaaners word you'll learn and you might end up being nauseated by the amounts of meat you'll be given… if there's a guest then there's a braai!
I don't know why but prices of campsites have increased unreasonably in South Africa in recent years. Many campsites have the weird policy of charging a fixed fee for camping space, disregarding the size of the tent, the presence of a motorized vehicle and even the number of persons.
A fee of 400 Rands can be convenient for a family of four with a big tent and a bakkie but certainly isn't for lonely bicycle tourers or for a couple cycling around South Africa. It's incredible that not rarely we found guesthouses to be cheaper than camping.
Water availability for cyclists in South Africa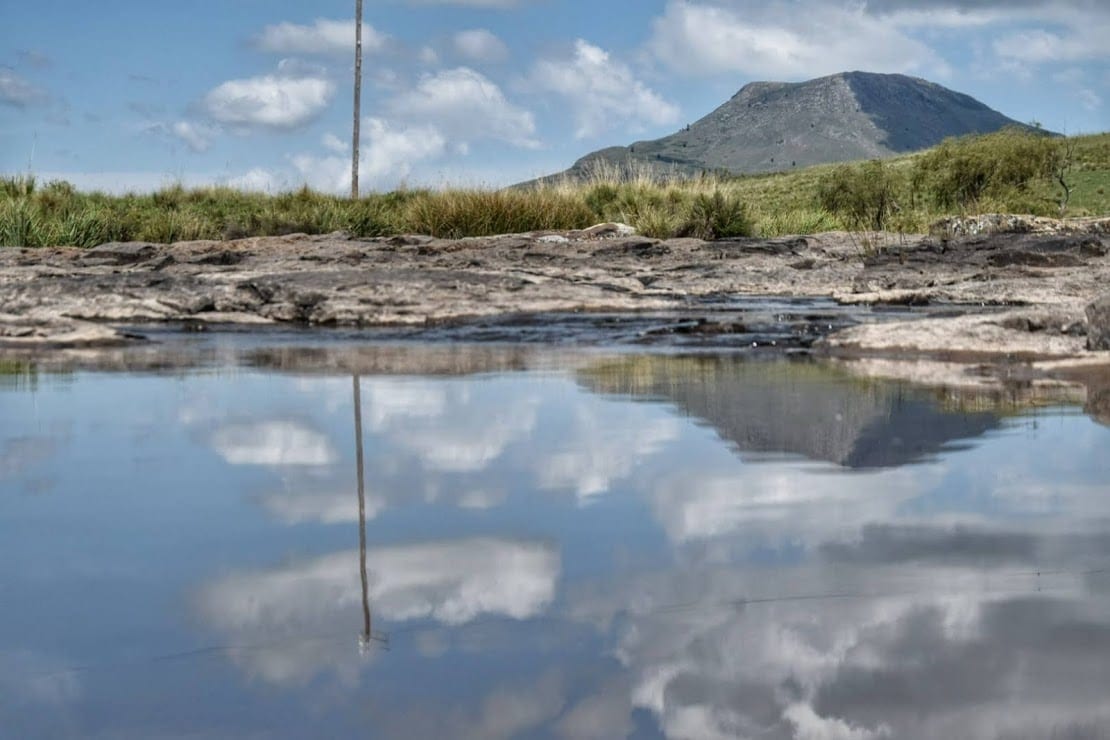 In urban areas, tap water is drinkable, in more remote areas it is best to ask the locals if the water is good or not. In some areas, where drought is a huge problem, you need to pay a little more attention. We always drank tap water (except a couple of times where we were told it wasn't good) and we didn't have any problems.
If you really don't want to drink tap water even where it is drinkable you can buy bottles of water but they are expensive and generate a lot of plastic so try not to do it if you can.
Remember that in South Africa the water crisis is important and serious, take short showers, don't leave taps open, don't flush water every time you go to the bathroom, in short, do what you should do every day regardless of which location in the world you are. If you want to learn more about this topic, you can read this article.
Food – fuel for the cyclist
South African cuisine has undergone many influences, from the Malaysian one in the Western Cape to the Indian one in KwaZulu Natal. It is in fact called Rainbow Cuisine, precisely because of its diversity. In general, the dishes are cooked well and very generous.
The braai, the barbecue, is a real institution. In the cities, there are vegetarian options in restaurants but those are not as easily available in the countryside. Here a list of some of the most characteristic dishes of South Africa.
---
Restaurants
The first thing that comes to mind about the restaurants in South Africa are the portions, much more than abundant. The prices are very variable, Cape Town and the Western Cape region are more expensive, although pretty cheap restaurants can also be found in Cape Town. The pricing figures are reduced in the interior but get pretty high again in the coastal region of KwaZulu Natal.
Usually, the cost of a meal is around 50-90 Rand per person, excluding drinks. A beer costs 15 to 30 Rand, if you are in the city ask for tap water, it is drinkable and free.
All the main fast-food chains are present in South Africa… if you like that crap.
---
Supermarkets and spirits
In the countryside and in small towns, food shops close quite early, sometimes even at 5 pm and even before on Saturday. On Sundays, the supermarkets of the larger cities are open, at least in the morning, while in the villages it is likely that you will find everything shut down.
The sale of alcohol (including beer) is carried out by designated shops that are usually located next to supermarkets, the opening times vary according to the regions.
In general, during the week they close at 7 pm, on Saturdays around 5 pm and on Sunday at 3 pm but in some provinces also at 12 pm.
The most common supermarket chains are very well stocked in western good, they have several types of cheeses, good pasta brands, and all these kinds of stuff. Most supermarkets also host a fresh food counter where you can buy food prepared on-site, some have a very wide choice while in smaller settlements it just can be rice and a few types of meat. A vegetarian option is often available though, or you can also just buy boiled rice and add a can of legumes if you don't want to cook.
Shoprite is the less stocked of the supermarkets, orient your choice towards Pick'n Pay or Spar. Items that are particularly good in South Africa are yogurt and fruit juice.
Language

South Africa has 12 official languages, one of which is English, which almost everybody speaks, you will hardly have any communication problems. In Xhosa and Zulu majority areas, it is always good practice to learn a few words in the local language.
Using some Afrikaans words will also get you smiles from people of this ethnic group (Afrikaaners are the first colonist arrived in the Cape from the Netherlands, their language is very similar to Dutch).
---
Connectivity – Using the Internet while biking South Africa
There are several phone network providers in South Africa: Vodacom, MTN, Cell C, Telkom… prices are around 100 (Telkom)/ 150 (Vodacom) for 1 Gb, to top up just go to the department that sells cigarettes in the supermarket and ask what you want, for example, if you want to upload 500 MB just ask for 500 MB Vodacom, they will give you a receipt with instructions to follow, you have to type a number and then the code you find on the receipt, it's very simple. These prices though are among the highest in the world, so you might want to rely a bit more on WiFi during your bicycle trip in South Africa.
Buying a Sim Card, on the other hand, didn't seem very simple. Arriving in Cape Town we saw several Convenience Stores selling Sim Cards and we bought one, the only problem was that it didn't work. We went to an official store and they told us that it is not possible to buy a SIM card without a document called "proof of address" which is issued by the police.
What happened at the end is that we went back to the store where we bought the card and the manager registered the SIM in his name. Probably if you buy a Sim Card at the airport this certification will not be required but the costs will certainly be much higher. In sparsely populated areas it often happens that there is no signal and WiFi in hotels and restaurants is usually very slow.
Entry visa to South Africa
Passport holders of forty-eight countries are granted visa-free stay up to 90 days, while 28 more are given 30 free days, not all Schengen countries are among those, some (like Slovenia) need to apply for a visa at a South African embassy abroad, check here if your country is among the lucky ones.
No matter what kind of visa you're given, keep in mind that upon entering and leaving Lesotho, the state enclave within South Africa, or even Swaziland, your SA visa will continue to count the days and you will not be given another visa once you return. If the visa is due, they will only give you a 7-days extension.
As far as we know, the only way to get another 90-day visa is to leave the country by plane and return from a non-neighboring country. It is also possible to request a visa extension but all the reports we have read make it look like a complicated thing and, in fact, it does not work.
For example, in Durban, it is necessary to make the extension request 60 days before the deadline but you will probably not be in the same place for 2 months and, it seems, very often requests are left unanswered.
Safety – Is South Africa a safe place for bicycle touring?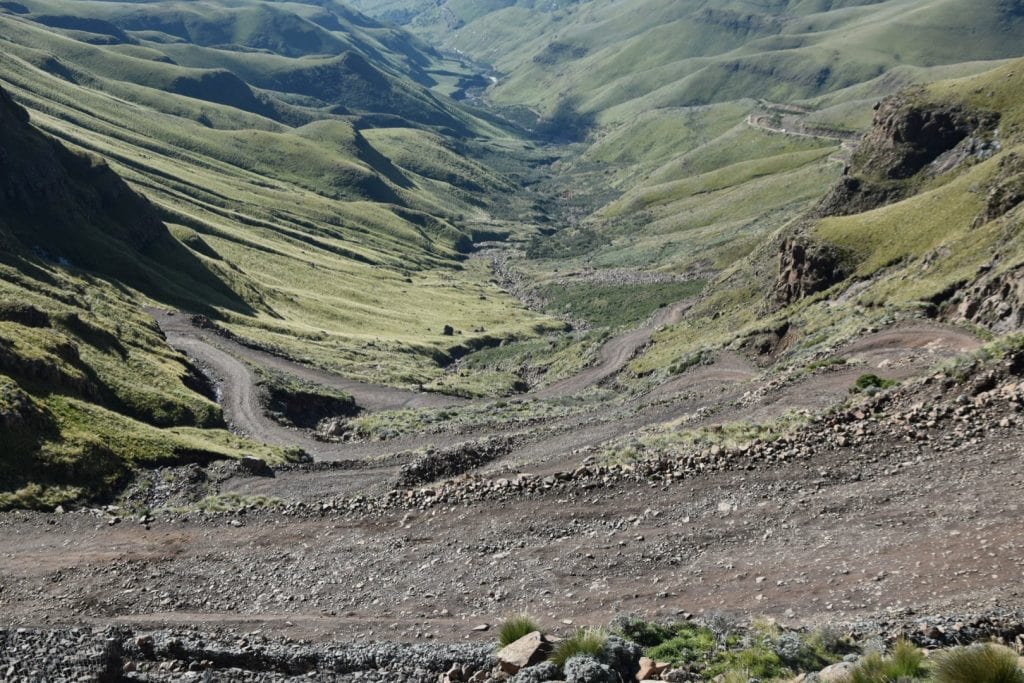 South Africa often ranks in the top positions for the most dangerous countries in Africa and in the whole world. Although it is true that it has one of the highest murder and rape rates on the planet, that petty crime and robberies are common and that firearm possession is also very widespread (still some people consider this to be a good thing… strange world) I would honestly say that no one should be put off by these numbers and give up cycle touring South Africa, it's just too beautiful to be missed and I don't really think it is as dangerous as many people think.
Most of the time those criminal acts happen in the poorest townships, in slums (or as they call them here "informal settlements") or in sketchy city areas at night.
The perception of danger is high in the locals' mind, especially (but absolutely not only) in the mind of wealthy white people. Oftentimes you will be dissuaded to cross certain areas or take certain roads, this is the most difficult part.
Very often this danger is not real but just perceived, the huge income gap between rich and poor, the racist horrors of the past (and the present), the reciprocal sentiment of diffidence between the black and the white population contribute to a climate of fear that is often unjustified.
There are certainly though some areas which are best avoided, a place like Khayelitsha (one of the biggest informal settlements near Cape Town, home to about one million people living mostly in extreme poverty) is not to be taken lightly.
Walking through the slum with your camera without having a local guiding you is certainly not a good idea, even though a good attitude can keep you safe and even allow to make a lot of friends… but this is definitely not for everyone.
Cycling on the main road bordering the southern edge of Khayelitsha during the daytime (as we did on our way out of Cape Town) is absolutely safe, although most locals will tell you're going to be killed. You'll have to exercise your judgment.
Some precautions are better taken in large cities, as like almost everywhere in the world, there is a higher number of thefts. Do not walk at night in areas considered unsafe, you can use Uber, very cheap and safe.
In general, do not drink too much with people you do not know or trust completely, do not show expensive objects or large amounts of cash, ask for permission to camp on private property, but above all never leave your bicycle (even in guesthouses with an inner courtyard we have always kept them in the room with us).
In general, all the precautions that you would use anywhere else in the world apply. Guesthouses and hotels are very safe, they always have a fence and a night watchman.
For the rest, during our entire bike trip from Cape Town to Durban, we only had one minor security problem. A guy chased me and tried to steal my phone from the back pocket of my cycling jersey, a local man quickly intervened and I was able to get my phone back immediately… ah, I was also showed a rifle for intimidation by a white farmer near Barrydale… but that's another story.
Roads of South Africa – what conditions should the cycle tourer expect?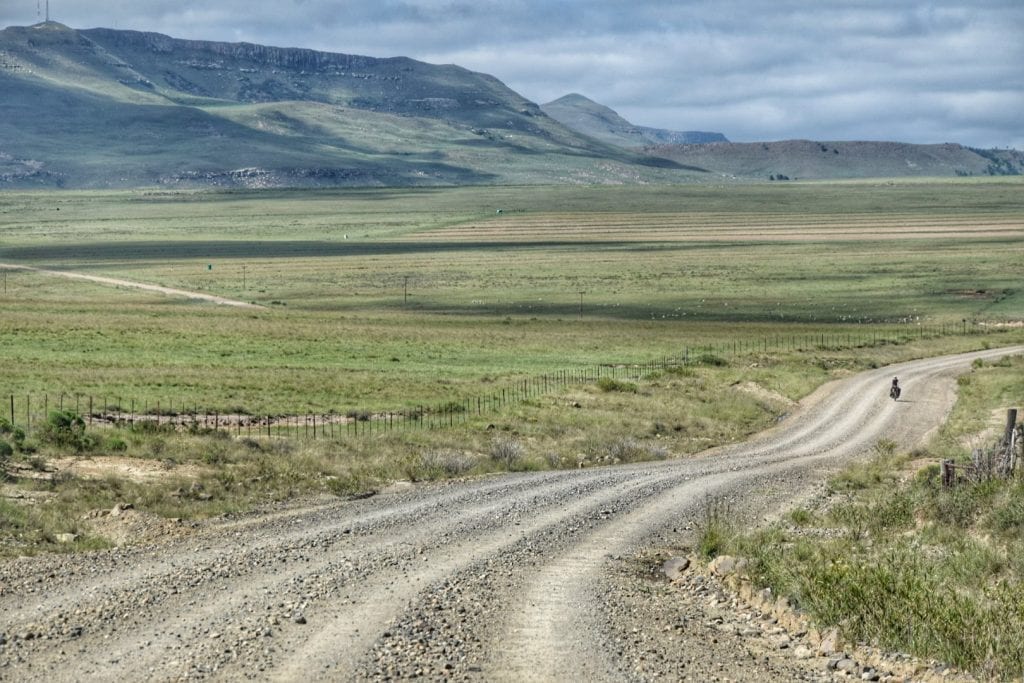 Roads in South Africa range from perfectly smooth tar with wide side lanes to horrible bumpy/washboardy/rocky tracks… and everything in between.
Many secondary roads are gravel, with variable conditions. Those are usually less traffic but that's not always the case, sometimes they might be connection roads, very dusty, and "bakkies" will cast clouds of sand at you… not pleasant. On the other hand, some paved roads might have very little traffic and be very pleasant to ride.
There's also a network of farmland paths enjoyable by those with a lighter set up (more mountain-biking oriented). Mountain biking in South Africa is a growing trend, but you will often have to jump fences and ride on private property.
This is usually tolerated but be careful as farmers do not like very much unexpected intruders. A good off-road itinerary is described in the book "Riding the Dragon Spine" by David Bristow and Steve Thomas – bear in mind they had a support vehicle when they rode this.
Can you cycle through the Kruger National Park and other game reserves in South Africa?

The short answer is no, you can't. Most if not all the game reserves in South Africa don't allow cyclists in. The reasons are pretty obvious as there are dangerous animals like elephants, hippos and cape buffaloes around. Usually, there's a manned gate and the guards will block any cyclist from accessing.
Spotting the wildlife whilst cycling in South Africa though is not difficult at all. Many major or secondary roads run along private game reserves and national park, and it's very common to spot animals just on the other side of the fence.
We saw giraffes, plenty of warthogs and baboons, several species of antelopes in large number, a huge crocodile from far, and many other animals. Not to mention the lots of beautiful birds like vultures, eagles, griffins, ibis, paradise birds, and the national totemic bird, the blue crane.
Geography of South Africa – Mountains, Hills, and Deserts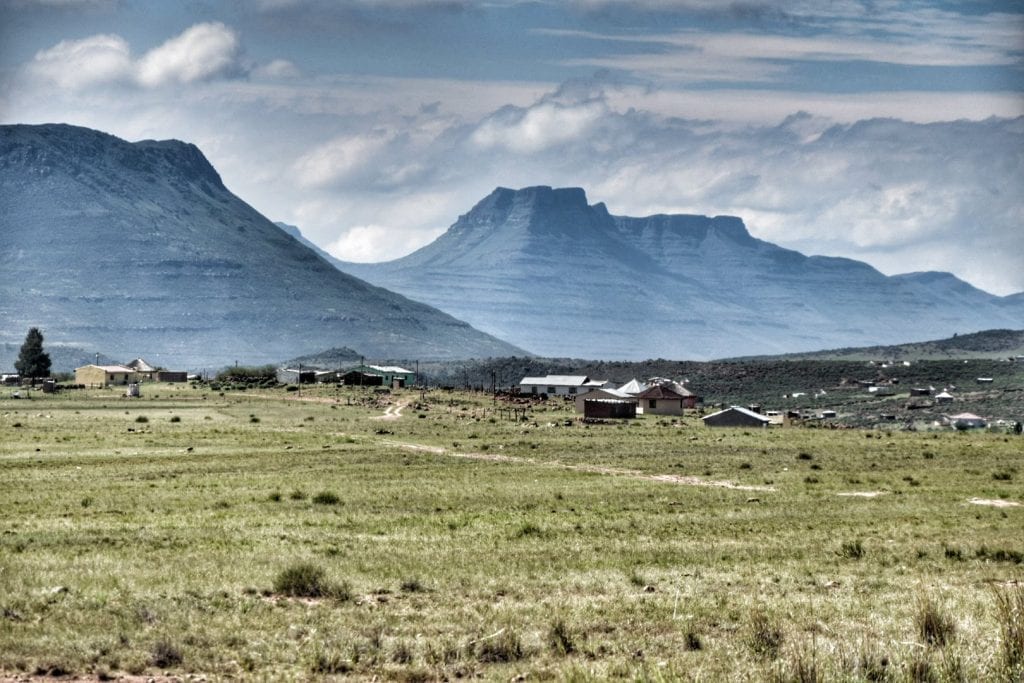 South Africa is a huge country, even using the whole 3 months of visa you'll only be able to cycle a small portion of it. South Africa is probably (if not certainly) the most geographically diverse country in Africa, its 2,850 kilometers (1,770 miles) long coastline, the Drakensberg mountain range, the desertic Karoo are just a few of its astounding landscape types.
The low-lying coastal zone is narrow for much of that distance, soon giving way to a mountainous escarpment (Great Escarpment) that separates the coast from the high inland plateau. In some places, notably the province of KwaZulu-Natal in the east, a greater distance separates the coast from the escarpment. Although most of the country is classified as semi-arid, it has considerable variation in climate as well as topography.

South African central plateau contains only two major rivers: the Limpopo (a stretch of which is shared with Zimbabwe), and the Orange (with its tributary, the Vaal) which runs with a variable flow across the central landscape from east to west, emptying into the Atlantic Ocean at the Namibianborder.

The eastern and southern coastal regions are drained by numerous shorter rivers. There are very few coastal rivers along the arid west coast north of 31°30′S.

In such a dry country, dams and irrigation are extremely important: the largest dam is the Gariep on the Orange River. – From Wikipedia
The highest and most prominent mountain range in South Africa is the Drakensberg, surrounding the highlands of Lesotho, formerly Basotholand, that rivals with the Ethiopian Highlands for the highest mountain range in the African Continent.
From a cycling point of view, don't expect many flat roads, hills can be very steep in the capes, while they get more gentle in the Little Karoo and KwaZulu Natal.
Weather – What's the best time to cycle in South Africa?

South African winters can get pretty chilly while the summers are scorching hot, especially in the desertic areas. Being so big and diverse, there are many different climates in South Africa:
The Cape Town area is considered Mediterranean: "the average temperature ranges from 12 °C (53.5 °F) in July to 21 °C (70 °F) in January and February. The summer temperatures are not excessively high because of the influence of the ocean, though sometimes a hot and dry wind called Berg, able to raise the temperature to around 35 °C…" The ocean is freezing all year round, so don't expect to swim so easily.
The Northern Cape and the north part of the Western Cape are very dry and arid: "In this area, annual precipitation drops below 350 mm (13.5 in), but in a wide west-central area, where the southern part of the Namib Desert is found, it drops even below 200 mm (8 in)…" The coastal areas have milder climate while the inland plateau can experience wide variations of temperatures, with extremely hot days and still chilly nights in summer.
The South and East Coasts are narrow strips of milder climate, from Cape Town to Port Elizabeth, the characteristic fynbos vegetation is thriving, with thousands of different species of flowers blossoming in Spring (end of August) but also all year-round. The KwaZulu coast is more semi-tropical, with more rainfall and hot and humid summers. Along all this coast the sea gets much and much warmer whilst going eastwards, waves though are present everywhere all-year-round.
The Eastern Highlands – comprising the Orange Free State, most of the Mpumalanga (formerly Transvaal), as well as Lesotho and the Drakensberg range – is much more humid than the west, in Lesotho and adjacent areas temperatures can be freezing in winter.
Choosing the best time to cycle in South Africa is a matter strictly connected to your itinerary and your personal preferences between hot and cooler climates. Overall we think our itinerary was very timely:
we started in February in Cape Town, end of Summer, dry but not too hot, hitting the mountains in March/April with cooler but enjoyable temperatures, spending than the month of May in KwaZulu Natal, enjoying its warm Autumn.
Quotes are taken from ClimatesToTravel.
What to pack when bicycle touring South Africa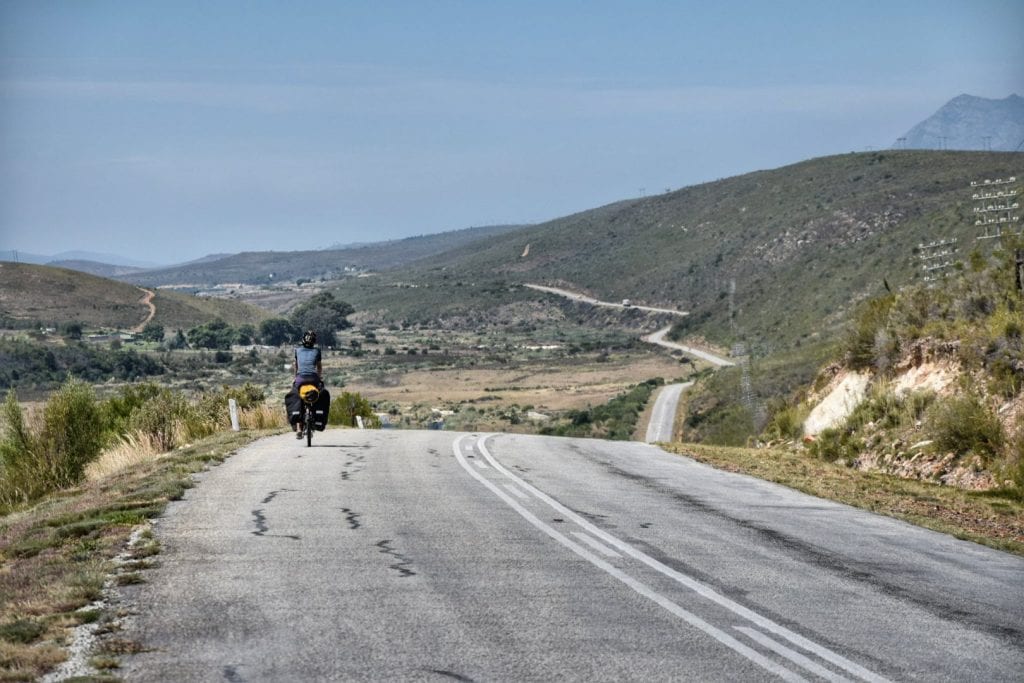 Well, what to pack mostly depends on the style of bike ride you have in mind. Most of South Africa could easily be cycled on a light bikepacking setup, camping gear and cooking equipment are not strictly necessary. Food is plenty, supermarkets are well stocked, restaurants are common and so is accommodation.
Leaving this stuff at home can though somehow limit your options when cycling in South Africa. Some of its most beautiful landscapes are found in quite remote areas, and not having any camping equipment could make cycling these areas more difficult.
Our suggested itinerary (see below) is though perfectly doable by relying solely on hospitality and accommodation, it definitely passes through some of the most beautiful areas of the country and we won't change anything of it. If you are attracted by the arid landscapes of the Great Karoo anyway, camping gear might be a primary necessity.
Cycling Events in South Africa – The endurance races bicycle culture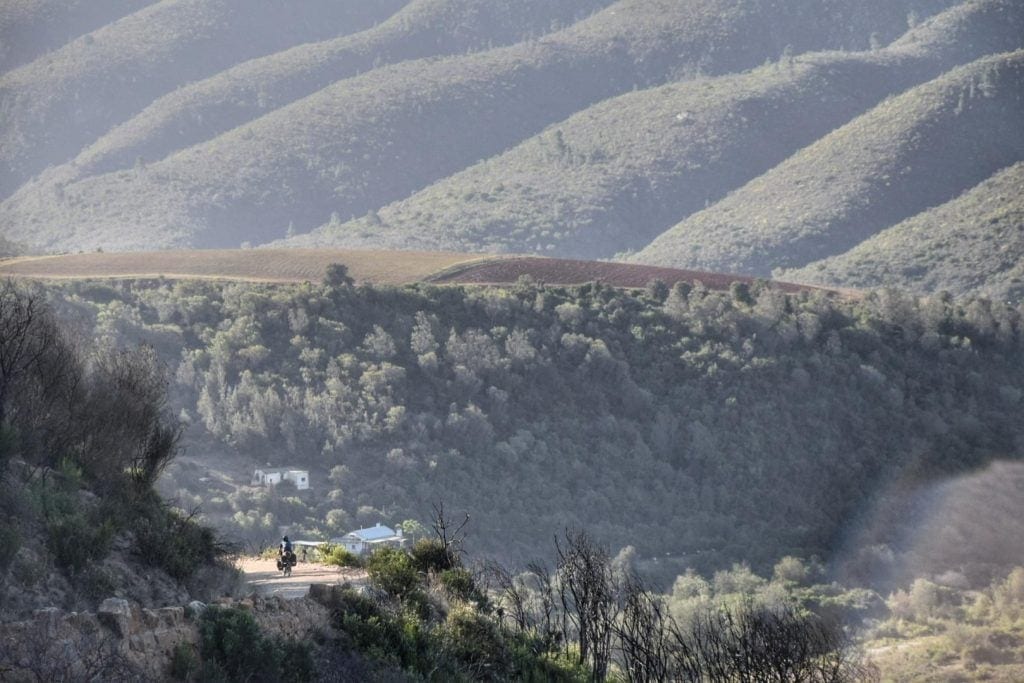 In the last few years, cycling competitions are becoming extremely popular in South Africa, especially in the form of long-distance self-supported endurance bike races. Many of our Warmshowers hosts are into this thing, which is transversal to all age groups and genders. In fact, I would say this style of bicycling is more popular than traditional leisure bicycle tourism. Lots of badass cyclists in South Africa.
There are all sorts of races, either mountain biking, road cycling or mixed terrains. Some of the most popular cycling events in South Africa are:
ABSA Cape Epic – March
A rough endurance event held in March in the Western Cape. Eight-days-long – 800km with a total elevation gain of 15,000m mostly gravel roads and single tracks. Here's the official website.
Cape Town Cycle Tour – March
The Cape Town Cycle Tour is one of the largest cycle events in the world, a very important event for the city of Cape Town since about 40 years ago! It's a 109km ride around the beautiful scenery of the Cape Town peninsula, joined every year by cyclists of all levels – the tour is about having fun together and not for competitive people.
The Freedom Challenge – June/July
A real long-distance challenge. A 2,300km solo bicycle ride from Pietermaritzburg to Wellington, totally self-supported, through some of the most remote areas of the South African Republic. It's a wild old-school race, No GPS devices are allowed, only a traditional compass and paper map, it includes jumping fences and getting into farm tracks, sections of portage, and river crossings.
The time limit to complete the Freedom Challenge Bicycle Race is 26 days. The current race record is 10 days, six hours and 40 minutes.
The Munga – late November/Early December
Another killer, 1,000km through the Great Karoo at its hottest, under 40 degrees on washboard roads in a time limit of 5 days. The track goes from Bloemfontein again to Wellington. 2017's winning time was 58 hours and five minutes. For the real masochists.
Trans Baviaans – August
One of the hardest single-stage mountain bike races in the world, The Trans Baviaans is a 24hr marathon of 230km. It starts in the Eastern Cape Karoo at Willowmore and takes the cyclists through the stunning area of the BaviaansKloof to finish in Jeffreys Bay, the surfing capital of South Africa.
Normally this road is interdicted to cyclists, because of the presence of potentially aggressive cape buffaloes in considerable numbers. We wanted to cycle this road but got turned down at the gate, it's doable if accompanied by a support vehicle (4×4 only).
36ONE MTB Challenge – April
A 361km circumnavigation of the Klein Karoo in a maximum time of 36.1 hours. The Half is also an option – a 180.5km ride from Volmoed via the Rooiberg Pass and Calitzdorp to Oudtshoorn
Other South African mountain bike races include the Sani2C (Sani Pass to coast), the 9-days-long JoBerg2c(Johannesburg to the coast), Karoo to Coast (Uniondale to Knysna 100km, we did this beautiful route), and Wines2Whales in Western Cape.
---
The itinerary of our bicycle trip in South Africa
We took it easy enough in South Africa, a 3000+km cycling trip using the whole length of our visa, 90 days. We spent 12 of those wandering around Cape Town and had a lot of rest days along the way.
We are pretty satisfied with our bicycle touring itinerary in South Africa, we saw many different regions, from the verdant but dry Western Cape to the Sky Kingdom of Lesotho, and then the rolling hills and stunning coastline of KwaZulu Natal.
We climbed many mountain passes, a total elevation gain of more than 40k meters, some sections were really demanding, especially Lesotho. This itinerary is though mostly doable by anyone with half-a-decent cycling training, maybe excluding the Lesotho section which requires quite some stamina.
South Africa is maybe not a beginner's cycle touring destination but is definitely one of the easiest countries to cycle in Africa, with its western standards in food and accommodation. It is a very interesting and beautiful country really worth a cycle trip.
---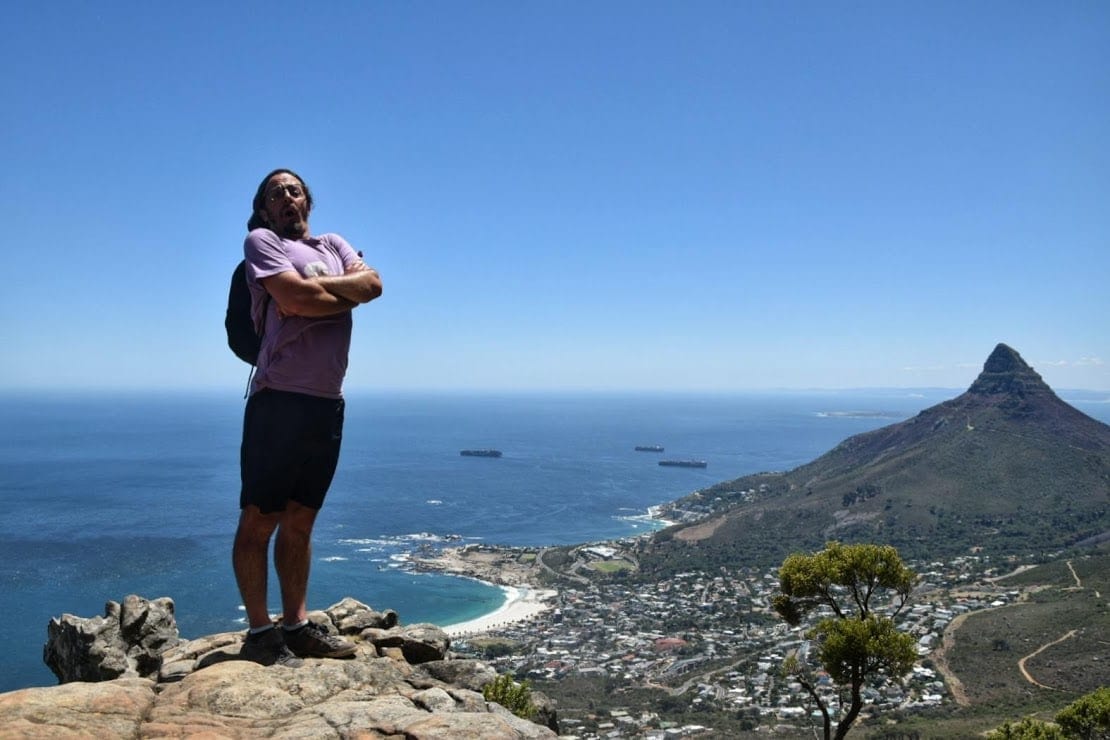 Cape Town is not the usual city, the feeling is more like a series of villages torn apart by the spectacular peaks of the Table Mountains, linked together by scenic roads and a train with a folkloristic look.
Cape Town was one of our favorite cities of all time, with its countless attractions and things to do and see, we ended up spending 12 days here.
Cape Town was our first step in Africa. We were immediately struck by the geographical extension of this big city, completely immersed in breathtaking nature.
There are many nice cycling routes around Cape Town, such as the famed Chapman's Peak and the road towards the Cape of Good Hope. The central areas of the city though, can be congested with traffic and not really pleasant to cycle.
Read our full article about what to see and do in Cape Town.
---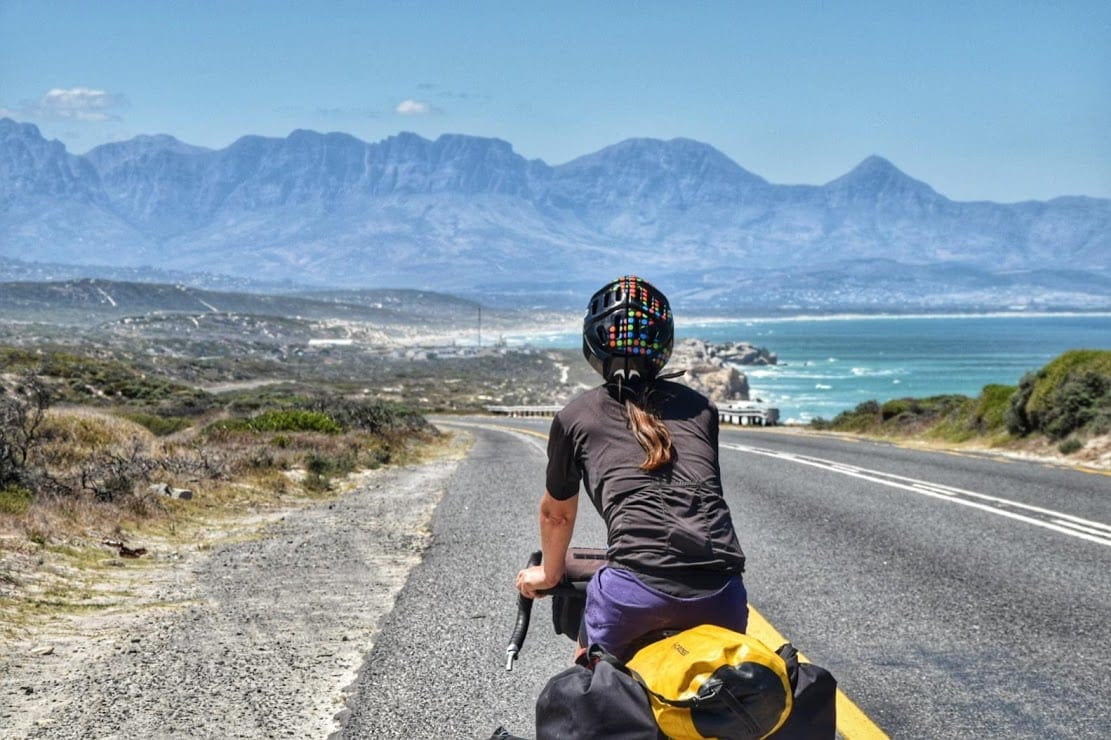 Leaving Cape Town along the coast we really surprised and fascinated by the gorgeous beauty of the landscapes: Chapman's Peak, Noordhoek Beach, the white sand dunes of Muizenberg, penguins and Gordon's Bay.
This is a route of 220 km with a little more than 2000 meters in elevation gain. Some trained cyclists like to do it in one day, we did it in three, beautiful and relaxing. Overnights in Simon's Town, Somerset West, and Hermanus.
We cycled the wonderful Chapman's Peak which, downhill, will surprise you with the majesty of the beach of Noordhoek, with its dunes, white sand and the waters that are the home to the dreaded white shark.
And then Muizenberg, a glimpse over the huge "informal settlement" of Khayelitsha, and the spectacular cliffs of Gordon's Bay, where we had our first close encounters with baboons.
We wrote about this in details in our article about cycling the Western Cape coast from Cape Town to Hermanus.
---

This section of our bicycle itinerary in South Africa is a short 168km with just 1,880 meters of elevation gain. It can be easily done in two days. Swellendam and/or Grayton are worth a day off, there are also great hiking opportunities in the Riviersonderend Nature Reserve.
Passing the wide estates of Des Dieux Wineries to the Shaw's Mountain Pass (only 350msl but quite nice), the Riviersonderend Mountains, beautiful and green, with many streams coming down and forming waterfalls to the town of Swellendam, the third oldest in South Africa.
Check here the details about the cycle route from Hermanus to Swellendam.
From Swellendam, we move further and further away from the coast and head towards Barrydale, in the little Karoo, the southernmost part of the South African desert. We get there crossing the beautiful Tradouw Pass.
This 390 km road trip took us into very different scenarios, it's amazing how fast the landscapes can change in South Africa. Every time we crossed a mountain pass, no matter how small, the vegetation and the terrain that awaited us on the other side were completely different, we never got bored in South Africa, and this was definitely one of our favorite parts.
The path is not always paved, the elevation gain is significant, and the heat of the Karoo in summer is not for the faint of heart. if you want to travel this road by bicycle, make sure you bring enough water, this is absolutely not a ride for beginners. Here we saw giraffes for the first time.
This is the description of this section of our South African bicycle trip.
---
A 340km route with a 4k+ meters elevation gain and a 70km unpaved section. All the dirt and most of the climb are indeed the Prince Alfred Pass.
This route took us five daily stages on bicycles at our leisurely pace, but it can certainly be done much faster according to your likes and needs.
The itinerary starts from Knysna, but not on the usual R339 Prins Alfredpas road, that is joined later. Knysna was the home of the Khoikhoi, the nomadic shepherds who lived in the southwest of Africa. It was geographically difficult to reach for Westerners, but not for long, by 1880 about a thousand people had moved here to trade timber.
From Knysna, we took an alternative route to the R339, also a dirt road, which passes through the Church of Sant'Ambrogio, built by a group of Italian immigrants who arrived in the nineteenth century from Treviso.
A 14-kilometer climb will take you to the top of the Alfred Pass, about 1000 meters high. Building this road was not at all simple and is in fact considered the most challenging job of Thomas Bain. Completed in 1860, it is the longest pass in South Africa and the second oldest pass still in use without any changes having been made.
From Avontuur we took the R62, a paved road with very little traffic that passes between the mountains of the Garden Route National Park and those of the Baaviansklof…
Here the account of Alfred Pass and the E62 road
---
The last section of our cycling expedition in South Africa before a strenuous parenthesis in mountainous Lesotho. From Port Elizabeth, on the coast, we headed north through the Eastern Cape to Lady Gray. We traveled several beautiful dirt roads without the slightest traffic and immersed in nature.
This 620km itinerary of the Eastern Cape leaves the coast at Port Elizabeth (which the locals abbreviate in PE) and goes deep into the interiors. It's a very hilly route, with almost 9,000 meters of elevation gain, not easy on a bicycle but overall very doable even with a small car (just be careful of some big potholes, especially on the dirt road). As usual for us, we took it very easy and did it in 11 days (including two rest days in Hogsback).
From Port Elizabeth, we crossed the fairly touristy but very small village of Colchester, with its huge sand dunes, went along the Addo Elephant Park and into the historically significant city of Grahamstown.
Then we worked our way up north through the Amakhala Game Reserve and you will see many animals directly from the road, before arriving in Alice and Fort Beaufort. A mandatory passage by the beautiful village of Hogsback, which requires a pretty hard climb, before getting lost through the dirt roads to Cathcart and Queenstown.
From Queenstown, following the R392, we head to Dordrecht. The road is paved and one of the most beautiful of this overall incredibly scenic route. This is the huge Xhosa settlement of Bankies, set in a series of adjacent valleys. The Nonesi's Nek pass, at above 1700 meters, will get you out of this dream towards the town of Dordrecht.
From Dordrecht to Lady Gray on the dusty R392 which could be difficult in case of rain. From Lady Gray to Palmietfontein, where the border with Lesotho is located, the road is paved and pleasant, there are some guest houses in Sterkspruit, the last place where you can buy cheese on the way to Lesotho.
Read everything you need to know about cycling the Eastern Cape from Port Elizabeth to Lesotho
---
Lesotho, the Mountain Kingdom, a place often overlooked by tourism, a small enclave state within South Africa which holds some of the most well-kept secrets in the African continent, and some of the most beautiful landscapes we have seen so far.
We embarked in a very challenging 10 days cycling road trip in the Kindom of the Sky, the only country in the world which lays entirely above 1000 meters in altitude. A 564km ride with almost 14,000 meters of elevation gain. Riding time here is strictly connected with weather and road conditions, on dirt roads 50km a day is already a very good average.
From Quthing we went to Maseru, the capital city, then visited the gorgeous Maletsunyane Falls in Semonkong. From there we rode down to Quachas Nek before venturing in the most remote areas of Lesotho, towards Ramatseliso and the dreaded Matabeng Pass, the hardest pass we've ever climbed.
Then a few hundred more kilometers of terrible dirt roads before getting to the famous Sani Pass (and infamous Sani Mountain Lodge). This was our exit point from the beautiful country of Lesotho, which gave us some of our best cycling memories ever.
If you are cycling in South Africa, a trip to Lesotho is a must. Keep in mind though that this is an unforgiving country, which requires quite good fitness.
Here's our article about cycling in Lesotho

From Lesotho, we crossed the beautiful and difficult Sani Pass and returned to South Africa where we cycled a fairly boring and busy road to Durban on the coast. We started pedaling north again, mostly on the N2 highway. We visited the coastal town of Ballito and Tugela Mouth and spent a few days in Santa Lucia, famous for its hippo population.
Not far from St Lucia, lies the Hluhluwe Imfolozi National Park, the oldest Nature Reserve in the entire African continent. It is about an hour's drive from St Lucia and there are several organized safari options.
From St. Lucia we cycled up to Swaziland, always following the N2, and left the beautiful country of South Africa from the Pongola/Lavumisa border.
We didn't write a detailed article about this part of the route. Unfortunately, we were short of visa and mostly stayed on the main highway to speed things up a bit. This means we don't really advice cycling KwaZulu Natal as we did, there are much better options (although not along the coast). We wrote though about St. Lucia and Hluhluwe iMfolozi Game Reserve, you can find the links in the text above.
If you are interested in visualizing this section of our itinerary, click here.
---
Conclusions
South Africa is one of the most beautiful countries we've ever cycled, adding Lesotho to it and seriously gets in the top spots. There's a lot of reasons why people often get put-off from cycling here, the sad history, the present racism issues, the world-famous criminality.
None of these though are good reasons not to come here, cycling South Africa is a great experience which will give you a lot in terms of landscapes, challenges, but also in knowledge and understanding.
Stay in touch while we get lost! Follow us on Social Media