Bikepacking clothes! What to wear on a cycle touring trip. The essential bicycle touring clothing packing list. With our personal outfit recommendations
The choice of what clothes to take with you while bicycle touring or bikepacking is strongly dependent on the weather and climate you're going to cycle.
If, like most of the bike tourers, you plan to ride and camp mostly at temperatures above 0°C (32°F) don't invest too much money in clothing. Most of the time, using ordinary sports clothes and maybe one or two bike jerseys will be just fine.
You won't need the fanciest cycling clothes, so don't break your bank over them, cheap cycling jerseys are usually more than enough, padded shorts are a matter of personal preference, while rain gear is what matters the most when cycle touring, so it could be worth investing a bit more into that.
We put together this list of clothing gear to help you think about what you may need for your next bicycle expedition, hope that helps. If it does, please share it with your friends and leave a comment below.
This article is part of our series about Essential Gear for Bicycle Touring and Bikepacking
This section is about which clothes to bring on a long-haul bicycle expedition.
Disclosure: Some of our articles contain affiliate links. This comes at no additional cost for you and helps us keep this website up and running. (as Amazon Associates we earn commission from qualifying purchases)
Bike touring clothes packing list in a Nutshell
Rain Jacket/Poncho
Rain Pants
Goretex Shoes/SPD shoes/Hiking Sandals
2 Short Sleeves Cycling Jerseys
2 Pairs of Padded Cycling Shorts
Arm Warmers
Leg Warmers
2 Merino Base Layer (1 sleeveless or short sleeve/1 long sleeve)
Merino Trousers
Hiking Trousers
3 Pairs of Socks
3 pairs of Underwear
2 normal cotton shirts
2 pairs of running/football shorts
Cycle Touring Clothes Essentials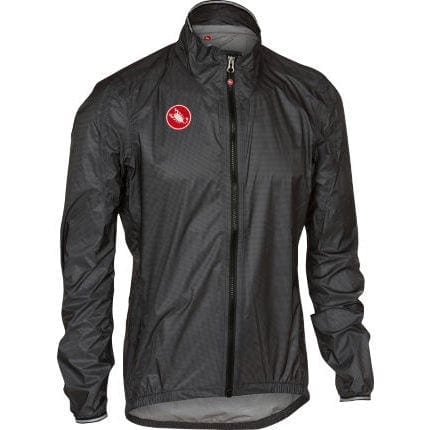 Rain Gear
Staying dry under the rain is one of the biggest challenges of bikepacking, a challenge that nobody won yet.
That's why a rain jacket is maybe the only piece of clothing that is almost mandatory for bicycle touring, I will suggest buying one with a hood.
Rain pants are useful too, and if you really want to do your best in this challenge, consider overshoes (shoe waterproof covers).
Some people prefer ponchos over rain jackets, that's really a matter of personal choice. We recently got into using ponchos and they can be very effective, although not great with strong winds – they can flap over your face and even get dangerous.
Shoes
If you're not into clipped shoes (see below) just wear whatever you feel comfortable with. I feel to recommend a standard pair of Goretex shoes, that could help your sock to not get wet.
For summer weather sandals will do, find some with more rigid soles. Consider hiking specific shoes if you want to explore some walking paths during your bike tour.
In the tropics, with hot weather and frequent showers, I loved cycling with simple Crocs-style shoes like these ones, plastic doesn't get soaking wet and you can also use it to walk into the sea avoiding cuts.
Are Cycling Clothes Needed for Bikepacking?
I personally consider cycling-specific clothes absolutely non-essential but nice to wear sometimes. Have to admit that since we are using good quality cycling clothes (by Sigr Nordic) our riding comfort has increased dramatically.
Padded shorts help a bit at the beginning of your tour, but fear not, your butt is going to feel sore anyway. It only takes time, plenty of it, to develop some sort of callus or whatever is it that will literally save your ass. It took three months for me but after that, I only felt a little pain when riding more than 7 hours a day.
Cycling Jerseys I find much nicer, if they are of decent quality they can help you sweat less, even though some of us just sweat like sows. Keep in mind that good quality doesn't always mean expensive: I liked a lot my 20€ Decathlon shirt, while some friends had expensive shirts from a famous brand developed mold in South East Asia. Great for hot weather are those jerseys with a front zipper that opens all the way down, I cycle with my jersey open all the time. Anyway never bring more than 2 pairs of shorts and two shirts.
Leg Warmers and Arm Warmers (compression sleeves) are a must, they eliminate the need for long sleeve jerseys or long pants, give you comfort when it's chilly, and can protect you from UV rays. They weigh nothing and pack ultra-compact.
Gloves are nice on washboards and uneven roads, giving your wrists a little relieved. I find them unbearable in hot temperatures. They are of course fundamental in lower temperatures, already below 10°C your hand will ache when going downhill. Read our article about the best cycling gloves for winter.
Clipped Shoes, if you really like it. You already know they help with efficiency, how much is a controversial topic. Do not use race shoes, find some casual ones that you could also wear as everyday shoes, something you could use to walk, like the Five Ten Kestrel Lace or many more other models.
Check
> 14 Best Shoes for Cycle Touring & Bikepacking: SPD VS Flat
> Gravel Bike Shoes: 9 Best Cycling SPD Shoes for Gravel Riding
> 7 Best Flat Pedal MTB Shoes: Sturdy, Waterproof, & for all Budgets
> 10 Best Clipless Mountain Bike Shoes: SPD Cleats for MTB
Cycling-specific eyewear or ordinary sunglasses are very important for your eyes' health, and something many of us couldn't cycle without.
Winter Bikepacking Clothing
Here's where more technical, high-end gear starts to be meaningful. Bear in mind that you'll ride on heavy winter clothing only when the temperatures are around zero degrees Celsius or below, or yes, in the downhill.
Most of the time the effort of cycling will be enough to keep you warm. It's mostly when camping that you'll be doomed to freeze. We are using merino baselayers by Green Rose and love them, read our review here.
Our kit for lower temperatures consists of:
This should be enough until a few degrees below zero. If you plan something a bit more extreme, consider lightweight insulated down jackets like this one.
Ordinary Clothing
Since most of our tour in Asia was done in generally warm climates, we mostly cycled on ordinary clothes. The stuff you can find in markets everywhere for very cheap.
We loved football shorts and sleeveless t-shirts (camisole for Elena), I personally enjoyed a cheap clip-on button shirt, that I could open with an easy gesture when sweating like hell on the steep slopes of Indonesia.
A bandana is a nice add-on, you can keep it wet under your helmet for a refreshing sensation, also a visor helps a lot under the sun. Don't forget your underwear too! Usually, 3 pairs will be enough, they are easy to wash – sport or hiking underwear is ideal.
Remember! Wearing underwear with padded cycling shorts is a bad idea. Use your underwear for off-the-bike activities or when cycling without padding.
Another handy item to have on a bike tour is a money belt, those have a secret pocket where to store your cash, useful for countries with high robbery risks.

More about Essential gear for Bicycle Touring
If you found this useful please take one minute to
Follow Us on Social Networks and Subscribe Our Newsletter
Stay in touch while we get lost! Follow us on Social Media