The best bikepacking shoes for cycle touring.
Clipless SPD, flat pedal, lightweight for long-distance bike tours and adventure cycling for all budgets.
Shimano, Giro, Mavic, Fizik, and more brands…
Bikepacking shoes? Cycle touring shoes? How do they differ from each other or from MTB shoes? What are the best shoes for bicycle touring long distance? What bikepacking shoes for off-road cycling?
If any of these questions is crossing your mind, you're on the right page. We are gonna discuss the pros and cons of clipless SPD shoes vs flat pedal shoes for bikepacking and cycle touring, and give you our personal selection of the best cycling touring shoes for all budgets and preferences.
The right shoes can prevent fatigue, blisters, and make your bikepacking trips comfortable and fun, and safe.
We'll start by comparing the best touring shoes and then dive into the buying guide. Read on!
The best shoes for cycle touring and bikepacking in a nutshell
Disclosure: Some of our articles contain affiliate links. This comes at no additional cost for you and helps us keep this website up and running. (as Amazon Associates we earn commission from qualifying purchases)
How we compile our gear guides: during the almost 10 years of cycloscope.net our team personally tested dozens of similar pieces of gear. For what we can't test personally, we involve other people in the cycling community to give their feedback and opinion about gear they have used. Our decade-long experience in bicycle touring enables us to find the key cons and pros of every product we mention.
5 Best flat pedal shoes for bicycle touring
9 Best SPD Clipless shoes for bikepacking
The 14 best touring cycling and bikepacking shoes
For ease of use, we decided to divide this article about the best shoes for bikepacking and touring into two sections:
Best SPD Clipless shoes for bikepacking
Best Flat Pedal shoes for cycle touring
So let's dive into comparison and reviews, hoping you'll find the shoes you're looking for.
5 Best flat pedal shoes for bicycle touring
If you're not used to clipping in with SPD, or just don't like it, or your touring bike has flat pedals, or you consider it not suited for bike touring… here are our picks in regards to flat pedal shoes for bikepacking.
Five Ten Trailcross GTX – EDITOR's PICK!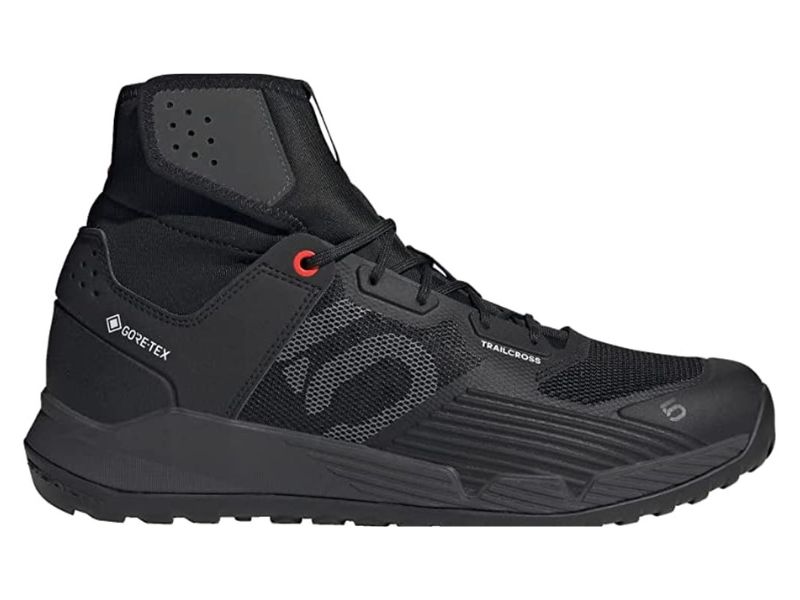 The first fully waterproof bikepacking shoes for flat pedals! Five Ten finally hopped on this inexplicably empty marketplace by manufacturing a GORE-TEX fabric MTB shoe that ultimately solves (or almost does) the eternal hassle of cycling with soaked feet.
Suitable for all conditions and any terrain, these could really be the ultimate touring bike shoes.
These Five Ten mountain bike shoes by Adidas are really made for adventure riding and mountain bike touring. With the lightweight and cushioned feel of a trail running shoe, the neoprene cuffs to seal out dirt and splashes, and the pedal-gripping power given by the Stealth Phantom rubber under sole – these are ultimately our favorite flat pedal cycle touring shoes.
Giro Riddance Cycling Shoes
Giro Riddance is a great flat pedal bike shoe with a powerful and safe grip great to use on any bike touring road or trail.
Featuring a breathable and water-resistant microfiber upper with some rock prints that provide abrasion resistance. For durability and foot protection, this pair has a rubber-reinforced heel and toe cap.
Its unique laces are the lightest closure system available that holds a knot perfectly and offers unrivaled fit adjustment.
SHIMANO SH-GR500
Another great bikepacking shoe from Shimano. The SH-GR500 is one of the best flat pedal touring shoes available.
The grip is fundamental for flat shoes, and these Shimano don't fall short here. The sticky-rubber outsole feels glued on the pedal, and it's also great for hikes off the bike. or ground.
The mesh on top makes these bike touring shoes very breathable, and the ordinary look is a great advantage, as you won't need to carry another pair of shoes for your off-bike time.
A downside is no added water resistance, so you'll need to wear cycling overshoes to avoid getting your feet soaked when raining.
Five Ten Freerider Pro
It is quite hard to beat this pair when it comes to performance and comfort.
The Freerider Pro is a great and stylish mountain biking shoe that is grippy, breathable, and water-resistant (almost waterproof) – suiting all the needs of the flat-pedal-lover.
While its rubber sole doesn't have the thickness found in some pairs, it does deliver an impressive pedal grip and feel, thanks to the dotted Stealth S1 rubber compound.
For extra comfort, this pair features a removable Ortholite sock liner and compression-molded EVA midsole. And to keep your toes safe while bikepacking the worst trails, these cycling touring shoes feature an impact-resistant toe box.
The attention to the environment by Adidas/Five Ten is highlighted by the use of recycled plastic. Even if probably just a marketing trick, it can't be bad to upcycle garbage.
Breathable and comfy in hot weather, warm and cozy at lower temps, these are really great shoes for long-distance cycle touring.
Leatt 3.0 Flat V22
These budget touring shoes by Leatt are affordable and high quality, a perfect compromise for those looking to gear up for cheap.
The sole is not as stiff as other models, Leatt relies instead on the Flex-Control technology for a medium-hard feel that just feels great.
When it comes to comfort, an anti-compression midsole and the active carbon moisture-wicking, quick-dry, material do their job of keeping you at ease while riding.
The waffle pattern pedal area is optimized for a superior pin grip, helped by the heel and toe mudflow channels to provide grip in all weather conditions.
Ventilated Puncture Resistant Flexible Low-Profile Padded Moisture-Wicking Cycling
They are padded on the mid-ankle, toes, and heels for protection, puncture, and tear-resistant, and quite waterproof, giving out an overall feeling of strength and durability.
9 Best SPD Clipless shoes for bikepacking
And here we come to the cleat bikepacking shoes, we selected 9 of them – from the most versatile to more performance-oriented, from cheap to high-end.
SHIMANO SHIMANO MX100 Off-Road Touring Shoe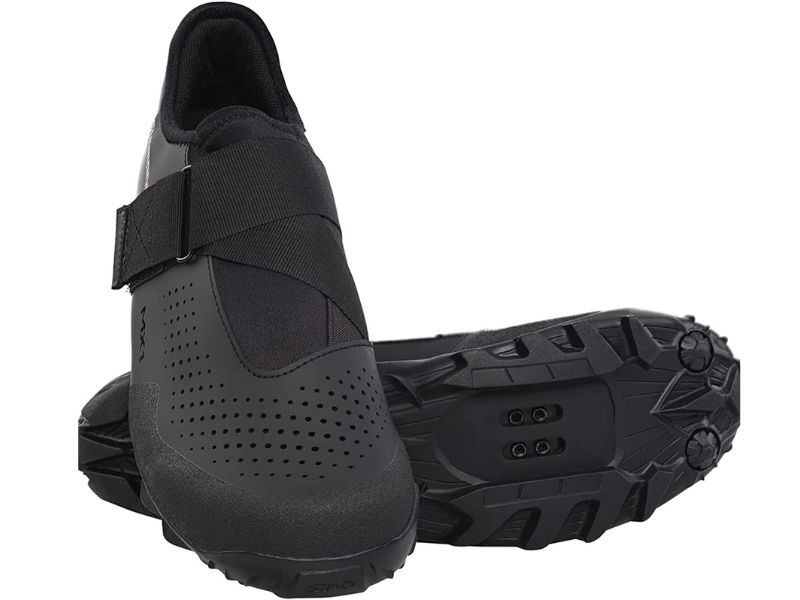 Shimano has always been a pioneer in the field of bicycle touring shoes. These new 2023 SHIMANO SH-MT501 off-road touring are another hit on the target.
We could call these hybrid cycling shoes, featuring a faux-leather sole that gives the comfort of a good trail shoe when hiking, the grip of a flat pedal shoe, and the option to mount cleats on and use it as SPD… what else can you ask from a bike touring shoe?
The shank plate is reinforced with fiberglass, offering excellent power transfer while maintaining good flex for walking. Great to wear also with normal compression socks.
The synthetic leather upper holds up against the wear and tear of bikepacking trips intertwined with mesh panels to keep your feet dry and cool. The Speed Lace system ensures secure closure and quick adjustments.
Tommaso Vertice 100/200 All Mountain Vibram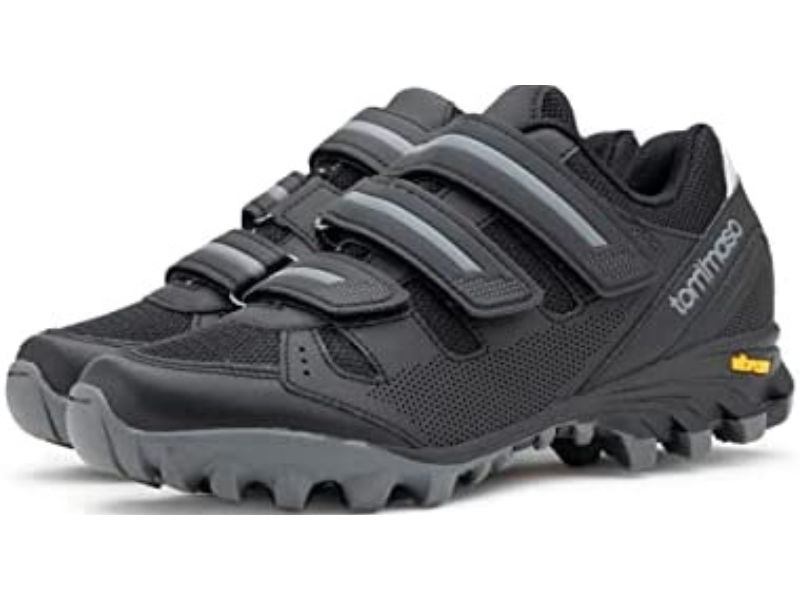 Rivaling the Shimano on its own terrain, this new entry by Tommaso Vertice has all the bike-touring-friendly characteristics of its better-known sibling for a much cheaper price.
We are seeing here another example of a hybrid cycling shoe, clipless SPD compatible but equipped with a quite fantastic Vibram sole for use on flat pedals or off-the-bike.
These nice bikepacking shoes hug your foot like a glove, with tons of comfortable but breathable padding.
The closure system is quick and reliable, featuring three ergonomic Velcro straps that are firm and easy to adjust. The only downside is their weight, a bit on the heavy side… but does that really matter to you?
Fizik Overcurve R5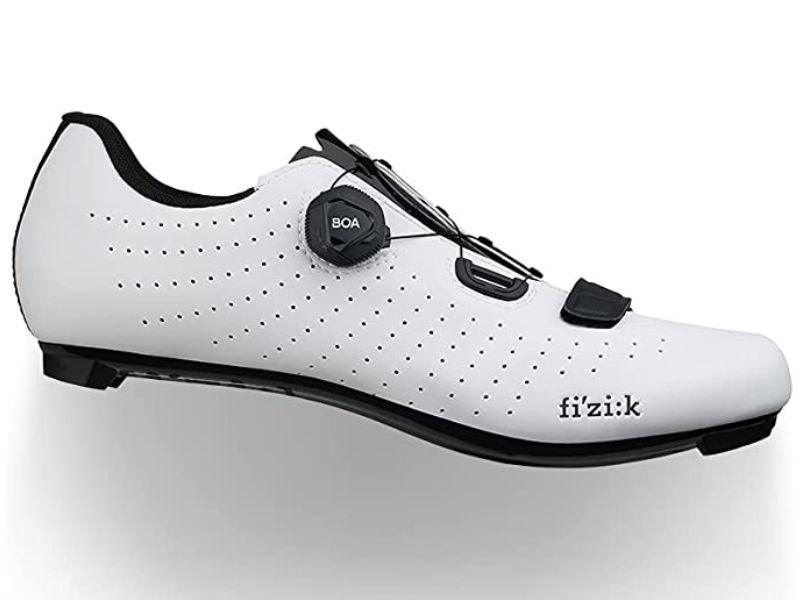 If you're looking for something more performance-oriented, the Fizik Tempo R5 is an exceptional cycling shoe that will guarantee you great performance and style.
Fizik Tempo R5 features an asymmetrical construction that conforms perfectly to your foot's anatomy and doesn't disappoint when it comes to providing a stiff pedaling platform and efficient power transfer.
They are available in a wide range of colors, so you can get a pair to match your style. This pair is ideal for bikepackers that don't need to get off the bike too often.
Louis Garneau Carbon LS-100 3 Cycling Shoes
Whether you are an experienced or a beginner cyclist, this pair has everything you would ever expect from a pair of high-quality MTB shoes. The Carbon LS-100 comes with a carbon composite HM-air outsole that is rigid and ultra-lightweight.
Its unique sole provides through-and-through ventilation and ideal power transfer. This pair features a 4.3 mm platform that brings you even closer to your bike's pedals for more power.
Unlike most cycling shoes, this pair allows your feet to swell, which is perfect, especially when cycling in hot seasons.
Giro Savix
If you're searching for extreme comfort and high-end performance, then the Giro Savix is the shoe for you.
This pair is perfect for tackling hard bikepacking trails but also long-cycle touring trips. Giro Savix has a breathable mesh upper that provides high breathability.
Thanks to their unique straps they are very easy to wear and take off. The fact that they are comfortable and lightweight makes them ideal for beginners. Instead of having rigid soles like some pairs, these cycling shoes' soles have reinforced regions that add a bit of stiffness and strength.
Fizik R1 BOA Cycling Shoes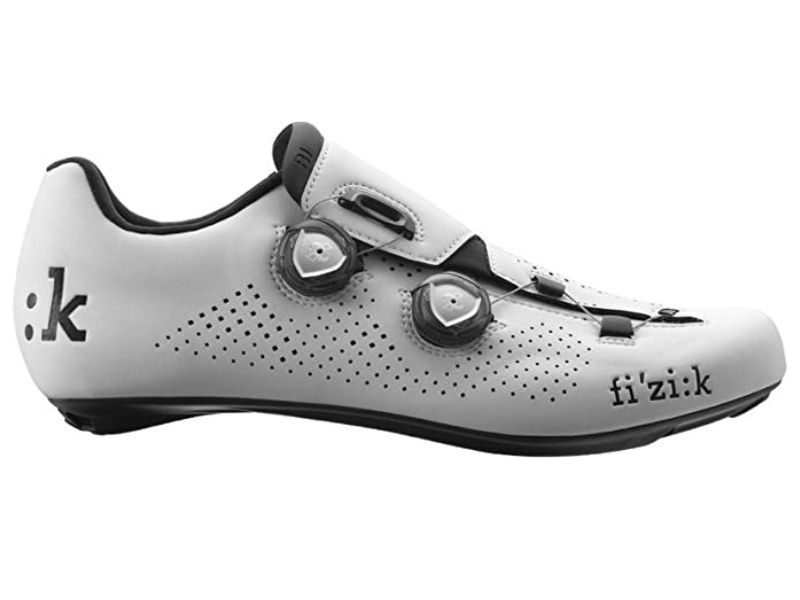 Fizik R1 BOA is a great pair that is designed to give you maximum comfort and top performance. This shoe is crafted from 100% Kangaroo leather, known for its lightweight, soft, and durable properties.
This pair's amazing aesthetics, quality materials, and outstanding craftsmanship set it aside from other bikepacking shoes in the market.
Its high-quality outsole is made from 100% woven fiber, providing a sturdy but elastic platform, stiff enough to transfer power easily, making it possible for you to attain and maintain top speeds.
At their price tag, they are certainly not cheap, but if you are looking for a top pair that is worth every penny, you should go for Fizik R1.
Triseven Premium Triathlon MTB Shoes
Why not triathlon shoes for bikepacking? After all, they are meant to cycle and run, so a good compromise of bike efficiency and off-bike comfort.
The Triseven Premium Triathlon shoes are one of the most cost-effective pairs in the market. These lightweight shoes are affordable and provide outstanding comfort and efficient performance.
This premium Triathlon shoe features a breathable mesh in the upper part, made of microfiber and synthetic nylon material. Its sole is made using carbon to boost stability and features a tall heel loop that allows for a quick transition.
Not only are they easy to wear, but the nylon outsole provides the needed grip off the bike, while its well-ventilated insole will help keep your feet dry from moisture for an extended period.
Venzo Bike Cycling Shoes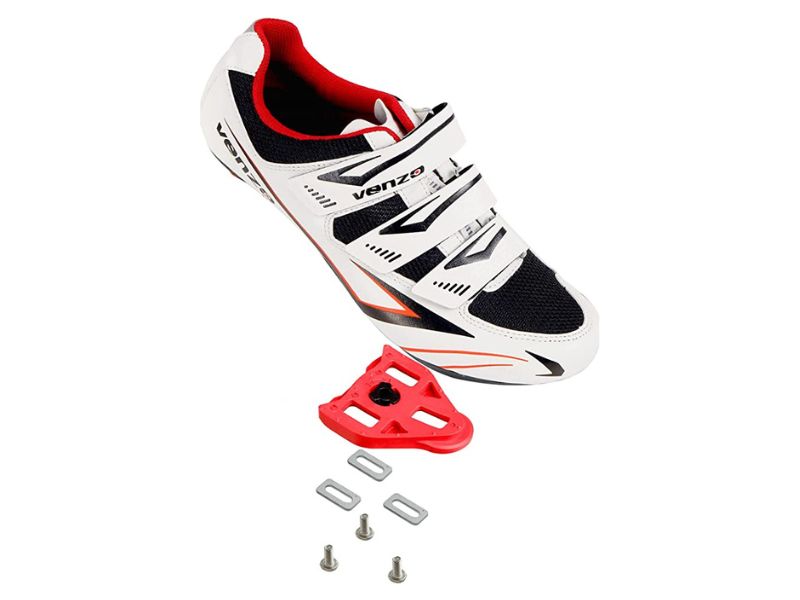 Are you tired of getting into your tent and taking off your cycling shoes to a strong stench that is bad enough to knock out a horse?
If that is the case, you should consider these affordable Venzo MTB Shoes.
Despite being cheap, this pair is ideal for preventing these cheesy smells so typical of extended bicycle touring trips.
Other than preventing foul smells, these bikepacking shoes can help you tackle a wide range of terrains. This pair has a stiff sole that helps prevent energy loss when cycling.
Lake MXZ304X Mountain Bike Shoe
Last but not least, we had to feature a pair of cycling boots in this list of shoes for adventure cycling.
These Lake MXZ304X are the ultimate choice for those expecting to bicycle tour through snowy harsh winters.
The upper material is Pittards A WR100 leather, while the toe and ankle guards are abrasion-resistant HelcorA.
They feature a Thinsulate temperature regulating liner in the toe box, a Thermosol composite insulated insole, and a leather sole – all contributing to making these pair of cycling boots warm down to temperatures below freezing (when paired with the right winter cycling socks).
A larger BOA dial is moved to the front of the tongue, making it easier to use with winter gloves and providing a more even tension across the top of your foot. Check to size as it might fit small.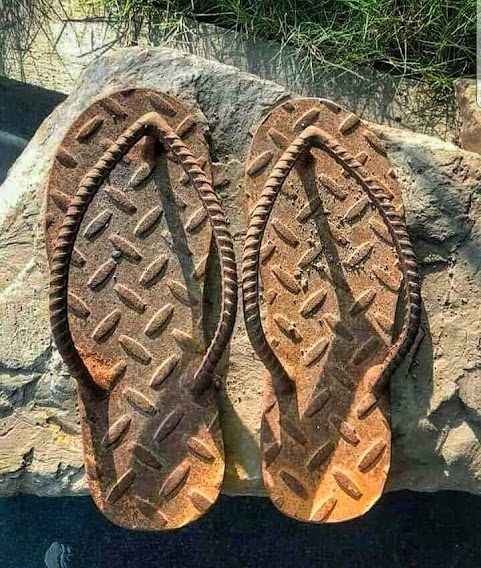 Why shoes are important when traveling by bike
The right bike shoes have a crucial effect on your experience in terms of control and comfort.
Your feet on the pedals are one of the three contact points between you and your bike, the others being your hands on the handlebar, and your butt on your saddle.
A stable grip on the pedals makes a great difference in terms of the control you have on your bike, especially when loaded, especially when tackling off-road bikepacking trails.
Without a proper grip, even given by SPD clips or by a great flat shoe and a wide pedal, you risk losing contact with the pedal, which ultimately can cause a nasty fall and a call to your bike touring insurance.
The proper cycle touring shoe paired with the right pedals makes you feel confident even on the roughest bikepacking trails.
The comfort aspect is no less important than the safety concerns. Your feet are one of the most sensitive parts of your body, even a slight discomfort can be very annoying in the long run a bike trip.
Bike touring shoes need to be comfortable, warm, breathable, and possibly waterproof or water resistant, and possibly paired with proper cycling socks – as there's nothing worse than riding with cold, wet feet.
Bikepacking shoes VS Touring bike shoes VS MTB shoes. What's the difference?
Let's say that there's nothing on the market as of now that is sold as a bikepacking shoe. There are mountain bike shoes, and a few products marketed as cycle touring shoes.
In general, bikepacking is usually endeavored for a shorter time span compared to cycle touring – and most of this time is often spent on the bike.
That's why more performance-oriented shoes might be a better choice for bikepacking.
When cycle touring, we assume long distances to be covered, and a lot of time spent off-the-bike. That's why hybrid shoes or flat pedals are often seen in this context.
MTB shoes are very diverse, and that's where we are going to fish for products. As most mountain bike shoes work great for different styles of bicycle touring and bikepacking.
Flat pedal shoes VS clipless SPD shoes for cycle touring and bikepacking
The matter of flat pedals VS SPD mountain bike shoes is an eternal dispute, that at the end comes down to a matter of personal preference, as often such disputes do.
Clipless pedals and SPD shoes glue your feet to your bike, ensuring perfect grip and a pull force exerted by the foot in its upward rotational movement (although this might not have such a big effect).
The downsides of SPD clipless shoes are:
clipping on and off every time you need to put a foot on the ground
not suited for walking
Do women need female-specific cycling shoes?
Women don't really need to buy women cycling shoes. As with bikes, the differences are often minimal, and more like a market selling point than an actual specificity.
Basically, women's cycling shoes are a bit narrower than men's/unisex options and come in smaller sizes. So if you need a small size, that might be when you'll need to resort to buying women's bikepacking shoes.
What to look for when buying the best bike touring shoes in 2023
Should you consider weight?
Lightweight shoes require less energy to rotate them around when pedaling, so you can ride faster… see how that sound? Just foolish. A few grams in your shoes are not going to make a difference, unless for pros in an indoor circuit.
Closure system
There are numerous retention systems that can provide a comfortable and secure fit.
BOA dials and ratchet (my favorite)
Velcro (can get old and stop sticking tightly)
Shoelaces (can interfere with cranks)
Velcro and lace mix (more secure but overly complex)
Some shoes have combined two of the above systems for a more personalized and tailored fit. I personally favor BOA dials or Velcro.
Durability and Sole Stiffness
The outsole of most shoes is made from rubber, nylon, or carbon fiber. These materials differ in terms of applications and performance.
Carbon fiber is stiff; therefore, ideal for cross-country-style MTB shoes but not for bikepacking or gravel bike touring. Rubber provides a better grip off the bike and it's more comfortable Nylon is not stiff, but it's more durable and offers reliable comfort.
FAQs about touring and bikepacking shoes
What shoes do you wear on a bike tour?
You can choose between SPD shoes and Flat pedal shoes
Flat pedal shoes for bicycle touring
Five Ten Trail cross GTX
Giro Riddance Cycling Shoes
SHIMANO SH-GR500
and more…
SPD Clipless shoes for cycle touring
SHIMANO SH-MT501 Off-Road Touring Shoe
Tommaso Vertice 100/200 All Mountain Vibram
Fizik Overcurve R5
Louis Garneau Carbon
and more…
So, should you get bikepacking shoes?
Bikepacking is a passion that doesn't need expensive gear to be fulfilled. However, you should consider the importance of your feet as the most crucial contact point when cycling.
Many bike tourers tend to overlook the importance of the right cycling shoes over other upgrades. But a great pair of shoes dedicated to adventure cycling is sure to make a big difference either for short or long bike trips.
Visit our YouTube channel
Check also

> Best Cycling Socks for Quality and Performance
> Gravel Bike Shoes: 9 Best Cycling SPD Shoes for Gravel Riding
> 7 Best Flat Pedal MTB Shoes: Sturdy, Waterproof, & for all Budgets
> 10 Best Clipless Mountain Bike Shoes: SPD Cleats for MTB
> The 12 Best Cycling Overshoes: Waterproof Shoe Covers for Winter
> The Best Insurance Plans for Cycle Touring & Bikepacking – AXA, Allianz, WorldNomads & More
Stay in touch while we get lost! Follow us on Social Media