The 9 best gravel shoes – Gravel riding footwear in 2023/2024
Our favorite flat & SPD clipless shoes for gravel cycling:
affordable, waterproof, budget, for women and man
Is there anything like gravel bike shoes? Are there manufacturers designing specific cycling shoes for gravel riding?
The answer as of now is, not yet… but be sure that brands will fill the gravel bike shoe niche pretty soon – [update, they already have!]
Honestly, it's hard to say what the characteristics of a gravel bike shoe should be. We might think of something in between a slick road cycling shoe and a sturdy MTB shoe designed for off-road. This is one of the main criteria we considered when picking the best gravel shoes here.
Bikepacking shoes also perform flawlessly on a gravel ride, and most of them are much more comfortable to walk on compared to road cycling shoes.
As most gravel riders prefer clipless SPD pedals, we'll feature only a couple of flat pedal shoes. After all, there are some cyclists out there who never really fell in love with SPD pedals.
So, buckle up and get ready for our list of the best gravel bike shoes for 2023/2024.
Check Also

> Gravel Wheelsets: 11 Best Wheels for Gravel Rides and Bikepacking
Disclosure: Some of our articles contain affiliate links. This comes at no additional cost for you and helps us keep this website up and running. (as Amazon Associates we earn commission from qualifying purchases)
How we compile our gear guides: during the almost 10 years of cycloscope.net our team personally tested dozens of similar pieces of gear. For what we can't test personally, we involve other people in the cycling community to give their feedback and opinion about gear they have used. Our decade-long experience in bicycle touring enables us to find the key cons and pros of every product we mention.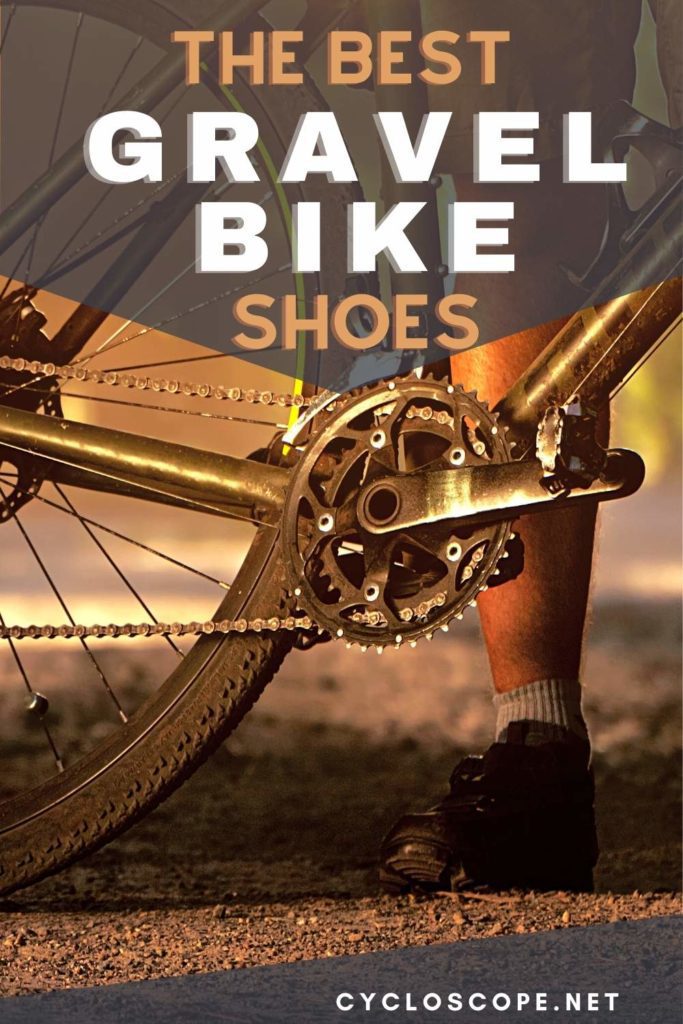 9 best gravel bike shoes in a nutshell
The 9 Best Bike Shoes for Gravel Riding in 2023
1. Sidi Gravel Mountain Bike Shoe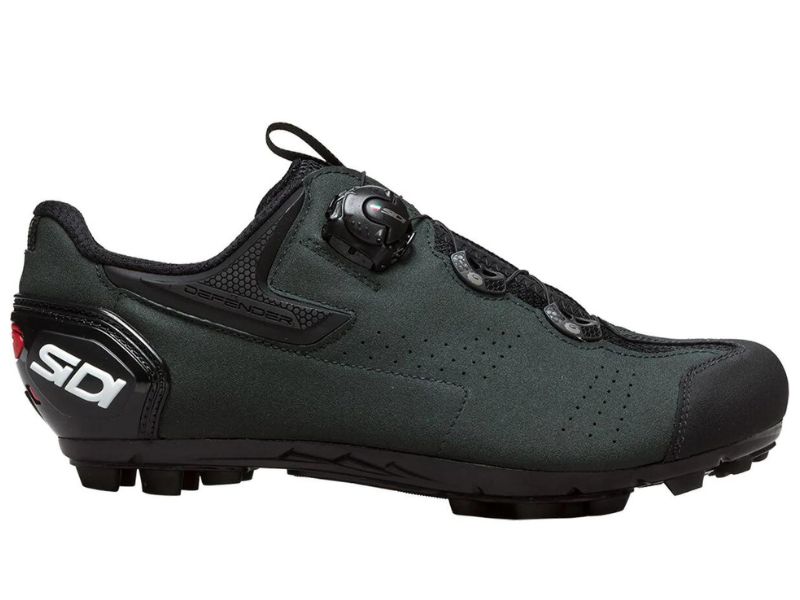 And here it comes, the gravel bike shoe, as we prophesied some time ago. The Sidi Gravel MTB shoe is the first shoe designed specifically for gravel riding.
It features a new upper made from politex and mesh drilled on the inside. The "politex" is a material made of several overlapping layers with different physical-mechanical properties, the compacted PVC is then coupled between two fabrics (knitted fabric + felt), it offers strong resistance to ripping, tearing, stretching, and fading.
The Sidi gravel shoe has got a polyurethane shock absorber on the external area that coupled with the inner padding guarantees maximum comfort.
The Toe area is reinforced for additional foot protection and a rear cup of anatomically shaped plastic reduces heel slip and provides increased power transfer.
The BOA dials are TECHNO-3 SYSTEM, SIDI's patent. They fit along the entire length of the shoe, adapting the upper to the shape of the foot for a personalised fit. The BOA dials are also serviceable and replaceable.
Update! Got these shoes recently and love them, super comfy, steady, and great value!
2. Fizik Terra Ergolace X2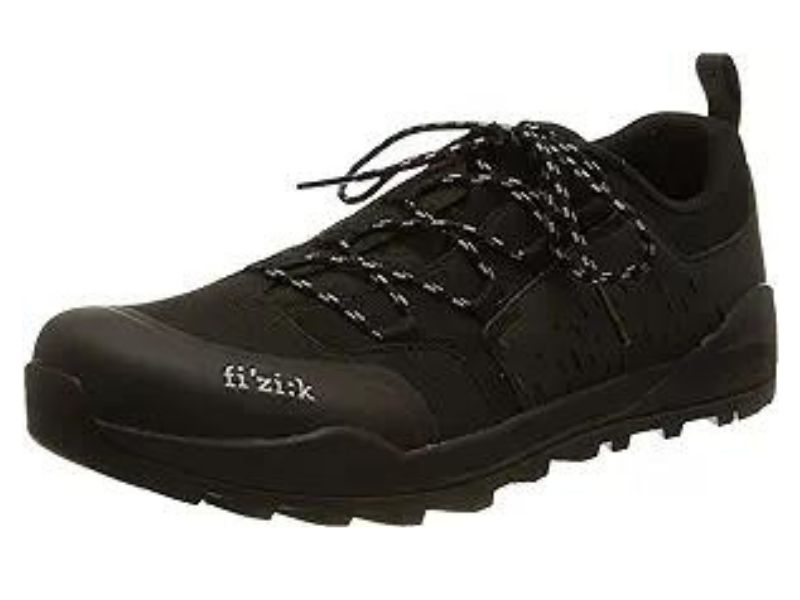 Sturdy, lightweight, comfy, and versatile, the Fizik Terra x5 is a real off-road shoe, ensuring great all-terrain performance.
It features a precision adaptive fit, made by a single micro-adjustable BOA L6 dial and a 25mm microfiber and Velcro strap.
The outsole is a composite nested carbon fiber and the insole is a Fizik cycling insole, together they optimal power transfer, support, and comfort.
Perspiration is great, thanks to the laser-perforated Microtex upper and lightweight, breathable inner mesh.
The Terra x5 by Fizik inspires trail confidence thanks to its all-terrain grip provided by pronounced tread that fully encompass the heel section, on the toe-box, and across the instep and outstep up to the cleat recess, creating a sturdy support for riders preferring Clipless 'trail' pedals with a small platform.
The light, tough woven tape heel loop, is a nice addition for gravel and bikepacking, as they are meant to carry stuff.
3. SHIMANO SH-EX700 – Gravel Touring Shoes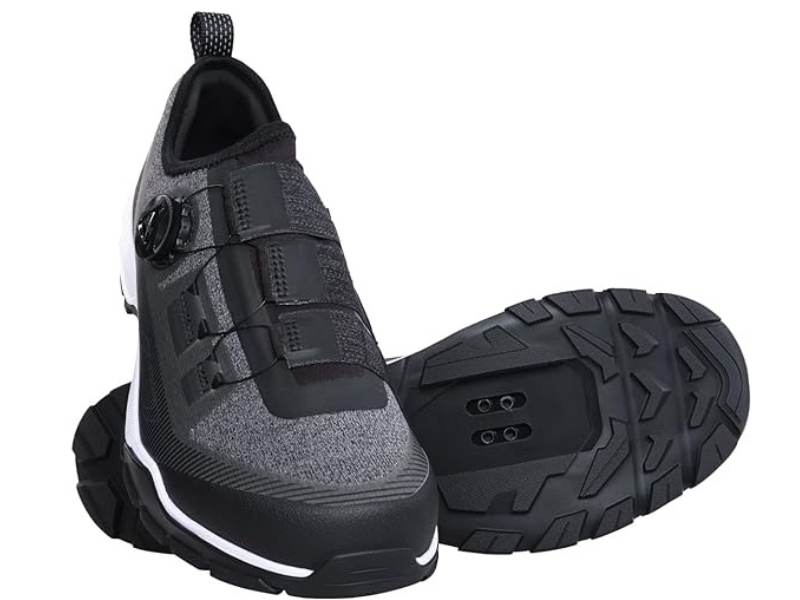 Shimano jumps into the gravel shoe market with another great shoe, the SH-RX800 Gravel Racing Shoe.
Ultra-lightweight and super stiff for optimal power transfer and pedaling efficiency, yet comfortable enough to wear all day, this could be the ultimate shoe for gravel riding.
A great feature is the lugs and an anti-slip pad in the outsole, which allow you to walk normally when off the bike – definitely something you want, especially if you're planning on touring on your gravel bike.
Toe protection is reliable, with a micro toe box that keeps your feet safe from the occasional impacts inevitable in gravel riding.
4. Adidas The Gravel Shoe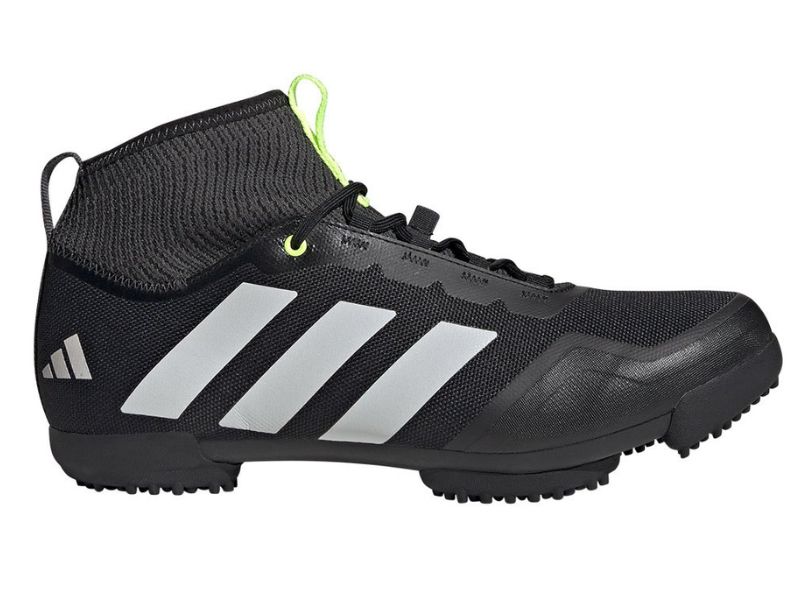 Another shoe specifically dedicated to gravel, is the new Adidas Gravel Cycling Shoe. For this product the sport apparel colossus decided to use the main company name, instead of branching to Five Ten, its cycling-shoe avatar.
The gravel shoes are made from Primegreen, a series of high-performance recycled materials, another hint of Adidas trying to market this product to younger genarations, usually more concerned about environmental issues. 50% of the upper is upcycled fabrics and there is no virgin polyester used.
The cleat is a standard two-bolt design, while the rest of the sole has a grippy pattern that extends all the way from heel to toes allowing for short hiking and trekking.
5. Louis Garneau Men's Chrome II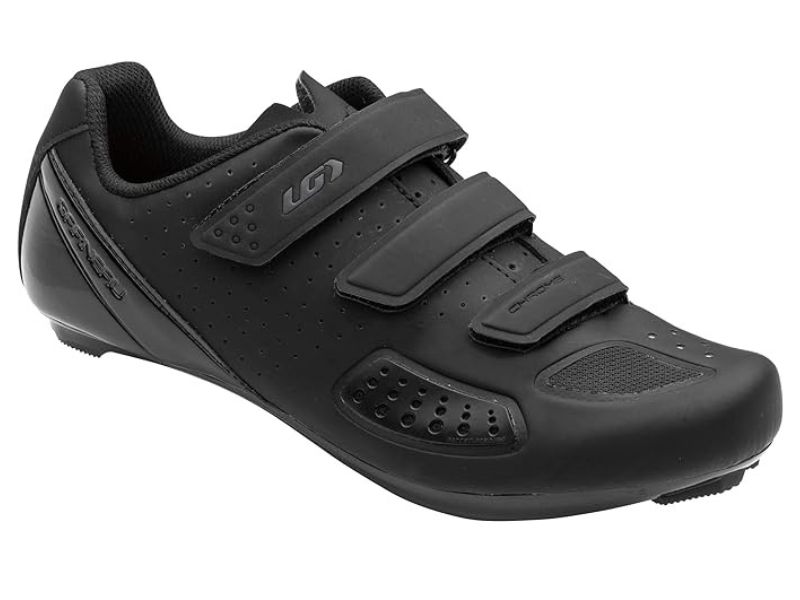 More of a traditional cycling shoe but with an eye out for gravel comfort, this pair has everything you would ever expect from a pair of high-quality gravel bike shoes.
The Carbon LS-100, as the name states, comes with a carbon composite HM-air outsole that is rigid and ultra-lightweight.
Its unique sole provides through-and-through ventilation and ideal power transfer. This pair features a 4.3 mm platform that brings you even closer to your bike's pedals for more power.
Unlike most cycling shoes, this pair allows your feet to swell, which is perfect, especially when cycling in hot seasons. Great shoes for bikepacking also!
6. Tommaso Montagna Gravel MTB Shoes
Why not triathlon shoes for gravel riding? Triathlon after all involves fast cycling and off-the-bike activities, just like many gravel rides – especially bike camping overnighters.
Triseven Premium Triathlon cycling shoes is one of the most reliable pairs in the market and are also pretty cheap. These lightweight shoes are designed to provide maximum comfort and enhance performance.
The Triseven premium Triathlon shoes have a unique breathable upper made using microfiber and synthetic nylon material. Its sole is made using carbon to boost stability. This pair has a tall heel loop that allows for a quick transition.
Not only are these affordable shoes easy to wear, but the nylon outsole provides the needed stability, while its well-ventilated insole will help keep your feet dry for an extended period.
7. PEARL IZUMI Men's X-Alp Divide Cycling Shoe – best for budget
An extremely lightweight MTB shoe designed to handle the abuse of mountain bike riding, the Pearl Izumi X-Alp Divide is a sleek-looking product.
The bonded seamless upper makes the feet comfy, while the anatomic two-strap ensures a snug and steady fit on all foot shapes.
The full-length nylon plate and aggressive outsole pattern guarantee traction, power transfer, and durability
The reinforced toe cap adds some protection against flying gravel and occasional obstacles..
8. SHIMANO SH-MT502 Off-Road
Shimano has a few great models of mountain bike shoes that works flawlessly for gravel cycling as well. These new 2023 SHIMANO SH-MT502 off-road make it into this list thanks to their versatility.
We could call these hybrid cycling shoes, featuring a faux-leather sole that gives the comfort of a good trail shoe when hiking, the grip of a flat pedal shoe, and the option to mount cleats on and use it as SPD… seems very convenient for plenty scenarios (think hike-a-bike).
The shank plate is reinforced with fiberglass, offering excellent power transfer while maintaining a good enough flex for walking.
The synthetic leather upper holds up against the wear and tear of MTB trails, while the mesh panels keep your feet dry and cool. The Speed Lace system ensures secure closure and quick adjustments.
9. Tommaso Vertice 100/200 All Mountain Vibram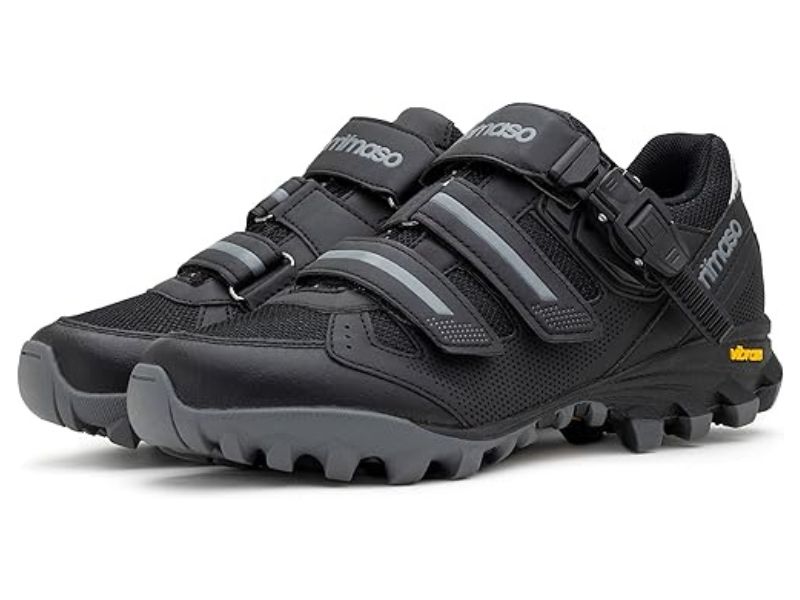 Challenging Shimano on the hybrid cycling shoe market, these new shoes by Tommaso Vertice has all the versatility of the Shimano for a fraction of the price.
This shoe is of course compatible with SPD cleats, but it also features a marvelous Vibram sole for use on flat pedals or off-the-bike.
These nice hybrid SPD gravel bike shoes encase your foot like a glove, with a generous and breathable soft padding.
The closure system is easy to adjust on the fly, featuring three ergonomic Velcro straps that are firm and easily accessed. The drawback of these fantastic and affordable MTB shoes is their weight, a few ounces heavier than their Shimano counterpart.
How to choose the right gravel bike shoes for you
Clipless SPD gravel shoes vs flat pedal gravel shoes
The matter of flat pedals VS SPD is an eternal dispute, that at the end comes down to a matter of personal preference, as often such disputes do.
Clipless pedals and SPD shoes glue your feet to your bike, ensuring perfect grip and a pull force exerted by the foot in its upward rotational movement (although this might not have such a big effect).
The cons of SPD clipless shoes are:
clipping on and off every time you need to put a foot on the ground
not suited for walking
The cons of flat pedal shoes are:
can lose contact with the pedal platform
slightly less efficient force transmission
Check Also

> 7 Best Flat Pedal MTB Shoes: Sturdy, Waterproof, & for all Budgets
> 14 Best Shoes for Cycle Touring & Bikepacking: SPD VS Flat
> 10 Best SPD Clipless Mountain Bike Shoes
> 12 Best Cycling Overshoes: Waterproof Shoe Covers for Winter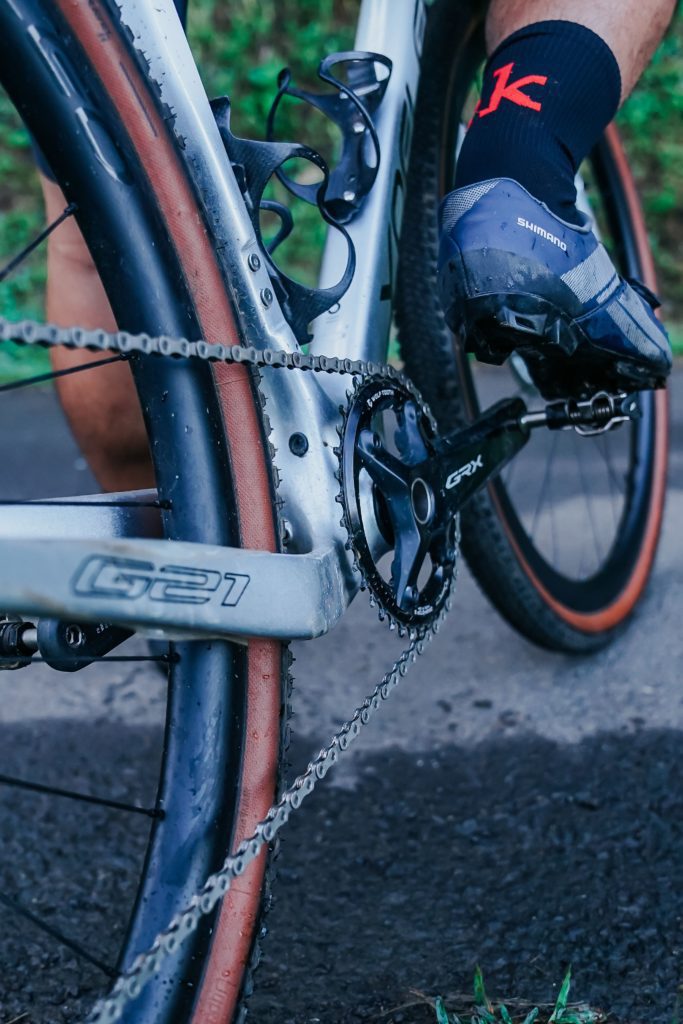 Should you consider weight?
Lightweight shoes require less energy to rotate them around when pedaling, so you can ride faster… see how that sounds? Just foolish. A few grams in your shoes are not going to make a difference, unless for pros in an indoor circuit.
Closure system
There are numerous retention systems that can provide a comfortable and secure fit.
BOA dials and ratchet (my favorite)
Velcro (can get old and stop sticking tightly)
Shoelaces (can interfere with cranks)
Velcro and lace mix (more secure but overly complex)
Some shoes have combined two of the above systems for a more personalized and tailored fit. I personally favor BOA dials or Velcro.
Durability and Sole Stiffness
The outsole of most shoes is made from rubber, nylon, or carbon fiber. These materials differ in terms of applications and performance.
Carbon fiber is stiff; therefore, ideal for cross-country-style MTB shoes but not for gravel riding. Rubber provides a better grip off the bike and it'.s more comfortable Nylon is not stiff, but it's more durable and offers reliable comfort.
Visit our YouTube channel
FAQs About Gravel Bike Shoes
Do women need female-specific cycling shoes?
Women don't really need to buy women's cycling shoes. As with bikes, the differences are often minimal, and more like a market selling point than an actual specificity.
Basically, women's cycling shoes are a bit narrower than men's/unisex options and come in smaller sizes. So if you need a small size, that might be when you'll need to resort to buying women's bikepacking shoes.
Stay in touch while we get lost! Follow us on Social Media