Best flat MTB shoes! 7 best cycling shoes for flat pedals compared!
Waterproof, winter, woman, lightweight, for all budgets from cheap to top. Enduro, road, and gravel cycling, MTB – 7 great shoes for flat pedals
Although most riders of all levels ride with SPD clipless shoes, there are still a lot of cyclists out there (me included) that prefer flat pedal shoes.
When using a pair of the best flat pedal shoes on a large and grippy pedal the feeling of stability and the quantity of power transmitted are almost equal to those of a clipped foot, without the hassle of having to unclip in case of emergency and the inability to walk given by SPD cleats.
We compiled this list to help flat pedal lovers – either mountain bikers, bikepackers, tourers, or gravel riders – in selecting the best flat pedal shoes for their needs and style.
The best MTB flat-sole shoes in a nutshell
7 Best flat pedal shoes for MTB, Gravel, Enduro, and Touring
Disclosure: Some of our articles contain affiliate links. This comes at no additional cost for you and helps us keep this website up and running. (as Amazon Associates we earn commission from qualifying purchases)
How we compile our gear guides: during the almost 10 years of cycloscope.net our team personally tested dozens of similar pieces of gear. For what we can't test personally, we involve other people in the cycling community to give their feedback and opinion about gear they have used. Our decade-long experience in bicycle touring enables us to find the key cons and pros of every product we mention.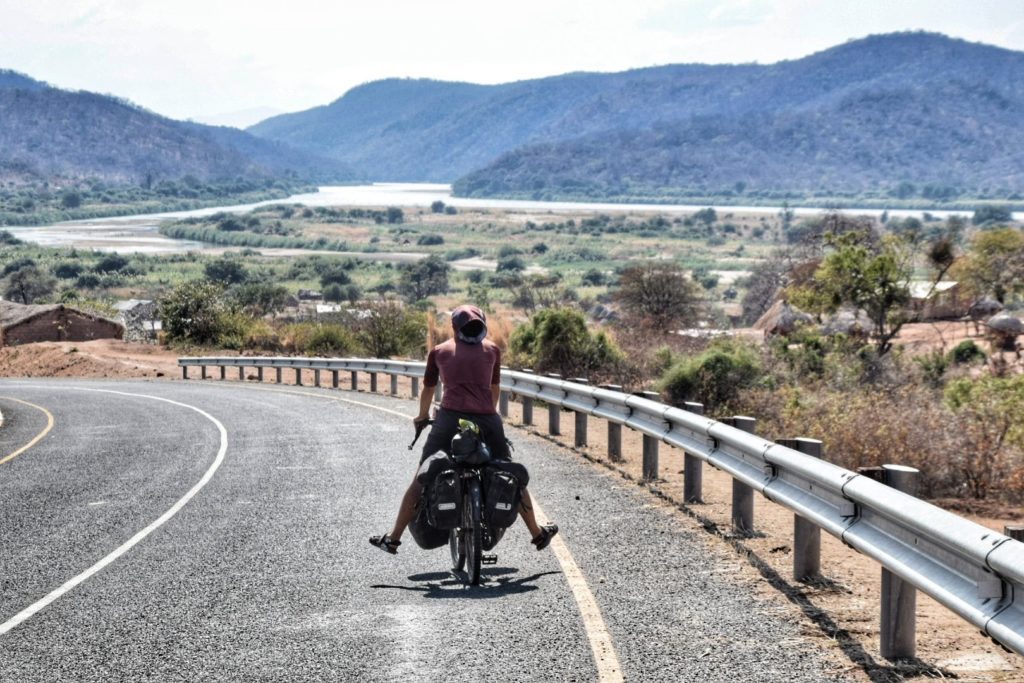 If you're not used to clipping in with SPD, or just don't like it, or your MTB or gravel bike has flat pedals, if you do a lot of hike-a-bike in extreme trails, or whatever other reason you might have… here are our picks in regards to flat pedal cycling shoes.
1. Five Ten Trail cross GTX – EDITOR's PICK!
Best waterproof mob flat shoe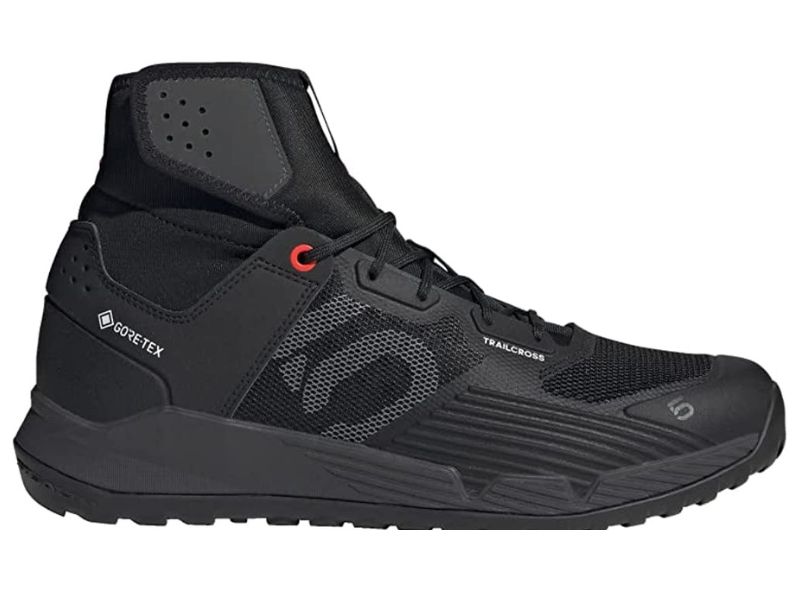 The first fully waterproof bikepacking shoes for flat pedals! Five Ten finally hopped on this inexplicably empty marketplace by manufacturing a GORE-TEX fabric MTB shoe that ultimately solves (or almost does) the eternal hassle of cycling with soaked feet.
Suitable for all conditions and any terrain, these could really be the ultimate touring bike shoes.
These Five Ten mountain bike shoes by Adidas are really made for adventure riding. With the lightweight and cushioned feel of a trail running shoe, the neoprene cuffs to seal out dirt and splashes, and the pedal-gripping power given by the Stealth Phantom rubber under sole – these are ultimately our favorite flat pedal cycle touring shoes.
2. Giro Riddance Cycling Shoes
Lightest flat pedal shoes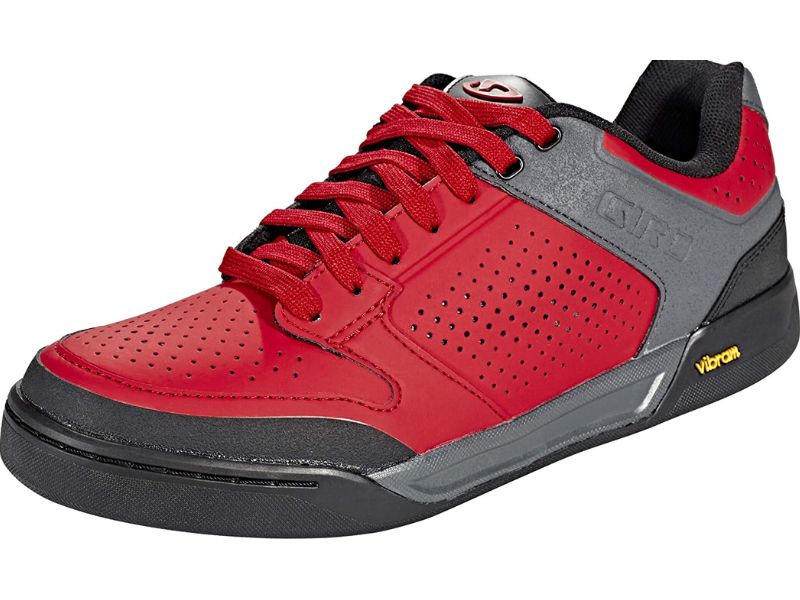 Giro Riddance is a great flat pedal bike shoe with a powerful and safe grip great to use on any bike touring road or trail.
Featuring a breathable and water-resistant microfiber upper with some rock prints that provide abrasion resistance. For durability and foot protection, this pair has a rubber-reinforced heel and toe cap.
Its unique laces are the lightest closure system available that holds a knot perfectly and offers unrivaled fit adjustment.
3. SHIMANO SH-GR500
Best Shimano flat pedal shoes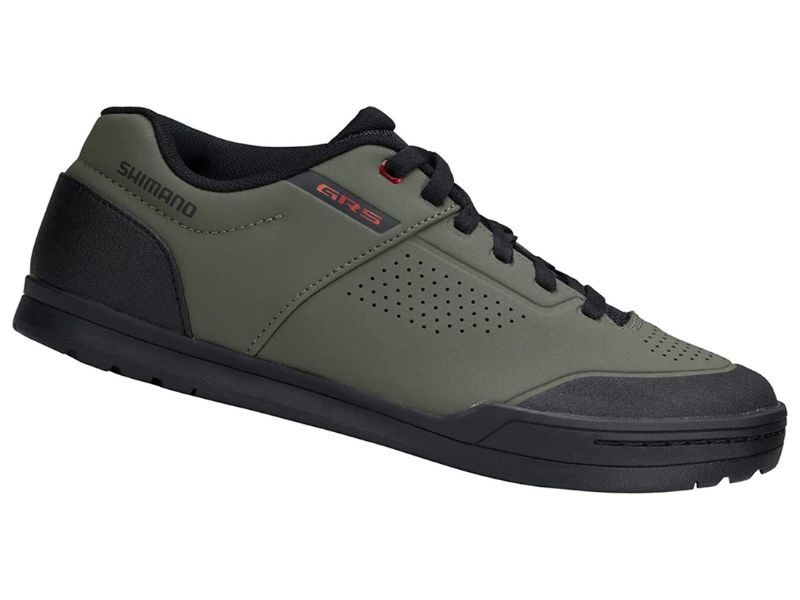 Another great platform pedal shoe from Shimano. The SH-GR500 is one of the best flat pedal touring shoes available.
The grip is fundamental for flat shoes, especially in mountain biking, and these Shimano don't fall short. The sticky-rubber outsole feels glued on the pedal, and it's also great for hikes off the bike.
The mesh on top makes these bike touring shoes very breathable, and the ordinary look is a great advantage, as you won't need to carry another pair of shoes for your off-bike time.
A downside is no added water resistance, so you'll need to wear cycling overshoes to avoid getting your feet soaked when raining.
4. Five Ten Freerider Pro
Best platform pedal shoes for winter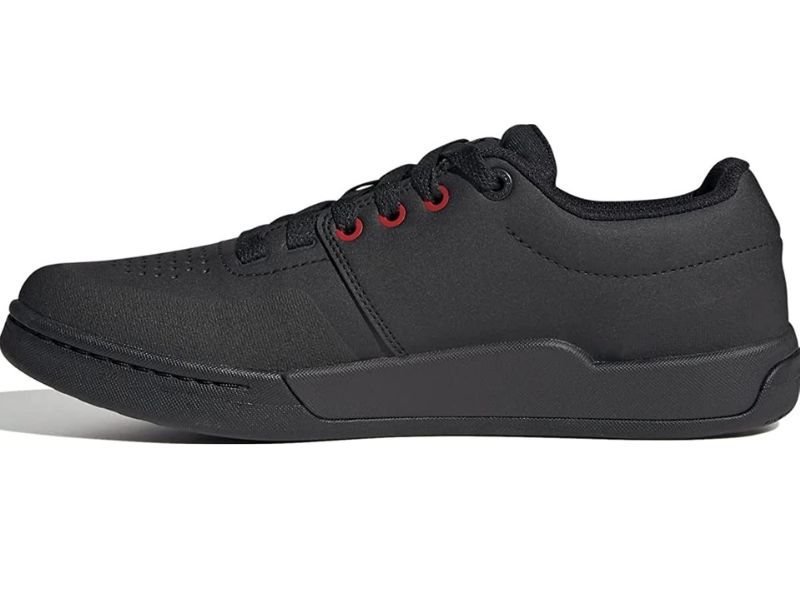 The Freerider Pro is a very stylish mountain biking shoe but that's not its only quality.
These shoes by Five Ten (Adidas) are grippy, breathable, and water-resistant (almost waterproof) – suitable for all the needs of the flat-pedal-loving mountain biker.
While its rubber sole doesn't have the thickness found in some other models, it does deliver an impressive pedal grip and feel, thanks to the dotted Stealth S1 rubber compound.
To improve the rider's comfort, these shoes feature a removable Ortholite sock liner and compression-molded EVA midsole, which make your feet feel cuddled and warm in winter.
And to keep your toes safe while mountain biking the worst trails, these flat pedal cycling shoes feature a stiff impact-resistant toe box.
The attention to the environment by Adidas/Five Ten is highlighted by the use of recycled plastic. Even if probably just a marketing trick, it can't be bad to upcycle garbage.
Breathable and comfy in hot weather, warm and cozy at lower temps, these are really great shoes for all sorts of cycling – enduro, MTB, touring, gravel, road, etc.
5. Leatt 3.0 Flat V22
Best cheap flat pedal shoes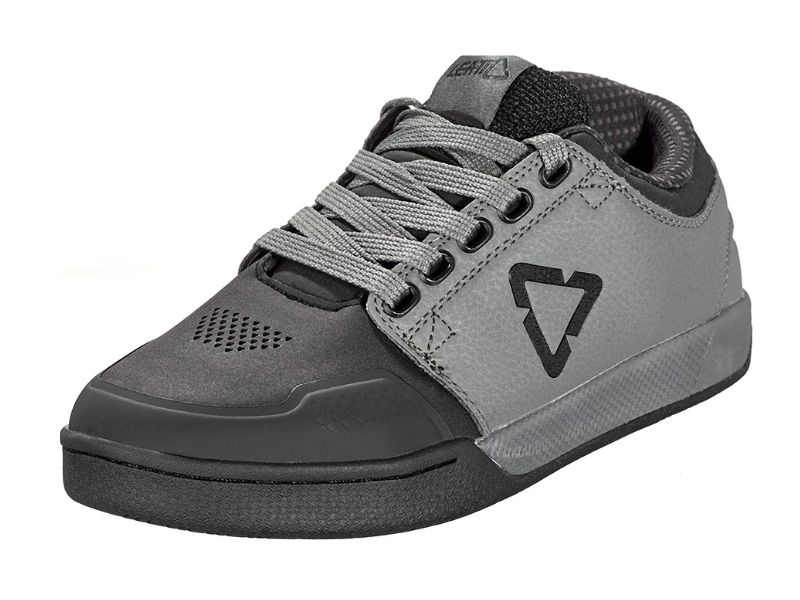 These budget flat pedal mountain bike shoes by Leatt are affordable and high in quality, a perfect compromise for those looking to gear up for cheap.
The sole is not as stiff as other models, Leatt relies instead on the Flex-Control technology for a medium-hard feel that feels pretty great.
When it comes to comfort, an anti-compression midsole and the active carbon moisture-wicking, quick-dry, material do their job of keeping you at ease while riding.
The waffle pattern pedal area is optimized for a superior pin grip, helped by the heel and toe mudflow channels to provide grip in all weather conditions.
They are padded on the mid-ankle, toes, and heels for protection, the materials are puncture and tear-resistant and quite waterproof, giving out an overall feeling of strength and durability.
6. Pearl Izumi X-Alp Launch
Best flat pedal shoes for enduro trail riding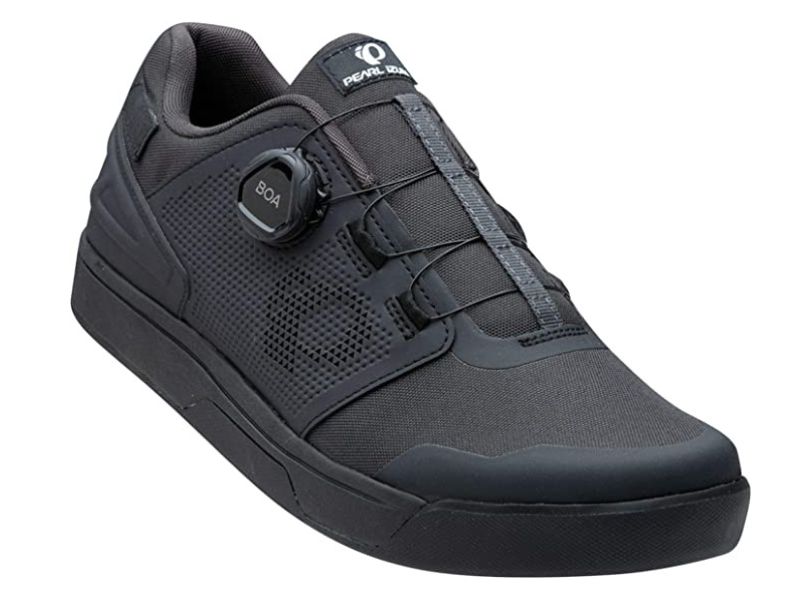 An extremely lightweight shoe designed to handle the abuse of mountain bike riding, the Pearl Izumi X-Alp Launch is a sleek-looking product.
The sole is a premium dual compound Vibram Megagrip, combined with long-wearing rubber at the toe and heel, and a stiff 3/4 length nylon shank. Perfect coupling with the pedal and has great power transfer.
The upper is made of seamless recycled Cordura, allowing for great breathability, optimal comfort, and fast drying.
Cons: not the grippiest flat pedal shoes on this list

7. ION Scrub Select
Best MTB flat-sole shoes for comfort
Last but not least, a real leather MTB platform shoe from Austrian-based brand Ion – and it's the most comfortable flat-sole cycling shoe ever.
The upper features double-stitched, four-piece leather construction with a rubber protective toe cap and perforated area on the forefoot and outer side.
The mid-top inner contributes to comfort and cushioning with fine-grain padded leather, especially thick on the higher ankle.
A combination of the rigid midfoot and relatively flexible toes and heels provides efficient pedaling power while guaranteeing the natural foot movement and flex needed for hiking or trekking. The Ortholite EcoPlush insole offers more than adequate padding.
The Scrubs' closures are lace-ups with a single hook and loop closure at the toe-end of the lace stay allowing riders with wide feet a precise tuning and fit.
The grip is one of the best in this review and the sturdy construction seems to speak longevity.
Cons are the high price, the relatively heavy weight, and the limited breathability which makes them suited for winter temperatures.
Great flat pedal MTB shoes for extended bikepacking trips.
Visit our YouTube channel
Check Also

> 14 Best Shoes for Cycle Touring & Bikepacking: SPD VS Flat
> 10 Best Clipless Mountain Bike Shoes: SPD Cleats for MTB
> The 12 Best Cycling Overshoes: Waterproof Shoe Covers for Winter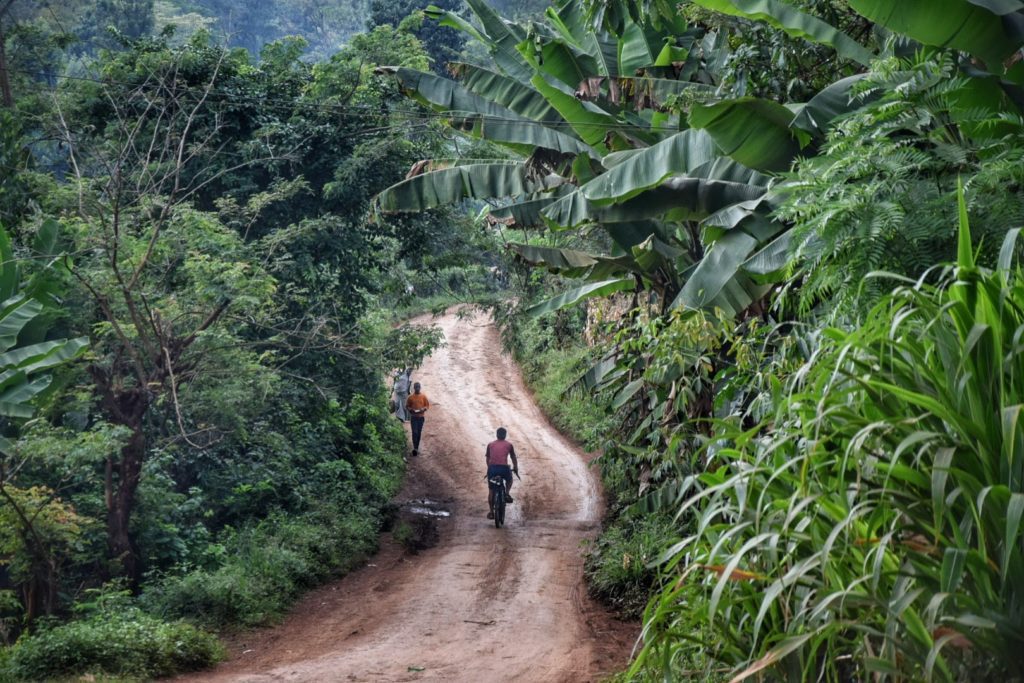 FAQs about flat pedal cycling shoes
What is the best shoes for flat pedals?
The best MTB flat sole shoes in a nutshell
1. Five Ten Trailcross GTX – EDITOR's PICK!
Best waterproof mob flat shoe
2. Giro Riddance
Lightest flat pedal shoes
3. SHIMANO SH-GR500
Best Shimano flat pedal shoes
4. Five Ten Freerider Pro
Best platform pedal shoes for winter
5. Leatt 3.0 Flat V22
Best cheap flat pedal shoes
6. Pearl Izumi X-Alp Launch
Best flat pedal shoes for enduro trail riding
7. ION Scrub Select
Best MTB flat sole shoes for comfort
Are flat shoes good for cycling?
Flat shoes are great for cycling as long as they are grippy enough to feel glued to the pedal, and stiff enough to offer optimal power transfer.
Do mountain bike shoes matter?
Yes, a good pair of shoes can make a world of difference in control, efficiency, comfort, and safety on a MTB.
Stay in touch while we get lost! Follow us on Social Media