The best socks for biking compared! Waterproof, insulated, wool, compression. From winter to summer, from road to MTB
Socks are a necessary item in the biking world. The best cycling socks for the right occasion can mean a lot, not just for the competitive cyclists, but also for those of us hardcore bike commuters, cycle tourers, bikepackers, and amateurs mountain bikers.
The best socks for winter cycling have to be warm, summer socks have to be breathable, and having a pair of waterproof socks can change our mood a lot when facing ugly wet weather.
Socks are an often underrated cycling item, even we didn't really mind them at the beginning of our cycling career. After having tried some of the best cycling socks from this list we'll never go back to poor-quality socks (or regular socks!).
In this article, we selected the best cycling socks for all occasions and added a buying guide section at the bottom to help you understand the differences among the various types of socks for biking.
Check Also:

> The 8 Best MTB Winter Jackets -Waterproof, Softshell, Windbreakers
> The 12 Best Cycling Overshoes: Waterproof Shoe Covers for Winter
> Winter Cycling Pants: 7 Best Tights and Bibs for Cold Weather Biking
> The 7 Best Winter Cycling Gloves for Road Cycling, MTB, Bikepacking & Bike Commuting
> 10 Best Winter Cycling Jackets Reviewed – Hardshell, Softshell, and Fleece from Cheap to Top
Disclosure: Some of our articles contain affiliate links. This comes at no additional cost for you and helps us keep this website up and running. (as Amazon Associates we earn commission from qualifying purchases)
How we compile our gear guides: during the almost 10 years of cycloscope.net our team personally tested dozens of similar pieces of gear. For what we can't test personally, we involve other people in the cycling community to give their feedback and opinion about gear they have used. Our decade-long experience in bicycle touring enables us to find the key cons and pros of every product we mention.
The Best Cycling Socks in a Nutshell
Best Winter Cycling Socks

Castelli Incendio Cycling Sock

Best cycling socks for freezing winters

SEALSKINZ Waterproof Ankle Length Sock With Hydrostop

Best waterproof winter cycling socks

Giro Winter Merino Wool Cycling Socks
Swiftwick PURSUIT SEVEN Cycling Socks
Shoulder seasons cycling socks

C3 Partial Gore Windstopper Socks
Castelli Gregge 15 Cycling Sock
Best Summer Socks

DEFEET Aireator Share The Road Socks
SuMade 100% Waterproof Socks

Best waterproof summer socks for biking
4 Best Winter Cycling Socks
Castelli Incendio Cycling Sock
Best cycling socks for freezing winters
The Castelli Incendio are the warmest winter cycling socks on this list, they will keep your feet comfortable even when you ride your bike in subfreezing temperatures.
Materials are PrimaLoft and merino wool, a thorough mix of breathability and insulation. Terry-cloth pads had been added along the whole sole, to ensure maximum durability, the compression is adequate and the color choice plenty.
Overall the Castelli Incendio are our pick for the best cycling socks for extremely cold weather (0 -20 C / 32 -68 F)
SEALSKINZ Waterproof Ankle Length Sock With Hydrostop
Best waterproof winter cycling socks
If you're looking for some warm cycling socks for temperate winters but would also like an added layer of rain protection, the Sealskinz might be the right biking socks for you.
The three-layer construction resembles that of a hardshell jacket, an outer hydrophilic membrane, a wind-stopping layer in between (90% nylon, 10% Spandex), and a warm inner layer with a peculiar recipe, 36% Merino wool, 36% acrylic, 18% polyester, 5% elastane, 4% nylon, 1% TPU.
These rain socks cannot claim to be 100% waterproof, you'll get soaked under a downpour but will stay reasonably dry under average precipitation. Being winter socks, they don't perform well in warm weather, when the breathability of the Sealskinz waterproof might not be enough to keep you dry from the inside.
Giro Winter Merino Wool Cycling Socks
Legendary cycling brand Giro manufactures plenty of great cycling socks and the Giro Winter Merino is definitely among our favorites. The modern 6″ cuff length, makes these socks particularly suited for MTB, thanks also to the solid and durable mix of materials.
A 70% of merino wool guarantees comfort and warmth in a wide range of temperatures, while the 15% polyester, 10% Lycra, and 5% elastane check the box for optimal compression and tight fit.
The Giro Winter cycling socks are our pick for the best cycling socks for mild winters.
Swiftwick PURSUIT SEVEN Cycling Socks
Best mountain bike socks
Swiftwick has all hit the right buttons with the 2020 version of the Pursuit-Seven cycling socks. The materials are 63% merino wool, 35% nylon, and 2% spandex, a very warm mix suitable for biking in really cold weather.
A moderate compression throughout the foot arch band envelopes your feet to support muscles and keep your socks in place, while mid-level cushioning gives a little foot support and adds extra durability.
The reinforcements on the calf and toes are a welcomed feature, improving both comfort and sturdiness in abrasion-prone areas. The toe seams are invisible and not felt at all, eliminating friction and blisters.
The Swiftwick Pursuit Seven are really great socks, breathable, warm, and heavy-duty. That's why we recommend them to MTB lovers.
2 Best shoulder seasons cycling socks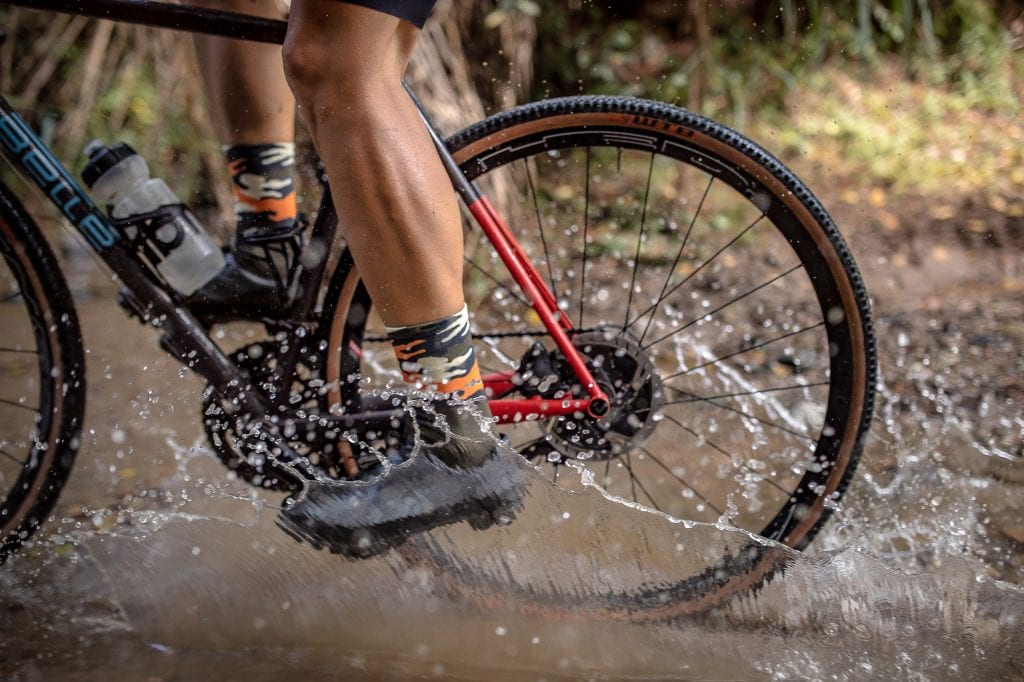 C3 Partial Gore Windstopper Socks
Best for Autumn/Spring
The Gore Wear C3 Partial Windstopper cycling socks are exactly what you need for conditions that aren't too cold, but definitely require some extra insulation. Spring and autumn are tricky seasons, and choosing the right gear for those variable weather conditions is not easy
These socks use a Gore Windstopper membrane, the same used in their famous softshell jackets. This fabric blocks the air from chilling your toes while allowing enough perspiration to blick moisture wicking. and keep your feet comfy.
Their snug fit is totally friction-free, with no seams at all in the heel and toes, compression is just right, tight enough for professional needs, but still comfortable for everyday use.
Castelli Gregge 15 Cycling Sock
Great early-winter socks
The beautifully colored Castelli Gregge 15 are great cycling socks suitable for most seasons. Their blend of merino wool and synthetic materials offers great insulation in above-freezing weather and high-temperature control in the warmer range.
With these socks by Castelli, you don't need to worry about starting to sweat once the sun peeks out, the airflow is really excellent. The fabric recipe is: 65% Wool, 30% Elastolefin, (Olefin), 5% Polyamide (Nylon).
For 2021, Castelli added 3 cm of length onto the cuff (now 15 cm long), ensuring even greater warmth and comfort, and a tighter fit.
The foot-sole has also been thickened along its full length, for comfortable cushioning and improved thermal insulation.
The Gregge by Castelli are also visually striking, with brand new colours and cool geometric patterns, because one should never forget about style, after all the Castelli people are Italian.
Best Summer Socks
DEFEET Aireator Share The Road Socks
Dafeet is another leading brand in the bicycle footwear world, with dozens of different cycling socks on their listing, some of which are very colorful and funny.
The model displayed here has been chosen for its great visibility and for the important message they convey. Hopefully, some drivers will have a spark of wisdom and avoid passing you at scary distances after reading this… at least we hope.
Like all Dafeet cycling socks, the Arieator wears well and are comfortable, provided with a 6-inch cuff, a mesh at top of the foot and toe box for high breathability even in the hottest summers.
Manufactured in North Carolina with an eco-friendly recycled polyester (39%), mixed with 60% nylon and 1% lycra, those are durable socks that perform very well in warm and hot weather.
Have a look at the whole Dafeet catalogue
SuMade 100% Waterproof Socks
Best waterproof summer socks for biking
Another favorite pair of waterproof cycling socks, this time suitable for summer bike rides, are the SuMade 100% Waterproof.
These are socks specially designed for rainy weather, the waterproof external membrane is combined with a Coolmax layer, that removes moisture from the foot surface, allowing the sweat to evaporate out.
They feature reinforcements and shock absorption on the heel, toe, and footbed areas, a soft and tight cuff, and a smooth seamless toe-box that helps to prevent irritation, itch, and blisters.
Things to Know About Cycling Socks
To help you choose the best biking socks for your needs, here's some base knowledge about what you should look at when buying cycling socks.
Materials
Cycling socks are usually manufactured using a blend of different fabrics, which are actually the same kind as those used in cycling jackets.
Merino Wool is nature's technical fiber, providing optimal temperature control for all seasons. The fabric has innate perspiration properties, it keeps moisture away letting sweat evaporate from your skin. With the right percentage of merino wool in your sock fabric, you will stay cool in warm weather, warm in cool weather, and dry and comfortable all year long.
Polyester is a synthetic polymer fabric, derived from coal, air, water, and petroleum. It is very resilient and able to withstand a good deal of wearing and tearing. Polyester is nowadays one of the world's most popular textiles in sportswear, resistant, lightweight, and quick to dry.
Elastene (Lycra/Spandex) is a highly stretchable and moisture-wicking fabric that most cyclists should be very familiar with. It's used in a lot of sports for its tight-fitting.
Length
Cycling socks come in different lengths, and the choice is entirely up to the rider. The base lengths are:
Short (below the ankle)
Medium (cuff 9/10 cm)
Long (cuff 13/15 cm)
Some say the ideal length is 7.5 cm but there's no clear reason for that if not that is the most common size used in pro cycling. Winter socks can feature longer cuffs for improved warmth and protection.
Check Also

> Gravel Bike Shoes: 9 Best Cycling SPD Shoes for Gravel Riding
> 7 Best Flat Pedal MTB Shoes: Sturdy, Waterproof, & for all Budgets
> 14 Best Shoes for Cycle Touring & Bikepacking: SPD VS Flat
> 10 Best Clipless Mountain Bike Shoes: SPD Cleats for MTB
Frequently Asked Questions About Biking Socks
Do cycling socks make a difference?
Yes, they do. Regular socks will not be breathable enough, trapping the sweat inside. They will also slide under the foot very easily.
Stay in touch while we get lost! Follow us on Social Media