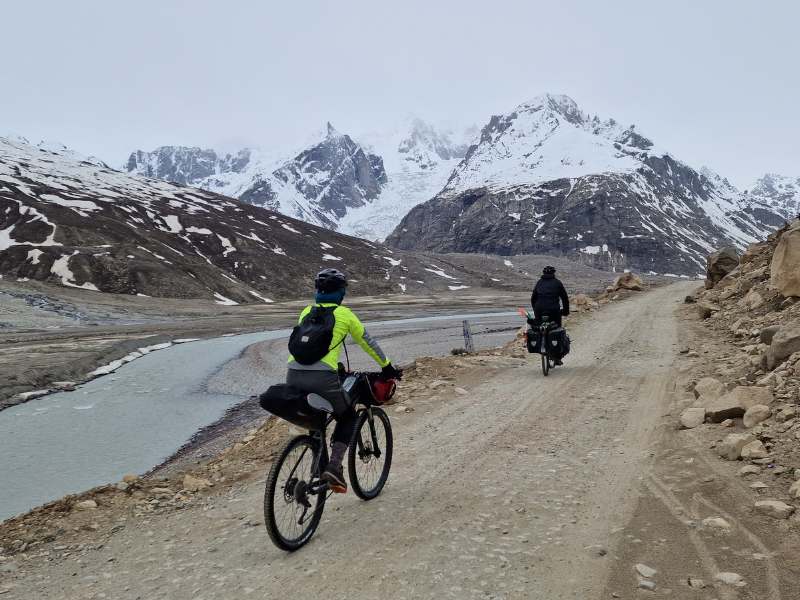 The best winter cycling pants & bib-tights
A comparison of the best cold-weather biking pants for men and women
Thermal, insulated, waterproof, padded, suited for MTB
Looking for the warmest pants and bib tights for winter cycling? You are in the right place. In this article, we'll give you some advice on how to choose the best cold-weather cycling tights to get you ready for 2023/2024's winter.
Should we give up our hobby or primary means of transport just because of some cold weather?
For some this is not even an option, many commuters in northern countries rely on their bicycle daily, and racers, even amateurs, cannot afford to give up training for three or more months (sure you could train indoor, but the real world is out there!).
Then there are long-distance bicycle tourers that will have to face all the harshest conditions, they also could use some good cycling tights to keeps themselves warm.
Choosing the right winter cycling pants is not too difficult, with this guide we hope to give you all the information to spend your money wisely and get the best tights or bib-tights for you.
Check Also

> The 11 Best Base Layers for Cycling in Winter
> The 9 Best MTB Winter Jackets – Waterproof, Softshell, Windbreakers
> The 12 Best Cycling Overshoes: Waterproof Shoe Covers for Winter
> 10 Best Cycling Socks from Winter to Summer in 2023
>The 8 Best Winter Cycling Gloves for Road Cycling, MTB, Bikepacking & Bike Commuting
> 10 Best Winter Cycling Jackets Reviewed – Hardshell, Softshell, and Fleece from Cheap to Top
Disclosure: Some of our articles contain affiliate links. This comes at no additional cost for you and helps us keep this website up and running. (as Amazon Associates we earn commission from qualifying purchases)
How we compile our gear guides: during the almost 10 years of cycloscope.net our team personally tested dozens of similar pieces of gear. For what we can't test personally, we involve other people in the cycling community to give their feedback and opinion about gear they have used. Our decade-long experience in bicycle touring enables us to find the key cons and pros of every product we mention.
The best winter cycling pants & bib-tights in a nutshell
6 Best Winter Bib Tights for Biking
1. Castelli Sorpasso RoS
Best bibknicker for road and gravel biking
SPECS
Size: S, M, L, XL, XXL, XXL.
Fabric: 100% Spandex – Nano Flex 3G.
Colors: Black, Black Reflex.
Weight: 284 g – 0.62 lbs.
Fit: Comfortable.
Waterproof: Water-repellent.
Temperature: 10°C – 16°C / 50°F – 61°F
Ideal for: Long winter rides.
The Sorpasso Ros by Italian legend Castelli are real top-level winter bibs! With a 3/4 length, they're not meant for the harshest conditions but work great for those rides in a chill and obnoxious weather.
The Nano Flex 3G fabric is indeed very warm, comfy, and most importantly water-repellent. The upper-front, tights, and backsides have an extra layer of Nano Flex Xtra Dry fabric, meant to provide additional protection from road splashes and sprays.
The lining is soft and breathable, the sweat evaporates fast also from the chamois, which is comfortable also on long rides and gentle on the skin.
The elastic grip at the bottom of the calf is strong enough to keep the bib tights in place, without pulling on the skin.
2. Gore C3 Thermo Bib Tights
Best windstopper winter bib-tights
SPECS
Size: EU: S, M, L, XL, XXL – USA: XS, S, M, L, XL.
Fabric: 85% Polyamide, 15% Elastane. Machine Wash.
Colors: Black/ Neon Yellow.
Weight: 9.5oz (269g).
Fit: Slim Fit.
Temperature: N/A.
Ideal for: Road cycling.
Let's start with a brand that is synonymous with quality winter gear. The Gore C3 Thermo bib-tights are simply the best winter bib-tights you can get for all weather conditions.
They are constructed with GORE-TEX fabric, completely water-resistant, windproof, and extremely breathable.
The seam-free mesh design avoids friction-caused skin irritation and improves comfort, while the pre-shaped knees ensure optimal fit and perfect performance.
The pad is one of the best available on the market, the ACTIVE VARIOUS seat insert is also manufactured using GORE WINDSTOPPER. Great comfort and warmth even during long rides in near-freezing temperatures (they might not keep warm in low subfreezing ranges).
3. Rapha Core Winter Tight
Best value for money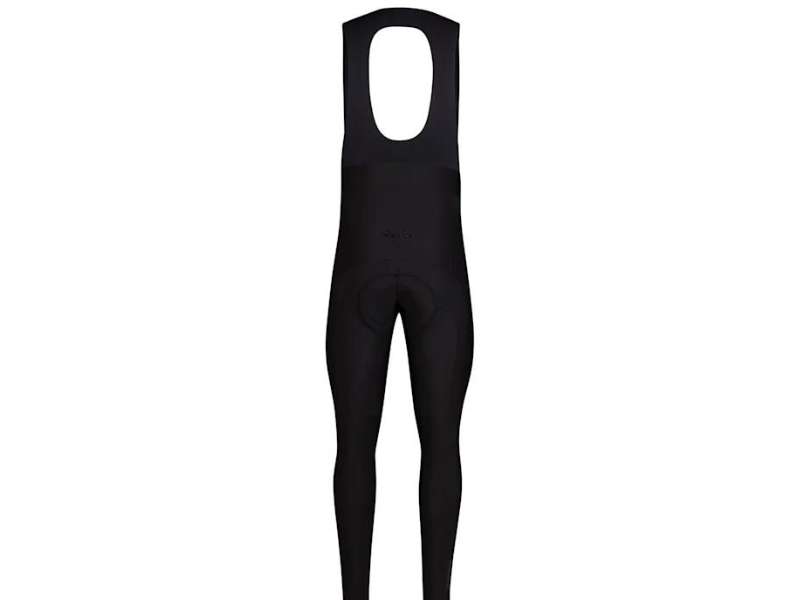 SPECS
Size: XS, S, M, L, XL, XXL.
Fabric: 83% Nylon, 17% Elastane. Machine wash 30°.
Colors: Black.
Weight: N/A.
Fit: Classic.
Temperature: N/A.
Ideal for: Winter road rides.
Rapha is another legendary brand in the world of pro-cycling, the price tag of their products usually reflects that, but not in this case.
The Rapha Core Winter Tights are the cheapest cold-weather bib-tights in the company's catalog, but still retain most of the features of their more expensive siblings at an affordable price point.
The fabric used for the back of the legs is a brushed nylon fleece, capable of keeping your muscles warm, while the bibs are made of lighter, stretchier material for comfort and perspiration flow.
The shoulder straps are wide and comfortable, and the added reflective stripes ensure high visibility on the road.
The padding is not the best Rapha has available, but still one of the most amazing on the market, Rapha knows how to keep your butt from sores.
4. Santic Compression Winter Cycling Bib Tights
Best cheap cycling bib-tights
SPECS
Size: S, M, L, XL, XXL.
Fabric: 85% Polyamide/15% Spandex. Hand Wash Only.
Colors: Black/White – Black/Red.
Weight: N/A.
Fit: Pro Fit.
Temperature: N/A.
Ideal for: Middle or long distance cycling in mild winters.
If you are looking for some cool winter bib tights but don't want your wallet to cry too loud, here is a great product for a very cheap price.
The materials are a usual blend, 85% Polyamide, 15% Spandex, with a highly elastic and friction-free mesh fabric on the back to fit all body types.
The cushion padding is not bad for this price, Italian materials, great breathability, and strong load-bearing capacity. While the 19cm-long lower leg zipper protects the ankle, and ensures easy wearing and taking off. The reflective strip seems visible enough to make you noticeable in the darkness.
These winter tights are capable of keeping you warm even in sub-freezing temperatures but they are definitely not mid-season pants, don't wear them when is too warm outside.
5. Castelli Polare 3 Cycling Bib Tight 
Best for real cold-weather cycling
SPECS
Size: S, M, L, Xl, XXL, XXXL.
Fabric: 100% Spandex. Hand Wash Only.
Colors: Black.
Weight: 332 g – 0.76 lbs.
Fit: Comfortable.
Temperature: low 20's F /- 6°C
Ideal for: extreme weather or max warmth.
If you live in a really cold area or plan to cycle through Siberia in winter, the Castelli Polare needs to be your next bib-tights. These are some of the warmest cycling pants available, capable of keeping you comfortable way below the freezing point.
The Castelli Polare can fend off icy, biting wind gusts thanks to the Gore Windstopper X-Fast fabric, that is stretched across the front and wraps around the sides.
Across the back, Castelli uses its soft, fleecy Thermoflex Core2 fabric for a perfect mix of breathability and warmth.
The Polare 2 tights also feature Castelli's high-quality KISS Air chamois, a really astounding pad capable of offering comfortable support without adding extra bulk.
The bibs are lightweight and minimal, with reflective accents across the legs to increase the rider's visibility to other road users.
6. Assos Mille GT Winter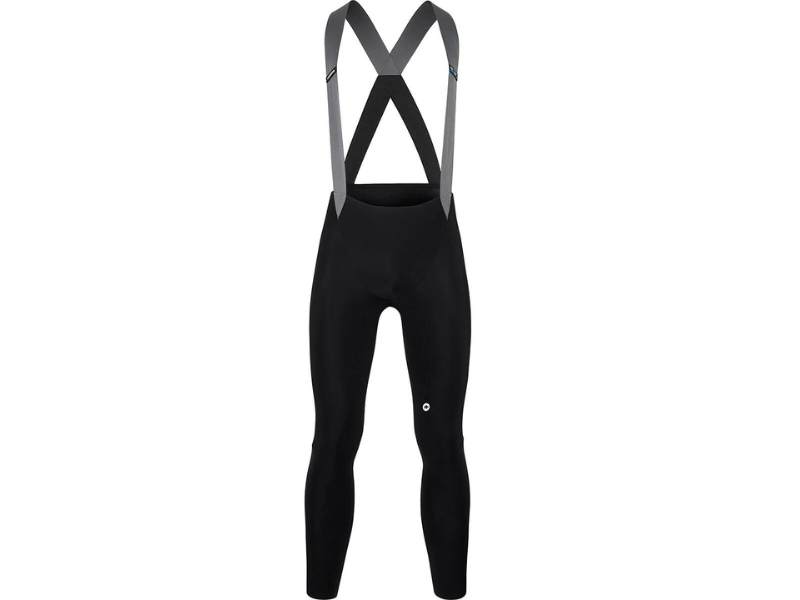 SPECS
Size: XS, S, M, L, XL, XLG, TIR.
Fabric: 81%PA 15%EA 4%PL.
Colors: Black.
Weight: N/A.
Fit: Regular.
Temperature: N/A.
Ideal for: Racing + Long winter rides.
Designed to conquer the harshest winter cycling conditions while ensuring you remain warm, flexible, and well-supported throughout your rides. These bib tights offer full-length coverage and feature flexible insulation, catering to the demands of challenging winter rides.
What sets these Winter Bib Tights apart is their versatility. They are available without an insert, allowing you to layer them over your preferred bib shorts, already broken-in to perfection. This layered approach not only provides extra insulation but also enables you to adapt to changing weather conditions with ease.
The tights are thoughtfully designed to be lightly compressive where it matters, striking a balance between comfort and performance without the extreme tightness of the racingFit design.
7. Le Col Sport Bib Tights II
best padded bib tights
SPECS
Size: XS, S, M, L, XL, XXL, XXXL.
Fabric: 80% Nylon (Recycled), 20% Elastane (Recycled). Machine Wash at 30°C / 86°F.
Colors: Black, Black/Yellow, Black/Blue, Black/Orange.
Weight: N/A.
Fit: Comfortable.
Temperature: N/A.
Ideal for: Long tours.
This version II is an improvement on the already fantastic Sport Bib Tights. Virtually nothing has changed, just a little color to give greater visibility while cycling in the winter mist.
The fabric is completely recycled. Roubaix fleece fabric in the legs + foam chamois pad make these bib tights among the highest quality ones in our list.
The fit is comfortable and the sizes fit as they should. Remember to always check the size chart, for example what in Europe is M in US is S.
3 Cycling Waist Tights for Cold Weather
If you don't like bib tights, and prefer the freedom of normal waist-height pants, we selected for you two great options + one MTB winter pants.
1. Yeti Cycles Renegade Ride Pant
Best Winter Trail, Enduro, MTB cycling pants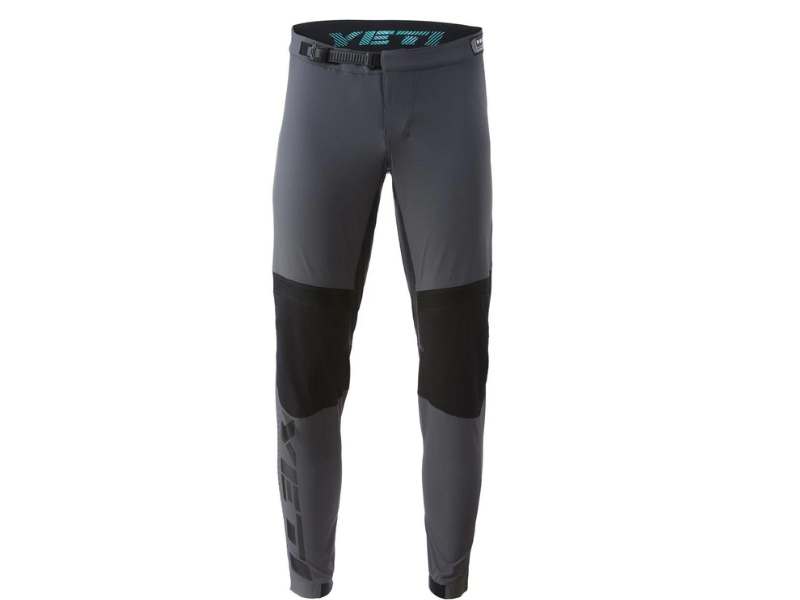 SPECS
Size: XS, S, M, L, XL.
Fabric: [face fabric] 82% nylon, 12% elastane, [knee] 87% Cordura nylon, 13% lycra.
Colors: Asphalt, Evergreen, Black.
Weight: 10 oz.
Fit: Race.
Temperature: N/A.
Ideal for: Trail, Enduro.
Crafted using a blend of four-way stretch nylon, these pants are designed to provide exceptional flexibility and durability.
The strategic inclusion of abrasion-resistant stretch Cordura nylon at the knees ensures that these pants can withstand rocky encounters and thorny obstacles, all while maintaining a comfortable and unrestrictive feel.
You'll stay cool and comfortable even in challenging conditions, as these pants are engineered to prevent overheating and that uncomfortable clammy sensation.
The seamless, gusseted crotch design, which eliminates chafing and potential saddle hot spots. This construction allows for unrestricted movement, even when navigating through terrain that might require you to hike your bike.
2. Pearl Izumi – Ride Elite Thermal Cycling Tights
Best cycling pants
SPECS
Size: S, L, XL, XXL.
Fabric: 56% Nylon, 30% Polyester, 14% Elastane.
Colors: Black, Black/Screaming Yellow.
Weight: N/A.
Fit: Comfortable.
Temperature: N/A.
Ideal for: Mid-weight tight for cool temperatures rides.
From leading brand in professional cycling clothing Pearl Izumi, here's a great pair of biking pants for those who are allergic to bib-tights.
This mid-weight waist-length tight utilize ELITE Thermal fabric for insulation and warmth, with just enough breathability to keep you comfortable and dry in cool temperatures.
The construction is a mix of 56% Nylon, 30% Polyester, 14% Elastane, just right from around 40-50F, to a few degrees below freezing.
The built-in ELITE 3D Chamois pad stands up to Pearl Izumi's high standards, comfortable, durable, and breathable you don't have to layer it over cycling shorts. The contoured leg opening provides additional coverage at top of the foot and features 360-degree reflectivity.
3. Przewalski 4D Cycling Tights
Best budget tights
SPECS
Size: XS, S, M, L, XL, 2XL, 3XL, 4XL.
Fabric: 100% Spandex.
Colors: Black.
Weight: N/A.
Fit: Slim fit.
Temperature: N/A.
Ideal for: MTB, road cycling.
Another cheap product if you're on a budget and do not want bib-tights, our mention of honor for the best cheap waist-height cycling tights goes to Przewalski.
The two-layer construction consists of a stretchy external fabric and a fleece inner layer, making these tights pretty warm and capable of keeping you dry even for long-distance rides in the cold hearth of northern winters, more than warm enough to ride in temperatures as low as 25-30F.
The compression level is optimal and the chamois padding, also multi-layered, fit tight into all of the curves of the crotch area for an ergonomic fit.
How to choose the best winter cycling tights for your needs
Not all winters are the same, if you're fortunate enough to live in the temperate zone and at low altitudes, you probably don't need a fully insulated pair of tights.
Riders living in areas where the winters are unforgiving should go for a pair of tights featuring wind protection and maybe some water-resistance.
Bibs tights offer more coverage protection from splashes and wind sneaking in by eliminating any chances of exposed skin around your midsection. The downsides are the added layer of difficulty when suiting up, and make going to the loo quite a pain.
Luckily, many companies nowadays offer bibs with some sort of easy access for when nature calls.
The padding is also important, as we all got to know from personal experience. You could use a pair of cycling shorts underneath your tights or go for pants with built-in pads (we recommend the latter). There are two ways to wear a chamois with winter tights.
Buy a pair with a chamois already built-in, or layer non-chamois tights, like the 7Mesh Hollyburn, with your favorite pair of chamois shorts.
Layering increases your chances of chafing, but opting for a pair of tights without a chamois can save you some dough—the Pearl Izumi Elite Escape AmFib sans chamois costs $20 less than the padded version.
Don't forget visibility, most cycling tights in this list have more than adequate reflective elements for you to stay visible in low light conditions.
Do you really need bib tights?
Bib tights might look awkward, but they are really the best option when it comes to serious cycling, ever wondered why the pros only use bibs? They are the firmest and comfortable option, thanks to the high level of compression.
What are the best winter cycling tights?
Stay in touch while we get lost! Follow us on Social Media