The best turbo bike trainers for indoor cycling Direct drive, smart, fluid, and budget friction cycle trainers, reviewed. Affordable, entry-level, best value!
Although I'm not a fan of indoor cycling, maybe it's time to learn about the best bike trainers out there.
In this comparison article, you'll learn the difference between direct drive trainers and wheel-on (friction) bike trainers, and read about the best turbo trainers through our reviews.
We made a selection of the best cycling trainers for all budgets, our aim is to offer a diversified range of options, from cheap trainers for occasional users to the very top direct-drive smart trainers on the market.
While the cheap ones don't offer much more than spinning, some over $700 go further to simulate climbs/descends by following a virtual "ride" and automatically adjusting resistance to mimic that. Read on!
The 7 Best Bike Trainers in a Nutshell
Those are our picks, the models are described in detail after the buying guide section. We choose to feature four direct drive trainers and 3 friction trainers.
Disclosure: Some of our articles contain affiliate links. This comes at no additional cost for you and helps us keep this website up and running. (as Amazon Associates we earn commission from qualifying purchases)
How we compile our gear guides: during the almost 10 years of cycloscope.net our team personally tested dozens of similar pieces of gear. For what we can't test personally, we involve other people in the cycling community to give their feedback and opinion about gear they have used. Our decade-long experience in bicycle touring enables us to find the key cons and pros of every product we mention.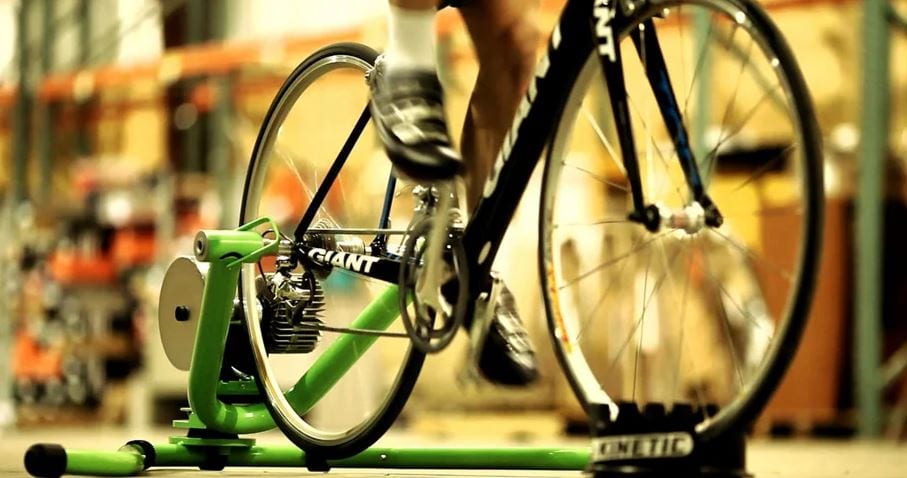 4 Best Direct Drive Bike Trainers
There are many cool models of Direct Drive trainers out there, we decided to include this four since they have different characteristics and price tags.
The four brands mentioned here are among the major ones when it comes to direct drive trainers, so you can explore their other products from the links provided in the "about the brand" sections.
Tacx NEO 2 Smart Indoor Turbo Trainer
Most realistic indoor bike trainer for Less than 1,200$ – Link
About the Brand – Tacx
Tacx is a Dutch company founded in 1957, they were the first to connect computer electronics to bike trainers. All their products are designed and assembled in the Netherlands.
Tacx NEO 2T Smart Review
PROS:
Exceptionally quiet
Ability to move from side to side
Self-Powered
Accurate Power-meter
Road Feel Simulation
CONS:
No Cassette Included
Price
With the recent upgrade from leading in the bike trainers industry, the Neo 2T Smart is even quieter than the old brother, the Tacx Neo.
This indoor bike trainer has a large flywheel that replicates the oscillation of a bike on a real road, this gives a really realistic feeling, especially when performing high–octane activities like steep climbs or sprints.
The Neo 2T flywheel is made of metal, using the interaction between magnets and electrical coils to simulate various degrees of resistance according to your output, up to 2,200 watts.
Other interesting immersive features are Road feel, Dynamic Inertia, and Descent simulation. Road Feel is able to simulate different surfaces such as cobblestone, concrete, wooden plates, gravel, dirt roads, and many others. Descent and ascent simulators can mimic slopes from -5% to 25%.
The NEO 2 is ANT+ FE-C, Bluetooth, and FTMS compatible works with any training app. It has a built-in capacity cadence sensor (very precise) and it also broadcasts power and speed. Can be paired with apps such as Zwift in a very user-friendly way.
Tacx Neo doesn't come with a cassette so you need to provide your own. It's compatible with Shimano & SRAM 8-11 speed. It can mount also Campagnolo with the adapter sold separately.
ELITE Drivo Interactive Power Trainer
Best indoor climb simulator for less than 700$ – Link
About the Brand – Elite
Elite is an Italian brand, a leader in indoor cycling trainers manufacturing. Specialized in R&D, production, and marketing of home-trainers, bottles, and bottle cages since 1979.
ELITE Drivo Review
PROS:
Extremely accurate power readings (+/- 0.5%)
Slope simulation up to 22%
CONS:
Needs to be paired with a training app
Requires some assembly
Very bulky
This smart turbo bike trainer, has an incredibly accurate power measurement (+/-0.5%), all the advanced connectivity you might need to control the training and output data on your app of choice – Ant+, FE-C, and Bluetooth.
The electronic resistance control on the Drivo II works in two different modes, in ERG Mode the rider sets a specific power level, up to 2,300W. The trainer will stay at this value, no matter the gearing.
The Simulation Mode instead, mimics an incline from 0% to 22%. When using this mode, changing your gearing will make cycling easier or harder, just like in real life. The training can be of course personalized via software, the change of incline can be as fast as 3 seconds from 0% to 22%.
The Elite Drivo is very stable, thanks to its large foldable legs, it's ultra-silent and compatible with both quick-release and 142x12mm thru-axles. To get access to advanced readings such as pedaling analysis you'll need an $18.95 annual subscription to Elite's My Training App – good news, the first 36 months are included. Cassette though needs to be purchased separately.
CycleOps Hammer Direct Drive Smart Trainer
Best Budget Direct Drive Smart Turbo Trainer for Less than 850$ – Link
About the brand – Saris/CycleOps
CycleOps is a brand owned by the Saris Group, which also owns Bike Fixation and PowerTap. Born as an independent bike trainer brand in 1995, it was acquired by Saris in 1999. Saris headquarters are in Madison, Wisconsin.
CycleOps Hammer Review
PROS:
Cheap for a direct-drive smart trainer
Smooth resistance changes
Solid and durable
CONS:
Power-meter not very accurate
Some connectivity issues
CycleOps is the only brand mentioned twice in this list, that's because both their friction and direct-drive trainers are comparatively cheap and high quality. Although surpassed by the recently released H3, the Hammer is far from being obsolete.
The 2018 Saris/CycleOps Hammer is a great all-around smart trainer with a super-competitive price tag. It is capable of replicating slopes up to 20% grades, shifting smoothly between electronically controlled resistance values, offering a road-like-feel thanks to a massive 20lb precision-balanced flywheel that replicates the real world inertia.
The Hammer connects with all virtual Trainer apps and software that are supported through BLUETOOTH and ANT+. It is built to handle up to 2,000 watts, which means you'll need to be a pro cyclist to max the Hammer out. As an added touch, an integrated front wheel tray nestles neatly in the trainer for quick storage.
A strong, sturdy, reliable, and silent direct-drive bike trainer for less than 700$ seems too good to be true but the downsides are really not much relevant. The power meter accuracy stays at +/-3%, which is far from the competitor's performance but still acceptable, the cassette is not included (like with most DD trainers), it's maybe a bit heavy – some connection issues might happen, be sure to upgrade to the latest firmware.
Wahoo Kickr Smart Trainer
Most Silent Trainer for Under 1,200$ – Link
About the brand – Wahoo
Wahoo Fitness is based in Atlanta, Georgia. It specializes in indoor bike trainers (KICKR family), cycling computers (ELEMNT), cycling sensors, and Heart Rate Monitors (TICKR).
Wahoo KICKR Review
PROS:
Quietest trainer around
Easy to connect to computers and virtual platforms
Very smooth
CONS:
Requires an expensive add-on to simulate climbs
We kept one of our favorites for last. The Wahoo KICKR is probably one of the best direct drive turbo bike trainers out there.
Thanks to its re-engineered drive system, the Kickr Smart from Wahoo offers a super-smooth ride, can simulate slopes up to 20%(!), and is one of the most silent cycling trainers on the market.
The quantity of data provided by this great smart trainer is humongous, including Pedal stroke analysis (left & right power measurement) besides the usual speed, power (max output 2,200W!), and distance; The cadence is broadcasted without the need for a separate sensor.
Go for the Kickr KOM Bundle, and you get the Kickr Climb grade simulator along with the trainer for $1,500 (a $200 savings if you were to buy them separately). The Kickr Climb can simulate, in real-time, ascents up to 20% and descents of -10%.
ANT+ and Bluetooth Smart capabilities allow it to connect to both smartphones and GPS devices, simultaneously or separately, so to monitor your performance and change resistance and inclines (if using the CLIMB) via App. Thanks to the ANT+ FE-C connection the KICKR can be controlled also from any FE-C enabled device or application, including Garmin bike computers.
It comes with a thru-axle adapter that accommodates 142x12mm and 148x12mm axles, an SRAM/Shimano 11 Speed cassette (11-26), and a disk caliper spacer. The Wahoo KICKR is compatible with wheel sizes from 24″ to 29″(700cc). The unit weighs 21.32kg (Max User Weight: 113kg).
3 Best Wheel-On Magnetic/Fluid Bike Trainers
Here we feature our three favorite friction trainers, again the choice is motivated by trying to include some cheap trainers and some more professional ones.
Saris CycleOps Mag Bike Trainer
Best Budget Wheel-On Cycling Trainer for Less than 200$ – Link
About the brand – Saris/CycleOps
CycleOps is a brand owned by the Saris Group, which also owns Bike Fixation and PowerTap. Born as an independent bike trainer brand in 1995, it was acquired by Saris in 1999. Saris headquarters are in Madison, Wisconsin.
Saris CycleOps Magnetic Bike Trainer Review
5 levels of resistance
Pretty cheap
CONS:
Rear roller made of plastic
No sensors included
The CycleOps Magnetic Bike Trainer by Saris is a budget indoor cycling trainer ideal for beginners and for those who want to stay on the cheap side, if you plan on using a trainer only occasionally this is one of your best options.
The resistance is adjustable using a knob located on the side of the resistance unit, but this cannot be done while riding. If your bike has a wide gear range, just set the resistance to a middle value like "2" or "3", and change gears for a harder or easier workout.
The bike mounts easily into the trainer's frame, and the included axle quick release gives a solid engagement. Since the locking mechanism slides open and closed it only takes a few seconds to get the bike on or off the trainer.
The CycleOps Mag supports tires up to 29″ x 2.0, the actual weight limit is not stated but it can hold riders up to 300lbs+ (136kg). They also offer a lifetime warranty on all of their trainers and accessories.
The CycleOps Mag is a pretty solid entry-level trainer, easy to set up and use, and not too noisy. A great lower-end trainer for the money.
Kinetic Road Machine Smart 2 Trainer
Best Fluid Friction Bike Trainer for under 400$ – Link
About the Brand – Kinetic
Kinetic is a brand by Kurt Manufacturing. Kurt got its start in the cycling industry manufacturing bike trainer frames for a company that went bankrupt in 1999 and sold its brand. In 1999 they started building their own bike trainers according to their previous expertise. The company is based in Minneapolis, USA.
PROS:
Great value for money
Advanced connectivity/No sensors needed
Smooth ride and resistance changes
CONS:
Kinetic App is not great
Some pairing issues
The Road Machine Control smart trainer by Kinetic is a wheel-on fluid trainer that is a great bang for the buck. For less than 400$ it offers the same kind of connectivity as much more expensive cycling trainers at a budget-friendly price.
Compatible with apps like Kinetic Fit, Swift, Trainer Road, operating on Bluetooth Smart-or ANT+ connected phones, tablets, and computers it doesn't need any additional sensors to output speed, cadence, and power data.
The fluid resistance increases or decreases according to the wheel speed. The riders must shift gears and speed up or slow down to vary it. Training apps can give you power targets to match for a personalized workout.
The Kinetic Road Machine Smart 2 can fit most bikes on its tire-drive trainer. Including bikes with thru-axles, internally-geared hubs, and wheels as small as 16″.
This is a very easy trainer to get started with indoor cycling. Just mount the resistance unit, replace your bike's quick-release skewer with the Kinetic one and mount your bike. If your bike uses a 12 mm thru-axle use the Kinetic Traxle thru-axle adapter.
The riser and mat are sold separately. The riser is an interesting accessory as it really helps with stability. Includes a FREE 1-month subscription to the premium Smart package in the Kinetic Fit power-training app (lifetime use of Fit Core).
Blackburn Tech Mag 1 Trainer
Cheaper bike trainer under 300$ – Link
About the Brand – Blackburn
Founded in 1975 by Jim Blackburn, the brand made itself a name thanks to its innovative and diversified production. Lights, pumps, fenders, bags, racks, bikepacking cages, mirrors, locks, trainers, tools, and more.
Blackburn Tech Mag 1 Review
PROS:
Lightweight and compact
Cheapest bike trainer out there
CONS:
A little loud
No connectivity (can use separate sensors)
Could be a little more stable
Resistance is dependent on bike gearing
The Mag 1 is the most basic trainer by Blackburn and the cheapest on this list. For those who don't need too much fuss and just want to spin on their bike indoors, this is a great basic cycling trainer for less than 100$. Blackburn has slightly more advanced trainers (like the Mag 5) costing not much more, but we choose to feature this – it doesn't get cheaper than that.
With the Blackburn Mag 1, there's no assembly required, a single resistance value means you'll rely on your gearing. It's compact, lightweight (only 12 lbs), and foldable, which makes it ideal for pre-race warm-ups.
The Mag 1 Trainer works with wheel sizes from 26″x1″ to 29″x2.3″. There are hardly any moving parts on it, which makes it durable, it comes already assembled and no batteries are required. There are no sensors or connectivity but you can still use your own to get training data.
The Tech Mag 1 folds up easily and fits under a bed or any space that is 12 inches wide. The base is quite stable for its weight and the rubber feet prevent slipping.
Type of Bike Trainers:
Friction (Wheel-On), Direct Drive (Smart), Rollers
The indoor cycling trainers world is divided between three styles:
Friction Trainers: also called wheel-on, this type doesn't require taking any wheel off your bike. Simply click the bike in and you're set.
Rollers: Bike rollers consist usually of a rectangular frame and three cylindrical rollers, they are designed to ride your bike with both wheels on and get a realistic feel. They have a steeper learning curve since it's easy to fall off. We won't mention rollers here since we wrote a full article about rollers already.
Check the 7 Best Bike Rollers for All Budgets
Direct Drive vs Friction Trainers
So, what is better? What kind of bike trainer should you buy? Here some pros and cons that should help you make the right purchase for your tastes and needs.
Friction Trainers have a resistance unit that makes spinning the back wheel harder, the friction is applied to the tire, so that means the tire will slowly wear off. That's why there are specific trainer tires that you should buy.
Direct Drive: they work with a fake wheel, called a fly-wheel, where a cassette is mounted. You need to take your rear wheel off and clamp the bike into the flywheel.
Not only a training tire is an added expense, but if you're using the same bike for indoor training and outdoor rides then you'll need to swap tires or wheel.
Friction trainers can be magnetic or "fluid", according to how the resistance is generated. The ride provided by a fluid trainer is more road-like in feel than that of a magnetic trainer thanks to its progressive resistance. Friction trainers are cheaper than direct drive ones.
With a direct drive trainer, you remove your rear wheel and mount your bike directly on the cassette mounted on the trainer. The direct-drive design saves wheel and tire for the road
Direct drive trainers are also usually much "smarter" with all the connectivity options needed for organized training, many can even simulate slopes and change the resistance value automatically. They are way more expensive on average, with the best models going for above 1,000$.
Frequently Asked Questions
Are trainers bad for your bike?
If used properly, bike trainers are absolutely safe tor your bike. Friction trainers might wear out the rear tire though, so use proper training tires. Be gentle when mounting your bicycle on.
How long should I ride my bike trainer?
For beginners, we recommend sessions between 30 and 60 minutes. Ride up to 2 hours if following a structured training plan.
Can I lose weight using a bike trainer?
Of course! Cycling is one of the most efficient fat-burning activities. Structured and vigorous workout sessions can burn even 1000 calories in 90 minutes. A pound of fat is equivalent to 3,500 calories.
Stay in touch while we get lost! Follow us on Social Media