The best cycling sunglasses for all budgets are reviewed! How to choose the right bicycle glasses. Photochromic, polarized, cheap, affordable, best value, pro brands
It doesn't matter if you ride your bicycle on a daily basis, or just take it out for a few weekly outings, cycling glasses are a fundamental ally, and not just during sunny days.
Cycling eyewear, in fact, in addition to the fundamental role of protecting our eyes from UV rays, also keeps dust, smog, wind, and insects at a due distance when biking.
Helping you choose the best cycling sunglasses for your needs is the aim of this article.
For those with important vision problems, prescription glasses are the only way to go, while if your visual impairment is minor (that's our personal case, luckily) you might not necessarily need them. Another solution to this problem is wearing contact lenses.
The cost of a pair of cycling glasses with prescription lenses is obviously higher, if you do not want or cannot afford this expense and do not wear contact lenses, there are commercially available bicycle sunglasses designed to be worn over your eyeglasses, such as these.
Let's begin with the list of the best cycling sunglasses, before moving on to see how to choose them and which are the main features to consider.
The Best Biking Glasses in 2023 in a Nutshell
7 Top Professionals Cycling Glasses – The Very Best
4 Best Budget Cycling Glasses
Top Professionals Bicycle Glasses – The Very Best
Disclosure: Some of our articles contain affiliate links. This comes at no additional cost for you and helps us keep this website up and running. (as Amazon Associates we earn commission from qualifying purchases)
How we compile our gear guides: during the almost 10 years of cycloscope.net our team personally tested dozens of similar pieces of gear. For what we can't test personally, we involve other people in the cycling community to give their feedback and opinion about gear they have used. Our decade-long experience in bicycle touring enables us to find the key cons and pros of every product we mention.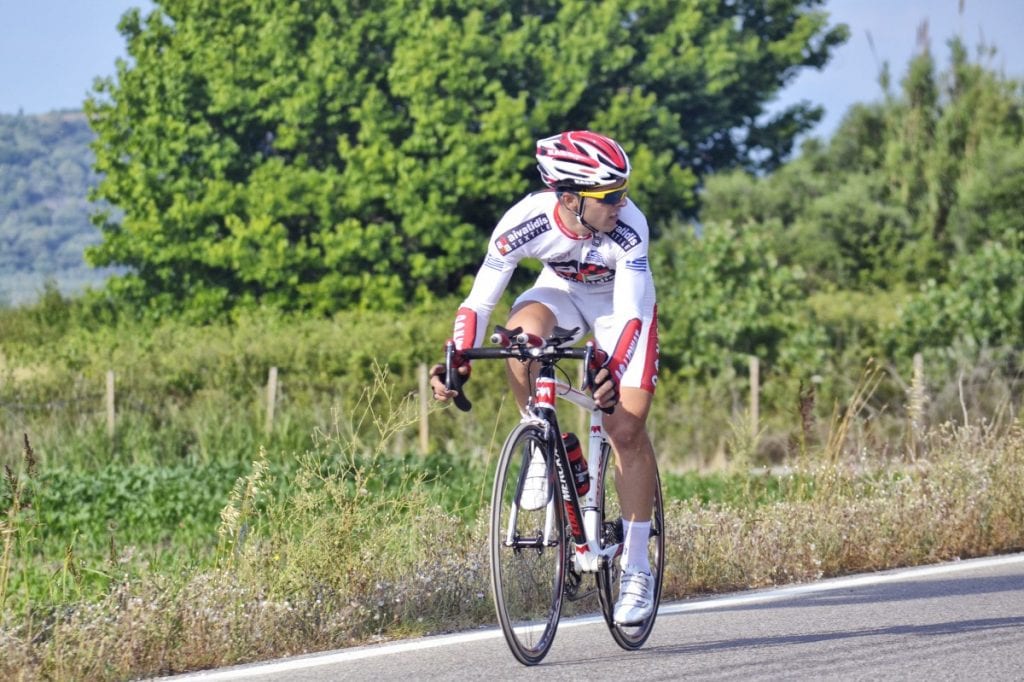 For those who ride a lot, in all conditions and for extended periods of time, getting the very best on the market might be worth some economic sacrifice. These listed here are the very best cycling glasses brands, from which we selected our favorite models while giving you also the link to explore more of their cool catalogs.
1. Oakley Radar EV Cycling Glasses
Editor's choice!
Lens: Polarized UVA, UVB, UVC 400 nm
Frame: Lightweight O Matter™
with ellipse metal icon accents
Features: Unobtanium ear-socks and nose pads
for enhanced grip
Oakley is one of the most famous brands on the market, their glasses have been designed and manufactured in Italy since 1975. The Oakley Radar EV sport sunglasses are equipped with Plutonite lenses that filter 100% of UVA, UVB, UVC, and light harmful blue up to 400 nm.
Oakley sunglasses are certainly not the cheapest on the market but offer a guarantee of quality and you can choose from a huge variety of models, from the most aggressive-looking ones to those you can wear every day.
2. Smith Optics Attack Max ChromaPop – Polarized Bike Sunglasses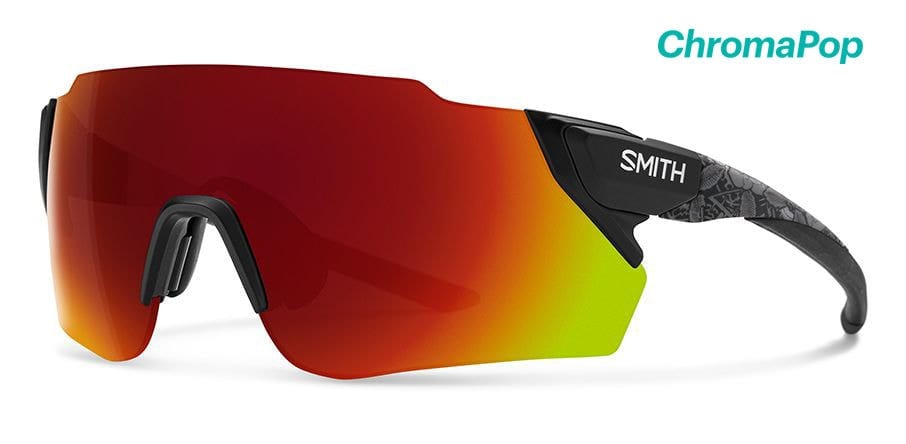 Lens: Polarized Hydroleophobic lens coating
Extra ChromaPop™ Contrast Rose lens
Frame: Nylon
Features: Adjustable nose pads
Hydrophilic megol temple & nose pads for a secure fit
Interchangeable Attack/Attack Max replacement lenses
The Attack Max from Smith Optics is definitely among our favorite cycling glasses, with a very large lens (125mm width) for maximum visibility and increased fit than the classic (although discontinued) Smith Attack.
With Smith MAG™ interchangeable technology, swapping among the two included ChromaPop™ lens for varying light conditions is fast and fool-proof.
The two ChromaPop™ lenses included have been crafted with a raised-brow design for increased coverage. The Attack Max also features a two-position nose piece, engineered to give the rider a perfect fit and all-day comfort. Megol temples ensure that the glasses are secure even at high speeds and when you get very sweaty.
The Attack Max performs amazingly even under heavy rains, the water drops away like a charm. They might be a bit delicate, so be sure to store them properly.
3. Panda Optics Conquer
Conquer sunglasses feature an urban style wraparound to give maximum protection from sun and wind, whilst maintaining a sleek modern look.
The Conquer possesses a quick and easy lens-changing system with minimum distortion, versatile sports frame, helmet compatibility, and multi-functional use from cycling to sailing, having been developed following extensive athlete input and testing across numerous extreme weather conditions and sporting environments.
Included with each set of CONQUER Grey sunglasses are three separate lenses – mirrored red, amber, and clear – to ensure the demands of whatever activity can be met. Each set is accompanied by a microfibre bag, cleaning cloth, and hard box for safe storage and maintenance. The Conquer comes in three color variations.
4. Salice Cycling Glasses 006 – Unisex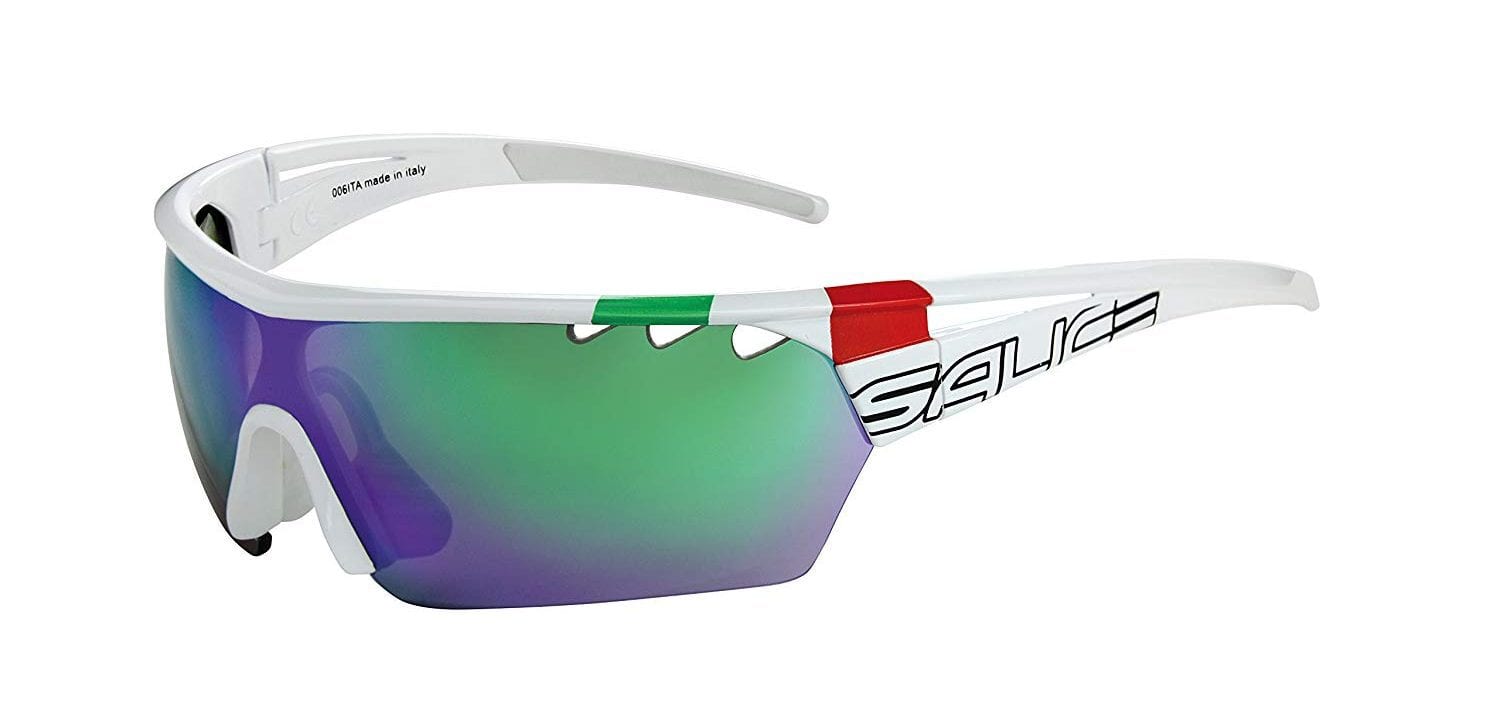 Lens: Polarized Lens, hydrophobic, scratch-resistant, anti-reflective
Frame: Grilamid
Salice is another great Italian brand for cycling and sports glasses in general. This 006 model guarantees perfect visibility and a constant and controlled airflow thanks to its excellent ergonomics.
As for the material, these glasses are made of Grilamid and the lenses are in polycarbonate mirrored with hydrophobic, scratch-resistant, and anti-reflective treatment. It is a Unisex model, therefore suitable for both men and women. A spare transparent lens is provided.
5. Rudy Project Fotonyk Cycling Glasses
Lens: ImpactX 2 Photochromatic Clear to Black Lenses
Frame: Grilamid
Features: Adjustable nose pad, quick lens exchange, safety bumpers
PROJECT RUDY Fotonyk is interchangeable lenses cycling and running glasses by one of the best-known brands in the world, again Italian. Featuring an adjustable nose pad, they offer an exceptional fit for every kind of face trait.
Furthermore, the so-called removable bumpers have been inserted in rubber, designed to maximize safety in the event of impacts or falls. Perfectly integrated with the Vent Controller of the frame, they avoid fogging and bring perfect ventilation.
The frame is made of Grilamid, a high-quality thermoplastic material that is shock-resistant, lightweight, and hypoallergenic. The lenses are interchangeable thanks to the Quick Change mechanism, which makes this procedure extremely fast.
Two years of intense research and countless hours of design have culminated in Rudy Project's latest performance sunglasses: the Fotonyk.
Featuring an all-new 'Lens Bumper' system, the Fotonyk provides enhanced face protection, all while offering a customizable look. The bumpers, which are available in an array of colors, can even be removed to create a half-rim lens with an unobstructed view.
In addition to this new technology, air channels are strategically placed at the top of the lens so users can easily manage internal airflow and mitigate fog.
The fully adjustable ErgonoseX nosepiece and variety of interchangeable lenses, including the unbreakable and photochromic ImpactX lens, make the Fotonyk an individualized gear piece specific to the wearer's unique style and face shape. The Fotonyk is also available with high-tech prescription solutions such as the brand-new Optical Dock, capable of high-strength corrections in a sturdy removable platform.
6.
Bollé Vortex
– Photochromic Sunglasses
Lens: ultra-lightweight Trivex material,
dual-sided hydrophobic/oleophobic coatings
Frame: Nylon
Features: adjustable nose pad
These cycling sunglasses, designed and produced by Bollè, have a very modern and original design. As for the technical features, they are very similar to those of the previous model. The choice between one and the other depends exclusively on your personal taste, and of course on your wallet. Indeed Bolle is fairly cheaper than the other brands mentioned above, making the Bolle Vortex a good budget choice.
The lenses are Photochromic Fire AF and are anti-fog, hydrophobic, and oleophobic. These Bollè glasses are also equipped with adjustable nose pads.
POC Do Blade Avip Clarity
Lens: Polarized Hydrophilic rubber
Interchangeable lens
Frame: Grilamid
Features: Adjustable nose pad
From the Swedish brand POC, the Do Blade AVIP is a dedicated sports frame, injected in Grilamid for low weight and durability. It allows for great flexibility with the option to change your lens according to the conditions. The rubber inserts and the adjustable nose piece in hydrophilic rubber keep the frame firmly in place.
The lens tints have been optimized for road cycling, increasing contrasts on the road surface and helping you to spot irregularities, holes, and gravel in time. The anti-fog and repel treatments help to keep fog, dirt, and grime off your lenses and makes water pearl off. Moreover, the very lens design makes them ideal for those who love having an open, unobstructed field of vision.
These glasses are supplied with 2 spare PC (PolyCarbonate) lenses by Carl Zeiss lenses of different colors, suitable for all weather conditions and all with UV 400 protection. The frame is suited for prescription lenses.
To replace the lenses of the two sides, then pull down the other side. Secondly, install the new lenses by performing the steps in the opposite order.
Best Budget Cycling Glasses
Not everyone needs the best, many of us can't afford to spend 150/200$ on cycling eyewear, but we still need protection during our rides. That's why we included a few cheap biking sunglasses for those on a budget. Check them out.
X-TIGER – 3 lenses Polarized Cycling Glasses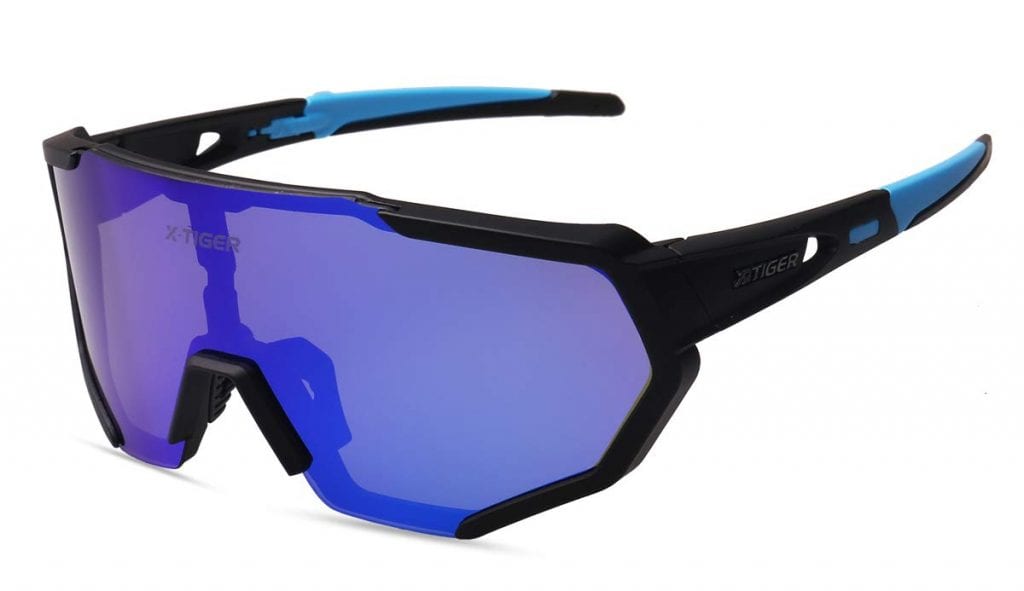 Lens: Polarized Lens UV400
Frame: TR90
Features: weight 0,6 ounces, very cheap
If you are really on a budget and looking for the best cheap cycling glasses, these X-TIGER might be worth trying, they have very good reviews around the web.
X-TIGER sports glasses are ultra-light, with a frame that weighs only 19.2 grams and can be used to mount lenses for myopia. Protection from the sun's rays is UV400. The lenses are made of high-quality polycarbonate, which restores the glow of the real world, helps reduce eye strain and ensures the safety of all types of outdoor activities.
The product is sold with 3 interchangeable lenses depending on the lighting conditions. An EVA case, glasses cases, lens cleaning cloth, polarized test card, and myopia frame will also be included.
TopTetn Sports Sunglasses
Lens: Polarized PC UV400
Frame: PolyCarbonate
Features: Adjustable nose pads, ultralight adjustable frames, very cheap
Another cheap option, the TopTetn lenses have UV400 protection that can block harmful UVA and UVB radiation. It is essential to protect the eyes from all rays below 400NM when outside, and these glasses do the job.
The cool design of the rimless frame allows for a sharper field of vision. A cool and elegant design, with rich color combinations of frames and lenses. The polycarbonate lenses and frames are impact-resistant, scratch-resistant, durable and unbreakable.
Soft non-slip adjustable nose pads, ultralight adjustable frames, interchangeable lenses, and accurate design to ensure ventilation and prevent fogging and offer maximum comfort for you, so you can wear for a long time without straining your fatigue and discomfort.
The product includes many additional accessories including an eyeglass case, spectacle frames, 3 interchangeable lenses (only one is polarized), polarizing test cards and myopia frame.
Tifosi Tyrant 2.0 – Polarized Sunglasses
Lens: Polarized PC Lens UV400
Frame: Grilamid TR-90
Features: adjustable nose and ear pads
When it comes to eyewear, Italians seem to do it better, even when it comes to cheap cycling classes. A budget range option by Tifosi, the Tyrant 2.0 cycling sunglasses are totally adjustable for a custom fit for any face shape. Nose and earpieces are made from hydrophilic rubber increasing grip the more you sweat.
Tifosi Tyrant 2.0 lenses are vented for increased air-flow to prevent fogging and keep you cool. Tifosi lenses are made from decentered shatterproof polycarbonate material that eliminate distortion and unwanted magnification.
HTTOAR Sport Sunglasses
Lens: PC UV 100%
3 interchangeable lenses
Frame: TR-90
Features: very cheap
Another pair of cheap cycling glasses, we put them in this list because they are huge and might suit the need and taste of those looking for big, Terminator-like cycling glasses. With a 57mm vertical width, the HTTOAR can be worn over prescription glasses.
The HTTOAR sunglasses for cycling and outdoor sports are sold with 3 interchangeable lenses, all with UV 400 protection and protective coating for reduced light.
The lenses are high resolution for good visibility, as well as being windproof, anti-reflective and dustproof. The TR90 frame is made of non-deformable and lightweight materials, the silicone nose piece is ergonomic and comfortable but not adjustable.
What Should You Look For When Buying Cycling Glasses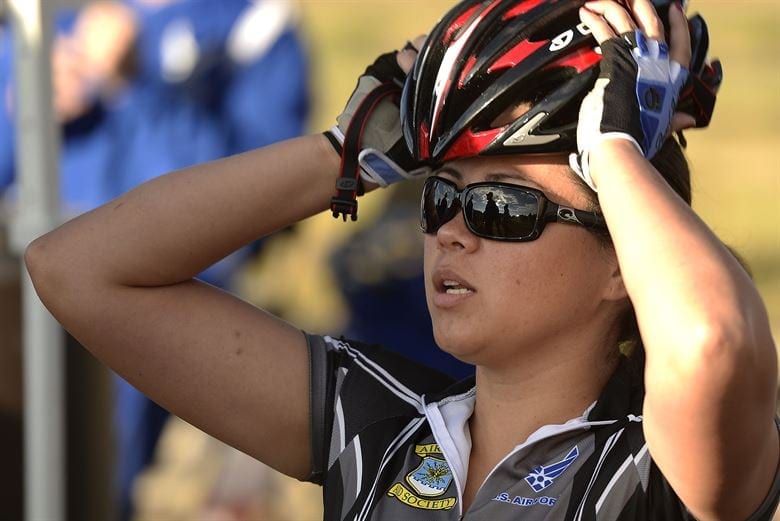 Brands tend to often use complicated terminology which might be confusing for the less geeky of us. There are a few characteristics we want our cycling sunglasses to have – here they are, explained
Light Transmission Categories
Sunglasses lens differ for how much light they let through or, on the contrary, for the amount of light absorbed, there are 4 standard categories:
Category 0: 0% to 20% absorption – clear light lenses, ideal for indoor use and very cloudy days
Category 1: 21% to 37% absorption – light lenses for cloudy skies, mostly used for fashion
Category 2: 38% to 82% absorption – the most classic sunglasses, ideal for the most common outdoor uses
Category 3: 83% to 92% absorption – dark lenses, ideal for snow and water sports
Category 4: 93% to 97% absorption – very dark, used against intense solar radiation, you don't want to ride with this
Polarized lens – what does it mean?
"The miracle and beauty of the sun can be quickly forgotten when you are temporarily blinded by its glare. Having a bright shaft of sunlight hit you directly in the eyes is both annoying and potentially dangerous.
Usually light scatters because it bounces at varying angles off an object's uneven surface. But if the surface is smooth, as with calm water or a flat piece of sheet metal, light reflects at one angle—such as right in your eyes. This is what we know as glare." Source American Academy of Ophthalmology
Polarized lenses have a chemical filter that blocks intense light reflected by flat surfaces, reducing glare and discomfort. Although they improve comfort and visibility, they reduce the visibility of images produced by LCDs screens, such as bank ATMs, and even your phone or some cycling GPS computers.
Polarized glasses and photochromic (or photochromatic) glasses, which to choose
Needless to say, the quality of the lenses is essential for the health of our eyes, as far as sports glasses are concerned, there are two main categories: interchangeable polarized lenses and photochromic lenses. Glasses with interchangeable polarized lenses are sold with different sets of lenses of different colors, from light to dark, which allow you to choose which one to mount depending on the day, more or less sunny.
Glasses with photochromic lenses, on the other hand, change color autonomously, depending on the shift in outside brightness. On a good quality product, both types of lenses are scratch-resistant, dust-proof, and anti-fog. The choice between polarized or photochromic glasses is entirely personal.
Some argue that photochromic glasses are better because they do not require changing lenses which could be inconvenient, requiring you to stop and replace them whenever the brightness changes. Others, on the other hand, argue that photochromic lenses sometimes do not have such a rapid reaction in the event of a sudden change in brightness, such as in the case of tunnels.
There are also cycling glasses specifically designed for women, bike sunglasses for men, and of course for children. Apart from the latter which require smaller models, those adults' cycling sunglasses nowadays on the market are almost all unisex and available in many different sizes so as to be suitable for all and everyone.
Other important characteristics of cycling lens
UVA, UVB protection: Wearing sunglasses able to block 100% of UV rays is the best way to protect your eyes from the sun. Ultraviolet (UV) designates a band of the electromagnetic spectrum with a wavelength from 10 nm to 400 nm.
hydrophobic – the rain will drop away, leaving the lenses clear from water
scratch-resistant – you don't want your new expensive (or even cheap) cycling glasses to be ruined by a small scratch
anti-reflective – eliminates glare and flares from direct or reflected light
Size of cycling glasses and lenses
Some glasses are bigger than others, ensuring protection from rays that may come from the sides, those are called wrap-around sunglasses or simply wrap. Bigger lenses make sure the frame doesn't block even a small portion of your vision field. The downside of Wraps is the considerable lens distortion, learn more here.
Check the presence of adjustable nose and ear pieces on the cycling glasses of your choice, you want to be 100% sure they will fit you!
Visit our YouTube channel
Interested in other purchases for your bike rides?
And many other articles dedicated to tents, sleeping bags, touring bicycles in our section dedicated to cycling equipment.
What should you look for when buying cycling glasses?
There are a few characteristics we want our cycling sunglasses to have:
Light Transmission Categories
Sunglasses lens differ for how much light they let through or, on the contrary, for the amount of light absorbed, there are 4 standard categories based on their level of absorption. Category 2 (38% to 82% absorption) is ideal for the most common outdoor uses, including cycling.
Other important characteristics of cycling lens are:
.UVA, UVB protection: Wearing sunglasses able to block 100% of UV rays is the best way to protect your eyes from the sun.
.Hydrophobic: the rain will drop away, leaving the lenses clear from water
.Scratch-resistant
.Anti-reflective: eliminates glare and flares from direct or reflected light
Are Polarized Lenses Good for Cycling?
Polarized lenses have a chemical filter that blocks intense light reflected by flat surfaces, reducing glare and discomfort. Although they improve comfort and visibility, they reduce the visibility of images produced by LCDs screens, such as bank ATMs, and even your phone or some cycling GPS computers.
What Lens Color is Best for Cycling Sunglasses?
Amber and rose lens tints are ideal for weak sunlight. The brightest field of vision, a strong color contrast, and an increase in visual acuity given by this lens color makes them great for cycling.
With a strong sunlight, the grey color is recommended, while yellow is the best for low light conditions, as it increases contrast.
Stay in touch while we get lost! Follow us on Social Media