A complete list of the best Custom Touring Bicycles FrameBuilders in North America.
Some of the Most Beautiful Bikes in the world
The term custom-bicycle indicates a bike handmade on order by a professional framebuilder, which perfectly fits your physical feature, being tailored according to your body measures. Just like a tailored suit, nothing can fit better on you than a custom bicycle, but of course, the price tag is much higher.
Although anybody will benefit from riding a bicycle frame that truly fits their unique body dimensions, flexibility, and riding style, when it comes to touring bicycles, having a perfect fit can really skyrocket your enjoyment during all kinds of travels.
Since there are so many frame builders out in the big world, we decided to write two different posts, one about the best touring framebuilders in North America (USA and Canada), and one for the rest of the world.
The framebuilder and handmade manufacturers listed here are those I could find on the internet that features at least one touring specific bicycle in their galleries. Many of them though, also build commuters, messengers & delivery rides, recreational, and race bikes, gravel, cross, and mountain bikes.
This post is meant to dream, but for some of you, the lucky ones, it might also constitute a useful compass to help navigate the complex, huge, and diverse world of custom-made bicycles. Almost all of the handmade bikes featured here won't become yours for less than 3,000USD (for a complete bicycle, made specifically for you).
Most of the information about these bicycle frame manufacturers are taken from their own websites. This post doesn't aim to give opinions but showcase the most complete list possible of custom bicycle builders. If you think we missed someone, please let us know in the comments.
Disclosure: Some of our articles contain affiliate links. This comes at no additional cost for you and helps us keep this website up and running. (as Amazon Associates we earn commission from qualifying purchases)
---
Check also
The best custom bicycles in the world
Not willing to invest this kind of budget? Check out something more wallet-friendly
18 Great Touring Bikes Under 2,000$
21 Best Touring Bicycles Under 1,000$
10 Great Woman Specific Touring Bikes
If you have no budget at all here's
How to turn a piece of junk into a great touring bicycle
---
The Best Framebuilders in the USA
Bilenky (Philadelphia, Pennsylvania)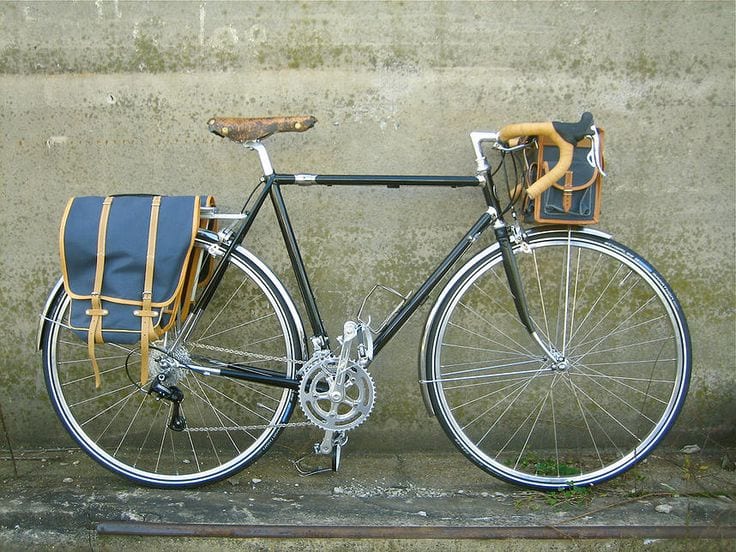 Stephen Bilenky has been in the bike industry for 44 years. He began framebuilding in 1983 when he started brazing bikes together in the basement of his repair shop. Thirty years on, Bilenky Cycle Works has moved above ground to North Philadelphia with a full-time staff of six.
They have won numerous awards and acclaims, including rave reviews in Bicycling Magazine, Bicycle Guide, Tandem Magazine, Bicycle Quarterly and more. They also won Best Road Bike (2010), Best Lugged Bike (2011), and Best Lugged Frame (2013) at NAHBS.
Bilenky Cycle Works is more than just a shop. It's an enduring institution that is committed to enhancing the world of cycling, one handbuilt frame at a time. Contact us to design and build your dream bicycle.
Stephen Bilenky works with steel and titanium, frame and fork start at 2650USD.
---
Ti Cycles (Portland, Oregon)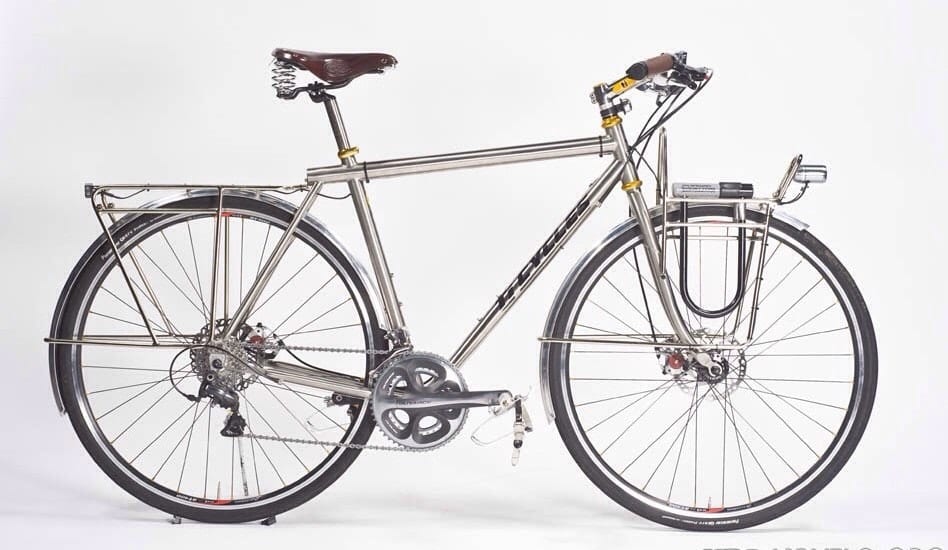 Dave Levy has been working as a professional frame builder since 1986. He learned the basics of construction technique, geometry, design, and the science of bicycle fit from the resident frame builders at Seattle's venerable R&E Cycles.
In 1990, while continuing to craft custom frames in traditional steel, Dave founded Ti Cycles as a means to refine his focus on constructing lighter, higher performance frames in titanium, at the time an exotic metal still in the nascent stages of common use as a bicycle frame material.
In keeping with Dave's wide-ranging experience, Ti Cycles caters to all levels and all disciplines of cycling, from the enthusiast weekender to professional racers around the world. In addition to offering completely bespoke custom frames, forks, and components, Ti Cycles has developed production-built bikes and parts in both steel and titanium.
Ti Cycles works with titanium and steel. Frame and fork from 1,500USD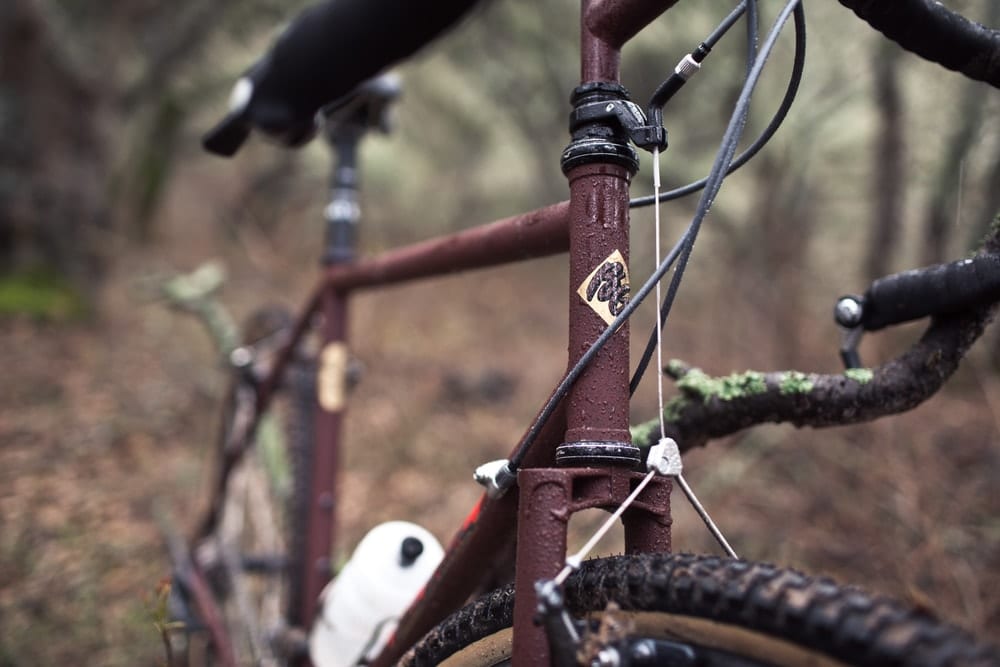 One of the greatest touring bicycles frame-builders, Bruce Gordon really is a living legend. He recently retired and there are only 7 bikes left in his shop (as of January 2018).
He has been making custom bicycles for 42 years, since 1974. He started as an art major, which helped give him the tools to look and create things in a more aesthetically pleasing manner.
"It is my four decades of experience as a frame builder that allows me to make a bicycle that fits a specific purpose, or set of needs."
According to Bruce "Function, is the single most important idea behind building a bike for the customer. Your bike has to meet your needs, it should be done in an aesthetically pleasing way, but first is the function."
He continues on his website: "… Many companies design things and have them made at a lower cost in other countries, in the name of profit. We believe in ethically sourced products, which maintain a better quality of life for the people who actually make them."
---
Jeffrey Bocks built his first bike in 1975. Despite the fact that he builts incredibly amazing bicycles, he doesn't have a website. Big fan of classic Raleigh bikes and Sturmey Archer hubs, his works are classy and stylish while being perfect touring designs as well. He also offers frame-building courses at his shop at Ames (Iowa).
---
Jon Littleford (Portland, Oregon)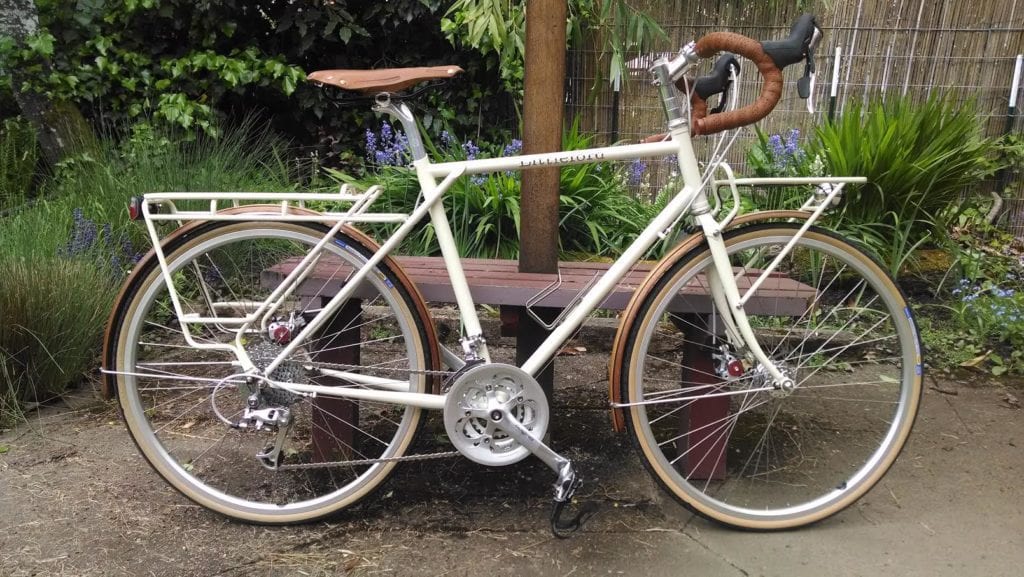 All Littleford custom touring bikes come fully equipped for the pathway to your next adventure, he also builts racks, beautiful and sturdy, which can be purchased separately. His trademark is the bizarre but functional rear fork geometry that you can see in the picture above.
These childhood memories from his website are worth sharing:
"It's kind of funny. As I hear other bicycle builders' stories, I realize that many of us have similar childhood memories. I suspect that our career paths (most career paths) started long before many of us knew what a career path really was. (I thought I'd grow up to be an airline pilot, though it turned out I just wanted to be a bird.)
My ultimate path began, in retrospect, when a bike was my main personal transport. I grew up in the rural wooded mountains of Northeastern Pennsylvania. With only a few distant neighbors and a seemingly infinite wilderness to discover, a too-big 10 speed Huffy was my ticket to everywhere."
Framesets start at 2,400USD
---
Aherne (Portland, Oregon)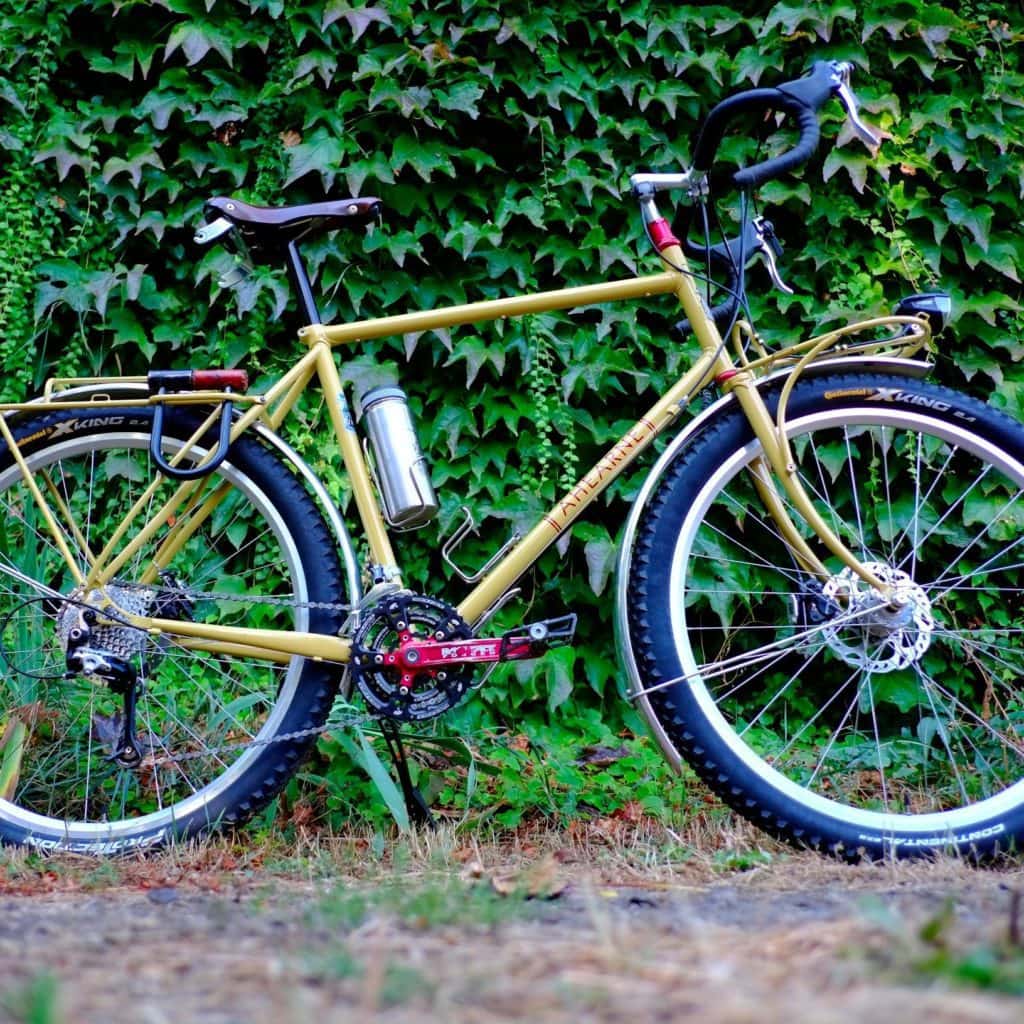 If you take a look around on Joseph Aherne's website you'll see a lot of examples of what kind of work he does. He believes in the utility of bikes and the genius of their construction and functioning. In this, lays beauty.
Following a long tradition of the craft of bike making, borrowing traditional methods of design and construction, and adding his own personal take on what it means to make a great bike.
He says on his website: "Bicycles, to me, represent all that is good and fun and creative in humans. Bikes are healthy and meditative and useful, and they bring out the best of people's personalities. They help build community and promote environmental awareness, and they can help people explore the world around them in a way that is interactive and participatory. Bicycles make people smile."
Never been satisfied following the norms, Joseph really has his own style. He's later specializing in building Pinion Belt drive bikes.
Frameset starting at 2,550USD
---
Rob English Cycles started officially in 2009 after he had built a few frames for himself and friends. He went part-time at Bike Friday in 2011 in order to focus more on the bicycle business and then left there in 2013 to be a full-time independent custom bike builder.
Rob builds really all types of bicycle, from time-trial to loaded touring, and you should really take a look at his website, some of his designs are incredibly original. He won the Best in Show title at the 2013 North American Handmade Bike Show in 2013.
---
Seven Cycles (Watertown, Massachusetts)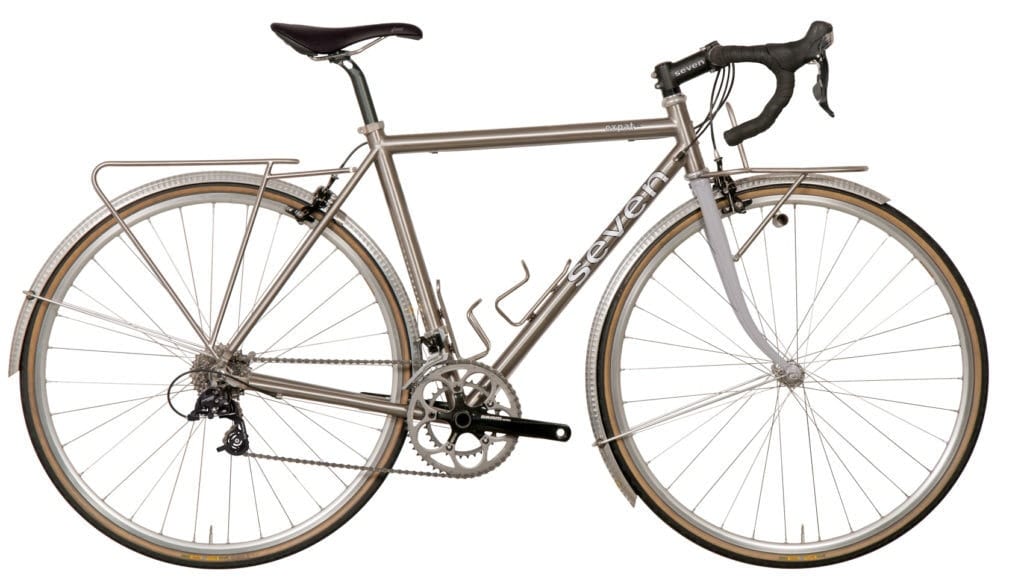 Seven Cycles was founded in January 1997 and shipped its first bicycle frame in early April of the same year. The company was initially based in Topsfield, Mass., then moved to its current location in Watertown in February of 1998.
Founder and president Rob Vandermark and the Seven team have been working with titanium since its introduction into the cycling industry, pioneering many of the design and manufacturing techniques used throughout the industry today.
Seven Cycles manufactures high-end bicycle frames from butted and straight-gauge domestically-sourced seamless 3-2.5 titanium, filament-wound carbon fiber, and the world's finest steels. Seven offers a wide variety of frame styles: road, touring, triathlon, criterium, track, cyclocross, mountain, suspension, and tandems, in the customer's choice of stock or custom geometry.
The company also manufactures a custom titanium stem and mountain bike handlebar and offers an exclusive carbon fiber road fork, as well aluminum handlebars, stems, and seat posts. All of Seven's frames come with a lifetime warranty against defects in manufacturing and materials.
---
Geekhouse (Charlestown, Massachusetts)
Established in 2002 by Marty Walsh, Geekhouse is rooted in the world-renowned community of New England frame builders. Founded on the principles of Innovation, Intellect, and Irreverence.
Geekhouse is a brand synonymous with industry-leading custom fabricated bicycles. Their team of experts originates from this first-class community of builders, each dedicated to their craft.
Specialized in custom-fit premium Steel and Titanium bicycles, the Woodville (in the picture above) is their touring machine, of course completely customizable, made from the US produced, double-butted, heat-treated steel tubing by True Temper. Drop-outs and BB's are domestically machined by Paragon Machine Works. Starting at 2,000USD for a steel frameset.
---
Bryan started Royal H Cycles in 2009 with the goal of combining perfect fit, classic styling, and modern componentry in just the right ratio. Royal H customers know that nothing short of a custom build will satisfy their unique vision of the perfect bike.
Bryan cut his teeth at Seven Cycles (mentioned above), one of the premier custom titanium and carbon fiber frame manufacturers, where he learned just how precisely bike frames can be built.
His medium of choice though, is steel, with beautifully handmade brazed joints. Holding these tolerances in the shop results in a bike that rides perfectly on the road, simply put. Royal H aspires to build bikes with character.
Framesets start at $2,700.00 and take a minimum of 4 weeks build time. There is currently a 3-month waitlist.
---
Bantam (Portland, Oregon)
Bob Kamzelski started Bantam Bicycle Works in 2012, after moving from Philadelphia to Portland. At the time he has had over 12 years of experience fabricating, repairing, and modifying bicycle frames of all sorts.
He got his start in framebuilding in the living room of a large Victorian rowhouse in West Philadelphia. With a couple of files, a hacksaw, a plumbing torch he found in the closet of my house, and $300 worth of materials bought off the internet.
Strong of his self-taught experience he found a job at the very prestigious Bilenky Cycle Works in North Philly (mentioned above). He worked under master framebuilders Stephen Bilenky and Simon Firth for six and a half years.
Learning how to turn metal into bicycle frames, mastering fillet brazing, milling, and machining lugged construction, frame geometries and fitting, TIG welding, and finish work, ending up being head framebuilder and winning with Bilenky Cycle Works quite a few awards (at NAHBS and the Cirque du Cyclism) and excellent magazine reviews for bikes he had worked on.
Then a few years ago, he packed up his bags and headed out to the west coast and landed in Portland, the mecca of custom bikes. He doesn't particularly specialize in any single type of bicycle, having made nearly every type of bike at this point his my career. But tends to make more commuting, touring (off- and on-road both), randonneuring, and allroad bikes than other types.
---
Firefly (Boston, Massachusetts)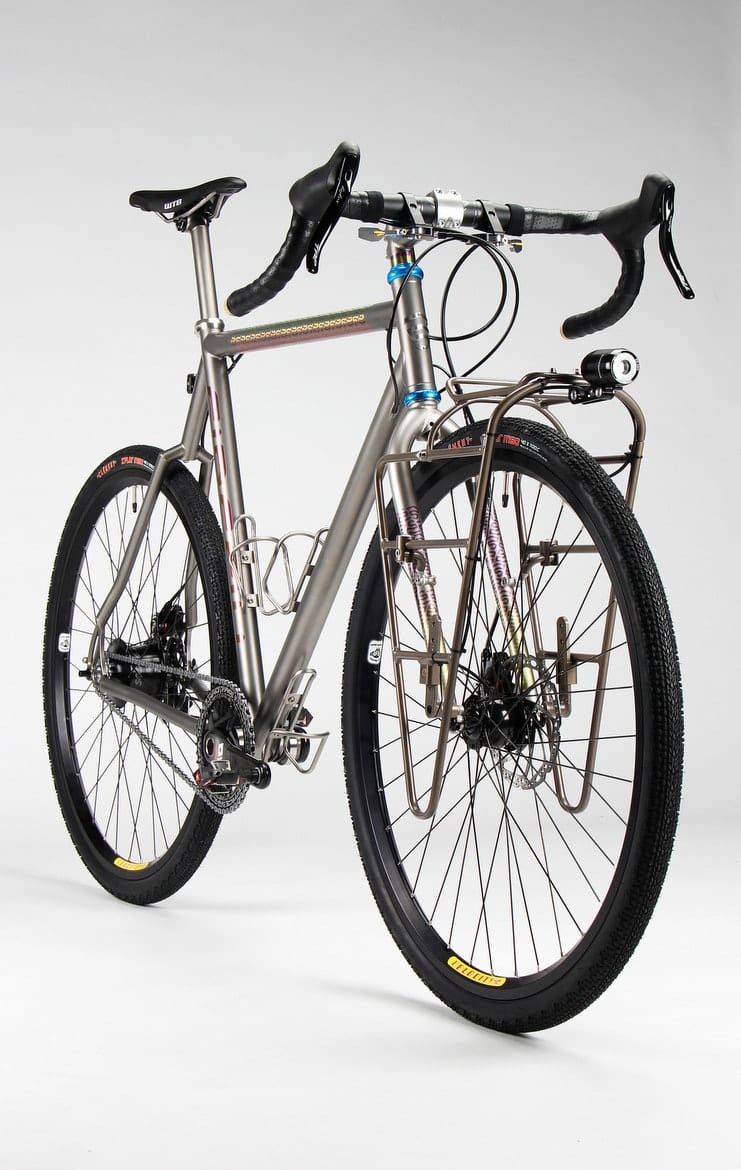 Firefly work draws on decades of experience designing, crafting, riding, and racing custom bicycles. Before creating Firefly, they helped shape some of the most revered small frame builders in the world.
When Tyler Evans and his team started Firefly, they had a clear vision of an ideal custom bicycle company, and have maintained that vision ever since. Their focus, besides "building the best bikes in the world" (as they claim on their website) is fostering a deeper connection between the rider and their bike by welcoming them into the process of designing and building it.
They build road, cross, commuters, mountain and touring using carbon and titanium.
---
Before Ira and Tony created Breadwinner Cycles, they were two Portland bicycle builders who met at a cyclocross race. The year was 2005. Tony was racing, and Ira was recovering from riding the Trans Iowa gravel road race. Parallel paths brought them together.
They build road, utility, touring, gravel, and cyclocross. As far as I can tell they only use steel.
From their website: "As soon as Tony learned to ride a bike, he felt free. One year, he coveted a Schwinn Sting-Ray, so he modified his bike by adding ape hangers and a banana seat. By the time he was ten, he was completely disassembling and reassembling his own bike. Tony rode bikes to express himself, pretending to be a BMX racer on trails behind his house in New Hampshire and while delivering newspapers in Connecticut.
On the day he graduated from high school, Ira won the state championship road race. He showed up at the graduation ceremony wearing the gown over his race kit. Eventually, Ira found a second home when he got a job at a bike shop in Iowa City, where he learned to wrench and talk to people about bikes."
---
Winter Bicycles manufactures custom bicycles and luxurious necessities including forks, racks, and other fittings. The focus is on fresh, clean, year-round bicycles. The bicycles are made from a custom blend of steel tubing to be purpose-built and rider-centric. That means each frame, each detail, is designed to fit the rider's needs, riding style, tastes, and environment.
Be it a rainy day commuter, a Sunday cruiser, or a thoroughbred racer, Eric Estlund will work with you to design and deliver a bicycle to carry you through all the seasons of your cycling.
Eric has an art degree with a focus on metal sculpture and function as well as 14 years of experiential-based outdoor, art and environmental teaching experience. He has worked in fitting, retail, and rental sales, and as a builder for a very busy custom bicycle manufacturer.
Custom series bicycles start at $3,000 for frame and fork.
---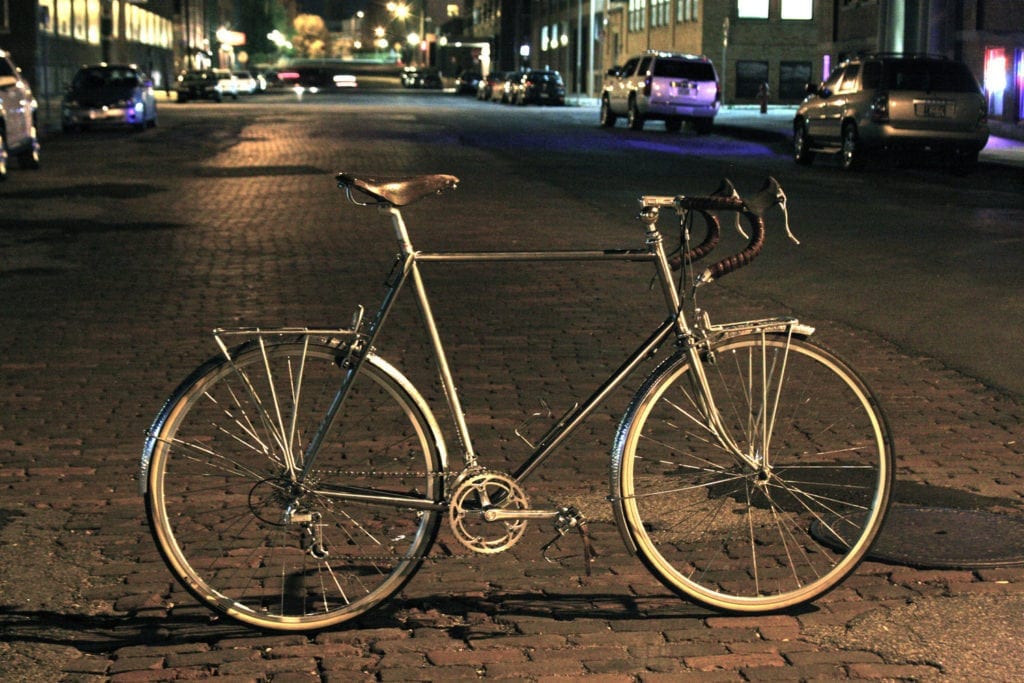 Every Prairie Crow frameset is made of top quality Missouri-made TrueTemper steel bicycle tubing, or, if requested, assembled from vintage tube sets available from Reynolds, Ishiwata, Columbus, and more.
The same goes for our lugs and fork crowns; they stock American-made investment cast lugs, crowns, and dropouts, as well as high quality and hard to find vintage options for riders looking for a specific look.
Their lugged framesets are silver brazed to preserve the intended characteristics of high-quality heat-treated steel tubing. Fillet brazed frame construction is also available for a unique look and frames requiring 'extra' unique geometry.
Great care is taken to create a frame that fits your physical body and your style of riding, and an aesthetic that will make you love your bike.
They can design your frame around an existing production fork you want to use, or a custom fork to blend seamlessly in form and function with the frame.
---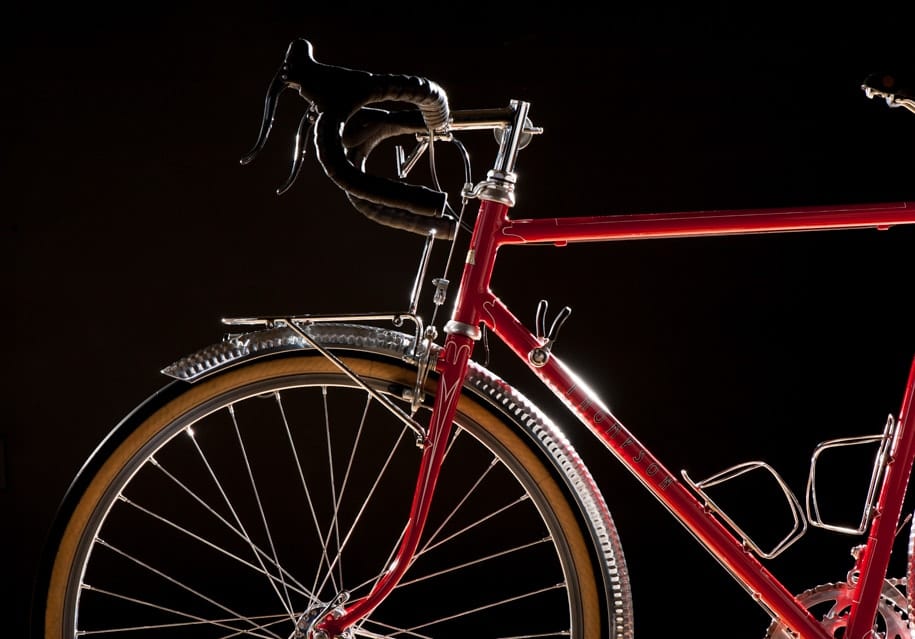 Thompson Custom Bicycles is a one-man operation. Corey makes beautiful functional bicycles to fit you and your unique needs, whether that's a randonneur bike, road racing bike, touring bike, cyclocross bike, mountain bike, or something else altogether.
If he's not working on bikes, he will probably be out riding somewhere in the Pacific Northwest, or on vacation riding his bike in France.
Frame and fork: starts at $3300, lugged or fillet brazed, includes basic one color finish by Forever Powdercoating.
---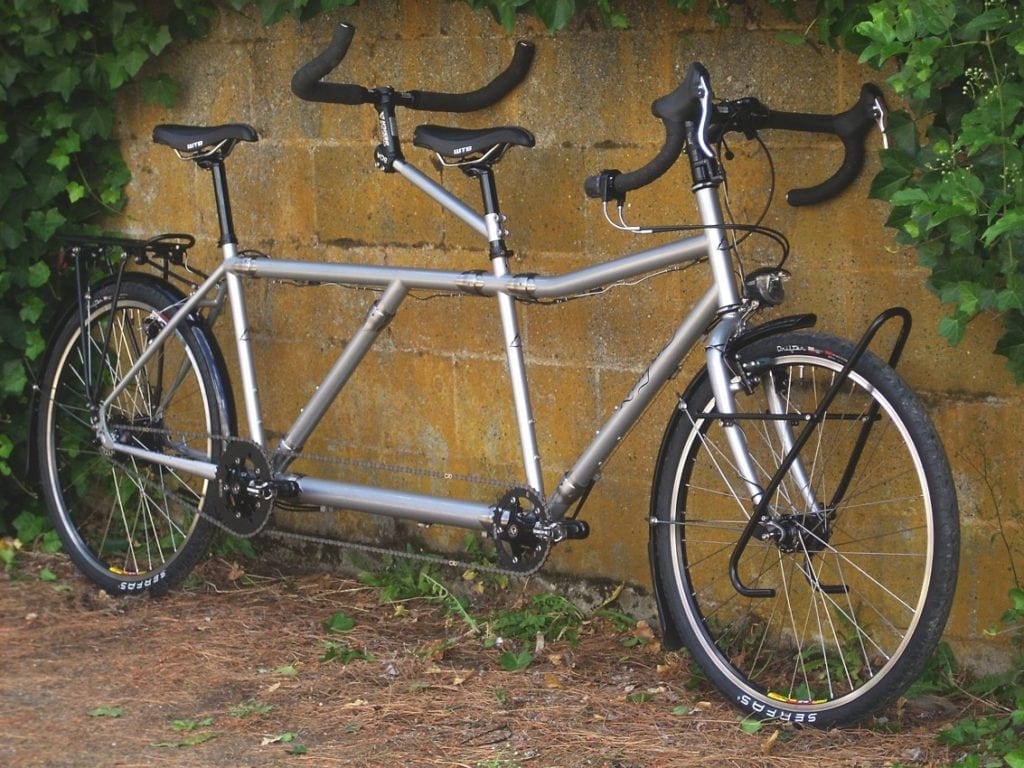 Specialized in adventure and touring, with a special love for tandems, Rodriguez and Erickson make incredibly beautiful machines, including some of the weirdest stuff ever. 6 person tandems, completely dismantlable frames, and a crazy convertible single-bike/tandem.
With prices starting at 2,000USD for a full touring bike, they have among the affordable option for custom touring bikes, while their prices can hit the sky for some more complex models.
---
The Best Custom Touring Bikes from Canada
Mariposa (Toronto, Canada)
Specialized in touring bicycles, their bikes have been ridden for decades in Paris-Brest-Paris, Raid Pyrenean and other Randonneur and long-distance events. These bicycles are built for comfort over long rides to carry heavy or light loads while remaining resilient, elegant, and efficient.
From the first frame handbuilt in 1969, Mariposa has been about one goal: building the ideal bicycle for the customer. Mariposas have always been handbuilt by cyclists for cyclists.
One tube selector, one cutter, one machinist, one builder, one painter, one assembler. Every Mariposa is built to its rider's needs. Every tube angle, material and component selection is made with the rider in mind.
They are experienced cyclists. The builders and owners have raced in the Tour de France, raced in the Olympics, won National road, cyclocross, criterium and track titles, thrashed over the cobbled roads in the toughest northern European races, won World Championships, toured extensively throughout the world, and make their daily way through the city by bike.
---
How Independent Fabrication got to Newmarket is a story that actually began in Fat City. After 12 years of business, the pioneering, but insolvent, mountain bike manufacturer Fat City Cycles was sold off in 1994. The company closed its Somerville, Massachusetts doors leaving behind an empty factory and a handful of workers.
A group of former employees still had the itch to design and build custom bikes. So they dusted off their work boots, brought out the drawing board, and started their own company. An independent company. A company that would make bikes the way they knew they should be made.
In 1995, Independent Fabrication was formed. What they lacked an adequate workspace, they compensated with elbow grease. Treating each build as if it were their own.
In 2011, IF moved in a renovated 150+ year-old mill building in Newmarket, NH. They mostly build racers, gravel and cyclocross, and mountain bikes in all the available materials (including titanium), but they've also designed and built many amazing touring bicycles.
---
True North Cycles was founded in 1993 when Hugh Black started building frames in the workshop of his parents' farm near Alma, Ontario, Canada. Hugh's dedication to custom-frame building was tested and proven in the early years: the workshop was heated by a woodstove, and Hugh had to repeatedly collect firewood to keep warm to work! Most of the early frames that Hugh designed and handcrafted were mountain bikes, but he steadily expanded his repertoire over time to include frames for other types of cycling.
Hugh graduated with a degree in Mechanical Engineering from Queen's University (Kingston, Ontario, Canada), where he built and rode a number of prototypes of mountain bike frames. He was fascinated with bicycle manufacturing and excited about the possibility of dedicating his engineering skills and attention-to-detail to bicycle frame building. Hugh merged his passions for bicycles, engineering, and craftsmanship into what is True North Cycles.
True North Cycles specializes in the design and manufacture of steel and titanium bicycles for various styles of riding, ranging from touring to road to mountain. They continue to hand-build all True North frames in-house, one frame at a time.
---

Tandem bicycle design leader Co–Motion Cycles makes touring, travel, folding, racing, custom and beautifully crafted tandems and single bikes. Co-Motion Cycles built its reputation on constructing cleanly designed and elegantly executed bicycles since 1988: Bicycles that serve a real purpose for cyclists who expect real performance without unnecessary hype.
From tandems to touring bikes, their approach to building bicycles draws from traditional elements, openly discarding anything that doesn't serve the purpose of making a better bicycle. The emphasis here is on design, from the very tubing, to the way every one of our bicycles interacts with the human body.
---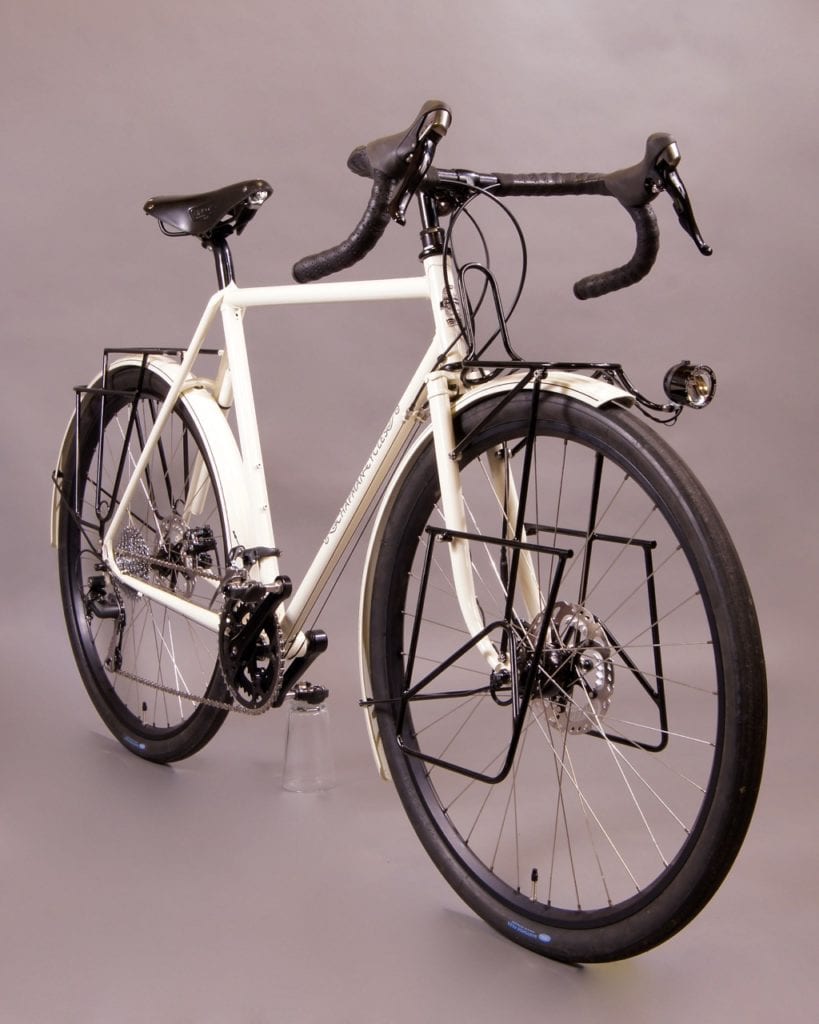 Brian Chapman tries to push the limits of his craftsmanship exploring new technologies while still adhering to a classic aesthetic. He tries to get to this new level by seeing the bike as a whole before making the first file stroke. With that mental image, he then starts the design and pay attention to the details during the build.
The details show that care, thought, and consideration went into every aspect of the frame and its components. He focuses mostly on commuter and light touring bikes. His mixte frames are stunning.
The custom frame and fork set start at $2600.
---
Most of the information about these bicycle frame manufacturers are taken from their own websites. This post doesn't aim to give opinions but showcase the most complete list possible of custom bicycle builders. If you think we missed someone, please let us know in the comments.
Done dreaming? Check out something more wallet-friendly
18 Great Touring Bikes Under 2,000$
21 Best Touring Bicycles Under 1,000$
10 Great Woman Specific Touring Bikes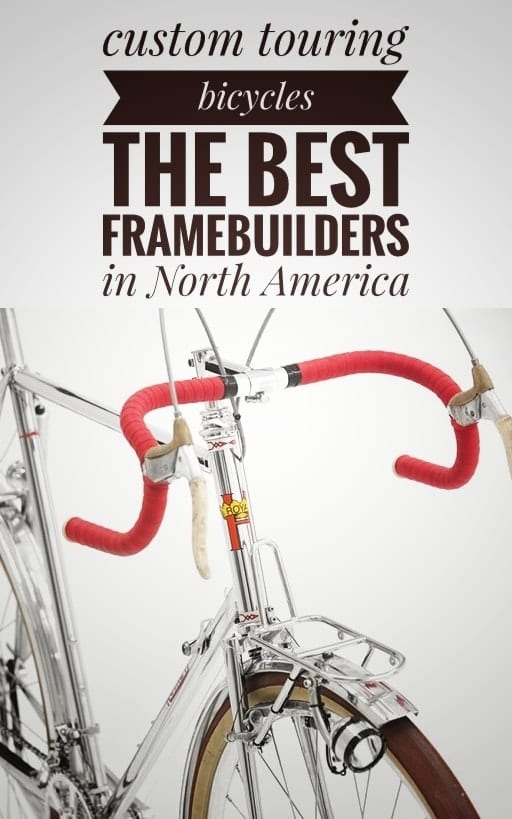 Stay in touch while we get lost! Follow us on Social Media