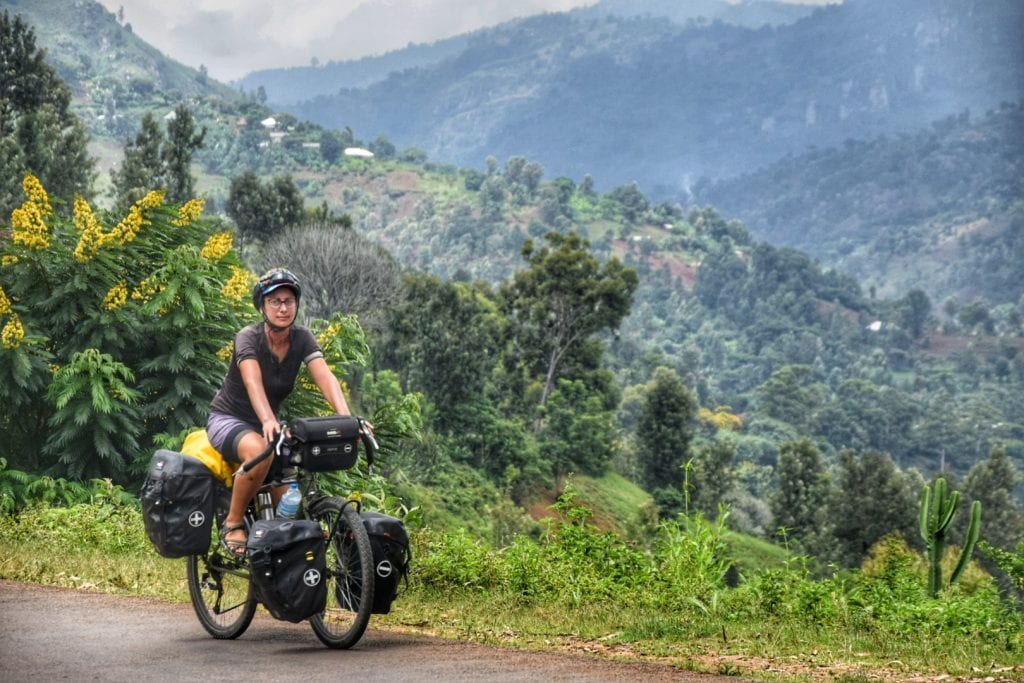 A Detailed List of the Best Cheap Touring Bikes for Those on a Budget
11 travel bikes for all types of touring – compared!
Getting to know the "bicycle touring enthusiasts" online community, I've got the feeling that too many people assume you'll need expensive gear to get on a bicycle tour or bikepacking trip, especially when talking about touring bikes.
Let me say that straight, that's not true. Although there is no doubt that, as a rule of thumb, you get what you pay for, that doesn't mean you necessarily need the top-notch quality on the market.
My first 25,000km was done on a 1936 Royal Nord, a museum piece of a bicycle. Antique is more than vintage. The President (that's the name of the bicycle) wasn't specifically designed for loaded touring, but it ended up handling it amazingly.
Let's also face another truth, the great majority of people won't embark on multiple years journeys, mainly weekend tours, everyday commuting, and once-a-year longer trips. Do you really need to invest 2,000$ in a killing touring machine?
Maybe you fancy that, nothing wrong with the very best – but for those on a tight budget (like us) we put together this list of Touring Bicycles mostly priced under 1000$ (some are a few bucks more) –
Not all of these bikes are specifically designed for touring, but they feature some characteristics that make them suitable, at least for a light touring style.
Of course, this list is far from complete, let us know in the comments if you have other suggestions, and we'll be happy to add that to the list.
If you're looking for something more high-end check out:
Disclosure: Some of our articles contain affiliate links. This comes at no additional cost for you and helps us keep this website up and running. (as Amazon Associates we earn commission from qualifying purchases)
How we compile our gear guides: during the almost 10 years of cycloscope.net our team personally tested dozens of similar pieces of gear. For what we can't test personally, we involve other people in the cycling community to give their feedback and opinion about gear they have used. Our decade-long experience in bicycle touring enables us to find the key cons and pros of every product we mention.
6 Cheap Steel Touring Bikes
Fuji Touring Road Bike – 2021 – [+/-] 900$
Jamis Aurora – 2020 – [+/-] $800
Marin Four Corners – 2022 – [+/-] $1,000
Dawes Super Galaxy – 2020 – [+/-] $1,000
Ridgeback Voyage – 2021 – [+/-] $900
Ridgeback Expedition – 2021 – [+/-] $1,000
3 Aluminum Frames Touring Bicycles
Trek FX 2 – 2021 – [+/-] $900
Giant Escape 2 Disc – 2021 – [+/-] $780
Cube Travel Bike – 2021 – [+/-] $850
2 Suspension Forks Travelers Bikes
Cube Touring – 2022 – (+/- 750€)
Ghost Square Cross 4.8 Trekking Bike – 2021 – [+/-] $660
What is a Touring Bike
A touring bicycle, or travel bike, is a bicycle specifically designed for covering long distances on multi-day bike trips, this means that touring bikes are built to carry loads.
Some are called "light tourers" and give their best under reduced loads, like bikepacking style, while others are usually referred to as "expedition bicycles" – meant to be as sturdy as a bike can get and carry the rider on transcontinental bike trips, on every kind of terrain and under heavy loads. To avoid wobbling under all this weight, touring bikes have specific kind of geometries, which we'll describe later.
Touring bikes are usually more comfortable than their gravel or road counterparts, allowing the rider a more upright position which relieves stress on the backbone.
That said, lot of people tour on gravel bikes nowadays, so…
Touring bikes are also usually much heavier, especially expedition bicycles, but the bike weight doesn't matter much when touring, one kg difference will just be one more pack of pasta, does that really make a difference in a 50kg rig?
In the process of selecting a bike for traveling the first thing you need to consider is:
What kind of touring would you like to do with that? Cross continent? Weekend trip sleeping in B&Bs (called credit card touring)? One or two weeks all off-road? This question really matters in the choice of a touring bicycle.
We have provided a short sentence to describe the ideal use of each of the touring bikes listed in this article to help you navigate this complex world and make the right purchase for your needs and budget.
Check also
> What's the best bike for touring?
Expedition VS Plus, Gravel, Fat Bike, Recumbent, and Folding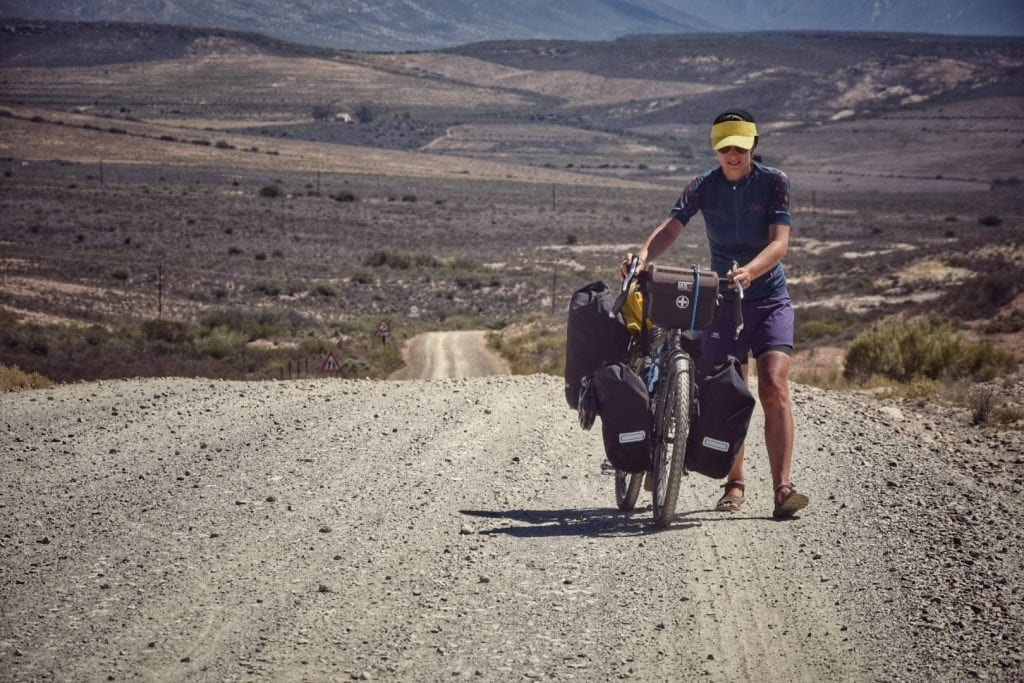 6 Cheap Steel Touring Bikes
Almost everybody agrees that steel is the best material for a touring bicycle's frame. Steel is sturdy, reliable, and can be easily welded but it's slightly heavier than aluminum. There are not so many options for cheap steel touring bikes, here's what I found.
Fuji Touring Road Bike – [+/-] 1000$
Best budget all-terrain expedition bike
The Fuji Touring road bike has been around for decades and has delivered riders and their belongings to beautiful vistas and camp spots all over the world. It's one of the best and reliable deals we found, for its price tag and mid-hi range components.
For starters, the Touring bike features a super comfortable Reynolds 520 CrMo steel frame, which absorbs road vibration. Rack and fender mounts make it easy load up your gear and there's even a spare spoke holder. Touring style pedals keep your feet in place for maximum efficiency.
The 2022 Fuji Touring bike is equipped with an improved range of gear compared to the previous version. The Shimano Deore T6000 30-speed drivetrain and the standard cassette an 11-36T are enough to stay on the pedals even up the most demanding hills, under the heaviest loads.
Vittoria Randonneur tires, and TRP Spyre C Mechanical Disc Brakes, complete the build of this very convenient bike.
With a 2.1″ maximum tire clearance the Fuji Touring is an all-terrain expedition bike that can carry you and your load everywhere in the world
Fuji Touring – Features
Frame: Custom-butted Reynolds 520 Chromoly with rack and fender mounts
Fork: Chromoly with low-rider fork mounts
Drivetrain: Shimano Deore/Deore T6000 30-speed
Crank: Shimano Deore, 48/36/26T
Cassette: Shimano Deore, 11-36T, 10-speed
Shifters: Microshift bar-end, 9-speed
Tires: Vera Terra DPM 18 wheels with Vittoria Randonneur
Brakes: TRP Spyre C Mechanical Disc, Flat Mount, 160mm center-lock rotors
Jamis Aurora Touring Bike – [+/-] $800
Jamis Bicycles is an American distributor of bicycles in the market for over 30 years. Their bikes are designed in the USA and built in China and Taiwan.
The Aurora is a good bike, halfway between a light-tourer and an expedition bike. If only it would've had a wider tire clearance (max 700x35c) and a slightly longer chainstay, it would have been a great cross-continent. This doesn't mean you can't cross a continent on a Jamis Aurora, just that it will not perform like a real all-terrain on dirt and bumpy roads.
This bike offers the always reliable and light Tektro 992 cantilevers. Bar-end shifters are a good solution, more resistant to damage than STI shifters because they're mechanically simpler and you can turn off the indexing in the event of a bent hanger or dropout that prevents the shift indexing from working properly.
The Jamis Aurora is a great touring bike for first-timers and those who like to tour mostly on tar roads
Jamis Aurora – Features
Frame: Reynolds 520 double-butted chromoly main tubes with SST tubing diameters, double-tapered cromo stays, an extended head tube with reinforced collars, forged dropouts, fender/rack eyelets and 3 spoke carrier
Fork: Lugged semi-sloping chromoly with canti bosses, low-rider carrier braze-on, forged dropout with fender eyelets
Front Derailleur: Shimano Sora FD-R3030 with 28.6mm alloy clamp
Rear Derailleur: Shimano Sora RD-R3000GS
Shifters: microSHIFT bar-end shifters with index or friction option, 27-speed
Chainset: FSA Alpha Drive, 48/36/26T, 170mm (47/50/53/55) 175mm (57/59/62)
Brakeset: Tektro 992 forged alloy cantilevers with Tektro RL340 road brake levers
Wheelset: Alex ACE19 eyeleted double-walled rims, 36H, Shimano Tiagra RS400 hubs with QR and 14g stainless steel spokes
Tyres: Vittoria Randonneur with Double Shielding puncture protection, 700 x 32c
Tyre Clearance: Max 700x 35c
Saddle: Jamis Touring Sport with pressure relief cut-out
Weight: 13.5 kg
Marin Four Corners Touring Bike – [+/-] $1,000
The newest version of this stylish gravel bike for touring is a really interesting rig capable of some hardcore touring. With a frame and fork crafted from double-butted Chromoly steel, the Four Corners is as much a work of steel art as it is a fully functional touring bike.
The comfort-oriented geometry makes the going a little easier compared to other gravel bikes, thanks to the tall headtube and wide, stable wheelbase. Full rack and fender mounts give you plenty of provisions for carrying your gear and staying dry. 
Marin went with the reliability of a Shimano Sora 3×9 drivetrain, not a top gamma but great for touring. Shimano has a reputation for ease of service all over the world, so in the unlikely event something should go wrong, it'll still be easy to fix.
The robust gearing gives you plenty of options to get a fully loaded bike over just about any mountain pass, with minimal gear overlap and easy maintenance. Mechanical disc brakes provide powerful, all-weather stopping performance, and double wall alloy 32-spoke wheels setup with Schwalbe's Silento 700×40 tires.
The Marin Four Corners is a gravel best suited for short adventurous tours – it can also be a round-the-world if the rider fees it comfortable enough
Marin Four Corners – Specs
Brakes: Tektro Spyre-C Road Mechanical Disc, 160mm Rotor
Cassette: Shimano HG300 9-Speed, 11-32T
Crankset: Shimano Sora Hollowtech II, 50/39/30T
Fork: CrMo, Fender and Rack Eyelets, IS Disc
Frame: Double Butted CrMo, 700C Wheels, Utilitour Geometry, Fender and Rack Mounts
Front and Rear Derailleur, Levers and Shifters: Shimano Sora
Pedals: Trekking Platform
Tires: WTB Resolute, 650B/700Cx42mm, Puncture Protection
Wheelset: Marin Aluminum, Double Wall, Disc Specific, 6-bolt disc
Tire Clearance: 700×42
Dawes Super Galaxy – [+/-] $1,000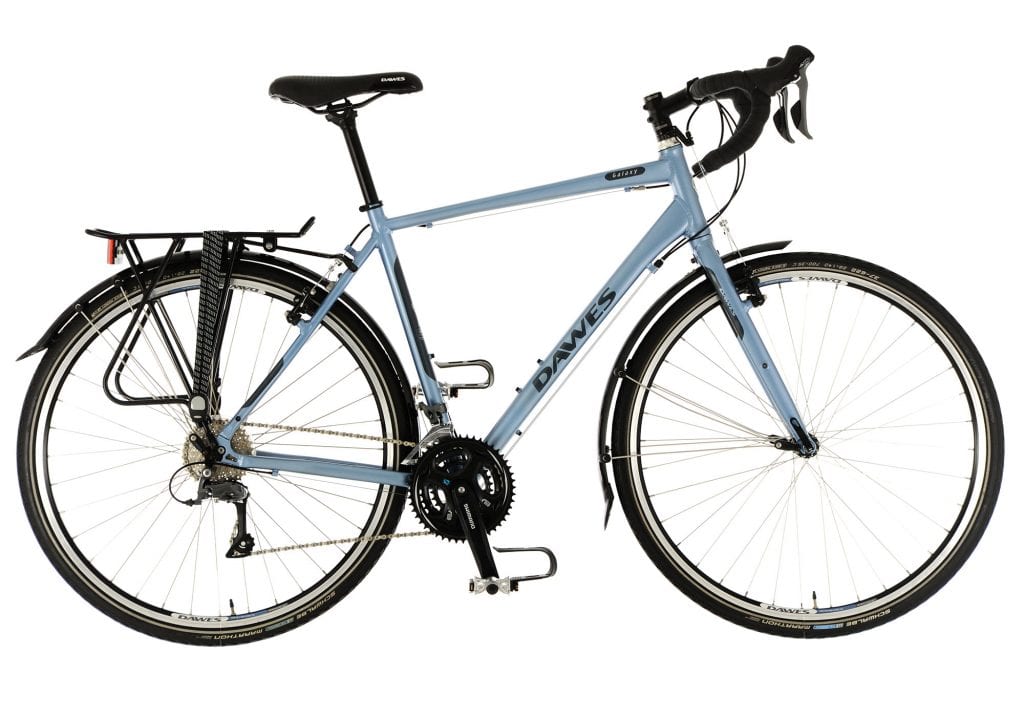 The Dawes Super Galaxy Touring Bike features a reliably strong, yet light 4130 Chromoly frame and forks. The geometry is configured to give enhanced comfort even through those long days in the saddle.
It is equipped with 27-speed Shimano STI Alivio gears, Tektro CR-510 cantilever brakes, Alex double-wall alloy rims, Shimano hubs, and Schwalbe tires. Those long journeys are made more comfortable with a Dawes Tour Gel saddle and chromo plastic mudguards.
Dawes Super Galaxy – Specs
Derailleurs: Shimano Sora FD, Shimano RD-T4000 Alivio 9 spd
Shifters: Shimano ST-3500 STI Levers 27spd
Chainset: Shimano FC-M371 170mm Crank
Chainrings: 48-36-26T Chainrings
Brakeset: Tektro Alloy Cantilever brakes
Handlebars: 380mm (43cm), 400mm (48cm), 420mm (53cm), 440mm (58cm)
Stem: A-Headset Stem, alloy, 80mm reach
Rims: ALEX Ace19 Double Wall Alloy, with CNC braking surface Front Hub:
Ridgeback Voyage Touring Bike – [+/-] $900
Best light tourer for an easy cycling holiday
This light tourer from Ridgeback has good reviews across the web. The Voyager retains its classic riding Reynolds 520 tube set, making it a great gateway into long-distance riding, designed for long periods in the saddle in remote locations.
Brazed-down tube cable stops mean traditional gear levers can be used if needed. All complete builds use a square taper bottom bracket to allow replacement with a more readily available cup and axle unit. It is supplied with a sturdy four-point rack and full mudguards.
For the 2021 version, Ridgeback downgraded the rear derailleur from Deore to Acera, other specs and the overall geometry are more or less unvaried.
A light tourer suited for long-distance rides on paved roads.
Ridgeback Voyage 2021 – Specs
| | |
| --- | --- |
| Frame: | Reynolds 520 Cro Mo |
| Fork: | Chromly steel |
| Headset: | FPD Dozer-1189 |
| Stem: | Ridgeback AS-007 XS, 100mm S-M, 110mm L-XL 120mm |
| Bars: | Ridgeback alloy XS, 400mm S-M, 420mm L-XL 440mm |
| Brakes: | Tektro 992AG |
| Brake Lever: | Shimano Sora ST-R3030 |
| Front Mech and shifters: | Shimano Sora FD-R3030 |
| Rear Mech: | Shimano Acera RD-T3000 |
| Speed: | 27 |
| Rims: | ALEX ACE-19 |
| Hubs: | Shimano T3000 36H |
| Tyres: | Continental Contact 700x32c |
| Chainset: | Shimano FC3010 48-36-26t |
| Cassette: | Shimano HG300 11-34T |
| Weight: | 14.1 kg (47cm) |
Ridgeback Expedition – [+/-]
$1,000
– To Update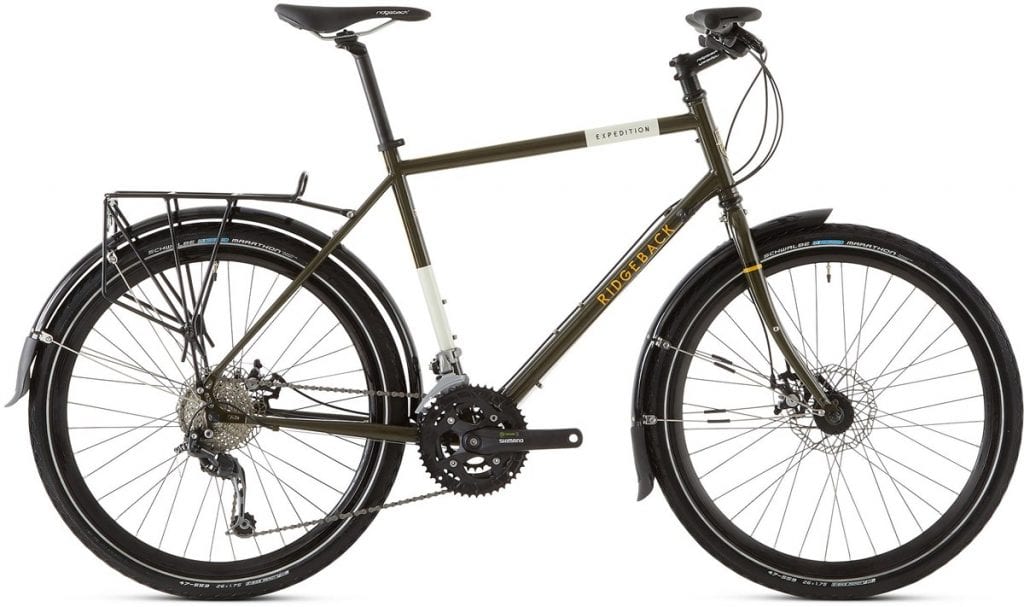 The Ridgeback Expedition has been tested by many tourers around the globe and proven its reliability. The 2021 version moves back to mechanical disc brakes after a short parenthesis on hydraulic brakes, not well appreciated by long-distance tourers for the problem they can bring when they need to be fixed (especially the low availability of spares in remote areas).
About Ridgeback
Ridgeback has spent the last 27 years designing and producing bikes exclusively for UK riders and their environment.
Split across seven series, their wide range of touring, commuter, leisure, and kids bikes feature high-quality Aluminium, Steel, or Titanium frames which are precision welded by hand and built to last. Each frame also undergoes anti-corrosion treatment and electrostatic painting for increased durability.
The Ridgeback Expedition is a real cross-continent touring bike out of the box.
Ridgeback Expedition – Specifications
| | |
| --- | --- |
| Frame: | Reynolds 520 Cro Mo |
| Fork: | Chromly steel |
| Stem: | Ridgeback AS-007, XS-M, 90mm L-XL, 100mm |
| Brakes: | Promax DSK-300 |
| Brake Lever: | Shimano Deore BL-T610 |
| Front Mech: | Shimano Alivio FD-T4000 |
| Rear Mech: | Shimano Deore RD-M592-SGS |
| Shifters: | Shimano Deore SL-M590 |
| Speed: | 27 |
| Rims: | Jalco DM25 |
| Hubs: | Shimano M475 36H |
| Tyres: | Shwalbe Marathon GG 26X1.75 |
| Chainset: | Shimano FC-T4010 48-36-26T |
| Cassette: | Shimano CS-HG400 11-36T |
| Weight: | 15.1kg |
Best Aluminum Frames Touring Bicycles
More and more people nowadays opt for aluminum bicycles for their tours. The days of the proverbial aluminum weakness are gone, and modern alloy materials are more than capable of handling the weight of a heavy tour.
The main point of strength is for sure the light weight of the frame, while the downside is the difficulty in welding possible cracks.
Aluminum is the preferred material for hybrid and trekking bikes, some of them look well-suited for touring.
Trek FX 2 Disc – [+/-] $720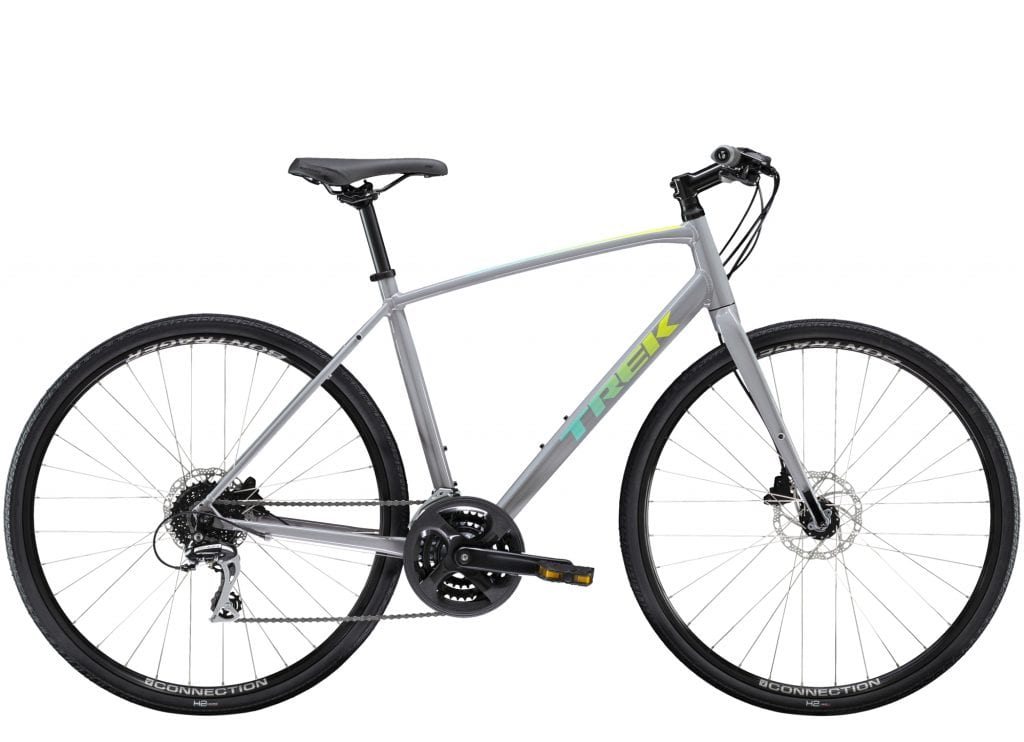 Trek is definitely one of the biggest players in the bicycle market, their range of products is huge and covers almost every cycling discipline.
Proper touring bikes from Trek, like the 520, 920 and 1120, are out of the price range covered in this article – but we feel like mentioning this hybrid urban/trekking bike since it has all the characteristics of a light tourer and can suit the needs of those who don't have space or budget to own more than one bike.
The hydraulic disks might be a weak point for extended bicycle touring, but that's not what this bike is made for. The FX2 is easy to accessorize with racks, a kickstand, fenders, lights, etc. Like every Trek hybrid, it's backed by a lifetime warranty and supported by a wide network of retail partners.
Other interesting features are the compatibility with DuoTrap S cadence sensor (which allows you to track your performance), and the stem-integrated mount for lights and devices.
Very convenient for those who are looking for a commuter that will double as a tourer for short adventures
Trek FX2 2021 – Specs
| | |
| --- | --- |
| Weight | L – 11.95 kg / 26.34 lbs |
| Frameset | |
| Frame | Alpha Gold Aluminum, DuoTrap S compatible, internal cable routing, flat mount disc, rack & fender mounts, 135x5mm QR |
| Fork | FX Alloy, flat mount disc, rack mounts, 405mm axle-to-crown, ThruSkew 5mm QR |
| Wheels | |
| Front Hub | Formula DC-20, alloy, 6-bolt, 5x100mm QR |
| Rear Hub | Formula DC22 alloy, 135x5mm QR |
| Rims | Front Derailleur |
| Tires | Bontrager H2, wire bead, 30 tpi, 700x35c |
| Drivetrain | |
| Shifters | Shimano Altus M310, 8 speed |
| Rear Derailleur | Shimano Tourney TY710, 34.9mm clamp, top swing, dual pull |
| Rear derailleur | Shimano Acera M360, long cage |
| Crank | Forged alloy, 48/38/28, chainguard |
| Cassette | HV410, 1/2×1/8 |
Giant Escape 2 Disc – [+/-] $780
Another budget option for another versatile commuter-tourer. The Giant Escape 2 has been completely redesigned for 2021.
Slicker lines, and different tube shapes for a fun and efficient bike, versatile enough to tackle anything from city commutes to cross-country bicycle tours.
Stable geometry and a wide range of gears make it easier to venture up hilly terrain even when your racks and cargo bags are loaded. It's designed with neutral upright positioning which helps you navigate city streets or crowded bike paths.
Might need an upgrade on wheels, since 28 spokes seem a bit weak for loaded touring. The hydraulic disk brakes are a plus if you are traveling in first-world countries where you can get services. I'll swap them for mechanical if you plan on going somewhere more remote
A cheap option for easy bike touring and comfortable commuting – ideal for those on a budget
Giant Escape – Features
| | |
| --- | --- |
| Frame | ALUXX-Grade Aluminum, disc |
| Fork | alloy, rack mount, disc |
| Shock | N/A |
| Handlebar | Giant Sport XC, 31.8 |
| Stem | Giant Sport, 15-degree, 31.8 |
| Seatpost | Giant D-Fuse, alloy |
| Saddle | Giant Sport Comfort |
| Pedals | Giant Urban Fitness |
| Shifters | Shimano Altus |
| Front Derailleur | Shimano FD-TY710 |
| Rear Derailleur | Shimano Altus |
| Brakes | Tektro HD-R280 |
Cube Travel Sport – [+/-] $950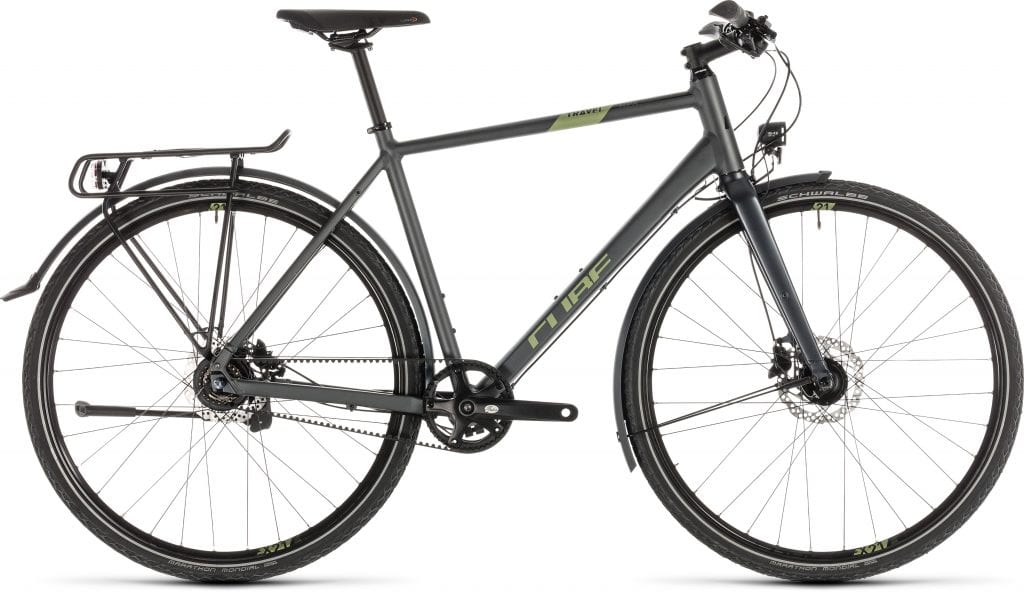 The well-known German brand Cube has given this masterpiece of versatility a relatively lightweight, comfortable frame based around 29er wheels, whilst keeping everything that made earlier versions of this touring bike so popular.
The result? A combination of comfort and stiffness, probably the most convenient bicycle on the market at the moment if you are looking for a flat bar 29er touring-ready bike.
A classy 29er bicycle equipped with all desirable gadgets: Shimano hub dynamo, kickstand, lights, racks, fenders, and even a bell. A real bang for the buck!
Comfort and safety were near the top of the list when Cube developed this bike and they built in plenty of frame clearance for extra wide tyres.
Frame
Cube used a compact geometry for this light, stiff aluminum frame – the tubing set lends the frame its major characteristics of stiffness, fatigue-proofing, and corrosion-resistance. Tubes are double-butted with thinner walls in the middle and thicker ones in the proximity of the joints. Multi-profiled.
State-of-the-art technology includes a tapered headtube, and Cube ensures that the rigid aluminum fork is stiff enough to remain stable even when loaded with luggage. The 3D forged dropout makes fitting disc brakes and a Cube kickstand simple and they've provided bottle cage bosses on the seat tube and downtube – perfect for long rides.
Components
The robust, reliable Shimano transmission has 27 gears, providing a wide enough range to cope with all kinds of riding situations. Tektro's HD-M285 hydraulic disc brake should work well enough.
The lighting system – supplied with power by the Shimano hub dynamo – conforms to tough German StVZO standards. Busch&Müller's Toplight Flat+ rear light even includes a parking light function, while the latest Lyt headlamp has 15-lux of power to illuminate the road ahead. A belt drive version is available (the one in the picture).
All-in-one bike for commuting, leisure touring and trekking
Cube Travel Sport – Features:
| | |
| --- | --- |
| Frame | Aluminium Superlite Trekking Sport, Flat Mount Disc, 12x142mm, AXH |
| Size | Men: XS (50cm), S (53cm), M (56cm), L (59cm), XL (62cm), Trapeze: XS (47cm), S (50cm), M (53cm) |
| Fork | CUBE TS Disc, Full Carbon, Taper, Flat Mount, 12x100mm |
| Headset | VP Semi-Integrated, 1 1/8″, Bottom Integrated, 1 1/4″ |
| Stem | CUBE Performance Stem Pro, 31.8mm |
| Handlebar | CUBE Comfort Trail Bar, 660mm |
| Rear Derailleur | Sram GX Eagle™, 12-Speed |
| Shifter | Sram GX Eagle™ Trigger |
| Brakes | Tektro HD-R280, Hydr. Disc, Flat Mount (160/160) |
| Crankset | Sram Force Carbon D1 DUB 38T, 175mm |
| Cassette | Sram XG-1230 Eagle™, 11-50T |
| Rims | CUBE EX21, 28H, Disc, Tubeless Ready |
| Hub Front | Shutter PD-7,12mm Thru Axle, 6-Bolt |
| Hub Rear | Joytech D982TSE, 12x142mm, 6-Bolt |
| Tires | Schwalbe Marathon Mondial, Kevlar, 37-622 |
| Front Light | CUBE IQ-XS-Friendly N Plus |
| Rear Light | CUBE Nano, Steady |
| Kickstand | ACID Pro Flat Mount Kickstand |
| Mudguards | ACID 50 |
| Bell | Knog Oi |
| Rack | ACID SL Carrier |
| Weight (KG) | 11,6 kg |
Looking for more aluminum travel bike? Maybe you should check in the gravel category!


The Best Gravel Bikes Under 1000/1500$ – Thoroughly Compared
2 Suspension Forks Travelers Bikes
Suspension fork bikes are not very common among long-term tourers. Despite that, they are well appreciated by occasional tourers who seek comfort, also on uneven surfaces. We also met some long-distance travelers who love that cushioned feeling.
The biggest downsides of suspension forks are the added weight and the possibility of failure. If you can cope with that, take a look at these deals.
Suspension fork bikes are not very common among long-term tourers. Despite that, they are well appreciated by occasional tourers who seek comfort, also on uneven surfaces. We also met some long-distance travelers who love that cushioned feeling.
The biggest downsides of suspension forks are the added weight and the possibility of failure. If you can cope with that, take a look at these deals.
Check also our latest article
> Mountain Bike Touring: Bikepacking camping trips & Long distance MTB expeditions explained
Cube Touring Pro Bike – (+/- 750$)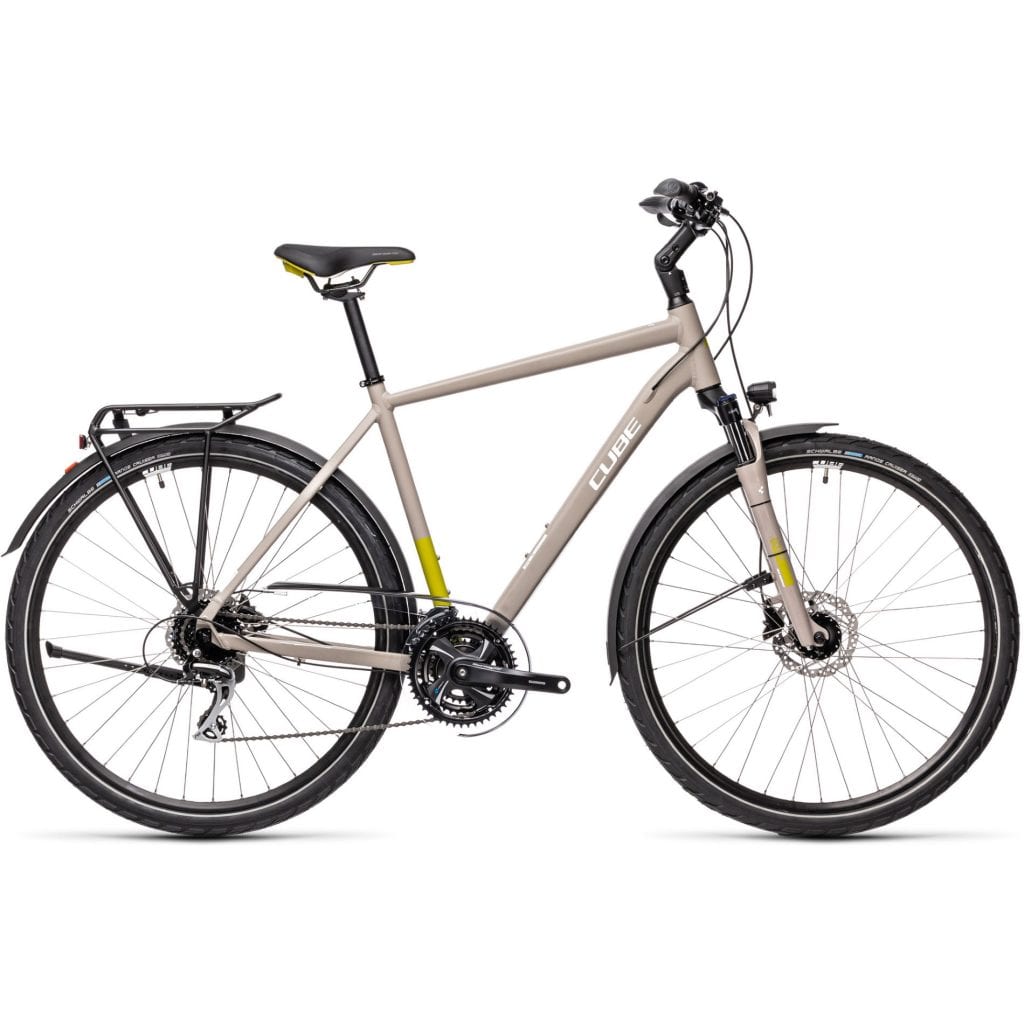 The Touring has everything you need for cycling – no more, no less. Cube intentionally ditched complicated features with this model, but not the ergonomics. That's why it's the perfect bike to simply get on and cycle away without having to spend any time getting to know it first. The Touring is a great all-rounder with a comfortable ride position.
Frame
The light, double-butted aluminum frame features Cube's Efficient Comfort Geometry, specifically developed for touring bikes to provide a comfortable ride position with the best energy transfer to make the best possible use of long days in the saddle.
The Touring has bosses for bottle cages and for Cube's ingeniously simple Cube kickstand, while internal cable routing helps reduce maintenance and keep gearshifts smoother for longer
Components
The Cube Touring has been built in accordance with StVZO regulations. The LED lighting system up front and the small but powerful red LED at the rear both get their power seamlessly from the hub dynamo – which means they're ready whenever needed, regardless of the weather.
Good for light touring, also off-road – I won't put too much weight on the front fork
Cube Touring Pro Specs:
| | |
| --- | --- |
| Frame | Aluminium Superlite Trekking Comfort Double Butted |
| Fork | SR Suntour NEX HLO, 63mm |
| Headset | CUBE FPH863, Semi-Integrated |
| Stem | Satori Up2 Plus, 31.8mm, Adjustable |
| Handlebar | CUBE Rise Trail Bar, 680mm, EE: CUBE Comfort Shape Bar |
| Rear Derailleur | Shimano RD-M360, 8-Speed |
| Front Derailleur | Shimano FD-M310, Topswing, 31.8mm |
| Shifter | Shimano SL-M315, Rapidfire Plus |
| Brakes | Shimano BR-MT200, Hydr. Disc Brake (160/160) |
| Crankset | Shimano FC-T801, 48x36x26T, 175mm |
| Cassette | Shimano CS-HG200, 12-32T |
| Rims | CUBE ZX20, 36H, Disc |
| Hub Front | Shimano DH-3D37, Hub Dynamo, QR, Centerlock |
| Hub Rear | Shimano FH-TX505, QR, Centerlock |
| Tires | Schwalbe Range Cruiser, Active, K-Guard, 47-622 |
| Pedals | CUBE PP MTB |
| Front Light | AXA Compactline 20, AC |
| Rear Light | Trelock LS 613 Duo Flat |
| Kickstand | CUBEstand Cmpt |
| Rack | ACID Semi-Integrated Carrier, ACID RILink Adapter Compatible |
| Weight | 16,9 kg |
Ghost Square Cross 4.8 Trekking Bike [+/-] $560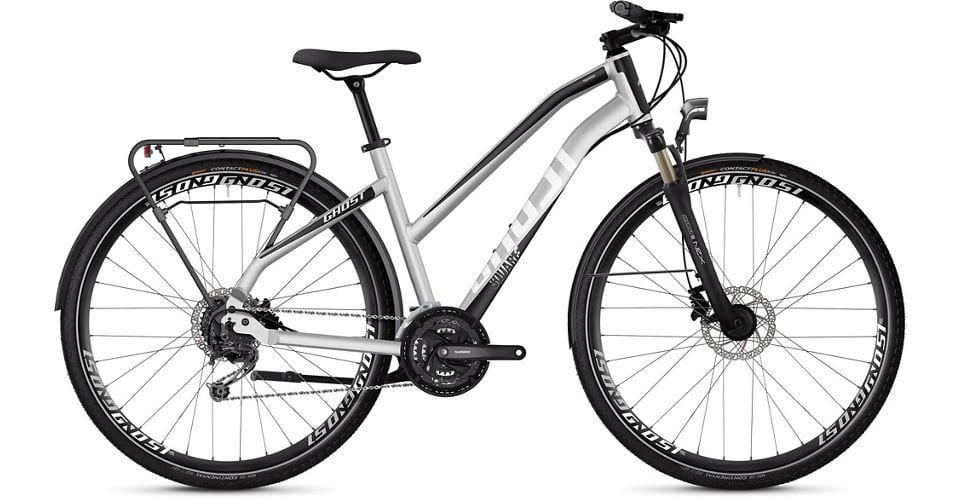 This all rounder offers some unique technical features such as the Ghost central suspension fork, integrated cable routing, super-stiff fenders, and a fully integrated rack carrier which accommodates all common panniers.
All frames in this line feature the revolutionary sandwich belt-drive-ready dropout, enabling you to start simple and upgrade over time as you choose. The high-quality equipment guarantees years of use for both every-day commuting and weekend excursions.
The Ghost Square Cross 1.8 is an ideal commuter that can easily double as a light/medium tourer
Features:
| | |
| --- | --- |
| FRAME | SQUARE Trekking AL |
| FORK | SR Suntour SF16 NEX HLO DS 50 mm |
| STEM | Satori HL STEALTH 6 Dia. 31.8 mm |
| HANDLEBARS | GHOST Low Rizer SQUARE 680 mm Rise 15 mm Dia. 31.8 mm |
| REAR DERAILLEUR | Shimano Deore RD-M592 9-S Shadow Design |
| GEAR LEVER | Shimano Acera SL-M3000 |
| CRANKSET | Shimano FC-M371 48-36-26 |
| CASSETTE | Shimano CS-HG-200-9 11-32 |
| BRAKE | Tektro HD-T285 2/2 Piston 160 mm Disc |
| REAR HUB | Formula DC 22 QR |
| FRONT HUB | Shimano Hub Dynamo DH-3D32-QR |
Extra components:
| | |
| --- | --- |
| SADDLE | Justek 3050 HRN |
| CARRIER | GHOST SQUARE Trekking Carrier |
| FRONT DERAILLEUR | Shimano Acera FD-M3000 |
| FRONT LIGHT | Axa Blueline 30 |
| KICKSTAND | Pletscher ZOOM |
| REAR LIGHT | Herrmans H-Trace |
| TIRES | Michelin Protek 40-622 |
| RIMS | Rodi Excalibur XC 622×19 mm 32H |
| WEIGHT | 16,5 kg (frame size M) |
Ok, so now that you scrolled all these nice bikes, it's time to learn how to choose the best touring bike for your needs. In the next section of this article you'll learn everything you need to know about touring bikes
The 2022 Touring Bike Buying Guide!
What are the most important components of a Touring Bike?
Each component plays an important role in the performance and reliability of the bike, of course, but the most important are certainly the frame and the wheels. These are in charge of holding the weight of the rider and luggage, they should be as strong as possible.
The Frame: How to recognize a frame suited for bicycle touring
The most important component on a touring bike is no doubt the frame.
The characteristics of a touring frame are:
the longer the frame, the more stable is the bike, longer frames absorb vibration better thus making for a more comfortable ride.
A long wheelbase helps you avoid the annoying heel-to-pannier contact without shifting the panniers back too much and so losing the center of stability (the weight should be centered with the back axle).
A sign of a long chain stay is the length of the rear fork, while the wheelbase is made longer also by the bent angle of the front fork, called rake. A longer rake means a more accentuated bent, this is sometimes referred to as a lazy fork.
A lazy fork also offers some cushioning for the vibrations while making the bike a little less agile (steering is slower). A long chainstay may also help in fitting larger tires.
Strong and stiff frame: this may be hard to get at first sight
How do you know if a frame is strong or not? First of all the material: titanium is stronger than steel, that is stronger than aluminum, that is stronger than carbon (at least that's usually true).
Second, check the weldings: clean and nice welding is more likely to be stronger than an ugly one. Check this article to understand more about welding and brazing.
Third, again geometry
A diamond frame is usually stronger than a step-through frame, while a mixte frame may be as strong as a diamond one. Confused, check here to understand more about frame types.
A weak frame may be too flexible, and start wiggling when loaded, especially on downhills, this is dangerous.
Rack and bottle cage mounting points
Unless you opt for the trailer solution or the bike packing setup, your bike should be equipped with mounting points for front and back racks. Well, you can also just go with one rack (front or back, your take) if you pack light.
About the bottle cage, you can always strap one up with zip ties if the frame doesn't have the holes, I did this on my 1936 bike, and traveled 25,000km with it. Having more than a bottle mount is nice but not as important as others state.
One more thing about the frame, a really important one:
Size
It should go without saying that all kind of bikes has different sizes for different riders. Some beginners confuse the size of the frame with that of the wheel (26″, 28″ etc), the wheel size has nothing to do with the overall size of a bike, the frame is the only thing you should get in the right size. Check this to know the right frame size for you.
Wheels: the second most important component of a touring bike
Wheels are the second most important part of a touring bike, they hold all the weight and are always under stress. Cheap touring bikes sometimes save on rim quality, but most are equipped with at least 36-spoke rims. More spokes more strength.
There's plenty of debate about whether a touring bike must be 26″, 28″ or whatever, don't overthink that, they are all fine… It's true that in some countries it might be hard to find spares, but we are in bet territory here – in some countries 26″ is more common than 28″, and some others are the other way round. To be sure always carry a few spokes among your bike touring spare parts for your trip. Learn more about touring rims here.
Touring tires are also a game-changer, The Schwalbe Marathon is no match in our experience – we have ridden 15 so far (July 2019) 15k kilometers on our latest pair, never had a flat and still looking good (P.S. in Africa!). The first things you'll want to upgrade in a cheap touring bike are definitely wheels and tires.   
Want an upgrade? Check the best bikepacking wheelsets
---
The Importance of Drive Train for Bicycle Touring
The more gear you have, the better you'll challenge every hill. Try to have a triple crankset in the front and at least a 7-speed cassette in the back, 9/10 speed, of course, will give you smoother shifting, allowing you to better keep your cadence. The price of more gears is the strength of the chain, 10-speed chains are thinner than 7-speed, thus more prone to failure.
Hi-end front and rear derailleurs are not really needed in the world of loaded bicycle touring. You'll be fine even with the cheapest Shimano SIS or Tourney, although a Shimano Deore will give you more reliability and fewer headaches.
The front derailleur is less important, that's why a mix of different Shimano (or SRAM, or Campagnolo) series is often found on commercial bikes. I advise you to choose Shimano for one simple reason, you'll find replacements everywhere, literally. Here's the Shimano Parts hierarchy if you're curious.
Cranks are really not so important, the main difference between expensive cranks and cheap ones is the weight, we're talking about a few grams, and that really won't make any difference when for loaded bike touring. The same goes for the cassette. Choose the widest range of gears you can figure out, that's it.
Shifters: not so important.
Visit our YouTube channel
Preparing for a Bicycle Trip? Here are ours:
Save
Stay in touch while we get lost! Follow us on Social Media