Cycling in freezing cold weather? Check out the 9 best winter bike gloves for road cycling, MTB, commuting, bikepacking: warm, windproof + touch-screen friendly [Updated 2023/2024]
Choosing the best winter gloves for cycling requires you to consider a few factors.
Whether you're cycling home to work, on long Sunday rides, or for multi-day bikepacking adventures, your winter bike gloves need to be windproof and waterproof.
The choice then varies depending on the type of winter in which you ride your bike, more or less cold, more or less humid, and so on.
In this article, we offer you a list of the best winter cycling gloves for different categories.
Some models are unisex while others have a version for men and one for women, generally, only the size changes, and sometimes the cut is slightly different.
Check Also

> 12 best winter cycling jackets for all budgets
> Bib tights & winter pants for cold-weather cycling, compared!
> The 9 Best MTB Winter Jackets – Waterproof, Softshell, Windbreakers
> 11 best cycling overshoes
> The safest cycling helmets in the world
> The 11 Best Base Layers for Cycling in Winter
Disclosure: Some of our articles contain affiliate links. This comes at no additional cost for you and helps us keep this website up and running. (as Amazon Associates we earn commission from qualifying purchases)
How we compile our gear guides: during the almost 10 years of cycloscope.net our team personally tested dozens of similar pieces of gear. For what we can't test personally, we involve other people in the cycling community to give their feedback and opinion about gear they have used. Our decade-long experience in bicycle touring enables us to find the key cons and pros of every product we mention.
The 10 Best Winter Cycling Gloves in a nutshell
The 8 Best Bike Gloves for Winter – Compared
Best Touchscreen Friendly
SPECS
Temperature Rating:
Material: 88% Polyester, 12% Elastan.
Closure: Strap.
Unisex: Yes.
Touchscreen: Yes.
Waterproof: Windproof and Waterproof, not for heavy rain.
Reflective: No.
Shock-Absorbing Padded: Yes.
These multisport winter gloves are equipped with a conductive fabric on the index and thumbs, allowing you to use your smartphone, GPS or any other touch device without having to remove the gloves.
The silicone print on the palms effectively increases grip strength by not letting your hands slip. The waterproof TPU membrane protects from rain but only from light rain.
They keep hands warm down to a minimum temperature of -5C/23F. Last but not least, the aesthetic aspect of these winter gloves is very pleasant.
Economical product with an excellent quality-price ratio.
Best for very cold winter/sub-freezing temps
SPECS
Temperature Rating: -5°C – 5°C / 23°F – 40°F.
Material: Synthetic Leather.
Closure: Hook and Loop.
Warranty: 1 year.
Unisex: Yes.
Touchscreen: No touchscreen-friendly.
Waterproof: No.
Reflective: No.
Castelli winter gloves are perfect for those who live in very cold weather or are particularly cold-sensitive. We would have loved to have them when cycling in Finland, or in Norway, instead we purchased them later and never really used them under the conditions they are made for, except for a few times in Italian winter.
They kept our hands warm without making them sweat thanks to the fleece lining. Your hands will be completely protected from water and wind, making these gloves ideal for a long ride in any bad winter weather.
The grippy and durable fabric for the palm and fingers offers excellent feedback for control, accurate shifts, and confident braking. The palm is also treated to a vibration-dampening palm for reduced fatigue on those longer rides.
Five different sizes from X-small to X-large.
Best for urban cycling
SPECS
Temperature Rating: N/A
Material: Low-profile merino cuff.
Closure: Close-fitting.
Warranty: N/A.
Unisex: Yes.
Touchscreen: Yes.
Waterproof: Water-resistant.
Reflective: Yes.
The Winter Gloves offer a cozy and water-repellent shield against harsh weather conditions. They are lined with a warm fleece interior and boast insulation on the back of the hand, along with plush padding on the fingers to prevent uncomfortable bunching. These gloves are also treated with a robust water-resistant coating to keep you dry in wet conditions.
The palm is crafted from tough, abrasion-resistant suede material, strategically equipped with gel padding for supreme comfort and a secure grip on handlebars, no matter the weather. The suede fabric allows you to use your smartphone without the need to remove your gloves, and there's even a handy nose wipe on the thumb.
To maintain a low-profile and slim fit, these gloves feature a knitted merino cuff that seamlessly integrates with your jacket sleeves, effectively sealing in warmth without adding unnecessary bulk. Putting them on is a breeze, thanks to the grosgrain puller.
For enhanced visibility while signaling, you'll find reflective logos on the back of the hand and an additional reflective panel on the little finger.
Best Waterproof Winter Gloves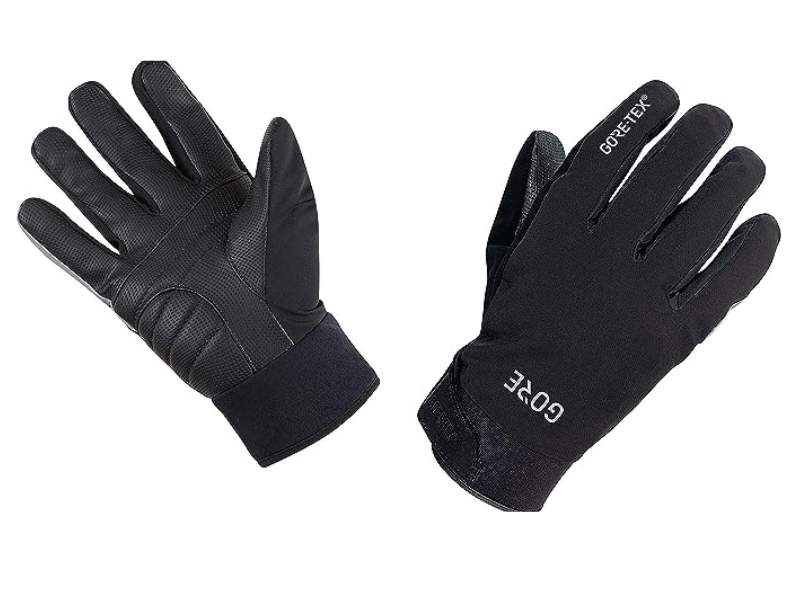 SPECS
Temperature Rating:
Material: 100% Polyester (recycled).
Closure: Hook closure.
Warranty: N/A.
Unisex: Yes.
Touchscreen: No.
Waterproof: Waterproof and Windproof.
Reflective: No.
From weatherproof gear leader GORE here are the best cycling gloves you can get if waterproofness is your primary concern. When testing the GORE WEAR C5 we found them extremely grippy, warm, and with a snug fit.
These unisex GORE Wear gloves are the ideal companions for sporting activities in cold temperatures.
The GORE-Tex Active technology makes the gloves waterproof, windproof, and perfectly breathable, no more sweaty hands.
7 sizes are available for men and women.
Best for those who suffer from the cold
SPECS
Temperature Rating: Down to 25-degrees F or – 3.8 C.
Material: [insulation] PrimaLoft, [liner] Gore-Tex.
Closure: Zipper.
Warranty: 1 year.
Unisex: Yes.

Touchscreen:

No.
Waterproof: Yes.
Reflective: No.
Castelli is committed to ensuring that every winter cycling adventure is both enjoyable and regret-free. That's why they've introduced the Espresso GT Glove, a meticulously crafted solution designed to provide protection even in the most challenging conditions, including temperatures as low as 25 degrees Fahrenheit, whether it's raining or snowing.
At the heart of this glove is the trusted Gore-Tex Infinium, a material that has become a hallmark of Castelli's premium winter cycling apparel. It serves as a dependable waterproof lining, offering resolute defense when the weather forecast takes a turn for the worse.
Maintaining a secure grip on the handlebars is essential, and the Espresso GT Glove addresses this with enhanced palm grip technology, ensuring a confident connection to your bike even in adverse conditions.
Best for MTB
SPECS
Temperature Rating: N/A.
Material: 85% nylon, 15% elastane.
Closure: Slip-on.
Warranty: 2 years.
Unisex: Yes.

Touchscreen:

Yes.
Waterproof: No, enough for light showers.
Reflective: No.
The Winter Gloves EVO offer a dependable defense against cold weather with their insulated design.
They provide a reliable shield against chilly temperatures and are equipped with outstanding windproof capabilities, effectively retaining heat and enhancing overall comfort.
Although they aren't fully waterproof, they do feature a water-repellent finish that effectively wards off occasional light rain and splashes from wet roads.
Best lobster winter gloves for cold winters.
SPECS
Temperature Rating: 20 to 35 degrees Fahrenheit.
Material: Polyester, Faux Leather, Suede.
Closure: Hook-and-loop.
Warranty: Lifetime.
Unisex: Yes.
Touchscreen: No.
Waterproof: No, protection only in light rains.
Reflective: No.
These gloves effectively keep your hands warm. The split design made it somewhat awkward to maintain a secure grip on the handlebars when standing up. Additionally, they tend to accumulate moisture on the inside, making it a bit challenging to put them back on after removal.
The primary objective of this design is to enhance warmth by keeping the fingers in closer proximity to each other, thereby minimizing the surface area of the glove in contact with the fingers.
The palm of the glove features a novel 3D-shaped gel specifically tailored for the AmFib model, reducing bulk compared to conventional padding and thereby enhancing the rider's sense of the handlebars and control. Inside the glove, you'll find a layer of 170g Primaloft Gold insulation equipped with Crosscore technology, delivering warmth even in temperatures ranging from 20 to 35 degrees Fahrenheit.
Best lightweight gloves for mild winters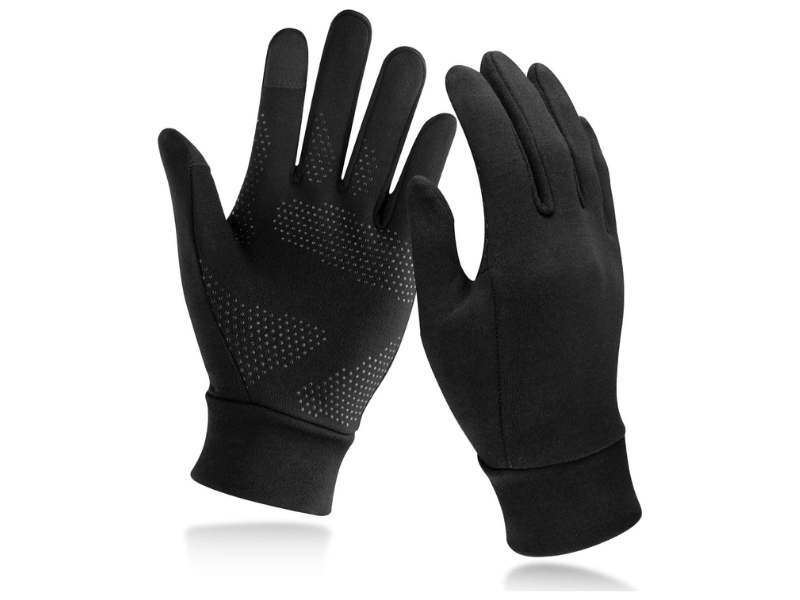 SPECS
Temperature Rating: 5℃ – 41F.
Material: Viscose 41.8% Cotton 29.8% Acrylic 23.4% Spandex 5%
Warranty: N/A.
Unisex: Yes.
Touchscreen: Touch Screen on Both Hands.
Waterproof: Water Resistant.
Reflective: No.
If your area's winters are generally mild but you still need some protection (thinking Mediterranean climate), these lightweight cycling gloves by UNIGEAR are a great bang for the buck.
I purchased them for a winter in my hometown in Sicily and was quite happy with them. They are cheap but quite effective in mildly cool days, the breathability is ideal, the grip is steady, the finger mobility perfect, and they are touchscreen friendly.
The lowest temperate resistance is 5℃, so not they are not meant for extreme cold weather.
8. Velotoze Waterproof Gloves
Best for Bicycle touring and Bikepacking
SPECS
Temperature Rating: -5 C or 23F in dry, sunny weather to 15 C or 59 F in wet, rainy weather.
Material: 95% neoprene, 5% nylon.
Closure: Slip-on.
Warranty: N/A.
Unisex: Yes.
Touchscreen:
Waterproof: Yes.
Reflective: Yes.
Waterproof, windproof performance neoprene keeps your hands warm and dry. The glove is made from a stretchy, flexible material and uses blind stitched, sealed seams for a comfortable fit.
They are designed for -5 C in dry, sunny weather to 15 C in wet, rainy weather. Windproof materials keep your hands warm on cold mornings or in winter.
The neoprene keeps hands dry, extended cuff fits under the jacket sleeve to keep water out. The reflective logo helps to be seen in low light conditions.
Very sturdy, versatile, and durable, they're great winter gloves for long bike touring trips.
Best cycling mittens for extremely cold weather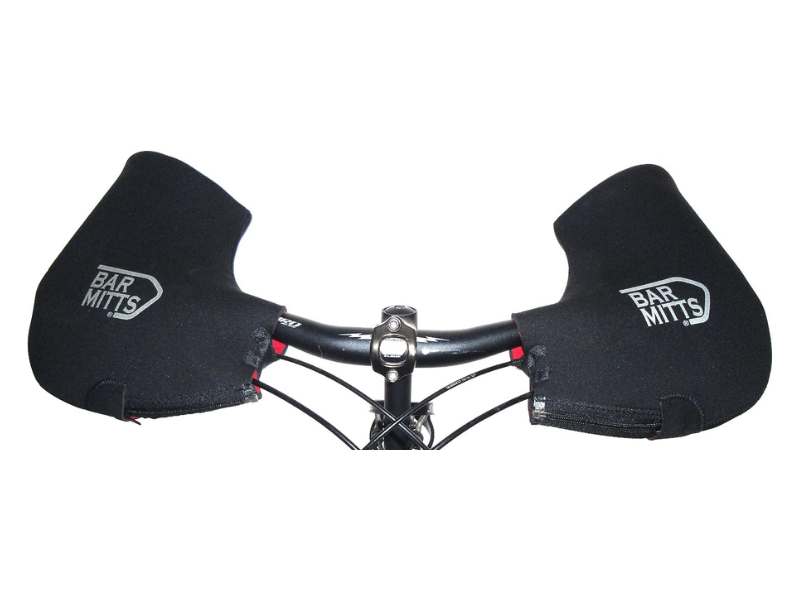 SPECS
Temperature Rating:
Material:
Closure:
Warranty:
Unisex
Touchscreen:
Waterproof:
Reflective:
For those who suffer the cold more than average, or for the real die-hards riding in extremely freezing temperatures, the cycling mittens by Bar Mitts could be the answer to the freezing hand problems.
The mitts let your hand free inside them while completely sheltering your knuckles and fingers from wind, rain, or snow.
The closed cell construction of the 5mm thick neoprene contains air bubbles providing outstanding insulation, while the mitts are attached safely to the bike's handlebar through a velcro. If it gets too hot, you can open a from zipper letting some air circulate.
The hands can be taken out very quickly in case of need, so no need to worry about safety. The Bar Mitts are available in flat bars, drop bars, bar end, bullhorn, and even chopper bars versions.
Interesting Reading

> Breathing Ice – Cycling Siberia in Winter with Dino Lanzaretti
What to consider before buying your next winter bike gloves
Type of fabric. There are many waterproof fabrics, the best known is Gore-Tex. If you live in areas where winter is dry then you can opt for cheaper, but very warm, merino wool gloves.
Touch screen. Some winter cycling gloves are equipped with touchscreen technology that allows you to use your mobile phone or GPS without having to take off your gloves.
Handlebar type. The winter gloves specifically for cycling have an ergonomic design on the padded part. These pads are placed in the area where the most pressure is exerted. Racing handlebar gloves may prove uncomfortable for a flat handlebar and vice versa.
Average temperature. It seems obvious but it is not. The temperature during the winter varies, wearing gloves that are too heavy or too light could limit the use of the product to a few days a year. Pay attention to the guaranteed temperature or consider buying different gloves for the different phases of winter.
5 different types of cycling gloves
Not all cycling gloves are created equal, each type of glove has it's own use and you should be aware of it when purchasing the best cycling gloves for your needs.
Half-finger/fingerless
These kinds of gloves leave the fingers uncovered, their main function is gripping and wrist protection more than keeping your hands warm. They are not suitable for winter cycling
Full finger cycling gloves
These are the standard, regular gloves with full protection and grippy fabric on the palm side. Most of the time you'll want to wear full-finger cycling gloves when cycling in winter.
Mountain bike gloves
MTB gloves are similar to regular full-finger gloves but usually offer more grip than road or gravel gloves, and added knuckles protection in case of falls or when hitting tree branches or similar obstacles.
Lobster Gloves
Lobster gloves keep the fingers together to enanche warmth. They are not the most comfortable but can be lifesaving in colder climates.
Some lobster cycling gloves keep index and middle finger together separated from ring and pinky, which are also together, another type keeps the index alon and the remaining three fingers together – the choice between these two types depends on the type of handlebar and brakes you are using: for drop bars you'll need the first type, while the second version is perfect for flat bars.
Mittens/Mitts
Although mittens is a term often used to refer to fingerless gloves, here we'll use it for full hand protectors that get mounted around the handlebar, and where the riders slides his/her hands in.
These are amazing for colder weather and especially useful for commuters and cycle tourers traveling very cold regions.
Stay in touch while we get lost! Follow us on Social Media