The 2023 updated buying guide to the best jackets for winter cycling: thermal fleece, windproof softshells, waterproof hardshell
Cold-weather jackets for man and woman reviewed by the experts
Getting ready to face winter? Looking for the best jacket for winter cycling? You are in the right place. In this article, we'll give you some advice on how to choose the best cold-weather cycling gear for your needs, both for men and women.
For some of us, giving up cycling because of the weather is just not an option, bicycle tourers on long-distance trips will have to face all the harshest conditions, but so do every winter day many commuters, as well as road racers and committed amateurs.
Choosing the right winter cycling gear is not a piece of cake, with so many brands around and the newest advancements in technology. With this updated guide we hope to give you all the information to spend your money wisely and get the best jacket for you.
Confused by the terminology? What does Softshell, Fleece, or Hardshell mean? You'll find an explanation of those terms at the bottom of this blog post.
check also
> The 9 Best MTB Winter Jackets – Waterproof, Softshell, Windbreakers
The 5 best softshell jackets for winter cycling
Disclosure: Some of our articles contain affiliate links. This comes at no additional cost for you and helps us keep this website up and running. (as Amazon Associates we earn commission from qualifying purchases)
How we compile our gear guides: during the almost 10 years of cycloscope.net our team personally tested dozens of similar pieces of gear. For what we can't test personally, we involve other people in the cycling community to give their feedback and opinion about gear they have used. Our decade-long experience in bicycle touring enables us to find the key cons and pros of every product we mention.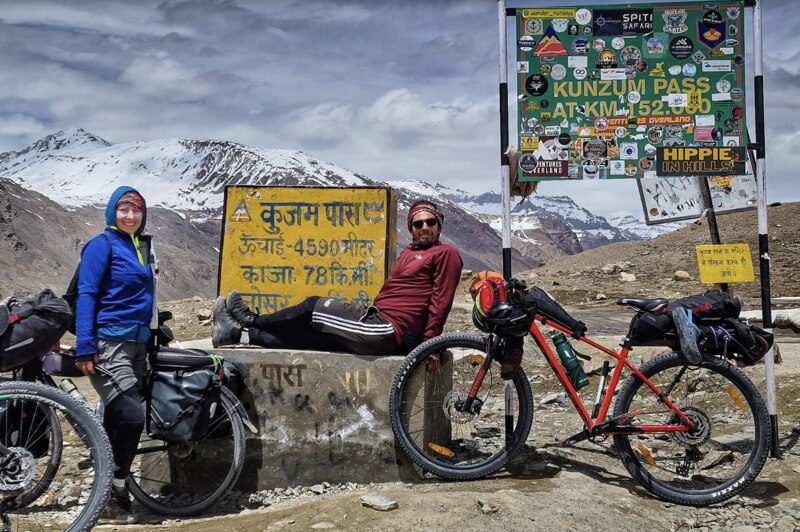 Here are our picks in the vast realm of cycling softshells, hope you'll find the right one for you among these!
1. Sigr Gotlandsleden Tour Merino Softshell [200$]
Our new favourite winter cycling jacket for 2023!
Materials: Australian Merino wool insulating/ventilating lining / Silicon gripper on bottom hem / Hydrophilic PU Membrane
Waterproof Rating: water resistant
The jackets we used for our recent bikepacking trip in the Indian Himalayas. They kept us warm at temperatures below the freezing threshold and above 16,000 feet.
Made with a mix of sustainably-sourced Merino Wool, hydrophilic PU membrane, and silicon gripper for the bottom hem, the jacket stays in place even when moving a lot on the saddle.
The long hand covers are perfect to go under the gloves and thus create perfect insulation.
A large chest pocket and a wide back zipped compartment ensure a great storage capacity for snacks, tissues, and whatever you might want to store in a cycling jacket.
The jacket is also super-ventilated, with zipped vents that can be opened or closed according to the need. So it can be used also in moderate chill conditions without causing sweat, that's a thing we loved in the constantly variating climate of the Himalayas.
Reflectivity is ensured by large elements on the sides and at the back. The jacket is water resistant, which means it will keep you dry under a drizzle but should be matched by a proper rain jacket or cycling poncho in case of a downpour.
It's not a compact jacket though, and takes some space when stored in your bikepacking bags, but so do all good winter cycling jackets.
2. Castelli Alpha ROS Jacket – Softshell
Best winter cycling jacket for pros
Materials: [membrane/laminate] Windstopper 150, [face fabric] 100% polyester, [liner] 90% polyester, 10% Spandex
Waterproof Rating: 10,000mm
The Castelli Alpha ROS Jacket is probably the best cycling softshell you can get, and its price-tag reflects it.
This cycling jacket, from Italian legendary brand Castelli, has everything you need to ride like a pro in the freezing dry cold of Lapland or up the Himalayas. Put two or three layers below, and this could be comfy down to the mid-teens (-10C), use it alone on a normal jersey and it will keep you warm and dry around 45F (8C).
The Castelli Alpha ROS outer layer is made of Gore Windstopper 150 Fabric, which stops the wind properly even at high speeds and guarantees excellent water protection. The zipper slides easily and is partially covered to keep the rain out, while the seams sealing on the shoulders is double-stitched to keep most rain out, but remember this is not a rain jacket.
The peculiar design separates the wind/water protection layer from the insulating layer, which results in optimal ventilation and moisture evaporation. The fit is great, no flapping around, some stretch fabrics with advanced patterning make it tight but do not impede your movements.
Three back pockets and a nice little zipper pocket on the front allow you to carry snacks, cellphone, and keys. The choice of color is vast, Orange/Black, Light Black/Black, Ceramic Blue/Black, Red/Black, and Silver Gray/Black. Castelli also created a wonderful version for female riders.
3. VAUDE Posta V – Softshell Jacket [180$]
Best winter softshell for MTB
Material: 100% polyester
Membrane: 100% polyurethane
2 back pockets + 1 front pocket, all with zips
Low cut back
The Men's Posta Softshell Jacket V by German award-winning brand Vaude is another top-level product.
The layered construction consists of a polyester outer cover and an inner thermal material (polyurethane), that combined together guarantee to totally stop the fastest hails of wind and offer outstanding protection from the cold.
The close-fitting cut is designed to suit the seating position both of mountain bikers and roadies, there is spandex mixed among the fabric for high elasticity, but the protection from the rain is minimal, making this jacket closer to a winter fleece than an actual softshell.
The water repellent finishing is manufactured without the use of fluorocarbons (PFC) in an effort to be more eco-friendly, it will shield you from mud and in the mist, but not from real rains.
The biggest selling point of the Vaude Posta V is certainly its warmness, the jacket alone can keep you warm down to -5 degrees Celsius (23F), even in strong wind conditions.
A nice addition are the zipped compartments on the back for money mobile phone and keys as well, complemented by a big chest pocket. The reflection inserts are highly visible.
4. ARSUXEO 15-k Winter Warm UP – Thermal Softshell
Best budget winter softshell jacket for cycling
Materials: 85% polyester +15% spandex
Front and rear zipper pocket,
Longer cuff design for extra wrists coverage
The Aruxeo 15k is our pick for the best cheap cycling softshell. For just under 35 bucks here's a comfy and warm jacket that would probably make most people happy.
The multilayered fabric consists of a rugged exterior windbreaker surface that beads up moisture, a second layer of a waterproof breathable membrane film, and a third layer of fleece.
The black part is Spandex, which should be familiar to most. It's a stretchable and breathable fabric which is not windproof nor waterproof. It makes the fit nice and tight and helps your sweat evaporate out.
The addition of such a wide Spandex area though, compromise the Aruxeco performance even in medium rain, you'll get wet in anything but a short drizzle.
Worn with a warm base layer, this cycling softeshell jacket is adequate for riding around 0°C (32°F).
On the downsides, a cheap item usually means poor quality control, indeed the zipper is known to fail easily. The materials also feel a bit heavy, and the presence of only one rear pocket is a silly design fault.
As a similar product for women, we recommend the Pearl Izumi Select Escape, a bit more pricey but definitely high quality.

5. Castelli Puro 3
Warmest midrange winter softshell jacket for cycling
Materials: 100% Polyester
3 Rear pockets
Easy-sliding weatherproof YKK Vislon zipper
Castelli updated one of their most popular deep winter jerseys, the Puro, for the season of 2023. By improving the warmth of the fabric and adding large reflectivity panels on the chest and below the pockets on the back, the Italian band managed to improve a product that was considered already perfect by many.
The Castelli Puro 3 features an excellent warmth/moisture-management ratio, improved night visibility, and a stylish Italian design.
A no-nonsense technical piece, as Castelli says, that can be comfortably used at direct contact with the skin, or as a layering element for the deepest winter rides.

3 Best Fleeces for Cold Weather Cycling
Those are our picks for the best cycling fleece for winter, as you can see several could also be considered softshell jackets.
1. PEARL IZUMI Versa Quilted Hoodie – Cycling Fleece [220$]
The best cycling fleece for casual occasions
Materials: Mix of softshell fabric and quilted insulated core
Two hand pockets, chest pocket, back pocket
133g Primaloft Gold insulation for breathability.
Reflective but not weird
The casual look of your favourite hoodie and the technical design of your best cycling jacket, here's what the guys at Pearl Izumi have been able to synthesize.
The Versa Quilted Hoodie is the perfect blend of casual and technical jacket, one that will allow you to ride to dinner with your friends without arriving sweaty but also not looking like a traffic light. A jacket that will be a great companion whenever you spend your free time, either riding a single-track or going to the movies.
The material is a wrinkle-free polyester twill with the feel and comfort of flannel, the back extends down enough not to expose your lower back to the elements, but it's not drastic and it won't be noticed when wearing it as a casual garment.
This Pearl Izumi jacket features an interior back pocket with a discreet side-entry zipper instead of the usual three vertical pockets, it will be invisible when emptied. The sleeves are more than adequate when extending your torso and arms for drop-handlebar riding but they don't look bunched up when standing upright.
Of course, there are some compromises needed to stay stylish, this is not a jacket for very cold days or long chilly mountain rides, the zipper leaks cold air, and waterproofness is minimal, but after all, it's a fleece.
A version for ladies is also available, and it actually cost half the man's one, check it out!
2. ROCK BROS Winter Cycling Jacket – Thermal Fleece/Softshell [40$]
Best cheap winter cycling jacket for commuting
Materials: ripstop fabric, fleece, 8% spandex
Four pockets
Rockbros confirms itself as a cool brand for budget cycling gear with this cheap multipurpose winter jacket.
This is where the distinction between fleece and softshell becomes nebulous, this jacket indeed is windproof and water-resistant like a softshell, light rain stops in beads on the surface. It has 8% of spandex mixed into the fabric for a tight fit, but at the same time is roomy enough in the shoulders to allow wearing a casual hoodie underneath, which makes it great for commuting.
It also has an internal fleece layer that keeps you warm even around the 30s, some reflective inserts for safety on the road, 3 front pockets (the chest pocket has an audio port), and a rear through-pocket.
Front and rear vents help a bit as temperatures raise, but the overall breathability of the jacket is not its strongest point. Another downside is the poor quality of the zippers.
The Rock Bros winter cycling jacket also looks nice as a casual lightweight coat. The reflective material is subtle and doesn't stand out like some other biking or running jackets.
3. Dinamik Thermal Winter Cycling Jacket – Fleece/Windbreaker [75$]
Best midrange cycling winter fleece
Materials: 100% Polyester Soft Shell, White Milk Silk High-Temperature Membrane & White Lattice Polar Fleece
Temperature Range: -5° (with additional layering) to 10°C (20°-50° F)
3 rear storage pouches + 1 zippered pocketWindproof, Water Resistant
10,000mm Waterproof (claimed)
Our pick for a mid-range cycling fleece is the Dinamik Thermal Winter Cycling Jacket, another interesting product for the fearless rider.
Its triple-layered construction features a polar thermal fleece, a wind-breaker fabric, and a waterproof coating claiming an astounding (and hardly believable) rate of 10,000mm.
An elastic waistband ensures the jacket doesn't ride up and offers a snug and cozy fit, while the 4-way stretch lets you move freely enough.
The breathability though is not the best, up from the '40s (6/7°C) it will start building up moisture when forcing the pace. Unfortunately, the brand doesn't manufacture a ladies' version of this product, our recommendation for something very similar is the Santic Woman Bike Fleece.
4 Best Hardshell Winter Jackets for Cycling
Do you already have an idea what's gonna be your next winter cycling jacket? Hang on, because is time to showcase some great hardshells for the most extreme weather conditions.
1. Gore Men's C3 GTX Active Jacket – Hardshell [200$]
Best packable winter jacket for biking
Materials: GORE-TEX Active Technology
Adjustable waistband
Front and rear zipper pocket
The Gore Men's C3 GTX Active is a great jacket for temperatures above freezing, lightweight, packable, incredibly breathable, with a great fit, and lots of room for layering.
With a light long sleeve shirt underneath, this cycling jacket will keep you warm even down to the 20s Farhenite (-6/-3C).
The waterproofing is good, a normal rain will bounce right off this jacket, but it won't keep you dry forever under a thunderstorm. Overall, this is a great hardshell with its biggest selling points being in its packability and unnoticeable weight.
Gore manufactures also a similar winter jacket for women cyclists, although there are some noticeable differences the performance is very similar.
2. Showers Pass Elite 2.1 Waterproof – Hardshell Cycling Jacket [200$+]
Best hardshell rain jacket for winter cycling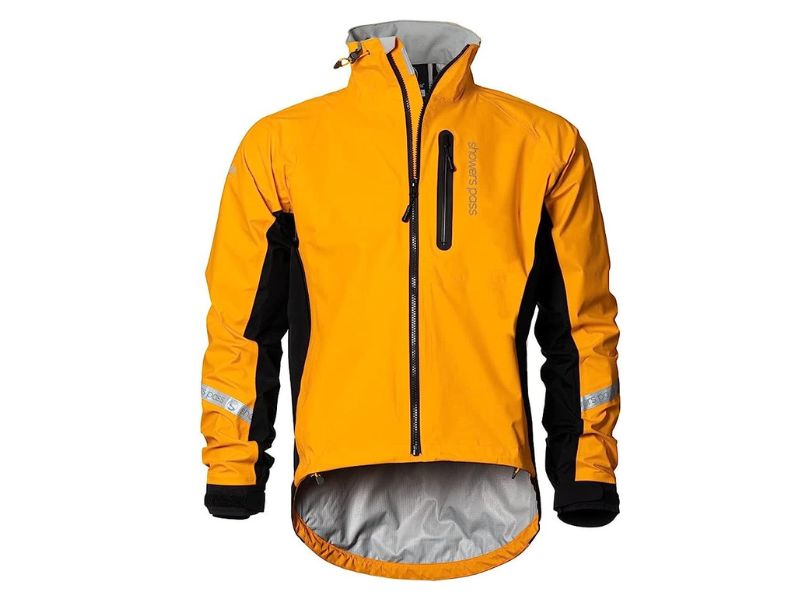 Materials: 100% Nylon, eVent and Elite Performance Fabrics (ePF)
Chest pocket with audio port
Large back pocket
3M Scotchlite reflective trim
The Showers Pass Elite 2.1 is one of the best waterproof cycling jackets offered on the market, and it's also available for women!
The Elite 3-Layer ripstop fabrics is body-mapped to maximize breathability where needed while keeping you protected from harsh winds and downpours. The seams are tape-sealed, while the zipper does a great job stopping water from sneaking in. The DWR coating finishing guarantees durability and long-term waterproofness.
In warmer temperatures the ventilation still works greatly, with six different vents that you could close or open according to your feelings, two core vents, two cuff vents, a back vent, and the front zipper.
The cinch cord at the collar and double toggle cinch cord at the hem are welcome add-ons, you can adjust them according to your measures to be sure no wind or rain gets in. The collar also features a soft moisture-wicking lining and is hood-compatible via hook and loop attachment points.
A thunderstorm close to 0°C (32°F) should not worry you, while by adding proper layering you can venture out in freezing temperatures up to -10°C (14°F).
The Showers Pass Men's Elite 2.1 jacket is the favorite training jacket of the Katusha Pro Cycling team.
3. BALEAF Cycling Jackets – Hardshell/Raincoat [40$]
Best budget hardshell/raincoat for cycling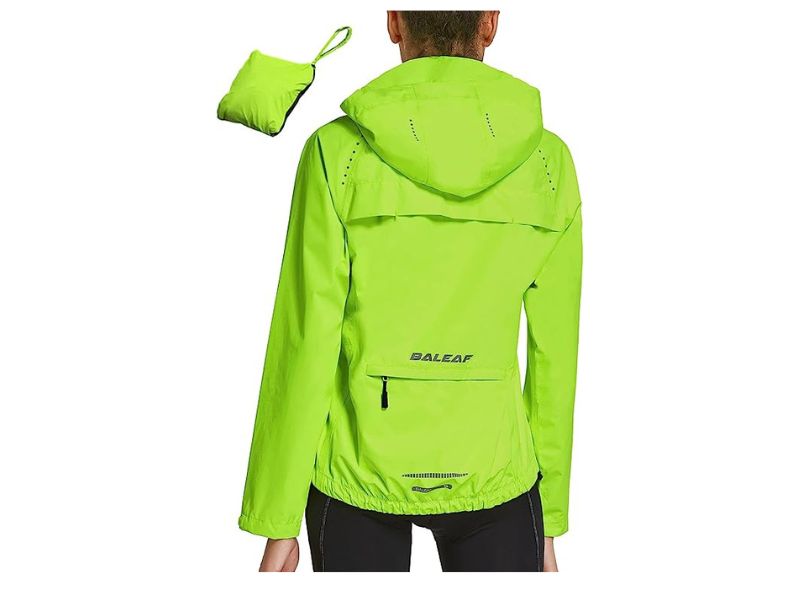 Materials: 100% Polyester.
WATERPROOF WINDPROOF and fully seam-sealed protection
Breathability Rating: 3000g/m2/24hr
BALEAF is an interesting company with a vast catalog in the sportswear industry, we are happy to point out that they also have a lot of stuff for women – their shop is really worth a look ladies!
This 40$ hardshell jacket is a bang for the buck: super lightweight, highly visible, completely waterproof, equipped with lots of pockets, and available in a woman version, this might be the ultimate option for those looking for a cheap winter hardshell.
The material is 100% Polyester, completely windproof, and waterproof under 5000mm pressure thanks to the fully seam-sealed construction.
This jacket from Baleaf can be packed into a small self-contained bundle that can be stored conveniently in the back pocket of a jersey or fleece. Despite so it has as much as 5 pockets, one back pocket, two hand pockets with zippers, and two inner ones.
It also features a hood with cord adjusters that fits perfectly with or without a helmet and does a good job at protecting your face from rain and wind.
How to choose the best winter cycling jacket for your needs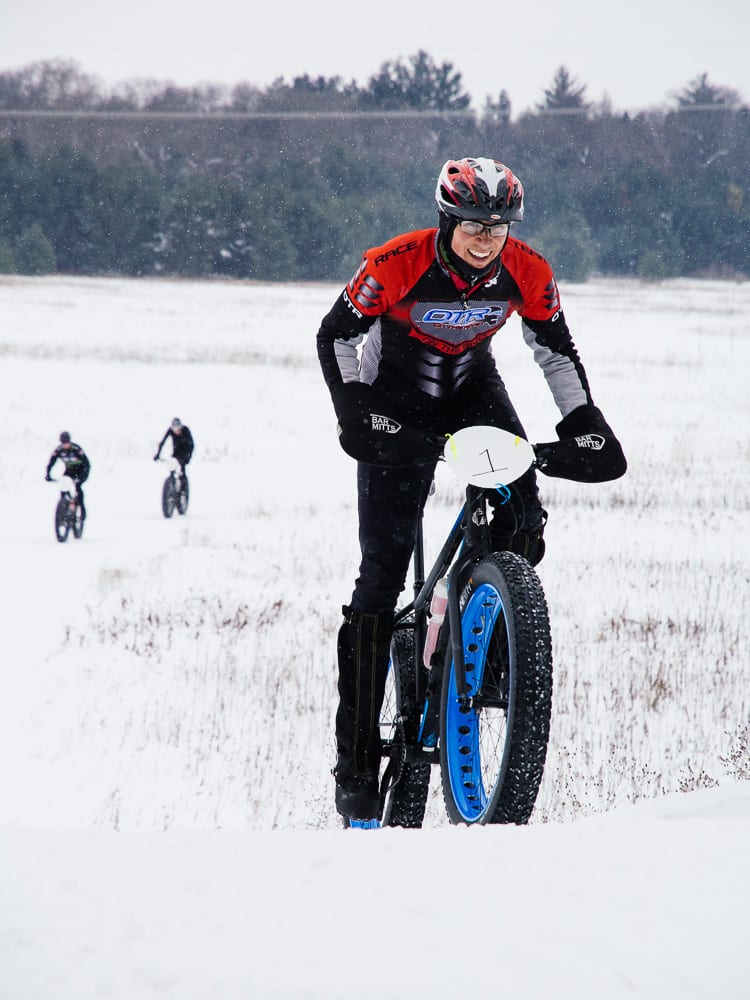 We should start by saying there's no one single piece of equipment that can work in any cold-weather situation, for some fortunate of us, winter never gets to freezing temperatures, while for those who live in colder geographical areas, 0°C (32F) is considered warm spring weather.
Every cyclist should find his/her own perfect set of gear that will accommodate the most common weather condition he/she's bound to face during the winter arch. Light rain jacket? super-warm breathable fleece? What's for me?
What is a Hardshell Cycling Jacket?
Hardshell cycling jackets are the outer layer of winter clothing. They are meant to be waterproof, windproof, and hopefully breathable.
The focus of their construction is to shelter your body from rain and wind while allowing the sweat to evaporate, not an easy task. Hardshell jackets are not intended to be warm, they are a shield.
As explained below, the basic principle of winter clothing in cycling is to wear layers. A hardshell jacket over a jersey might be perfect under a thunderstorm, while adding a softshell beneath is only needed when the temperatures are really low.
What's the difference between Fleece and Softshell
Fleece and softshells jackets are the insulating layer, worn under the hardshell or as the outermost layer in dry cold weather.
These two categories tend to be pretty mixed-up nowadays, at the point where it's often difficult to distinguish a softshell from a fleece.
In this article, we kept the distinction for the sake of a cleaner layout and facilitated navigation, but you'll see many of the products mentioned could fall in both categories.
Fleece often refers to a piece of clothing made of a fabric called Polar Fleece, a combination of synthetic fibers and sheep wool invented in 1979. The wool provides warmth while the synthetic fibers enhance heat retention.
Fleece jackets are meant to keep warm, but the fleece fabric does little to keep out wind, and nothing to keep out the rain. Nowadays many cycling fleeces combine other materials or add layers to offer decent protection from winds and at least some water-repellent properties, which makes them more similar to softshells.
Softshell cycling jackets are supposed to be as windproof as possible, and at least water-resistant, while being warmer, softer, more breathable, and more flexible than a full waterproof hardshell.
They often feature a laminated fabric made by several layers sandwiched together, inserts of spandex are common to add breathability and guarantee a tight fit.
The secret of cold weather cycling: Layer Up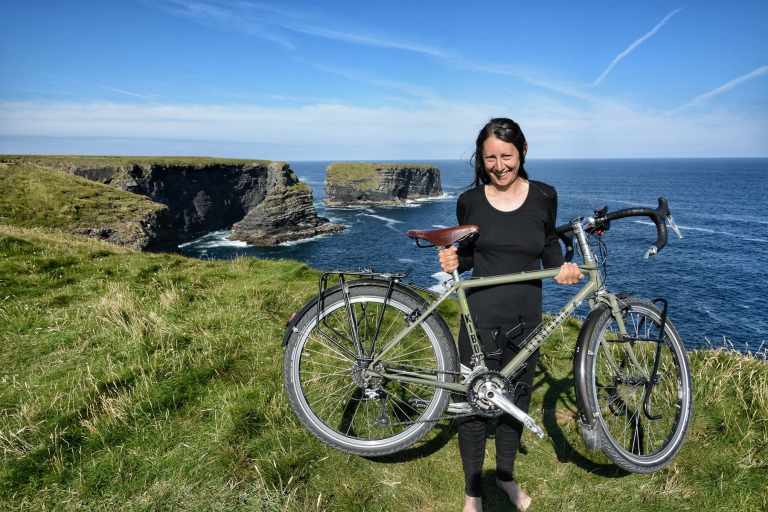 In especially cold weather conditions, we achieve our goal of staying warm and dry by using several clothing layers, on top of each other, which we can remove selectively according to our feelings.
Learning how to layer up is one of the most difficult things to master in the cycling world, it's very personal, dependant on one's physiology, weight, fit, etcetera but also on the kind of rides we are used to tackling, and how the weather conditions can vary within them.
There are 4 layers of clothing used in winter cycling:
Base Layer (at skin contact, usually merino wool or synthetic fabrics like polypropylene and polyester)
Jersey (can be short or long sleeve and thermal or not)
Windproof softshell or fleece (cut wind and keep warm but not dry)
Waterproof Hardshell (protect from heavy rain but less breathable)
Using all of these 4 layers together is only needed in below-freezing temperatures, extreme rides might require even two or more layers of the same type (learn how Dino Lanzaretti cycled through Siberia in winter).
In most cases, two o three layers are enough. Here are a few examples of layering combinations for winter cycling.
Base layer + Jersey around 15°C/13°C:
Jersey + Fleece/Softshell at 12°C/9°C
Base layer + Fleece/Softshell 9°C/5°C
Base layer + Thermal Jersey + Fleece/Softshell around 4°C/0°C
Base layer + Thermal Jersey + Fleece/Softshell + Hardshell -1°C/-10°C
If the weather is wet, you should replace the fleece with a hardshell jacket. That can of course combined and used also in dry weather, depending on the product and on your personal taste.
These are just some recommendations that might work for some of you, don't take them as a bible as each of us is different and there are no set rules.
Frequently Asked Questions about Cycling Jackets
What are the different types of cycling jackets?
There are three types of winter cycling jackets: fleece, softshell, and hardshell. Fleeces are designed to keep you warm, softshells to break the wind, and hardshells to protect from rain and wind. Read more!
What temperature is too cold to bike?
No temperature is too cold to bike. With adequate gear and proper layering, even the coldest spots of Siberia have been cycled through. Below 5°C /40°F you should wear dedicated winter cycling gear.
Stay in touch while we get lost! Follow us on Social Media