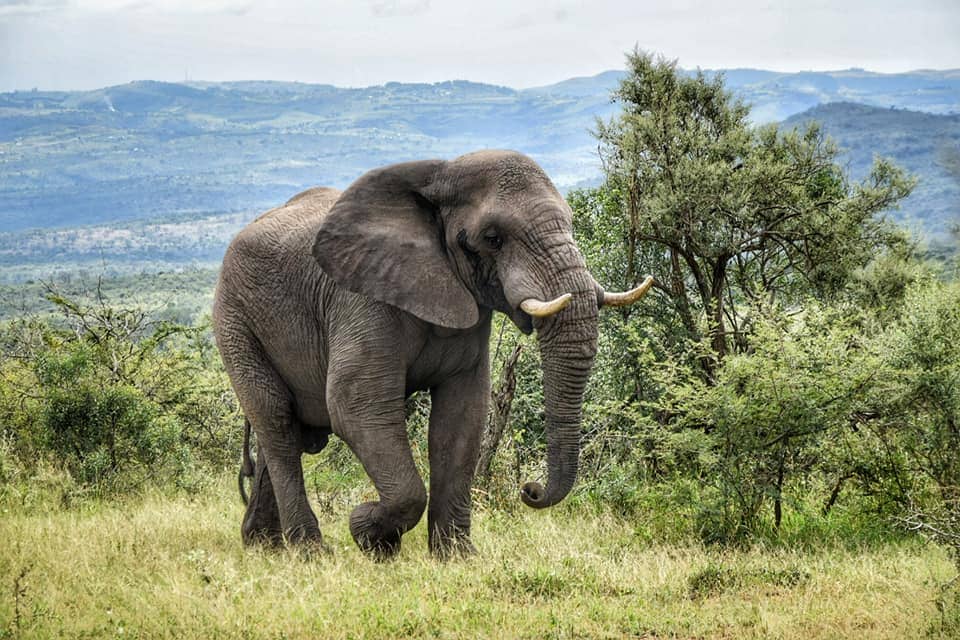 Hluhluwe – iMfolozi Nature Reserve: a great safari opportunity in KwaZulu Natal, South Africa
How to book, things to know, and accommodation options near the game reserve
If you're traveling in South Africa, most likely you would like to see some wildlife. A safari in Hluhluwe – iMfolozi Game reserve is a great way to spot the so-called "Big Five" (Lion, Rhino, Leopard, Buffalo, Elephant) and some other beautiful animals in their natural environment.
Much more tranquil than the more famous Kruger National Park, Hluhluwe-Umfolozi (another spelling) is also very scenic, with its rolling hills covered in wild bushes and the great Umfolozi rivers winding through them like a huge snake. Definitely a top Safari destination.
We visited Hluhluwe-iMfolozi on a full-day guided safari departing from the resort town of St. Lucia, it was a nice day-break from our cycling trip through Southern Africa and we really enjoyed it. We spotted four of the big five (not the leopard, which is very difficult to come across) plus a lot of giraffes, stunning kudu specimens, warthogs, vultures, zebras, and plenty other species of antelopes and other animals.
In this blog article, we'll try to give all the information needed to organize a safari trip to Hluhluwe-Imfolozi Game Reserve and National Park.
---
Exploring the area? Why not visiting the hippos in St. Lucia?
Are you interested in what to see in Cape Town? Check this
Planning a trip around South Africa? Have a look at
Barrydale and the Little Karoo
A road trip through the Eastern Cape
Prins Alfred Pass – An off the beaten path Garden Route itinerary
Check also our complete guide about
Cycling in South Africa – everything you need to know
Disclosure: Some of our articles contain affiliate links. This comes at no additional cost for you and helps us keep this website up and running. (as Amazon Associates we earn commission from qualifying purchases)
Hluhluwe – iMfolozi National Park, the oldest park in Africa
Established in 1895, the iMfolozi Game reserve, situated in the South African region of KwaZulu Natal (KZN) is the oldest national park in Africa. It is the only public National Park in Kwa Zulu to host the Big Five and thanks to its efforts to date, the world's largest population of white rhinos, despite poaching being a daily problem.
The white rhino is indeed the reason for the park to first come into existence. This species was indeed endangered already in the late 19th century, and although the park has seen the systematic killing of more than 100,000 other animals (blamed for the endemic presence of tsetse flies), the white rhino was spared and today there are about 1000 specimens in the park.
Located 280 kilometers (170 mi) north of Durban, the park size is 960 km² (96,000 ha), about ten times the city of Paris. A hilly and wild expanse of land between the Black Umfolozi and the White Umfolozi rivers which has been the theatre of many fundamental events in the history of KwaZulu Natal, an important area in the struggle between the Voortrekkers (Boer settlers), British ivory traders (and later the Empire), and the Zulu Kingdom born under the famous Shaka.
We recommend the reading of Natal and the Zulu Country by T.V. Bulpin if you're interested in the history of this beautiful part if the world.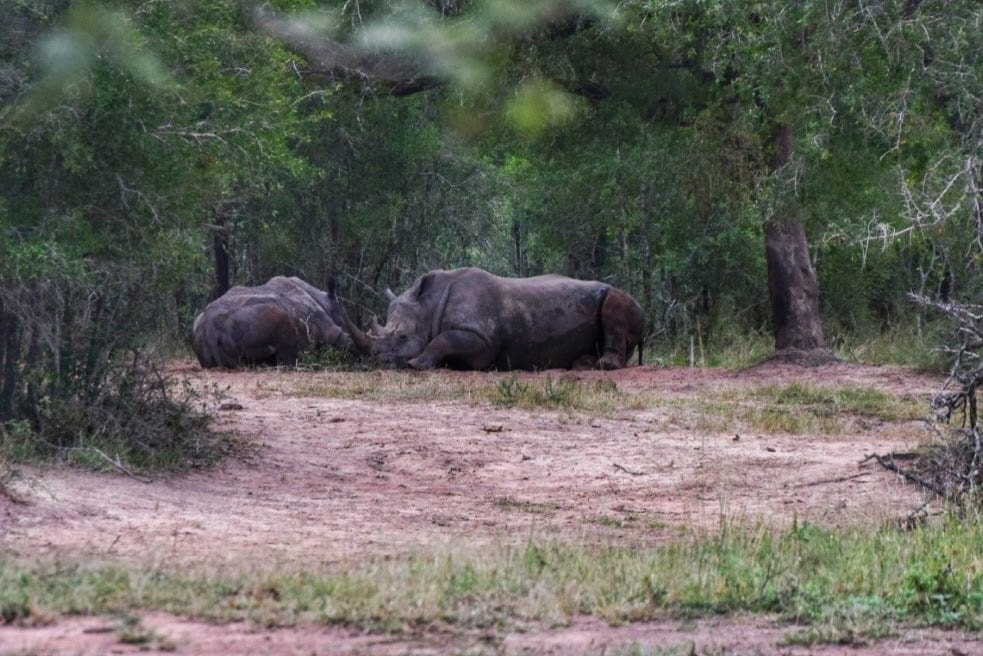 How to book a safari in Hluhluwe – Imfolozi
Booking a safari around Hluhluwe-iMfolozi Game Reserve is very easy. If you want to book last minute while you're already in St. Lucia, there's a lot of tour operator providers who charge very similar prices and offer nearly identical packages. We booked through the Monzi Safaris Backpackers and Lodge, which was our accommodation of choice in St. Lucia. You can also book through several accommodations in the town of Hluhluwe, more about this later.
Anyway, it's often a good idea, especially during public holidays or weekends, to book in advance and be sure to get your spot. We recommend booking online through a reliable tour aggregator like Hotellook or Viator. If you're in Durban you can always get a tour straight from there.
There are several safari options in Hluhluwe-iMfolozi, from half-day tours to full day safaris, or all-in-one-day tours that include a hippo river cruise in St. Lucia together with a half-day safari in iMfolozi. If you really are into wildlife spotting and want to get the best out of a Hluhluwe safari, there are also 3-days tours which include on-site accommodation.
We feel like recommending the full-day tour, which is the one we took. It included a good breakfast and lunch and we had the time to enjoy the park and saw a lot of animals. If you're bringing young kids on a safari though, maybe hals day would be enough. More about our experience and the tour structure later in this article.
Self-Drive Safari in Hluhluwe – Umfolozi National Park
If you own or have rented a car and are self-driving Africa, it is possible to do self-drive safaris in Hluhluwe-iMfolozi. There's one main paved road inside the park while the rest is dirt but well maintained.
Self-driving in game reserves though requires a lot of attention. You'll have to be careful not getting to close to massive and dangerous animals such as elephants or buffaloes, keep your eyes on the road and drive slowly… as our guide said: "the only real danger here is self-driving tourists".
Moreover, it is easier to spot animals when you are not driving, and going with more people will give the advantage of multiple pair of eyes. Furthermore, you will be given a lot of information on what you are observing.
Bicycles and motorbikes are not allowed in the natural park, for obvious reasons. Dogs are also not welcome here.
Visitors pay a park entrance fee of R210 per person per day (children 50%). Persons with a South African ID get a discounted rate.
Anatomy of a Safari in Hluhluwe – iMfolozi Game Reserve
All companies running safari trips in iMfolozi use very similar vehicles, those are 10-sits open deck 4×4, which are supposed to be tall enough to keep you safe.
In order to get to the park at dawn, if you are based in St. Lucia, you'll be picked up at 5 am from your hotel and after an hour, at dawn, you will arrive at the gate of the national park. The drive from Durban instead takes about 3h, so be prepared to get very sleepy by the middle of the day. It's also unlikely that you'll make it in time for dawn.
The best option if you don't want to get up too early is to sleep the night before in the town of Hluhluwe, which is just minutes away from the park gate.
Dawn in the iMfolozi park is spectacular, with the sun raising among the hills in this picture'perfect scenario so stereotypically African.
After one hour looking out for those wildlife that likes to wake up early, you'll be taken to one of the basecamps for a simple but good breakfast. Ours included: sandwiches, croissants, yogurt, cakes, muffins, juice, coffee, tea. This pre-breakfast ride wasn't very successful for us, we only saw a few buffaloes and a super-sleepy rhino from far-away.
We resumed the drive after about half an hour and went deep into the park. In the next few hours we saw a bit of everything: many beautiful giraffes very close to the road, plenty of warthogs, a huge specimen of male kudu which impressed even our very experienced driver, an elephant in mast walking beside us, a huge herd of elephants from far, a white rhino couple, zebras, vultures, eagles and even a huge male lion from far.
It's, of course, a good idea to bring good binoculars, although the driver usually has a spare pair for you to borrow.
Lunch is at about 11:30 and is usually a barbecue (braai in Afrikaans, you'll learn this term – they are obsessed), vegetarian options are available but the request must be notified at least the day before. Lunch usually includes wine and beer, in perfect South African style.
The lunch break lasted about one hour but it was a welcomed relax time, we get to know the other participants and the driver/guide entertained us with a lot of stories from his vast experience in game reserves. We also were visited by a horny kudu trying his way with a beautiful female, and a family of warthogs with cute cubs.
After lunch, we hopped on the truck again for another drive around, with beautiful views of the river and more and more animals. At 2 pm we left the park and drove back to St. Lucia, where we arrived around 3 pm.
The tour lasts thus 10 hours, two are spent getting there and 8 inside the park.
The half-day tour from St. Lucia is identical but ends before the lunchtime at about 11:30/12:00. We chose the whole day because the difference in cost between one and the other option was not much.
We paid 1200 Rand for the whole day. While the half-day is 950 and doesn't include the lunch.
Where to stay near (or in) Hluhluwe – Umfolozi
When it comes to accommodation in Hluhluwe area, there is plenty of options available for all budgets and tastes.
We recommend staying in St. Lucia, which is a lively town full of restaurants, bars, and shops and also has a nice beach. In St. Lucia there's a lot of choices, with the cheapest being the Monzi Safaris Backpackers and Lodge. They have a backpacker dorm, a few rooms with shared bathroom, basic and luxury tents, they also offer a buffet dinner during the weekends (a bit pricey but good). They have two small pools, shared kitchen and it's easy to book tours with them.
If you're looking for something a bit more upmarket, have a look at these accommodation options in St. Lucia.
Another good base to explore the area is the town of Hluhluwe, more rustic but quite interesting. We also spent a night there at Ilala Weavers Hluhluwe Country Cottages. The place hosts a craft village where local women produce traditional Zulu basket, hats, jewelry, and such, a nice way to support the community. There is also a nice cafeteria on site.
If you want to stay inside the Umfolozi Nature Reserve, there are two main camps located inside the park who offer from more rustic to luxury accommodations. They are a bit more pricey but you'll get the chance to spend the night inside the park.
Overall, prices for accommodation in the area start from 400 Rand, inside the park expect to pay at least 1000 Rand for a double room.
Problems and possible solutions for the conservation of wild animals in Africa

Perhaps you already knew it but we only discovered it here, the term "Big 5" defines the five animals that were more difficult to hunt and not, as many people think, the biggest African animals. The Big Five are lion, buffalo, rhinoceros, elephant, and leopard.
The lion, being a nocturnal animal, is a bit difficult to meet by day, we have only seen one from far away. We haven't seen indeed the cheetah that, as our guide explained, is killed by the lion as a competitor in the hunt. In nature, the cheetah does not live in the same territory of the lion but here they are forced to live together and, apparently, the lions have the upper hand.
Although it is certainly not a zoo but a park of 960 square kilometers that to us may seem immense, it is not as big for animals that used to live in spaces far more boundless than this.
Along the way we saw many trees destroyed, they explained to us that it is the elephants that do it as a "test of strength". What happened before the fences, however, is that the trees had time to regenerate themselves; the elephants migrated to the Zambezi river, on the border between Zambia and Zimbabwe and since this was uncrossable, they returned, crossing Mozambique and back to South Africa: this path took 3 years and in the meantime the trees taken by the elephants grew back.
Now, because of the fences, the elephant migration takes only three months and the vegetation cannot heal its wounds. Another problem the park is facing are the poachers: the locals live with a few euros a day and when someone knocks on the door offering $ 30,000 for those who manage to bring a rhino horn it is not easy to say no. Added to this are often corrupt politicians with economic interests in ivory trafficking, horns and so on.
Our guide suggested the preventive cutting of the rhino horn as a preventive measure, a solution adopted by neighboring Zimbabwe, which decided to anesthetize and cut off the horn to 700 rhinoceros to combat poaching. In this way, the rhino finds itself without a horn but alive.
The idea would be to make it a legal trade, at least as long as there is demand from China and Vietnam that attribute miraculous properties to the horn of a rhino. Properties that obviously do not exist since the horn is made of keratin, like our nails. The Zimbabwean solution seems an acceptable one since the horn, like our nails, grows again.
Several African countries are also calling for the legalization of the ivory trade, apparently elephants are in excess of the space granted to them by man, you can learn more here.
It goes without saying though that the only mammal that is actually in supernumerary is us and that, in our opinion, all these ideas are nothing but ways to preserve and justify human stupidity, but as long as there won't be a global cultural evolution, we still need to keep the big animals in existence.
In addition to the great iconic animals, there are others that risk extinction and which are not talked about much, in fact not at all because they are not iconic. One that has particularly impressed us is the vulture, often poisoned by poachers. By killing these birds, in fact, it is no longer possible for the park authorities to identify animals killed by poachers (previously traceable by the typical circular flight of the vulture, visible even from far away).
Often the poisoning occurs near the fence, they throw a dead animal inside and poison the meat, in addition to the vultures, also lions, leopards, hyenas and other animals that go to feed on the carcass are often killed as a collateral effect.
The vulture has a fundamental task of cleaning and eliminating bacteria that could cause epidemics. This practice has killed between 50% and 98% of the vulture population in some countries, here a link to learn more.