A complete guide to Mozambique on a budget
Tips for backpacking, cycling, camping and a detailed itinerary for a Mozambique road trip
So, are you up to cycling or backpacking Mozambique? Mozambique is a huge country, still mostly untouched by mass tourism, a place of wild nature and cultural authenticity. Both backpacking and cycling Mozambique pose quite some challenges, which we are going to discuss in this blog post.
From the small border of Goba, we entered Mozambique from Swaziland (now Eswatini). Apart from a mountainous part on the border with Zimbabwe, southern Mozambique is completely flat, making it a suitable cycling trip destination also for those lacking the best fitness. Leaving Maputo and heading north the traffic disappears immediately, not many people own a car here and even on the main road, they meet few.
And this is an important detail because in Mozambique you will always stay on the main road, especially near the coast any other road, as far as you can allure on the map, is actually an expanse of sand, often deep, passable only with a 4×4 or pushing the bicycle waiting for a car to pass to give you a lift.
In this article, we will give you all the most important information to organize a do-it-yourself trip in Mozambique, in particular for those who travel by bicycle but you can follow our itinerary with any other means of transport.
Are you planning a trip to Africa? Check also
Cycling South Africa: Everything You Need to Know
Zimbabwe by Bike – all the updated info and the best itinerary
Safari at Hluhluwe iMfolozi National Park
Lesotho, a great itinerary of the Kingdom of the Sky
Mozambique in a nutshell
Climate: Tropical
Best period: Winter (from May to October)
Mandatory vaccines: None (yellow fever if coming from an endemic country)
Currency: 1 Euro – about 70 Metical
Visa: 30 days/50 USD – is issued directly at the border or the airport
Indispensable: Mosquito repellent – Tabart is the best
Disclosure: Some of our articles contain affiliate links. This comes at no additional cost for you and helps us keep this website up and running. (as Amazon Associates we earn commission from qualifying purchases)
Cycling Mozambique
Mozambique is not exactly a cycling-friendly country. The biggest problem with cycling in Mozambique is that almost all the side roads are covered in thick sand, which makes it impossible to ride. The main road though is good enough end easy to ride.
Of the many lagoons of coastal Mozambique. only a few can be accessed by bike, but those are very nice. You must be prepared to backtrack 20/30km every time you leave the main road towards the coast or one of the lakes/lagoon, not really a problem since hitchhiking with bikes is quite easy (see below).
The scenery along the N1 is a bit monotonous but always nice, with many fruit trees and traditional homesteads. There are some up and downs but nothing to hard. The temperatures are great in winter, they don't get as scorchingly hot as in Summer.
Backpacking Mozambique
The fact that the in-betweens in Mozambique can be a bit boring, makes backpacking a good solution. Jumping from one highlight to the other we'll make you miss some of the Mozambican authenticity so consider adding some off-the-beaten-path stops to your itinerary (check below).
Prices are cheap and Mozambique is still an underrated destination for backpackers. If you're looking for big parties that is not the place to be, Mozambique is a place for nature lovers. You should consider what you're really after before planning a trip to Africa, so to choose the right country for you.
Where to sleep when cycling or backpacking Mozambique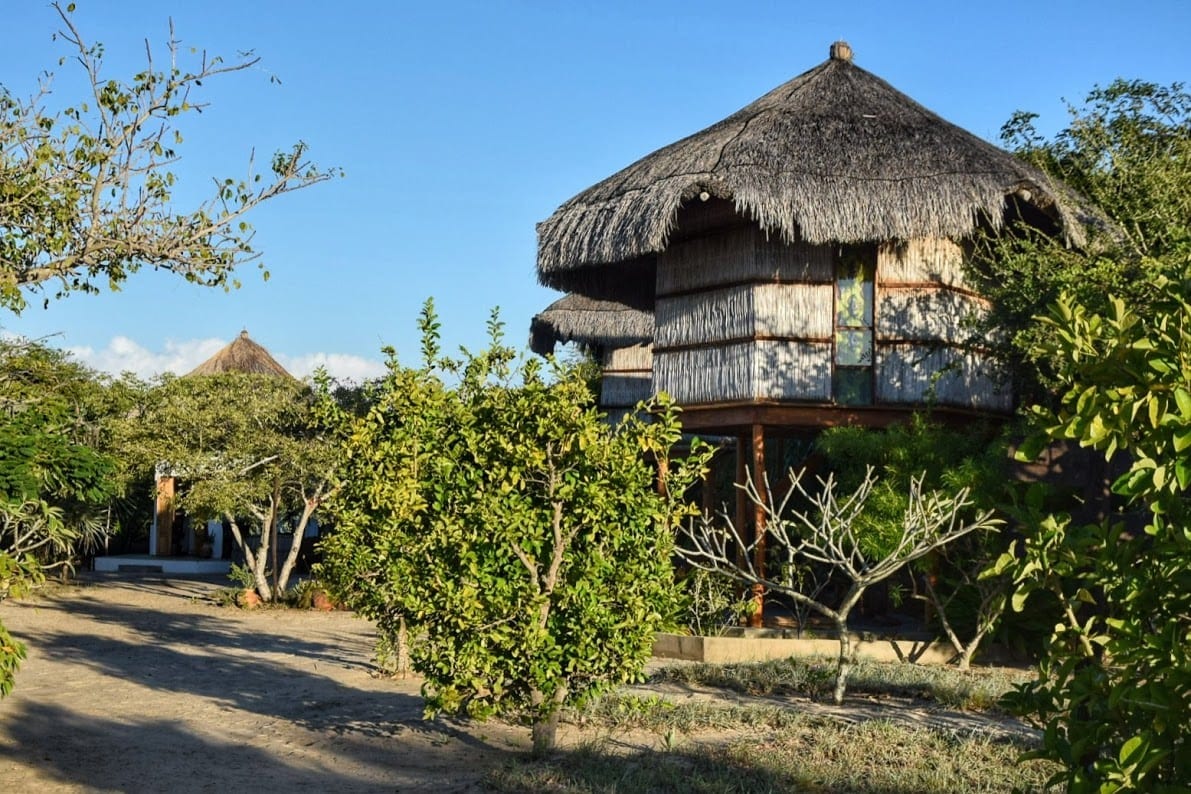 Guesthouses and Hotels in Mozambique
Mozambique is certainly not the cheapest place where we have been, but outside the most touristy area's prices are low. We traveled in May, which here is low season so prices were lower than, for example, in December.
In general, a room in a seaside resort starts at about 20€, always make sure that it is equipped with a mosquito net, especially in summer. A bed in the backpacker dorm sits around 10€, hostels though are available only in the major touristic towns ' of the places listed here, backpackers accommodations can only be found in Maputo, Tofu, and Vilanculos.
Outside the tourist resorts, in almost every little town village, there is a basic guesthouse usually attached to the main bar-restaurant.
One of these rooms can cost from 5 to 10€ (we also saw one for 2 euros but it wasn't really the best, better the camping). Usually, there is no shower but you will be given hot water for a bucket shower, ask immediately when you arrive because it could take a while to get it. Bathrooms and toilets are generally clean, some of the cheapest might not have the highest standards of hygiene when it comes to mattresses and bedsheets – also the mosquito nets are often unpleasantly dirty – bedbugs are a possibility (which never occurred to us).
Campsites are present in the major touristic spots (Tofo, Vilanculos, Xai Xai) and in some remote places inland. Check the app iOverlander to locate most of them.
One of the most beautiful places where we have been is the Marimba Secret Gardens, a resort on a remote beach about 20 kilometers from Vilanculos, you can read our experience in the link above.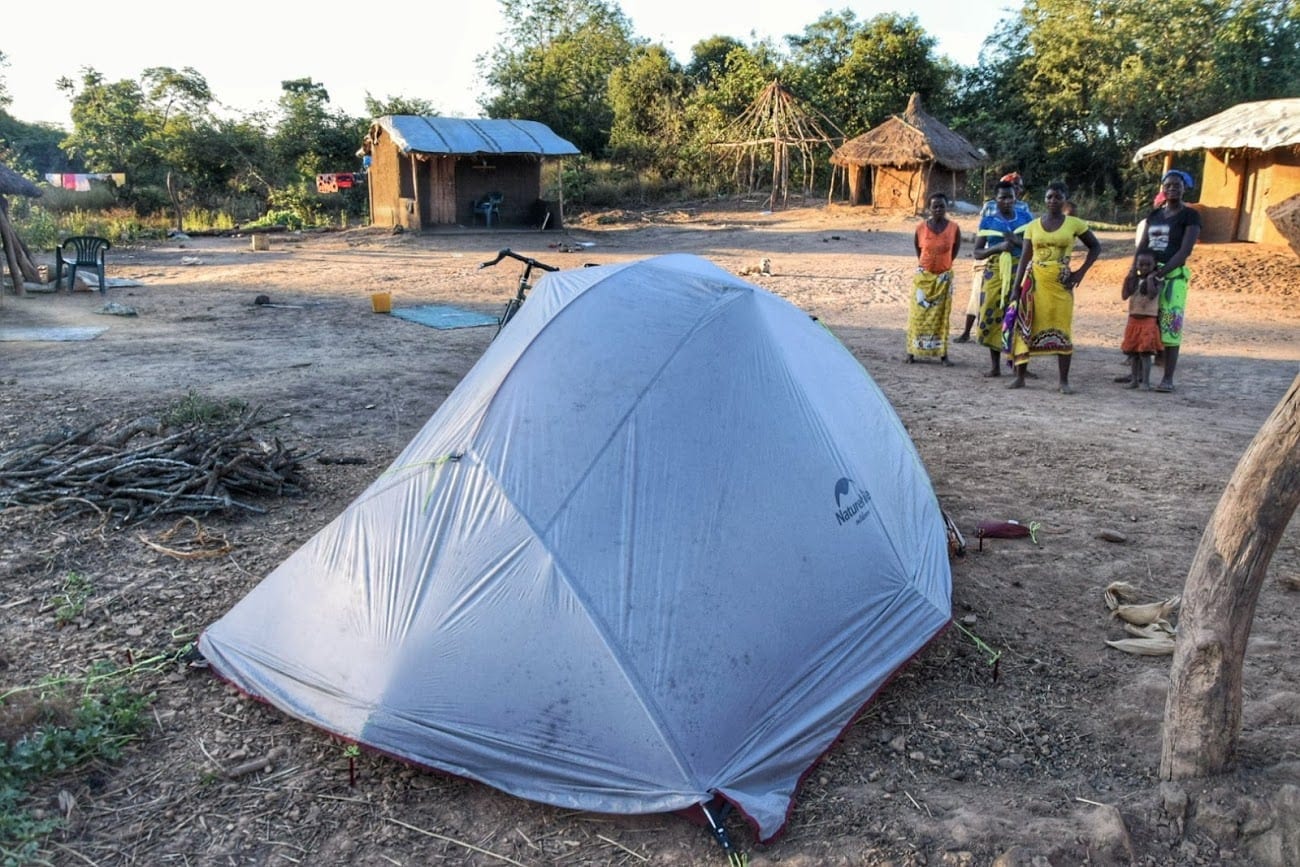 Wild Camping and Hospitality in Mozambique
Mozambique is one of the countries with the friendliest and kindest people we've ever been to. Leaving the capital Maputo, Mozambique is a huge, sparsely populated place and it is not very difficult to find quiet places to camp. Wild camping options are though limited along the main road from Maputo to Vilankulos. In this area your best option would be asking a local family, we have often asked for permission to pitch the tent in their yard and it has always been granted.
We find it safer, and it is a way to get to know the locals but you will not have much privacy, even if you are in someone's garden the whole neighborhood might come to observe you. Anyway, as soon as it gets dark (in winter even at 5 pm) everyone will leave for home, or for the bar if there's any (I would stay away from those when camping).
This is a valid option also for those backpacking Mozambique, just ask the bus driver to be dropped off anywhere you'll see a few homesteads – the further from villages the better. You'll have to be self-sufficient regarding water and food of course. We always left some money and food to the families who gave us hospitality, we strongly advise you to do so – some of these people leave with less than a dollar x day.
Wild camping is very possible north of Vilanculos, here there are very few people and infinite expanses of wild bushes – unfortunately, most of the wildlife of Mozambique is gone, but this means that you are very unlikely to be disturbed by hyenas in your dreams.
Hospitality networks have very few members, you can give it a try with those.

Water
Water in Mozambique is a problem for the local population, you will always see women going to the wells to get water along the way. And the problem is not that there is no water, on the contrary, there is a lot of it, but there are no wells and often women are forced to walk tens of kilometers every day. By bicycle though, those distances are shortened so you'll always have a well waiting for you while you are cycling Mozambique. Indeed, in some areas of central Mozambique
In larger villages and towns, where there is running water, it is usually drinkable but always ask before drinking. We, for example, crossed Mozambique after the passage of Cyclone Idai and in several places the water was not drinkable because the wells had been contaminated. If you do a lot of free camping it is good to have a water filter with you, there are many on the market.
Restaurants and food in Mozambique
Let's just say that in Mozambique you'll eat well, along the coast is the fish that dominates the cuisine, in particular swordfish and barracuda, but also grilled chicken (frango) and many dishes of home-style cooking. Among these Matapa, made with Cashew leaves crushed, garlic, onion, and coconut milk, often cashews are also added (one of the main Mozambican export products). Along the coast, matapa is very popular with crab or prawns.
Every meal is usually accompanied by rice or xima (maze-meal, similar to Italian polenta). A meal at the restaurant costs from 3 euros upwards, fish is usually the most expensive thing while fijoada (beans soup) is the cheapest dish.
So, to try absolutely:
Frango (you can't believe how chicken can be good until you try the Mozambican style)
Matapa
Swordfish
Fijoada

Street vendors, markets, supermarkets and spirits in Mozambique
Outside the major cities, there are no supermarkets, when cycling or backpacking Mozambique you'll rely mostly on small shops where to find basic necessities (pasta, rice, bread) and beer (the only product to be found even in the most remote places in the country). There's no great variety of canned food available, mostly beans in tomato sauce and sardines.
Local markets are the places to go for fruit, vegetables, and eggs – but also for shopping needs, here you'll find clothes, small electronics, and even bike spares. Local markets are very vibrant, here you'll touch the soul of Mozambique – colors, smiles, nice encounters… but also the usual small amount of pettiness, be sure to watch your stuff.
Along the way you will find several street vendors, try the cashew nuts absolutely, they cost very little and are spectacular, they can be simple, toasted or with peri-peri sauce. Mozambican street vendors are also great to grab some fruit on the road, if you're backpacking Mozambique with local transports, they'll "assault" your bus at every stop ' you can buy from your window, prices are fair.
Beer is the most common drink, costs about 1 dollar a bottle (among the cheapest in the world considering prices at bars), all other imported spirits, like wine and whiskey, are expensive because of the high taxes. The locals drink a gin produced here but we have never tried it.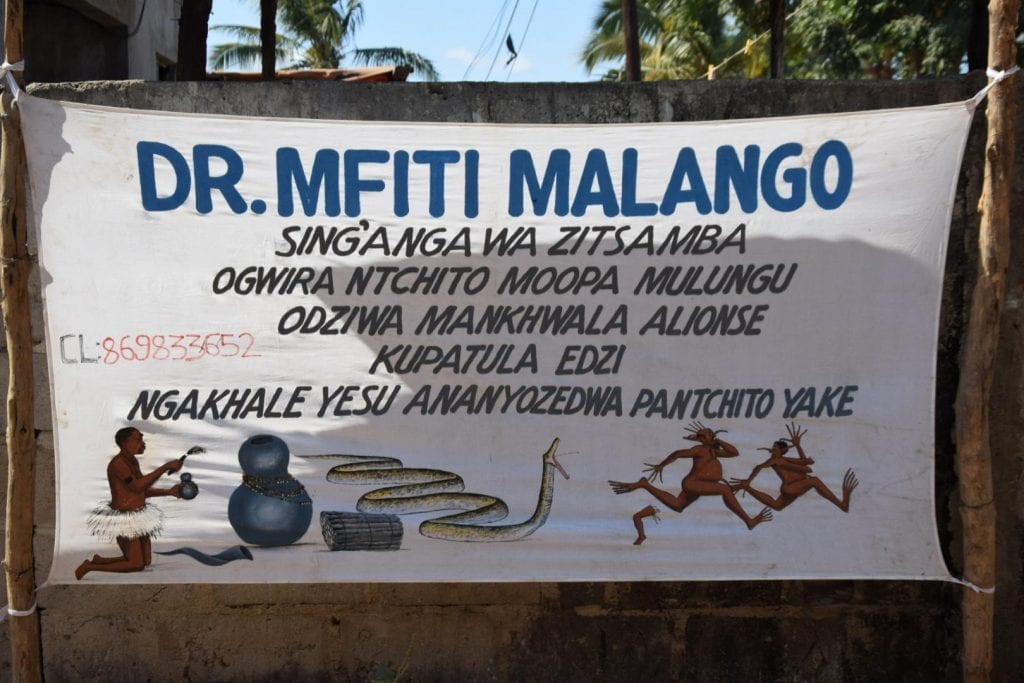 Language
Mozambique's huge territory is home to about 50 linguistic groups, this great variety of languages made the use of Portuguese (the colonial language) the easiest way to communicate among different groups. Portuguese is spoken by 50% of the population, they all can speak it along the coast, while in the remotest areas it's not so common.
Learning a few words of Portuguese is quite a necessity in Mozambique if you are traveling outside the main touristic spots. Portuguese is a Latin language similar to Spanish, Italian, and French.
English is anyway spoken by a small minority of the population, it's easy to find English speakers in towns. In the most remote areas though, especially in the interior, many do not speak either English or Portuguese – we always found at least one person in the village who could act as an interpreter.
WiFi and Connectivity when Backpacking or Cycling Mozambique
WiFi is not widespread in Mozambique (Maputo and tourist resorts excluded) but buying traffic is cheap, we paid about 14€ for 10 Gb of traffic. The most convenient thing is to buy the "daily" options.
SIM cards are available at the official companies shops (Movitel, Vodacom, etc), credit vouchers can be purchased almost everywhere, even sometimes in "tribal" villages.
Mozambique Visa Requirements
Literally, everyone (citizens of ALL countries) can get an entry visa issued directly at the border – if they have documentation to prove they are traveling for leisure purposes (return ticket, accommodation confirmation or invitation letter). This documentation is not required at every border, especially the return ticket when entering overland (different at the airport).
Letter of invitation/hotel booking was asked to us at the Swaziland border of Goba – we didn't have it and there was a bribing mood going on – fortunately, we could call our contact in Maputo and sort things out thanks to him.
Mozambican border officers are often lazy, always slow, and sometimes troublesome. The first thing we learned is that you always need to have a pen with you to fill out the visa application form, they won't give you one
The visa costs 50 USD, you can pay in Dollars, in Metical or in South African Rand (at least from the border with Swaziland).
The entry visa is valid for 30 days, check the expiration date that will be printed on your passport. It is possible to request the extension of the visa to the immigration office, we have been told of success stories at Maxixe and the release of the extension on the same day but also many horror stories.
The total stay is still 90 days so you can leave Mozambique at the end of the 30 days and enter again (paying another 50 dollars for a new visa) for a maximum of two times. If you stay longer than allowed you will be forced to pay a heavy fine at the exit so avoid absolutely, the Mozambique cops are not among the friendliest in the world.
Roads of Mozambique – A challenge bot to drivers and cyclists
It cannot be said that the roads in Mozambique are in healthy conditions, if you leave the main road, especially along the coast, expect sand trails, which can often be tackled only with a 4×4 and which, cycling these secondary roads in Mozambique can prove impossible – just a source of swearing and sufferation. Some more inland roads are doable but most of them are also in disrepair – try to get as much info as you can if you plan on leaving the N1 for long sections when cycling in Mozambique.
The main road in Mozambique is called N1, running from North to South and connecting almost all the major cities in Mozambique – it sounds like a highway but it isn't really. The road is often narrow, and sometimes in terrible conditions – especially North of Vilanculos towards Beira it is full of crater-like potholes.
This section was ok on a bike but it must be a very shaky and frustrating experience on a bus. At the time of our passage, the renovation of that stretch of road was planned and we saw some Chinese at work.
Overall though, the main flaw of the N1 is of it being boring. The road runs along the coast but it is almost always a few dozen kilometers away from the sea, because of the typhoons that hit the coast every year. The scenery is nice, palm and fruit trees surrounding little homesteads in the South, thick wild bush in the central areas.
It is though quite monotonous: Mozambique is a mostly flat country so good views are rare, the landscape stays almost identical for hundreds of kilometers. The good thing is that outside the big cities, which are not many, the traffic is non-existent; In the southern areas, the N1 road is wide enough and has a side lane.

Safety in Mozambique
Southern Mozambique (from Maputo to Vilanculos) is very safe, you will have no problems during the day, the classic attention measures are obviously worthwhile. During the night you have to pay more caution, especially in the cities and bigger towns, quite some drunks around.
Always carry your passport with you, it often happens to be stopped by the police (if you are driving) and if you do not have a passport with you (even if you are a passenger) they could make you pay a "fine" which seems to be at the discretion of the police officer. Mozambican police don't have great fame among overlanders, which in the past often complained of bribery. They are certainly not friendly cops but we never had problems with them.
We never felt unsafe or uncomfortable in Mozambique. All this applies to the southern part of the country, up to Vilanculos, the northern part, in particular, the region of Capo Delgado is, unfortunately, the victim of terrorist groups, many episodes of homicides of the local population, so it would be advised against going there but if you really want to do it, avoid camping and always find a safe place for the night.
Check the latest info about the political situation before traveling, as you should do for almost all African countries since things tend to change suddenly in this continent.
Given the almost straight roads, backpacking Mozambique by bus is safe enough, despite bus driver being commonly a bit nuts, like everywhere in the world, we'll say.
Malaria Risk in Mozambique
Mozambique is one of the countries with the highest number of malaria cases in the whole world. Risks are pretty high even in the dry season. If you don't want to take the prophylaxis, be sure to cover your body at dusk and spray a ton of repellent. Look for guesthouses with mosquito nets.
We recommend buying some Cortem for an emergency, but it's most advisable heading to one of the many local clinics if you feel sick… go as soon as you accuse the first symptoms – they'll test you for free and treat you for cheap, no one knows malaria better than those doctors.
If you are traveling remote areas, consider buying a self-diagnose malaria kit to test yourself, those are said to be reliable. If it's positive, get as fast as possible to a health center or take your Cortem.

Transportations in Mozambique
The transports network in Mozambique relies mainly on minibusses, called chapas. Chapas is the typical minivan with about 20/30 sits, they are slow, hot and uncomfortable and drivers are a bit crazy – but at the same time they are cheap and can be caught everywhere, just wave your hand at one, they usually have their destination on the windshield.
Some of them pull luggage trailers, which are great if you have a bulky backpack and are the only way to go if you want to load a bicycle (unless you want it strapped on the roof, which I wouldn't recommend) – you'll be charged for your luggage, bargain hard.
Chapas stop every time to get or leave passengers so a journey of 200km might take even 5/6 hours if you are unlucky. North of Vilanculos, where the road is in a terrible state, be ready for hours and hours of discomfort and boredom.
Catching a minibus from any town is very easy, just ask the locals where the chapas are and talk to the drivers. Try to have an idea of what the local price is to avoid being scammed.
Fortunately for those backpacking Mozambique, there are also a few coach companies, big busses are called machibombo or autocarro (Etrago and Nagi Trans are two of them). Those large buses stop only in the major towns and are certainly the best option for long-distance travel in Mozambique. Getting to know the schedules is not easy though, and these buses depart only once or twice per day. Baggage is free of charge.
Hitchhiking Mozambique
Hitchhiking is very very easy in Mozambique, and I would also say it is super-safe if done properly. I would advise against hitchhiking during the night time, and being careful on weekends, mainly because your driver could be a bit drunk.
Generally speaking, Mozambicans are very friendly and will almost always stop to give you a ride – some would expect some money so it is better to make that clear before hopping on.
Many locals drive pick-up trucks so loading your bike for a section is totally possible, just wait a bit more for the right vehicle. In remote areas, you might have to wait a little while because there are not many cars around, but you are more likely to be accepted on board in an off-beat area.
Our Cycling Itinerary in Mozambique
This was our route through Mozambique, roughly 1,400km in 30 days. Besides a short stretch is a rather flat ride, with a total elevation gain of just 6,600 meters.
We entered in Mozambique from Swaziland at Goba Fronteira and then headed into the capital Maputo, which we explored for some days.
From Maputo, we followed the N1 main highway with a few detours towards the coast. We slept in Manica, Praia do Bilene, Xai Xai, Zavala, Inharrime, Inhambane, Praia do Tofo, Vilanculo, Inhassoro and lots of random places along the road.
We left the N1 to go towards the pretty off-the-beaten-path border of Espungaberra, where we crossed in Zimbabwe. This last section was more demanding, not only for the bad roads and the hills near the border but mostly from an emotional point of view since this was an area hardly hit by Idai. It is though a very nice area, and the border crossing will bring you in one of the most interesting parts of Zimbabwe, so consider it.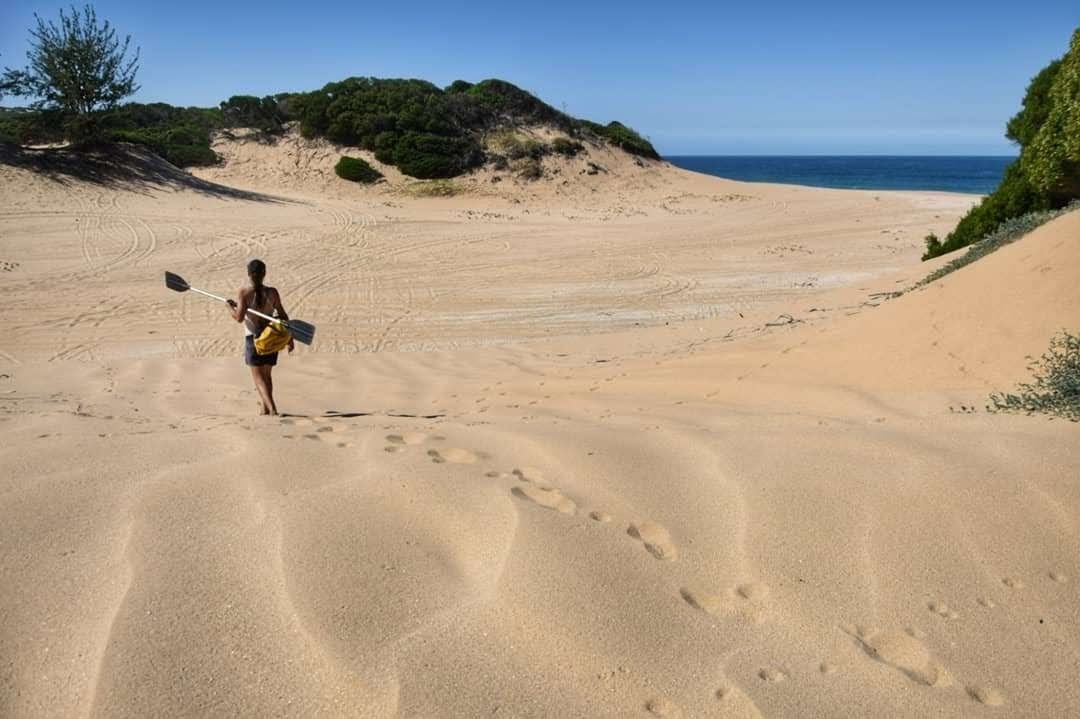 A suggested 2-weeks itinerary for Backpacking Mozambique
For those backpacking Mozambique, we'll break down a two weeks itinerary for the southern part of the country. This itinerary can be extended or shrank if necessary.
3 days in Maputo
2/3 days in Praia do Bilene
2 days in Xai Xai and Praia do Xai Xai
1 day in Inharrime
3 days in Tofo/Tofino
3/2 days in Vilanculos
If you have more time and want to explore more we also recommend a visit to:
Ponta de Ouro (at the border with South Africa) – backpackers town popular with South Africans
Inhambane – the former capital in early colonial times, not much going on but worth a visit
Inhassoro – the chilled side of Vilankulos, about 40km north
Muxungue – a very off-the-beaten-path town with a vibrant market
Dombe – hardly hit by cyclone Idai, this area is trying to recover, we had very nice chats with locals (basic guesthouse)
Espungaberra area – a mountainous area near the border with Zimbabwe, very nice scenery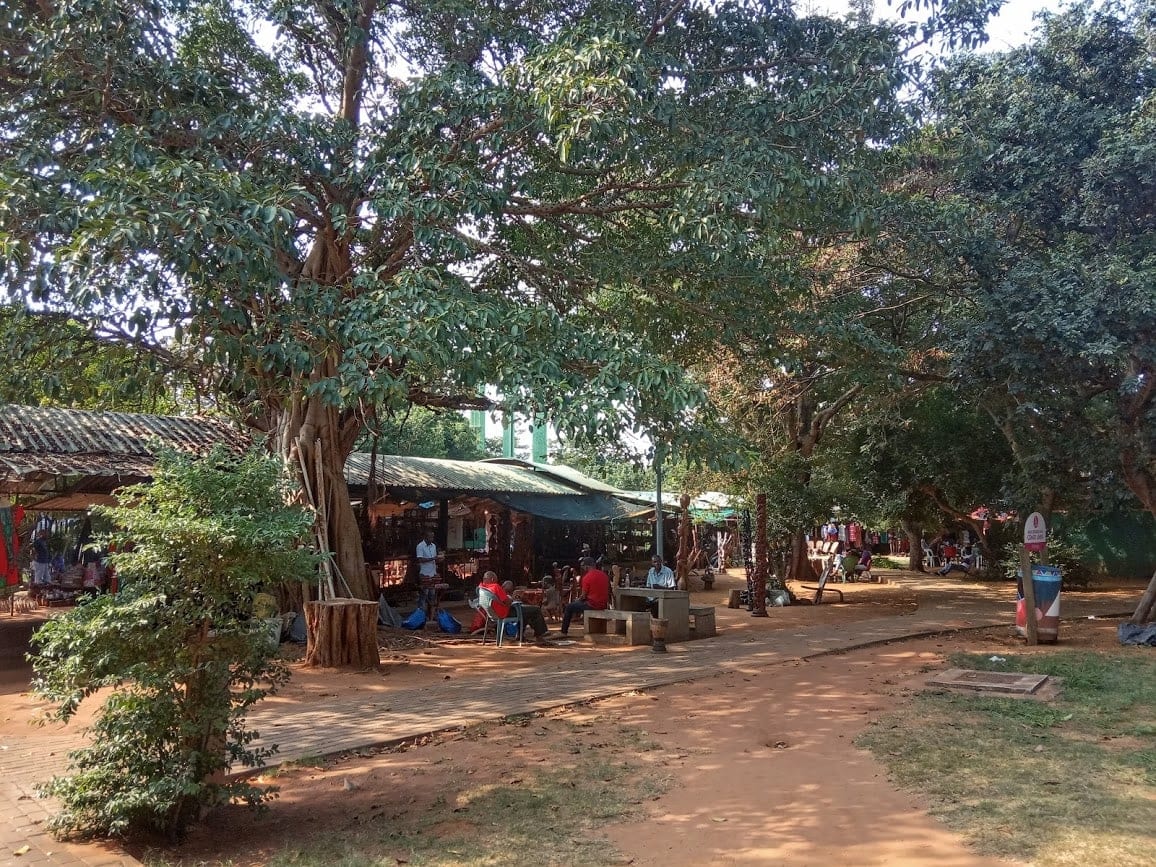 Maputo
Maputo is often overlooked by those cycling or backpacking in Mozambique, we honestly think that's a mistake. The 1.2 million capital of Mozambique is very lively and cheerful and actually safer then reported, although some caution is recommended.
On the waterfront, you will find modern restaurants and bars but also sellers of coconuts and grilled chicken, the famous frango. There are some beautiful beaches on the northern side, although the water is not exactly crystalline but a bit muddy, the atmosphere though is very nice.
One of the symbolic buildings of Maputo is the Casa de Ferro, a building that was to house the Governor-General but which, turned out to be too hot as a place to live, was transformed into a museum. It is located on Avenida Samora Mache.
The city offers many museums, live music venues, and art exhibitions, but if you want to enjoy some local life you must visit at least one of the many markets. One of those is the Central Market, Mercado Central de Maputo or Bazar da Baixa, dating back to 1900. If if you want to buy fresh fish, the Mercado de Peixe is also worth a visit, you can buy a fish and have it barbecued on the spot.
if you are a fan of water sports you can try a Kite Surfing lesson in Maputo, with its shallow and calm waters Maputo is an ideal location for learning. The best school is called Kitesurfing Mozambique and it is run by a very professional Italian teacher with the help of young locals, their spot is absolutely beautiful and safe.
Cycling in Maputo is a bit of a pain, like in every other capital. Especially getting in from the busy neighborhood of Matola, be warned that you are not allowed to walk or cycle on the newly built Maputo bridge (although we know some people did it).
We recommend spending at least 3 nights in Maputo. Here you can choose one of the hotel or hostel in the city.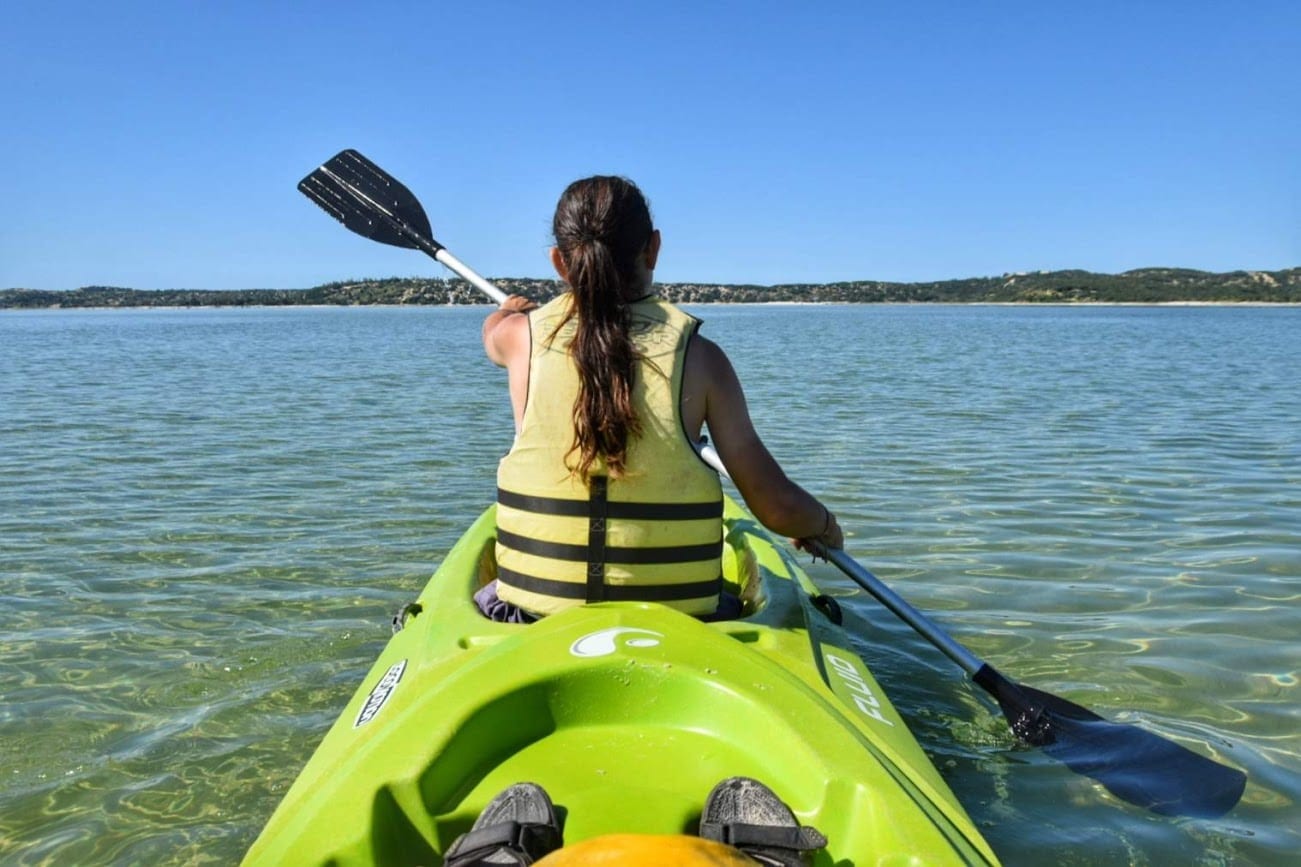 Praia do Bilene
Praia do Bilene is one of the places we liked the most in our trip to Mozambique, for some reason it is not a very popular area for foreign tourists, despite a large number of resorts and houses for rent.
Praia do Bilene is located about 140 kilometers north of Maputo and is famous for its calm and crystal clear water lagoon, the Uembje Lagoon. We have written a specific article on Praia do Bilene.
We absolutely advise visiting Praia do Bilene and hiking on the other side of the lagoon. We recommend staying in the area for at least 2 nights. We've been hosted in this beautiful resort on the beach.
Praia do Xai Xai
Xai Xai beach is located about ten kilometers from the city of the same name, the capital of the Gaza district. A coral reef running parallel to the shore offers good snorkeling and protects the beach from strong waves. In addition, the Wenela Pool, 2 kilometers south of the city, includes a natural tunnel that connects the pool to the Indian Ocean.
Right on the beach of Praia do Xai Xai there is a giant rock pool that forms in medium and low tides up to 200 meters long, forming a giant pool safe for families and swimmers.
Xai Xai beach is very wild but there's not much going on there, only one small shop so it's also hard to get groceries. We recommend 1 night here, or more if what you are after is real relaxation in a natural environment. The beach is best enjoyed at low tide.
Inharrime
Inharrime is famous for the calm and crystalline waters of its freshwater lake, it is worth a stop if you are traveling along the coast of Mozambique.
The water is shallow and taking a bath is not easy but the scenery is stunning. It also has a small but lively local market. There's only one basic but decent guesthouse in town, called Jolly Joker, it is very affordable and has a nice and good restaurant.
We recommend spending 1 night in Inharrime.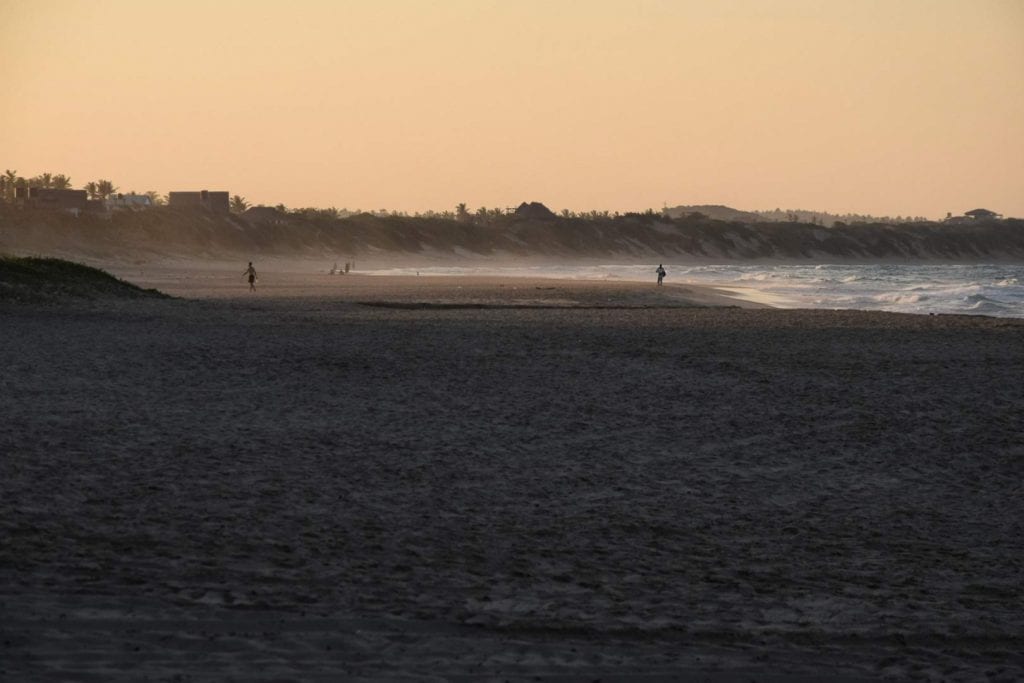 Tofo Beach
Tofo Beach, or Praia do Tofo, is located about fifteen kilometers from the colonial town of Inhambane, it is a small seaside village with lots of bars and live music, restaurants, a small but lively market and many opportunities for activities in its pristine waters.
One of the main attractions of the area is the possibility to see the giant Mantas and whale sharks, snorkeling, or diving. It is also possible to organize excursions to the nearby islands.
Tofo has a very relaxed and happy backpacking vibe, it's really worth spending some time here… we met some people who got stuck here for weeks.
Cycling from Inhambane to Tofo is a pleasant and easy ride. From Inhambane you can easily catch the ferry to Maxixe, those are two types: small boats (no bikes allowed – more frequent), and ferries (one per hour or less, does allow bikes but a fee is required).
We recommend at least 2 nights in Tofo. A lot of cheap accommodations here.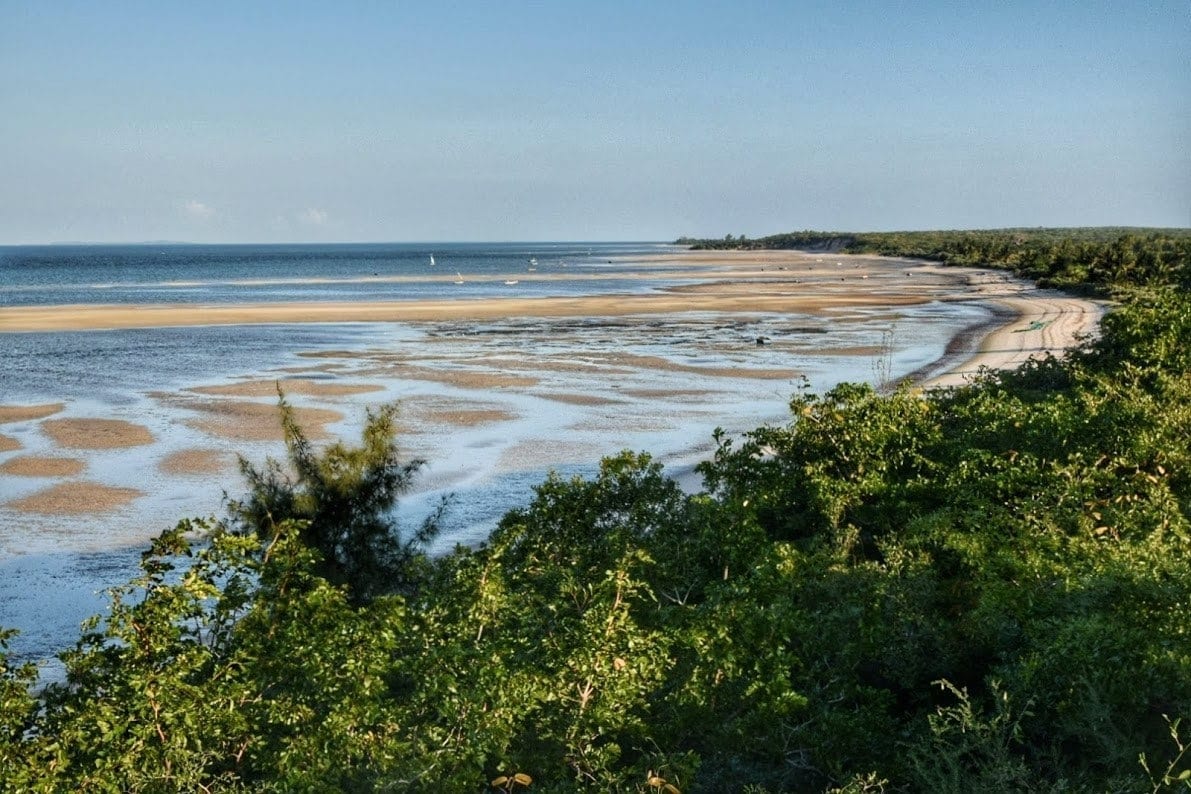 Vilanculos
Vilanculos, or Vilankulo, is probably the most famous tourist resort on the Mozambique coast, both for its crystal clear sea and for the possibility of visiting the islands of the Bazaruto Archipelago, which became a National Park in 1971.
The cost of these excursions is not cheap at all, actually, everything is overpriced in Vilanculos – two or three times more than everywhere else in Moz.
In the Bazaruto archipelago, you could see manta rays, whale sharks, sea turtles, whales and the largest population of Mozambique dugongs, about 120 specimens. We spent a few days in the beautiful Marimba Secret Gardens, about 20 kilometers from Vilankulo.
We advise spending 2/3 nights in Vilanculos – 3 are worth if you can afford the 100USD per person day trip to Bazaruto.
---
Are you planning a trip to Africa? Check also
Cycling South Africa: Everything You Need to Know
Safari at Hluhluwe iMfolozi National Park
Lesotho, a great itinerary of the Kingdom of the Sky
Stay in touch while we get lost! Follow us on Social Media