The best spots for kitesurfing in Mozambique
Maputo, Vilankulos, Bilene, and others
My experience learning with the best kiteboarding school
There are various options when it comes to kitesurfing lessons in Mozambique, this country has some of the best kiteboarding spots in the world and a few talented instructors made it their home.
Among them is Daniele Genovese of Kitesurfing Mozambique, who teaches and practices in one of the best kiteboarding spots in the whole country. I took two classes with him, which I will describe in this blog article.
About Daniele and Kitesurfing Mozambique school Maputo
Disclosure: Some of our articles contain affiliate links. This comes at no additional cost for you and helps us keep this website up and running. (as Amazon Associates we earn commission from qualifying purchases)
Daniele is a navigated adventurer, he started traveling about 20 years ago and has seen a lot. Although these might not seem important for a kitesurfing instructor, I think it actually is.
Daniele Genovese practices kiteboarding for about 20 years, he rode in hundreds of different locations, from the Philippines to the Caribbean. Experience in all the different conditions, teaching to people from everywhere around the world surely gives a person a lot of insight about how to get the best out of each individual in every location.
Daniele's approach took my beginner's kiting skills to the next level but he's is experienced enough to boost the skills of almost every level's rider.
Daniele has two experienced Mozambican helpers, Ivan and Vasco, one of them can also teach while the other takes care of your belongings.
The best kitesurfing spot in Maputo, Mozambique

Daniele's school, Kitesurfing Mozambique, teaches in a one really great location. Situated on the northern outskirts of Maputo city, this spot is exceptional especially with low tide.
Waters get very shallow and a pretty long walk is needed when the tide retires. The scenery though is stunning, a small bush of mangroves fades into wide and colorful sandbanks. The city skyline stands always insight, providing an epic background for your rides.
The sea is usually calm and warm, no wetsuit needed, and the low tide gives the surfers a lot of space for long rides and tricks.
Two small downsides of this very cool location are the presence of some shells in the sand that can give some scratches to beginners, and the vicinity of the road at high tide.
When the tide is high indeed, the beach gets very narrow and the vicinity of the road might worry a beginner.
Getting to learn with the high tide is also a bit more difficult and especially tiring, indeed Daniele and his associates usually avoid this time of day. High tide though is great to work on your kite control and learn how to walk with the kite using the wind.
About the shells (which are a bit everywhere in Maputo and in the whole of Mozambique), Kitesurfing Mozambique provides special shoes to avoid cuttings.
To reach the spot you can take a taxi or hop on one of the many minibusses roaming the seaside.
A sort of base is then set up, where all the gear and personal belongings are stored. The guys also bring a bench (made out of a kiteboard) and a canvas for shade.
Kitesurfing Mozambique teaching methods

Daniele and his partners focus a lot on kite control and board handling with their priority being always safety. Indeed an ill-advised kite competition took place in Maputo some years ago and one of the participants died, this gave a big blow to the kitesurfing business in Maputo, since then (but also before) Daniele made it a personal mission to ensure the sport is practiced in the safest way.
What I really liked the most about my lessons with Kitesurfing Mozambique was being in constant radio contact with my instructor. Being told how to correct your mistakes while riding really changes it all! And it also adds a lot in term of safety!
For example, if you're speeding up too much they will tell you how to use the board to break, of your center of gravity is not well-positioned you will be told how to correct it, and so on.
This way of teaching really makes a difference and I feel I made huge progress while in Daniele's care.
Kitesurfing Mozambique uses the best equipment from F.one and Mystic, they just purchased brand new gear.

Pricing and how to book
Despite being such a well experienced professional, Daniele charges only 2500 MTL (about 40USD) per lesson, those are usually 90-minutes long but can extend a bit if there aren't other pupils waiting. The more lessons you take the cheaper the pricing gets.
To book your lesson just get in touch with Daniele through the school's website. You can add him on WhatsApp to coordinate better. Check the official Mozambique Kitesurfing Facebook Page.
Moka – Mozambique Kiteboarding Association

There's an association that gathers all the serious kitesurfers in Mozambique, instructors, businessmen, and normal surfers… all of them cooperate for the development of kitesurfing in Mozambique by paying an annual quota that goes into beach-cleaning, patrol during lessons, and equipment check. The association is indeed called Moka – Mozambique Kiteboarding Association.
Other spots for Kitesurfing in Mozambique

Mozambique has plenty of stunning lagoons and thousands of miles of wild coastline, there definitely are plenty of interesting spots for kitesurfers of all levels and tastes. The sport though is not really developed – only a few schools are active throughout the whole country.
My favorite kitesurfing spot in alternative to Maputo is certainly Praia do Bilene, with its stunning lagoon, crystal-clear shallow waters, and pristine white-sand beaches.
There's a guy who teaches here but I didn't get the chance to know him. I advise to contact him timely because it seems he's not always in Bilene.
There's apparently another instructor based in the lively and atmospheric town of Praia do Tofo, one of the funniest places to be in Mozambique, with its good vibe and live music.
Vilanculos also has great locations and a proper kitesurfing school, the problem here though is that everything is super-overpriced in the resort town of Vilankulos, and that includes kitesurfing.
The pricing of a one-hour lesson starts at 110USD! The rental of the equipment costs like a normal one-hour lesson in any other spot in southern Africa. That's why I didn't kite in Vilanculos, despite the perfect wind and stunning locations… too bad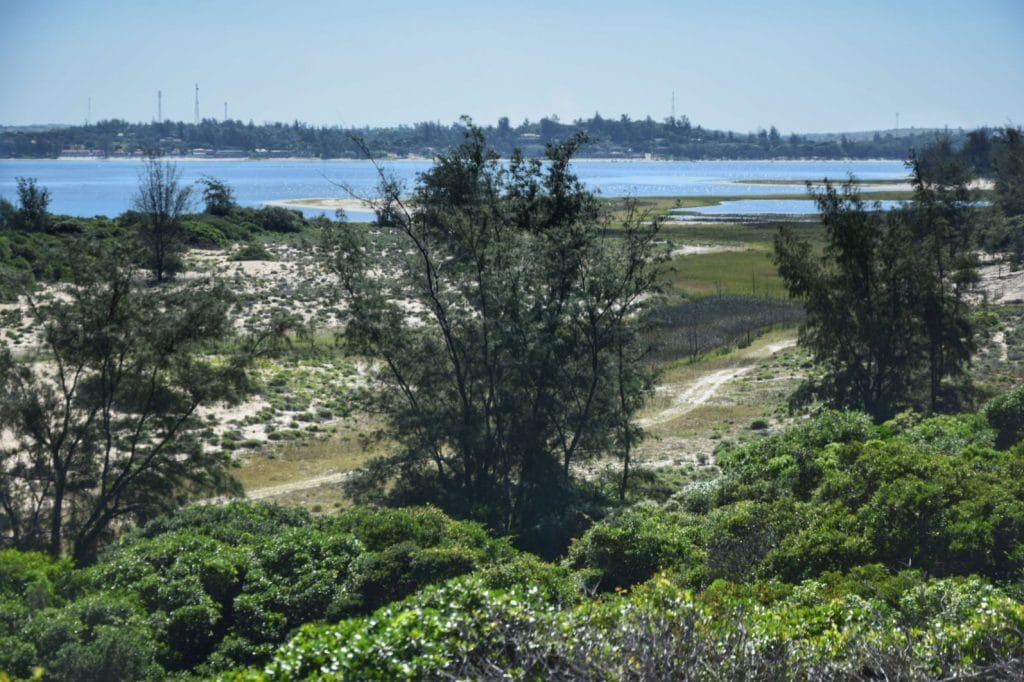 ---
Traveling Southern Africa and want to do some kitesurfing? Check also
Kitesurfing lessons in Cape Town – Everything you need to know
Learning to Kitesurf along the Garden Route – a great school in Knysna
Stay in touch while we get lost! Follow us on Social Media