Kitesurfing lessons and full-courses in Knysna, Garden Route, South Africa
My experience with Life Kitesurfing
In my quest to learn kitesurfing in South Africa I had the incredible luck to come across Stuart Barnes from Life Kitesurfing.
Stuart is an amazing human and incredible teacher, his spots for kitesurfing lessons are in the heart of the Garden Route, in the beautiful resort town of Knysna (for beginners of kiteboarding) and along the scenic coast between Sedgefield and Wilderness for those who are more experienced and want to get some more adrenaline riding on waves and choppy waters.
After my first introductory kitesurfing course in Cape Town, I decided to take another short break from my cycling tour of South Africa and try to finally stand on a kiting board and ride.
The garden route is really a perfect spot for a break, so while around the towns of George and Mossel Bay, I got in touch with Stuart to arrange a couple of kitesurfing lessons.
Check also my recommendation about
Where to Learn Kitesurfing in Maputo – Mozambique
Disclosure: Some of our articles contain affiliate links. This comes at no additional cost for you and helps us keep this website up and running. (as Amazon Associates we earn commission from qualifying purchases)
Why Kitesurfing
Kitesurfing is thrilling sport mixing elements of snowboarding, windsurfing, sailing, paragliding, and even more action disciplines, combining them into something that really has it all: speed, acrobatics, balance, jumps.
Kitesurfing is all about control of body and mind, and blending them with the elements:
To perceive the wind and be it, an inconstant friend who can give you the flight's thrill or crash you with its power;
The water, which can support you if you caress it or sink yourself under the weight of distraction;
The earth, which gets closer and closer as you seek the balance between the excitement of control and the fear of smashing;
And the fire, which burns inside you as you get more and more in love with this incredible discipline. A fun way to personal growth.

The town of Knysna
With its 70,000 inhabitants, the town of Knysna is one of the pearls of the Garden Route. It lays along the coast between Sedgefield and Plettenberg Bay, separated from the Indian Ocean by a stunning and shallow lagoon.
With its many activities and strategic location, Knysna is a great base to explore the Garden Route, one of the most famous highlights of South Africa.
Its cozy waterfront is full of nice restaurants and bars, here many leisure sailors dock their boats waiting for the right season for their oceanic crossing. Knysna offers a full range of accommodations, from backpackers to upmarket. Have a look here for more things to do in Knysna.

Why is the Knysna Lagoon one of the best spots to learn Kitesurfing?
Knysna lagoon is undoubtedly a world-class spot to learn to kitesurf, for a number of reasons.
Its waters are always flat, meaning that you won't have to cope with annoying waves distracting you from the learning process.
Standing depth on the whole lagoon (height varies with the tides). Knysna's shallow waters give you peace of mind, you'll never have to worry of getting too far into deep water and thus facing eventual dangers or the panic of not being able to stand up.
Lots of downwind space and almost no hazardous obstacles on your way, besides some small sandbanks, rendered always visible by thick bushes of reeds.
Knysna is a very cool city with lots of things to do between one side and the other, so you'll never get bored waiting for the good winds.
Kitesurfing lessons are cheaper in South Africa when compared to many other countries.
When to go kitesurfing on the Garden Route
South-easterly winds (on-shore in the Knysna Lagoon kite spot – that's what you want) are best mostly throughout summer, including late spring and early autumn months, although nowhere nearly as frequent or as strong as Cape Town, Knysna and Sedgefield really have their good days, sometimes even above 30 knots, for those who like the thrill of danger.
Winter possibilities are typically more advanced but there are opportunities to learn and kitesurf year-round. Winter storms are epic for the more experienced kitesurfer seeking to take the challenge next level! (and Life Kitesurfing offers storm-riding and flying guidance too!)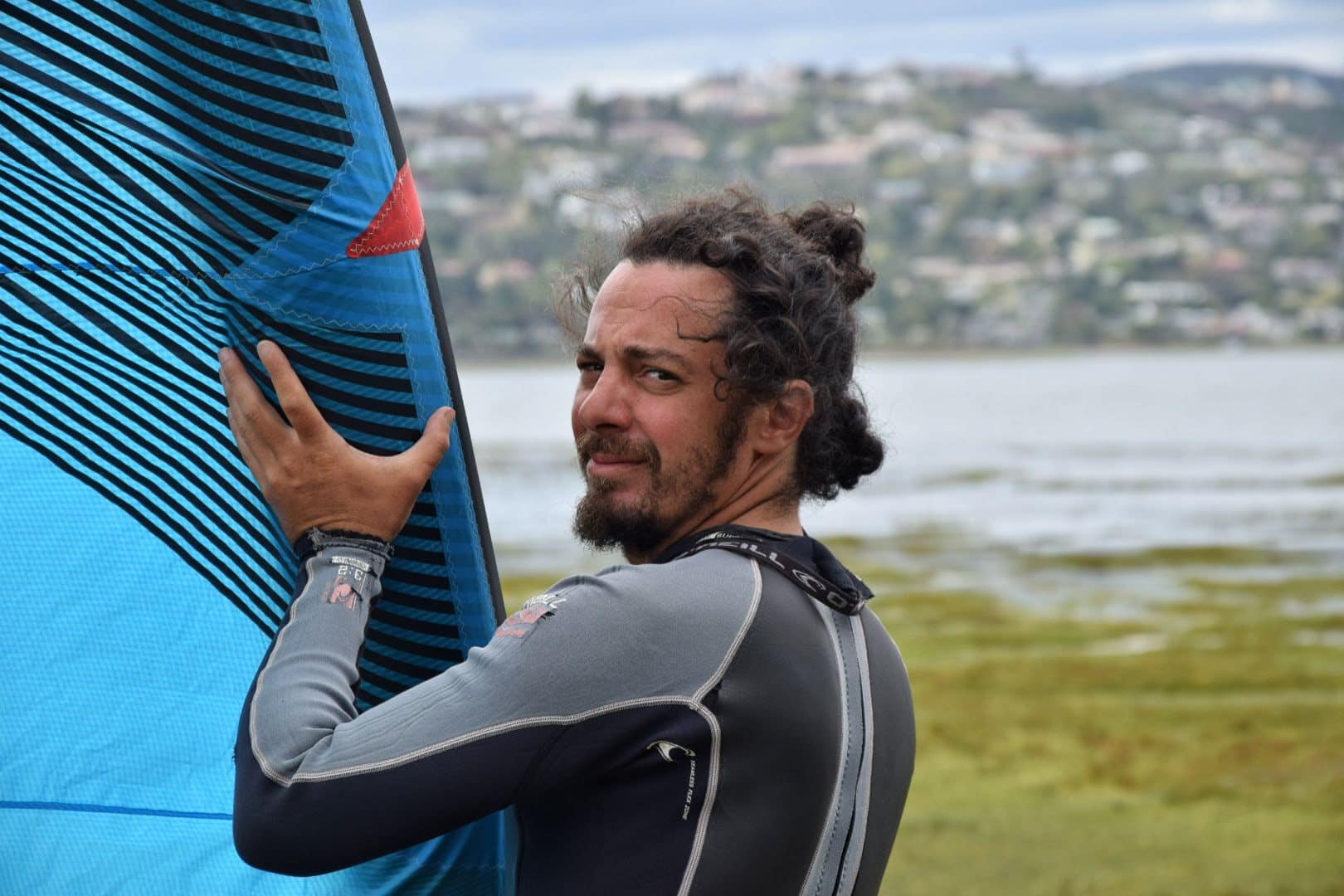 My experience with Life Kitesurfing
I got a great feeling about Stuart Barnes straight since the first reply I received from him. From his way of communicating, I immediately understood he is not the typical (kite)surfing instructor, he immediately went into the details and gave me clear hints of him being a thoughtful and interesting person.
We arranged a meeting by his teaching spot on the lagoon, which I reached by walking over the old railway bridge from the town center, a scenic one-hour stroll across the whole lagoon – totally worth it.
From the first handshake with Stuart, I immediately felt connected with him, as if we were old friends meeting after a long while. Even though the winds were a bit feeble, we dived straight into the practice.
I had two long learning sessions with him, the first mostly on redefining the basics, and the second on riding and board control.
Lesson 1 – Safety first, so we reviewed the basics – a few minutes on a training kite and then kite control.
Although I was convinced of having pretty decent handling skills, Stuart's background in yoga and meditation soon gave me a totally different perspective on how to feel the kite, relax my muscles, and, most importantly, my mind.
Then a 15-minute session of body-dragging (floating on the water while being pulled by the kite, without board), which might seem long but actually got me in the right state of mind – while Stuart kept me focused on relaxing my body and feeling the kite without looking at it.
Then we took the board and worked again on feeling and control – after a few failed attempt, I got on the board for my first one-hundred meters ride, how exciting! I could've gone further but got worried about getting too far and slowly dropped the kite on the water to stop.
Lesson 2 was all on the board – a long, beautiful afternoon during which the wind dropped for a little while, actually a welcomed break that we used to chat about what I learned, kitesurfing in general, our approaches to life and many more amusing topics. When the wind came back I was so relaxed that I actually managed quite a few long (almost)smooth rides.
Stuart was very patient, he dedicated to me almost two whole afternoons, never in a rush, never watching the clock, never pressuring. I improved A LOT my kitesurfing skills thanks to him, and honestly feel like recommending studying with him to anyone, either beginner or experienced. You can contact him through his website or by mail at [email protected]

Kitesurfing the Garden Route: not just Knysna – Other spots for learning and for experienced people
Besides the shallow waters of the Knysna Lagoon, the best for learners, there are several other great spots where to practice kiteboarding just a slingshot away.
Myoli Beach in Sedgefield is the classic wave riding, downwind destination – big air, freeride, freestyle, you name it… it offers whatever you want! A Garden Route favorite!
Swartvlei can be good too but the wind is not as consistent, it is gustier around the edges (funneling through valleys), there is deep water in the middle where the wind tends to be best and it's onshore onto trees, forests, residences, and resorts if you venture too far west.
It's impossible to swim upwind with a kite so you will need a backup plan, a pickup, or a boat rescue if things go wrong).
The whole coastline is epic for kitesurfing and opens for exploration and downwinders to experienced riders with good risk assessment and a healthy sense of adventure.
What are the dangers involved in Kitesurfing?
Kitesurfing is an extreme sport in nature, with wind and water elements that are variable and dynamic. There are therefore inherent risks. It can be relatively safely practiced with intelligent training and sound risk assessment.
Sealife is beautifully abundant and you may be blessed enough to encounter sea creatures whilst flying and riding. Always check forecasts, maintain your gear professionally and keep within your own personal limits for surviving worst-case scenarios.

About Stuart Barnes and Life Kitesurfing
I asked Stuart a few questions, to get to know more the person behind the brand, here are his answers
1. Tell me a bit about yourself as a kitesurfer, watersports-man and more in general
My life as a waterman and "wind-flier" and rider goes way back to childhood, to adventuring, riding waves and sailing (dinghies and Hobie Cats) with my father in South Africa (Southern Cape, South Coast of Natal and the northern West Coast near Namibia) and Botswana (northern lakes and rivers).
My father was (is!) a sports coach, extreme athlete, and adventurer himself (although he's mellowed a lot with age). He did hundreds of marathons, multiple ultramarathons, scuba diving, and spearfishing, competed in swimming to national level, and did extreme cold water swimming races (including the Robben Island to Cape Town race).
I grew up with all this adventure passion and we were always out training, having experiences, and living life to the fullest during my childhood. My childhood games included imaginary scenarios of me as stunt guy styled off my 80's film and TV heroes.
My father was (is!) big on DIY and he designed, built, and maintained everything from cars to boats to functional household things. I started making my own toys with his guidance and encouragement and these were usually related to riding, sailing, and flying dreams.
My parents always taught me and my sisters about the power of the mind to dream and to do. Everything was possible with belief and mental focus. Rollerskating and cycling were always big and surfing and windsurfing and scuba diving were always dreams.
I started surfing bodyboards and riding skateboards as soon as I could. And I got into windsurfing and surfing seriously from around age 11 upwards. After moving to Cape Town to study fine art and philosophy that ended up including language and music too, I found the water too cold and the travel logistics of getting to the beach too complex so I quit surfing to focus on my cultural learning.
After years of working in Cape Town and then London, I saw someone kitesurfing the Thames Estuary around Southend on Sea in England and I was immediately: I have to do that! That moment was a moment that just changed my life right there. It was that instant. It was the perfect combination of everything, all of my flying and riding experience just so perfectly blended with my childhood dreams right there. And the rest, so they say, is history!
2. Is Life Kitesurfing a one-man business?
Yes and no. I do welcome project-specific partnerships and associations and have excellent agile working relationships with coaches, facilitators, mind-body wellness practitioners, doctors, yoga teachers, and leading gear designers and suppliers.
3. How are your introductory courses structured?
Student-centered and individually tailored, dynamically adapted throughout your learning experience to maximize safety, accelerated progression and fun times!

Prices of Kitesurfing lessons and courses
The costs of one lesson or a full course with Stuart Barnes may vary, we suggest to contact him personally at [email protected].
Life Kitesurfing also offers surfing lessons, and SOGA courses, which is yoga applied to surfing, a very interesting discipline personally developed by Stuart.
Stay in touch while we get lost! Follow us on Social Media