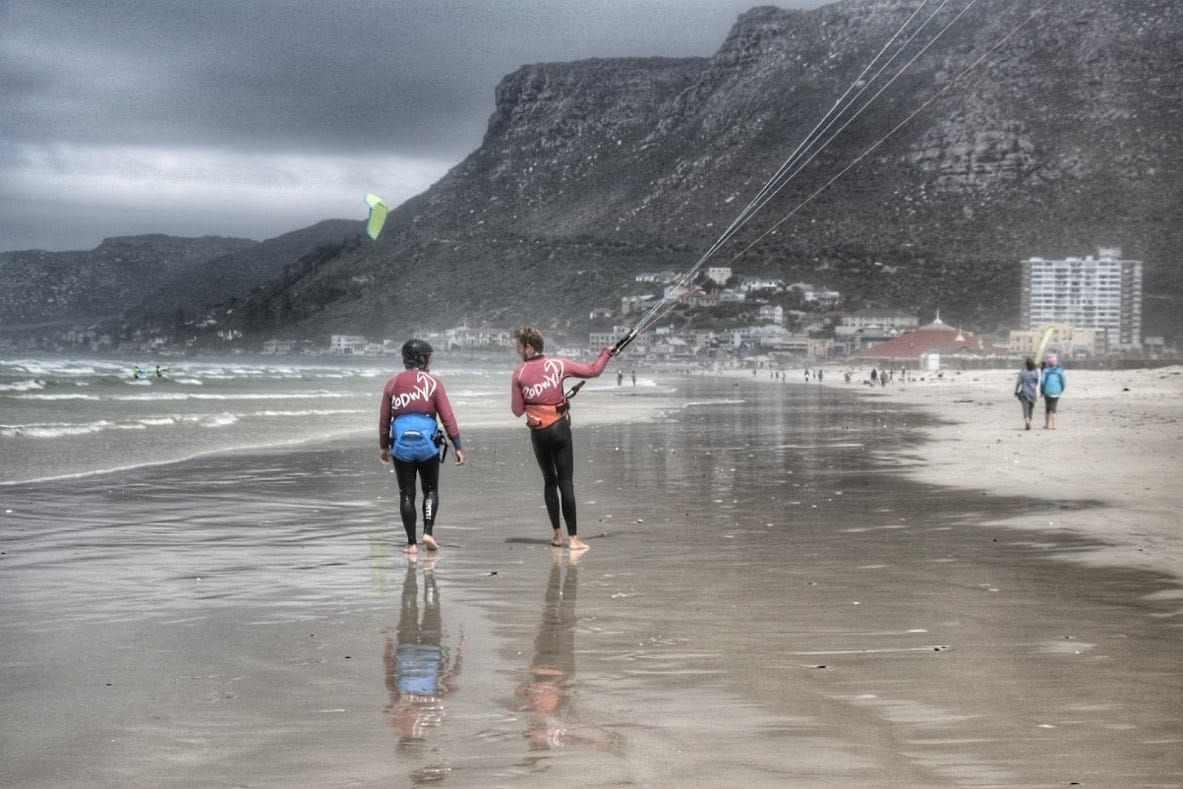 Where to get a full kitesurfing course in South Africa
everything you need to know
Kitesurfing (or Kiteboarding) is one of the most popular water-sport in South Africa, it is practiced and taught a bit everywhere along the 2,500km+ long coastline of the nation.
Cape Town though, and especially the suburb of Muizenberg, is a really ideal location for beginners to learn the sport, indeed there are several schools in the area that can provide you courses and individual lessons. Many travelers begin their backpacking trip in Africa here with the baptism of the freezing Cape waters.
It's been a dream of mine to try kitesurfing since the first time I got acquainted with it on some beach in western Sicily, so what better chance than getting into the freezing waters of Cape Town and give it a try?
And I know what some of you are thinking… sharks? we'll get also into that later.
---
Check also
Cape Town travel guide, the best things to see and do
Kitesurfing lessons in Maputo – Mozambique
Traveling South Africa? have a look at
Cycling South Africa – the ultimate guide
Meeting the hippos in St. Lucia
Western Cape scenic route
Road Tripping Lesotho – Itinerary and things to know
Disclosure: Some of our articles contain affiliate links. This comes at no additional cost for you and helps us keep this website up and running. (as Amazon Associates we earn commission from qualifying purchases)
Kitesurfing: the what and the why
Kitesurfing is thrilling sport mixing elements of snowboarding, windsurfing, sailing, paragliding, and even more action disciplines, combining them into something that really has it all: speed, acrobatics, balance, jump…
And you can even try and tackle long distances rides (the record of a solo unsupported kiteboarding ride is a 2000km/24 day Brazilian coast journey by Louis Tapper).
Although several attempts in kite-propelled vehicles were made since the 19th century, Kitesurfing is literally brand new as a sport, being popularized only in the late '90s. That means there's still a lot of room for innovation.
Kitesurfing in Cape Town: Muizenberg and other locations
Besides being an exceptionally good-looking city, Cape Town with its steady summer winds is one of the best locations in the world for surfing and kiteboarding.
Muizenberg is the favorite spot in within the city for beginners, given the shallow waters, long but not big waves, constant winds, and the absence of obstacles. Muizenberg though is not the place where you'll find the real PROs, who usually favor the more exciting conditions of Blouberg, or Witsand, or Strand.
The easiest spot of the whole South Africa for learning is though Langebaan, with its often totally flat water. Langebaan is some 160km north of Cape Town along the West Coast, near the beautiful fishing village of Paternoster.
---
Best season to Kitesurf in South Africa
The best time of year to kitesurf in Cape Town is definitively austral summer, from November to April – before the waves become too big – indeed may is the surf season in the Western Cape.
Outside temperatures are high but not scorching hot (between 24 and 30 C), the water is a bit less freezing (about 20C in Muizenberg), precipitation is rare, skies are clear and, most importantly, the winds are steady and strong enough (35 knots).
Getting good kitesurfing weather off-season is instead pretty rare, unfortunately. So you'll better plan a summer visit if that's your main aim.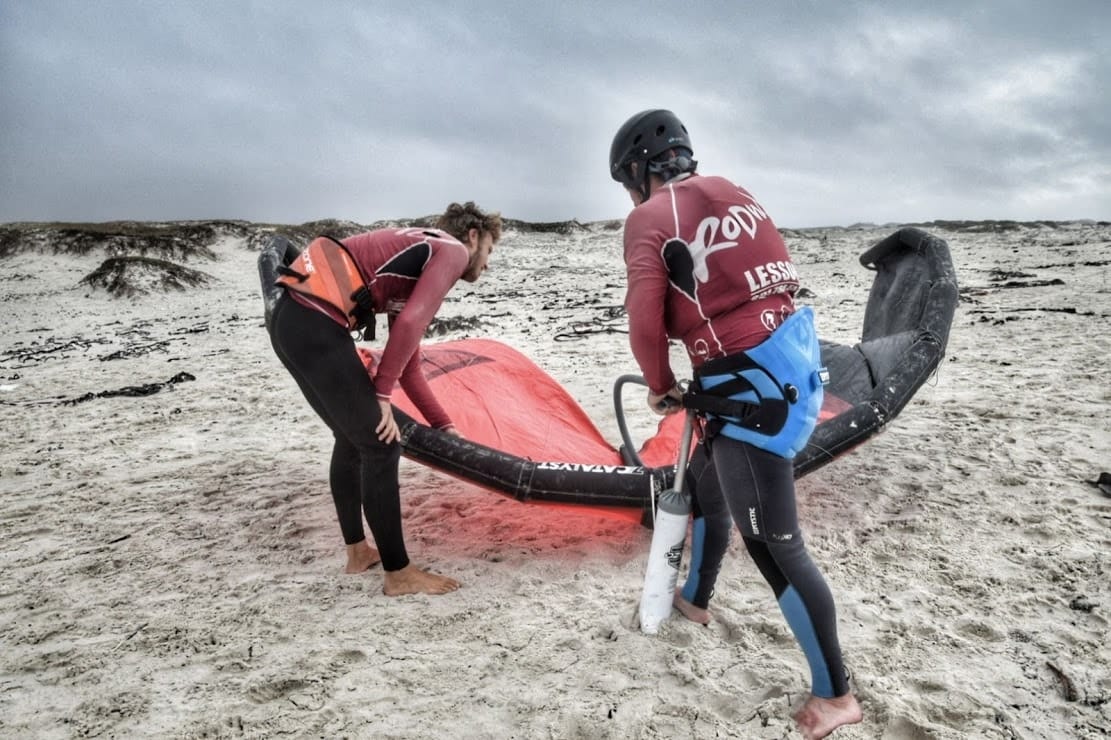 Surfstore Africa
I got in touch with Matthew from Surfstore Africa and booked my full 3-day course with him. I had great fun from day one. Matthew is a really young guy in his 20s, he started practicing kitesurfing in 2014 and is a certified instructor since 2017.
A three days course is ideal to learn the basics from scratch, Matt can bring even a not-half-decent student like me from absolute ignorance to feet-on-the-board even in such a short time. The course is structured like this:
day 1: Kite control on-shore and a bit of theory. Safety measures, kite set-up, and launching handling in the "power zone"
day 2: in the water. you'll learn how to be dragged by the kite in different fashions (upwind, downwind, figure-of-8. No board yet
day 3: getting your feet on the board and try to control it
These kitesurfing lessons will give you the basics, don't expect to be doing flying tricks on your third day of course. You'll probably still need someone to watch out for you as you practice for a few more times (depending on your skills, of course).
If anyway you want to be totally independent, my advice is to get one or two more lessons with Matthew or somewhere else. Also, keep in mind that each spot has its own peculiarities, some are safer than others; so, if you try on a different location, be sure to ask local kitesurfers for a bit of advice.
With Surfstore Africa each individual lesson lasts 2 hours, while the duration is extended to 3 hours if the course is done by two persons at the same time.
The price of a full course like the one described here is 4,800 Rand, while a single lesson comes at 1,600 Rand.
If you would like to get the feeling of kitesurfing before investing in a full course, Surfstore Africa also offers tandem rides also for 1,600 Rand. You can book directly from their website here.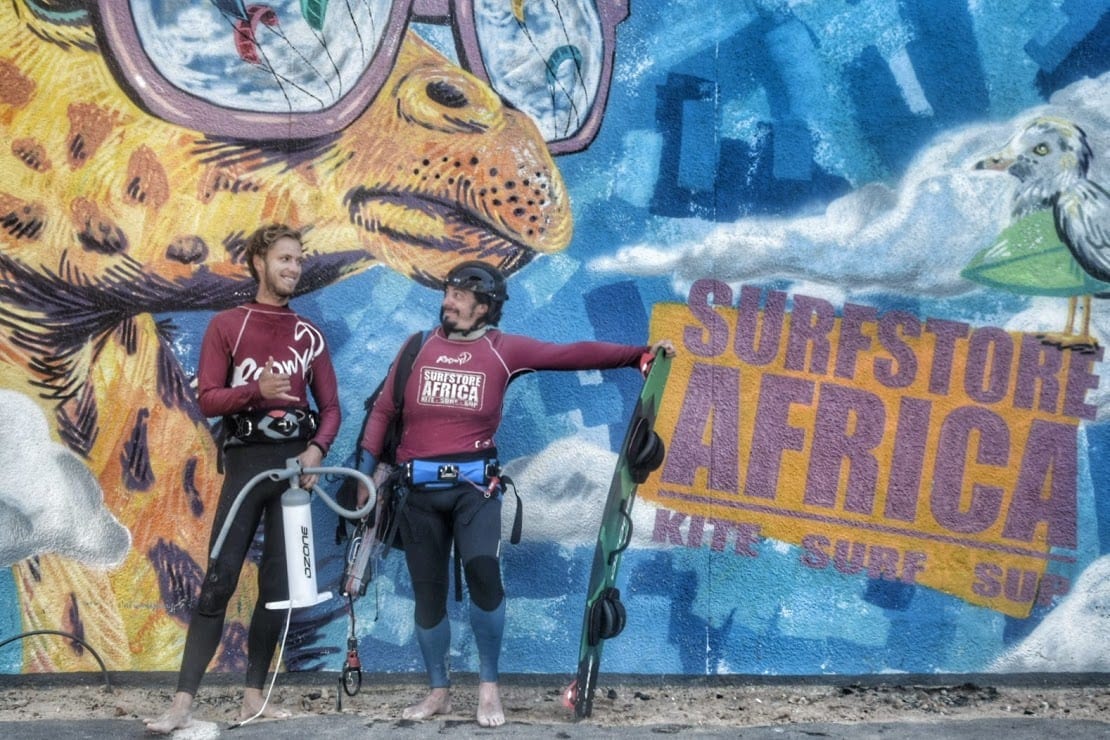 My experience learning to Kitesurf with Surfstore Africa
I had a great time learning kitesurfing with Matthew from Surfstore Africa, he is very patient and overall a super-nice guy, no show-offs, no brag.
On the first day we remained on the beach, no wetsuit involved. He first had me control a small training kite to understand the basics of steering and the concept of "power zone". Then I was strapped to a 5-meter kite to learn about safety measures and how to control it without being unwillingly dragged away.
The second day I got all suited up and into the water. The first half of the lesson was kite-control in the water, dealing with waves crashing on me, relaunching the kite from the water. The second half was so much fun: body-dragging… in pills, using the kite to drag your body around in the water.
The third day we finally took the board with us. Matthew focused on making me master the body dragging exercises for the first hour, then I tried to stand on the board, which was all-but-easy, especially since the sea was a bit wavier than usual on that day. I managed to stand and ride for a few seconds… now I'm more than ever willing to practice and practice and practice!
The infamous South African white sharks and the Shark Spotting System
Yes, everybody knows that… there are a lot of big white sharks in South Africa. Incidents are pretty rare though, since 1990 only 1 out of 4 shark attacks resulted in a serious injury, only 15% were fatal. This means 1.2 casualties per year in the whole of South Africa (source).
Cape Town enforces a thigh regime of shark-attack-prevention, with nets on the most commonly used beaches and dedicated shark-spotting towers upon the hills (what a job…).
A code of colored flags signals whether a shark has been spotted or if the visibility is too poor to be certain of the water's safety. Be careful as I doubt your travel insurance will cover shark attacks..
Stay in touch while we get lost! Follow us on Social Media