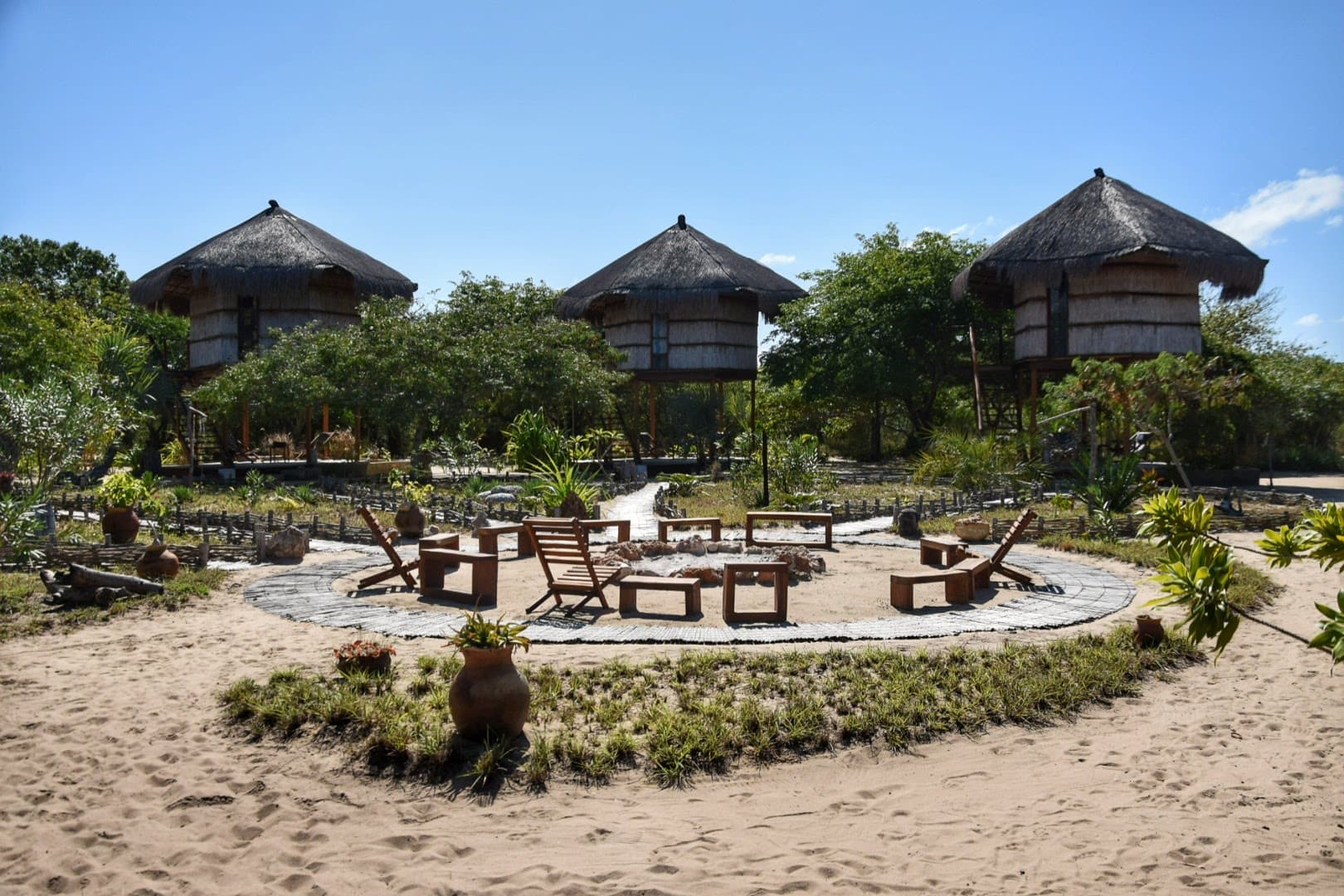 During our trip to Mozambique, we stayed at the Marimba Secret Garden, one of the most beautiful lodges we've been so far. The location, close to the popular Vilanculos, but off the grid, offers a great opportunity to relax and explore the real Mozambique.
---
After spending a few days in this wonderful place, we asked the two new managers a few questions. They are a couple of young and friendly South African, with lots of ideas and plans to make the Marimba Secret Gardens even more welcoming. Here's what they told us and useful information if you want to book.
If you are planning a special trip to Mozambique have a look at
Mozambique by bicycle, our itinerary and advices
---
Where is Marimba located and how to get there.
Marimba Secret Gardens is situated in what we like to call the heart of Mozambique,18km North of Vilanculos in a small community known as Macunhe. Staying true to our name Secret Gardens, it is not easy to find us without prior communication.
We have a hand-drawn map which can direct you out to us, however, we prefer to meet guests in town and show them the way to Marimba Secret Gardens.
Disclosure: Some of our articles contain affiliate links. This comes at no additional cost for you and helps us keep this website up and running. (as Amazon Associates we earn commission from qualifying purchases)
A bit of history of Marimba, how all started
Marimba actually started by a series of coincidences. Originally Marcel and Isabelle, a couple from Switzerland found themselves in Vilanculos looking for a peaceful little property on the beach, to have a place to relax and to welcome friends and family to visit by building their own little house the way they wanted. All of this in a country they loved and felt welcomed in.
They did not plan on finding a property so far out in the bushlands – this property was actually offered to them when they were almost at the point of giving up because they did not find what they were looking for. However, the first time they visited the property which is now Marimba Secret Gardens, It was all overgrown with wild bush.
They fought their way through the wild bush down to the beach, only to discover something which took their breath away and immediately they knew this was the place they wanted.
After looking for so long, their holiday time in Mozambique had come to an end and they had to head back home to Switzerland. This, in turn, happened to be a good thing as they were forced to spend time thinking about it all and this is when they started to develop the idea of Marimba Secret Gardens, piece by piece.
They started the process very slowly and for the first 3 years, they still lived in Switzerland, working 2 to 3 jobs each and saving every penny they could to put into the project and to travel to Marimba as often as possible. When they finally moved there, it already felt like home to them.
They then started working on all the construction and development along with lots of support from friends, especially an architect friend, but also gardeners and chefs and many more people who came to support them and teach them and the staff the knowledge they now know. Sometimes it looked like the work ahead of them would never end, but it was also a very magical time for them.
What kind of materials were used for the casettas (technique and maintenance)
All the materials used were traditional materials which we bought as local as possible. For example, the grass which is used for the thatch roofing was bought from our neighboring community, same as the reeds used for the side walls of the Casitas.
The idea behind us having all the casitas built on stilts was not only to look appealing but more so to get the beautiful breeze off the ocean blowing throw the casitas on hot summer days.
All the wood used to build these casitas is also all Mozambican and it is known to be one of the best quality woods and one of the strongest. As we are situated so far out of our neighboring towns, the materials had to be brought in not only with the local chapas but also by dhows which would arrive at Marimba's beach to offload the materials.
The local community, situation and involvement
From the moment Marcel & Isabelle started being interested in the property up to now, they have had a very close communication with the community Macunhe.
Macunhe welcomed them warmly as part of the community, but also with the justified request to provide the locals with jobs.
They have stuck to that promise and are still working closely with the community. All our staff is from Macunhe or our other neighboring community Chipongo.
During construction, they hired professional craftsmen from Vilankulo town which gave apprenticeships to our staff (e.g. carpenters, bricklayers, electricians, and plumbers), so our staff could benefit from them, because most of them have very little schooling or education.
Marimba likes to continue their involvement with the local community and the next step we want is to help the community with water (wells and hand pumps) and a new classroom for the school in Macunhe.
What are the main difficulties?
As mentioned above, hiring staff with hardly any education and no experience working for any company was and still is a big challenge.
Another challenge is exactly what makes Marimba what it is: its remoteness. Almost everything you do or organize just takes more time and financial resources.
Activities you can do at Marimba
We offer day trips out to Bazaruto Island and 2 Mile Reef as well as a day trip out to Paradise Island. There are different options for private excursions, group excursions, speed boat trips or dhow trips. Here you get to experience these beautiful islands along with what is known as some of the best snorkeling in the world. Something different which we offer at Marimba is our bush walks.
This is a tour on foot through our local villages in the neighboring communities where you get to experience a day in the life of a Mozambican and you get to see their homes and taste a couple of traditional fruits or food along the way. Kite surfing, diving, and fishing can be organized on request.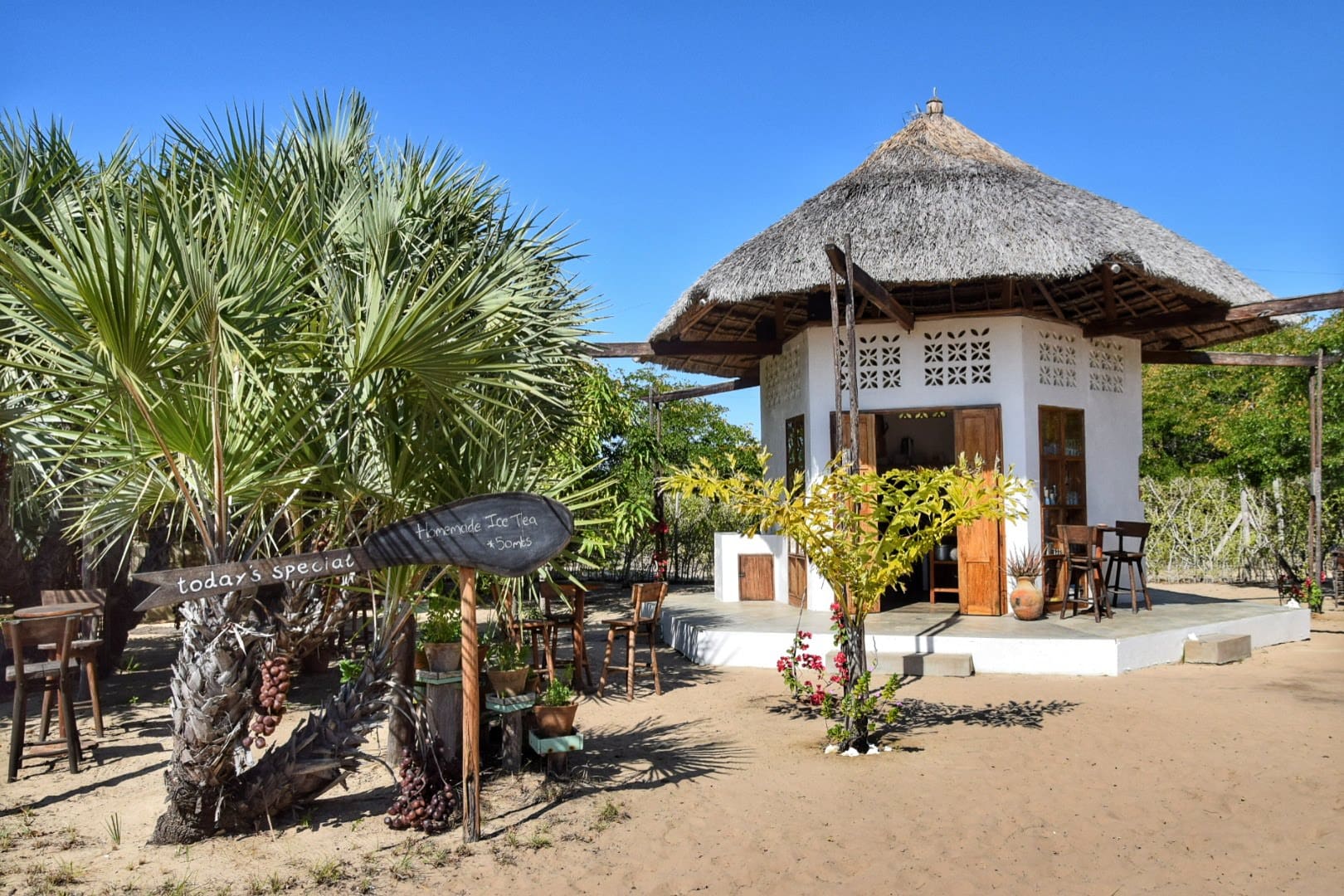 What are your future projects?
There are a couple of different ideas we have to grow and expand, but what is most important to us is that whatever we do, still matches with our ecological attitude and the needs of the community and the environment which we want to continue to treat with the utmost respect. We also want to keep on surviving without being dependent on any big investors.
Pricing and How to book at Marimba Secret Garden
Double or Twin Room*: USD 52 per night 2 person sharing
3-Bed Family Room: USD 26 per person
6-Bed Shared Room: USD 18 per person
High Season Rates*:
Double or Twin Room: USD 65 per night 2 person sharing
Pricing can also be found on our website www.marimba.ch
To book, feel free to contact us on any of the below:
info@marimba.ch
Marimba Face
+258 84 047 2176
+27 76 366 2468 (WhatsApp)
Stay in touch while we get lost! Follow us on Social Media