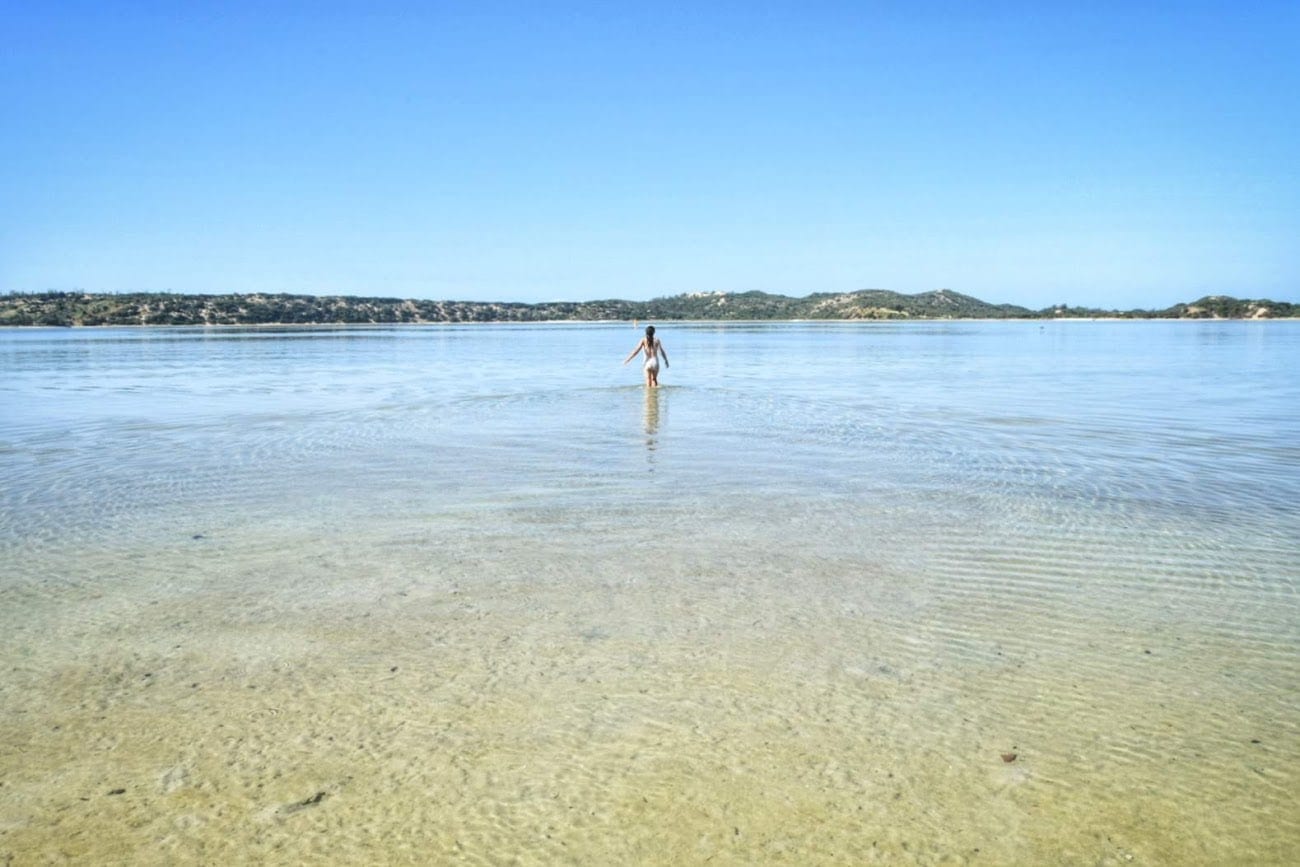 Praia do Bilene, Mozambique – Things to do in Bilene Beach and Uembje Lagoon
Praia do Bilene is a tourist resort town about 150 kilometers north of Maputo, the capital of Mozambique. Frequented by many South Africans during weekends and major holidays, it is practically deserted for the rest of the year. In this blog article, we'll try to give you all the useful information about things to do in Praia do Bilene, accommodation options, and a few more travel tips.
Famous for its white beach overlooking the brackish lagoon, it is an ideal location to relax, swim, explore and for different water activities. The Uembje lagoon is very safe for swimming even for kids or for those who are not very confident in open waters.
The lagoon is a few kilometers wide, by crossing it you will reach tall sand dunes and, on the other side, the Indian Ocean. Praia do Bilene is great for all kind of tastes, the calm waters of the lagoon, the chance of practicing water sports or even just relaxing on the beach, walking on sand dunes or climbing the turtle rock and watch the huge tortoise laying their eggs.
Disclosure: Some of our articles contain affiliate links. This comes at no additional cost for you and helps us keep this website up and running. (as Amazon Associates we earn commission from qualifying purchases)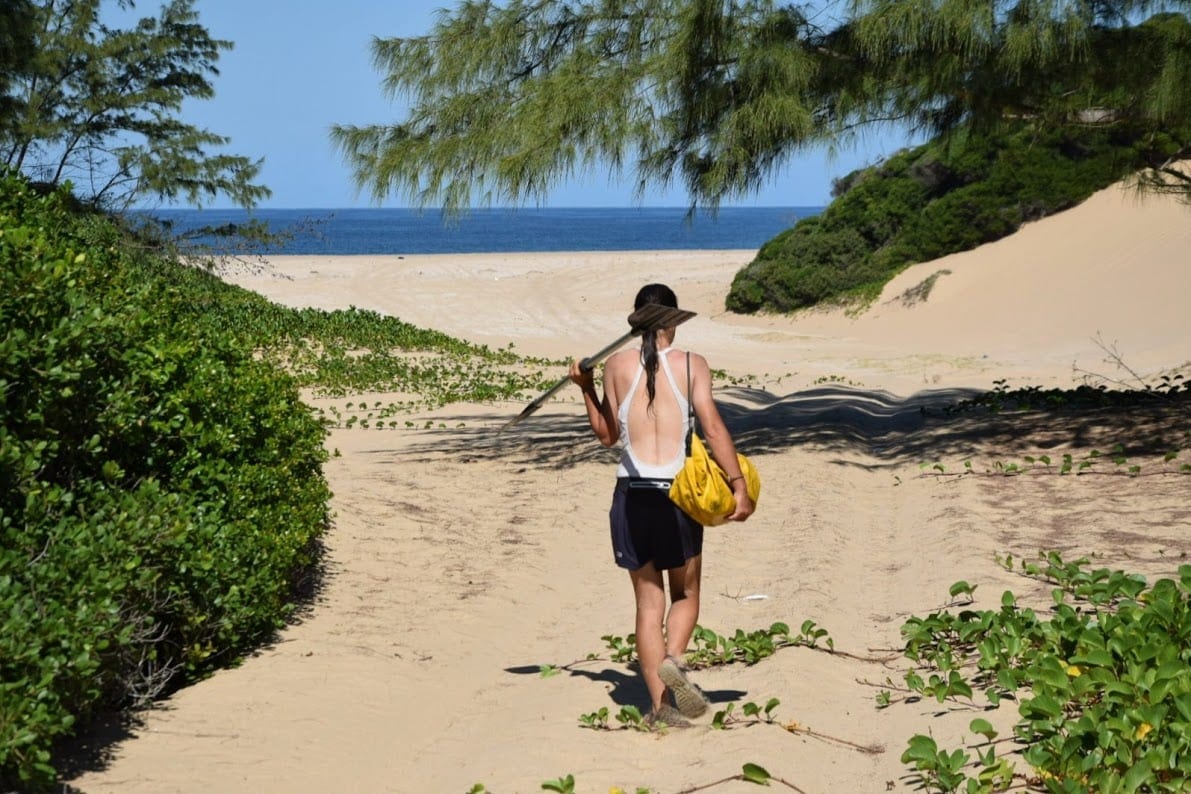 Best time to visit Praia do Bilene
The most crowded period is summer (November to March) but winter is definitely a better time to visit Mozambique (from May to October), temperatures are lower and pleasant in the evening, there are fewer mosquitoes and rain is rare. During the summer the temperatures are high, downpours are frequent, and malaria is more threatening.
---
How to get to Praia do Bilene
Bilene is a three-hour drive north of Maputo. Driving north along the main highway, you should turn right at Macia. From Macia to Bilene there are 30 km on a narrower but paved road. Once in the city, you will arrive at a roundabout where there is a BCI bank.
Taking any different road except the leftmost one you will arrive at the city center. In the city center, you can get around with a normal vehicle. Guest houses outside the center, on the other hand, often require a 4×4 as the roads are often of thick sand.
If you don't have your own vehicle you will need to take a minibus to Macia and then from there to Bilene. Taking minibusses in Mozambique is quite easy, just wave one when they pass or get to the nearest minibus parking. Be careful not to be charged an unfair price. Keep in mind that those buses can be quite slow as they stop every now and then to get people.
---
Where to stay in Bilene
There are plenty of solutions for sleeping in Bilene, some not really cheap but there are also lodges with a swimming pool at 15€ a night, especially in the low season. There are also many houses for rent and a campsite for those who prefer self-catering accommodation.
Of course, there's no shortage of splurge accommodation options in Praia do Bilene, some of the best resorts in Mozambique are located here.
Stock up before you arrive, there are no real supermarkets in the village. You will find vegetables and of course fresh fish, which is sold directly by small fishermen's boats on the beach in the morning. Try the roasted cashews, they are sold everywhere and really are delicious.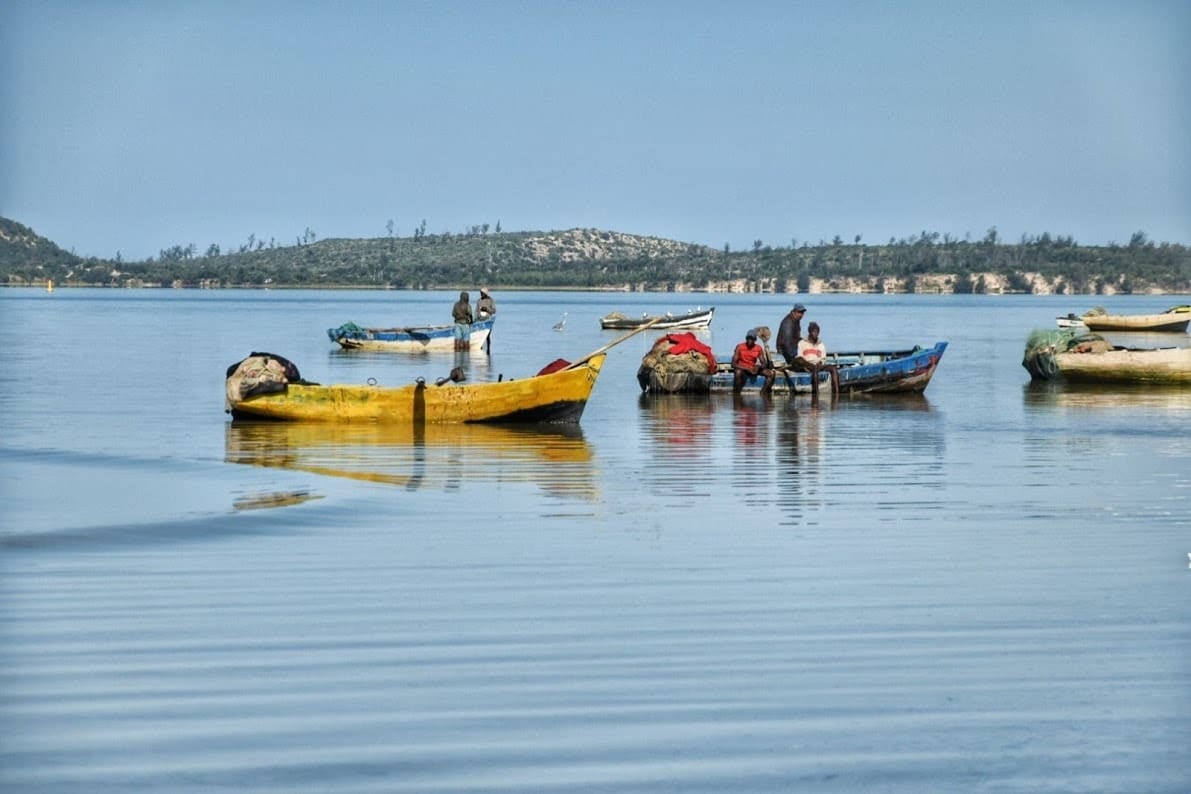 Things to do in Praia do Bilene
Kayaking in the lagoon
Kayaking in the Bilene lagoon is certainly one of the most popular and cheap activities. We rented a kayak at the Bilene Club Lodge, located on the beach right in front of Turtle Rock. The cost is 150 Metical per kayak, you can take a single one that you can even combine with another kayak making it double. In about forty minutes we crossed the lagoon and landed on a beach where there were only a couple of solitary fishermen.
We followed the path through the dunes, and having said goodbye to the fishermen, we never met anyone again. The dunes are wonderful and offer a fantastic view, you will reach a deserted beach by the ocean, the waves were quite high and we didn't feel like swimming.
To be able to swim, follow the channel that carries the ocean's water into the lagoon and turn right, just below Turtle Rock, where the sea is much calmer. Before leaving, ask the local staff for advice, the current may be strong in some areas of the beach overlooking the ocean.
---
Boat tours in Bilene
If you don't feel like rowing, various boat trips options are available, either by motor or by sailboat. Trips to go diving or fishing are also possible. There are several agencies that organize the excursions, usually they rely on the lodges to find customers so you just need to ask your accommodation of choice.
Turtle Rock
For a magnificent 360 degrees view, take a walk from the mouth of the lagoon to the vantage point on top of Turtle Cliff. Between November and March of each year, the turtles come here to lay eggs.
It is also a great place to watch whales during their migration along the coast of Mozambique between May and August. The climb is a bit steep in sections but pretty short.
---
Quad Biking and Jet Ski
There are many paths that can be done by Quad or with a 4×4, it is not something we like to promote, quads are noisy, pollute and they sure have a bad impact on the dunes and the resident fauna. However, if you are interested, know that they are available.
As for the watercraft, instead, it is advised to bring your own as there are not many available for hire. In addition to the same discourse on noise and pollution, I don't know how many people would have a jet ski to take with them on vacation, but if you're one of them…

Parasailing
For those who don't know what Parasailing is, it's when you fly wearing an open parachute while you're being pulled by a speedboat. It is an adrenaline-pumping activity that is becoming very popular among Bilene resorts and lodges. Once again, the sheltered lagoon offers the perfect conditions for parasailing.
---
Kite Surfing
The shallow and calm water and the absence of any natural obstacle make the Bilene Lagoon a world-class kitesurfing spot. it an ideal place for those who want to learn this sport, for beginners but also for experts. Of course a bit of wind is needed in the right direction, you can contact the kitesurfing school in Bilene for further information, prices are about 40€ per hour. The school offers also SUP courses and rentals.
If you are interested in learning kite surfing or you already know how to do it but you do not have the equipment with you, know that there is an excellent school in Maputo run by an Italian guy, you can read our article about kitesurfing in Maputo.
---
More things to do around Praia do Bilene, Mozambique
If you want to get to know the area better you can go and explore the surroundings on your own or with a guide. The landscape around Bilene is dotted with beautiful lakes, lagoons, dunes, marshes, and little traditional villages. A day trip to a nearby hotspot will give you a different perspective on the site of Bilene and on southern Mozambique's countryside.
The guys at Bilene Club Lodge can help you organize day trips in the area, they know some very exclusive spots which are really worth visiting.
Stay in touch while we get lost! Follow us on Social Media