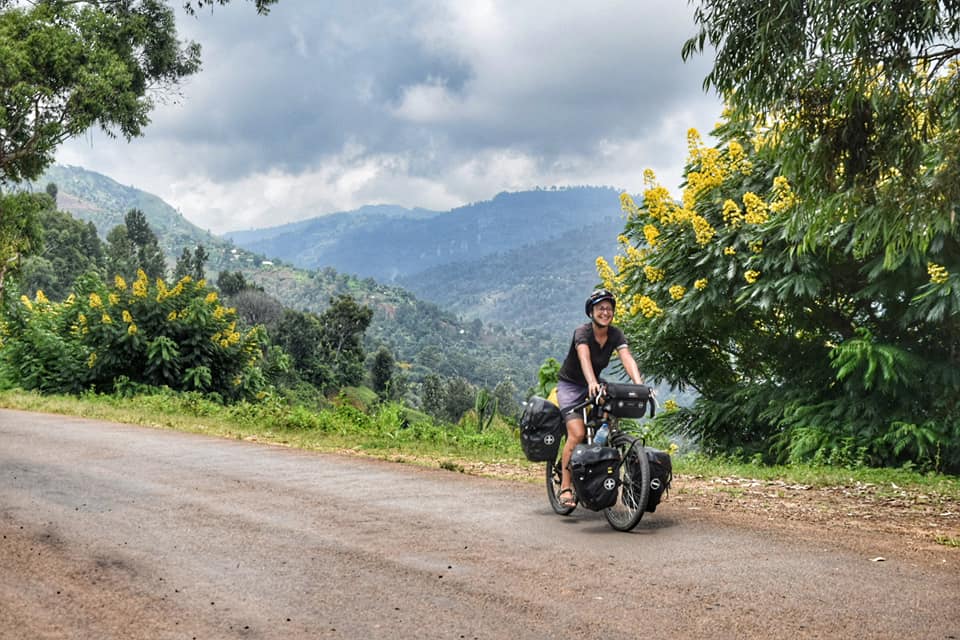 Cycling Tanzania. Bikepacking Tanzania in two weeks or cycle touring across.
Itinerary, accommodation, food, water, the best season for bike touring & packing list
Cycling Tanzania, is that a good idea? The answer is a straight-up yes, Tanzania is a great country for cycle touring, a bikepacking trip in Tanzania is safe, fun, and sure to leave you undeletable memories.
We lived 1 year in Tanzania, cycling and riding across most of the country. The information in this article comes from our first-hand experience with the help of many bicycle travelers we've met during our 4+ years in Africa.
Road Surfaces and Traffic in Tanzania
Disclosure: Some of our articles contain affiliate links. This comes at no additional cost for you and helps us keep this website up and running. (as Amazon Associates we earn commission from qualifying purchases)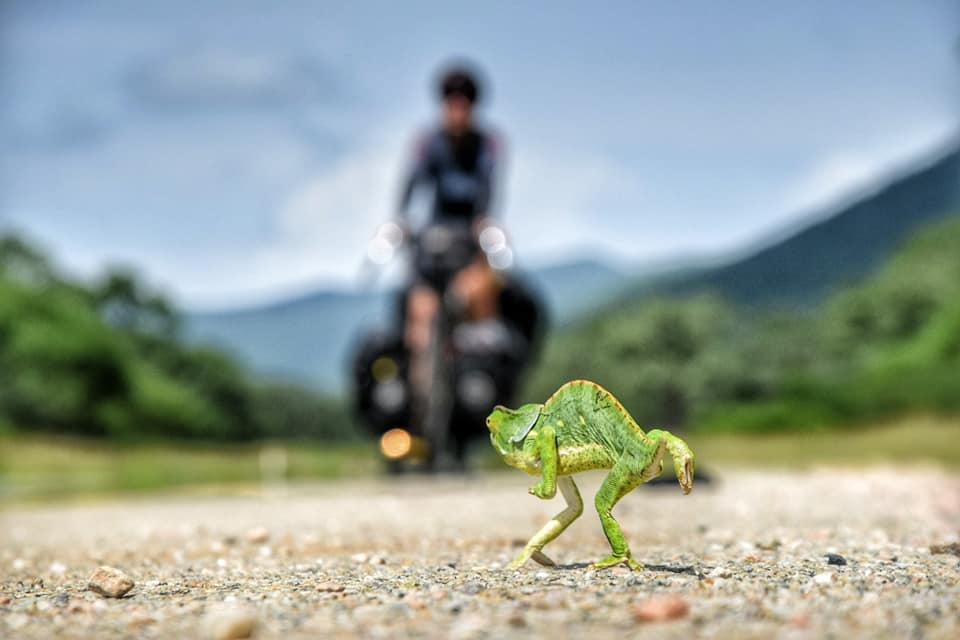 For such a huge country, Tanzania doesn't have many roads, the vastity of the conservation areas covering more than 15% of its surface forces the road network into big detours. Great thing for Tanzania to give priority to that.
The main roads though are mostly in a good state compared to neighboring countries. You'll leave the tar only in a few sections and the dirt roads are mostly well maintained, with few corrugations or sandy parts.
Mud can be an issue in remote areas in the rainy season, especially along the Tanganyika route.
Traffic volume is quite high and it's not rare to be passed by mini-buses (dala dala) at close distance multiple times in a day – a rearview mirror is advisable, also keep your ears free from airpods.
Best season to cycle Tanzania
There are two rainy seasons in Tanzania, the heaviest rains usually fall from around mid-March to May, this is within the hot season, which starts in December and has February at its peak. A shorter period of rain occurs from November to mid-January, we recommend avoiding these seasons if possible.
The best time for a bikepacking trip in Tanzania is from May to October when the weather is dry and the temperatures are cooler.
That said, some parts of Tanzania are at high altitudes, the Masai lands around Kilimanjaro, Arusha, and Ngorongoro are quite cold throughout the year, and that is also the case for the Lushoto Plateau.
The coast is always warm and becomes unbearably hot during the Austral Summer.
Wild Camping and Accommodation when Cycling Tanzania
Tanzanian local guesthouses are plenty and usually great value for money. You can find cheap accommodation in almost every small town for something between 6 and 15 USD. Many have cheap restaurants and bars in loco.
Campsites are catered towards the overlander crowd, they are usually more expensive than a regular guesthouse and sometimes have very limited facilities – we don't recommend using campsites unless you want to meet other travelers.
Wild camping is very possible almost everywhere across the country, keep in mind though that the population of Tanzania is spread-out and there are literally people everywhere, even when it looks uninhabited.
Our favorite solution for camping in Tanzania is asking to pitch your tent on the ground of small family hamlets. Choose one that looks nice and ask the dwellers if you can spend the night there – this will lead to nice interactions and you'll be safer with a community hosting you.
Always leave something to the dwellers to thank them for their hospitality, a few bucks will do, but also food would be welcome.
Cycling Tanzania – The Routes
Tanzania is such a huge country and there are really many possibilities either for short two weeks fly-in/fly-out routes or for cross-country routes for those on the Cape to Cairo journey.
When crossing the country from south to north, or vice-versa, there are three main options:
The "Tanganika Road" – this is the shortest but also somehow least interesting route. Despite the name, you'll never see Lake Tanganyika except in the city of Kigoma, as the road runs quite far from the lake shore. People cycling this route also report mild harassment and less friendly locals.
The Coastal Way – the longest option, rarely chosen by cycle travelers. This is an amazing but very long route, it makes sense for those coming from Mozambique, but since the north of Moz is off-limits because of instability, it makes much less sense when coming from Malawi or Zambia. From Mbeya to Songea, Tunduru to finally hit the coast at Lindi it's already a 1,000km of not-so-interesting road. Then the coast is super fine with some remote and beautiful beaches every now and then. This is also the hottest route
The Central Route – our favorite, although you'll follow the main roads for a good portion of it, the landscapes are quite interesting. It's the one we describe below
As for fly-in/fly-out bikepacking trips, the main airports are Dar Es Salam and Arusha, you could do loops around either one of the cities or ride the long way between the two.
Bicycle Touring Tanzania – The Long Way
This is a very long version of our favourite cycling route across Tanzania – don't be scared by the length of it, you can modify it in several sections to make it shorter or avoid major climbs and remote roads.
The last part of this itinerary, from Arusha to Uganda, it's to be considered by those heading to either Uganda, Rwanda, or Burundi, as most cycle tourers cross into Kenya you can skip this part and cross the border at Loitokitok or Namanga.
Since this was the direction we rode, we're going to describe this route from the Malawi border onwards.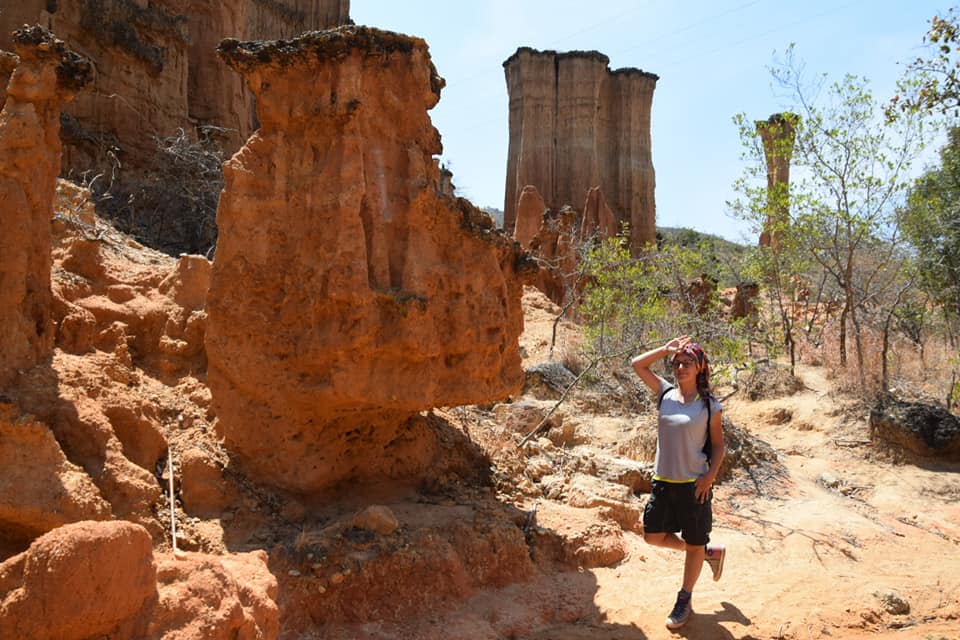 Section 1 – From Mbeya to Dar Es Salam
From the Malawi border, you'll face a long steep climb that will bring you along wonderful forested areas and wide tea plantations. Here you can take a detour up the scenic Kitulu Plateau and visit the Ngosi Crater Lake.
Coming down from Mbeya, the next section to Makambako and then to Iringa is not very special, nice rideable road but a dull landscape, you can consider hitching a ride here to save time for more interesting parts.
Iringa is a friendly and cozy little town, definitely visit the Isimila Stone Age site and rock pillars.
From Iringa to Mikumi you'll start with a good flat section before the scenic downhill along a fast-flowing river through Kitonga Mountain Reserve. Once down you'll still be among thick forest and nice hamlets until reaching the Udzungwa Mountains National Park, a superb area to cycle. There's quite some truck traffic on this road though, so keep that in mind.
Mikumi is for some the highlight of their African trip, I don't consider it so for me, but it was a nice experience. Mikumi is a wildlife-rich but small national park that is crossed in the middle by the highway to Dar Es Salam. This is one of the few chances a cyclist gets to see wildlife from a bike in the whole of Africa, so it might be worth it. Lions and Elephants can be dangerous though (one friend met a lion very close to the road here) – your choice.
After Mikumi, you'll reach the nice town of Morogoro. From here to Dar we recommend hitching a ride or taking a bus, the highway is really busy and not cool to ride.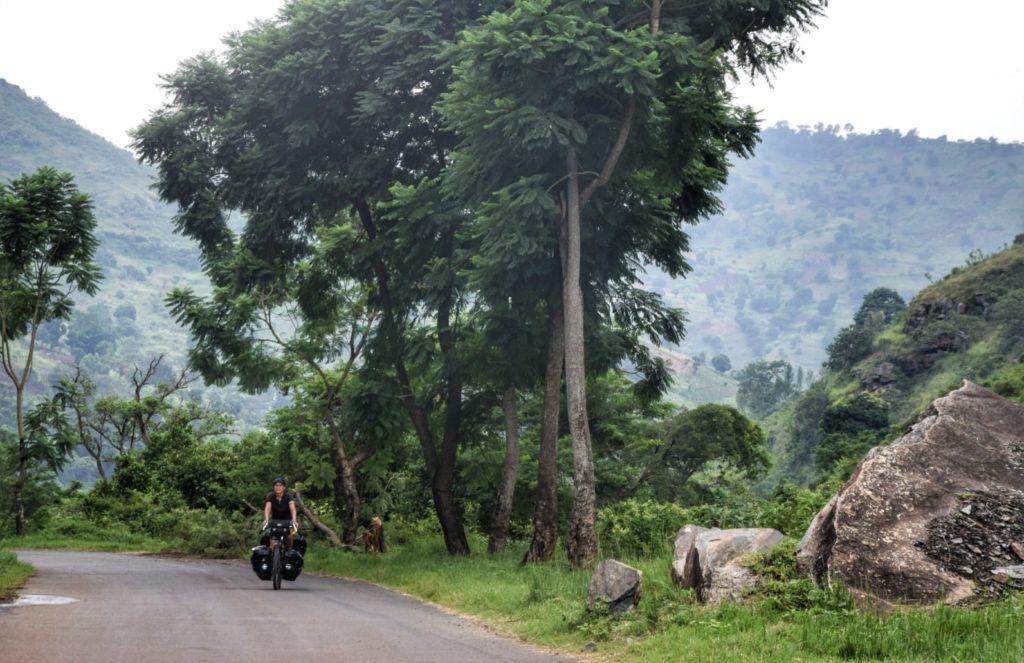 Section 2 – Dar Es Salam, Zanzibar, the coast and Lushoto
The coast of Tanzania is famed for its beauty, and you should explore at least a bit of it. Dar itself is one of the most interesting cities in East Africa and it's worth one or two days off.
Zanzibar is the prime touristic destination here and it's nice to take some time off by the beach. Stonetown is a very interesting place and the beaches of the east coast are certainly gorgeous, Kuza Cave is a cool attraction to visit.
You have the option to take your bike on the ferry to Zanzibar and then proceed with another ferry to Pemba Island. Pemba is very different, Islam is quite radical there, with a lot of burkhas around, and there's no real beach, as the island is surrounded by mangroves. From Pemba you can take another ferry to Tanga.
Another option is to stick to the coast. If you have time definitely visit Kimbiji Beach, a 40km detour south of Dar but one of the best beaches ever seen. From Dar you can ride the busy road to Bagamoyo and then stick to the more remote coastal road to Pangani, you'll have to pass Saadani National Park, where you'll not be allowed to cycle, but it's a very small park and easy to hitch a ride.
From Pangani you won't have to go to Tanga, you can take a shortcut and reach the B1 that runs below the Lushoto Plateau. Here you could spend a couple of hours visiting the Amboni Caves.
Lushoto is a fantastic place, we spent 3 months there at the beginning of Covid and loved the cool weather and thick rainforest. The climb is tough but on a good road. You can either cross the whole plateau and get down on dirt roads to the north side or just backtrack to the main road.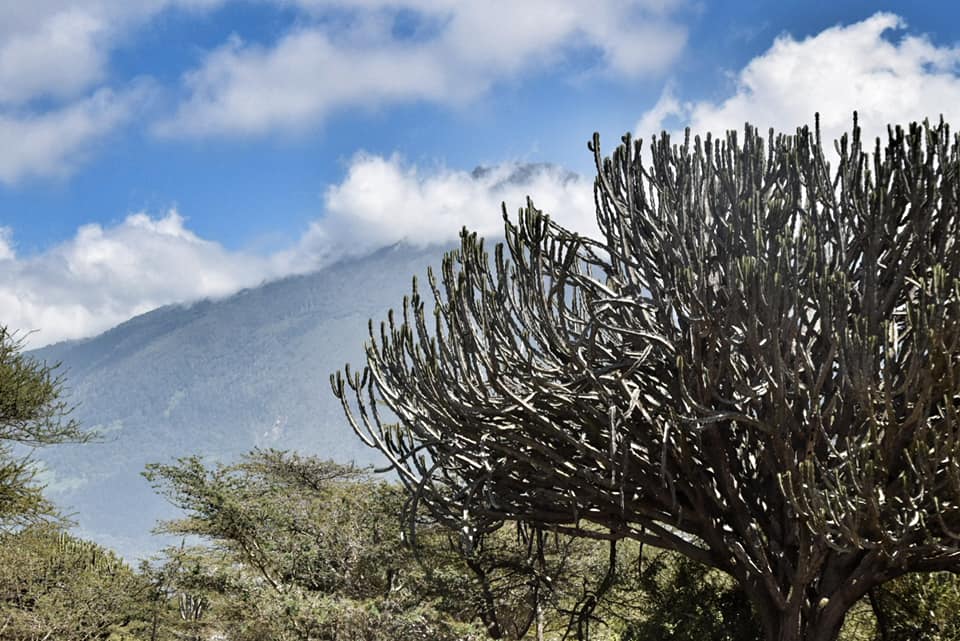 Section 3 – Kilimanjaro, Arusha, and Masai Land
It's a regular ride from Lushoto to the foothill of Kilimanjaro. You don't need to actually get to Moshi town, our recommendation is to ride the Kilimanjaro north route. An incredibly scenic road with varied landscapes and where you'll meet the first real Masai. Here you also have the chance to cross into Kenya through the small Litokitok border post.
If you wish to continue, you'll not regret. You'll be cycling in one of the most beautiful areas of Tanzania.
Head towards Arusha from the back road and you'll have great views of Mt. Meru and a fine scenery all around.
Going towards Mto Wambu and Ngorongoro, we advise getting to the shores of Lake Manyara outside the national park. This was one of the highlights of our trip, we cycled among zebras, wildebeest, pelicans, and storks that live in harmony with the local Masai herders.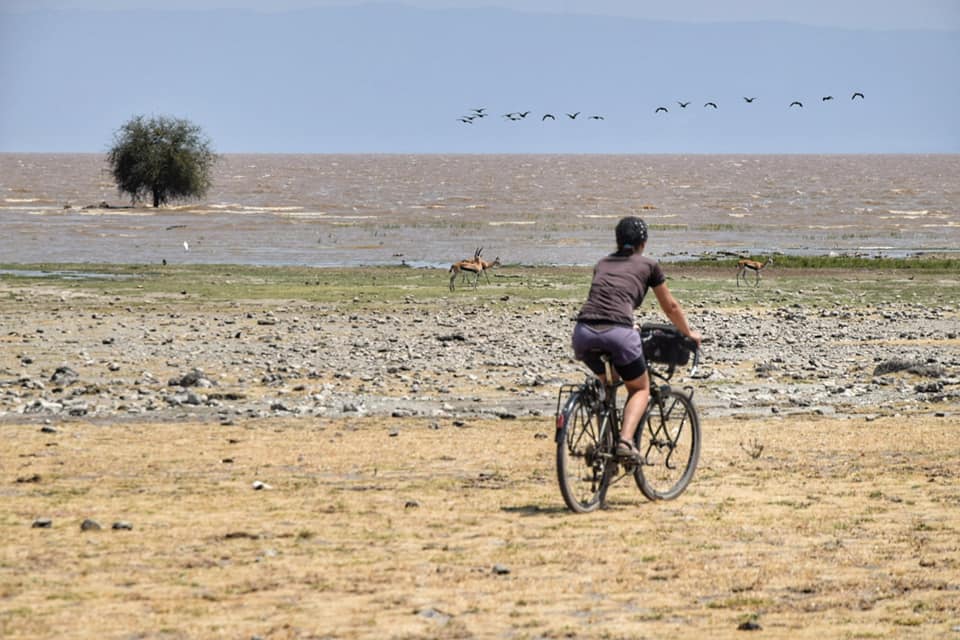 Section 4 – the Far West
From Mto Wambu, our route takes you at the foot of Ngorongoro crater and then along the remote shores of the picturesque Lake Eyasi – take this route only if you're reasonably fit and self-sufficient. The Lake Eyasi road is more of a fading track.
Otherwise, another great bikepacking route is to cycle along the Tarangire NP to Kwere. From there to Singida and further you'll be quite remote. Crossing vast savannah and bushy areas. A detour to Lake Victoria is a long one and not really worth the effort, the Lake is best visited from the Ugandan side. The far north-west is a spectacular and remote area of dense forest and few inhabitants, from here you can enter either Rwanda, Burundi, or Uganda.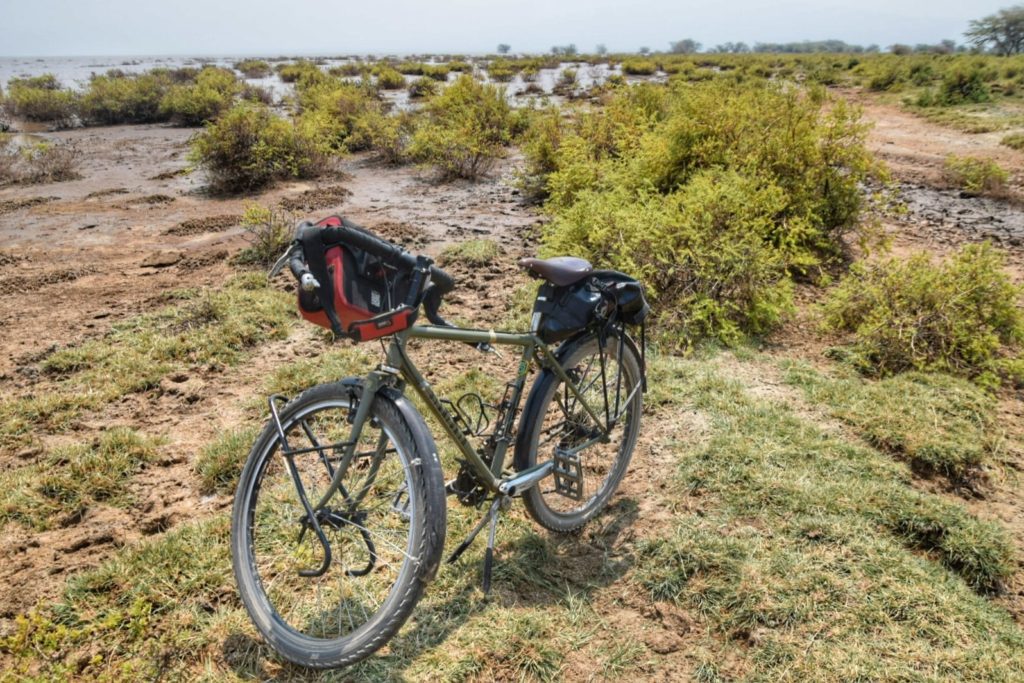 2-weeks Arusha to Dar Es Salaam
If you are planning a cycling holiday in Tanzania, and you're able to fly into Arusha and out from Dar Es Salam (or vice versa) here's a suggested route.
It basically copies sections 2 and 3 from the previously described bike touring route so scroll up for all the info.
It's not a long route, leaving you space for at least one safari and a few relaxing days in Zanzibar, maybe do some diving around Jambiani.
If you have more time or are not really interested in beaches, you can explore further Masai land by going towards Lake Manyara and Mto Wambo (check section 4 above). You will have to come back via the same road though, but hitchhiking is always an option in Africa.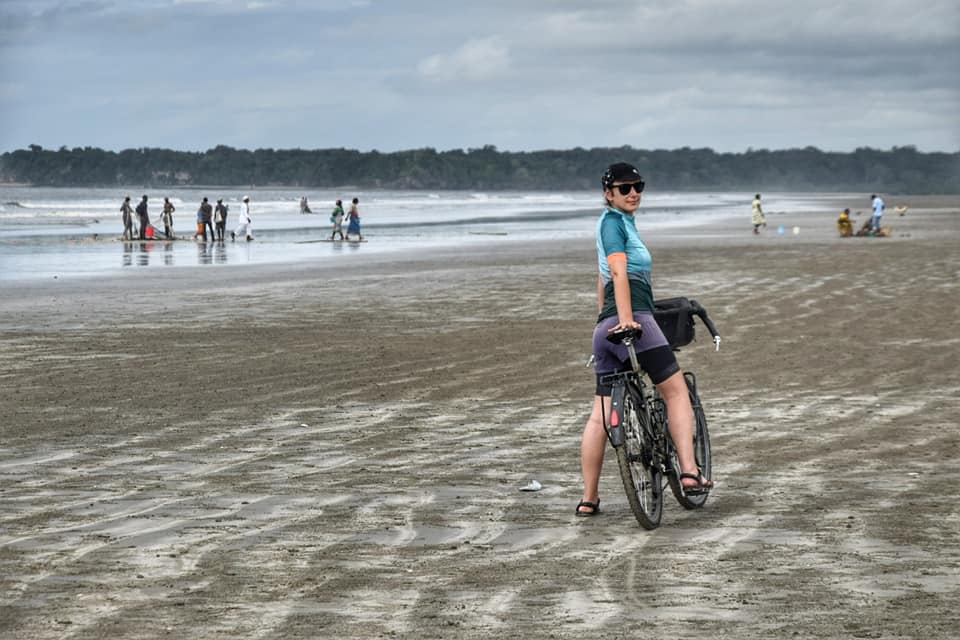 Getting food and water while bikepacking Tanzania
Tanzania is a bit weird in this, even in big centres like Moshi, Arusha, Mbeya, or Iringa you'll not find western-style supermarkets. You can still find most western goods in these cities but you'll have to look hard in smaller shops – the only proper supermarkets are in Dar.
Finding regular goods like bad-quality pasta, rice, and instant noodles is quite easy, but for some more specific canned food (ex. chickpeas) you'll struggle.
There are plenty of options though to eat out, especially if you sleep in guesthouses. Tanzania's food is nicer compared to Malawi, Zambia, or Zimbabwe, thanks to the multicultural influx in the country (Arabs, Indians, Southern Europeans).
Water from the tap is not drinkable, so you'll have to buy or refill it at guesthouses, where they sometimes have a filter.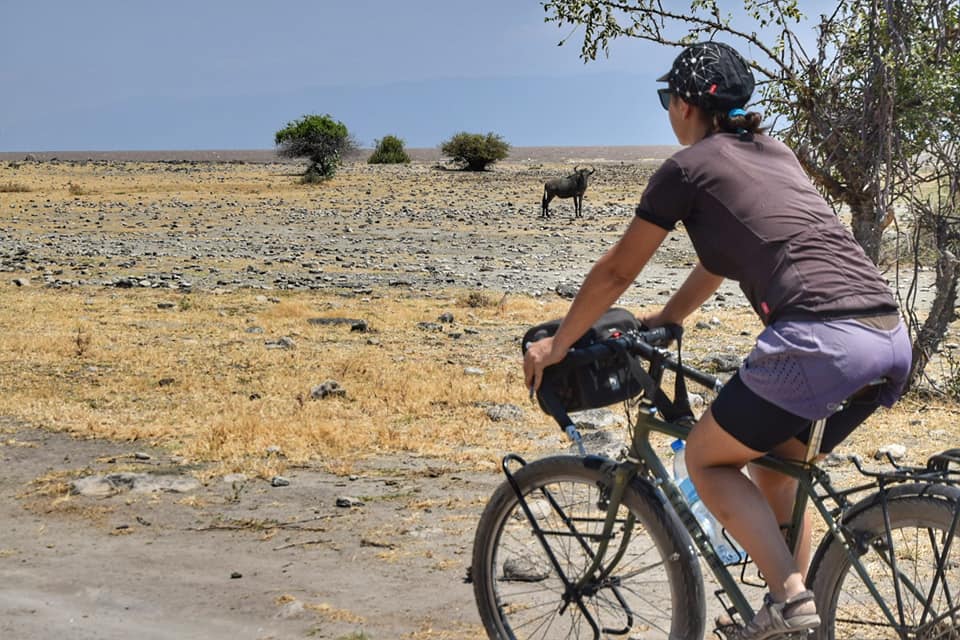 What to pack for a cycling tour in Tanzania
If you're coming in for a bikepacking trip around Tanzania you could even consider not bringing any camping or cooking gear. As previously said, there are plenty of local guesthouses available for cheap. If you want to live the experience of sleeping with the locals you could ask to sleep in someone's house, of course, offer them a readable amount of money and they'll be happy to have you.
As already stated, a mirror could be a useful accessory, for the rest, you'll just need ordinary cycle touring gear.
What bike is ideal to cycle Tanzania?
You could be able to enjoy the beauty of riding in Tanzania by staying almost always on tar roads, which makes a fast gravel bike a possible choice.
If you wish to explore more remote areas, a touring bike with 2″ tires or above is recommended, you can find some affordable travel bikes here.
If you want to purchase a bike that will serve you well for your future adventures, we have a lot of resources for that, you could start with these two articles: