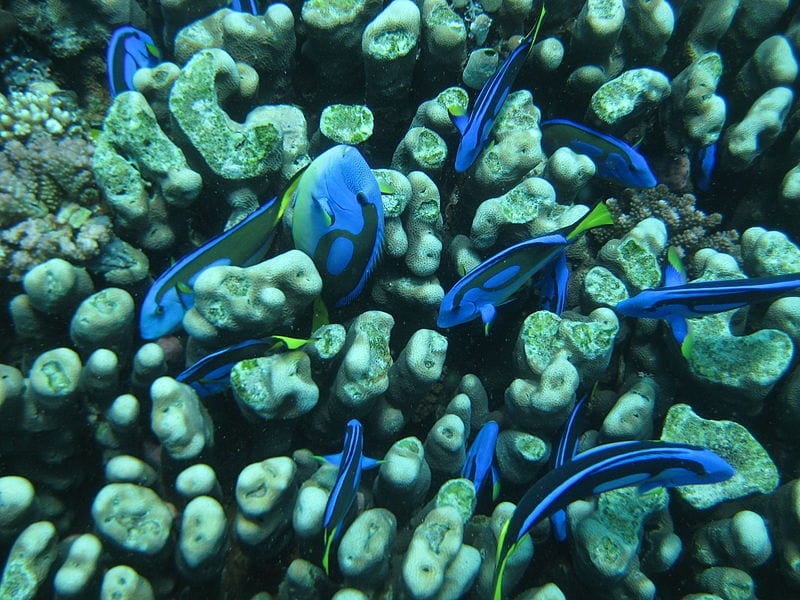 The coral reefs in the world are not doing very well sadly, but the Zanzibar Archipelago in Tanzania (Unguja, Pemba) still have the best diving spots in East Africa. Vast and majestic coral reefs are still healthy, marine life is thriving – diving in Zanzibar is still an incredible experience.
If it's true that there has been some coral bleaching in recent years, that mostly affected the shallowest reefs. Snorkeling in Zanzibar thus is not what it used to be, but for divers it's still a paradise worth exploring, especially Pemba, which is definetely one of the best places in the world for divers.
Disclosure: Some of our articles contain affiliate links. This comes at no additional cost for you and helps us keep this website up and running. (as Amazon Associates we earn commission from qualifying purchases)
The Zanzibar Archipelago
There's some misunderstanding among tourist about what really Zanzibar is, some even think it's a province in mainland Tanzania, some are convinced it's an independent country, those a bit more informed know it's an island off-shore Tanzania.
As many of you know, all of this is wrong – Zanzibar is an archipelago comprising the two main islands of Unguja and Pemba, plus hundreds of other islets, some of which have world-class diving sites.
The Zanzibar archipelago is an autonomous province of Tanzania, thus the confusion of it being an independent country, culture and some laws are different from the rest of the country.
Unguja
The island of Unguja is what people usually call Zanzibar, the capital of the region is located here and it's indeed called Zanzibar City (comprising the old colonial neighborhood of Stone Town). Unguja is separated from the mainland by a channel, about 36.5 km wide at its narrowest point.
The island is not big, about 85 km (53 mi) long and 39 km (24 mi) wide, with a total area of 1,464 km2 (565 sq mi). Zanzibar/Unguja is completely flat, no hills at all, it's almost completely surrounded by beautiful sand beaches, intermingled by bustling mangrove areas. Coral reefs are located about 1/2km off shore or near the islets.
Unguja/Zanzibar is one of the most touristic places in the whole Africa, visited every year by more than 400,000 travelers. Diving is the most common sport activity in Zanzibar, recently challenged by the rising of Kitesurfing.
Pemba Island
Pemba is a totally different story. Despite being easily enough reachable from Zanzibar, the island still sees very little tourism. Pemba is much more pristine than Unguja, both naturally and culturally – It's a very conservative island where 98% of the population follows strict Islamic costumes.
Pemba doesn't have many beaches, being mostly surrounded by thick mangrove forests, the landscape though is much more interesting with rolling hills, huge trees, swamps, and densely forested areas.
Its offshore islets though are pure uncontaminated tropical paradises, and the surrounding coral reefs are among the top 10 in the world. Pemba is probably the best spot for diving in East Africa.
Diving in Zanzibar/Unguja
Let's start by saying that, in Zanzibar, the ocean temperature is almost constant at 26C all-year-round and the average visibility is about 30/40 meters on a sunny day – not bad.
The Zanzibar Archipelago has six marine conservation areas, five around Unguja and the Pemba channel, which covers the whole West coast of Pemba Island.
Tumbatu Conservation Area (offshore Tumbatu Island, in the North-West)
Mnemba/Chwaka Bay Conservation Area (North-East)
Changuu-Bawe Conservation Area (offshore islets of Stone Town)
Chumbe Island Sanctuary (South of Stone Town)
Menai Bay Conservation Area (South-West)
Pemba Channel (West Pemba)
Another great diving area in Zanzibar, which is actually the one we recommend, is the reef offshore Jambiani, in the South-East. This reef is not protected by a conservation area yet, but it is probably the best spot to dive in Unguja.
Jambiani is still an off-beat area for scuba with only two diving operators using it, so you'll likely have a much more private diving experience compared to the other locations.
So, there are 3 main areas for diving in Zanzibar/Unguja, the North tip, the South-East coast, and the Menai Bay Conservation area (famous for dolphins), the rest of the spots are mostly enjoyed snorkeling. We recommend exploring them all if you have time.
PADI Diving Schools/Centers in Zanzibar
There are plenty diving centers in Unguja with some being very busy, especially in the north. In high season you might expect boats full with up to 10/12 divers.
If you want a more chilled and quiet experience, we absolutely recommend Pole Divers, which operates with only a few divers at the time, keeping the same prices as most competitors (70€ per dive), being ever cheaper then some.
Stefano and Abdallah, the two dive masters, are super-experienced and relaxed guys, their school is located in Jambiani, in the stunning and less crowded southeastern coast of Zanzibar. Here they know some gorgeous and unexploited diving spots with a lot of corals and thriving marine life. You can contact them through their FB page or at [email protected]
A few PADI schools have a base in Stone Town (notably one of the biggest: One Ocean Dive), but most PADI dive centers in Zanzibar (Unguja) are located along the northeastern and southeastern coasts.
Talking safety, there's only one decompression chamber in Zanzibar-Unguja, in case of accidents your dive center will escort you there.
PADI Diving in Pemba
As far as I could find out (and I did a lot of research and asked everyone), there's only one certified diving center with a foothold in Pemba, Swahili Divers (located in the far northeast of the Island).
Anyway, most resorts will be able to arrange your dives, usually calling up someone from Zanzibar – this is best arranged in advance.
Lala Lodge, a budget lodge with great food near the port of Mkoani (where the ferries arrive and depart) is able to arrange diving even at short notice.
The Best Diving Sites in Pemba
World-class diving spots are plentiful in Pemba, with a huge part of the reef still unexplored. If you only have one day to dedicate to diving in Pemba though, we absolutely recommend Misali Island.
Misali has both walls and coral mountains (the biggest is called Kilimanjaro) those are accessible to beginners, since the depth doesn't exceed 18 meters.
For those looking for more challenging dives, the gaps of Fundo Island have vertical walls going pretty deep and strong currents. Dolphins can be spotted near Kokota island.
How to get to Pemba – Ferry Schedules and Prices from Zanzibar
Pemba has its own airport which receives daily flights from Zanzibar Airport, they cost about 100$ one way.
Ferry connection to Zanzibar City happen 4 times per week (Wednesday, Thursday, Saturday, Sunday 8 am – 6 hours), while there's also a weekly ferry to Tanga (Sunday 3 pm – 3 hours), on the Tanzanian Mainland.
Fares are 30/35/40USD respectively for Economy (outdoor deck), 1st Class (indoor deck, faint AC), VIP (comfortable chairs, cool AC). Fares are the same for Zanzibar – Pemba and Pemba – Tanga.
There are also two ferry connections per week from Zanzibar City to Wete, in the north of the island (near the major diving sites). Thursday 7:30 am and Sunday 10:30 am – this is though a very long journey, about 10/12 hours.
Best Season to go Diving in Zanzibar
The best time to dive in the Zanzibar Archipelago is certainly from August to October/November, windless days, clear skies and incredible visibility. Humpback whales and sperm whales pass through Zanzibar waters around August and September, so that's another point.
From December through to February, the winds are strong (kitesurfing season), which results in bumpy boat-rides and lower visibility. It's though still a good season for diving if you have a lucky day.
The monsoon season starts usually in March and last throughout April and May. During this season diving in Zanzibar is basically impossible.
Marine Life in Zanzibar
The Zanzibar Archipelago is famous for its abundance of reef fish and large variety of small marine life. Sea creatures such as nudibranch (a type of seaslug), leaf fish, frog fish, giant clam, crocodile fish, sea horse, mantis shrimp, octopus, and huge specimens of napoleon fish are very common to spot.
There are many species of clown or anemone fish, a big population of lobsters, eels, schools of trumpetfish, lion fish, scorpion fish and a lot more!
Dolphins are very common in the Menai Bay, and turtles are also frequently spotted. Humpback and sperm whales pass near the Mnemba/Chwaka Bay Conservation Area in August/September.
Zanzibar though, is not a diving destination for big pelagic such as whale sharks, oceanic manta, great white sharks, those are very rare or not present at all. Large tunas though are everywhere.
Coral species are plenty and diverse, from cabbage coral to anemone. Live cover (including all sessile organisms) ranged are predominant at Mnemba (North) and Changuu (West).
Hard coral cover ranged are scarce in Kichwanito and plentyful at Pange. Soft corals comprise the dominant taxa in the northeastern region but ere almost absent at the western sites.
Algal cover is high at Kendawi (39%) in the northwestern part of the island, where 30% of the reef is covered with turf algae.
Overall, the northwestern and northeastern regions have the highest diversity, while western reefs, are dominated by extensive mono-stands of branching corals. "Mountains" of coral are impressive on the southwest reefs. Source: researchgate.
Accommodation in Pemba
Being still a very untouristy island, accommodation choice in Pemba is pretty limited (especially when compared to Unguja.
The only resort with a dive center is Gecko Nature Lodge, which hosts Swahili Divers, their prices are higher than Zanzibar standards at 130/200$ for two dives in nearby/far-away reefs.
In the same area is another cool and quite upmarket lodge called The Manta Resort, they also can provide PADI courses (540$ for PADI Open Water certification), and certified dive masters (min 4 dives at 52$ x dive).
Our recommendation though, especially for those on a budget, is certainly Lala Lodge in Mkoane – a slingshot from the ferry terminal. It might not have the fanciest rooms but the food is absolutely great and much cheaper than its competitors, while its beach-location is very nice.
The real value of this lodge though is its owner Denis, which will solve any problem and fulfill any request (including diving) in an affordable and friendly fashion.
Accommodation in Paje/Bajaawa – South East Zanzibar
The whole length of the coast is an infinite (20km long) white sand beach, almost entirely lined by hotels, guesthouses, and resorts of all price ranges.
We stayed in a few places during our 10-day stay in the area and checked out many others, here are some recommendations:
Our absolute favorite is Mustapha's Place, a mid range accommodation in Paje. The place is really worth more than the 40$ they charge for a double room.
The garden is stunning and the pool is one of the best I've seen on the island – big and shaded. The rooms are made with local materials, some are really pretty, some a bit less. There's a huge restaurant terrace but the food is a bit overpriced and quality depends a bit "on luck".
Where to Stay in Nungwi – North Unguja (Zanzibar)
Nungwi is the busiest part of Zanzibar, we recommend staying here if you're a party-seeker, enjoy nightlife, or love all-inclusive resorts. We'll add some of our favorite options once we get the time.
Stay in touch while we get lost! Follow us on Social Media