15+1 Best Bikepacking Bikes in 2023
Gravel, Touring, Plus, MTB Hardtail, Fat, Full-suspension, folding bikes & refurbishing a vintage bicycle for bikepacking
Let's talk bikepacking bikes. Is there something such as the best bikepacking bike? Of course not, bikepacking trips can be very different and ideally require different bicycles.
Short but extreme bike-camping overnighters are better done on hardtails or even full-suspension MTB, while gravel bikes are super-sweet for fast mixed surface bikepacking journeys and ultra-cycling.
If you plan on an extended trip, the perfect bikepacking bike could be a traditional touring bike, or maybe a plus-size rigid… and what about bikepacking on a folding bike?
In this article, we'll go through all these categories of bikepacking bikes and suggest you our favourite rigs for this year.
Disclosure: Some of our articles contain affiliate links. This comes at no additional cost for you and helps us keep this website up and running. (as Amazon Associates we earn commission from qualifying purchases)
How we compile our gear guides: during the almost 10 years of cycloscope.net our team personally tested dozens of similar pieces of gear. For what we can't test personally, we involve other people in the cycling community to give their feedback and opinion about gear they have used. Our decade-long experience in bicycle touring enables us to find the key cons and pros of every product we mention.
What's The Best Bikepacking Bike?
Here we are going to analyse what kind of bikepacking each type of bicycle is suited for, and pick our best bikepacking bikes for each category.
7 types of bikepacking bikes
& our favourites in each category
Gravel bikepacking bikes

Cannondale Topstone Alloy
Wilier Jena
Trek Checkpoint
Kona Rove LTD
Specialized Diverge E5

Touring bikepacking bikes

Kona Sutra LTD
Trek 920
Specialized Sequoia Elite

Plus bikepacking bikes

Bombtrack Beyond
Salsa Fargo
Ribble Adventure 725

Fat Bikes for bikepacking
Hardtail MTB bikepacking bikes
Full-Suspension MTB for bikepacking
Folding Bikes
5 Best Gravel Bikes for Bikepacking
Gravel bikes are becoming the staple of ultralight bikepacking. They are an agile alternative to tourers and plus that can handle center weighted loads and a certain variety of non-extreme surfaces.
So, are gravel bikes good for any bikepacking trip?
Well, not exactly. Gravel bikes suffer on hard trails with steep gradients and uneven surfaces, they are not suites for sand and mud and have a limited set of gears (although this can be upgraded).
We wrote a whole post about the topic, it's called Gravel Bike Touring – The Why and the 6 best gravels for touring, check it out to know everything about gravel+travel.
Characteristics of Gravel Bikes
Road inspired
Disk brakes
eyelets and mounting points
Longer chainstay
Compact gearing
Gravel bikes are great for ultracycling and fast-paced bikepacking trips on forgiving surfaces
Check also
> 11 best gravel bikes under 1,000/1,500$
Our favourite Gravel Bikepacking Bikes:
1. Cannondale Topstone Alloy [+/- $1,500]
best affordable bikepacking bike
The Cannondale Topstone is a highly versatile bicycle that sits firmly in the gravel category.
Since it's designed to be the ultimate combination of road racing and cyclocross bicycles, it can be considered a mixed-surface tourer as well as a 4 seasons commute bike.
At any time, with only a few adjustments, you can set up your rig for a camping bike trip, or join the group of your roadie friends.
The big tire clearance allows plenty of room for tires up to 42mm wide for comfort grip and adventurous capability.
Although the front fork does not support any eyelets for cages on either side, it is a beautiful piece of carbon fiber, with a longer-than-usual rake (55mm) for stability and hidden full-fender mounts. It is a light and performing fork, rare on a bike at this price range.
With mounts for three water bottles plus mounts for top tube storage Topstone is ready to go long. Multiple bottle cage positions on the downtube mount let you configure for big frame bags.
Read our Cannondale Topstone Sora Full Review
| | |
| --- | --- |
| max tire clearance | 700c x 45mm/1.77″ |
| gearing | 46/30 x 11-34, 9-speed |
| weight | 10.3 kg (size M) |
2. Wilier Jena [+/- $3,500]
This 700c carbon bikepacking bike is the rig Omar di Felice used for his Winter Artic World Tour, this should say a lot already.
The Jena by Wilier is ultra-versatile gravel bike, fast on tarmac, controllable on dirt, reliable on single track, and can even challenge snow thanks to the long wheelbase and a tire clearance of 44mm, pretty cool for a gravel bike.
The 2022 version mounts all SRAM components, with a standard gearing is a 38t x 11-42t.
The Wilier Jena is an ultralight bikepacking bike with plenty mounts and room for luggage, bottles and fenders, the price tag though is quite steep.
| | |
| --- | --- |
| max tire clearance | 700c x 44mm |
| gearing | 38t x 11-42t |
| weight | 9kg/20lbs (size M) |
3. Trek Checkpoint [from $3,000]
The Trek Checkpoint has been completely redesigned for 2023 and it's a hell of a bikepacking racer.
Stack/reach ratio is now 1.48 compared to the 1.42 of the 2021 model, offering an upright position that will ease fatigue on your lower back on long bikepacking rides.
Also the chainstay has been lengthen by 10mm getting to an overall wheelbase of 105mm for the M size. All this makes the Checkpoint a very stable and well-balanced bike for gravel bikepacking.
The 500 Series OCLV Carbon frame with damped Rear IsoSpeed and carbon armour is state of the art. The IsoSpeed decoupler controls rebound by absorbing impact on bumps – your back, again, will be grateful.
A built-in storage compartment is a nice addition that allows you stow basic tools inside the downtube. The internal cable routing only controls the brake, as the 1×12 SRAM Rival eTap AXS wireless electronic drivetrain is standard in all carbon versions.
Prices start from $2,400 USD for the alloy model and $3,000 for carbon frame and fork.
| | |
| --- | --- |
| max tire clearance | 700c x 45mm |
| gearing | 46-30t x 11-34t – 24 speed |
| weight | 9.75 kg/22 lbs (size M) |
4. Kona Rove LTD [from $2,500]
The rove is a popular bikepacking bike available in 650b and 700c version, in aluminium or steel frame and fork.
As it often happens with Kona products, the Rove has become the go-to bike for a plethora of bikepackers all around the world – and of course there's a reason.
A bike made for grinding miles over miles across mixed surfaces, it's kind of a light version of the Sutra, a touring classic that we'll feature below.
It has slightly more aggressive riding position compared to the touring sister. With a 1.52 stack/reach ratio (pretty gravel standard), 61 trail, 435 chainstay and 1,048 mm wheelbase.
While the declared tire clearance goes up to 48mm, it has been reported to fit up to 2.1″ tires.
| | |
| --- | --- |
| max tire clearance | 650b/700c x 48mm |
| gearing | 31-48t x 11-34t 22spd |
| weight | 11.1 kg (size M) |
5. Specialized Diverge E5 Gravel Bike [from 950$]
Best budget gravel bike for bikepacking Under 1000$
One of the most popular gravel bikes around, the Specialized Diverge and also one of the cheapest bikepacking bikes, you can get it for under 1,000$ if you go for the E5, mounting a Shimano Claris 8-speed groupset and Axis Sport Disc wheelset.
The Diverge by Specialized is a very sporty bike with a geometry slightly more compact than most competitors. It's a responsive and agile bike that goes fast on the tarmac and grinds the gravel pretty smoothly, with a max tire clearance of 42mm, pretty standard on gravel bikes.
You can think of the Diverge's geometry as a road version of a modern trail bike. It cuts the corners and skids on dirt quite playfully but keeps stiffness up enough to satisfy your inner-racer.
To achieve this, Specialized lowered the bottom bracket (over a half-centimeter lower than the previous Diverge), slacked out the head tube angle, shortened the chainstays and the overall wheelbase.
The aluminum frameset and carbon fiber fork are high quality, but for its geometry and general building, the Diverge is certainly not a bike meant to carry heavy loads.
> Available in Uk and Europe from Tredz
A cheap bikepacking bike for overnight adventures on mixed surface
| | |
| --- | --- |
| max tire clearance | 700x38c |
| gearing | 46/34T x 11-34t 8-speed |
| weight | 10.3 kg (size M) |
3 Best touring bikes for bikepacking
Touring bikes are meant for traveling long distance, they are sturdy and durable, comfortable and easy to handle when heavily loaded.
Although different brands and models of touring bikes can feature different designs and materials (steel, aluminum or even titanium), they have somehow similar characteristics, they are somehow a compromise.
Touring bikes handle pretty well a variety of terrains, without really excelling in any. They are heavy and sometimes a bit clumsy when ridden unloaded.
Characteristics of touring bikes
Long wheel base
long chainstay
upright position
perform best when heavy loaded
Touring bikes are the best bikes for long distance bikepacking expeditions
Learn everything about touring bikes
> 17 best touring bikes under 2,000$
> 11 best touring bikes under 1,000$
Our favourite touring bikes for bikepacking
1. Kona Sutra LTD – 2021 [+/- $1,600]
The Kona Sutra is well known and appreciated 29er in the universe of long-distance bickepacking. A reliable machine that has delivered adventurers in the most remote corners of the world.
The range of components are just perfect for bike touring, Shimano stuff is easy to find everywhere in the world, so no hassle for replacement and servicing.
The 2022 version goes for a single front-chainring, a new trend taken from the gravel world, that is contaminating the classic bike-touring world. The range of gear is still ideal for most conditions, max-speeds can be lower, but do you really care?
The new Kona Sutra features SRAM components instead of the classic Shimano. SRAM is by no means inferior in quality, but availability might be rarer.
This is a real adventure bike one we often met during our bike trips around the world, a real classic
| | |
| --- | --- |
| Tyre Clearance | 29″x2.2″ / max 55mm |
| Gearing | 36T x 11-42t / 11 speed |
| Weight | 12.8kg (M-Size) |
2. Trek 920 Disc 2021 – [+/- $2,000]
The trek 920 is one of the most popular bikepacking bikes of the last few years – maybe for its cool and aggressive look, maybe because the design follows the market trends, maybe because is a great and versatile bike.
Tubless ready tyres, hydraulic disc brakes, 2 speed chainrings (42/28t), the 920 looks ready for any kind of trail.
The 920 comes set up with Bontrager Duster Elite 29er wheels, and clearance for up to about 29×2.25", the frame is an 100 Series Alpha aluminum w/rack + fender mounts, while the fork is the Trek Adventure alloy disc – so full alloy here.
The hydraulic disc brakes are ideal for extreme trails but maybe not for a round-the-world expedition.
The bike has a very low and stretched position, with a 100mm long stem, an aggressive geometry for a sporty approach to any bikepacking adventure.
| | |
| --- | --- |
| Tyre Clearance | 29″x2.25″ / max 55mm |
| Gearing | 42/-28T x 11-36t / 10 speed |
| Weight | 12.9kg (M-Size) |
Specialized Sequoia Elite [+/- $1,400]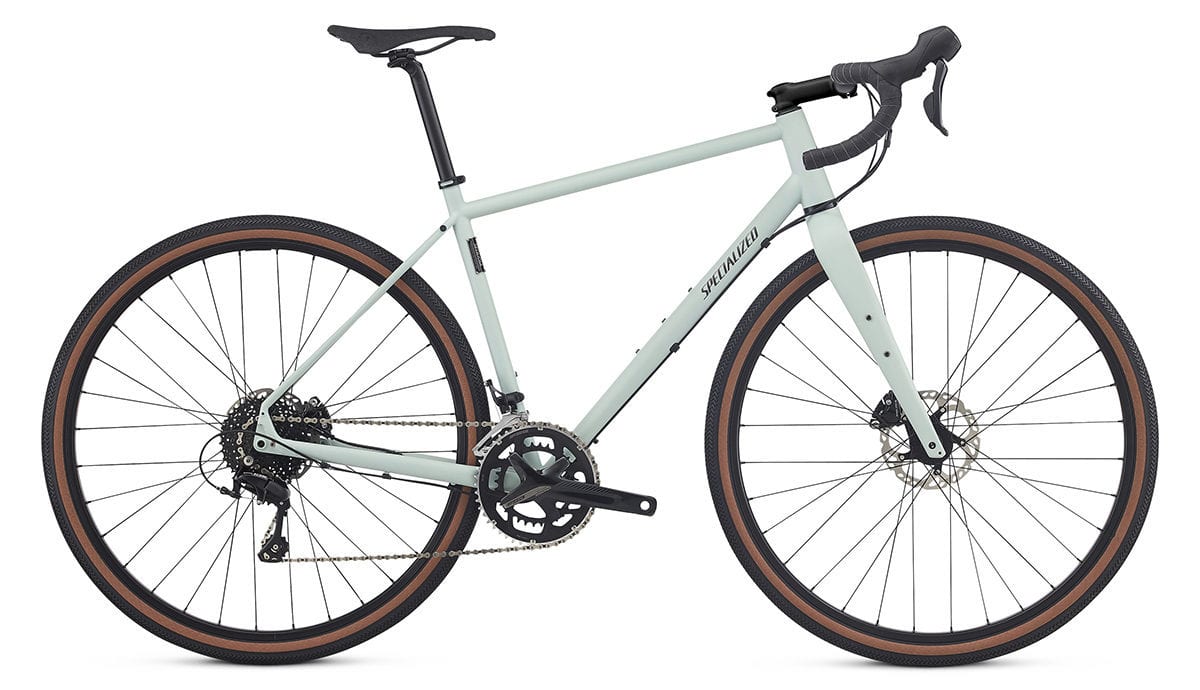 The Specialized Sequoia goes above and beyond what is typically expected from a bike, providing you with the opportunity to venture out into the wilderness.
The path to adventure starts at the frame, which is constructed from Premium Cr-Mo and stainless steel tubing. These materials are coveted for their strength, respectable weight, and tuned ride quality.
The Sequoia takes this a step further by selecting tubes that are specific to each frame size, further ensuring that every frame rides exactly as intended. Of course, this is only a piece of the equation, with the next being its dedicated Adventure Geometry.
This geometry is unique in that it skews the line between a traditional road bike and a dedicated touring rig. You'll find an ample wheelbase and low bottom bracket for control, but the chainstays and tube angles ensure that you'll be able to travel efficiently and quickly, regardless of whether or not your rig is loaded.
Digging into the details, the frame is outfitted with an ample number of mounts for water, racks, and fenders.
For the build the Specialized Sequoia features reliable parts perfect for facing a wide array of terrain, these include a mix of sturdy Shimano components, fuss-free mechanical disc brakes, and hand-built Hayfield wheels that are cased in wide, 2Bliss Ready tyres.
For the latest version, Specialized chose to follow the latest trends in bikepacking gravel bikes reducing the number of speeds to only 9 but with a huge granny 42t pinion as lower gear.
The front derailer thus disappears, leaving you with a single 38t chainring, the maximum speed is thus limited to below 40km/h. The advantage is simplicity, fewer things can go wrong when you have fewer components.
The aggressive adventure geometry that provides ample confidence over rough and smooth terrain, alike. The frame is equipped with fender & rack mounts.
The full carbon fork features eyelets for fenders or bikepacking cages, and it's strong enough to withstand medium/heavy loads without any problems. It's light-weight and features internal cable routing for your lights.
The hand-built Adventure Gear Hayfield wheels are cased in 700x42mm 2Bliss Ready tyres to be burly and tough as a mule.
Great adventure travel bike to tackle the most difficul trails, especially fit for bikepacking setups
| | |
| --- | --- |
| Tyre Clearance | 700c x 45c |
| Gearing | 48-32T x 11-36t / 22 speed |
| Weight | 10.8 kg (M-Size) |
3 Best Plus Bikepacking Bikes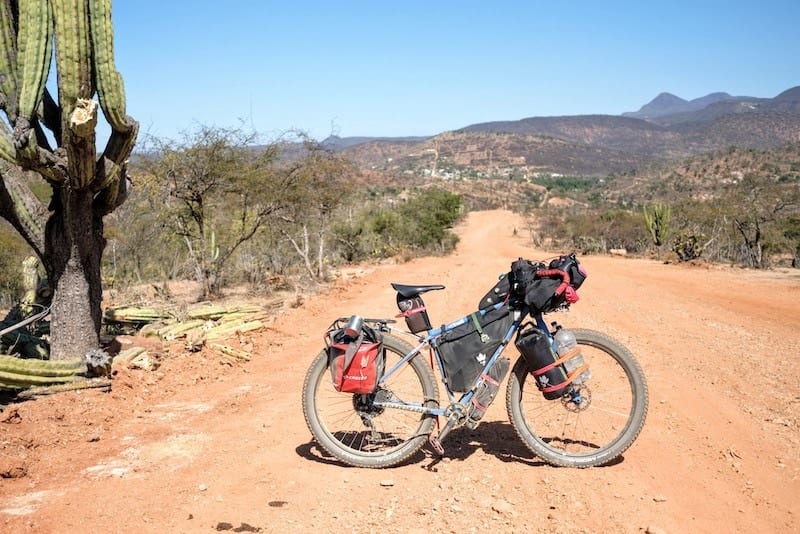 Plus bikes are kind of a novelty. Their main characteristics are a sloped geometry and more importantly a huge tire clearance, not quite like a fat bike but up to 3″ or more.
Plus bikes also often feature simplified gearing and transmission, often 1×11 or 2×10. They are somehow rigid-fork steel mountain bikes with drop bars (although a few flat bar options are around).
Plus bikes are meant to be adventure bikes and are really catered towards the bikepacking fanbase.
They perform at their best with bikepacking bags but can also be loaded with lateral panniers and trunk bags… touring vs bikepacking style, you can do both on a plus bike.
Characteristics of Plus Bikes
.wide tire clearance
.mountain bike geometry
.reduced gearing

Plus bikes are real adventure bikes, the ideal choice when touring for an extended period of time on difficult mountain roads
Check also
> Cinelli Hobootleg Geo
Our favourite Plus Bikepacking Bikes
1.
Bombtrack Beyond – 29er Touring Expedition Bicycle [+/- $1,800]
This expedition machine has been one of our favorite since it was introduced in 2016.
The Bombtrack Beyond features a single-speed chainring (30T) and a 12 speed 10-52T as the drive train of choice, a great set of gears capable of bringing you up the steepest and roughest hills.
The carbon fork reduces the weight but still offers triple fork cage mounts.
Although Bombtrack still offers different handlebar options, the Jones Loop Bar will be the standard now. They might seem a little weird, but they offer more hand positions, helping the shoulders and upper body stay relaxed for hours in the saddle.
Designed as a bike packers dream, the Beyond features mounting options for front and rear racks as well as up to five water bottle cages.
The Bombtrack Beyond is just what I would use for extreme off-road bikepacking expeditions
| | |
| --- | --- |
| max tire clearance | 29" x 2.1" |
| gearing | 1 x 30 T / 12-speed, 10 – 52 T |
| weight | 12.9 kg (size M) |
2. Salsa Fargo Apex [+/- $2,500]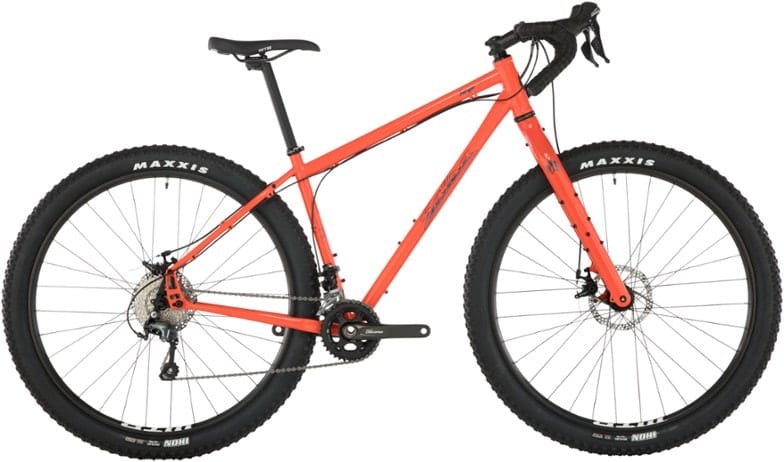 Salsa attacks frontally the bikepacking market with its latest version of the classic Fargo.
Far from the traditional geometries that characterized the Salsa Fargo in the past, since 20129 the Fargo has meet or anticipated all the latest market trends for off-road touring: wide tyres (up to 3.0″), small chainrings (36/26t) and big grannies in the back (10 speed 11-34), aggressive geometry, and carbon fork.
The new Salsa Fargo gives the rider a well balanced mix of rollover, traction, and bump absorption.
The Firestarter 110 carbon fork, has a dual sets of Three-Pack mounts on each fork leg, low rider rack mounts, and internal dynamo hub wire routing. Features the Salsa trademark Woodchipper handlebars.
An amazing off-road adventure machine – great for extreme bikepacking trips
| | |
| --- | --- |
| max tire clearance | 29" x 3.0" / max 58mm |
| gearing | 26-36t T / 12-speed, 10 – 52 T |
| weight | 11 kg / 24.5 lbs (size M) |
3. Ribble Adventure 725 [from $1,400]
This is a very interesting and innovative bike, with amazing specs and a great price tag. The Adventure 725 by the British manufacturer Ribble Cycles (in business since 1897) features a weird-looking thin Reynolds 725 tubing with a very "contemporary geometry".
Handcrafted from steel which is renowned for offering the most compliant of rides as well as being a highly durable material due to its high tensile strength, the carefully profiled tubing also results in the lateral stiffness not being compromised. This carefully thought-out geometry also offers the maximum balance between control and long-distance and mile eating comfort (at least according to Ribble).
The mammoth tyre clearance for tyres up to 2.8" on it's 27.5 wheels is absolutely great for those who want to venture on sandy tracks, this is one of the widest tire options in this list.
Added versatility is given by the several mounting points for racks (that can be doubled to use bikepacking cages), three bottle mounts, and fender mounts. The 11/42T 10-speed cassette gives a great granny gear that should be able to bring you up the steepest tracks.
The Ribble Adventure 725 is an innovative bikepacking bike, great to tackle extreme roads in comfort
| | |
| --- | --- |
| max tire clearance | 27.5" x 2.8" / max 56mm |
| gearing | 26-36t T / 11-42 T |
| weight | 12 kg / 26.6 lbs (size M) |
Fat Bikes for Bikepacking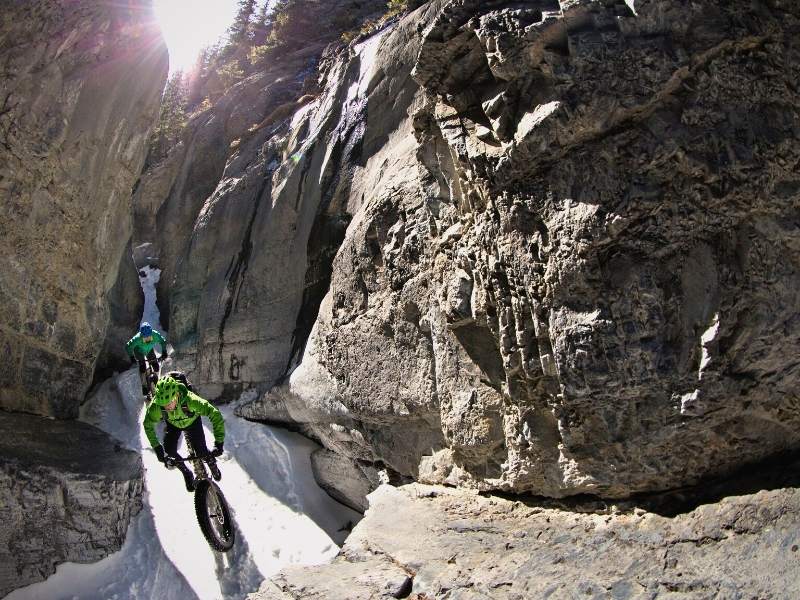 Fat bikes are exactly what they sound like, bikes with very fat tires – typically 3.8″ (97 mm) or even wider.
Fat bikes are meant to ride in all terrain conditions, including snow, ice, and thick sand. They are also quite heavy though, and replacement parts can be hard to source.
Characteristics of Fat Bikes
Fat tires/All terrain
Natural suspension
MTB geometry
Fat bikes are meant for unique expeditions – if planning to ride across deserts, snowed mountains, or artic latitudes in winter a fat bike is what you want, otherwise… look elsewhere
Our favourite bikepacking fat bike
Surly Pugsley [+/- $1,900]
A bicycle specifically designed to handle sand and snow. Surly claims this bike the "ultimate expedition bike tailored for off-road touring and exploration".
The mammoth tire clearance of 26″ x 4.8″ tires in the back (with drivetrain restrictions) and 26″ x 4.3″ tires in the fork allows you to play with pressure and ride in comfort on almost any surface imaginable.
The rims are (80mm) dual hole pattern, Tubeless Ready rims custom made by Surly. Paired with Surly Edna, 26×4.3, 60 TPI, Tubeless Ready Tires they are a semi-invincible couple
The longer chain stay guarantees heel clearance for panniers, although a proper rack should be used, such as the Surly Nice rack.
All the eyelets you might need are brazed-on the inside and outside of the frame. The forks is bikepacking cargo cages ready.
The Surly Moloko Bar offer a different variety of hand positions and space for electronics, which is what you want for extended bikepacking expeditions.
The gear is a 1X11 setup, with an 11/46 rear cog and a 30T chainring.
The Surly Pugsley is relatively affordable for a fat bike at just 1,900 USD.
| | |
| --- | --- |
| max tire clearance | 26″ x 4.8″ back / 26″ x 4.3″ front |
| gearing | 1X11 11/46 |
| weight | 15 kg (size M) |
Hardtail MTBs for Bikepacking
Hardtail MTBs are great for bikepacking and although not the best bikes for touring, some are better than others at handling multiple days adventures.
Some aluminum Hardtail perform great even on month-long expeditions, and if you really wanna get lost in the trails, what's better than a mountain bike?
Hardtail MTB nowadays would prefer to be loaded in a bikepacking style vs a lateral panniers setup, but a proper MTB designed for multi'day adventures shouldn't have no problems handling two small rear panniers.
Check also
> Mountain Bike Touring – The MTB Set-Ups for Bikepacking & Cycle Camping
The best hardtail MTB for bikepacking (IMHO)
Salsa Timberjack
The Timberjack by Salsa is one of the most touring/bikepacking friendly harteil MTB on the market.
Well-versed in singletrack and trail exploration, this rig also blinks an eye to the bikepackers out there with its many braze-ons mounting points and sturdy construction with 32 holes rims.
The geometry is comfy for a trail monster as this: a long top tube and wheelbase, low bottom bracket, slack head tube angle, and steep seat tube angle.
A complete builds can be purchased for as low as $1,699.
| | |
| --- | --- |
| max tire clearance | 27.5 X 2.8" / 29 X 2.6″ |
| gearing | 32T x 12-Speed, 10-51T |
| weight | 13 kg (size M) |
Full Suspension MTB for Bikepacking
While hard tail are certainly more suited for traveling, full Suspension MTBs can still be used for extreme weekend bikepacking adventures. Frame bags for full suspension MTB are also manufactured.
Full suspension MTB bikepacking is actually becoming more and more popular, indeed frame bags for full suspension MTB are also manufactured.
Full-Suspension though, with their many moving parts, are sadly prone to failure. They are also quite hard to pack and don't handle eccessive load – you'll really have to go minimalistic when bike camping on a full-sus.
Our favourite full suspension MTB for bikepacking
Kona Hei Hei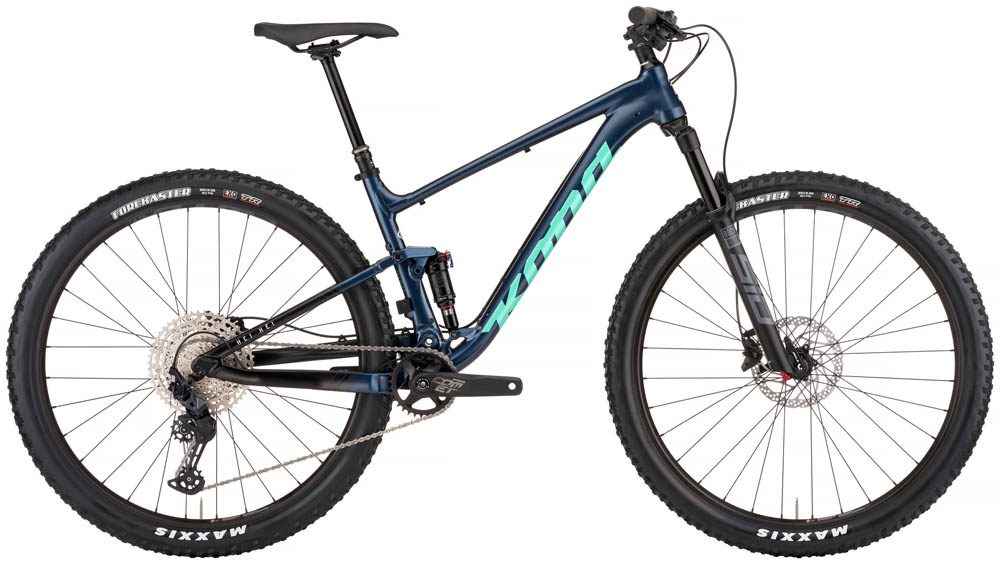 The Kona Hei Hei a superbe alloy full-suspension MTB that has proven itself bikepacking worthy.
It features a durable and light-weight Race Light Aluminium frame, a RockShox suspension fork and hydraulic disc brakes.
Fork travel is 120mm in the front and 100mm rear, just right for bikepacking. The drive train is a Shimano Deore 1×12-Speed group set with a 10-51T cassette.
This bike offers stable all-terrain control, smooth gear shifting, and powerful all-weather disc brake power.
Lightweight and Durable Cross Country Full-Suspension Trail Bike for Bikepacking
| | |
| --- | --- |
| max tire clearance | 29 x 2.5″ |
| gearing | 1 X 30T / 10-51T 12-Speed |
| weight | 11.8 kg (size M) |
Folding Bikepacking Bikes
Folding bikes make it easy to transport your rig when traveling – plane, taxi, train, buses… folding bikes can pack small and often be checked as regular luggage..
They also allow you to avoid boring or dangerous sections, since you can easily haul them onto a train or hitch a ride, saving your time to explore more interesting areas.
Folding bikes are also much more welcome in hotel rooms, where full size bikes are often banned or frowned upon, and even inside your camping tent if there's a safety concern.
The main cons of folding bikes are their small wheels, innate fragility, and scarce parts availability.
Learn more about
> Folding bike touring & the 6 best foldable bikes for bikepacking
Folding bikes are the best travel bikes for those who want to bikepack across large distances in a limited amount of time
Our favourite folding bike for bikepacking
Tern Verge X11 – (+/- $2,500)
The Verge X11 is a very tantalizing folding bike. Super speedy, with a wide range of gears and a solid construction.
It comes with a large ratio cassette and SRAM Force 1x drivetrain. That means easy maintenance and gearing that will feel similar to a road bike.
With its 22″ wheels, it sets between a small-wheeled Bromtpon M6L and large-wheeled Airnimal Joey.
You also get Kinetix Pro X wheels, Schwalbe Durano tires, and a durable adjustable stem.
The Verge X11 is a bit pricey at about 2,499USD.
| | |
| --- | --- |
| max tire clearance | 700c x 45mm/1.77″ |
| gearing | 1×11 / SRAM X1 carbon 52T x 10-42T |
| weight | 10.2kg |
Refurbishing a vintage bike for bikepacking
Old MTBs from the 80s and 90s have been repurposed for touring since they exist, carrying thousand of budget adventurers around the world in the most remote places of our beautiful Earth.
Bikepacking is not just for those with a decent bank account and a powerful passport.
Although there is no doubt that, as a rule of thumb, you get what you pay for, I like to say that every bike is a bikepacking bike, as long as you put on some bags and go explore.
In this article we wrote extensively about
how to turn a free or cheap piece of junk into your next touring bicycle
Check Also
> Cheap Bikes! The Best Budget Bicycles in All Categories
FAQs About Bikepacking Bikes
What bikes are best for bikepacking?
Cannondale Topstone Alloy
Specialized Sequoia Elite
Can any bike be used for bikepacking?
Basically any kind of bike can be uses for bikepacking if you manage to mount bikepacking bags on. The best types of bikes for bikepacking though are certainly: gravel bikes, touring bikes, fat bikes, plus bikes, Hardtail MTBs.
Are gravel bikes good for bikepacking?
Gravel bikes are becoming the staple of ultralight bikepacking. They are an agile alternative to tourers and plus that can handle center weighted loads and a certain variety of non-extreme surfaces.
So, are gravel bikes good for any bikepacking trip?
Well, not exactly. Gravel bikes suffer on hard trails with steep gradients and uneven surfaces, they are not suites for sand and mud and have a limited set of gears (although this can be upgraded).
Are Hardtails good for bikepacking?
Hardtail MTBs are great for bikepacking and although not the best bikes for touring, some are better than others at handling multiple days adventures.
Some aluminum Hardtail perform great even on month-long expeditions, and are literally the best bikes to get lost in the trails.
Hardtail MTB nowadays would prefer to be loaded in a bikepacking style vs a lateral panniers setup, but a proper MTB designed for multi-day adventures shouldn't have no problems handling two small rear panniers.
Is a fat bike good for bikepacking?
Fat bikes are great for bikepacking! They can go really off-the-beaten-path across sand, snow, and rocky surfaces.
Can I use a hybrid bike for bikepacking?
Hybrid bikes usually have rear carriers so can be equipped with regular bike panniers. Of course there's no problem in mounting bikepacking bags on a hybrid bike, step-through frames though don't have space for frame bags.
Can you use a road bike for bikepacking?
Although most people often connect bikepacking with off-road cycling, bikepacking is really just a style of carrying load for multi-day bike trips. A road bike is perfect for ultralight bikepacking if you'll be using only tarmac roads.
Do bikepacking bikes have suspension?
Suspensions can be useful on bikepacking bikes when used for off-road adventures. Some gravel bikes have other forms of suspension, either naturally provided by the geometry or using new tech such as IsoSpeed Decoupler.
Stay in touch while we get lost! Follow us on Social Media