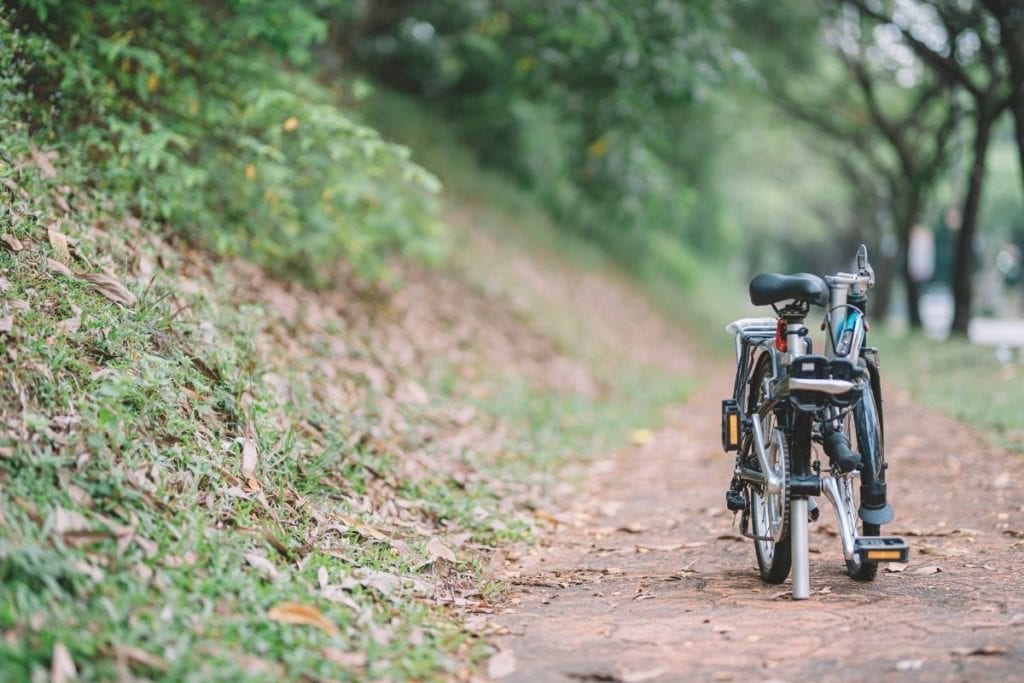 The Cons and Pros to Help You Decide Whether or Not Folding Bike Touring is For You + the 6 Best Folding Bikes for Touring and bikepacking in 2022
Folding bike touring, or touring on a folding bike is a style of bicycle travel that has never really become popular, despite it's many advantages.
The best folding bikes for touring though, are getting better and better every year, which shows an attention from the foldable bikes manufacturers towards this small but promising niche.
Folding bikes for touring allow bike travelers to move their rigs easily into transports – plane, taxi, train, buses… whatever.
Being foldable and compact, they help you get to your starting point much more conveniently than regular touring bikes, but also give you the power to avoid boring or dangerous sections, since you can easily haul them onto a train or hitch a ride, saving your time to explore more interesting areas.
Folding bikes are also much more welcome in hotel rooms, where full size bikes are often banned or frowned upon, and even inside your camping tent if there's a safety concern.
Plus, with the raise of bikepacking style, more and more compact bags are out in the market that could fit on the smaller frame of a folding bike.
In this article, we are going to go through the good and the bad about touring on a foldable bike, before getting into our picks for the best folding bike for touring and bikepacking.
Check also

> Touring on a Tandem and the best couple adventure rigs
> Gravel Bikes for Touring and Bikepacking? Our Best 5
> Cheap Bikes! The Best Budget Bicycles in All Categories
What is a Folding Bike?
Disclosure: Some of our articles contain affiliate links. This comes at no additional cost for you and helps us keep this website up and running. (as Amazon Associates we earn commission from qualifying purchases)
How we compile our gear guides: during the almost 10 years of cycloscope.net our team personally tested dozens of similar pieces of gear. For what we can't test personally, we involve other people in the cycling community to give their feedback and opinion about gear they have used. Our decade-long experience in bicycle touring enables us to find the key cons and pros of every product we mention.
Folding bikes are differentiated from other bicycles on the market by one defining characteristic: they fold.
The collapsible nature of these bikes means they're ideal for anyone who wants to ride to a train station and take their bicycle with them for the journey on the other side.
I put together this list of cons and pros to help you decide whether or not folding bike touring is for you.
Pros of folding bike touring
Folding bikes are cheap to fly with – The biggest benefit I have found to folding bike touring is that they are cheap to take on a plane. The bike will fly as a regular checked bag with most airlines as long as you can pack the bike down into a package weighing less than 50 lbs (23 kilos) and with dimensions totaling less than 62 linear inches (158 cm). On international flights where one checked bag is included in the fare, checking a folding bike is usually free.
You can take them on trains, buses, and in taxis – Even if bicycles are disallowed, you can simply fold up the bike, slip it into a bag, and nobody will know what it is. This gives you the freedom to skip dangerous or boring sections while touring.
You can explore more easily with a folding bike – Maybe while you are touring you decide you want to take a budget flight to another country or a nearby island. With a folding bicycle, you can pack it up and fly hassle-free. If you tour on a full-size bike, these side trips will be cost-prohibitive.
Folding bikes are allowed in hostel and hotel rooms – Many hotel managers disallow taking bikes into the rooms. Bikes are dirty and take mud and oil into the room. While understandable, most bicycle tourists hate this policy. But because folding bikes can be stored away in a large bag and are much smaller, it is generally less of a problem to bring bicycles into the room.
Folding bikes are easier to pack up for travel – You don't need to go through the pain of finding a full sized bike box, if you're flying. You can make an appropriately sized box by taping and cutting smaller boxes to size. As for traveling by bus or train, you can just carry a folding bike bag and store the bike inside it.
You don't have to worry as much about getting stranded – You can haul your folding bike in even the smallest of cars, if there's a catastrophic failure and you can't ride it. This is impossible with a full-size bike.
You can bring your folding bike into your tent – You can fit the folding bike inside your tent, if you travel with a two-person tent, to protect it from harsh weather or theft. You can store your bike inside while you're away, if you're staying at a campground.
Folding bikes are a conversation starter – Everyone wants to see how the bike works and learn about it. Meeting people and making friends is easy with a folding bike.
Cons of touring on a folding bike
Some components wear out more quickly – In particular, rims, hubs, and touring tires. These parts won't last long on a folding bike. Because they need to make more revolutions to transport you the same distance as a full-sized bike.
Folding bikes have proprietary parts – All folding bikes have at least a few non-standard parts that are brand-specific, although some brands are better about this than others. You'll have to buy a replacement from the manufacturer if one of the parts wears or breaks out. Third-party options are usually unavailable. You may have trouble finding some parts if your brand goes out of business.
Folding bikes are fragile – They just can't take the beating that a full-sized bike can. The hinges make for a weak spot in the frame, so they're not as strong as regular touring bikes.
Folding bikes are more expensive – The full-sized bike will have much better components, if you compare a folding bike with a full-sized bike of the same price. A similarly specced folding bike will be far more expensive. This is due to the cost of making the bike more portable.
Folding bikes carry far much less weight – Folding bikes have a lower carrying capacity because of the hinge and long seat tube and stem. Most folding bikes can haul about 110 kilos or around 240 pounds. A decent full size touring bike can easily carry 300 pounds, for comparison. Some carry much more.
Folding bikes ride rougher than full sized bikes – Folding bikes don't roll over potholes and bumps as easily, because of the smaller wheels. This means that folding bikes are less serviceable for gravel and off-road riding.
Folding bikes look kind of funny – Riding a tiny bike, you'll look like a clown to passersby. Some people don't care one way or the other, but others seem bothered.
Because it is so easy to throw the folding bike on a train or bus, you'll most likely ride less than if you were traveling with a full sized bike. For bicycle touring purists, this is a proper sin.
Because of the smaller wheels, folding bikes are less efficient. You will expend more energy to keep the bike rolling.
The 6 Best Folding Bikes For Touring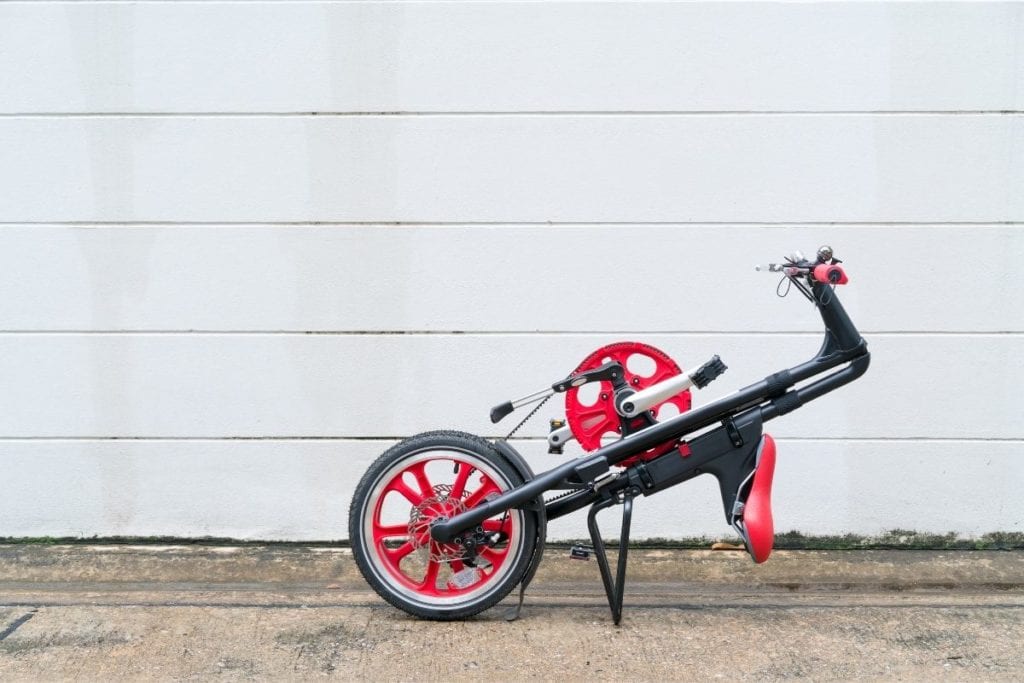 Having listed the pros and cons of folding bikes, if you decide it's for you, then here's our recommendation on the best folding bikes for bicycle touring.
Few companies make folding bikes that are suitable for touring. They each have weaknesses and strengths.
1. Dahon Mariner D8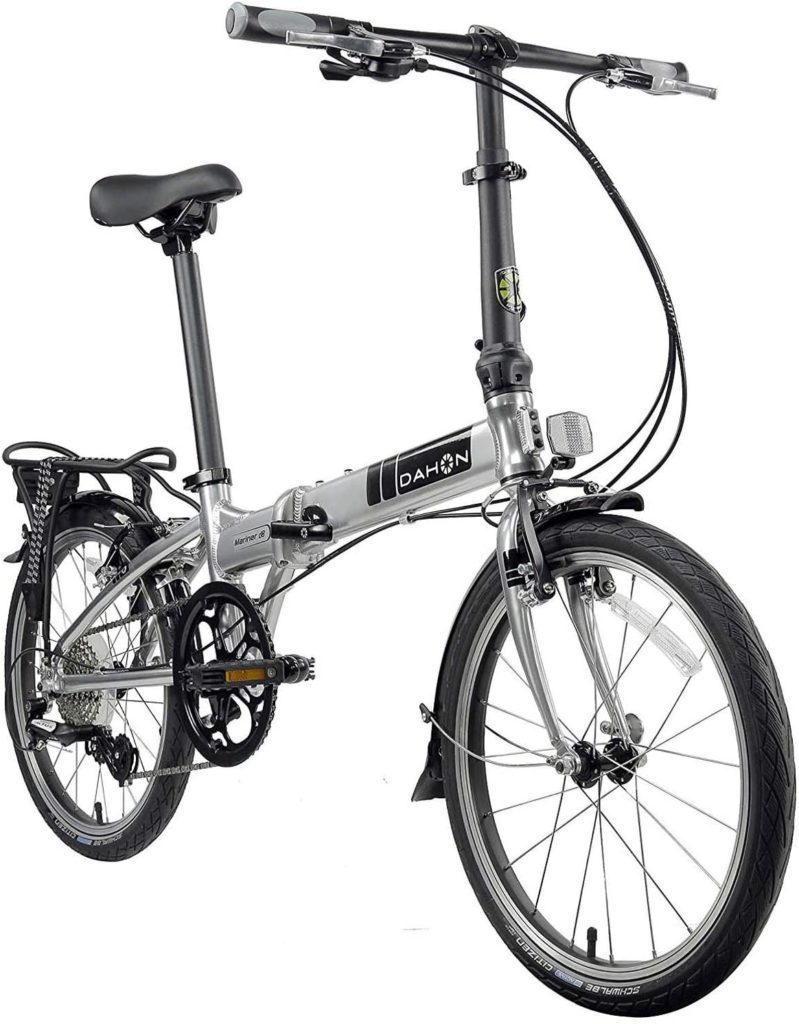 Dahon is a budget folding bike. The Mariner D8, one of the most popular models from US outfit Dahon, sees a Lattice forged hinge with Vicegrip technology and is made from the brand's Dalloy Sonus Tubeset.
The bike, rolling on 20 inches wheels, comes with full-coverage fenders, a rear rack, V-Brakes, and sees an 8-speed Shimano Altus drivetrain.
Price: $749
Weight – from 27.69lbs / 12.56kg
2. Brompton M6L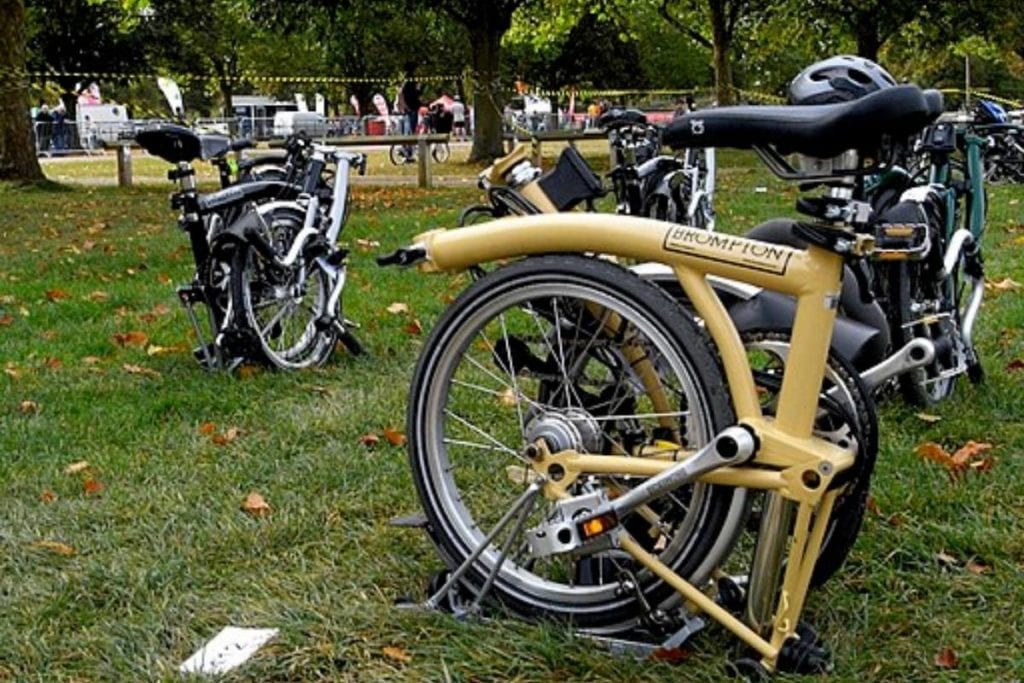 The Brompton is arguably the most popular folding bike for touring. The reason they're so popular is that, at just 585 mm X 565mm X 270mm, they have the most compact fold of any folding bike.
Because of the use of small 16-inch wheels as well as the iconic Brompton design, they're able to achieve an incredibly small fold.
You can slide the Brompton into a bag when folded. And it becomes a standard piece of luggage. You can take it with you on pretty much any plane, bus, train, and busy public transportation. Nobody will know that you have a bike with you.
Brompton bikes are high quality. They are handmade London from durable parts. People generally get many years of good use out of their bikes.
Price – $1,644
Weight – 25.97lbs / 11.78kg.
3. Airnimal Joey
Airnimal Joey is the go-to bike if you're someone who wants a bike that's a blast to ride but still takes up little space.
This is a larger wheel folding bike for touring: the Joey sees 24 inches wheels, giving it a road-like ride quality.
To allow for off-road use, tires are available in sizes up to 2 inches. If you prefer, you can stick to skinny 1 inch rubber for quicker rolling on the road. This model uses disc brakes and an 8 speed Shimano Alfine hub gear system.
The large wheel size means that the bike is more cumbersome to transport, when folded, than a 16 inches foldable bike.
Price – $NA / £1599
Weight – from 29.7 lbs / 13.5kg
4. Tern Verge X11
The Verge X11 is a tantalizing option if you're after something super speedy, and price is no issue. With 22″ wheels, it comes between small-wheeled Bromtpon M6L and large-wheeled Airnimal Joey.
It features a large ratio cassette and SRAM Force 1x drivetrain. That means easy maintenance and gearing that will feel similar to a road bike.
You also get Kinetix Pro X wheels, Schwalbe Durano tires, and a durable adjustable stem.
Price: $2,499
Weight – Weight: from 23.83lbs / 10.81kg
5. Bike Friday DIAMOND LLAMA
Bike Friday is the company you should be looking at if you're particularly tall (or heavy). They're one of few manufacturers that offer different frame sizes. The frames are durable and made of steel. They are able to pack down to fit into a carry-on size suitcase and use 20-inch wheels.
Bike Friday use all of the shelf parts except for folding mechanism and the frame. This is their biggest benefit. There are no other proprietary parts. You will find replacement parts wherever you tour.
Price: $1,875 weight
Weight 26.5lbs (saddle and pedal not included)
6. Birdy GT 10SP
These bikes are of very high build quality and offer full suspension. The frame, lacking a hinge, adds durability and strength. A wide range of gearing options is available with both internal gear hubs and derailleurs. Birdy bikes are a go-to foldable bike for touring.
Birdy bikes are about the same as a Dahon and larger than a Brompton, fold wise. When folded, they measure about 80 cm x 62 cm x 34 cm. They fit into a standard airline acceptable case.
Their tire, Schwalbe Black Jack, has the dimension 18×1.9″.
Price – $2,330
Weight – 10.3 kg
Final Thoughts on Touring with a Folding Bike
Folding bicycles are all about compromise. The main trade-off is between foldability and cycling performance.
Generally, the smaller or more compact the bike, the less suitable it is for long-distance cycling.
16″ folding bikes have a small fold, but tend to feel tedious on rides over one hour compared to bikes with larger wheels.
Stay in touch while we get lost! Follow us on Social Media