Cheap bikes! Affordable, low-price, budget bicycles
City bikes, MTB, hybrid, road bikes, touring, foldable. The best & cheapest bikes in each category – For adult men and women
Cheap bikes! In this article, we'll go through a list of the best budget/affordable bicycles for each category. You'll find the cheapest road bikes, gravel, touring, hybrid, city bikes, MTB, and folding bikes – all of them a great bang for the buck!
Cheap bikes are often synonymous with low quality, but a low-price bike doesn't always mean a crappy bike. There are some great deals out there, good, affordable bikes that will serve the purpose of those on a budget.
We've carefully selected the cheapest bikes for each category that still guarantee safety, reliability, and enjoyment, go through our list of cheap women's and men's bikes and find your next two-wheeled friend!
Affordable, Budget, and Cheap Bikes in a Nutshell
Disclosure: Some of our articles contain affiliate links. This comes at no additional cost for you and helps us keep this website up and running. (as Amazon Associates we earn commission from qualifying purchases)
How we compile our gear guides: during the almost 10 years of cycloscope.net our team personally tested dozens of similar pieces of gear. For what we can't test personally, we involve other people in the cycling community to give their feedback and opinion about gear they have used. Our decade-long experience in bicycle touring enables us to find the key cons and pros of every product we mention.
City Bikes
Road Bikes
Gravel Bikes
Touring Bikes
Hybrid Bikes
Folding Bikes
City Bikes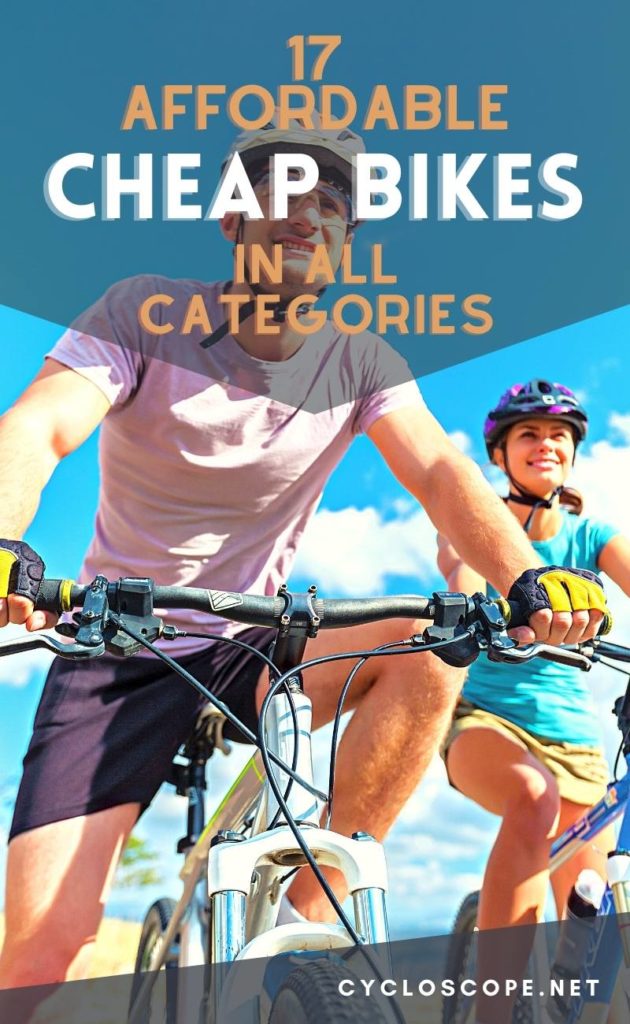 1. Schwinn Wayfarer
Best cheap commuting bike for flat landscapes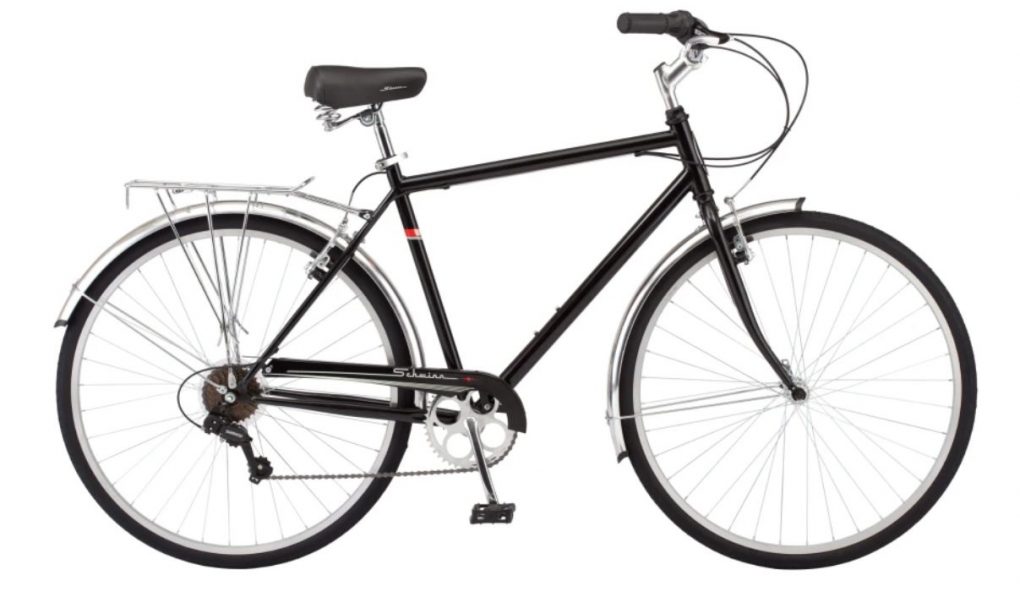 | | |
| --- | --- |
| Gears | 7-speed Shimano Tourney |
| Item weight | 40 lbs |
| Wheel size | 700cc |
| Brakes | V-Brake |
| Frame | Steel |
Highlights
steel frame
classy look
solid frame
Let's start with the classic chic look of the Schwinn Wayfarer hybrid bicycle. A perfect affordable option for the daily city commuter.
This cheap retro-looking bike is the perfect rig for cruising the city, with reliable brakes and an upright position that's ideal to cycle in daily clothes, even with a tight suit.
The modest 7-speed drive-train though doesn't make it a recommendable choice for those living in hilly neighborhoods.
2. Firmstrong Navitas Organics Cruiser Bike
Best cheap leisure bike
| | |
| --- | --- |
| Frame | Steel |
| Weight | 37.4 pounds |
| Wheel size | 26" |
| Brakes | Coaster brakes |
| Price | $340 |
Highlights
Steel frame
Classic curvy beach cruiser design
Coaster brakes
Over-sized seat
This is another bike on this list specifically designed for comfort. A cruiser bike, Firmstrong Navitas is durable and a great value for money.
It is furnished with Coaster brakes, which make slowing down or coming to a total halt easy. Just cycle in reverse to engage the brake. This key feature of Firmstrong makes this bike a firm favorite for newbie riders.
The bicycle has great curves, which make it even more feminine. One of the bike's standout features is the fact that it is made of steel, the strongest possible material a bicycle can be made from.
Furthermore, the handlebars are padded and spacious, confirming it as a true cruiser bike, meant for a relaxing ride. Lastly, the shock absorbers that Frimstrong Navitas has to make it a safe ride even on rough terrains.
3. Schwinn Discover Hybrid
Best cheap suspension fork commuter bike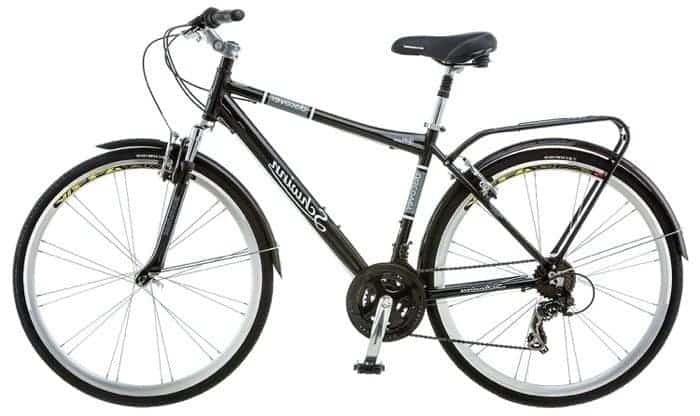 | | |
| --- | --- |
| Brand | Schwinn |
| Item weight | 37.5 pounds |
| Wheel size | 29" |
| Frame | Aluminum |
| Color | Matte Grey |
| Price | $500 |
Highlights
Sport suspension fork
Aluminum frame
Front and rear Shimano derailleurs
Shimano 24-speed EZ-Fire trigger shifters
Double-wall alloy rims
Mechanical disc brakes
Shimano alloy cranks
Are you looking for a comfortable and reliable commuter that could bring you through occasional adventures? The Schwinn Discover Hybrid is a great choice. While it should is that of a commuter, the rear carrier and suspension fork make it also fit for light touring and easy mountain biking.
The front and rear Shimano derailleurs ensure smooth shifting for this price range, while its sporty aesthetics give the bike a really gorgeous look. Plus the disc brakes make slowing down or bringing your bicycle to a total halt a breeze.
The 29″ wheels give the rider a smooth feeling and high pedal efficiency. The Schwinn Discover Hybrid's frame is made of durable aluminum.
3 Cheap & Affordable
Road Bikes
4. Fuji Sportif 2.1
Cheap and versatile road/commuting bike
| | |
| --- | --- |
| Frame | A2-SL Alloy |
| Fork | C5 carbon legs, carbon steerer |
| Drivetrain | Shimano Sora 50/34t x 11-34t, 11-speed |
| Brakes | Shimano Sora Alloy dual pivot caliper brakes |
| Tire Clearance | 700×30 c |
| Size | Min Rider Height: 5'1″ – 150cm |
| Weight | 10.2 kg / 22.5 lbs |
| Price | from $1,199 |
Highlights
stable and comfortable

fender and rack mounts for commuting or adventure

wave seat stay
very affordable
At less than 1,200 USD, the Fuji Sportif 2.1 is a great affordable road bike for beginners, women, and men alike.
The A2-SL Butted Aluminium frame is light enough, a lightness achieved by reducing material in low-stress areas.
Talking geometry we could mention the taller headtube and longer chainstays, those increase overall stability and put the rider in a more upright riding position – the price to pay is limited agility and a bike that doesn't feel as nimble as a real race bike, but that is more an advantage than a problem for beginners.
Another interesting feature is the Wave seat stay, which smooths out and diffuses road vibration by providing a slight vertical flex.
Cables are routed inside the frame tubes for improved aerodynamics, a longer lifespan for the cables, and a neat look. The frame and forks feature rack mounts and are also configured to accept fenders, thus making the bike a highly versatile rig for all seasons.
5. Tommaso Imola Endurance
Budget beginner road bike
| | |
| --- | --- |
| Frame | 6061 SLA Aluminium |
| Fork | Tommaso SST Steel |
| Drivetrain | Shimano Claris 3×8 50/34t x 11-34t, 11-speed |
| Brakes | Shimano Claris Alloy dual pivot caliper brakes |
| Tire Clearance | 700x30c |
| Size | Min Rider Height: 4'9″ – 145cm |
| Weight | 10.9 kg / 23.6 lbs |
| Price | $950 |
Highlights
good range of components for the price

lightweight
The Tommaso Imola bike is a decent road bike for less than 1,000 bucks. Certainly not the high-end road bike of your dreams, but still a rig good enough for beginners that are just starting in the discipline of road cycling.
Although cheap, the components are not too bad: Shimano Claris drivetrain and caliper brakes are reliable and efficient enough.
As often happens with cheaper bikes ordered online, you should really check the assembly thoroughly if you don't wanna risk crashing. These bikes often come with over-tensioned or loose parts as they are not individually checked after assembly.
6. Schwinn Volare 1300
A very cheap road bike for beginners
| | |
| --- | --- |
| Frame | Aluminum |
| Fork | Tommaso SST Steel |
| Drivetrain | Shimano Tourney 2×7 50/34t x 11-30t |
| Brakes | Shimano Claris Alloy dual pivot caliper brakes |
| Tire Clearance | 700x28c |
| Size | Min Rider Height: 5'1″ – 150 cm |
| Weight | 13.5 kg / 29.8 lbs |
| Price | $460 |
Highlights
below $500

durable materials
The cheapest road bike on this list is a good buy for those riders who are still not sure they'll love road cycling for years to come.
The Schwinn Volare is a good budget compromise, you'll hardly get anything similar to a road bike for less than this – the Volare will allow you to join your roadie friends and get the hang of road cycling without doing too much damage to your wallet.
The frame is made of aluminum and the fork is a nice piece of steel that is durable but certainly not light, with the overall weight of the bike sitting at 13.5kg, definitely not on the light side.
Brakes and shifters are entry-level Shimano Claris and Tourney, doing their job just fine without splurging.
Again, given the cheap price tag, be sure to bring your new Schwinn Volare to your bike mechanic before riding it out of the box – bad build and components installation is common for bikes in this price range.
3 Affordable Budget
Gravel Bikes
7. Fuji Jari 2.3 Gravel Bike
Best cheap gravel bike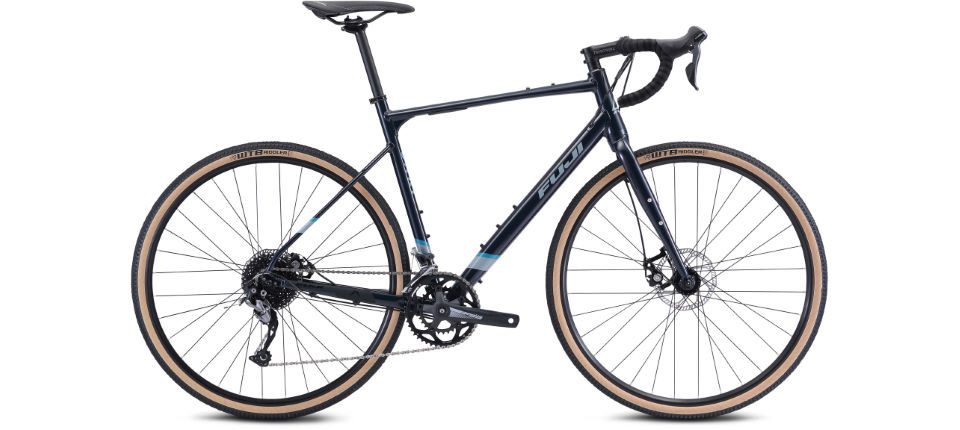 | | |
| --- | --- |
| frame material | Aluminum |
| weight | 12kg / 26.4 lbs |
| max tire clearance | 40mm |
| tire size | WTB Riddler, 700 x 37c, |
| drivetrain | 2×9 Shimano Sora 46/30 x 11-34t |
| brakes | Tektro Mira mechanical disc |
| smallest available size | 52 cm |
| price | $1,040 |
Highlights
most affordable gravel

carbon fork
The cheapest gravel bike on this list is the Fuji Jari 2.3. As you can expect at this price point, it does not weigh the least, nor does it come with fancy gadgets or gizmos. However, as an introduction to the joys of gravel biking, it is worth every cent, probably one of the best budget gravel bikes.
The Fuji Jari comes with the relatively rudimentary Shimano Sora groupset. While a little clunky, it is reliable and does not slip off the ring, even when going over the bumpiest part of the track. Thanks to the frame geometry and carbon fork, you get an optimized riding experience for performance and utility.
This bike comes with all mounts you need to load up for a weekend adventure. Despite its thin-looking frame, it is surprisingly stable and dependable both off and on-road. The WTB Riddler 37c tires are grippy and comfortable on and off the beaten track.
We do not know the exact weight, but many reviews note that the Fuji Jari 2.3 is on the heavy side of an aluminum gravel bike. At this price, you should not get too hooked up on that.
This is a very affordable and surprisingly sleek-looking gravel bike. It is both stable and fun enough to help build up your confidence in preparation to invest in one of the lighter, more agile ladies' gravel bikes next time around.
A low-price gravel is what you're looking for? Check this
> 11 Top Gravel Bikes for Less Than 1000/1500$ – Reviewed for 2022
8. Cube Nuroad Gravel Bike
Best affordable gravel bike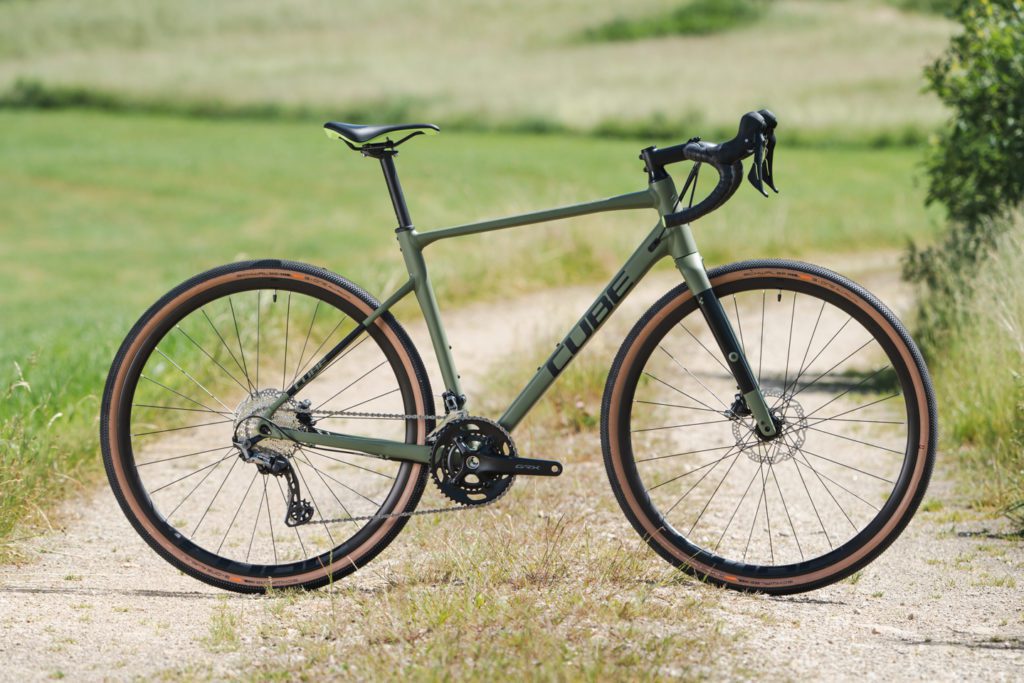 | | |
| --- | --- |
| frame material | 6061 Aluminium Superlite frame |
| weight | 10.8g |
| max tire clearance | 700C x 45mm |
| tire size | Schwalbe G-One Allround, 40-622 (700c) |
| drivetrain | 2×8 Shimano Claris 50-34T x 11-34T |
| brakes | Disk – Tektro MD-C51 |
| smallest available size | XS (50cm) |
| price | $1,299 |
Highlights
carbon fork

lightweight frame

wide tire clearance
lots of mounting points
If you are on a budget but still crave a gorgeous rig, the Cube Nuroad Gravel Bike 2022 is the best affordable gravel bike for you. The beautiful deep teal color and the streamlined gravel bike geometry of the frame make this bike look a lot more expensive than it is.
At this price range, you have to accept an aluminum frame. However, with the addition of the carbon forks, the Cube Nuroad gravel bike is light enough while also dampening the vibrations on the more bumpy trails.
Straight out of the box, the Cube Nuroad comes with 40mm wide Schwalbe G-One Allround tires, which prove to be grippy even on even surfaces. It is a nice touch that you can 'upgrade' to 45mm width tires if you use your gravel bike offroad and feel like you want more control.
The frame comes with all the versatility you need from your next partner in adventure, with holes to attach mudguards, racks, and a kickstand. So although the gearing ratio leans more towards a road bike setup, this pretty little gravel bike is more than up to the challenge of an off-road cycling adventure. 
If you are on a budget but want a lot of bikes for your buck, then the Cube Nuroad Gravel Bike 2022 is a wise investment. 
Are you a woman? Have a look here
> 11+1 Best Gravel Bikes for Women – Gravel Grinding for All Budgets
9. Giant Revolt 2
Cheap entry-level gravel bike
| | |
| --- | --- |
| Frame | ALUXX-Grade Aluminum, rack mount / Carbon fork |
| Drivetrain | SHIMANO Sora, 2×10 48/32t x 11-34t |
| Brakes | Tektro MD-C550 mechanical, 160mm |
| Tires | Giant CrossCut AT 2, tubeless, 700x38c |
| Tire Clearance | max 53c / 38c standard |
| Weight | 23.1 lbs/10.4kg |
| Price | $1,400 |
Highlights
fast

cushioned ride

monster tire clearance
The Revolt 2 by Giant is a real bang for the buck and a great bike for beginners on a budget.
While being a super speedy bike with a max speed of 61km/h, the forgiving and cushioned feeling makes for a comfy and super stable ride sure to convey a sense of satisfaction also to inexperienced riders.
The angles and the distances between key contact points on the Giant Revolt family draw heavily on road-endurance bike models. Giant took no chances in designing the geometry.
The front end is traditional, inspired by road cycles. The compliance of the frame is enhanced by dropping the seat stay, shortening the seat tube, and using a D-shaped seat post.
The 430mm chain stay allows the bike to rip on rough descents and to track the way noticeably better.
With a monster tire clearance of up to 55c and supporting fenders and rack mounts, The Giant Revolt 2 is also suitable for commuting and a great gravel bike for short touring.
Read our
> Review! Giant Revolt 2: Comfort for All Butts and Pockets
3 Low-Price Touring Bikes
10. Mongoose Elroy
A fully-equipped touring bike for a low price
| | |
| --- | --- |
| Frame | ALUXX-Grade Aluminum, rack mount / Carbon fork |
| Drivetrain | SHIMANO Tourney, 2×7 48/32t x 11-32t |
| Brakes | Shimano BR-RS805 flat-mount disc brakes |
| Tires | Kenda Slant Six 29 x 1.75in |
| Tire Clearance | max 2.1″ |
| Weight | 11.37kg / 25.1lb |
| Price | $640 |
Highlights
lightweight frame

wide tire clearance
decent gear range
The Mongoose Elroy is a versatile adventure bike with touring geometry, a sleek and lightweight alloy frame, and a sturdy steel fork.
The 2×7 Shimano Tourney drivetrain might not be enough for the steepest and most technical hills, but it's certainly fit for most bike trips. The Micro shift shifters/brake lever combo is fast and safe to access for smooth gear-shifting.
Brakes are mechanical discs with great stopping power, while the internal cable ensures the longevity of the cables and allows space for additional bikepacking bags and three water bottle cage mounts.
The fork comes with all the mounting points for the large included front rack, plus two more braze-on for an additional bottle or cargo cage.
A half-frame bag also comes included, and more mounting points are present in the back for a rear rack.
11. Decathlon Triban RC500
Cheap adventure bike for UK and Europe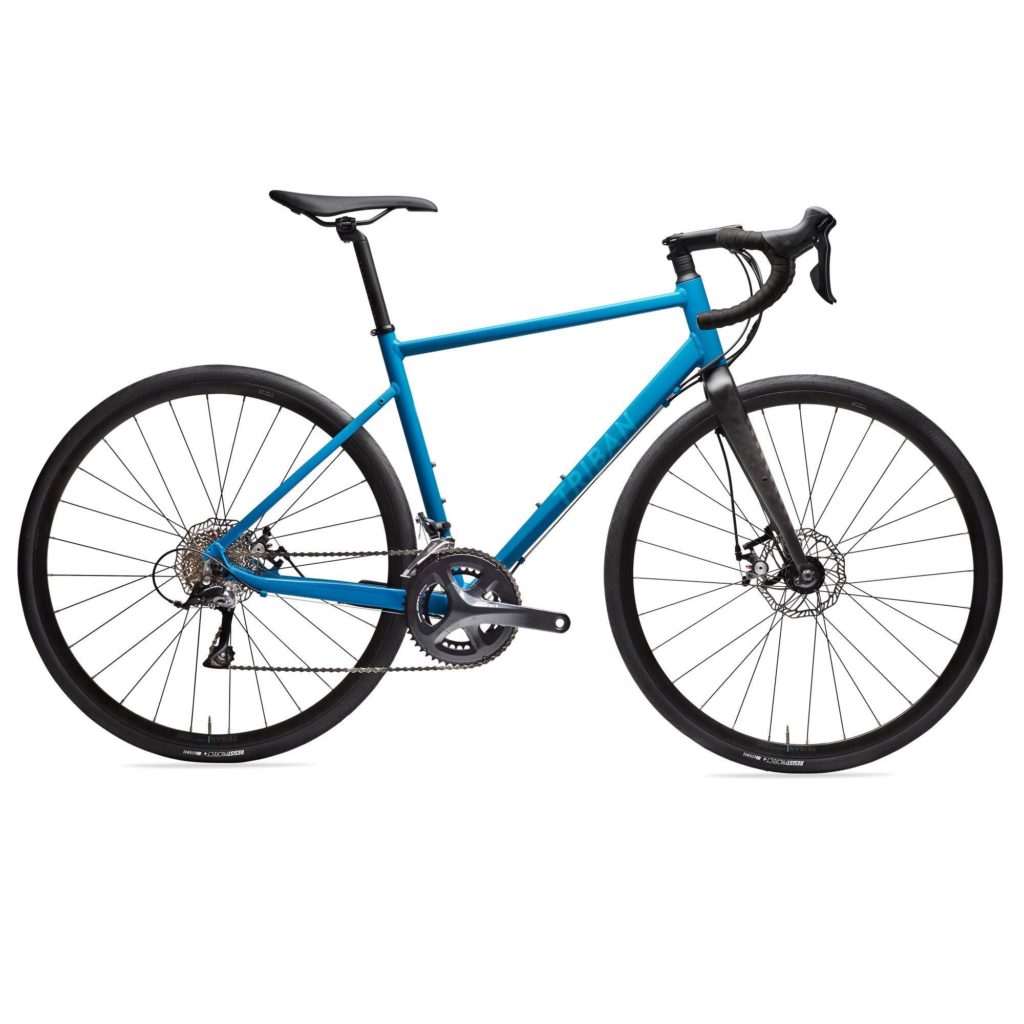 | | |
| --- | --- |
| Frame | ALUXX-Grade Aluminum, rack mount / Carbon fork |
| Drivetrain | Microshift H100 10-speed 38 x 11-42 cassette |
| Brakes | Promax DSK disc brakes – 160mm rotors |
| Tires | Hutchinson Overide 700×38 Tubeless Ready |
| Tire Clearance | max 2.1″ |
| Weight | 11kg / 25lbs |
| Price | £650 |
Highlights
carbon fork
lightweight frame
micro shift levers
ample toe clearance
The Triban by Decathlon is probably the best seller of gravel bikes in Europe. A comfort-oriented frame geometry with a more upright riding position thanks to a tall steering socket, elongated top tube, and shorter stem.
This doesn't mean this bike is not built for speed. A single 38 chainring in the front and an 11/42 cassette (Shimano Sora) are able to reach respectable speed while also allowing enough range to face steep climbs.
Precise shifting is allowed by the sturdy Microshift XLE 10-speed shifter – a cool feature is the Microshift M665 rear derailleurs which boosts a "Clutch" system that can hold the derailleur in order to prevent the chain from jumping.
The 1800g frame (size M) is made of 6061 T6 aluminum, with sloping geometry and a semi-integrated headset.
The fork is carbon, quite a treat for this price range. The longer rake ensures enough toe clearance not to be worried about rubbing your feet against the tire in technical terrain.
Unfortunately, Decathlon doesn't operate in the US, although some of its products can be found at Walmart, Curated, Target, and more outlets.
12. Trek FX 1 Disc
Affordable commuter that will double as a tourer for short adventures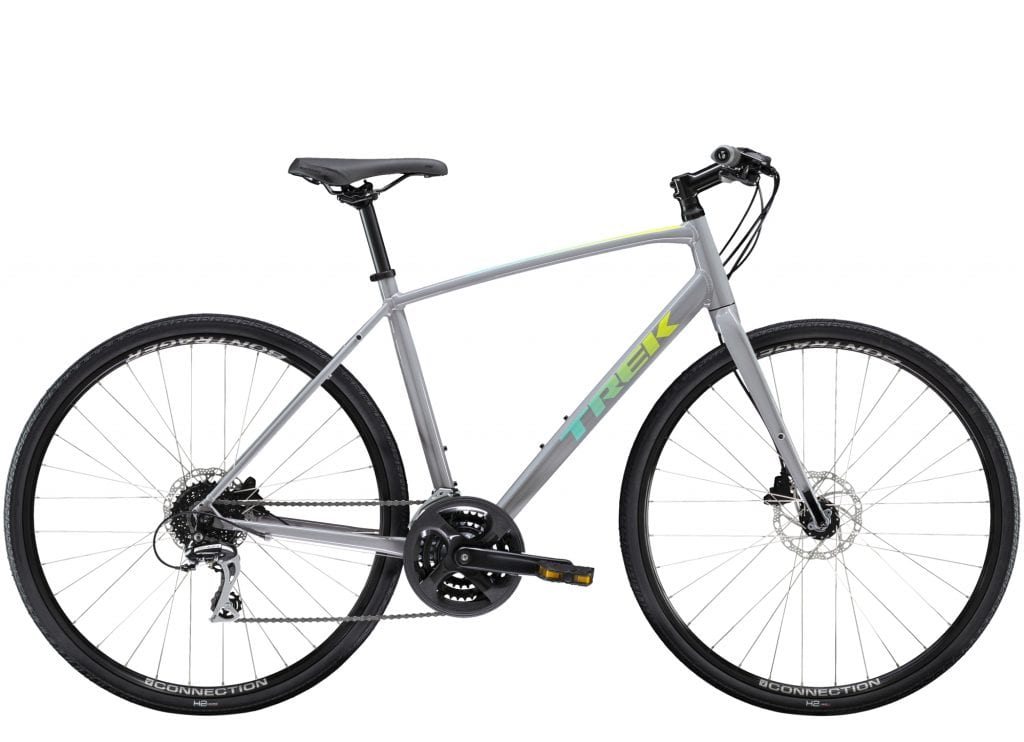 | | |
| --- | --- |
| Weight | L – 11.95 kg / 26.34 lbs |
| Frame | Alpha Gold Aluminum, DuoTrap S compatible, internal cable routing, flat mount disc, rack & fender mounts, 135x5mm QR |
| Fork | FX Alloy, flat mount disc, rack mounts, 405mm axle-to-crown, ThruSkew 5mm QR |
| Rims | Bontrager Connection, alloy, double-wall, 32-hole, Schrader valve   |
| Tires | Bontrager H2, wire bead, 30 TPI, 700x35c   |
| Drivetrain | Shimano Tourney 3×8 speeds – 48/38/28 |
| Price | $599 |
Highlights
lots of mounting points
lifetime warranty

integrated stem
Trek is definitely one of the biggest players in the bicycle market, their range of products is huge and covers almost every cycling discipline.
Proper touring bikes from Trek, like the 520, 920, and 1120, are out of the price range covered in this article – but we feel like mentioning this hybrid urban/trekking bike since it has all the characteristics of a light tourer and can suit the needs of those who don't have space or budget to own more than one bike.
The hydraulic disks might be a weak point for extended bicycle touring, but that's not what this bike is made for. The FX2 is easy to accessorize with racks, a kickstand, fenders, lights, etc. Like every Trek hybrid, it's backed by a lifetime warranty and supported by a wide network of retail partners.
Other interesting features are the compatibility with DuoTrap S cadence sensor (which allows you to track your performance), and the stem-integrated mount for lights and devices.
3 Cheap Hybrid Bikes
13. Giant Escape 3
Affordable hybrid bike – great bang for the buck
| | |
| --- | --- |
| Frame | ALUXX-Grade Aluminum Frame and Fork |
| Drivetrain | Shimano Altus 2×9 speed 30/46 x 11-36 |
| Brakes | Linear pull, alloy |
| Tires | Giant S-X3, 700x38c |
| Tire Clearance | max 40c |
| Weight | 12.4kg / 27.3lbs |
| Price | $800 |
Highlights
versatile

comfortable riding position

wide gear range
Another budget option for a versatile hybrid commuter/tourer. The Giant Escape 3 has been completely redesigned recently and features a lot of upgrades.
Slicker lines, and different tube shapes for a fun and efficient bike, capable enough to tackle anything from city commutes to cross-country bicycle tours.
Stable geometry and a wide range of gears make it easier to venture up hilly terrain even when your racks and cargo bags are loaded. It's designed with neutral upright positioning which helps you navigate city streets or crowded bike paths.
Might need a rims upgrade, since 28 spokes seem a bit weak for loaded touring. The hydraulic disk brakes are a plus if you are traveling in first-world countries where you can get services. I'll swap them for mechanical if you plan on going somewhere more remote
14. Cube Touring EXC Urban Bike
Great long-distance commuter cheap bike, good for light touring, and also off-road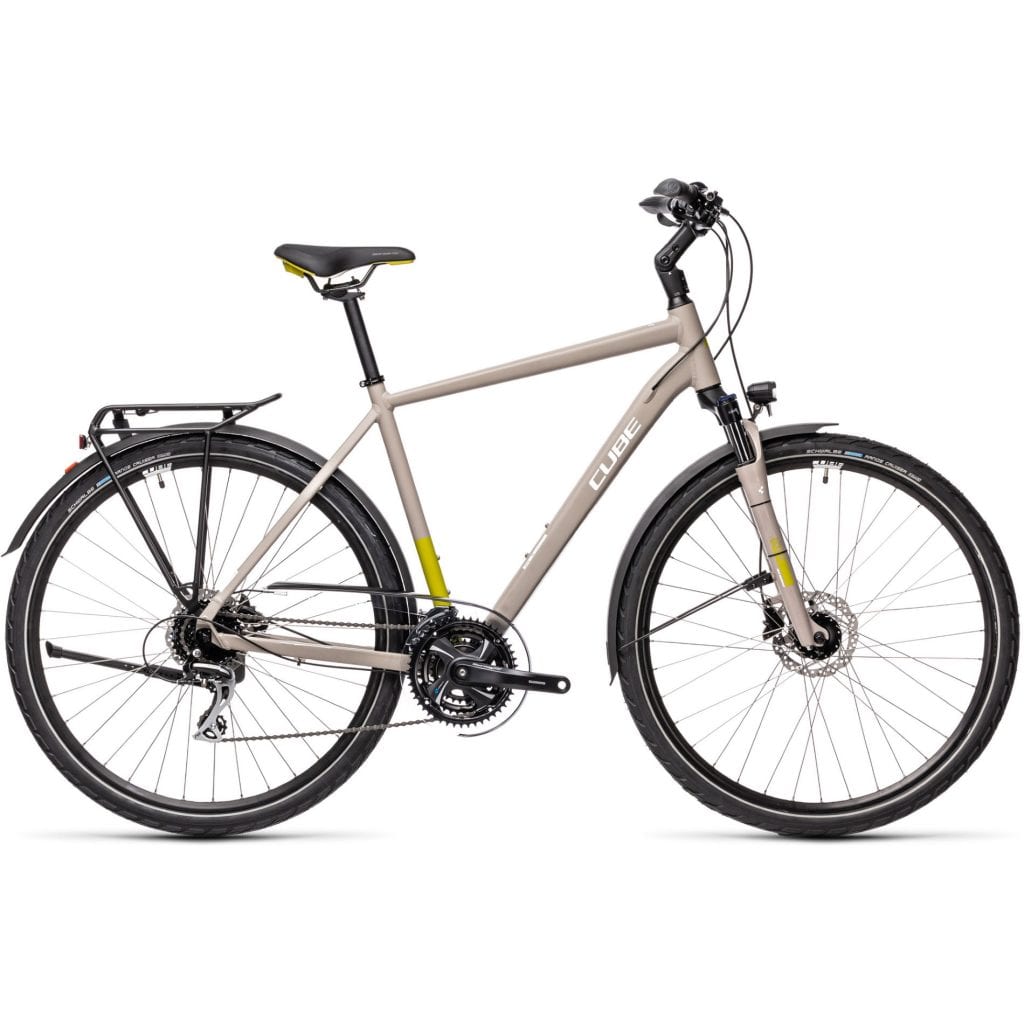 | | |
| --- | --- |
| Frame | Aluminium Superlite Trekking Comfort Double Butted |
| Fork | SR Suntour NEX HLO, 63mm |
| Drivetrain | Shimano RD 3×8 speed 48x36x26T x 12-32 |
| Brakes | Shimano BR-MT200, Hydr. Disc Brake (160/160) |
| Tires | Schwalbe Range Cruiser, Active, K-Guard, 47-622 |
| Tire Clearance | max 40c |
| Weight | 16.9kg / 37.2lbs |
| Price | $850 |
Highlights
suspension fork

integrated lighting and hub dynamo

a good amount of mounting points
The Touring has everything you need for cycling – no more, no less. Cube intentionally ditched complicated features with this model, but not the ergonomics. That's why it's the perfect bike to simply get on and cycle away without having to spend any time getting to know it first. The Touring is a great all-rounder with a comfortable ride position.
The light, double-butted aluminum frame features Cube's Efficient Comfort Geometry, specifically developed for touring bikes to provide a comfortable ride position with the best energy transfer to make the best possible use of long days in the saddle.
The Touring has bosses for bottle cages and for Cube's ingeniously simple Cube kickstand, while internal cable routing helps reduce maintenance and keep gearshifts smoother for longer
The Cube Touring has been built in accordance with StVZO regulations. The LED lighting system up front and the small but powerful red LED at the rear both get their power seamlessly from the hub dynamo – which means they're ready whenever needed, regardless of the weather.
15. Ghost Square Cross 4.8 Trekking Bike
Great affordable hybrid bike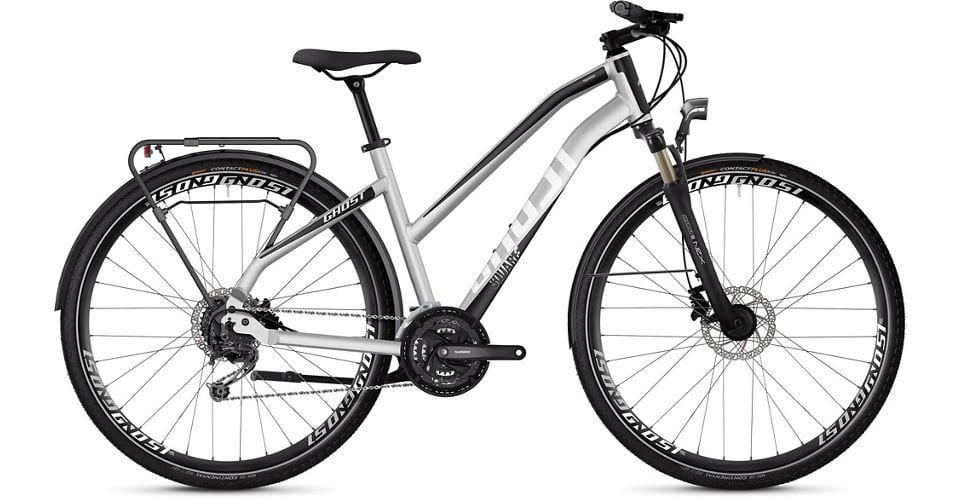 | | |
| --- | --- |
| Frame | SQUARE Trekking AL |
| Fork | SR Suntour SF16 NEX HLO DS 50 mm |
| Drivetrain | Shimano Deore 3×8 speed 48x36x26T x 11-32 |
| Brakes | Tektro HD-T285 2/2 Piston 160 mm Disc |
| Tires | Michelin Protek 40-622 |
| Tire Clearance | max 40c |
| Weight | 16.5kg / 37lbs |
| Price | $799 |
Highlights
suspension fork

belt-drive ready

hub dynamo
This all-rounder offers some unique technical features such as the Ghost central suspension fork, integrated cable routing, super-stiff fenders, and a fully integrated rack carrier that accommodates all common panniers.
The Ghost Square comes equipped with a hub dynamo, fenders, and an overall good range of components for the price.
All frames in this line feature the revolutionary sandwich belt-drive-ready dropout, enabling you to start simple and upgrade over time as you choose. The high-quality equipment guarantees years of use for both everyday commuting and weekend excursions.
2 Budget Folding Bikes
ZiZZO Campo 20
The cheapest folding bike you'll ever find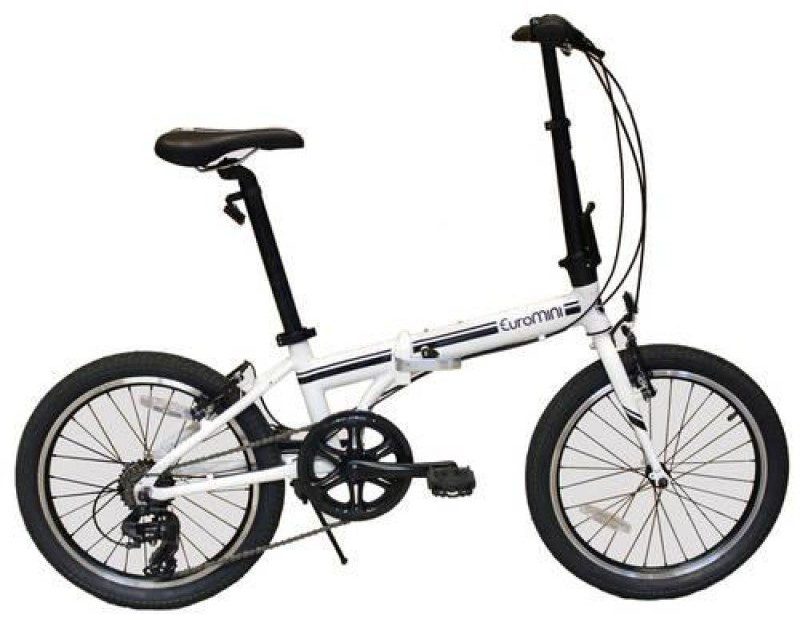 | | |
| --- | --- |
| Frame | 6061 aluminum alloy |
| Drivetrain | 1×7 speed 48t x 14-28t |
| Brakes | Power 110mm V-Style brakes |
| Tires | MAKO SHARK 20X1.95″ |
| Tire Clearance | max 1.95″ |
| Weight | 13.15kg / 29lbs |
| Price | $320 |
Highlights
the cheapest bike on this list

very compact
Folding bikes are very convenient vehicles, their ability to be used in combination with public transport makes them the best option for many commuters. Unfortunately, they're not exactly cheap bikes, they are usually quite pricey actually.
At only 320$ though, this Zizzo Campo is incredibly cheap for a folding bike and has been proven to be a reliable two-wheeler for those commuters on a budget.
The wheels are small 20″, folding very compactly, while the drivetrain is maybe a bit too compact, with only 7 speeds (14-28T).
For this low price tag, we can't certainly pretend too much, brakes are V-Style and the overall components range is on the cheap side.
Despite so, this is a good and very affordable option for those who want to try how it feels to ride a folding bicycle.
1. Dahon Mariner D8
Great low-price folding bike
Frame
Lightweight Dalloy Aluminum Sonus Tubeset
Lattice Forged Hinge, w/ ViseGrip
Drivetrain
8-Speed Shimano SL-M315
Brakes
Aluminum 110 mm V-Brakes
Tires
20" x 1.6" Schwalbe Citizen tires
Tire Clearance
max 1.6″
Weight
12.56kg / 27.69 Ibs
Price
$860
Highlights
strong frame and components

very compact
Dahon is a budget folding bike manufacturer from the US that has proven itself in the years. The Mariner D8, one of Dahon's most popular models, sees a lattice forged hinge with Vicegrip technology and is made from the brand's Dalloy Sonus Tubeset.
The bike, rolling on 20 inches wheels, comes with full-coverage fenders, a rear rack, and V-Brakes, and sees an 8-speed Shimano Altus drivetrain.
This might not be the cheapest bike on this list, but it still comes at a great price for a folding bike with such characteristics. If you want an affordable folding bike that will last you for years to come, the Mariner by Dahon is a great choice.
Frequently Asked Questions about Cheap Bikes
What is a cheap price for a bike?
With all the supply chain disruption we've seen in recent years, bike prices have gone up quite a bit. As a rule of thumb, everything under $1,000 can be considered cheap. There are still many cheap bikes for under $500 anyway, although most of these won't be very durable or safe.
Which is the best bicycle for a low price?
If you're looking to buy a low-price bike, we recommend purchasing a cheap hybrid bike. The hybrid bike cost less than road bikes or MTBs, they are also very versatile. One downside of hybrid bikes is that they generally weigh more compared to bikes in other categories.
What is a good bike for under $200?
We really don't recommend buying a bike for less than $200. After all, a bike can be very dangerous if not reliable. If you really want to stay around that budget, the Dynacraft 26″ could be an option. But be very careful if riding it in traffic.
How much does a normal bike cost?
A normal price for a budget bicycle is around $600 to $800. In this price range, you'll be able to find quite a few decent adult bikes in several categories.
Who makes the best cheap MTB?
Giant, GT, Cube, Vitus. These are some brands manufacturing relatively cheap but high-quality MTBs.
Stay in touch while we get lost! Follow us on Social Media