Review! Giant Revolt 2: Comfort for All Butts and Pockets
PROS
Great value for money
versatile gravel/bikepacking bike
CONS
Not the most comfortable on long rides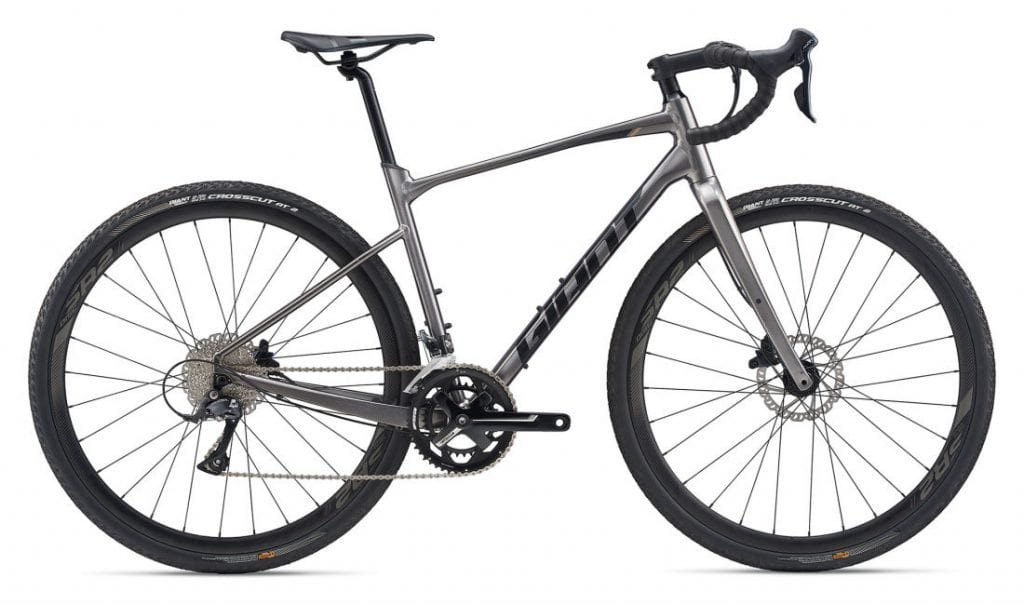 2022 Giant Revolt 2 Review – Specs, weight, tire clearance, price, geometry, riding setups, components
Price: $1,400
Weight: 23.1 lbs/10.4kg
Frame: Aluminium
Fork: Carbon
Wheel Size: 700c
Tire Clearance: 45c front / 42 rear / 38c standard
Drivetrain: Sora 2 × 9
Brakes: Mechanical Disc
The cheapest bike on the Revolt squad by Giant, the Revolt 2 is a real bang for the buck and a great gravel for beginners or folks on a budget.
Among Giant Revolt range, no less than five Revolt Advanced series is made of Advanced-Grade carbon fiber, while only one model, the Revolt 2, is made of ALUXX Grade Aluminum with a carbon fork.
All Revolt bikes look similar, except for the joints, the seat-tube, and, most relevantly, the wheelbase, which is a bit longer in the aluminum version.
Any Giant carbon components (whenever the bike is purchased in the USA) are covered by a two years manufacturer warranty previously unheard of in the whole bicycle industry.
It's as easy as it gets: if any of the carbon components brittle or split in half due to a dreadful fall on the trail, Giant will supply a new component.
The only document required is a receipt, and the retailer that provided the unfortunate bike can immediately start the claim process.
Giant Revolt 2 is the ideal bike for beginners or for everyone approaching the gravel world. For a bike so rigid, it turns out exceptionally smooth over rough gravel roads.
It's a forgiving and cushioned gravel bike without suspension. Supporting fenders and racks mounts, it is also suitable for commuting and short touring.
It can definitely be the only bike needed by most occasional riders. It is modern, beautiful, and optimized to motivate first-time cyclists to ride more, allowing them to enjoy all kinds of roads, to forget about handling, and to focus instead of pedaling.
No worries about the bike being twitchy: the Revolt 2 is super stable and is certainly going to convey a sense of satisfaction to inexperienced riders.
Giant Revolt 2 [2022] is an entry-level gravel bike optimized to enjoy back roads and uneven pavements
Disclosure: Some of our articles contain affiliate links. This comes at no additional cost for you and helps us keep this website up and running. (as Amazon Associates we earn commission from qualifying purchases)
How we write our reviews: most of our reviews are based on first-hand long-term use or short-term test by a member of our team. For some new models or build variations, we rely on our experience with similar models and our team's experience in understanding bike geometry and components.
Giant Revolt: The frame set
While other bikes may give the mouth-breathing cyclists the feeling he's going to lose his teeth while riding on bumpy roads, Giant Revolt 2 can handle any kind of gravel surprisingly well, without useless suspensions.
The frame features angular tube shape, dropped seat-stay, and exposed seat-post with a D shape to maximize shock absorption.
Like most of Giant road bikes, the seat-stay joins the seat tube well below the top tube, almost at the middle of the seat tube.
This characteristic is adopted on road bikes in order to make the rear triangle stiffer and to save precious material and weight, and it proves handy on gravel models to disrupt the path of shock transmission.
The goals of a shallow seat-stay design are clear: to put it simply, it is an expedient meant to suck up the vibrations from the road and assure compliance to the frame.
Nevertheless, the frame isn't of course as vertically compliant as a full-suspension bike frame, but still, a decent upgrade from the old rattletrap with wooden wheels surrounded by iron tires, isn't it?
Anyway, suspensions are overrated and often cause more distress to the inexperienced cyclist rather than providing comfort.
The most important components to absorb vibrations are, in every case, the tires.
The other tubes are tremendously modern and futureproof with heaps of different shapes.
The top tube has few degrees of a slope but unlike other gravel bikes, it doesn't have bosses to fit a top tube bag.
The bottom tube has a massive square section and joins slickly the head tube and the bottom bracket shell.
On the aluminum version of the Giant Revolt, the internal gear cable routing is limited to the down tube.
The frame is made of 6061 single butted aluminum, the same material used for the packaging of food and beverages and for many other applications.
Alchemy nostalgics can try their chance by melting down a weekend's worth of beer cans or by mixing the following ingredients: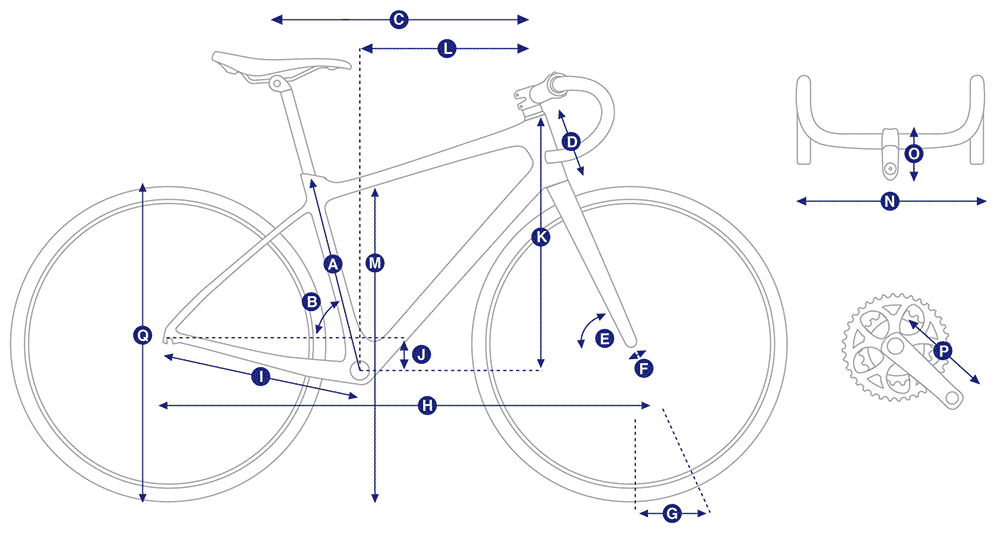 Giant Revolt Geometry
The angles and the distances between key points on the Giant Revolt family draw heavily on road-endurance bike models. Giant took no chances in designing the geometry.
The front end is traditional, inspired by road cycles. The compliance of the frame is enhanced by dropping the seat stay, shortening the seat tube, and using a D shape seat post.
The 430mm chain-stay allows the bike to rip on rough descents and to track the way noticeably better.
The bottom bracket drop borrows without major changes from the road bike, as well as the head tube angle at 71 degrees.
Frames come in six sizes (x-small, small, medium, medium-large, large, and x-large), with riders always comfortably fitted using stems and seat-posts of different lengths.
| Size | XS | SM | MD | MD/LG | LG | XL |
| --- | --- | --- | --- | --- | --- | --- |
| Wheels | 700c | 700c | 700c | 700c | 700c | 700c |
| Stack | 556 | 570 | 586 | 602 | 616 | 630 |
| Reach | 381 | 381 | 387 | 391 | 397 | 407 |
| Stack/Reach Ratio | 1.46 | 1.50 | 1.51 | 1.54 | 1.55 | 1.55 |
| Top Tube Length | 540 | 550 | 560 | 575 | 585 | 600 |
| Seat Tube Length | 430 | 450 | 470 | 490 | 510 | 530 |
| Seat Tube Angle | 74.0 | 73.5 | 73.5 | 73.0 | 73.0 | 73.0 |
| Head Tube Length | 125 | 135 | 150 | 165 | 180 | 195 |
| Head Tube Angle | 70.0 | 71.0 | 71.5 | 72.0 | 72.0 | 72.0 |
| BB Drop | -454 | -454 | -454 | -454 | -454 | -454 |
| Rake | 50 | 50 | 50 | 50 | 50 | 50 |
Measurements are in metric units (millimeters and degrees)
Giant Revolt 2 [2022] Drive Train and Standard Component
Far are the days when Shimano Sora used to be an ugly group set with cables coming out of the levers and weaving miserably on the cockpit.
Nowadays the group set looks neat: the cables are routed underneath the bar, leaving enough room for a handlebar bag (almost, if it wasn't for the hydraulic brake system).
Revolt 2 mounts a threaded bottom bracket with a square tape axle. Even if some could argue it's an obsolete feature, it still ensures, up to these days, a decent performance.
The drive train is composed of an FSA Vero Pro, a 32/48 crankset, and a Shimano 11×34 cassette: a very good combination to spin uphill on slopes beyond 10%.
Worth mentioning are Giant conduct hydraulic brakes, installed on Revolt 2 bikes and on the cheapest Revolt Advanced models.
Sora Levers are still actioned mechanically, and then both the front and rear cables enter a funky little box at the center of the cockpit where the hydraulic system takes action.
What Are the Best Riding Setups for a Giant Revolt?
The ideal setup for the Giant Revolt 2 is the one already chosen by the manufacturer.
The selection of components mounted on the bike reflects the brand's intention to produce a bike on a large scale that could prove appropriate to any kind of situation and weather and at the same time could encourage the masses to use the bicycle every day.
The alloy version of the Revolt series, providing superior stability and comfort at an affordable price tag, is definitely a great rig for everyday use, able to fully satisfy the needs of beginners, would-be commuters, and unfussy tourers.
Conclusion
In order to get the big picture of Giant Revolt 2, it is best to evaluate both the bike in its entirety and the global bicycle trend.
Revolt 2 is not simply an entry-level model produced by the biggest bicycle factory in the world.
It is a bike that, exactly like it comes out from the box, is ready to give a lot of joy and a feeling of fulfillment to all occasional riders.
The gravel compartment in general finally offers a range of bikes well suited to a vast public of uncomplicated cyclists that want to enjoy riding without the hassle of digging deep into cycling zealotry.
With a gravel, nothing can go wrong: bicycles are getting simpler, more comfortable, and significantly reliable.
Giant Revolt 2, with the right maintenance, is all set to spin on the road for many years to come and its design will definitely stand the test of time.
Components and specs of Giant Revolt 2
Sizes XS, S, M, ML, L, XL
Colors Metallic Black, Biking Red
Frame ALUXX Grade Aluminum, disc
Fork full composite, OverDrive steerer
Handlebar Giant Contact XR Ergo-Control, 31.8
Stem Giant Sport
Seatpost Giant D-Fuse, alloy
Saddle Giant Contact (neutral)
Shifters Shimano Sora
Front Derailleur Shimano Sora
Rear Derailleur Shimano Sora
Brakes Giant Conduct hydraulic
Brake Levers Shimano Sora
Cassette Shimano CH-HG400, 11×34
Chain KMC X9 with Missing Link
Crankset FSA Vero Pro, 32/48
Bottom Bracket FSA MegaExo, press-fit
Rims Giant S-X2 Disc wheelset
Hubs Giant S-X2 Disc wheelset
Spokes Giant S-X2 Disc wheelset
Tires Giant Crosscut AT 2, 700×38
About Giant
Giant is the world's largest bicycle manufacturer established in Taiwan in 1972. In 2017 King Liu, Giant founder finally stepped back and gave his empire to his son Young Liu.
The company began operations as a supplier of steel frames to US Schwinn Bicycle Company, and ever since it has evolved into a vast Original Equipment Manufacturer (OEM), assembling bikes for an impressive client list that includes major brands Scott, Trek, and Colnago.
Since Schwinn switched to a cheaper Chinese manufacturer in 1987, Giant has also been developing its own-brand cycles, such as its Defy and Propel models, the latter starring in Tour de France sprints in recent years.
Giant was the first manufacturer to use a carbon frame for road bikes. Right now, Giant is the best-positioned company in the global bicycle business.
It has reached this endeavor by simplifying sizing, streamlining the manufacturing process, and meticulously scrutinizing the market in order to figure out the best way forward to take the lead. As the company itself would put it
the new CEOs with their professional management team will continue to lead Giant in becoming an eternal company.
It sounds crazy, hey!
Stay in touch while we get lost! Follow us on Social Media