The 7 bike best cargo cages &
5 best bikepacking fork dry bags
Salsa Anything, Gorilla Cage, Topeak VersaCage, Blackburn Outpost, & more fork mounts and fork bags
In the world of bikepacking, cargo cages have become the staple of fork-mounted luggage.
A concept invented by Salsa in 2010 with the anything cage, a bike cargo cage is a utilitarian attachment that can be fixed on the frame or fork of your bike. It might be used to carry additional water, or storing gear (usually in dry bags).
Called also bikepacking front fork mounts, gorilla cages, or fork cages – they are similar to oversized bottle cages, but also able to hold a 6+ liter dry bag or other gear in a secure fashion by attaching it to the cargo cage via straps.
This way the front fork has a decent cargo capacity without the need of a rack.
Some of the best bikepacking cages come with their own fork dry bags, like Gorilla Cage, Specialized Burra Burra, Salsa Anything – but many kinds of bags could be attached to fork mounts.
Here is this guide; we will take a look at some of the best cargo cages as well as dry bags available online. So, without wasting any more time, let's jump in!
New to this? Have a look at our Bikepacking 101 and learn everything
Disclosure: Some of our articles contain affiliate links. This comes at no additional cost for you and helps us keep this website up and running. (as Amazon Associates we earn commission from qualifying purchases)
How we compile our gear guides: during the almost 10 years of cycloscope.net our team personally tested dozens of similar pieces of gear. For what we can't test personally, we involve other people in the cycling community to give their feedback and opinion about gear they have used. Our decade-long experience in bicycle touring enables us to find the key cons and pros of every product we mention.
7 Best Cargo Cages for your Bikepacking
There aren't yet many cargo cage mounts manufacturers around. Here are our 6 favorite options:
1. Ribble Passport Lug Kage – New Entry!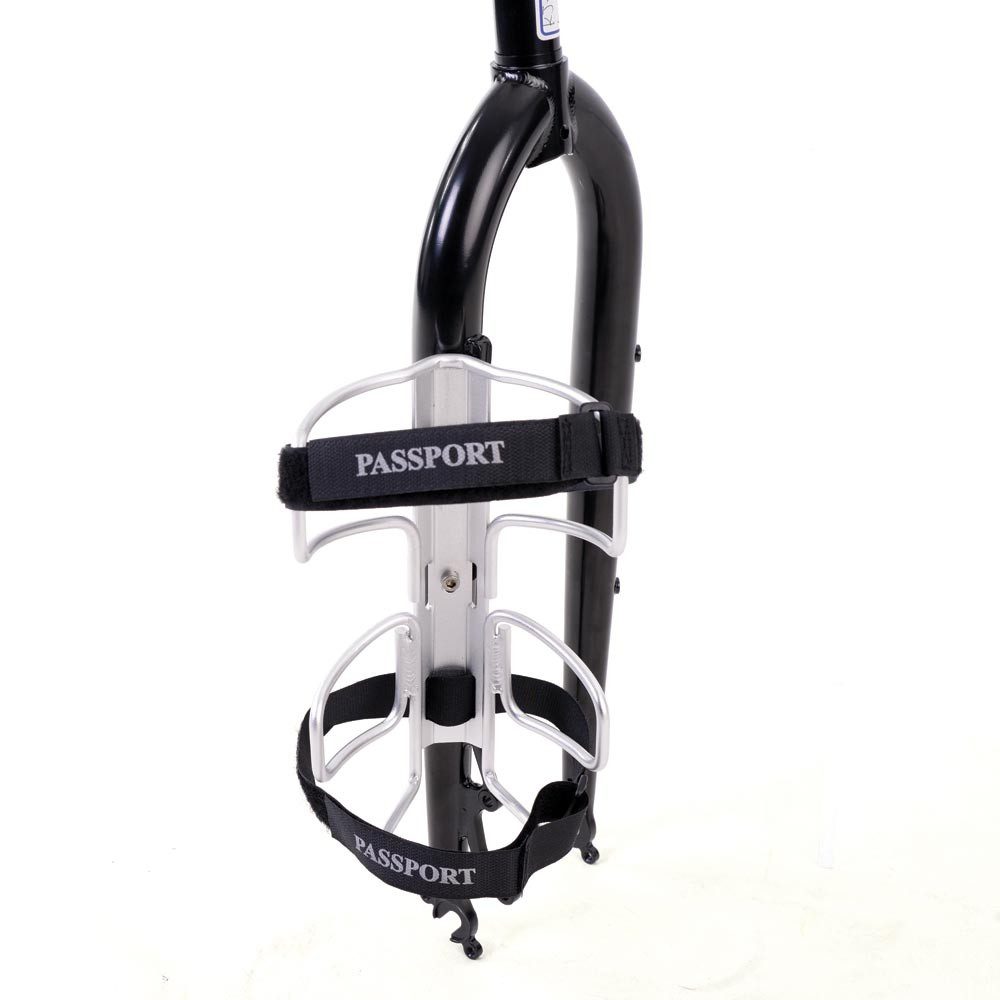 Pros
Affordable

Lightweight and minimalistic

Simple attaching mechanism
Cons
Small load capacity
Designed to fit forks with the dedicated 3 bolt mounting lugs included only
Our new favourite ultralight bikepacking cagfe comes from the legendary British bicycle brand Ribble. A lightweight and affordable bikepacking cargo cage that is ideal for minimalistic setups.
The included velcro straps are solid and durable, while the cage is made from 6mm alloy and has a 3kg maximum weight limit – less than other products listed in this buying guide.
Unfortunately, the Ribble Lug Kage can be used only on forks featuring the proper 3-bolt mount typical of bikepacking gravel bikes and touring bikes.
Price: £19.99 / 26 USD
Straps included: Yes
Weight Capacity: 3kg x Cage 6.6 lbs
2. Blackburn Outpost Cargo Cage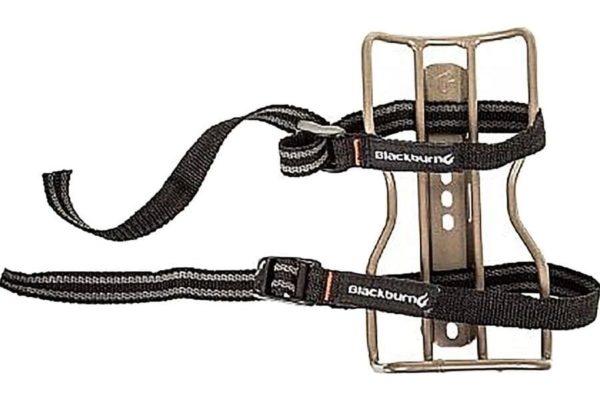 Pros
Highly durable
High weight capacity
Simple attaching mechanism
Here comes the master of cargo cages. This brilliantly designed Blackburn bottle cage has a sturdy and durable construction that will secure all your necessary gears with ease.
Other than being exceptionally strong, the Blackburn outpost cargo cage comes with straps included. These are long enough to hold oversized dry bags up to 7l.
When it comes to attachment, the outpost cargo cage can be easily attached to the frame or fork of the bike with its three-set mounting holes.
Tube diameter: 6 mm
Straps included: Yes
Weight Capacity: 8.8 lbs
3. Salsa Exp Series Anything Cage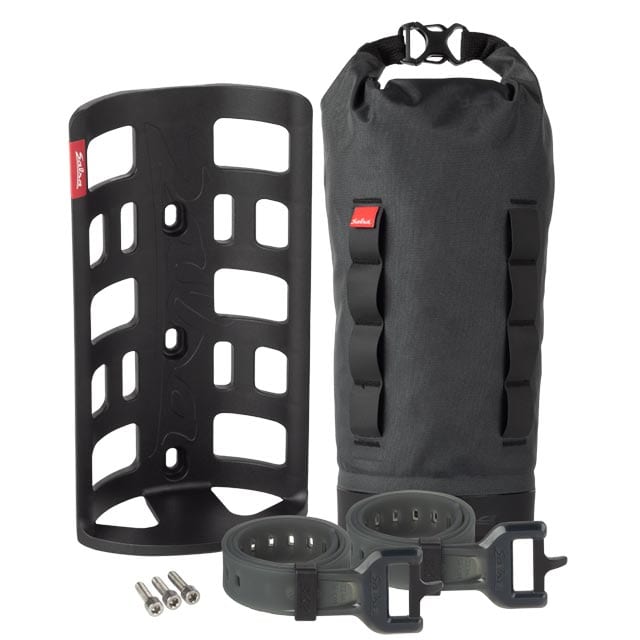 Pros
straps come included
bag bundle
easy to mount
awesome durability
lightweight
Cons
Expensive
low weight-bearing capacity
The inventors of the thing. In 2010 Salsa came up with this awesome, anything cage for bike packing. Now this cage has probably been the most tested by bikepackers around the world, and it rarely failed even the most extreme missions.
The glass-filled nylon construction is lightweight and provides immense durability and can handle up to 3 kilograms of weight.
Moreover, this new Anything Cage comes with two EXP rubber straps that you can use to secure lightweight gears to your bike's frame or fork.
Material: Glass-filled Nylon, Rubber
Weight capacity: 6.6 lbs
Three holes mounts
Straps included: Yes
Weight: 149 grams
4. DOM Gorilla Cage II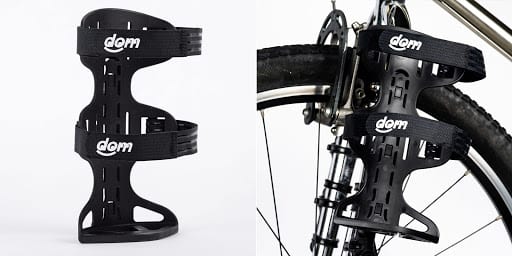 Pros
Stays sturdy in cold weather
Extremely lightweight
Fit for sleeping pads, bottles, and dry bags
The aspect that distinguishes this cargo cage from the others is its three wings wrap system. These wraps perfectly secure your gear bags, dry bags, or water bottles with zero chance of dropping or moving.
Other than this, you can easily mount it to the frame of the fork of your bike with the simple slide-down movement (you have to screw the base of the cage to the frame first).
The cage is made from engineering grade polymer that makes the cage fit for even freezing cold weather. Thus, making it extremely sturdy.
Material: Engineering grade polymer
Weight: 0.28 lbs
Weight capacity: 5.5 lbs
Wing Wraps: 3
5. Topeak VersaCage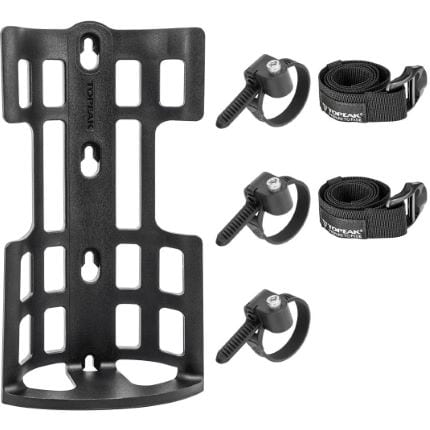 Pros
Available in one size
Durable construction
Great for road cycling and commuting
Cons
Lightweight design prone to damage.
The Topeak bike cargo cage stands out from others because of its four-hole mount design that encourages height adjustment. Besides, it comes with two buckle straps that make sure that your attached gears never move, no matter the surface you're riding.
Its engineering-grade nylon material makes it absolutely remarkable and fit for long-term usage. The Topeak VersaCage can effortlessly handle weight up to 6.5 pounds.
Material: Engineering grade polymer
Weight capacity: 6.5 lbs
Number of straps: 2 buckle straps
Weight: 4.51 oz.
Four hole mount design
6. Problem Solvers Bow Tie Strap Anchor Kit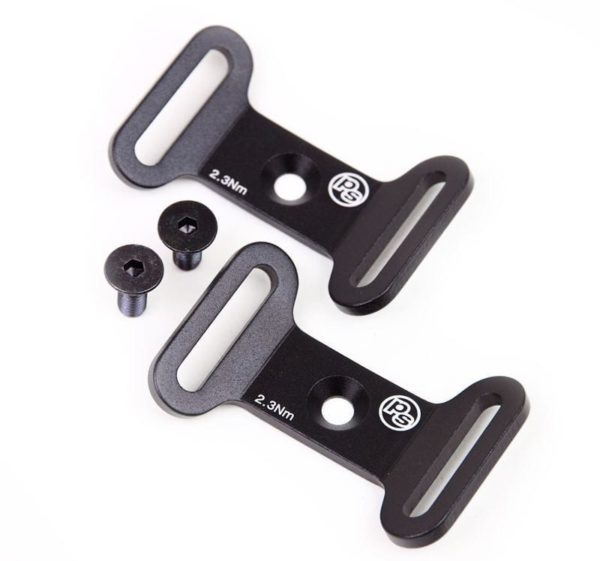 Pros
Sleek yet strong design
Fit for carrying items like sleeping pads and bottles
These lightweight brackets may look smaller but have the utmost strength to hold your essential gear for a bike trip. You can easily screw these brackets to the frame or fork of the bicycle and use straps to hold things like water bottles, dry bags, etc.
The sleek design of the brackets makes them almost invisible when something is attached to them. Besides, the high weight-bearing capability of the anchors makes them ideal for carrying heavy items.
Material: Aluminum 6061
Weight capacity: 3 lbs
Color: Black
Pieces: 2
7. Specialized Burra Burra Stuffcage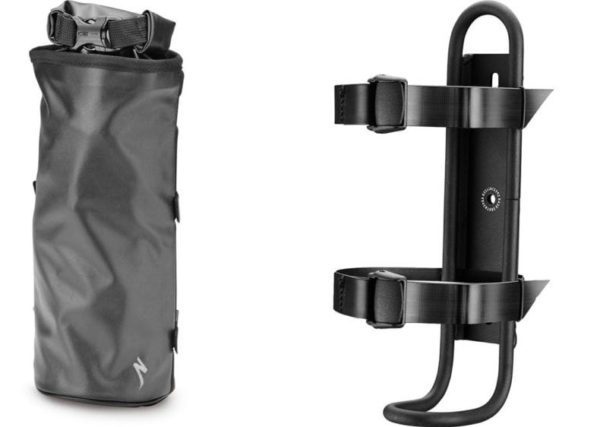 Pros
Powerful design with a high weight-bearing capacity
Fit for carrying items like fuel canisters and bottles
It can easily adjust a 1-liter stuff pack
If you are looking for bikepacking fork cages with more carrying capacity, go for this ingenious product. This fork cage by Specialized has an oversized tubular aluminum construction that makes it ideal for carrying water bottles and even a fuel canister of decent size. The oversized design of the bag cage offers massive durability.
Apart from this, this is one of those bikepacking fork mounts that is equipped with coated webbing straps and camlocks. Thus, making it one of the best among the choices.
Material: Aluminum
Weight: 5.3 oz.
Color: Black
Attachments: 3 bolts
5 Best Fork Dry Bags for Bikepacking
The proper drybag, maybe one designed specifically for bikepacking, is needed if you don't want to leave your cargo cages for the sole purpose of water-carrying.
If you want to carry gear, and want it to stay dry, here are some of the best cargo bags for your cargo cages.
1. Salsa Exp Series Anything Cage Bag
Pros
Waterproof design
Awesome fitting
Multiple attachment points
Attaching a cycle touring fork mount is of no use if you don't have the equipment to store anything. This is the reason Salsa came up with this cool anything bag for its cargo cage. The innovatively designed bag can be used to store lightweight essential gears and water bottles.
This allows you to be free from any backpack, and makes it easy to access the gears. Besides, it also makes the handling easy by lowering the center of gravity.
The mount is perfectly secure thanks to the multiple loops solidly sewn on the bag. Ideal for carrying a lightweight sleeping bag or sleeping pad.
Capacity: 3.35 liters
Hypalon daisy chains: 2
Compatible with Salsa anything cage
Material: 500 Denier Tarpaulin
Weight: 5.2 oz
2. DOM Gorilla Bag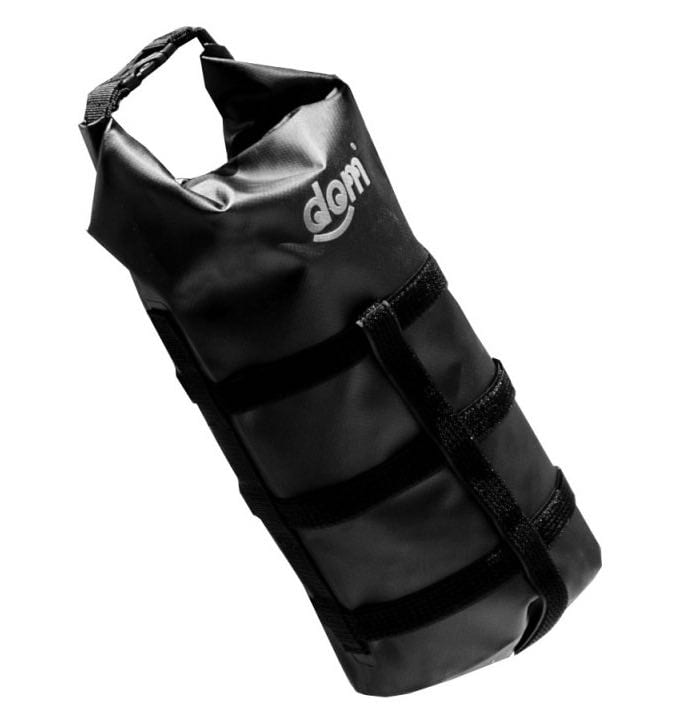 Pros
Waterproof design
High storage volume
Cons
The plastic connector may wear with time.
If you are buying the DOM Gorilla Cage 2, then you must also buy this DOM Gorilla bag. This will be a remarkable and compatible addition to the cage. Equip your rig with this combo and relieve your mind from the fear of your gears getting lost, damaged, or caught in bad weather.
The 500D tarpaulin dry bag is entirely abrasion resistant and waterproof. Moreover, its 5.5-liter capacity makes it ideal for holding multiple items at one time. One of the top bicycle fork bags for carrying a whole sleeping system. A 1 man shelter on one side and a quilt and pad on the other.
Material: 500D Tarpaulin
Volume: 5.5 liters
Waterproof: Yes
Compatible with Gorilla Cargo Cage
Weight: 6.2 oz.
3. Revelate Designs Polecat Fork-Mounted Bag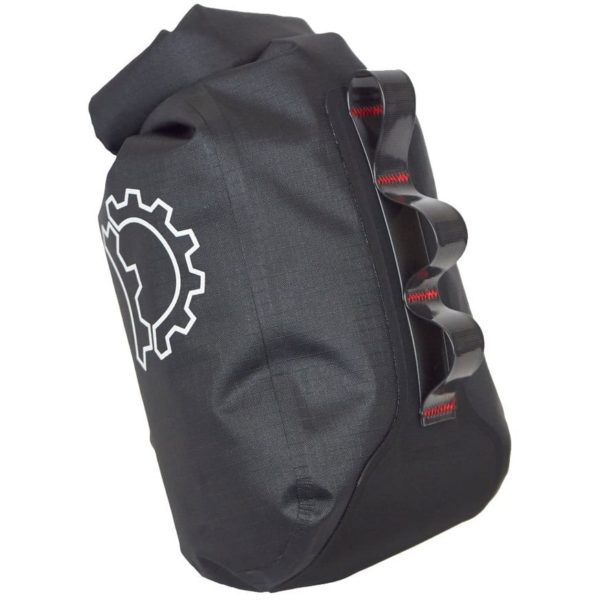 Cons
It does not include attachment straps.
If you are looking for the best of the best class bikepacking fork bag, then this one is for you. The bag manufactured by Revelate Designs is easy to attach to the fork of your bike and compatible with any bikepacking cage.
It has a super lightweight design made from radiofrequency welding, which makes it highly durable.
To provide you with absolute relaxation of mind, the bag can be closed by rollover top closure, thus securing the items in it. Moreover, the back of the dry bag is made from Hypalon Urethane that shields it from every sort of abrasion or damage from the bolts or cage.
Material: 210-denier ripstop nylon/Hypalon reinforcements
Volume: 3.5 liters
Waterproof: Yes
Ideal for Bikepacking
Weight: 3.7 oz.
4. Sea to Summit eVAC Dry Sack
Pros
An extra layer of high-performance sleeping bag
Highly durable
Compact and lightweight
Cons
May experience abrasions after some time.
Not a bikepacking fork bag per se, this high-quality dry bag from Sea to Summit could work well with a cage like the Blackburn Outpost.
The differentiating feature in this product from the others is its watertight design. The double-stitched and tape-sealed construction of the dry bag makes it absolutely waterproof.
Other than this, the durable Nylon body of the dry sack makes it ideal for long-term use. The oval-shaped base cover takes less space and is also lightweight. Lastly, the waterproof bag is an ideal option for backpacking as well as travel.
Material: Nylon body and eVent fabric
Volume: 5 liters
Waterproof: Yes, with air expelling design
Fit for Bikepacking and travel
Size: 7 x 4 x 15 inches
5. ALPS Mountaineering Dry Sack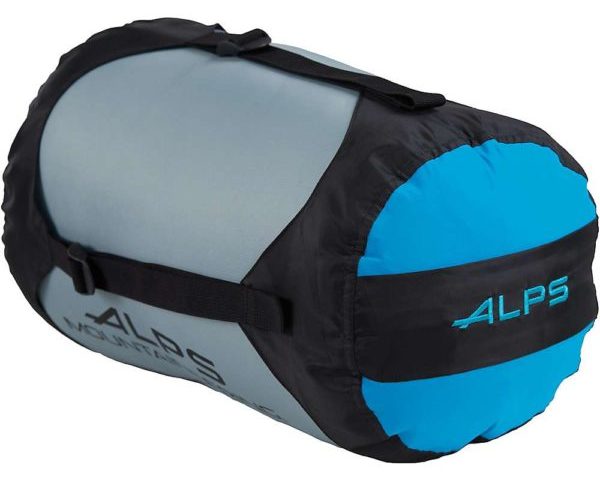 Pros
High volume
Compressible and easy to store design
Waterproof design available in multiple sizes
Cons
The air purging feature of the bag may not function properly.
The last pick on the list is this beautiful looking Alps mountaineering backpacking dry bags fit for who want to carry larger gear on their front forks.
Now, the cool thing about this bag is compression stuff, use every cubic mm of space while keeping all your gear solidly and airtight.
The Nylon material of the compression band provides the bag excellent strength, while the external material of the gear storage bag is waterproof, so no fear of getting your stuff wet in bad weather.
Although not a bikepacking specific bag, the 10l version can be comfortably carried on your fork if using long straps.
Just remember to not overload over your cargo cage weight capacity.
Material: 70D Nylon Ripstop Fabric
Volume: 10 liters
Waterproof: Yes, with air control bottom and taped seams
Weight: 7 oz.
Choosing the best Cargo Cage: Buying Guide
Till now, you might have shortlisted the cargo cage you might want to buy, but wait! It is not that simple; there are various factors that you need to consider while buying one. Some of those crucial factors are:
First of all, it is extremely necessary for you to check if your bike is ready for this cage upgrade. This means if your bike has braze ons (threaded holes) like water bottle bosses in the front fork or wherever else you're thinking on mounting the cage.
Braze-ons are necessary as they will help you fasten or attach the cargo cage to your touring bike's fork or frame. (Fork cages can be somehow used also without braze-ons, check the FAQ section at the bottom).
The basic installation procedure of the cargo cage is pretty simple. Here are the steps:
Check for braze-ons on your fork and measure the distance between them. Almost every bike has them; if not, you get braze ons made but only on steel frames.
Take the cargo cage or bottle cage and fit it on the braze ons by using the provided screws (most of the bottle cages or cargo cages come with included bosses and washers).
Tighten up the cargo cage to the bike's frame or fork.
Now, you are all set to take on the road will all the necessary gear that you need.
Note: Brazing is just another name for welding. It is the process of fitting small fittings like cable stops, cable guides, brake mounts, seat binders, water bottle bosses to your bike.
Frequently Asked Questions about Bikepacking cages
Can I use cargo cages if my bike has no bosses?
Yes, there are several adapters on the market to mount bikepacking cages on forks without braze ons. Normal bottle-cage adapters can work, but also hardware-store clamps and a bit of creativity (remember to protect your frame from scratches, you can use a piece of tube for that).
Final Words
Bikepacking is a great activity. It not only keeps your body active and fit but also lets you explore places. Other than a durable wheelset, comfortable handlebar, smooth moving tires, and the right bike helmet – you'll need the proper luggage options for your multi-day trips, and cargo cages do the job very well, getting rid of a front rack and storing firmly luggage and extra water.
We hope you got all the required information in this guide and choose the best product for yourself. Happy biking!
Want to know more about bikepacking? How to go bicycle camping with your MTB? If gravel bikes are good for travel? What's the best type of bike for touring? All the basics to go long distance cycle touring? What about folding bike adventures?
Cycloscope got you covered! Just follow the links above and get lost through the encyclopedic amount of bike travel content on cycloscope.net.
More bikes
> Kona Rove LTD 2022 – Review! – A Gravel Classic for Bikepacking
> Review! Surly Disc Trucker 2021: shall I buy it or not?
> Bombtrack Beyond – Review! Non-Plus Ultra Bikepacking Machine
> 6 Best Bikes for Plus Size Ladies – Road, Commuting, MTB, Utility, Electric
Stay in touch while we get lost! Follow us on Social Media