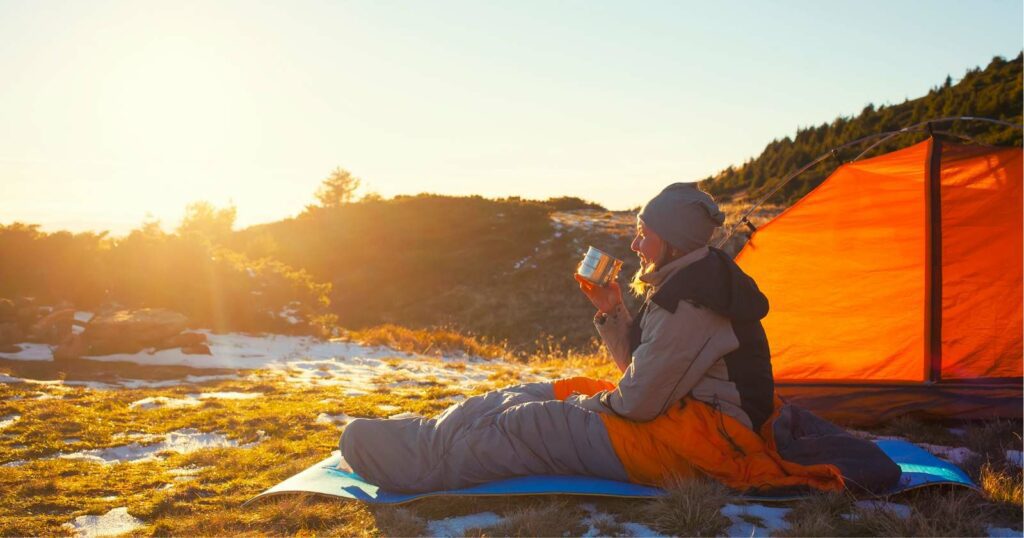 The best sleeping bags for cycle touring and bikepacking! Quilts, mummy, side-sleepers, winter, summer, hooded, ultralight, 0-degree, cheap, budget, affordable!
Yep, that's the ultimate article about the best bikepacking sleeping bags and sleeping bags for bike touring, so look no further 😉
Picture this: you're on a bikepacking adventure, cruising through varied landscapes, under the open sky, with nothing but your trusty bike and a world of possibilities ahead. As night descends and the temperatures drop, you start to appreciate the importance of one often-overlooked piece of gear: the sleeping bag.
In the world of bikepacking and cycle touring, a reliable sleeping bag can be your best friend. It's not just a place to lay your tired body; it's a cocoon of comfort and warmth that can make or break your experience. But what makes a good bikepacking sleeping bag, and why is it crucial to choose the right one?
First and foremost, your choice of a sleeping bag should be relative to the place and season of your adventure. Different environments and climates demand different insulation levels. If you're cycling through the balmy summer days of a Mediterranean coastline, you can get away with a lightweight, inexpensive sleeping bag. But venture into the crisp alpine air or undertake an autumnal journey through the highlands, and you'll need a bag that can handle cooler temperatures (plus a properly insulating sleeping pad.
Material matters, too. Sleeping bags come in various fabrics, each with its own set of benefits. Down insulation, for example, offers exceptional warmth-to-weight ratios and compressibility, perfect for those looking to minimize pack size and weight. On the other hand, synthetic insulation performs better in damp conditions, retaining its insulating properties even when wet. This is a vital consideration if your journey might involve unexpected rain or humidity.
Price is another factor that reflects the quality, durability, and temperature rating of a sleeping bag. In warmer climates, you can certainly opt for a budget-friendly choice. However, if you're planning winter adventures or traveling through colder regions, investing in a higher-quality sleeping bag becomes essential. A well-designed, pricier bag will not only keep you comfortable but also stand the test of time.
When selecting a bikepacking sleeping bag, consider its weight, packability, temperature rating, and insulation type. Look for features like draft collars and hoods that help trap warmth on chilly nights. Ultimately, your sleeping bag should be an asset, not a liability, enhancing your bikepacking experience by providing a cozy haven after a day of pedaling through the unknown.
So, as you plan your next bikepacking or cycle touring adventure, don't underestimate the significance of your sleeping bag. It's not merely a piece of gear; it's a sanctuary, a refuge, and a source of comfort in the midst of your two-wheeled escapades. Choose wisely, and you'll find that the right sleeping bag can transform your nights under the stars into moments of blissful serenity.
on a budget?
> 10 Best Lightweight Budget Sleeping Bags
Disclosure: Some of our articles contain affiliate links. This comes at no additional cost for you and helps us keep this website up and running. (as Amazon Associates we earn commission from qualifying purchases)
How we compile our gear guides: during the almost 10 years of cycloscope.net our team personally tested dozens of similar pieces of gear. For what we can't test personally, we involve other people in the cycling community to give their feedback and opinion about gear they have used. Our decade-long experience in bicycle touring enables us to find the key cons and pros of every product we mention.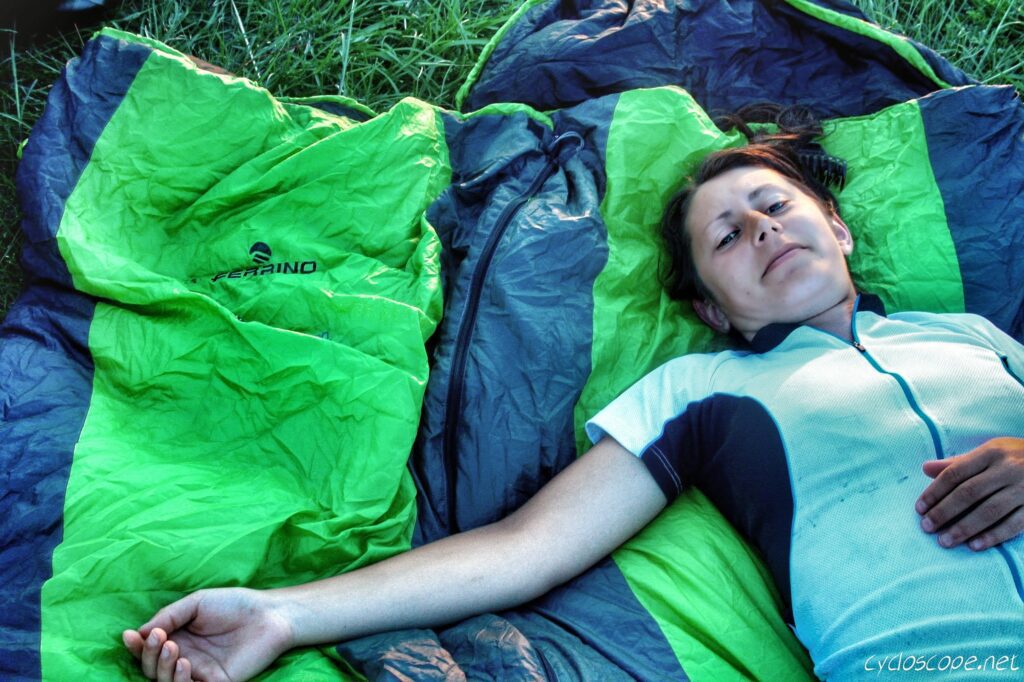 Best Sleeping Bags For Bikepacking In A Nutshell
The Very Best Bikepacking Sleeping Bags from Summer to Winter
Therm-a-Rest Hyperion 20

best bikepacking sleeping bag for mild temperatures

NEMO Forte 20

best eco-friendly sleeping bag (great for side sleepers!)

Sea to Summit Spark Ultralight 18F

best ultralight winter sleeping bag for bikepacking

REI Co-op Magma 15

best sustainable sleeping bag for bike touring

Sea to Summit Ascent AcIII 0

best bikepacking sleeping bag for couples

NEMO Sonic -20

best touring sleeping bag for extreme cold temperatures
Cheap & Best-Value Bike Touring Sleeping Bags [under $100]
Big Agnes Buell 30

Naturehike CWM280 Goose

budget summer quilt for ultralight bikepacking
The Very Best Bikepacking Sleeping Bags
from Summer to Winter
We've listed the products by temperature rating, from those more suited for mid-season/warmer -winters, to the best winter sleeping bags for freezing temperatures.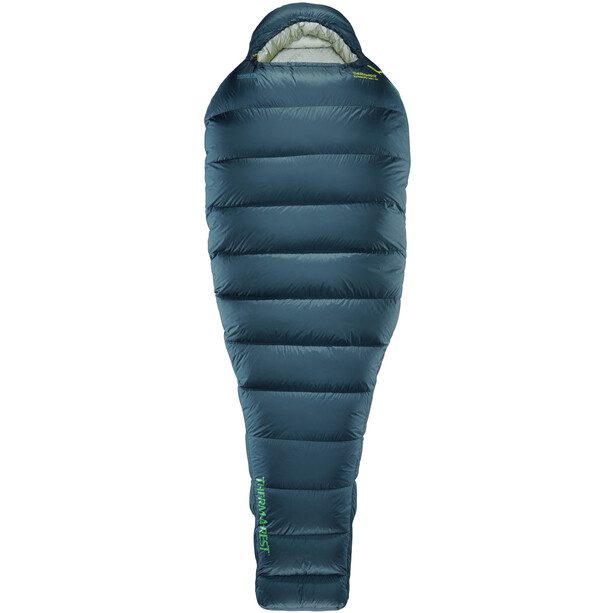 materials: down and ripstop nylon
temp rating: -6° C
weight: 567 grams / 1 lb. 4 oz.
packed size: 3 liters 
price: from $549.95
This is a great bikepacking sleeping bag for spring and summer temperatures. The Therm-a-Rest Hyperion 20 resists moisture perfectly with its water-repellant fabric. This makes it comfortable and dry even when the tent condenses.
I also like that the down is certified Responsible Down Standard, meaning that the down is collected ethically.
Besides, it is super comfortable, and the baffles keep the down in place so you avoid it clustering and creating uncomfortable balls and empty cold spots.
However, the best about this sleeping bag is that it packs up small and is super light so you can easily store it away in your bike pack. This is no arguing one of the best bikepacking sleeping bags out there.
Link: https://www.rei.com/product/147652/therm-a-rest-hyperion-20-down-sleeping-bag
best eco-friendly sleeping bag (great for side sleepers!)
materials: synthetic / 100% recyclable
temp rating: -7° C
weight: 1.4 kg / 3 lb 2 oz
packed size: 12 liters
price: from $219.95
A fabulous vegan-friendly sleeping bag for bikepacking featuring synthetic and 80% recycled materials.
The sleeping bag is breathable and water-repellent so you do not have to worry about getting wet from tent condensation and I love that it has an integrated pillow pocket where you easily can stuff a jacket to sleep more comfortably.
It also comes with full-length zippers on opposite sides on men's and women's so that you can connect them together if you want to get cozy.
But for me, the best part of this sleeping bag is that it has a spoon-shaped design that makes it easier to move knees and elbows around inside the sleeping bag.
Finally, this sleeping bag comes with NEMO's lifetime guarantee making it a sustainable choice for serial bikepackiers.
The only downside of this vegan sleeping bag is that it is slightly heavier than other similar down options on this list.
best ultralight winter sleeping bag for bikepacking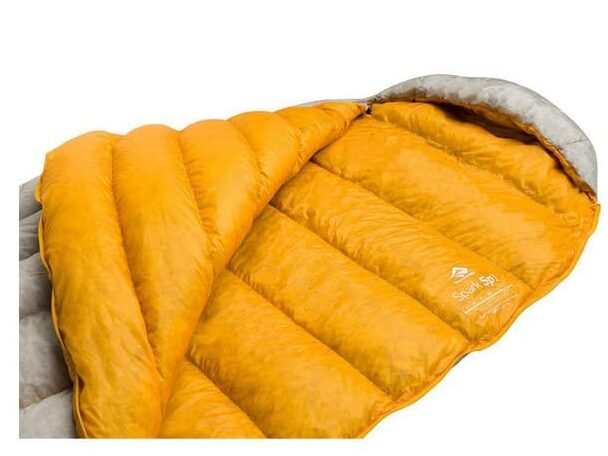 materials: Ultra-dry down and nylon
temp rating: -8° C
weight: 430 grams / 0.95 lbs
packed size: 6 liters
price: from $509
A great bikepacking sleeping bag that is super lightweight. Especially with the newest upgrades it has seen, with a super thin outer layer making it even more ultralight and the vertical baffles in the torso area preventing the down from clustering inside the bag.
This is not the best option if you expect to cycle into cold regions, but it is perfect for those nights around 0°C.
Among the specs that I love about this one is the 2-way zipper that goes all the way down for good ventilation. It also means it can be used as a blanket. Besides, it packs up small so it does not take up too much space in your pack.
I would say that this is a tremendously reasonably priced bikepacking sleeping bag for the quality you get. The Sea to Summit Spark Ultralight 18F will for sure accompany you on adventures for years to come.
best sustainable sleeping bag for bike touring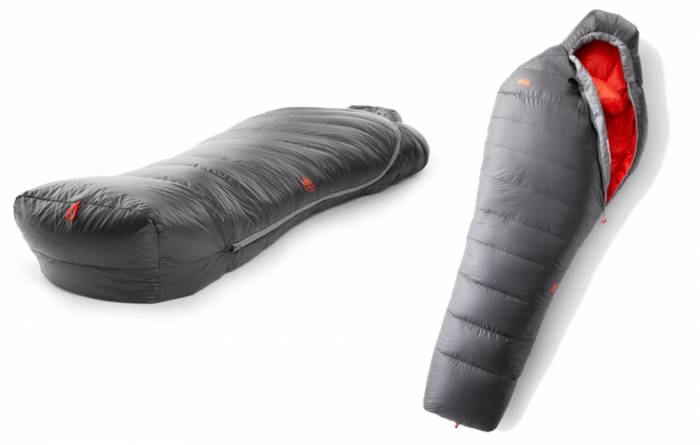 materials: Goose down and Downproof Pertex® shell
temp rating: -8.3° C
weight: 1 kg / 2 lbs. 4 oz.
packed size: 7.3 liters
price: from $399
With bluesign®-approved materials and a Responsible Down Standard (RDS) down stuffing, this is one of the best, sustainable sleeping bags for bike touring out there.
On the downside, it is slightly heavier than the Sea to Summit Spark Ultralight 18F which works at the same temperatures.
Yet, it is a way more budget-friendly sleeping bag and ideal for those who do not use it that often but are still looking for a good quality and sustainable sleeping bag for bikepacking.
Personally, I am also a fan of having the zipper on the right side, but that is obviously a very subjective opinion.
This sleeping bag also has a great padded hood keeping your neck insulated and two drawcords to adjust preventing heat loss and keeping you warm even without shelter. This is definitely a plus on colder nights.
The REI Co-op Magma 15 comes in both men's and women's versions and is a durable bag.
best bikepacking sleeping bag for couples
materials: Down and 20-denier nylon
temp rating: -10° C
weight: 1.33 kilos / 2 lbs. 15 oz.
packed size: 8.2 liters
price: from $499
This high-quality bikepacking sleeping bag from Sea to Summit is great for slightly cool temperatures allowing you to stay comfortable at temperatures down to -10°C.
The water-resistant Ultra-Dry down keeps you dry and warm when the tent condenses during the night.
One of my favorite features of this sleeping bag is the zipper system. The main side zipper is full-length giving you the opportunity to connect it to other Sea to summit sleeping bags. On the other side, there is a half zipper giving you room for ventilation when needed.
At the bottom, there is a separate zipper you can use for ventilation of your feet if needed. This is also ideal if you want to keep the sleeping bag on while walking around on cool mornings.
The only downside with this sleeping bag (besides the name) is that the hood is wide and slides off easily compared to other bags on this list. Nonetheless, this is a truly durable bikepacking sleeping bag that will keep you warm.
best touring sleeping bag for extreme cold temperatures
materials: Down and recycled nylon
temp rating: -29° C
weight: 1.75 kilos / 3 lbs. 14 oz.
packed size: 21.2 liters
price: from $494.93
This cold-weather sleeping bag from NEMO is hand on the best option for cold-weather cycling trips at an affordable price. Not surprisingly, it is on the heavier side, but it also holds near -30° C which is pretty solid.
I love how it is a sustainable alternative meeting the bluesign® criteria and using recycled materials in the cover and lining.
The baffles keep the down in place and ensure no heat loss. It is also a winner in wet conditions with its hydrophobic down and waterproof coating.
Even when sleeping in freezing temperatures, dampness on the inside of your tent will freeze, before eventually turning into water dripping onto you and your sleeping bag.
That makes it so incredibly important to keep the sleeping bag dry inside so you do not get wet at night, and this sleeping bag ensures exactly that.
As an extra cool feature, the toe box functions as a waterproof barrier making it the perfect place to dry clothes when needed.
On the downside, it does take more space than the other sleeping bags on this list, though it is expected as with all cold-weather gear.
Cheap & Best-Value Bike Touring Sleeping Bags
[under $100]
2023 Editor's Pick!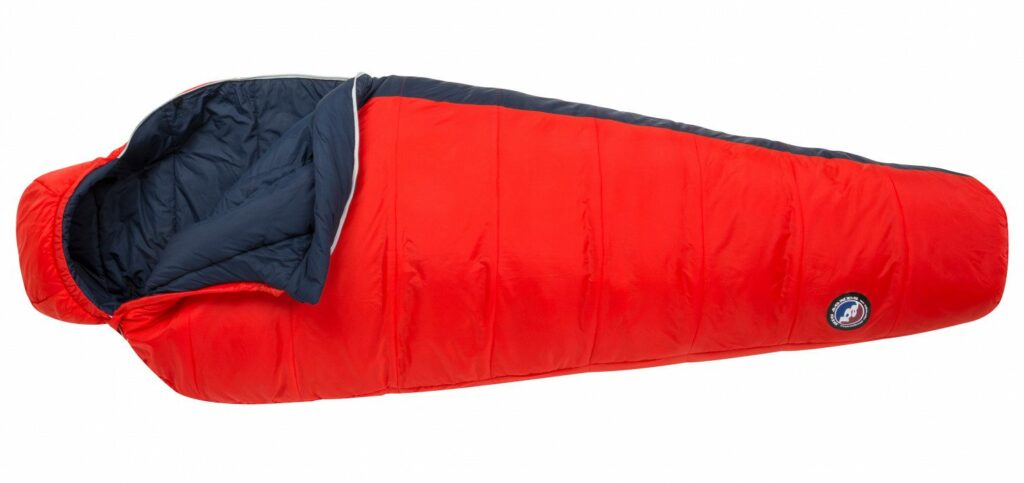 Materials: Fireline Pro Synthetic Insulation with a ripstop shell
Weight: 1.6 lbs / 725g
Packed size: 7.5 x 8 inches
Temperature Rating: 30°F | -1 C

In a world filled with high-tech materials and complex engineering in sleeping bags, the Buell 30 sleeping bag is a refreshing example of simplicity that gets the job done. Surprisingly roomy for its weight and compact size, it's an ideal choice for restless sleepers like me.
What sets it apart is its ability to offer comfort without sacrificing packability. I managed to compress it down to a mere 8.5 by 9.5 inches, leaving plenty of room in my bikepacking mini pannier for other essentials.
Despite its affordable price, the Buell 30 maintains its quality with a basic synthetic fill and a rugged ripstop shell, foregoing the need for elaborate baffling or welding.
Now, let's discuss its performance. Priced at around $110, this sleeping bag kept me warm in temperatures above 30°F. I particularly appreciate the draft collar, which snugly wraps around my neck to retain warmth and keep cold drafts at bay. Additionally, the ergonomic hood fits my head perfectly, ensuring that cold air stays out. With a weight of only 1.5 lbs, this is the best budget sleeping bag for bikepacking!
cheap ultralight quilt sleeping bag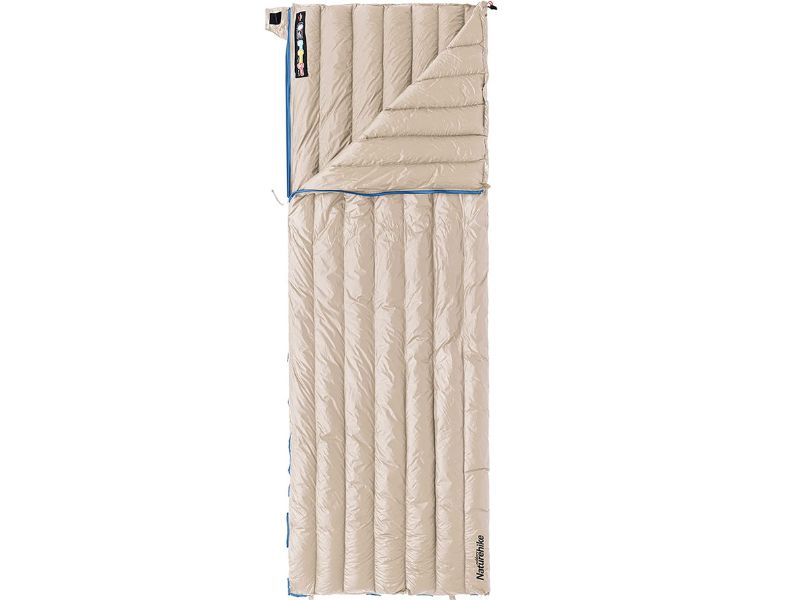 Materials: Goose Down 15D/400T nylon
Weight: 1.26 lbs / 570g
Size: 74.8x 28.3″
Packed: 4.7×10.2″
During our bikepacking adventure through Africa, we relied on the Naturehike sleeping bag—an incredibly lightweight and compact option. Despite a few limitations, this product from Naturehike impressed us.
The CWM280 model is among the lightest sleeping bags available. Naturehike has recently revised its temperature ratings, providing a more realistic comfort temperature of 11°C and a limit of around 6°C (52/42°F), which is a significant improvement from the previously overstated 36°F.
Additionally, Naturehike offers a CWM400 version (available at the same link), which is slightly heavier but boasts a comfort rating of 6°C (42°F) and a limit of 0°C (32°F).
Naturehike's ingenious design includes doubling the insulation on the top of the bag to maximize warmth-to-weight ratio.
With a mere 1.25 pounds of weight, this sleeping bag can be compressed down to just 10 x 5 inches using the provided 4-point compression sack. It's so compact that it can fit into a fork cargo cage while still leaving space for a base layer and a power bank.
The Naturehike CWM ultralight sleeping bag uses lightweight and durable materials, including a 15D ripstop fabric that reduces overall weight, making it a fantastic budget option, especially for those who prefer a rectangular shape for comfort.
However, here are couple of drawbacks: it lacks a hood, and the zippers, while functional, may need replacement after a few years of use.
check also
> 11 Best One-Man Tents for Bikepacking & Cycle Touring: 1-person lightweight shelters
> 10 Best Ultralight Sleeping Pads for Bikepacking & Camping – For All Budgets!
> 11 Best Camping Stoves For Bikpacking and Cycle Touring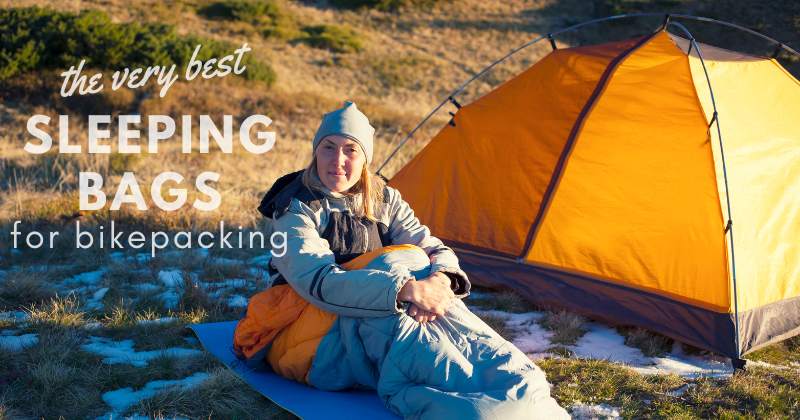 How to choose the best sleeping bag for bikepacking and cycle touring
Deciphering Sleeping Bag Temperature Ratings
Understanding sleeping bag temperature ratings is crucial for choosing the right one for your adventures.
The European EN 13537 Standard, adopted by many sleeping bag manufacturers, serves as an official classification system. However, this standard excludes bags for extreme temperatures and military use.
To receive an EN temperature rating, sleeping bags undergo lab testing, which determines four key factors:
the Upper Limit (temperature for a standard male to sleep without perspiring),
Comfort (temperature for a standard female to sleep comfortably),
Lower Limit (temperature for a standard male to sleep without waking in a curled position),
Extreme (minimum temperature for a standard female to survive without hypothermia risk).
These ratings are taken assuming that the subject is using a sleeping pad, tent and is wearing one base layer of thermal underwear.
However, standards like these aren't universal truths, as individual factors like hydration, nutrition, altitude, and gear quality also influence perceived temperature comfort.
Transparency regarding which EN rating factor manufacturers refer to varies, making it essential to assess sleeping bags holistically.
Choosing Between Mummy and Rectangular Sleeping Bags
Selecting the right sleeping bag shape is a balancing act between warmth and comfort. Mummy-shaped bags, narrower and designed for winter, trap heat efficiently due to their reduced internal space.
However, their limited mobility may not suit everyone and can lead to overheating in warmer conditions.
It's essential to recognize that there's no universal "4-season" sleeping bag; your choice should align with the climate zones you'll encounter during your hikes, backpacking trips, or bikepacking adventures.
A mummy bag excels in cold environments, while rectangular bags offer more freedom of movement but may not provide adequate insulation for winter conditions.
check also
> 3-Season Tents VS 4-Season Tents – What Should You Bring With You?
Down vs. Synthetic Insulation
Two primary materials fill sleeping bags: bird downs (usually duck or goose) and synthetic materials.
While synthetic fillings are often found in budget sleeping bags, they're less efficient at retaining warmth compared to downs. However, some lightweight and cost-effective sleeping bags feature down insulation, offering a compelling compromise between price and quality.
Down has additional benefits, including greater compressibility (reducing packed size) and lower weight.
The quality of down can vary, and the fill power ratio is a crucial indicator. Down with higher fill power offers superior insulation-to-weight ratios, resulting in lighter and warmer gear.
For example, a down with a fill power of 800 can expand to fill 800 cubic inches of space with one ounce of down.
While higher fill power contributes to superior warmth-to-weight ratios, other factors, such as baffle design and shell fabric quality, also influence a sleeping bag's warmth.
Understanding Fill Power
Fill power is a critical specification for down insulation, indicating its quality and insulating capability. It measures how well down clusters can loft or expand to trap air, creating warmth.
Fill power is expressed in cubic inches per ounce (in³/oz) or liters per gram (L/g) in the metric system. For instance, down with a fill power of 800 means one ounce of that down can expand to fill 800 cubic inches of space.
Different fill power ratings generally signify varying insulation and packability.
Low fill power (300-500) provides decent insulation but may require more volume for the same warmth, often found in budget-friendly products.
Medium fill power (550-700) strikes a balance between performance and cost, common in mid-range gear.
High fill power (750-900+) offers exceptional insulation, resulting in warmer, lightweight, and packable gear, commonly used in premium products.
Keep in mind that a sleeping bag's warmth also depends on factors like the total amount of down, baffle design, and shell fabric quality. Thus, when selecting gear with down insulation, consider fill power alongside other elements to strike the right balance between warmth, weight, and comfort.
Eco-firendly sleeping bags: is down ethical?
The use of down fillings in sleeping bags does raise ethical concerns, primarily related to the sourcing of down. Down is typically obtained from the plumage of ducks and geese, and ethical issues arise when the birds are mistreated or subjected to inhumane conditions during the harvesting of their feathers.
One major ethical concern is the practice of live plucking, where feathers are forcibly removed from live birds. This causes immense pain and suffering to the animals. Additionally, birds may be raised in overcrowded and unsanitary conditions in some farms, which can lead to health issues and poor welfare.
To address these concerns, some companies have adopted ethical sourcing practices and certifications that ensure the down used in their products is obtained in a humane and environmentally responsible manner. One such certification is the Responsible Down Standard (RDS), which sets strict guidelines for the treatment of birds and the traceability of down from farm to product. The RDS ensures that live plucking and force-feeding are prohibited, and it requires that birds are raised in healthy, humane conditions.
Another certification is the Global Traceable Down Standard (TDS), which focuses on traceability and transparency in the down supply chain, ensuring that down can be traced back to the source.
Consumers who have ethical concerns about down fillings in sleeping bags should look for products that carry these certifications. Supporting companies that adhere to these standards can help promote ethical practices within the industry and reduce harm to animals.
Stay in touch while we get lost! Follow us on Social Media