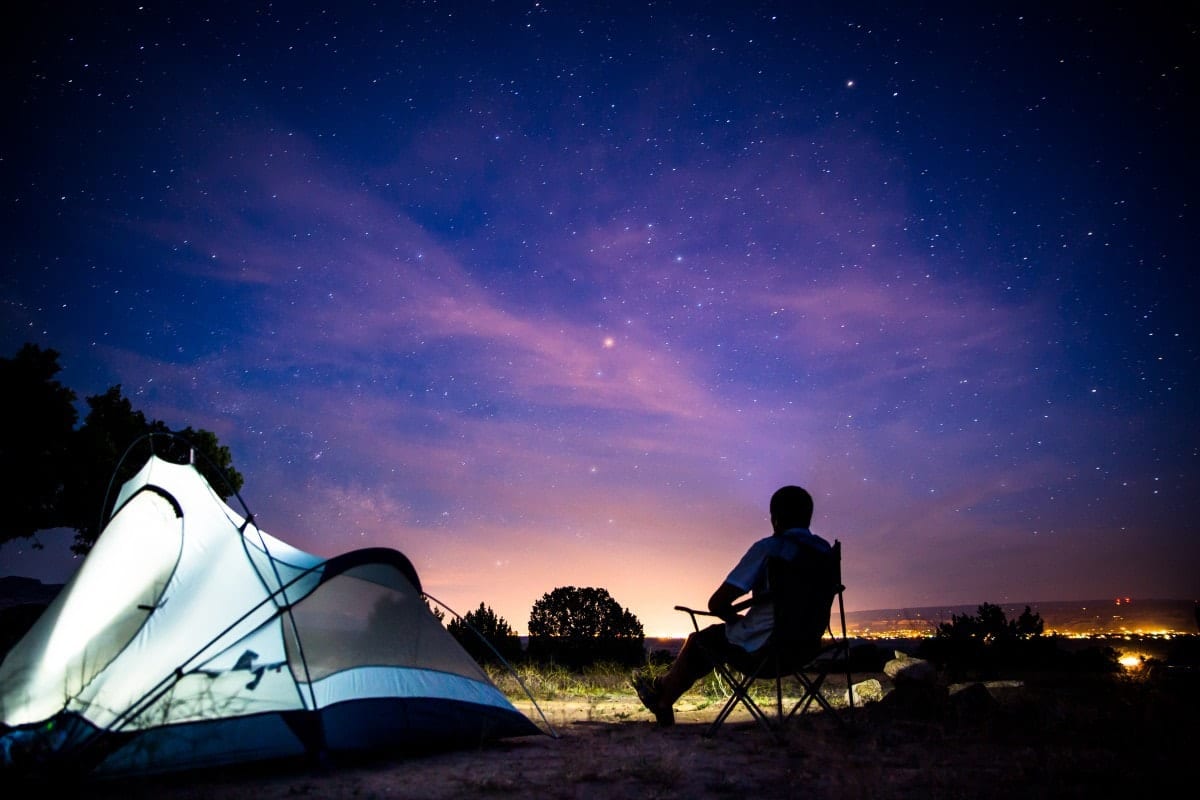 11 Ultra-Lightweight one-person tents for solo bikepacking & bicycle touring
The best one-man camping tents for your hikes and bike adventures
Welcome to the freshly updated guide for the best bikepacking tent for solo cycle touring. All 1-person tents have been updated in August 2023 to give you the best option for 1-man ultralight tents available in the market – from cheap & affordable, to budget-friendly, to the very top in the market.
Choosing the best bikepacking tent for your needs is not an easy task. The outdoor and camping world is becoming bigger every day – along with well-established brands producing backpacking, cycle touring, bikepacking, and ultralight tents in general – new brands pop up every year, sometimes with great products, sometimes with reliable, cheap bike tents that will do their duty without breaking your bank account.
In this blog post, we'll compare 11 ultralight tents and shelters from the cheapest to the top-notch. We'll list only 1-person bikepacking tents here, if you want more space take a look at the best bikepacking 2-person tents.
The tents mentioned in this list are all well-suited for bicycle touring, long hikes, and adventurous bikepacking trips.
So, let's first dive into the comparison of the best cycle touring tents, updated for 2023.
After the products, you'll find our buying guide, have a look at what factors you should consider when buying a one-man ultralight tent.
Disclosure: Some of our articles contain affiliate links. This comes at no additional cost for you and helps us keep this website up and running. (as Amazon Associates we earn commission from qualifying purchases)
How we compile our gear guides: during the almost 10 years of cycloscope.net our team personally tested dozens of similar pieces of gear. For what we can't test personally, we involve other people in the cycling community to give their feedback and opinion about gear they have used. Our decade-long experience in bicycle touring enables us to find the key cons and pros of every product we mention.
11 Best Bikepacking Tents in a Nutshell
6 best freestanding and semi-freestanding 1-person tents for bike touring
REI Co-op Trailmade 1 | +/- $160
MSR Hubba NX 1 | +/- $470
Big Agnes Fly Creek HV UL 1 | +/- $370
NEMO Hornet Elite 1P | +/- $550
Naturehike VIK | +/- $130

lightest 1-man bike touring tent on a budget

MSR FreeLite 1 | +/- $350
2 great non-freestanding ultralight bikepacking tents
Terra Nova Laser Competition 1 | +/- $550
Ferrino Sintesi 1 | +/- $250
3 best 4-season 1-man tents for bikepacking
NEMO Tracker OSMO | +/- $430
MSR Access 1 | +/- $680
Hilleberg Akto 1 | +/- $650
The Lightest Cycle Touring Tents Compared
Here's our list of the best bikepacking tents updated for 2023, if you think some great ones are missing please feel free to contribute in the comment section.
6 best freestanding and semi-freestanding 1-person tents for bike touring
new entry 2023!
REI Co-op Trailmade is the heir of the mythical Quarter Dome, REI's legendary 1-man tent best sellers.
The Trailmade is indeed very similar to its predecessor but with an improved aero profile that allows it to stand firmer against strong wind, although sacrificing some innner space.
Many bike travelers are fond of REI tents, they have been tested in rough conditions and have surely proven their good quality and great value for money.
This 1-man version is definitely not the lightest one-person tent nor the best available but it's a fairly good compromise between price and quality. It's fully freestanding, meaning you don't need any stakes to pitch it so it can be used on every kind of surface.
PROS: Fully freestanding, large vestibule, roomy
CONS: Not great against strong winds. Cheap zippers
Freestanding
Size: 88 x 36 x 41″ | 223.5 x 88 x 105 cm
Packed: 6 x 18.5″ | 15 x 47 cm

Weight: 3 lbs. 8 oz./ 1.5kg
The MSR Hubba Hubba 1-person is another extremely popular option among solo cycle tourer – it tent presents itself as a solid option for bikepacking, but it's not without its drawbacks.
Crafted by a brand known for its outdoor expertise, the Hubba Hubba is a testament to quality.
Its durable construction and reliable weatherproofing ensure you stay protected from the elements, even in challenging conditions, and its simple setup is appreciated after a long day on the saddle.
While its reputation precedes it, boasting quality and durability and a trail weight below 1kg, the high price tag might give some pause. It's an investment that demands careful consideration, especially considering that the footprint is sold separately.
Another thing to consider is that some users have reported issues with condensation buildup due to the tent's ventilation design, leading to dampness during the night. This might be a dealbreaker for those seeking a consistently dry and comfortable sleep even in hot and wet climates.
PROS: Fully freestanding, large vestibule
CONS: no footprint, pricey, condensation issues
Freestanding

Inner dimensions: 85x30x36″ | 216 x 76 x 91.5 cm
Packed: 6 x 18″ 15 x 46 cm
Weight: 2 lbs 2 oz / 10.9 kg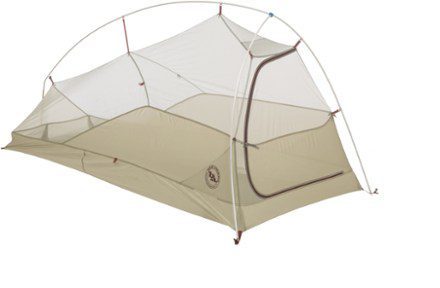 This ultralightweight backpacking 1 person tent by Big Agnes is a great one. Half-freestanding (needs stakes to tension the corners), big entrance, pretty wide at its widest point, and well under 1kg.
The mesh is very aerated ensuring optimal ventilation even with only one entrance. The vestibule is smaller than the competitors but the more aero-friendly design makes it behave better in windy weather.
Like most ultralight tents, the Fly Creek HV's floor is prone to tearing so the footprint is absolutely a must, for this price it should come with the tent but it doesn't, you'll need to add 60/70 bucks more and that's a shame.
PROS: ultralight, good living space, half-freestanding
CONS: weak floor, footprint not included
Semi freestanding
Dimensions: 86 x 38/28 x 40″ | 218 x 96.5/71 x 101.6 cm
Packed: 5 x 18.5″ | 12.7 x 47.5 cm
Trail weight: 1lb 11oz / 765g

| w. footprint (not included) 2 lbs

/ 900g
EDITOR'S PICK!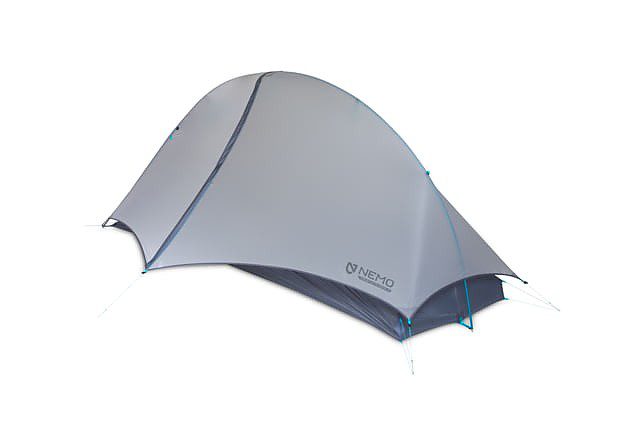 My absolute favorite, the Nemo Hornet Elite is the best lightweight 1 person tent in the market, in my humble opinion of course.
It weighs nothing, is almost freestanding, has a wide living space, a big enough vestibule, packs small, it's quite affordable… what else might you ask from a 1-man tent?
The NEMO Hornet Elite 1 is ultralight for a double-wall shelter, weighing just 1 lb 7 oz, perfect for solo backpacking or bikepacking. It offers better wind and weather protection than a bivy sack while maintaining a compact size.
The tent features a single hubbed Y-pole, providing stability to the inner tent when staked out.
There's ample room for a 72″ x 25″ sleeping pad, with cross ventilation facilitated by the rain fly and partially unzipped door. The tent has gear loops, mesh pockets, and ambient lighting options for convenience.
The 10 denier Sil/PeU Nylon Ripstop inner tent floor is durable, though a footprint is recommended but not included.
The marigold-colored 7 denier PeU Nylon Ripstop rain fly offers privacy and maximizes tent stake utility. The front vestibule accommodates a few bags, while toggles enable sides to roll back in favorable weather. Additional guylines and guy-out points enhance wind stability.
While the tent excels in many aspects, its lateral rain coverage near the zipper could be improved.
Overall, the NEMO Hornet Elite 1 Tent is a lightweight and versatile option for solo adventurers seeking a balance between minimalism and weather protection. Not recommended for cold winters.
PROS: everything mentioned above
CONS: A bit costly
Semi freestanding
Dimensions: 87 x 40 x 38″ / 220 x 102 x 96.5 cm
Packed: 19 x 4″ / 49 x 10 cm
1 lb. 14 oz. / 850 g
lightest 1-man bike touring tent on a budget
For those who want to stay really minimal, here's the lightest tent on this list. Naturehike does its magic again, coming out with an ultralight 2-person tent under 3lbs (1.35kg) that paks as small as 18*6 inches (46*16cm).
The secret? This is a one-layer tent, so no separated flysheet and inner mesh. I can hear some of you shouting "condensation!" but hear me out.
A little condensation does occur, but the vents and the possibility of slightly opening the access door while leaving the door mash close will solve the problem in any condition that is not too cold.
This is a summer/spring tent, that can be used for temperatures as low as 45F or 6/7C. Besides that, it's a quite sturdy camping tent for its weight, bikepackers and minimal trekkers would love it, and the price is super-appealing. I purchased a one-person version as a second, spare tent to use when I really want to pack next to nothing.
Despite being a single-walled tent, the Naturehike Vik handles heavy rains properly, thanks to the 15D nylon-coated silicone/PU 2000mm fly and 20D/PU 4000mm floor, a footprint is also included in the purchase.
| | |
| --- | --- |
| Tent fly | 2000mm 5D Nylon Silicone-coating |
| Tent bottom | 20D nylon / 4000mm |
| Footprint | 150D / 3000mm |
| Poles | 7001 aluminum alloy |
| Inner size | 2.68in/210cm (length) * 33.46in/85cm (width) * 37.40in/95cm (height) |
| Packaged size | 18*6 inches (46*16cm) |
| Weight | 2.98lbs (1.35kg) |
Like Naturehike tents? Check:
> Naturehike Tents REVIEW! 11 Tents Compared for 2022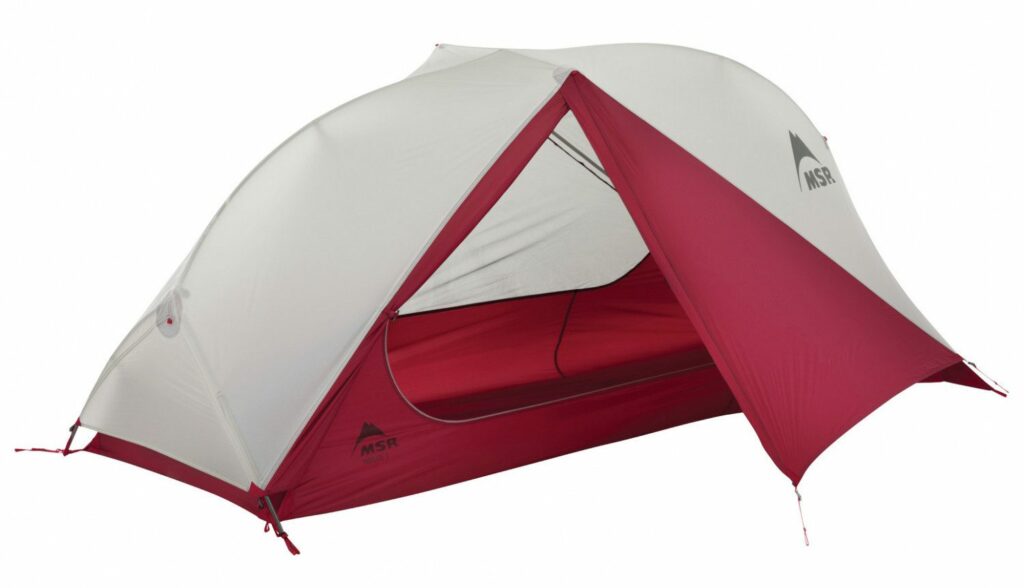 The lightest semi-freestanding, full-featured backpacking tent for 1 person in the MSR lineup, the 3-season FreeLite 1 tent offers generous room to fit a wide sleeping pad and all your gear on solo cycle touring trips.
With only 1.1 kg the Freelight is one of the lightest freestanding tents in the market, although it still needs two pegs to tension the corners.
MSR has received some bad press lately, with some complaining of a drop in manufacturing and materials quality. We still consider this tent to be one of the best deals out there for solo backpackers or cycle tourists though.
PROS: Lightweight and roomy, Semi-freestanding
CONS: Flysheet gets caught in the zipper
Semi Freestanding
Dimensions: 86 x 30 x 38″ / 218 x 76 x 91.5 cm
Packed: 18 x 6″ / 15 x 47 cm

2 lbs. 7 oz. / 1100 g
2 great non-freestanding ultralight bikepacking tents
The Laser Competition 1 has become the classic one-person bikepacking tent and has received multiple industry's 'Best In Test' awards.
The tent is designed for bike travelers and backpackers looking for a tried and tested weight-saving kit with a good balance of low weight and durability. Its low profile shape and design make it ideal for wild camping.
PROS: great waterproofness and high-quality construction
CONS: Small and expensive
Non-freestanding
Dimensions: 220 x 62 x 100 cm | 86.6 x 24.4 x 39.4″
Packed: 16.5 x 4.7″ | 42 x 12 cm
Weight: 2 lbs. 1oz. | 930 g
Ferrino is an Italian outdoor brand that has been leading the local market for more than one century, providing gear for some epic expeditions.
Unfortunately, their manufacturing quality has dropped recently, but the price still makes it worth considering.
Sintesi 1 is their ultra-light, basic 1-person tent with a minimum trail weight of 830 grams, a good mid-range shelter for hiking and bike touring.
PROS: Lighter & larger than other shelters
CONS: Not freestanding, small condensation issues
Non-freestanding
Dimensions: 93 x 39 x 31.5″ / 235 x 100 x 80 cm
Packed: 12 x 5.5″ / 30 x 14 cm
Weight: 2.2 lbs. 997 g
3 best 4-season 1-man tents for bikepacking
The Tracker OSMO™ tent offers a versatile shelter solution that could potentially be used in snowy conditions.
Although not a 4-season tent, the Tracker comes with a snow skirt that keeps the warmth inside and the snow outside, while Its unique blend of nylon and polyester yarns in the OSMO fabric provides superior water resistance and waterproofness, all without harmful PFAS chemicals. This fabric also exhibits minimal stretching when wet and boasts exceptional strength compared to similar materials on the market.
Maintaining an asymmetrical design, the Tracker tent maximizes headroom and gear storage without compromising weight. The Flybar™ pole clip enhances interior volume, while the Landing Zone™ waterproof gear tub in the vestibule adds practical storage options. The tent's durability is evident through features like a silicone-coated floor, full-coverage rainfly with snow skirt, and the use of Easton Syclone® poles for swift setup.
Its thoughtful design includes internal storage pockets and a gear loft, catering to organization needs. The full-coverage rainfly with a waterproof rating of 1200mm ensures protection against heavy rainfall.
While the tent's single vestibule offers valuable storage space, a footprint is not included, highlighting the importance of additional floor protection, especially in rugged terrains. The tent is available in various sizes to suit different preferences.
PROS: versatile for most climates
CONS: footprint not included, not fully freestanding
Semi-freestanding
Dimensions: 90 x 43/31 in x 39 / 228.6 x 108/79 cm x 100
Packed: 19.5 x 4.5/ 50 x 12 cm

Weight: lb 2 oz / 970 g
Another MSR masterpiece, not exactly a lightweight tent but it is something that can seriously withstand heavy snow and low winter temperatures.
This 1 person 4-season backpacking tent is completely freestanding and roomy enough to comfortably sit in and also store some gear. It even features a nice vestibule wide enough to use your bikepacking stove in case of bad weather (always be careful of course).
The inner tent is almost entirely made of canvas, which guarantees high insulation but may result in condensation (very normal) and low ventilation. Although MSR has recently improved on this by making the vents wider, this tent might still turn into an oven in summer.
PROS: Strong construction, 4-seasons, freestanding, roomy
CONS: Expensive, relatively heavy
freestanding

4-seasons
Dimensions: 84 x 33 x 41″ / 213 x 84 x 104 cm
Packed: 6 x 18″ / 15 x 46 cm
Weight: 3 lbs. 8 oz. / 1590 g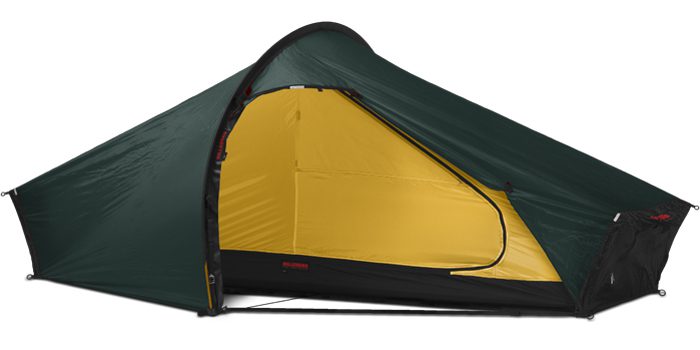 Hilleberg's quality is indisputable, if you are really looking for the best cycling tent that will last you a lifetime you should really consider this brand.
The Enan has a huge vestibule (0.8sqm), a decently sized livable area (60 to 95 cm wide), great ventilation, and top-notch materials.
The Hilleberg Akto is one of the best lightweight 1-person tents suitable for all 4 seasons. The Akto features some of the most innovative venting options available to defeat internal condensation.
The large vestibule, and high-quality construction and design, make this a very comfortable bikepacking or cycle touring shelter to take on long-term trips.
The inner is hung to the fly so that they can both be pitched together, or you can first put the fly up and then hang the inner, so to avoid it getting wet.
PROS: Hilleberg quality, the best camping tents in the world. Great ventilation, huge vestibule
CONS: Expensive, not freestanding, might be small for big guys.
Non-freestanding
Dimensions: 86 x 64 x 36″ | 220 x 165 x 93 cm
4 seasons
3 lbs. 12 oz. | 1700 g
How to choose the best bikepacking tent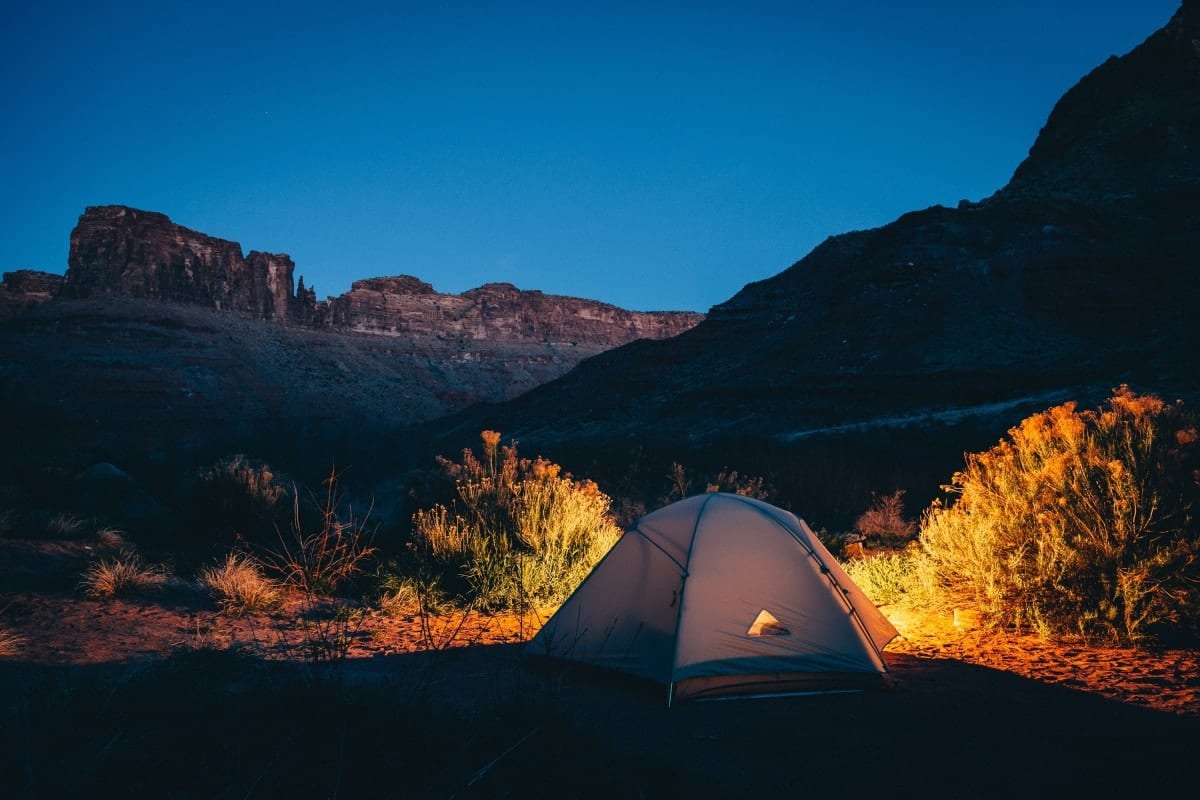 Comfort: 1-Person tent VS 2-person tent
One could assume that a 1-man tent is good for 1 person but that's not always true. Depending on how much time you'll spend into your tent, a tight living space may result in a loss of comfort and a drop of your love for camping.
We would advise taking with you the most spacious tent possible, especially for bike touring, when weight is less a concern than when backpacking or bikepacking, and you likely will carry more gear and stay out more days.
25 inches (63cm) per person is what is usually considered enough width for one person, but it's honestly a bit too narrow in my humble opinion, particularly in hot climates.
My opinion is to consider at least 80cm, the wider the better, especially if you plan to keep some gear inside with you. Since some of the lightweight tents listed here are narrower than that, you could think about getting the 2-person version, which is available for many of these models.
Another important and often overlooked spec is the length of the tent. Although 210cm (85″) may seem enough, keep in mind that this information indicates the length at floor level.
Depending on the design of the tent, if the walls are very slanted this length might be much shorter at your head's height, resulting in it touching the walls, which is not pleasant. Consider buying a longer tent if you are a tall person.
Have a look at this list of
17 lightweight 2-person tents under 200$
Use: Cycle Touring Tents VS Bikepacking Tents VS Backpacking Tents
Although it may seem a specious distinction, the needs of a bike tourer are a bit different from those of a bikepacker or hiker. First of all, the long-distance bicycle traveler usually has more gear, spares, tools etcetera add up to the bulk. So, an ideal bike touring tent should have large vestibules for gear storage.
Besides that, when bike touring you use your tent more. Your tent will be your home for most of your trip, especially if it is going to last a while, so you'll want a comfortable and reliable home to live in. Adding a few hundred grams in exchange for a bigger and stronger tent might be a good choice.
When bikepacking or mountain-bike camping for a shorter time span, let's say less than a week, those considerations above are less important, you'll have to endure the discomfort only for a few days, so you could go for the lightest bikepacking tent.
Maybe you'd like
Bikepacking VS Cycletouring: the ultimate verdict
Backpackers tents, on the other hand, should ideally be ultralight and small when packed. The weight of your tent will be on your shoulders instead of a bike rack, and shouldn't take too much space in your single piece of luggage, your backpack indeed.
Climate and weather
read our article about
> 3-Season Tents VS 4-Season Tents
Terrain: Freestanding Tents VS Not-Freestanding
Tents can be free-standing (no need to pitch it to the ground), half-free-standing (only need a few pegs), or not-free-standing (doesn't stay up if not pitched).
We sincerely like freestanding tents much more, it's very common to find perfect sheltered camping spots where is impossible to plant a stake (or peg), it may be concrete, wood, or whatever you can also find kinds of soil where pitching is really complex, like hardened soils or sand.
We suggest taking with you a half-freestanding tent like this (you can use ropes and tight it somewhere), or even better a completely free-standing one. Don't forget also to bring a few spare pegs (stakes), soon or later you're going to lose at least one.
Another important factor to take into consideration when choosing a camping tent is the possibility to pitch its inner igloo alone, without necessarily needing to put the fly on it. Pitching just the inner tent is great in hot weather and, if the tent is mostly made of mesh fabric, can allow some great stargazing without being bothered by mosquitos.
The Elements: Waterproofness, Wind Resistance, & Snow Handling
The waterproofness rate of a fabric is measured in millimeters (mmH20), indicating the pressure at which water is able to break through the material.
The standard waterproofing test is done by applying water pressure on top of a fabric sample until three drops of water have passed through.
For example, a 1500 mmH20 rating means the fabric can sustain 1,500 mm of water on top of itself before leaking.
So how many millimeters of waterproofing does a bikepacking tent need to be waterproof?
Well, the secret here is that this measure really states the durability and reliability of your bike tent.
The amount of stress the tent materials undergo during a cycle touring expedition is intense, the fabric, both of your flysheet and especially your footprint, will be subject to abrasion.
A higher mmH20 rating means you'll be able to stay dry in your tent even after years of use – any cheap pop-up tent is able to keep you dry under one thunderstorm, but you want a durable tent.
Read more in-depth about the topic on Wikipedia.
Wind resistance instead, is given by a few different factors, mostly the strength of the poles, the quality of the stakes, and the aerodynamics of your tent's design. While a tall tent might seem very comfortable if the walls are too vertical is more than likely that it will be blown off by strong gusts of wind, this is especially true for one-person tents, which are narrower. Be sure to properly pitch your pegs if you expect strong winds. Learn more about wind resistance here.
4-season winter bikepacking tents are designed to withstand heavy snow loads, they usually have even more slanted walls to avoid the snow piling on the top.
FAQs about bike tents
Do you need vents in your camping tent?
Vents are a very important characteristic to consider when buying a tent. Some tents have one or most commonly two vents in the rain-fly, they are meant to improve the ventilation and are fundamental to avoiding condensation.
Do I need a footprint for my bike tent?
The footprint is an additional sheet to put between the tent's floor and the ground, to provide better insulation and avoid the terrain's asperities tearing a hole into the floor's fabric.
A footprint will triple the lifespan of your tent, so yes… you really need to carry those few extra grams.
How heavy should a bikepacking tent be?
A good rule of thumb is to aim for a bikepacking tent that weighs around 2 to 4 pounds (0.9 to 1.8 kilograms) or less. This weight range strikes a balance between portability and comfort. However, some ultralight enthusiasts might opt for even lighter options, closer to 1.5 pounds (0.7 kilograms) or less, sacrificing a bit of space and convenience for reduced weight.
It's important to consider the durability and features of the tent as well, more often than not, ultralight also means ultra-fragile. Look for materials that are lightweight yet durable enough to withstand the rigors of the trail even if that means investing more. The saying goes: lightweight, durable, affordable: you can only pick two of these.
Can you use a backpacking tent for bikepacking?
Yes, you can use a backpacking tent for bikepacking. Many backpacking tents are suitable for bikepacking due to their lightweight and compact designs.
---
Check also
More bikepacking stuff

> 10 best ultralight budget sleeping bags
> Top Sleeping Pads Compared
> Camping Gear Essentials List
> Bicycle Touring Checklist
> Best Solar Panel Chargers
> How to find sponsorship for outdoor adventures
> Beginner's guide to bike touring
> How much does it cost to cycle around the world
Stay in touch while we get lost! Follow us on Social Media