Review! Surly Disc Trucker 2022: shall I buy it or not?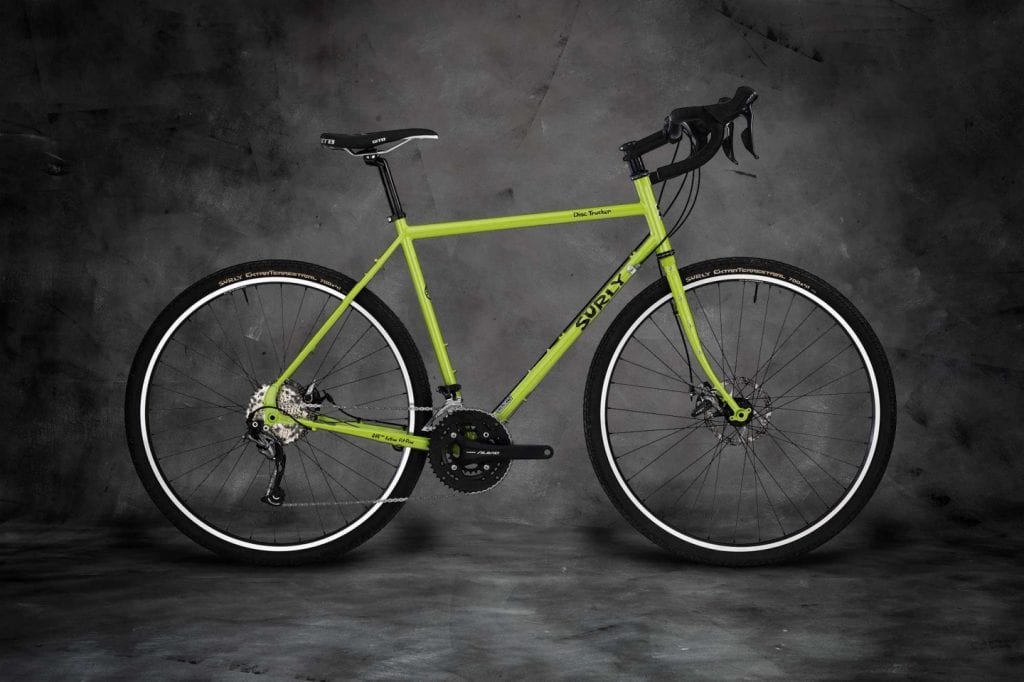 The new Surly Disc Trucker for 2021 is out! PRICE: [frameset $725 / complete $1,675]
Review, specs, components, frame-set, geometry, & best riding set up. Better than a Long Haul Trucker? Where to buy?
Frame Material: Chromoly Steel
Wheel Size: sizes 42–56cm – 26", sizes 56–64cm – 700c
Number of Spokes: 36
Number of Gears: 3×9
Max Tire Clearance: 26" x 2.1" or 700c x 47mm
Drive Train: Shimano Alivio/Sora
Weight: 15.2 kg / 33.5 lbs
The new Surly Disk Trucker is out! Even if we've never been fans of Surly we felt this time a review was needed.
Since 2007, when the Long Haul Trucker was first introduced, Surly has been identified as the quintessential touring bike. After the success of the Long Haul Trucker, in 2012 Surly launched the Disc Trucker.
Like its predecessor, the Surly Disk Trucker is an iconic drop bar touring bike suitable for carrying cargo. It is designed to travel long-distance on mostly paved roads, but several tourers enjoy with no regrets the off-road capabilities given by the very well-known 100% Surly 4130 Chromoly steel.
No other bike has been loaded by tourers like the Long Haul and the Disc Trucker, just check on Instagram for an idea.
Surly Disk Trucker has come to be one of the most popular bikes among the new wave of touring cyclists. Over the last decade, Surly has increased the number of bicycle enthusiasts and turned many backpackers into bike touring, inspiring hordes of new social media content creators and droves of keen followers. On our six years bike world tour we have spotted Surly all over the places.
Morning yoga, a not-so-long day on the rivet, and evening beer(s) is the typical schedule featuring on the travelogues of Surly's riders around the world. Even the idiom "Ride like a Surly" has been coined to express how comfortable and compliant a Trucker bike can be. Its frame and components can withstand the most negligent riders.
In fact, on a Surly Disk Trucker the rider can chill out and release any stress related to competitivity and European cycling apparel. Breaking up badly with classic setup and dress code in favor of the universal right to cycle without giving a damn, Surly also detaches from elegance, beauty and performance.
That being said, so many happy users can't be wrong: there is no doubt Truckers are great bikes.
When a product constantly gets large public approval, it is hard to change it, but a lot of things evolved in the bike industry leaving the Surly Disc Trucker untouched. It was finally the time for it to get a fresh look.
Disclosure: Some of our articles contain affiliate links. This comes at no additional cost for you and helps us keep this website up and running. (as Amazon Associates we earn commission from qualifying purchases)
How we write our reviews: most of our reviews are based on first-hand long-term use or short-term test by a member of our team. For some new models or build variations, we rely on our experience with similar models and our team's experience in understanding bike geometry and components.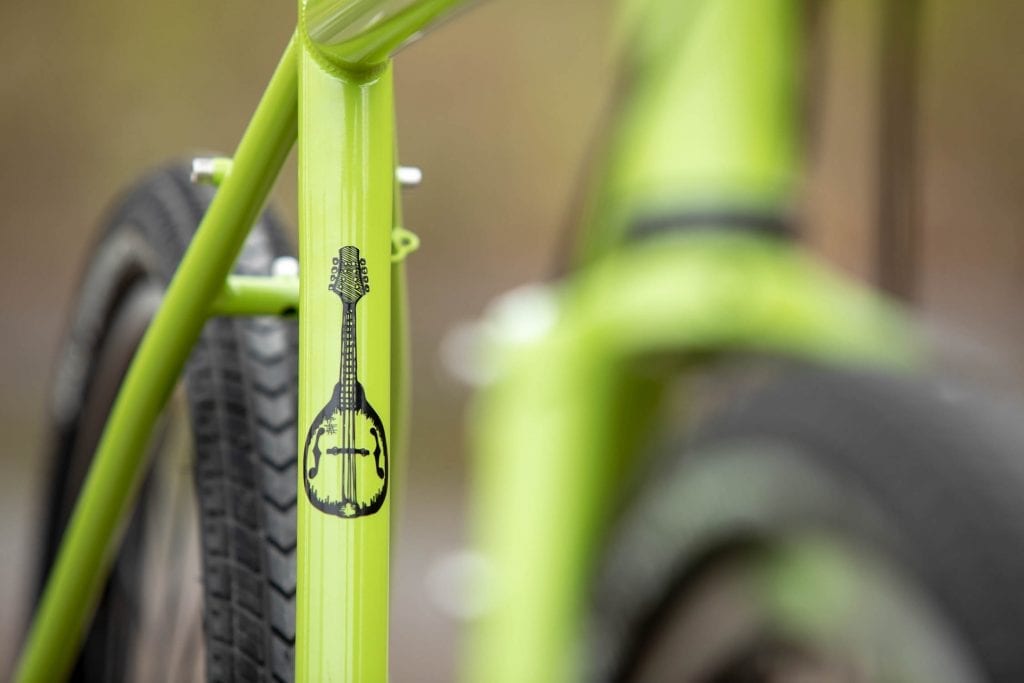 Surly Disk Trucker Frame Set
With the new 2021 Disk Trucker's frame, Surly wants to update the traditional way of touring when bikepacking has already spilled all over.
The 100% Surly 4130 Chromoly steel or technically speaking the SCM430 (that is the Asian equivalent) it's unchanged: Surly produces in Taiwan after all. Even if it can sound mesmerizing, it uses generic, off-the-shelf tubing. Because in this steel recipe there's not enough Chromo to avoid rust, an extra layer of protection is applied to the frame using Electrophoretic Deposition.
That is surely fancy! Other ingredients are definitely less so:
All tubes are intended to naturally fit one into another, delivering a bike that reacts well and promptly leans over corners.
Stiffer feel and increased stability when fully loaded are added by replacing dropouts. Gone is the quick release of Tullio Campagnolo, replaced by the new 12mm thru-axle. Aside few other improvements, that's about all changes that have been made. Wait a moment. The bar-end shifters are (finally) also gone! And the handlebar has got curvy.
The fork has an internal routing for a dynamo cable, four bosses on each blade to fit the impossible, from baskets to porter bags, panniers and cargo cage bags.
No kickstand mount for the proud American Surly Disc Trucker yet, but there is an adapter plate which is included with the bike to scratch the freshly painted chainstay.
It is available in two frame sets, to fit 26'' tires and 700c. Sizes spacing from 42/56 on the 26'' to 56/64 on the 700c. Clearance on the 26'' is 2.1 with or without fenders, or 700c x 47 doesn't matter the fender.
That surely sounds a bit disappointing to the freshly recruited fat tires lovers looking for monster-cross bikes.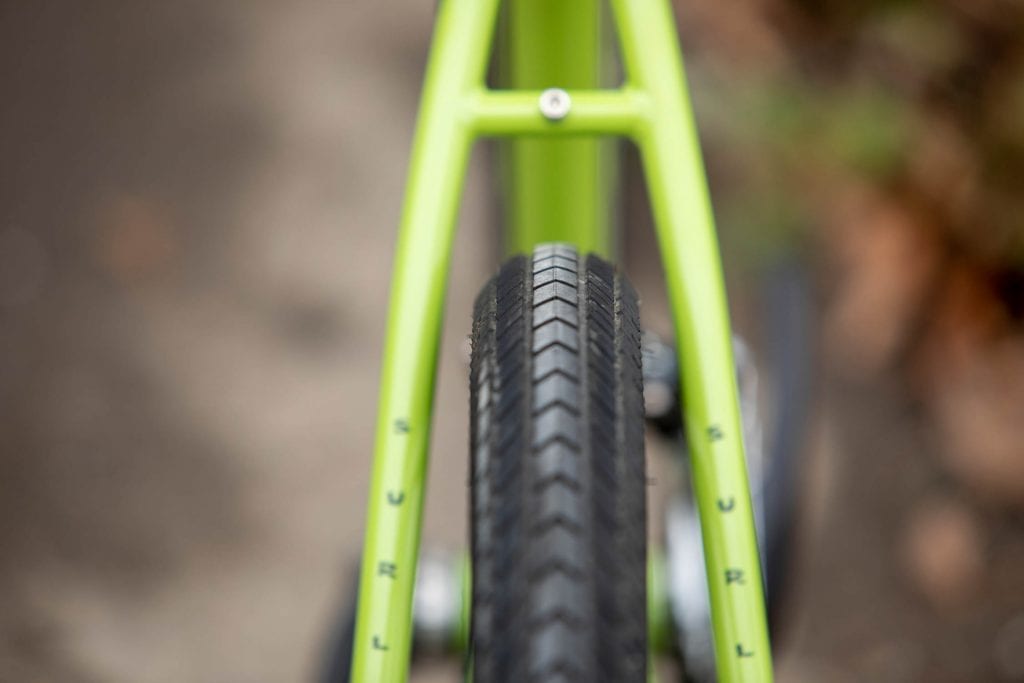 Geometry
Finally, Surly has freshened up the Disc Trucker frame design.
The frame has a lower stand over height that allows a better dismounting, along with increased stack height that provides a more upright position and shorter chainstay for a livelier bike. The top tube slopes to a shortened seat tube, and the head tube extends past the top tube to reduce the number of spacers.
Definitely Surly has been thinking a lot about the improvements needed for the Disc Trucker. There are always consequences to the smallest adjustments performed in that perfect space of simplicity that a bike frame ultimately is, but it's not obvious that all riders will feel any differences between the old and the new model.
In comparison with the previous model, the 2021 bike is probably going to feel sprightlier, a touch more agile without a load, steadier in taking curves thanks to the new thru-axle and more comfortable due to a few mm added in stack. Surly has finally made gears-change more accessible removing bar-end shifters. It even shortened by an impressive 10mm the chainstay, now measuring only 450mm.
Damn short for Surly!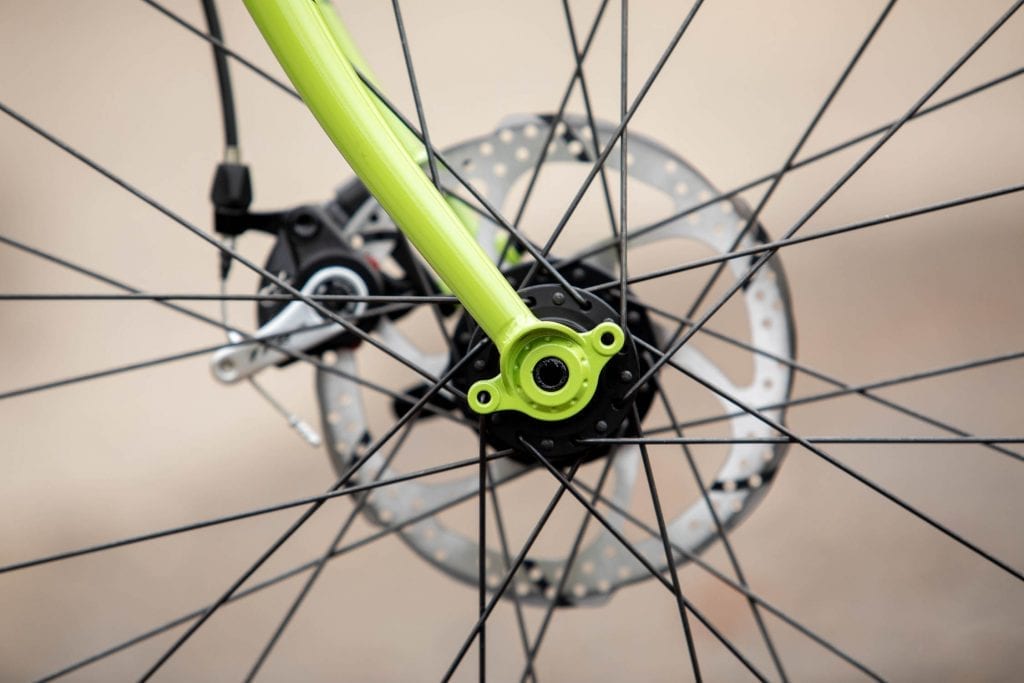 Surly Disk Trucker 2022: Drive Train and Standard Component
On the 2021 Disk Trucker the group set has been downgraded from Shimano XT to Shimano Alivio. This choice seems to be driven by the need to fit user-friendly integrated shifter while keeping the triple chainset.
What is better? A high-speed drivetrain with old bar-end shifters or an average drivetrain with integrated shifter? Come on, Surly! We can get both nowadays with a simple upgrade to a standard double drivetrain. Considering also the increased stack height, even bar-end shifters wouldn't be much of a problem anymore when getting off the bike.
But not only bad news here: the bike has been equipped with the TRP Spyre C mechanical disk brake, one of the few models that allow to pull both the brake pads at the same time. On top of it, find Surly extraterrestrial tires and the high-quality sealed bearing Cane Creek head-set.
The Alex Adventure 2 rims are tubeless ready and 3mm wider than the ones previously mounted, making them perfectly adequate for a 40 to 50 mm touring tire.
Racks are not included. Despite the safety recall on Surly 8 & 24 pack rack, there are bosses to tighten on all types of racks.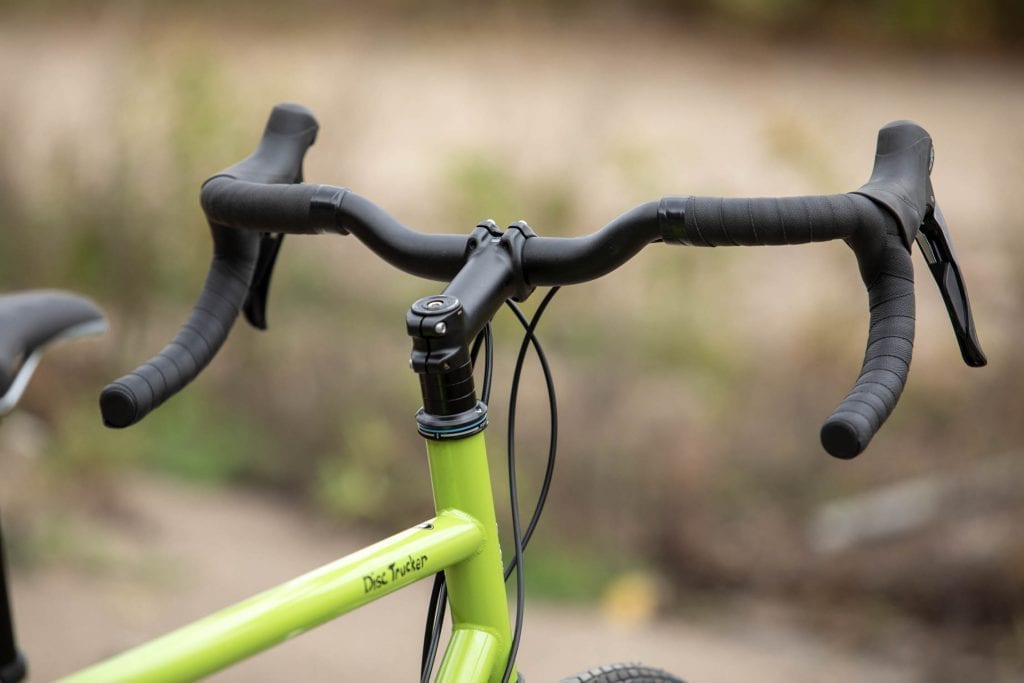 What Are the Best Riding Setups?
The Surly Disc Trucker retains its bad temper on the 2021 model.
It's still the sturdy bike to be worth considering for its magnetism and for its rideability. Definitely it is not the kind of bike to ride with a jersey on, SPD shoes or – even worst – cycling bibs. Other than that, the Surly Disk Trucker is a bicycle built to be useful, reliable and comfortable.
Surly takes pride of building frames that are fully customizable. It's only up to the rider to configure the bike as preferred. Best with racks and all sort of things hanged, most crucially that bulky irreplaceable stainless-steel mug!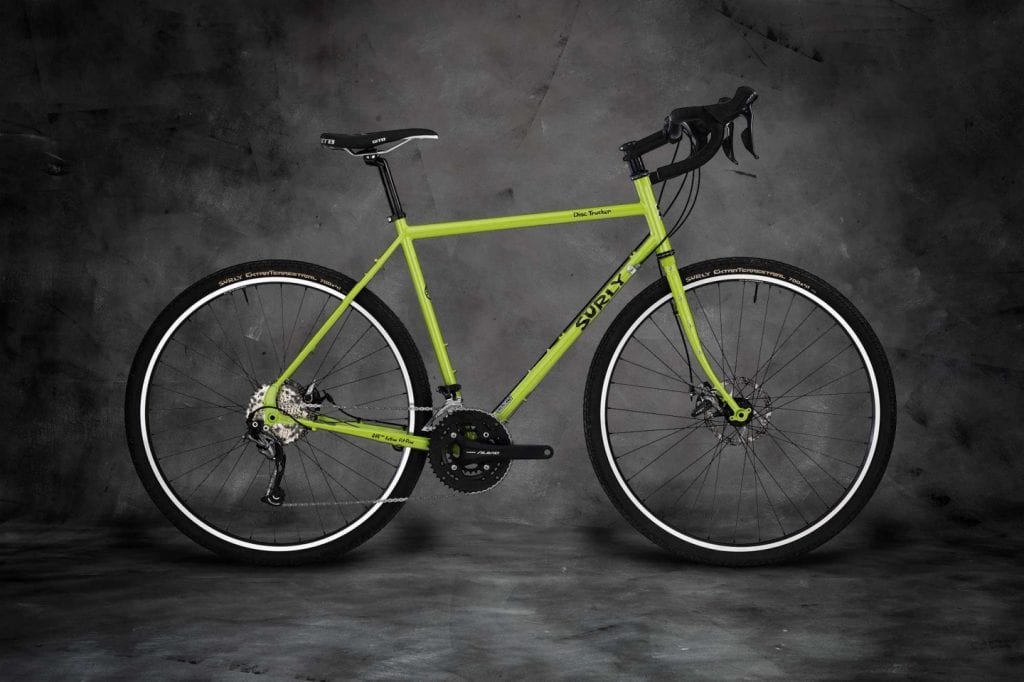 Conclusion
Surly Disk Trucker's reputation among the small but ever-expanding bunch of touring cyclists has grown to be known as one of the most reliable and affordable touring bicycles on the market. Well, it's definitely not so affordable anymore, considering there are also better specs on other bikes.
However, what you get here it is truly something special: the Disc Trucker is as iconic as a Harley Davidson. The same is the amount of beer needed to lubricate the aspiring riders, but no fuel burned here! So, congratulations Surly.
Surly Disc Trucker – Components and specs
| | |
| --- | --- |
| Frame sizes | 49 – 52 – 54 – 56 – 58 – 61 |
| Frame | Surly Long-Haul Trucker, 100% Surly 4130 Chromoly steel. |
| Fork | Surly Long-Haul Trucker, 4130 Chromoly, lugged and brazed. |
| Handlebar | Surly Truckstop Bar |
| Stem | Promax 31.8 4 bolt |
| Seatpost | ProMax 27.2 350L non-offset |
| Saddle | WTB Volt |
| Shifters | Shimano Sora 3×9 |
| Front Derailleur | Shimano Sora R3030 |
| Rear Derailleur | Shimano Alivio M4000 SGS |
| Cassette | Shimano Alivio, 11-34t, 9 speed |
| Chain | KMC X9 |
| Crankset | Shimano Alivio 48x36x26t |
| Bottom Bracket | Shimano SM-BB52 |
| Front Hub | Novatec 12×100, 6 bolt, 36H |
| Rear Hub | Novatec 12×142, 6 bolt, 36H |
| Rims | Alex Adventurer 2 |
| Tires | Surly ExtraTerrestrial 26 x 46 |
About Surly
Surly is based in Bloomington, in the Upper Midwest, the land of extreme temperatures (−51°C the lowest ever recorded). Probably this is the reason behind the name. The company started by making single speed products, but its specialty are fat bikes to ride through the dead winter.
When I first tried a Surly, I thought: "I would handle this bike better if I was drunk". I'm impressed to discover there actually is also a Surly Brewery.co, but the two companies have nothing to share except long hair, tattoos, and the same northern hardcore wintering.
Amazingly enough, Surly motto is: "Serious steel bikes for people who don't take themselves too seriously". Maybe they didn't get the punctuation right, there. I mean, seriously?
Looking for a Travel Bike? Check these!
Stay in touch while we get lost! Follow us on Social Media