MSX Mainstream Panniers and Saddlebag Review
First Impressions
For our African bicycle expedition, we wanted to have the sturdier and most reliable panniers available, road conditions vary from terrible to worst here and we don't want to worry about bags jumping off or being torn apart by the ubiquitous thorn trees.
On our quest for the best bicycle panniers, we came across MSX mainstream bags and thought they might be what we needed. We were already using their handlebar bags and liked them a lot.
We contacted Joachim from MSX mainstream and he agreed to provide us with their newest set of products for us to test and review in extreme conditions.
In this blog article, we'll render our first impressions of these bags, and give some technical info and specs.
Disclosure: Some of our articles contain affiliate links. This comes at no additional cost for you and helps us keep this website up and running. (as Amazon Associates we earn commission from qualifying purchases)
Looking for gear?
17 best lightweight tents under 200$ 
19 best bike handlebar bags
Top budget lightweight sleeping bags
You may also like
Essential Gear for Bicycle Touring 
Essential Clothing for a long-term bike trip
The best custom touring bikes made in the USA
35 of the best touring frame builders in the world
18 best touring bikes under 1000USD,
20 expedition bikes under 2000USD
The New [2020] MSX-Mainstream bike bags
Early this year, MSX Mainstream launched its new line of panniers and bikepacking bags. It consists of:
The SLR 55 MX – Front Controller Bags: 26 liters capacity bike pannier with roll-up magnetic closure
SL 55 ZX luggage carrier bags: 26 liters capacity pannier with roll-up closure, top flap cover, internal pockets, and front zipper
Aqualung saddlebag: 18 liters reducible to 9 liters
The CLS 55 MX handlebar bag: 8.8 liters, rigid frame
They also manufacture a bikepacking-style handlebar bag and a waterproof backpack which we won't treat in this article. All of these products, including the saddlebag and the handlebar bag, are 100% waterproof.
We'll spend a few words though about their interesting Core Backcountry Icon bike shorts, modular and versatile shorts that became a kind of a second-skin to us.

Who needs MSX Mainstream products
You might have noticed there are no traditional small front-panniers in this line, the two models of bike panniers available the SLR 55 MX and the SL 55 ZX both have the humongous capacity of 26 liters each! 
The SLR (called Front Controller) can through be reduced to 15 liters simply by rolling more times the roll-top closure, but still, it's a big (and a bit heavy) pannier. This choice seems to target the long-distance expedition cyclists, those (like us) who live their lives on the road and are glad to swap a few grams more for a sturdy, reliable and versatile pannier.
At the same time though, MSX recently launched its bikepacking line with a saddlebag and a roll handlebar bag. The saddlebag, in particular, sets itself aside from most manufacturers with a totally waterproof, though, and versatile design that is probably going to claim an important place in the bikepacking market for itself.
This seems to be the actual brand strategy of MSX-Mainstream, catering to these two segments of the market (bikepacking and long-distance expedition), to those who want the best of reliability for their adventures off-the-beaten-path… no compromises.
MSX Bike Pannier mounting system (and other elements in common)
MSX Panniers have one of the sturdiest-looking mounting system ever seen in a bike pannier. The bottom clamp can be attached to 3 different points and rotated 360 degrees. Two of these points can also slide in a variety of different positions to ensure an optimal attachment to any kind of rack. A plastic panel protects this system (named T-BONE) in this particularly stressed area.
The top fastening features the proprietary OneTouch V8 system, (OTS-V8 ) allowing one-handed operation of the two upper locking hooks.
This locking system ensures good stability, no torsion, and rattle-free seating on luggage racks. It is compatible with luggage carriers with pipe diameter up to Ø 16,5mm, it is supplied with adapters to fit rack diameters from Ø 8mm to Ø 11mm.
Both series of panniers also features two lateral plastic rings that can be used to attach a shoulder belt or even to fasten additional gear on the outside.
The TOP-CENTER closing direction has the advantage of adjusting the packing volume of the bags according to the number of rolling operations as desired. Fewer rolling operations allow more packing volume – More rolling processes reduce the desired packing volume. An added value compared to bags with locking direction to the side-down
---
Our First Impressions on the MSX Panniers Mounting System
Having bike panniers who do not risk to detach and get tangled through the spokes was our priority for this African bicycle trip, indeed that's exactly what happened with our old Crosso Panniers, with Elena risking her life in a serious accident.
Although we didn't have the chance yet to test the MSX mounting system on really-really-really bumpy roads like those of Lesotho, we anyway hit some very technical single-track in this last month… the result was: absolutely no problem! The MSX mainstream panniers feel like glued to the rack, no rattle whatsoever, let alone coming off.
The One-Touch system is very comfortable for taking the bags on and off the racks, adjustments on each of the mounting points made them perfectly fit for our Tubus racks.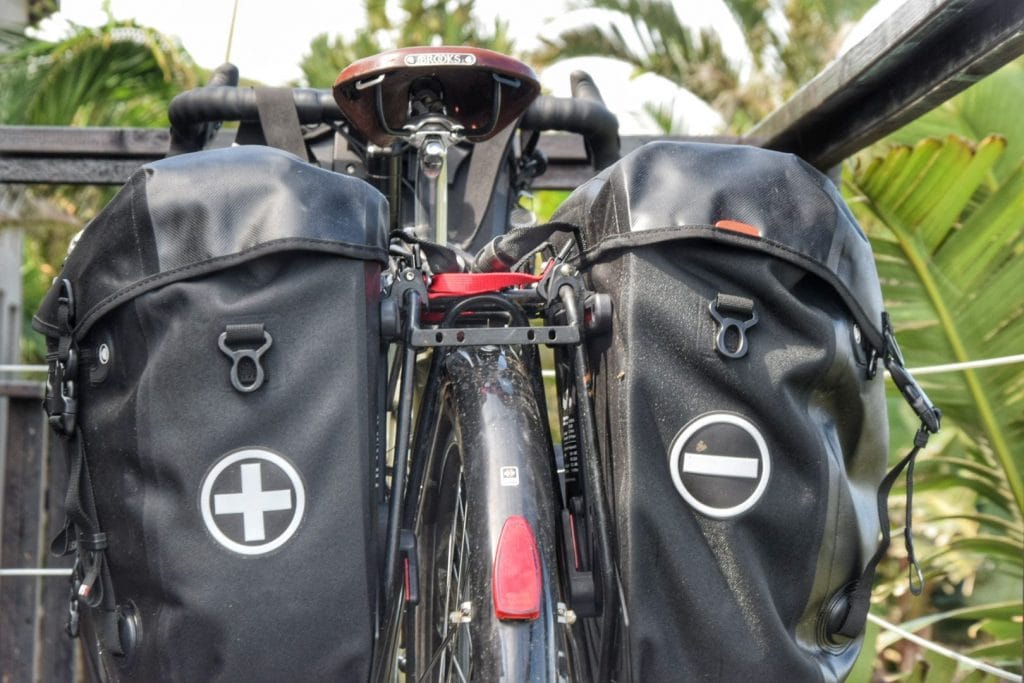 Reflective Elements
For this new product line, MSX-Mainstream improved its reflective elements. They are using these cool PLUS/MINUS symbols (recalling the magnetic fastening system) which are very visible at dusk and even in total darkness, ensuring high passive safety in traffic.
With a diameter of 75 mm (on the panniers), this system guarantees a great reflection performance. The same elements are featured also on the handlebar bag and saddlebag.
Our First Impressions on the MSX reflective elements
The reflective elements are big and very bright. During a camping night, you can appreciate how shiny they are by pointing a flashlight at them. We don't cycle in the night and Africa lacks tunnels, so haven't tested them yet in real-life conditions. They anyway seem to make the panniers very visible even in daylight.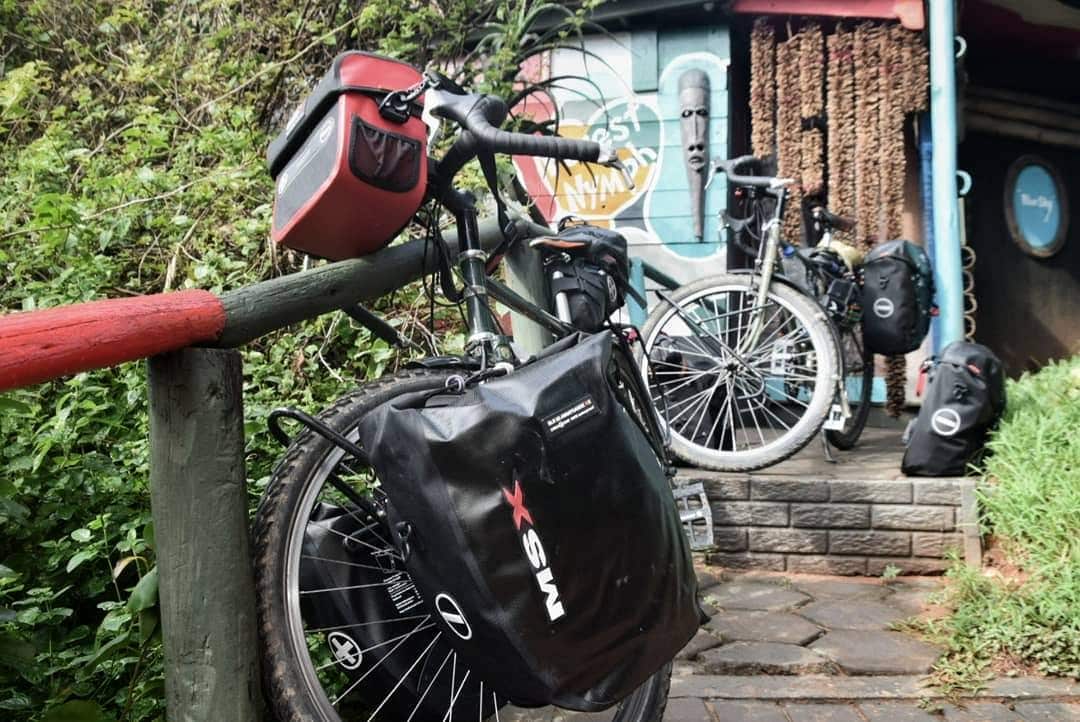 The SLR 55 MX – Front Controller Bags
Even though they are called "Front Controller", these panniers can either be used on the front or rear rack. Despite being huge, they don't give problems on the front thanks to the intelligent mounting system (already described above), placed in the center of the bag. They'll have an optimal ground clearance even on 26″ wheels and a low-rack.
The closure system is a typical top roller without additional cover component. Instead of the classic buckles though, they boost an MSX proprietary magnetic buckle which makes opening and closing operation very easy even with one-hand.
These bike panniers also feature a small zippered inside pocket. Like all MSX bags, they are 100% water and dustproof.
Construction design
DIN 60529 Conical Toploader
reinforced roll-top
PLUS-MINUS magnet technology
QuickLock system with one-hand operation
Three-point mounting OTS-V 8 pipe Ø 8mm to Ø 16.5mm
Reflective security elements: PLUS-MINUS symbol elements
Height / width / depth: 600 mm / 380 mm / 140 mm
Volume: 26 liters/unit – 52 liters/pair -> reducible to 15 liters/unit – 30 liters/pair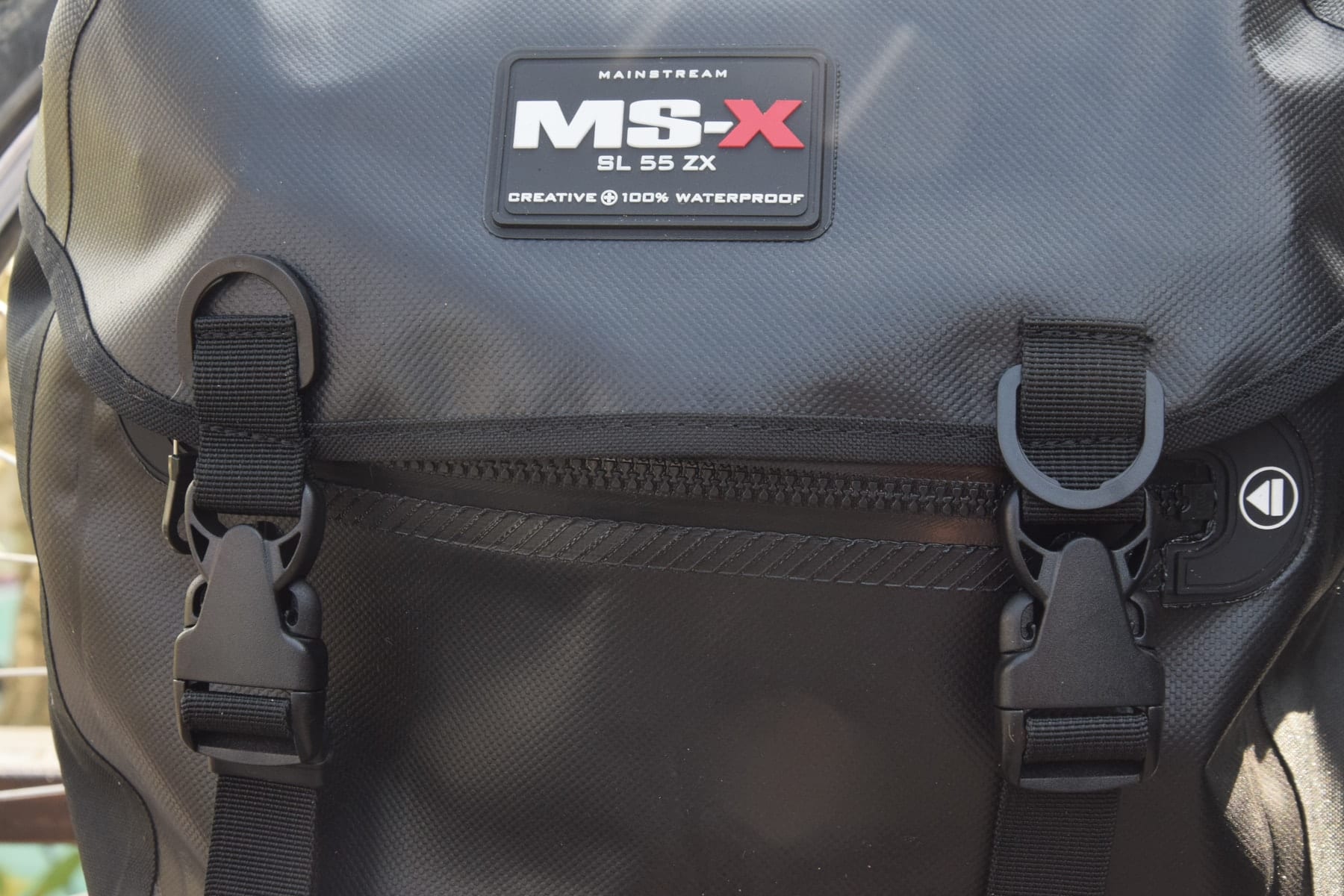 SL 55 ZX luggage carrier bags
The SL 55ZX bicycle panniers are the upscale version of the MSX line. While they feature the same mounting system as the SLR 55 MX (OneTouch + T-BONE), they also have a very robust additional top handle for hand carrying.
Additional elements are a 100% waterproof zippered front pocket adding an extra storage compartment, a removable big inner pocket, and a conical top flap cover.
This series features traditional buckles instead of the magnetic system used on the SLR 55 MX.
Construction design:
Cover flap with design elements
100% waterproof (IP67 – DIN 60529)
Roll closure: Closing direction TOP-CENTER
Front side extra compartment: Aquaseal 100% waterproof
Reflective security elements: PLUS-MINUS symbol elements
QuickLock system with one-hand operation
Large inner pocket: 1 piece per pair
Three-point mounting: OTS-V 8
pipe adapters: Ø 8mm to Ø 16.5mm
Height / width / depth: 600 mm / 380 mm / 140 mm
Max. Pack Volume: 26 liters/unit – 52 liters/pair
Weight: 1250g
---
Our First Impressions on the MSX Bike Panniers
It's dry season now in Southern Africa, so we didn't get to test the MSX Panniers' waterproofness, although we honestly have little doubts about their effectiveness.
The Front Rollers allow for very easy access to the gear, we are indeed using them to store the stuff we need more often, like food for example. The Luggage Carriers really seem bombproof and the external pocket is great to store common use tools.
About their mounting system, we already told our opinion in the paragraph above.

MSX Aqualung Saddlebag
MSX just launched its bikepacking series with this seriously competitive saddlebag. As opposed to the most popular bike packing brands, the Aqualung saddlebag is 100% waterproof. Material is a TPU-3 abrasion-resistant fabric with lamination on both sides.
Its solid construction features a top semi-rigid reinforcement on the contact point with the saddle, preserving the bag from scratches or cuts. It also has an elastic cord and an additional adjustable strap to attach gear externally, also suitable for mounting for an optional tail light.
The mounting system consists of two wide and extra-strong HYPALON velcro straps fastening to the seat post, and two tensioned buckles attaching below the saddle.
The MSX Aqualung saddlebag doesn't swing or rattle, its mounting system has proven definitely solid so far. Closure can be either done top or sidewise. It comes in seven different colors. Suitable for Aero Seatposts and Carbon Seatposts.
Construction Design
Creative Jet-Wing Design Shape
Self-supporting anchor construction
Dimensional stability: Compact, four-sided internal reinforcement
Position fix Seatpost: 2x extra strong HYPALON Velcro straps
Material: TPU-2 laminated / PVC free
Exposed areas: Double-layer fabric reinforcement in black
100% waterproof: IP67 – DIN 60529
Reflector elements: PLUS-MINUS reflective – Ø65mm
Volume: Max. 18 liters, reducible to 9 liters
Weight: 578 grams
Applications: Offroad / MTB / Touring / Gravel Bike
---
Our First Impressions on the MSX Aqualung Saddlebag
First time for us trying a bikepacking saddlebag, so we don't have any term of comparison. It's though a much handy solution compared to a traditional rolltop drybag.
The mounting system is very effective and the saddlebag doesn't move at all even on extremely bumpy roads. Keep in mind that, as a good practice, it's always better to store heavier gear closer to the saddle to avoid any possible swaying.
I'm using the external attach point to store rain gear, which is thus very quickly accessible without opening any bag and risking other gear to get wet.
The CLS 55 MX – 100% waterproof handlebar bag
This revamped version of the MSX-Mainstream Handlebar bag definitely sets itself as one of the best handlebar bags in the market. Stiffened with rigid plastic on all sides, with reinforced lid and the bomb-proof Clickfix mounting system, this as sturdy as a handlebar bag can get. It can be loaded with up to 8kg of stuff!
It comes with a flexible internal separator to create different compartments as the user pleases, it also has two internal pockets (one on the lid and one on the inner side) and two small external side pockets to ensure everything is stored properly an always on-hand. An additional velcro on the top of the lid allows to put on a map-case or any other velcro element.
Two side rings to attach the included shoulder strap turns it in a very comfortable "purse" to carry on your walks. The strap is padded and doesn't hurt even when the bag is fully loaded.
The opening-closing system again features the PLUS-MINUS magnets, the two buttons opening in opposite directions to make it almost impossible for the bag to open up on bumps. This system allows a simple one-handed operation of the bag cover. Moreover, it's optionally adjustable for right or left-handers.
The Clickfix system comes with 2x clamp modules for handlebars with tube diameter up to Ø 26.0mm (C26) + plus 2x clamp modules for tube diameters from Ø 26.1mm to maximum Ø 31.8mm (C31.8). An optional Clickfix module for E-bikes is available.
The usual reflective elements, with a diameter of 65mm, ensure great reflection power.
Construction design
Waterproofness: IP56 – DIN 60529
Lid opening: One-handed operation / left-right handed
Lid closure: Self-closing / 4 x neodymium magnets
Mounting system: KlickFix system module A (series), KlickFix system module E (e-bike)
Shoulder belt: padded/adjustable length
Variable compartment division: Flexible divider max. 3 compartments
Width / height / depth: 256 mm / 235 mm / 154 mm
Volume – load: 8.8 liters / 8 kg /
Weight: 760 grams
Our Impressions on the MSX Handlebar Bag
We got to test the previous version of this handlebar bag during our recent North-European tour, and we can guarantee not a single drop of water gets in, even under a serious downpour like those we constantly experienced in Norway.
If properly mounted, the Clickfix system is incredibly stable and the bag doesn't move even when heavily loaded. The CLS 55 MX is just perfect as a camera bag or to store your most valuable stuff such as money and passports. It can be quickly detached and carried with you not to ever lose sight of the important stuff.

Back-Country Icon Bike Shorts
With a product history of 19 years and over 711,000 units sold, the Back-Country Icon Bike Shorts are a flagship product for MSX.
This is again a modular product, comprising a pair of padded cycling shorts that can be connected to the main shorts via a row of pushbuttons.
The padded shorts feature an ergonomically shaped, 7mm thick seat pad with ACS system keeping butt-sores away even on long rides.
The external shorts are great for any outdoor activity. All exposed, stressed areas like buttocks and side areas made of pure RipStop microfibre making them rainproof. This is an extremely light, but particularly durable fabric.
An adjustable, vertically arranged ventilation system in the front area of ​​the two leg warmers helps to regulate the airflow manually during the activity, thus making these shorts comfortable to wear even in extremely hot climates. The shorts have two zipped lower pockets, one zipped back pocket, and two regular side pockets. They are adjusted around the waist through a buckled strap.
Our First Impressions on the Back-Country Icon Bike Shorts
Great shorts really! Super-comfortable, almost waterproof, ventilated lots of pockets. The padded bike shorts are good quality (although our Sigr shorts offer more padding).
The vertical zippers for ventilation are a really great idea. Overall, a perfect way to cycle comfortably without looking awkward (in certain areas of the world cycling clothes can frown upon).
Warranty and part replacement
The modular design of each MSX Mainstream product allows the replacement of all components at any time, parts are available from the official MSX-Mainstream website.
Warranty for defects resulting from inadequate or defective processing of the materials or components is 5 years from the date of purchase but includes lifetime technical support.
Stay in touch while we get lost! Follow us on Social Media