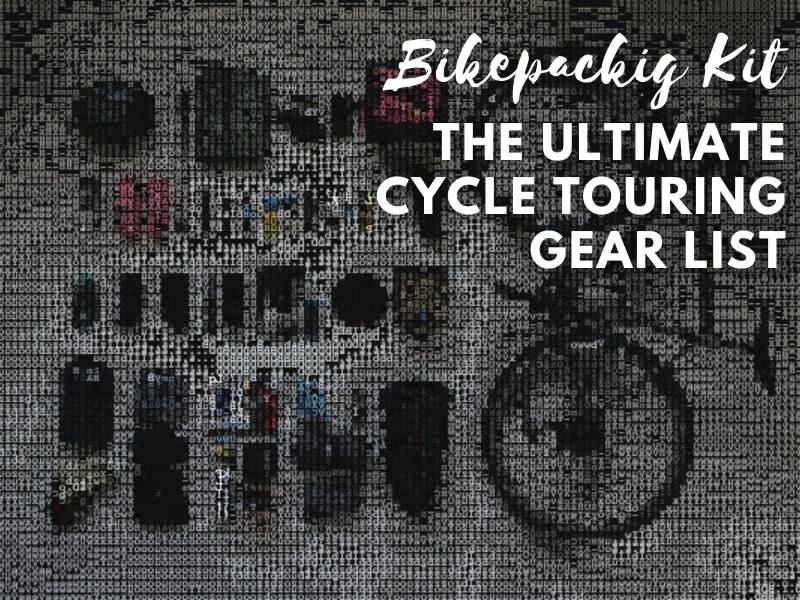 What to pack bikepacking?
The complete bikepacking kit gear list!
+ A FREE printable cycle touring checklist in PDF
There are so many bikepacking kit lists, cycle touring gear checklists, and articles about what to pack bikepacking that it's easy to get confused.
In this article, we'll give a lightweight bike touring packing list and all the options of what to bring according to the type of trip.
Our comprehensive checklist includes all the essentials for cycling and camping, clothes, accessories, cooking gear, tools, toiletries, and even medicines to bring on a bike trip.
Before you head out on the road or the trail, it's important to consider what you will need to face any situation or emergency. We organized this bikepacking gear list into categories to make it more readable.
Follow this guide to make sure that you have all the right biking accessories to help you travel safely.
Bikepacking & Cycle Touring packing List in a Nutshell
Disclosure: Some of our articles contain affiliate links. This comes at no additional cost for you and helps us keep this website up and running. (as Amazon Associates we earn commission from qualifying purchases)
How we compile our gear guides: during the almost 10 years of cycloscope.net our team personally tested dozens of similar pieces of gear. For what we can't test personally, we involve other people in the cycling community to give their feedback and opinion about gear they have used. Our decade-long experience in bicycle touring enables us to find the key cons and pros of every product we mention.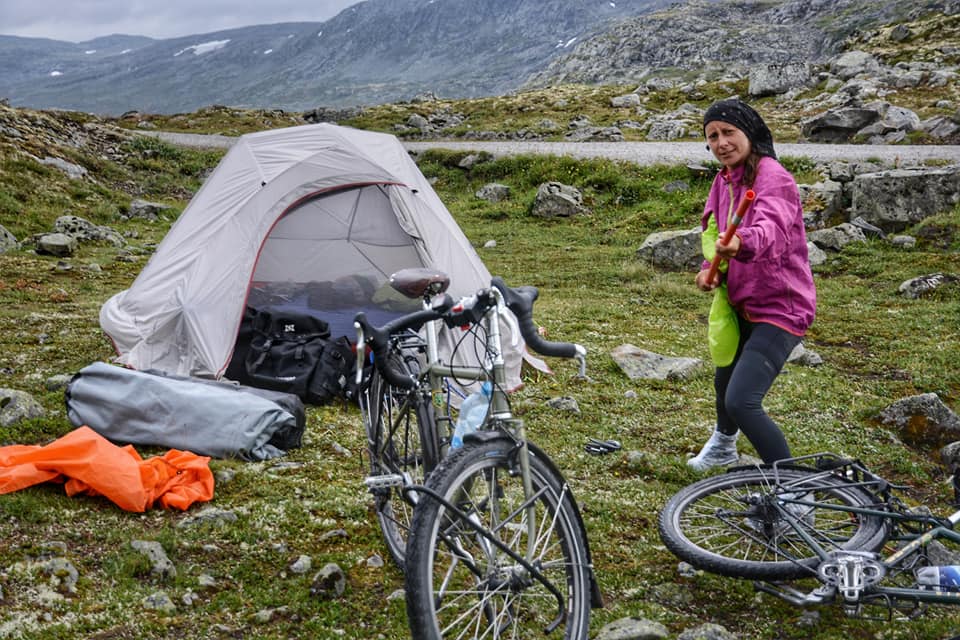 To better organize our bikepacking gear list we have divided all the equipment needed into nine macro-categories.
Cooking Gear
Hygiene/toiletries
First-aid and medicines
We'll break down these categories in the next paragraph with an actual packing list that should be working for any bikepacking or cycle touring trip.
Bikepacking Checklist – What to carry in your bikepacking kit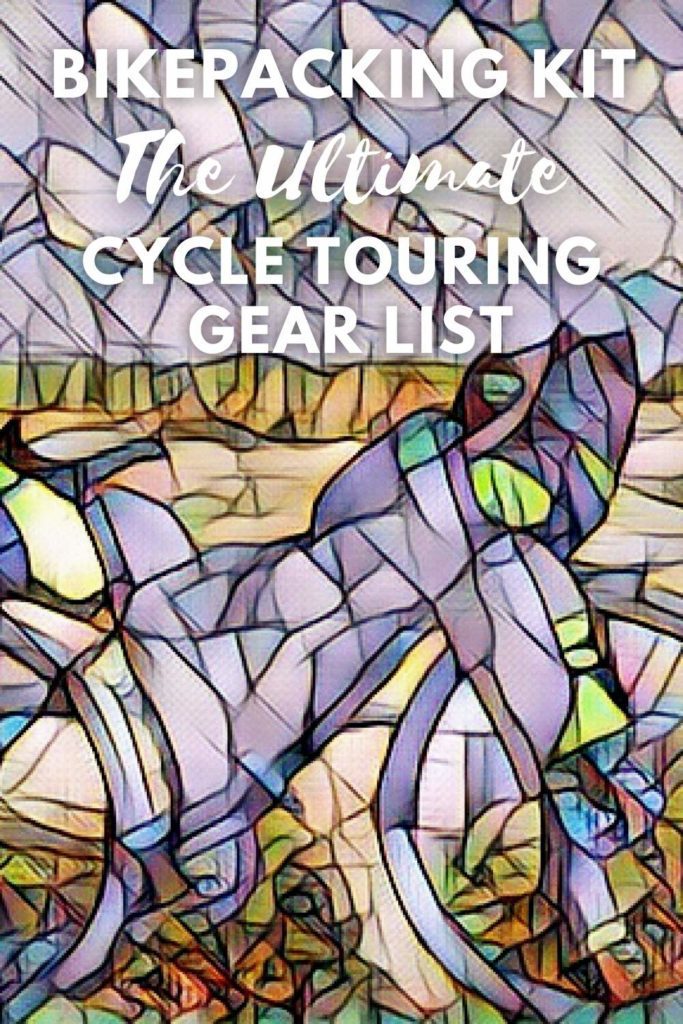 Bike gear

bicycle
panniers and/or packs
helmet
water bottles
front and tail-light
(optional: fenders, kickstand, mirror, bell, lock, phone holder, hub dynamo)

Camping shelter and sleep system:

tent or bivvy,
sleeping bag,
sleeping pad
(optional: tarp, hammock)

Bike Clothing:

rain Jacket
poncho or rain pants

2 short sleeves cycling jerseys

2 Pairs of padded cycling shorts
2 pairs of cycling socks
(optional: arm and leg warmers, gloves)

Off-the-bike clothes

2 merino base layers (1 sleeveless or short sleeve/1 long sleeve)
merino trousers

hiking/walking trousers
hiking sandals

1 pair of warm socks
3 pairs of underwear
2 normal cotton shirts
2 pairs of running/football shorts
(optional: warm coat, wool hat)

Electronics:

GPS and/or smartphone
camera/action-cam
(optional: journal, cycling headphones, extra batteries, paper maps)

Cooking gear:
Hygiene/toiletries:

toothbrush and paste
toilet paper
wet wipes
sunscreen
(optional: mosquito repellent, lip balm, razor, sanitary pads)

Bike repair tools:

tire levers and patch kit
Allen key multi-tool
chain link
Spoke Wrench
Chain Tool
Screwdriver
Lubricant
Spanners
Pliers
Zip Ties
Duct Tape
Sewing Kit
Hard Toothbrush and piece of cloth
Cone Spanner
Cable Cutter
Spokes
Tube
Brake Pads
Bolts and Nuts

First-aid and medicines:

blister pads
bandages
disinfectant
pain-killers
(optional: diarrhea pills, generic antibiotic, antihistaminic)
Bike gear
With "bike gear" we refer to all those accessories that directly go on the bike.
Bicycle
The most important piece of equipment, it's your bike that will make your dreams come true, together with your force of will.
Depending on your plans, you probably won't need the best touring bicycle on the market, I toured my first 25,000km on an 80-year-old refurbished leisure bike.
I like to say that "every bike is a touring bike, as long as you tour with it", I've seen people touring on folding bikes, cheap mountain bikes, and even grannies. Of course, you need to check your bike properly before going on tour, your safety depends on it.
How to choose the right adventure bike is a topic we have discussed in the past (check the link), we've also gone more in-depth with various bicycle travel styles in this series of articles:
We also wrote thorough reviews of all sorts of bikes, check our bicycles and bike reviews sections to find your dream adventure bike.
Tip: be sure to have a comfortable saddle for your bikepacking adventures!
Bike panniers and/or Bikepacking packs
Although the quick rise of bikepacking bags, traditional pannier bags are still the most common way to haul gear on long-distance bike trips. We discussed the eternal controversy of bikepacking VS cycle touring, so have a look there if you want help on how to choose your bag setup.
Panniers / Rack-top bags
The best friends of the touring cyclist, are the bags where you put your stuff. The most famous and appreciated brand is Ortlieb, they have a lot of different models. Other brands are Vaude, Altura, Crosso, Brooks, etc.
Learn More
> 14 Best Waterproof Bike Panniers for Touring
> The 8 Best Bike Trunk Bags for Rack-Top Reviewed
Bikepacking bags are the fundamental component of any bikepacking kit. These are bags that attach to the frame and fork, without the need for extra racks. New to the whole bikepacking concept? Start from our Bikepacking 101.
Here's the list of bags from which to pick up your bikepacking kit:
Learn Everything You Need to Know
> Bikepacking Bags! The Best For Each Category from CHEAP to TOP
Helmet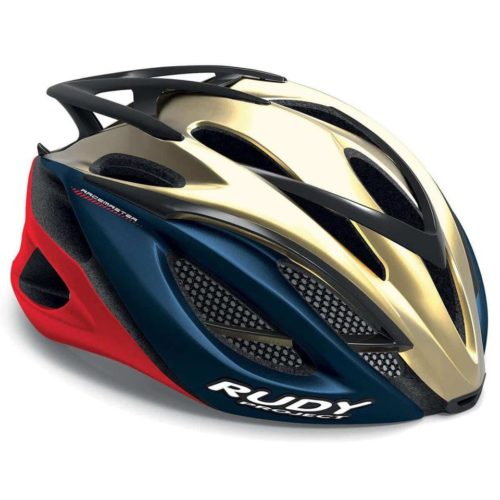 We recommend
Rudy Project Racemaster
Safety first! Although we know many bike tourers traveling without a helmet, and we were also guilty of that sin as well, at the top of your bike touring gear list you should most certainly put a good helmet.
A great bike helmet is one piece of equipment worth investing in – they save lives every day – and there's really a difference between the safest bike helmets and the rest, that's why we recommend the Rudy Project Racemaster, ranked in the top ten safest helmets in 2021 by Virginia Tech.
Have a look at
> the safest helmets on the market
water bottles
Insulated water bottles are the way to go for a long trip. We recommend the Sport Insulated Polar Bottle. If you want more choices check the 9 best bike water bottles, compared.
Another thing you might consider if heading to remote destinations is water bottles with built-in filters, which would solve the problem of finding drinkable water in some countries. We recommend the LifeStraw Go Water.
front and tail-light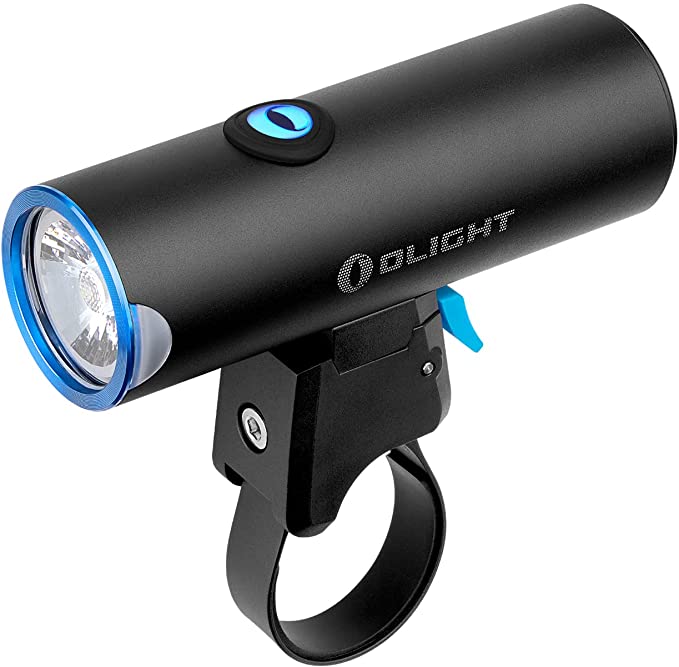 We recommend
Olight BFL 900
You always want to be able to see what's in front of you on the road. You also want to be seen by the other vehicles. Every bikepacking list should have a good front and rear light in. Even if you don't cycle after sunset, there are still tunnels and emergency situations can always happen.
Optional bike gear
fenders,
kickstand,
mirror,
Camping Gear: shelter and sleep system:
Not all bikepacking gear lists need to include camping gear. Sleeping in guesthouses, hotels, or BnBs is a great option for shorter trips or for those who enjoy comforts and can afford them. By the way, if you're going to camp during your bikepacking journey, here's what you should take.
Tent or bivvy
We recommend
NEMO Hornet Elite
The camping tent is the home of the traveler. If you want to stay ultralight, you can opt for a bivvy system, but for extended journeys, we recommend a spacious tent.
Even a two-person tent could be a great idea for a longer journey, just slightly heavier and bulkier, but you'll have a lot of space for you and your gear.
The Nemo Hornet is our absolute favorite and is sure to hit the sweet spot for any bike traveler.
Here are our buying guides
>The best 1-person tents for bikepacking
>The best 2-persons tent for bike touring under 200$


Sleeping Bag

We recommend
Marmot Trestles 30
The choice of a sleeping bag is strictly related to the kinds of climate you're going to face. A warm sleeping bag is a must to have a good rest in chilly climates. While traveling through hot regions, you might bring a light sleeping linen like the Sea to Summit Reactor.
Marmot is a brand that doesn't need presentation, and this Trestles 30 here is a quality and affordable sleeping bag.
To avoid spending a fortune
>The best lightweight sleeping bags under 100$
Sleeping Pad
We recommend
Therm-A-Rest ProLite
The sleeping pad is the bed of the bike tourer. Owning a comfortable, lightweight, and durable camping mat is a must for adventurous bikepackers.
Many sleeping pad wear out fast, so if you want to be sure to get a durable product, we recommend the Thermarest Pro LIte, probably the highest quality in the market.
If you are going with your partner, or you're a comfort freak, another option is a lightweight double camping mat.
Here are our buying guides
>The lightest sleeping pads for bikepacking
>7 best 2-person camping mats
optional:
Bike Clothing
Rain Gear
Unless you're going to ride in a desert, a rain jacket is probably the only piece of clothing that is almost mandatory for bicycle touring, I will suggest buying one with a hood. We recommend Beleaf Cycling Rain Jacket w. Hood
Some people prefer ponchos over rain jackets, I can say in some cases having both is good.. Ponchos can be very effective, although not great with strong winds – they can flap over your face and even get dangerous. We recommend: Saphirose Ultralight Cycling Ponchos
When bikepacking in cold climates consider also:
Cycling Shoes
Cycling shoes are optional, there are at least as many bike tourists that wear them as there are using flat pedals. Hybrid shoes are our favorite option. We recommend: Tommaso Vertice 100/200 All Mountain Vibram
For summer weather hiking sandals will do, find some with more rigid soles. We recommend: KEEN Newport Closed Toe Leather Sandals
We've written a lot about shoes

> 14 Best Shoes for Cycle Touring & Bikepacking: SPD VS Flat VS Hybrid
> 10 Best Clipless Mountain Bike Shoes
> 9 Best Cycling SPD Shoes for Gravel Riding
Cycling Clothes
I personally consider cycling-specific clothes absolutely non-essential but nice to wear sometimes. Have to admit that since we are using good quality cycling clothes our riding comfort has increased dramatically.
Padded shorts are a great help when cycling for many hours
Cycling jerseys are breathable and easy to wash. Great for hot weather are those jerseys with a front zipper that opens all the way down.
Anyway never bring more than 2 pairs of shorts and two shirts.
Leg warmers and Arm warmers (compression sleeves) are very useful, they eliminate the need for long sleeve jerseys or long pants, give you comfort when it's chilly, and can protect you from UV rays. They weigh nothing and pack ultra-compact.
Gloves are nice on washboards and uneven roads, giving your wrists a little relief while they are a must in low temperatures, already below 10°C your hand will ache when going downhill. Read our article about the best cycling gloves for winter.
Cycling sunglasses or ordinary sunglasses are very important for your eyes' health, and something many of us couldn't cycle without.
Winter Clothing
If you're going to encounter cold temperatures, you should include winter clothing in your cycle touring gear list. Winter gear needs to be more technical and high-end, and you should think about allocating a decent budget for it.
Bear in mind though, that you'll ride on heavy winter clothing only when the temperatures are around zero degrees Celsius or below, or yes, in the downhill.
Most of the time the effort of cycling will be enough to keep you warm. It's mostly when camping that you'll be doomed to freeze. We are using merino baselayers by Green Rose and loving them, read our review here..
Our kit for lower temperatures consists of:
Cycling jackets – 1 or 2

(to be used one above the other in case of low temperatures (to do so, one should be larger)
This should be enough until a few degrees below zero. If you plan something a bit more extreme, consider lightweight insulated down jackets like this one.
Ordinary Clothing
When going through a bikepacking checklist, is easy to forget about regular clothes. But even if you're a hardcore rider and plan to cycle 8 hours a day, you'll still have some time off your bike, which I bet you don't want to spend in lycra cycling attire.
We recommend packing:
hiking/walking trousers
hiking sandals
1 pair of warm socks
3 pairs of underwear
2 normal cotton shirts
2 pairs of running/football shorts
(optional: warm coat, wool hat)
For warm weather, we love football shorts and sleeveless t-shirts (camisole for Elena), I personally enjoyed a cheap clip-on button shirt, that I could open with an easy gesture when sweating like hell on some hot afternoons in South East Asia.
A bandana is a nice add-on, you can keep it wet under your helmet for a refreshing sensation, also a visor helps a lot under the sun.
Don't forget your underwear too! Usually, 3 pairs will be enough, they are easy to wash – sport or hiking underwear is ideal.
Remember! Wearing underwear with padded cycling shorts is a bad idea. Use your underwear for off-the-bike activities or when cycling without padding.
Another handy item to have on a bike tour is a money belt, those have a secret pocket where to store your cash, useful for countries with high robbery risks.
Wrap Up
Thousands of people take to the roads on bicycles every day. If you are new to road touring but are excited about planning your first overnight or long-distance trip, you will want to make sure that you have all the right gear.
Having the right accessories with you can really save you when you are out on the road. When you tour on your bike, you may not be near a city or repair shop when needed and will need to be able to patch yourself up onsite.
Whether you are hitting the trails for a bike camping trip or taking your carbon road bike for a weekend out on the road sleeping in BnBs, having the right gear and accessories can help you to have a smoother and more enjoyable ride.
Looking for a gift?
Stay in touch while we get lost! Follow us on Social Media