In Namibia, we slept in some of the most beautiful campsites we have ever seen. Here are our 7 Best Campsites in Namibia.
In Namibia, we slept in some of the most beautiful campsites we have ever seen. Camping is very popular in Namibia; during our 20 days road trip across the Country we camped every day (besides a b&b in Windhoek) and in this article, we list the 7 best campsites in Namibia.
Of course, there are many more amazing camping spots, if you have been in any you wish was included in this guide, let us know in the comment section. The Campsites in Namibia are usually in scenic locations, often offering a swimming pool, private ablution, electricity, and braai facilities.
The average price goes from 100 NAD to 250 NAD (6 to 14 USD) per person per night. Camping in the wild is not allowed in the National Parks. In other areas it is, but you never know if you're on private property or not, you should ask permission from the landlord, you don't want to be woken up by an angry farmer in the middle of the night.
The 7 Best Campsites in Namibia
Disclosure: Some of our articles contain affiliate links. This comes at no additional cost for you and helps us keep this website up and running. (as Amazon Associates we earn commission from qualifying purchases)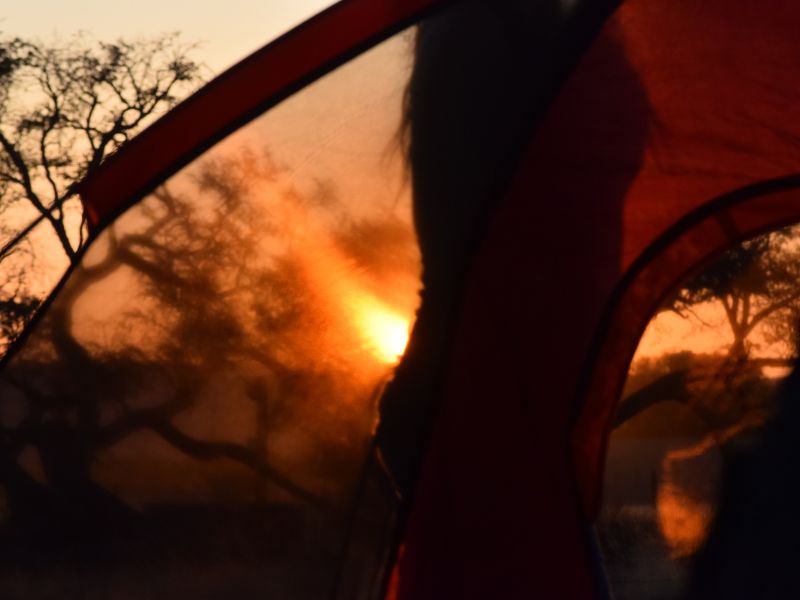 Here are the 7 camping in Namibia we liked the most. This list is not a ranking but follows the chronological order of our journey. If you are interested in our 2 weeks Namibia road trip itinerary, read our article: Self Drive Namibia: Road Trip Itineraries and Ideas.
1. Sossus Oasis Camp Site
After a night spent in Windhoek, we started our Namibian Road Trip toward the South. Once you arrive in Sesriem, at the petrol station in the village (there is only one) you can book a spot in the camping nearby and pay there, they accept Visa. They also offer Wi-Fi vouchers at the reception, it works only around the station where they have a small antenna.
The camping is called Sossus Oasis Campsite and it was the cheapest option we could find just outside the park. They have private camping spots (with private ablutions) or common ones (with shared ablutions).
We booked a common campsite for 175 NAD per person, the price can vary according to the season. There is a nice swimming pool, hot showers, braai facilities and oryx walking inside the campsite early in the morning.
There are not many spots considering the number of tourists entering the park every day. Especially during peak season or national holidays, a good option can be to book the camping spot in advance, you can do it online here or by calling the phone number +27219304564.
Very close to the campsite, there is the small airport from where you can fly on the dunes, or even to the coast. You can check the itineraries and prices of the flight here.
2. Spitzkoppe Campsite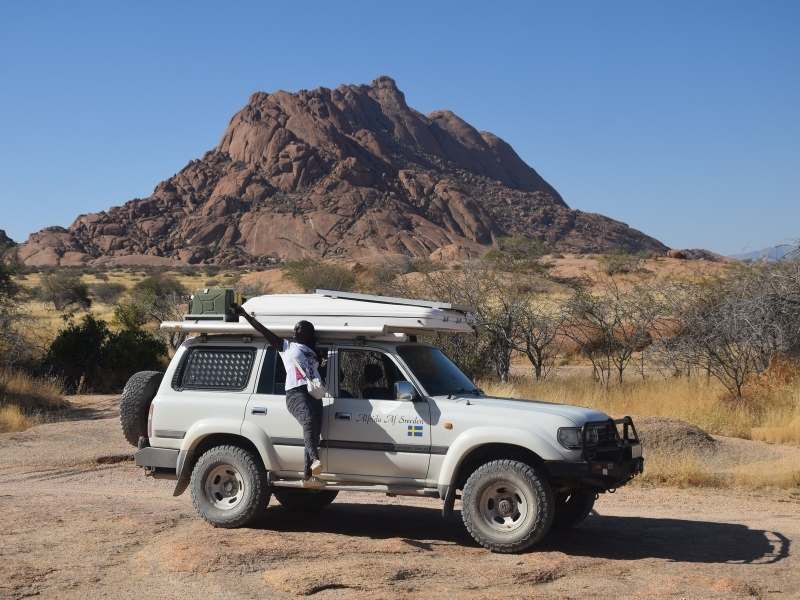 About 120 km from Swakopmund, Spitzkoppe is a paradise for hiking and camping. We suggest you sleep inside the park, the view is amazing and it is cheaper than camping outside the park.
If you camp outside you might have better facilities available but you'll have to pay for the entrance of the Park (120 NAD per person) that is otherwise included if you sleep inside (camping + entrance fee 210 NAD per person).
Also, sleeping outside means that you will not be able to enjoy the sunrise and sunset. During the night the Southern African sky is offering a spectacular show, you can rent a telescope in Windhoek and enjoy the star constellations and planets or simply relax and watch the bright sky.
At the entrance, they will give you a map so you won't miss the main attractions and viewpoints. There are 31 campsites available, 4 of which are reserved for overlanders only. In our experience, it doesn't look like you need to book in advance, you can fill out the online form on the official website for more information or write an email to [email protected].
There are a few rock painting sites, one is just along the road and the other, Bushmen's Paradise, requires climbing a rock with the help of a chain. In both cases you need a guide, they are already there and there is no fixed fee, you'll give them a tip at the end of the tour.
3. Nowhere Camping
After a relaxing time in Swakopmund and visiting the Cape Cross seals reserve, we kept driving toward the Skeleton Coast and we decided to stay at the last campsite before the Park: St Nowhere Camping.
Actually, we decided not to camp, it was too cold in July and a very windy day. The price for a bungalow was very convenient, around 35 USD, with two bedrooms, a fully furnished kitchen, a private bathroom a fridge, and a huge freezer for the fishermen who came here during the weekends.
There are also bigger bungalows that can accommodate up to 8 people. There is a small shop on site where you can buy basic goods, meat, and wood. They also have a restaurant but it was closed, they probably open if they have big groups or people who book in advance. The closest grocery shop is 100 km (62 miles), in Hentiesbaai.
The place is simple but so special, we really felt like to be at the end of the world. We took a walk on the beach: bones of seals, hyenas, and jackals' footprints everywhere. You can go on a horse ride around the beach. It was one of the highlights of our trip.
In summer months, camping is for sure much more pleasant than in winter, there are campsites on the beach with private ablutions and protection from the wind or, a bit cheaper ones with common bathrooms.
4. Hais Ra Campsite
There are many campsites near the petrified forest. We camped at Hais Ra, one of the most beautiful campsites we slept in Namibia. 150 NAD per person with private ablution or 400 NAD for Tented Camps.
There is a bar with cold beers and a swimming pool with a nice view. On request, you can order dinner and breakfast (quite expensive) and work is underway for the construction of a common kitchen.
Close by, you can visit the Petrified Forest, a National Monument, a perfect stop if you are coming from or going to the Skeleton Coast. If you are interested, have a look at our article: The 280 Million Years Old Petrified Forest of Namibia.
5. Epupa Falls Lodge and Campsite
We kept going north, driving to the Epupa Falls via Opuwo (stop in town if you can, you'll see all the ethnic groups of Namibia together). The falls are located along the Kunene River, the natural border between Angola and Namibia.
At the Epupa Falls, we slept at the Epupa Falls Lodge & Campsite, they also have rooms, a bar, and restaurant, a swimming pool, massages, prepaid Wi-Fi vouchers, and laundry service. The campsite is on the river, a few minutes' walk from the falls.
It felt so good to finally see trees and waters again, we decided to stay two nights. Big baobabs, makalani palms, wild figs and medicinal plants I don't know the name of. A sort of oasis in the desert.
Visiting the falls is free, there are guided tours available but they asked us for a stunning 250 NAD (17 USD) per person so we went by ourselves.
Apparently, there is an entry fee of 40 NAD if you take the upper road but nobody was there, the bottom path is free, and basically, the view is the same. In the village, you'll find some basics at the shop. Outside the camp there is a Himba market, they sell traditional jewelry and other souvenirs.
If you are interested, the Epupa Falls are featured in the first season of the Amazon Serie "The Grand Tour", episode 8.
6. Okaukuejo (Etosha National Park)
We entered Etosha NP from the North Gate called King Nehale Gate, drove to Halali, and exited from the East gate, Namutoni gate.
Etosha National Park is one of the most famous National parks in Southern Africa, and one of the cheapest. For SADC citizens the entrance fee is 100 NAD per adult per day, and for foreigners is 150 NAD plus 50 NAD for the car.
Camping is the only way to see animals such as rhinos and lions, they generally go to the nearby waterhole at night. Okaukuejo camping offers rooms as well. Remember that there are not many campsites inside Etosha National Park and, with tour busses visiting, they get fully booked pretty quickly. It is advisable to book in advance.
This being said, we were not particularly impressed, probably because we had already done several safaris in other African countries. The road inside the park is good and can be done with a 2×4 car for the most part. In my opinion, camping inside the park is advisable only if you really are passionate about safaris or it is your first time experiencing a National Park in Africa.
7. Mbezi Camping, Kongola, Caprivi Strip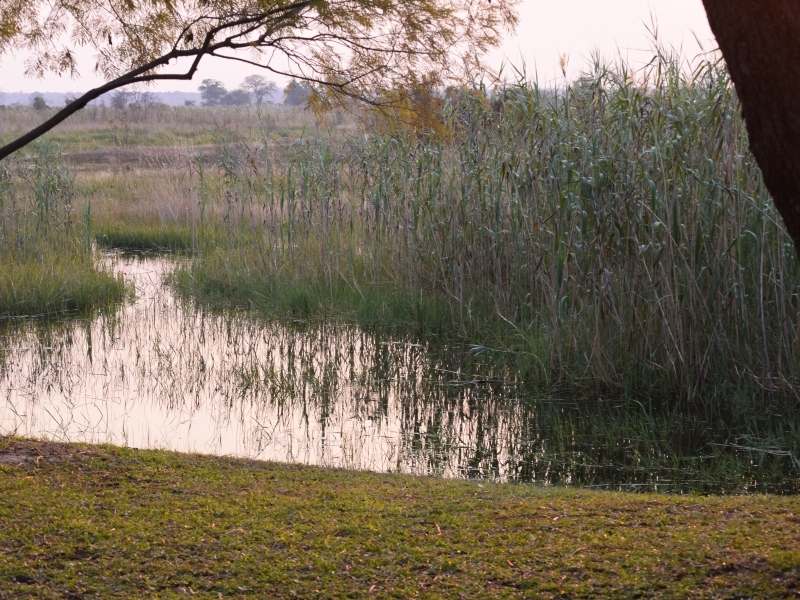 Mbezi Campsite in Kongola is a pearl, a new place two local guys, Beaven and Allen, are building on the river, on the other side of the Kwando Game Park. You can find all the information and contacts on iOverlander.
Very affordable, 120 NAD per person, private basic but clean ablutions for every site with flush toilets and a hot shower provided by a donkey.
Every site has a solar-powered electrical point for electrical equipment charging, Camping 6 is the most beautiful, with grass and shade under big trees.
All the camping spots are on the river. We could see various antelopes and hear a resident hippo. It is possible to pitch your tent inside the hut if you, like me, do not want to meet a hippo while going to the toilet at night.
Do you want to travel Namibia by bicycle? Check our full guide:
Stay in touch while we get lost! Follow us on Social Media