Cycling Malawi! A guide for bikepacking and cycle touring in Malawi written by local expats.
The best bicycle routes in North and South Malawi + lots of info
Looking for the best bikepacking destination in Africa? Come cycling Malawi! Compact and diverse, Malawi is one of the most beautiful countries in Southern Africa, and a perfect place for bicycle touring.
Relatively small in size, but with many scenic roads, and a high density of tourist attractions, cycling in Malawi is a great experience.
The pristine waters of one of the biggest lakes in the world and its lively beaches, its lush mountains, and plateaus, and its ancestral and fascinating culture.
We cycled almost everywhere in Malawi, we are currently living here since 2019, hosting cyclists through Warmshowers.org and the Cape to Cairo Whatsapp group – all the info here is first-hand and 100% verified.
Geography of Malawi
Disclosure: Some of our articles contain affiliate links. This comes at no additional cost for you and helps us keep this website up and running. (as Amazon Associates we earn commission from qualifying purchases)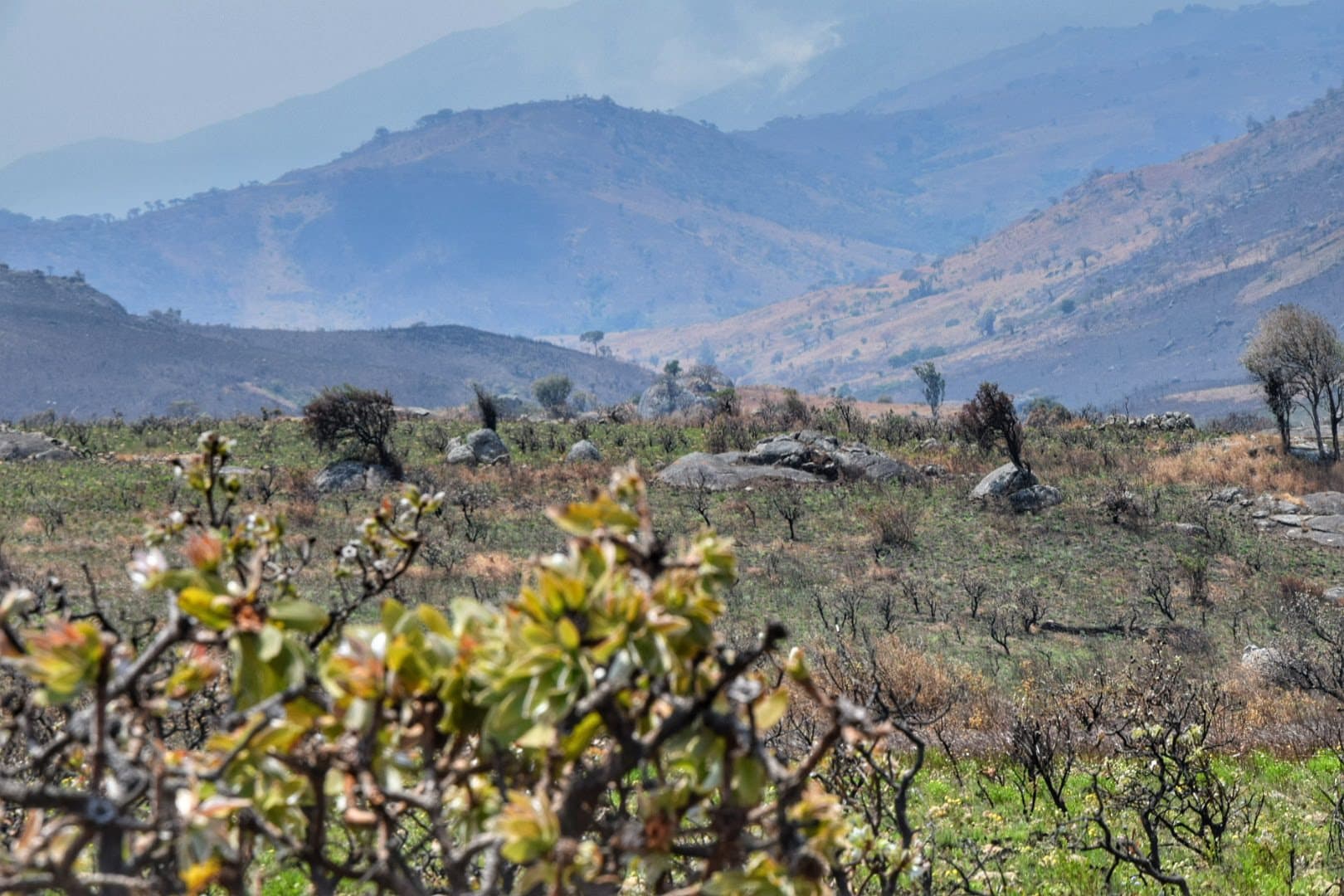 Malawi is dominated by its unique lake (more about it later) but that's not the only interesting geographical feature of this small landlocked country. The geography of Malawi is pretty diverse for such a small country.
The whole nation constitutes the southernmost branch of the Great Rift Valley, which is a sort of geological wound, like an immense scar, extending from Lebanon to here, which will in a distant future separate the African plaque into two distinct ones
The western area, from Lilongwe to Mzuzu, lies entirely above 1000 meters on the Southern African Plateau, vegetation is bushy but greener and lusher than Zambia.
South-Eastern Malawi has a lower altitude with Lake Malawi at its lowest and the solitary peak of the Mulanje as the highest point of the whole country. The small plateau of Zomba is another notable feature, point of interest, and tourist attraction of Southern Malawi.
In the northeast of the country, the mountainous area of Nyka National Park dominates the landscape with its unique grassy landscapes. This massif drops quite abruptly into the lake, lush tropical vegetation wet with plentiful streams, especially of course in the rainy season. This is one of the most beautiful parts of Malawi.
Lake Malawi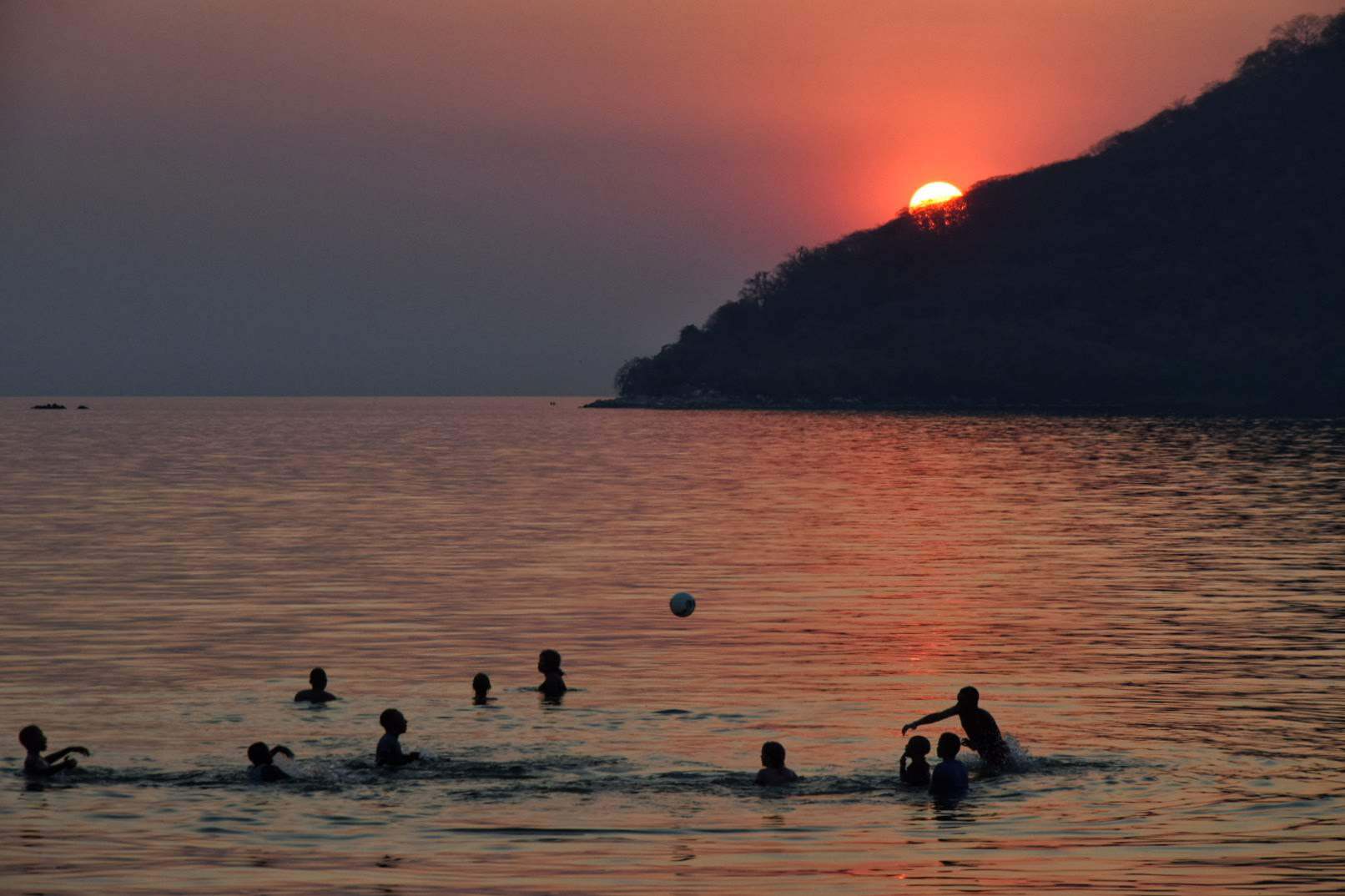 Lake Malawi, also known as Lake Nyasa or Niassa, deserves a separate mention. About 580 kilometers (360 mi) long and 75 kilometers (47 mi) wide at its widest, with a total surface area wider than the island of Sicily, Lake Malawi is the fourth largest freshwater lake in the world by volume, the ninth by area, third by depth (706 m/2,316 ft).
Lake Malawi is a well-kept jewel that should be included in any cycling itinerary of Malawi. Lake Malawi's shores are still pristine and the touch of its people is still gentle.
Almost untouched beaches, spectacular rocky shores, and a thriving fishermen's culture in a unique and diverse mix of baobab-covered bush and subtropical jungle, make Lake Malawi one of the most beautiful gems of Africa.
Although we haven't included it in our suggested cycling routes, a great opportunity to experience Lake Malawi is sailing at least once on the historical Ilala Ferry.
Read more about

> MV Ilala Ferry – the Terrific Boat of Lake Malawi: the Ultimate Guide
You could also consider bringing your bike to the small but magnificent islands of Likoma and Chizumulu.
Learn more

> Likoma Island LOCAL's GUIDE [Things To Do – Facts – Photo Gallery]
Learn more about the unsolved mystery of the Malawi cichlids in our post about
Bikepacking North Malawi
North Malawi is where we live and our favourite part of the country. The cycling route we propose here is quite challenging, with about 50% unpaved surfaces and some very steep climbs.
1. From Lilongwe to NkhotaKota – 175km
Lilongwe could be a fun city if you know someone there that can bring you around the interesting venues. If you don't know any locals, use Lilongwe just as a base to stock in food essentials for your trip.
Hit the M1 main road but then immediately leave the hustle and bustle behind by turning right on the M7. Here you'll pass by Dzeleka, the biggest refugee camp in East Africa, a very interesting place full of creative initiatives. Dzeleka it's definitely worth a stop, contact them via Instagram to arrange a visit.
From Dzeleka to Nchisi is a nice scenic ride along the relatively quiet M7. Here you could take a detour towards the forest lodge, it's possible to get all the way down to the lake shore through tiny country paths, but we've never done it.
Instead, we recommend proceeding to Mbobo and the gates of Nkhotakota Wildlife Reserve. This park is a densely forested hilly area home to elephants, hyenas, and a few rare leopards. You'll have the chance to spot the Southern Ground Hornbill, one of the biggest hornbills and the national bird of Malawi.
Although not dangerous, cycling in the Nkhotakota Wildlife Reserve is forbidden. Some riders managed to cycle across but most times you'll need to wait for a pick-up to give you a ride, not a long wait as this is the main connection road between Kasungu and Nkhotakota.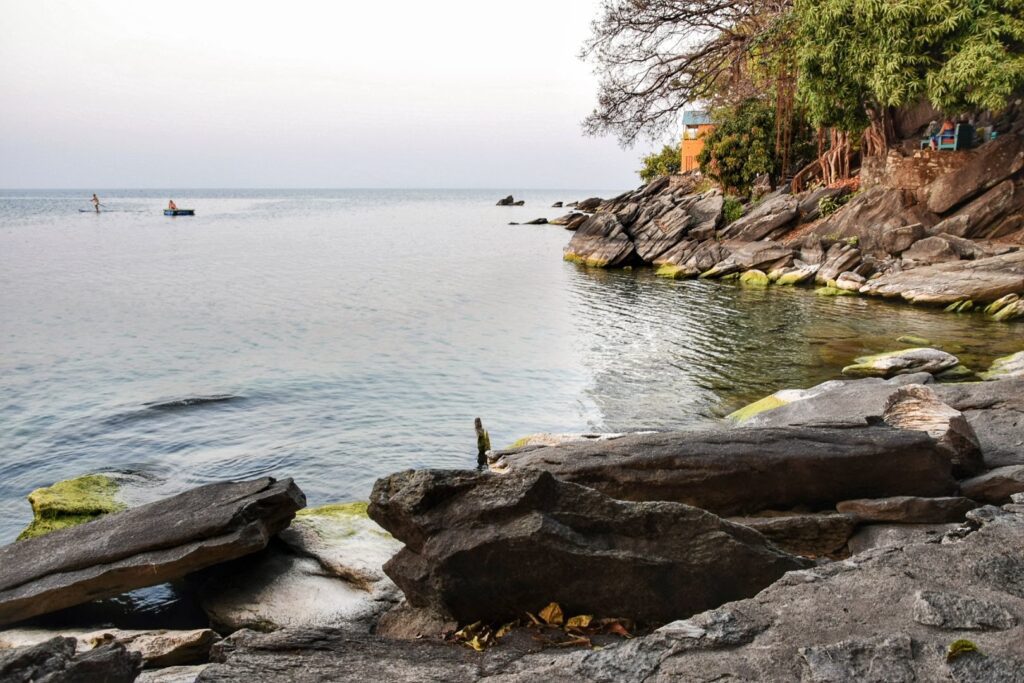 2. From Nkhotakota to Nkhata Bay – 200km
A beautiful and easy lakeshore ride, this will be the most relaxing section of your route. Although the surface is not in great condition for the first 50-something km, it improves a lot once past the Illovo sugarcane plantations.
You'll have views of the lake, the forested mountains on your left, and lush vegetation and bustling village life all around you.
If you want to treat yourself to a nice lakeshore place, we recommend either Ngala Lodge (usually giving good deals to bike travelers) or Makuzi Beach (probably the best beach on this side of Lake Malawi).
Nkhata Bay is the prime destination on the North shores of the lake, a small but very vibey town where you might end up spending a few days. The lake is crystal clear and there are great opportunities for snorkeling and even diving. We recommend staying either at Mayoka Village (more pricey but you can get SUP, kayaks, and snorkeling gear for free) or at Butterfly Space, which is very vibey, especially on the weekends – the two places are just next door so you can easily move from one to the other.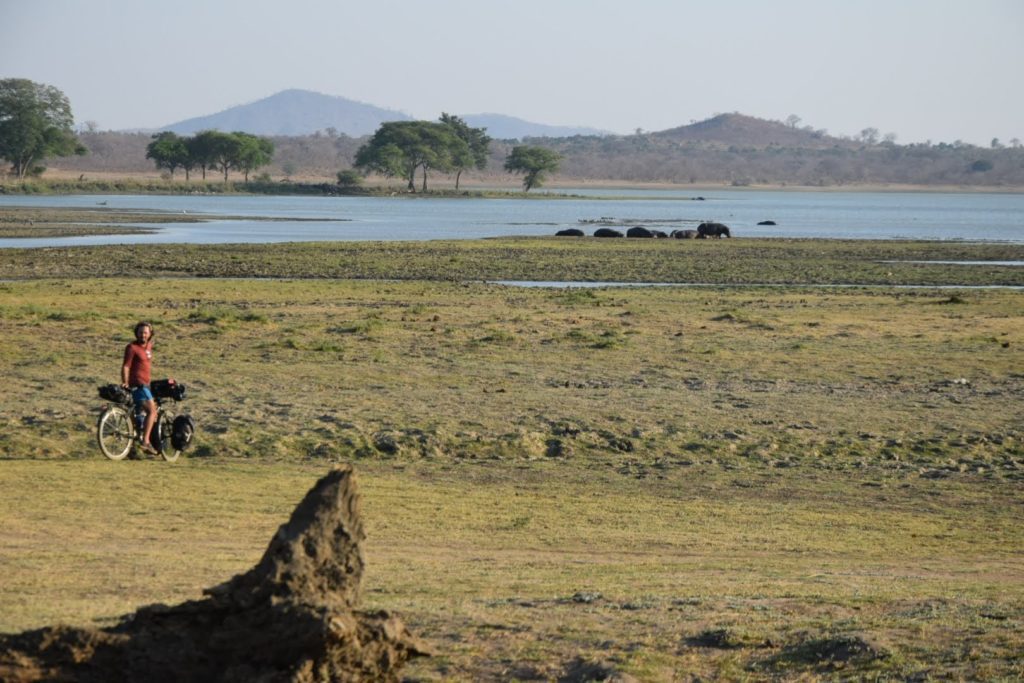 3. From Nkhata Bay to Vwaza Marsh National Park – 110km
From Nkhata Bay to Mzuzu is about 45km, starting with a relatively flat section before getting into the serious climbs, a total of 1000m gain. The road has good tar pavement and jaw-dropping views over the Kaningina Forest and the surrounding hilly farmland. The alternative road through Chikwina is steeper and rocky, we advise trying it only if you're going in the opposite direction.
Mzuzu is where we live, a nice small city where to stock in goods, extend your visa and have some fun, check out these nice things to do in Mzuzu (including single-track riding in the forest).
Going north from Mzuzu you'll reach Ekwendeni, where you can take the shortcut to Vwaza Marsh. This is mostly single-track, no cars can pass there, it's quite a dry area but very quiet and not difficult to ride. If you want to stay on the tar it will be a bit longer and the scenery is not great.
Vwaza Marsh is a small and very affordable wildlife reserve, the entry fee is 10USD and for the same price you'll get one of the cottages on the marsh to spend the night (camping also 10$) – a bit rundown but cozy. Bring your own food.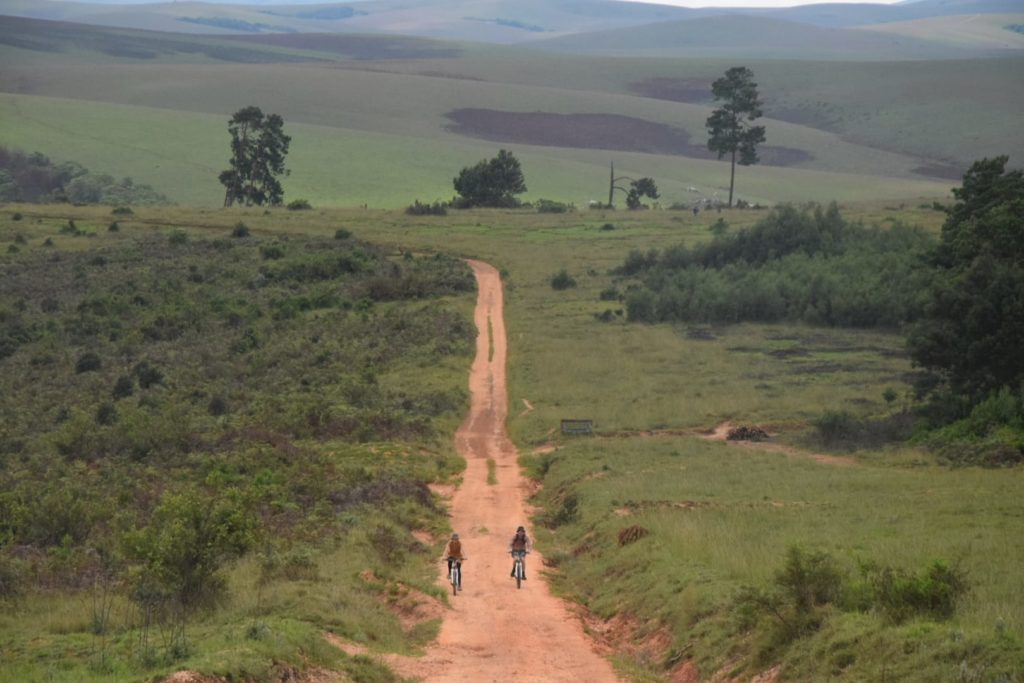 4. From Vwaza Marsh to Nyika National Park – 88km
88km all on dirt roads and with 1500m elevation gain, this is a hard section. Plus, if you want to spend the night in the Nyika NP (highly recommended) you'll have to add 22 more challenging km to Chelinda Camp, in the heart of the plateau.
We rode the first very tough section up to the gate of the park and camped there, this is what we advise anyone to do. In this initial section, going through green tobacco plantations, we had to push the bikes several times, and if wet the mud will also be a problem. You'll not be allowed to wild camp in Nyika.
After the gate, the road inside the park is made of decent compact gravel, the gradient is significant but absolutely rideable. The initial section of the park goes through the elephant sanctuary, a thick forest.
After that, you'll find yourself above the tree line where the vegetation and landscapes change completely. You're now up the plateau and you'll have to choose if to head to the camp, thus exploring the most beautiful areas of Nyika, or continue straight and try to make it to the north exit in one day.
Getting to the camp is up and down and poor surface, but the scenery is totally worth it – you'll also meet zabras and elands on your way. At the campsite, watch out for hyenas at night, keep your food safe, and possibly a fire going.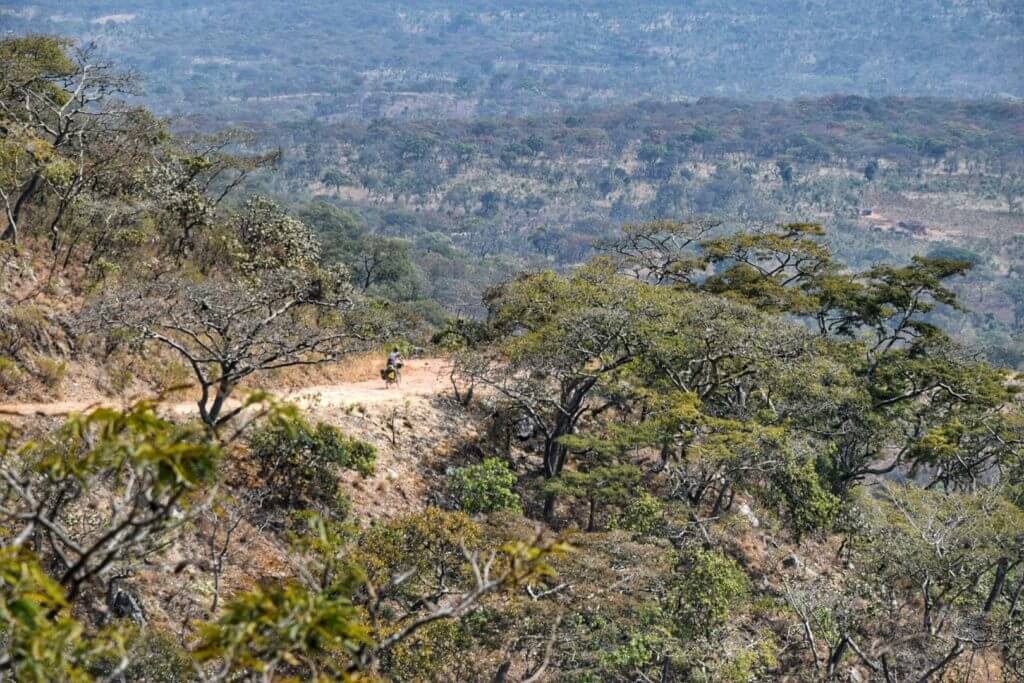 5. From Nyika to Karonga – 252km
Get ready for another challenge, in this section you'll traverse the most remote regions of Malawi.
Getting down from Nyika Plateau is done through a steep and rocky series of hairpin bends, great scenery and not to difficult on a bicycle, you'll overuse your brakes and have hand cramps.
In Ntalire you can find basic accommodation, here you'll have the choice between the long way to Chisenga or the "shortcut" going straight to Karonga – we choose the shortcut but I assume we would've been faster doing the long way. This shortcut is singletrack with a million river beds, meaning steep up and downs all the time… no people around… very crazy ride only for the bravest.
Otherwise, stick to the good dirt on the way to the Chitipa border, where you could cross into Zambia or Tanzania, or get on the tar road leading to Karonga and the lake shore.\
In Karonga, you can also head north and enter Tanzania from the main border with Malawi.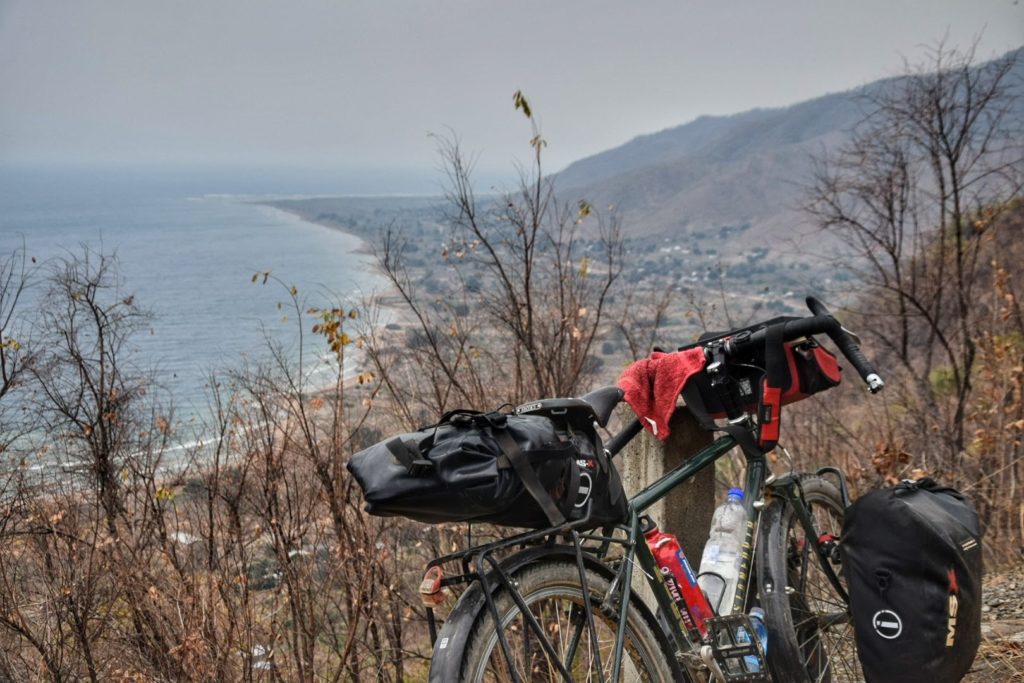 6. Karonga to Livingstonia – 108km
After all that bikepacking struggle, finally another easy cycling day along Lake Malawi shores. Flat and nice all the way to Chitimba, but with a final surprise. To get up to Livingstonia you'll need to face one of the toughest climbs in Malawi, on one of the first roads ever build.
The steep and messy road is only about 14km, but it will take several hours on a loaded bike, with a lot of push. We recommend stopping slightly further than halfway at Mushroom Farm Eco Lodge. From here you can hike to Manchewe Falls and/or Chombe Plateau, both cool and easy walks.
Some prefer to use the old lakeshore road. In this case, you can leave your stuff at one of the campsites in Chitimba and hike or ride without gear to Livingstonia for a day trip – a good idea if you feel tired.
Livingstonia itself is the first colonial settlement in North Malawi, an interesting town with great views.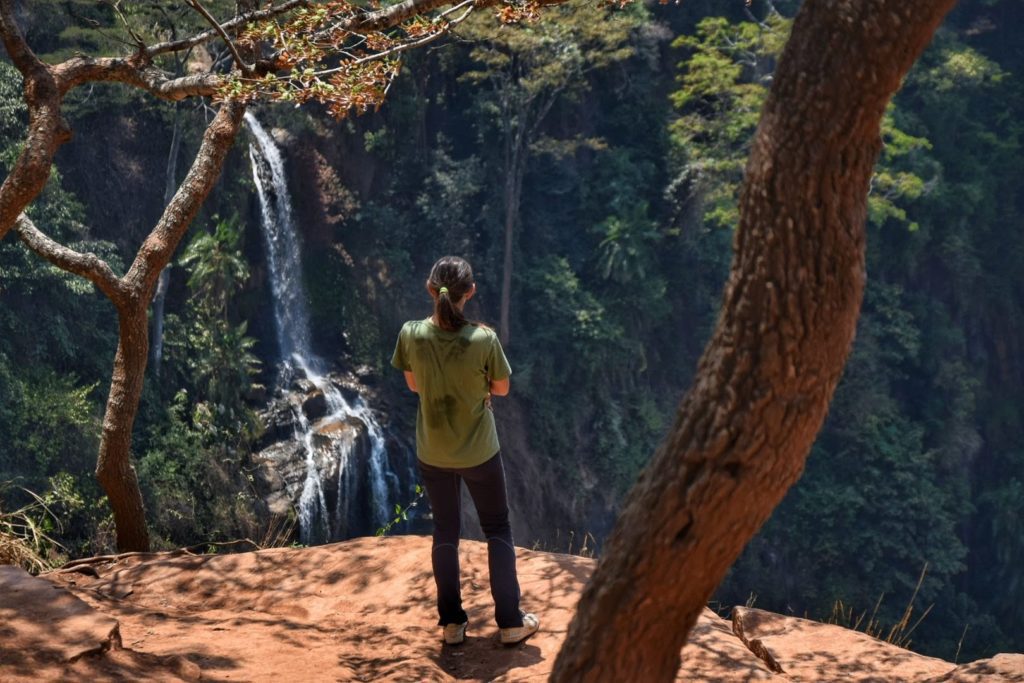 7. Livingstonia to Mzuzu – 130km
For this final section we chose to lead you along the new backroad, this is being completed as I write, the actual conditions (Aug 2022) are 50% paved 50% compacted. The road begins with two scenic but easy hills before getting flat.
Once back on the M1, a detour to Rhumpi is worth it, the road going through a beautiful gorge with a rapid flowing river, a good option to break the route in 2 days.
For the last part back to Mzuzu you can chose to stay on the M1 (quite busy) or get on some village roads.
From Mzuzu, you can take a coach back to Lilongwe and fly out.
Bikepacking South Malawi
Although we're big fans of the North, the South of Malawi also offers gorgeous sights and landscapes. This route could be used by those heading to Mozambique on a long-distance cycling route.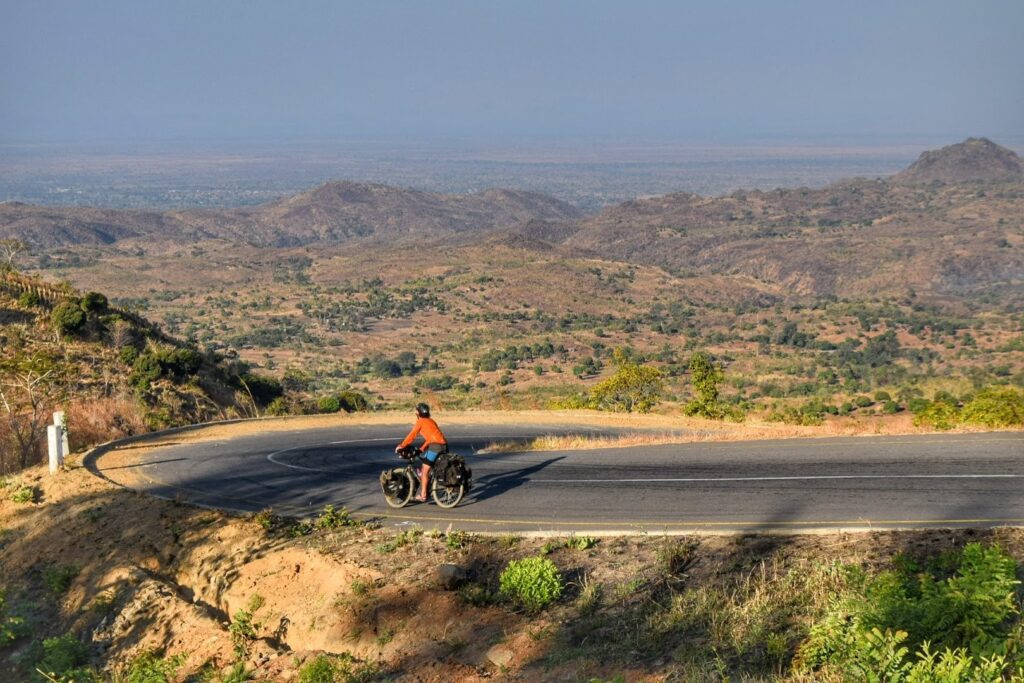 1. Lilongwe to Dedza – 93km
You could stay on the main road but why so? Cycling through the Malawian villages is much more fun! Follow the route by leaving the M1 and getting lost in the countryside, here's where we bump across our first and biggest Gule Wamkulu, if you're here in August follow the masked people.
Dedza lies on the border with Mozambique and it's easy to find yourself on the other side unwillingly. In Dedza there are ancient rock paintings, a pottery, and a few good hiking opportunities.
2. Dedza to Cape Maclear – 126km
Leaving Dedza you'll have a fantastic cycling day ahead of you. The long downhill will bring you down the escarpment, a great point to understand what is meant by Great Rift Valley. Here you can admire the clever irrigation system and the vast plain of South Malawi.
From Golumoti you'll get into the road to Cape Mclear and Monkey Bay, quite a lot of potholes but not a problem on a bicycle. You have the chance to shortcut it along the like, where you'll ride some sandy tracks through fishermen villages.
Monkey Bay is the main port of the Ilala Ferry, here you could change plans and take the boat to Likoma or somewhere north (Nkhotakota is a great choice) and join the north route described above. Monkey Bay is crocodile area, especially in dry season, so be careful when swimming.
To get to Cape Maclear you'll have to cycle up a short but steep hill, totally worth it. Cape Maclear is the most beautiful place on the southern shores of Lake Malawi, worth spending a few days here. Cape Maclear is where I took my PADI diving license, great place for beginners.
A visit to the Islands of Domwe and Thumbi are just a short kayaking distance away, very wild and beautiful.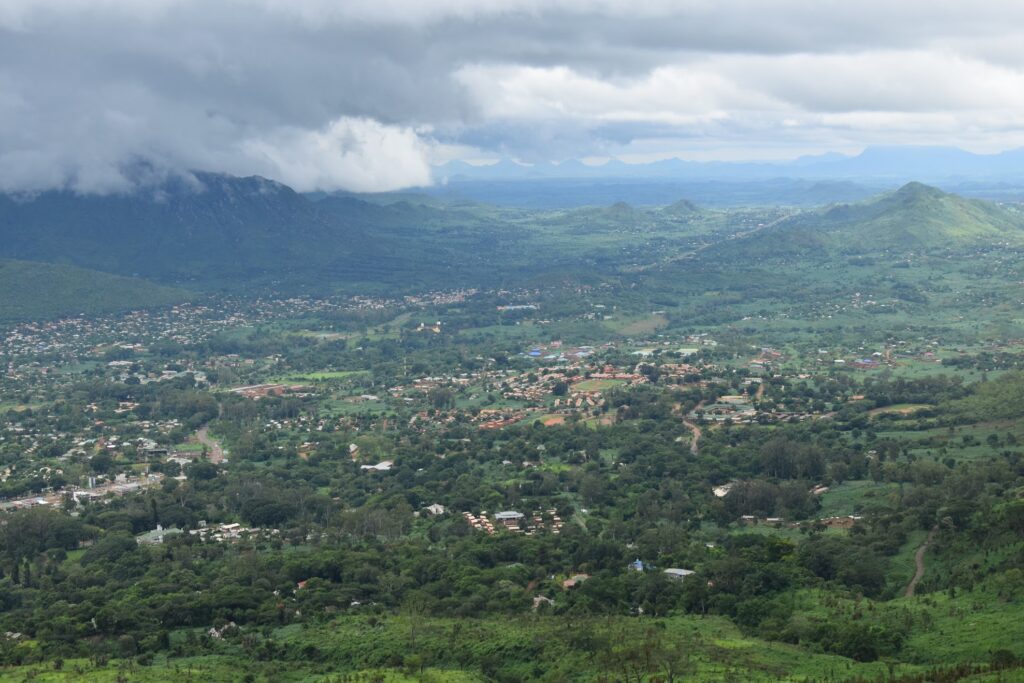 3. Cape Maclear to Zomba – 260km
There are definitely shorter for cycle tourers to get from Cape Maclear to Zomba, since this route is quite short though, we propose a longer way that allows the bikepackers to get off the tar road and experience some more rural Malawi.
This cycle route takes you around Mangochi mountain reserve and along Liwonde national park, before traversing the beautiful valley of Machinga and arriving in Zomba.
Zomba town is located at the foot of the scenic Zomba Plateau, worth climbing up there for the views and maybe some hikes.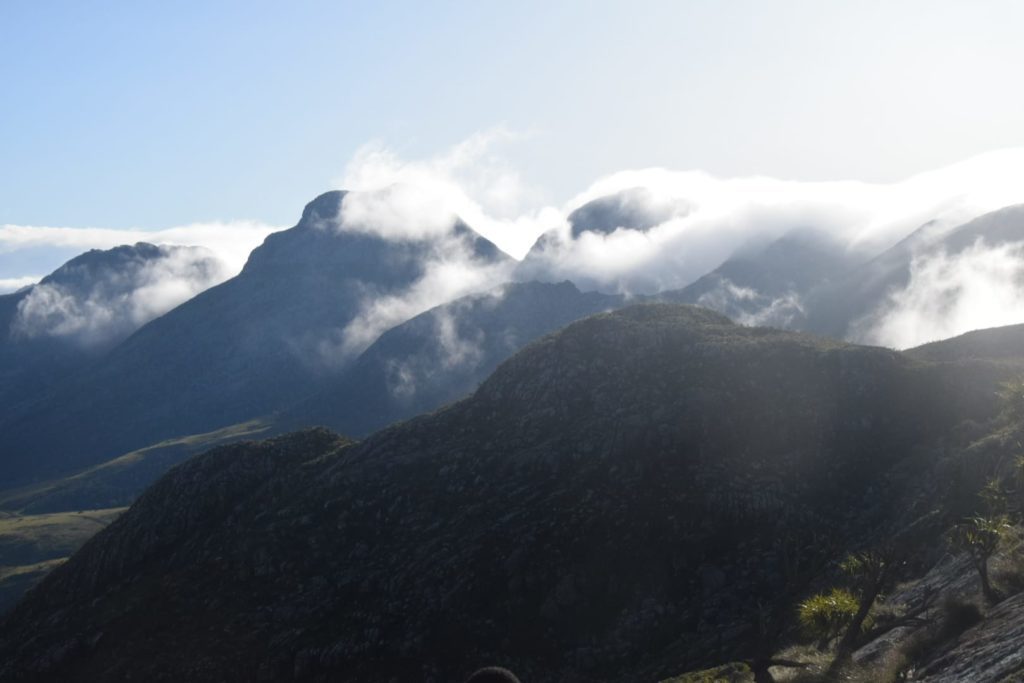 4. The Mulanje Loop and Blantyre – 228km
The final section of this Malawi cycle route brings you around Mt. Mulanje, a spectacular mountain massif and one of the highest peaks in Southern Africa.
Hiking Mulanje is a great experience and comes very cheap when compared to other mountains in East Africa. Incredible landscapes and vew, unique flora, freshwater streams and waterfalls everywhere.
The entry fee is 2USD + 1 USD per night to sleep in one of the many well-maintained mountain huts scattered atop the large massif. A guide costs less than 20$ per day for the whole group. We recommend getting in touch with Travel with Mervis to arrange your hike in Mulanje.
Cycling the loop of Mulanje will bring you among tea plantations and forested patches, with the omnipresent views of the giant by your side.
Instead of heading straight to Blantyre, we recommend a detour through Thyolo, a very nice and underrated hilly area full of tea and tobacco.
Blantyre, the second city of Malawi, is the final destination of this bike trip. There are a few cool places to visit in Blantyre, which is a vibey and interesting city.
From Blantyre you can take a bus back to Lilongwe or fly from here, actually Blantyre airport has more flights than the capital one.
Local Guesthouses in Malawi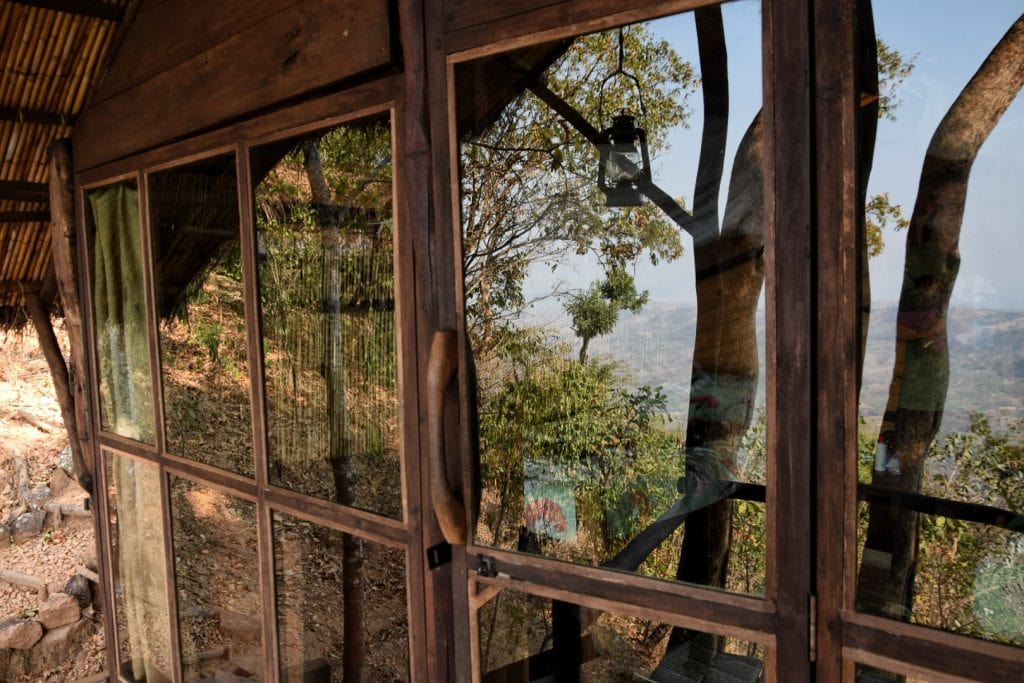 Guesthouses used by the local Malawians, called Rest Houses here, are much cheaper than backpacker lodges and often surprisingly good in value.
A double room with mosquito net and fan, en-suite bathroom, and usually a good and clean bed costs between 4,000 and 10,000 Kwacha (5$ to 15$).
Malawian rest-houses are everywhere, each decent-sized village has at least one or two. They usually don't have food or drink, so you'll have to rely on the nearby village. A good chance to experience Malawian life and food.
Wild Camping in Malawi

Malawi is a pretty densely populated country. It is quite hard to get an isolated and quiet spot for wild camping in the south, while it is easy and worthwhile in the mountains near Nyika.
Beaches, if they are accessible, always have a village nearby or at least some fisherman activity. It's advisable to ask someone before camping on a beach.
Staying with Locals in Malawi
This works especially well for those cycling in Malawi (for every one cycle touring in Africa actually). If you really are on a budget you can always ask around a small village or a single homestead or compound to camp there.
Like everywhere in Africa you'll be treated as a guest, with good chances of getting a bucket of water to wash yourself and the great opportunity to talk and interact with the Malawians.
It's basic etiquette to leave some money (better to give it to the women) and share some food if you have any.
Getting in Malawi
Malawi borders Tanzania, Mozambique, and Zambia – there are many border posts, and all of them issue visas on arrival. The main airports are Lilongwe and Blantyre, your best bet for international flights will be Lilongwe.
London is a good starting point to get in Malawi via Johannesburg, in South Africa. Daily flights are operated by South African Airways and British Airways, leaving London in the evening, and arriving in Jo'burg the following morning.
Connections from Johannesburg to Malawi are operated by South African Airways daily to Lilongwe and three times a week to Blantyre.
Other parts of Europe are well connected with Kenya Airways flying via Nairobi and Ethiopian Airways via Addis Ababa (great deals from Rome).
If you are coming from North America, you could fly direct to South Africa or pass through Europe (most likely London).
We recommend using Kiwi.com as a tool for such fly searches, as it is the most powerful available and with the widest range of options. You can search flights straight from the link down here.
Check your flight to Malawi with Kiwi.com
Climate and best times to visit Malawi

Malawi is a subtropical country laying in the Southern hemisphere. Winter (June, July, and August) is very dry and moderately cooler. At high altitudes, it can get very chilly at night.
Westerly wind blow throughout June and July, sometimes strong enough to make the usually calm waters of the lake quite dangerous to cross. Winds usually calm down in late August.
Summer is the wet and hot season, rains are heavy especially in January, February, and March but it still rains throughout spring until May. The wet season though is a great period to visit Malawi, which is lush and verdant during these times of the year. It's pretty hot and humid down the lake though.
Overall, there's no best time to visit Malawi, it really depends on your preferences, it's beautiful all year round. Cycling Malawi though, is definitely more convenient in winter though, because of the better road conditions and milder temperatures.
---
Food in Malawi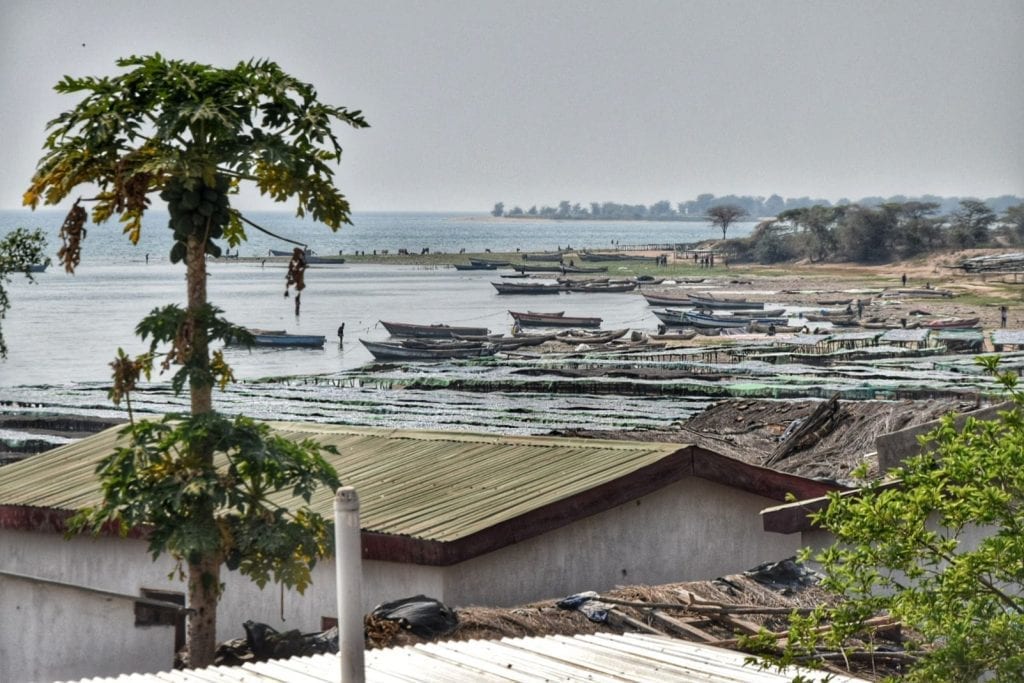 Agriculture in Malawi is more developed, and the land more generous compared to neighboring African countries, the food though is as monotonous as Zambia or Zimbabwe, Nsima (local maize meal) or rice with meat bites (usually goat or chicken) and vegetables – sometimes beans – that's the average Malawian everyday diet.
A dish of Nsima and relish can get as cheap as 800 Kwatcha, 2,000 Kwatcha in a better restaurant (where you'll probably get more meat). Muslims are a small but significant percentage of the population, so there are quite a few halal restaurants. Vegetarians will get Nsima with vegetables, sometimes eggs.
In backpackers' accommodations and lodges, the usual international cuisine is served, hamburgers, omelets, pizza, pancakes – quality varies from very poor to great, prices from 3,000 to 10,000 Kwatcha or more for a dish (4$ to 15$). Fish is great around the lake (only chambo and butterfish)
Streetfood mostly consists of very widespread fried-potatoes stalls, cooked in an iron pan with wood-fire, they are often served with cabbage and tomato salad and are incredibly cheap. The same style of cooking for the rarer pork meat – be careful with that, hygiene is not great and meat is poorly preserved due to the lack of electricity.
Other super-cheap street snacks are samosas and fried dough balls, sold usually by roaming kids along the road.
The fruit is seasonal with mango as the protagonist, Malawi is indeed covered with Mango trees. The Mango season starts in November. Besides mangoes, the usual bananas (many types), rare apples, and hard-to-find baobab fruit.
---
Connectivity in Malawi
WiFi in Malawi goes from very rare to non-existent. The only place with free wifi we could find are Mogza Lodge (good location for digital nomads), and FuJa Camp in the north, most of the other lodges have paid WiFi – usually 2,500 Kwatcha for 1 Gb – even this is sometimes painfully slow.
The two mobile companies operating in Malawi are Airtel and TNM. Getting a local SIM card in Malawi is easy, the whole process takes about 20 minutes, you'll need to have your passport or a copy.
1 Gb weekly is 2,500 Kwatcha with AirTel, we both had problems with our AirTel cards but anyone else was fine. Network coverage is pretty good. It is now available a TNM unlimited data, it is called Pamtsetse, 6000 kwacha weekly, 1000 daily.
Safety in Malawi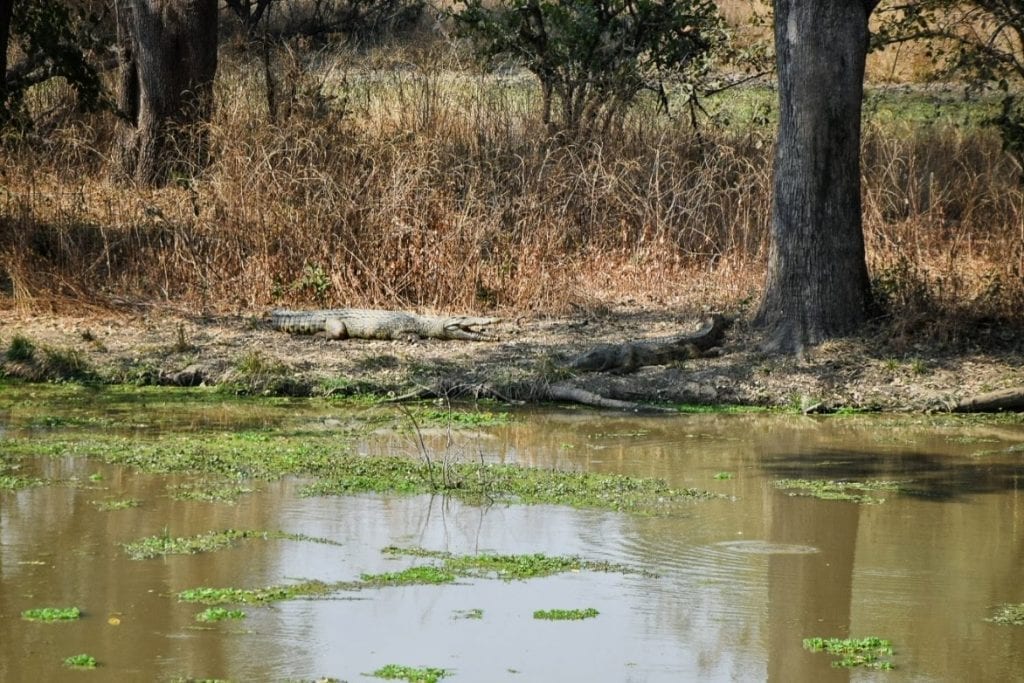 Thefts, robberies, or attacks are very rarely (if ever) experienced in this area, in general, the whole of Malawi can be considered pretty safe for tourists if the obvious concerning precautions are applied. Using a good anti-theft backpack is a good idea, especially when traveling by public transport.
Scams happen but usually, those are just overcharges for a product or service, if you want to buy some souvenirs or go on an "unofficial" tour, try to understand what a fair price for that will be by asking around. Always bargain reasonably and never accept the first price.
---
Crocodiles and other Dangerous Wild Animals in Malawi
The real dangers of Monkey Bay and Cape Maclear belong to the animal kingdom, specifically to the world of big creatures and those of the very small ones. The smaller one is actually the most dangerous
Despite what Malawians and lodge managers say, crocodiles are very common on Lake Malawi, especially in the South. We heard of three Malawian persons killed in the last month in the Cape Maclear area and we also got to personally experience the thrill of meeting a big "presidential" croc at about 3 meters distance.
Even though far to be considered "infested" crocodiles and hippos are a real concern of Lake Malawi you should be aware of. The government and tourism operators are trying to hide the real numbers but do not trust them and always be careful in shallow waters and isolated areas of the lake, especially when kayaking. Getting attacked while swimming from a busy beach though is almost impossible, so enjoy it.
Bilharzia in Lake Malawi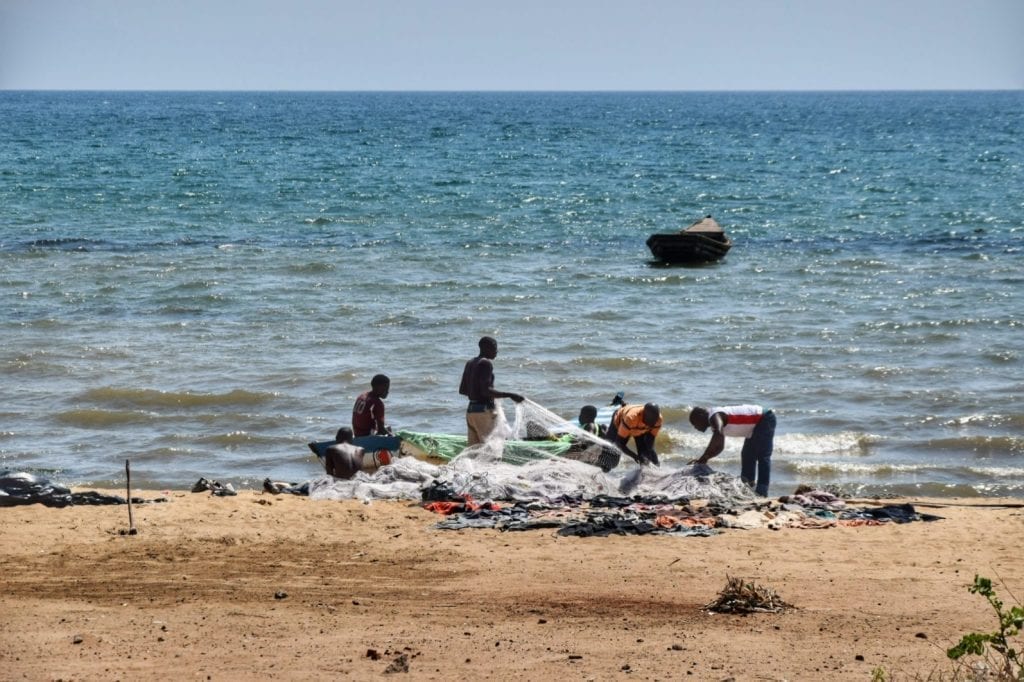 Some areas of Lake Malawi are contaminated by a creepy parasite. Bilharzia, also known as snail fever or schistosomiasis, is a disease caused by parasitic flatworms called schistosomes.
The disease is spread by contact with fresh water contaminated with the parasites. These parasites are released from infected freshwater snails.
The urinary tract or the intestines may be infected. Symptoms include abdominal pain, diarrhea, bloody stool, or blood in the urine.
Those who have been infected for a long time may experience liver damage, kidney failure, infertility, or bladder cancer. In children, it may cause poor growth and learning difficulty.
All these might seem scary, but actually bilharzia is a very remote danger to the well-informed tourist. First of all, bilharzia is very easy to treat – be sure to buy one of the two drugs available, praziquantel or oxamniquine, available at any Malawian pharmacy.
Those medicines, especially the praziquantel, are 100% effective and very safe for the organism, you'll have to assume your dose in one go six weeks after your last contact with the lake water. If you don't want to assume a drub without being sure you need it, you can get tested for bilharzia at any hospital in Malawi.
With the stringent policy of controls recently adopted by the Lake Malawi National Park authorities, bilharzia incidence in Cape Maclear has been greatly reduced, with the last case being reported in 2017.
Monkey Bay, on the other hand, still has it. In non-touristic areas of the southern part of the lake, the incidence is still pretty high.
Anyway, don't let bilharzia scare you and ruin your enjoyment, just treat it after you'll leave the lake and you will most likely never ever feel any of its effects.
Malaria in Malawi
Malawi is one of the countries with the highest number of malaria cases in the whole world. On the lake and lowlands, risks are pretty high even in the dry season, while at altitudes above 1,200 meters the dangers are reduced, although still present.
As you should know, there is still no vaccine for malaria, although one is being tested recently, so the only way of avoiding the nastier forms of malaria is taking prophylaxis.
Keep in mind that taking malaria Prophylaxis won't prevent you from getting malaria! What the prophylaxis does is to protect from the most deadly forms (like brain malaria) and to soften the symptoms if you get it – Elena got malaria in Congo while taking the prophylaxis!
Moreover, most doctors do not recommend taking any malaria prophylaxis for more than three months in a row, because the drug could permanently damage the body. If your stay is short term though, we definitely advise taking malaria tablets.
If you don't want to take the prophylaxis, be sure to cover your body at dusk and spray a ton of repellent. Look for guesthouses with mosquito nets.
We recommend buying some Cortem for an emergency, but it's most advisable to head to one of the many local clinics if you feel sick… go as soon as you accuse the first symptoms – they'll test you for free and treat you for cheap, no one knows malaria better than those doctors.
If you are traveling in remote areas, consider buying a self-diagnose malaria kit to test yourself, those are said to be reliable. If it's positive, get as fast as possible to a health center or take your Cortem.
Cycling Africa? Check Also:
Stay in touch while we get lost! Follow us on Social Media