Likoma & Chizumulu Island Travel Guide
Facts, History, Things to do,
Accommodation, and getting there
Planning a trip to Likoma island? Want to know how to get there, things to see and do, what accommodation options are available in Chizumulu and Likoma? We lived in Malawi for 6 months and visited Likoma as part of our Malawian Travel Itinerary, here's a Local's Travel Guide of Likoma and Chizumulu Islands.
Chizumulu and Likoma Islands are one of the most hidden and well-preserved gems of the whole African continent. Set on the east side of Lake Malawi (Lake Nyasa), those unusual little paradise islands belong to the stunning country of Malawi, although technically sitting in Mozambican waters.
Those waters are among the clearest you can find in a lake, anywhere in the world. Thriving with colorful fish, calm and friendly waters where to soak and let go of all the stress, while admiring the thousands of baobabs, standing out from the tall, yellow grass.
This paradise though ain't short of dangers. But don't worry, in this travel blog we'll tell everything you need to know to stay safe in Likoma Island and Lake Malawi.
Visiting Malawi? Find out literally everything you need to know with our
Roaming Africa?
Disclosure: Some of our articles contain affiliate links. This comes at no additional cost for you and helps us keep this website up and running. (as Amazon Associates we earn commission from qualifying purchases)
Likoma and Chizumulu Islands in a Nutshell
Population: 9,000 Likoma/ 4,000 Chizumulu
Area: 18 km2 (6.9 sq mi)
5 Facts to Know about Likoma
Likoma Island runs on a generator – a plan to make it self sufficient through solar is being carried away by a joint venture of Chinese and Malawian enterprises.
Likoma has the 2nd highest literacy rate in Malawi.
Crocodiles used to be a threat in Likoma and Chizumulu, but they have been heavily shot in the 90s and nowadays are almost eradicated.
Chizumulu lost most of its beaches due to a water level rise in Lake Malawi
The Cathedral of Saint Peter (1903) is the biggest church in Malawi – it's been built to be a real-size replica of the Winchester Cathedral
Geography and landscape of Likoma Island
Likoma's landscape is pretty unique, something very different from what you would find either in Malawi or in Mozambique.
The hilly islands of Likoma and Chizumulu are covered in tall yellow grass, and dotted by thousands of baobabs, mostly relatively small but very peculiar.
Liokoma has several stunning beaches, made of thin golden sand and shaded by lovely mango trees. The rest of the shore is rocky, with plenty of colorful fish swimming around.
The only real town is Mbamba (or Likoma village), on the southeastern shore, where ferries depart and arrive.
Accommodation in Likoma and Chizumulu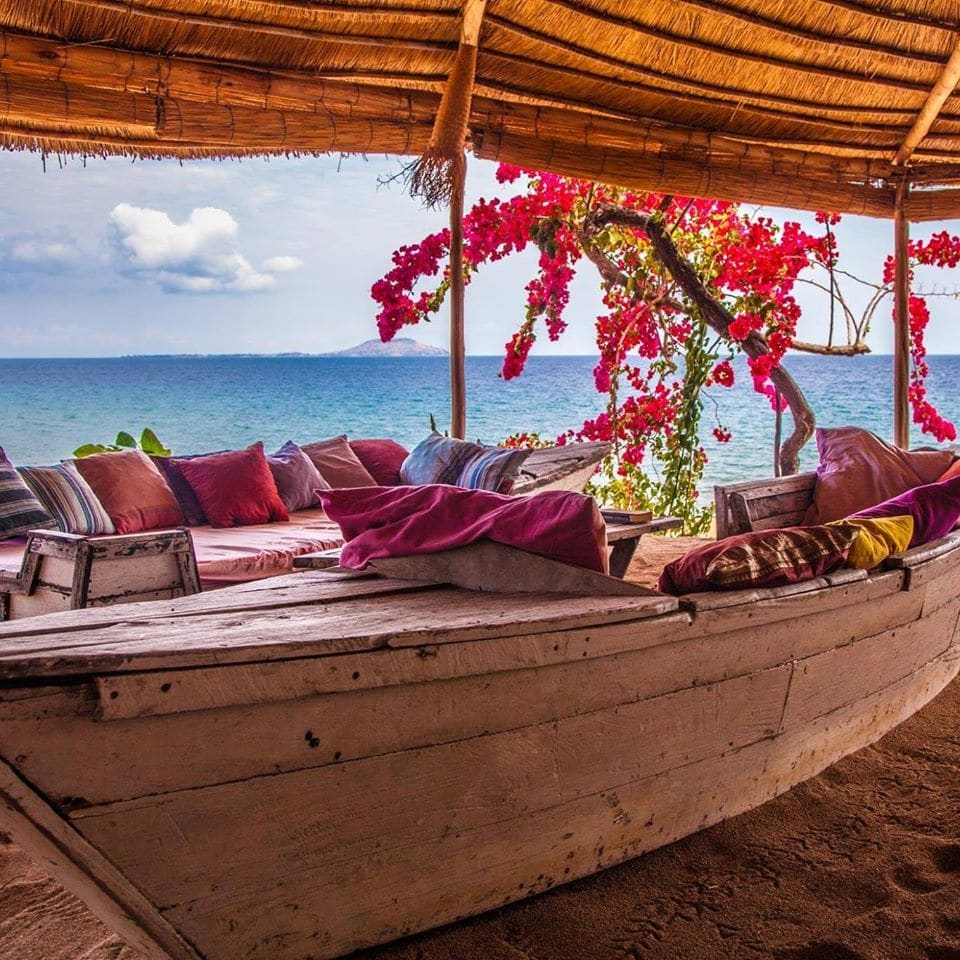 Being such small islands, and still pretty off-the-beaten-path, there's not so many accommodation options in Likoma and Chizumulu.
Those there are though, are quite cool, although food quality is a bit lacking. We checked out most of them personally, here they are.
Mango Drift
The Mango Drift is the most popular backpacker's lodge on Likoma, for two main reasons:
it's beautiful
it's the only backpacker's accommodation in Likoma
Set on one of the most gorgeous stretches of beach in the whole island, the lodge offers four open chalets (shared bathroom), a cheap dorm, a couple of ensuite rooms, and camping options on the beach under the shade of cozy mango trees.
The bar and lounge areas are nice and there are beach chairs, hammocks, and sheds available – overall the Mango Drift is a great place to chill.
Activities at Mango Drift include:
Diving Center
FREE Snorkeling Gear
FREE Use of SUPs and Kayaks (the boats are in very good conditions)
On-Demand Boat Tours
Luxury resort on Likoma: Kaya Mawa
Kaya Mawa is a prime luxury resort, one of the most expensive in Malawi, with rates starting at 300$ per person/night.
Other Lodges on Likoma and Chizumulu
Ulisa Bay Lodge
Ulisa Bay Lodge is the other mid-range accommodation option in Likoma. It has a nice garden, a beautiful beach, and organizes the usual activities (snorkeling, boat trips, "cultural" tours).
The cottages have three levels: Standard, Superior, and Deluxe – with prices from 20$ to 100$ – there is also a campsite and a nicey dorm.
Khaiko Lodge
Khaiko Lodge is another budget beach lodge with restaurant and ensuite rooms. It's more conveniently located compared to Mango Drift, just 1.5km from the airport. They also arrange boat trips.
Wakwenda retreat – Chizumulu
Beautifully made, this small lodge on Chizumulu Island is a really cozy place where you could get stuck longer than expected.
It's located just next to the beach where the MV Ilala ferry will drop you, so no walking with luggage. There's a restaurant, a bar, and a small lakefront pool.
Tenayu Lodge – Chizumulu
The only other accommodation option in Chizumulu is a cozy homestay on the lakeshore that also offers camping options (inside a baobab tree).
Local guesthouses
There are a bunch of basic guesthouses in Likoma Village, mostly around the two ferry arrival points.
Those have simple rooms with mosquito net, shared bathrooms, and usually a cheap restaurant serving local food (mostly nsima with usypa and local chicken/goat).
Prices go from 2,000 to 6,000 kwacha for a single/double room.

11 Things to do in Likoma Island
Chilling on the beach and bathing in the clear waters of Lake Malawi are definitely the most popular activities on Likoma, but there are quite some things to do and see on the island.
The most popular manmade attraction is certainly the St. Peters Cathedral, one of the biggest churches in Malawi – looks a bit out of place on such a tiny island.
Climb the tower and enjoy the spectacular view. If you're lucky you might meet the charming watchman, who'll happily give you a tour for a few thousand kwacha.
You're welcome to join in the vibrant service on Sunday morning, interesting even if you are not a believer. The cathedral is less than 500m inland (and uphill) from the ferry terminal.
Nkhaji Nature Park is a prospecting nature reserve on Likoma Island. Very little has been done so far, just a few walking gangways. Anyway, nice to know something is planned, visit and support the project.
Another interesting place to visit is the Shrubs Art Craft and Culture Gallery Shop. Situated at Jalo Port by the loading and offloading area for boats. It offers Likoma Island paintings, recycled art, local fabrics, clothes, bao boards, and small souvenirs.
Culture Tour – visit the St. Peters Cathedral and climb the tower
Boat Trip – Kaya Mawa, Mango Drift, Ulisa, Khaiko
Diving, Snorkeling – Kaya Mawa, Mango Drift
Kayaking, SUP – Free at Mango Drift
Hiking, Cycling – All around the island (no bikes available, but you can ask in town)
Sailing – Kaya Mawa can arrange a catamaran and dinghy sailing boats
Swimming – everywhere on public beaches
Camping – Mango Drift, Ulisa Lodge
Drink, Eat, Socialize – Mango Drift, or local bars in town.
Shopping – limited to the Shrubs Craft & Art Gallery, some crafts also at the market
Hairdressing – dreadlocks and braids can be done at the village
Hiking in Likoma Island
The whole Likoma island is a hiking trail, the island is small and there almost no cars (two or three in the whole island).
Starting from Mango Drift, it's about 45 minutes to the nearby tiny village and beach, nice to see some local fishing-lifestyle.
It's about 20 minutes from Likoma Village to the St. Peter Cathedral, from there you can proceed to Ulisa Bay Lodge and the northernmost peninsula of Likoma.
It's impossible to get lost in Likoma, just get your boots on (beware of snakes) and start hiking this beautiful landscape. Going all around the island will take you a long full day.
How to get to Likoma Island (and Chizumulu)
Likoma and Chizumulu Islands can be reached by plane from Mzuzu or Lilongwe (150/200$ return with Ulendo) or by boat via the Ilala Ferry (once a week) or the Mozambican boat Chambo (twice a week).
The MV Ilala goes all around the lake, the whole duration of the trip from Monkey Bay and return.
On its northbound journey, the ferry leaves Nkhotakota Saturday at 4 am, arriving on the island at 10:30 am, and in Chizumulu at 18:30 (long stop in Likoma). It leaves for Nkhata Bay at 17:00, passing by Chizumulu and getting to Nkhata Bay at around midnight.
From Nkata Bay, (southbound journey) the Ilala leaves at 1:30 am, arriving on Chizumulu at 4:30 and on Likoma at 9 am. From Likoma to Nkhota Kota the departure is around 3 pm.
! Important ! Most of the places where the Ilala stops have no jetty, that includes Likoma and Chizumulu. Folks and stuff are moved pretty acrobatically from the ferry to smaller boats.

You'll have to climb down on a boat and then wade the last few meters to the beach. People are ready to help those who need, so don't worry too much.
read more (also about the Chambo, the other ferry options) on our
Ultimate Guide to Ferry Travel on Lake Malawi – MV Ilala and more!
History of Likoma
Likoma has no recorded history prior to the arrival of the European colonists. Apparently, its remote location and difficulty of access, has made it a peaceful place for centuries. Local economy mostly based on fishing and very little agriculture.
In 1880 missionaries from the Universities' Mission to Central Africa, founded in response to a plea by David Livingstone, established their headquarters on Likoma Island.
It was a base for operations against the slave trade, due to the presence of British missionaries, who had built an imposing cathedral (St. Peters, 1911) the island was assigned to Malawi rather than Mozambique when national borders in East Africa were established after World War II.
About Chizumulu Island
Chizumulu island consists of two large hills, with a flatter area to the south. The beaches are narrow but the waters are super-clear.
Cassava plantations cover much of the lower slopes of the hills, with the upper parts being covered in low forest. Like Likoma, the baobab trees are protagonists of the landscape.
The electricity on the island comes from a generator, just like Likoma, it runs from 6 am-10 pm (with a break between 12-2 pm).
There are no roads, but a well-constructed path running around the island's shore, a nice hiking trail that can be walked in about three hours.
The locals speak a Nkamanga dialect, a variety of Nyanja.
Diving in Likoma
Lake Malawi is very far away from any oceans or other water bodies, this isolation created an outstanding example of biological evolution. The 500+ species of cichlid (rockfish, known locally as Mbuna) of Lake Malawi evolved from a common ancestor within the last million years (the actual number of species is still unknown).
The Lake Malawi around Likoma is usually flat and has little currents, which makes it a great location to get a PADI Open Water certification, especially for those who are not too comfortable about it.
Moreover, to learn diving in Lake Malawi's freshwaters make it easier for your eyes when doing the mandatory safety exercises.
Add to this the unicity, plentifulness, and shining colors of Lake Malawi's fish, the chilled atmosphere, the quiet and slow life of the locals.
There's only one diving instructor in Likoma, working with a company called Likoma Island Divers, which serves both Kaya Mawa and Mango Drift resorts.
Read the full article about Diving in Lake Malawi
Safety in Likoma – Belharzia, Crocodiles, and Malaria
Thefts, robberies, or attacks are very rarely (if ever) experienced in this area, in general the whole of Malawi can be considered pretty safe for tourists, if the obvious concerning precautions are applied.
Accidents can happen, and you should bear in mind that there's no hospital on Likoma, only small and ill-equipped clinics. In case of a serious injury, you should be airlifted to Mzuzu or Lilongwe… better have travel insurance (our recommendation is World Nomads, read more later)
Another small but existing danger in Likoma Island comes from the animal kingdom, namely reptiles and small parasites.
Reptiles
Despite what Malawians and lodge managers say, crocodiles are very common on Lake Malawi, although most of the ones dwelling around Likoma have been shot in the 90s (we personally met the guy who did it).
They posed a serious threat to the inhabitants of this relatively dense island, but not anymore. Small crocs are occasionally seen around the rocky areas, avoid bathing or paddling at night.
Venomous snakes are present, including the black mamba and other deadly species of cobras, they are occasionally seen by tourists.
When we were at Mango Drift, a customer found a big snake in his room, the staff killed it but seemed to actually have no idea of what it was, or maybe they didn't want to say.
Parasites
Some areas of Lake Malawi are contaminated by a creepy parasite, although its incidence on Likoma Island is much lower than on the mainland shores.
Bilharzia, also known as snail fever or schistosomiasis, is a disease caused by parasitic flatworms called schistosomes. The disease is spread by contact with freshwater contaminated with the parasites. These parasites are released from infected freshwater snails.
The urinary tract or the intestines may be infected. Symptoms include abdominal pain, diarrhea, bloody stool, or blood in the urine.
Those who have been infected for a long time may experience liver damage, kidney failure, infertility, or bladder cancer. In children, it may cause poor growth and learning difficulty.
All these might seem scary, but actually bilharzia is a very remote danger to the well-informed tourist. First of all, bilharzia is very easy to treat – be sure to buy one of the two drugs available, praziquantel or oxamniquine, available at any Malawian pharmacy, also on Likoma.
Those medicines, especially the praziquantel, are 100% effective and very safe for the organism, you'll have to assume your dose in one go six weeks after your last contact with the lake water. If you don't want to assume a drug without being sure you need it, you can get tested for bilharzia at any hospital in Malawi.
Malaria is present on Likoma and you should take precautions. Do prophylaxis if you want, but most importantly use efficient repellents and mosquito nets.
Travel Insurance for Malawi
It doesn't matter how safe a country is, things can always happen – accidents, thefts, injuries, etc are unfortunately very common in the real world. We recommend ALWAYS getting a TRAVEL INSURANCE.

Especially in Malawi, where health infrastuctures are poor, you would want to include airlift to South Africa in your insurance packet.

The most versatile and best value-for-money is undoubtedly WORLD NOMADS, have a look a their website to get a quote.
ATM and Card Payment in Likoma and Chizumulu
There's no ATM on Likoma Island, needless to say in Chizumulu. Most of the lodges will accept card payment but that is prone to connectivity problems. Small shops and vendors only accept Kwatcha so bring some.
When it comes to flights our pick, since already several years, has always been Kiwi.com. It is, in our opinion, the best search engine for flights by a long shot.
Kiwi has a very flexible search function – you can, for example, select several departure locations or a variable geographical radius, and then check for flights to a wide region (like Southeast Asia for example) or even to "everywhere".
You can then compare the best deals, combining the various options of departure and arrival.
Also the dates are super-flexible, Kiwi allows you to select entire months or even longer periods of time, and then select a trip duration (the interval between the departure and the return flight) which is also flexible!
You could, for example, search for flights from "Italy+Austria+Switzerland" to "Southeast Asia" between "June 6" and "September 24" with a duration of "24/32 days", what other flight engine gives you that?
Through Kiwi.com you can also check the fees for luggage and sports equipment (ie. bicycles).
Likoma Island Photo Gallery
Stay in touch while we get lost! Follow us on Social Media