Cape Maclear and Monkey Bay Travel Guide
Things to Do, Accommodation, Food, History and Everything you need to know about one of the best destinations in Malawi
Cape Maclear and Monkey Bay are two of the best destinations to visit on Lake Malawi. We spent 12 days in Cape Maclear and 2 in Monkey Bay, working remotely and getting PADI certified.
We really loved Cape Maclear, which remains one of our top spots even after having visited most of the lake. Besides diving, you can rent kayaks or SUPs (no better place to learn Stand Up Paddling than these table-flat waters), swim, visit local craft shops, listen to the noisy Kid's Music Band, hike the National Park mountains, and plenty of other stuff.
In this blog article we'll try to introduce the most interesting things to do in Cape Maclear and Monkey Bay, and propose some accommodation options we personally checked out.
---
Visiting Malawi? Find out literally everything you need to know with our
In Malawi – the most complete travel guide about Malawi on the web
Mzuzu – 7 Unusual Things To Do & Experience Like a Local
Feeling Adventurous?
Diving Lake Malawi and the secret of the cichlids
Roaming Africa?
Safari in South Luangwa National Park – options, prices, and our opinion
Cycling in Zimbabwe – a stunning itinerary of from the Eastern Highlands to the Zambesi River
Backpacking or cycling through Southern Mozambique
Disclosure: Some of our articles contain affiliate links. This comes at no additional cost for you and helps us keep this website up and running. (as Amazon Associates we earn commission from qualifying purchases)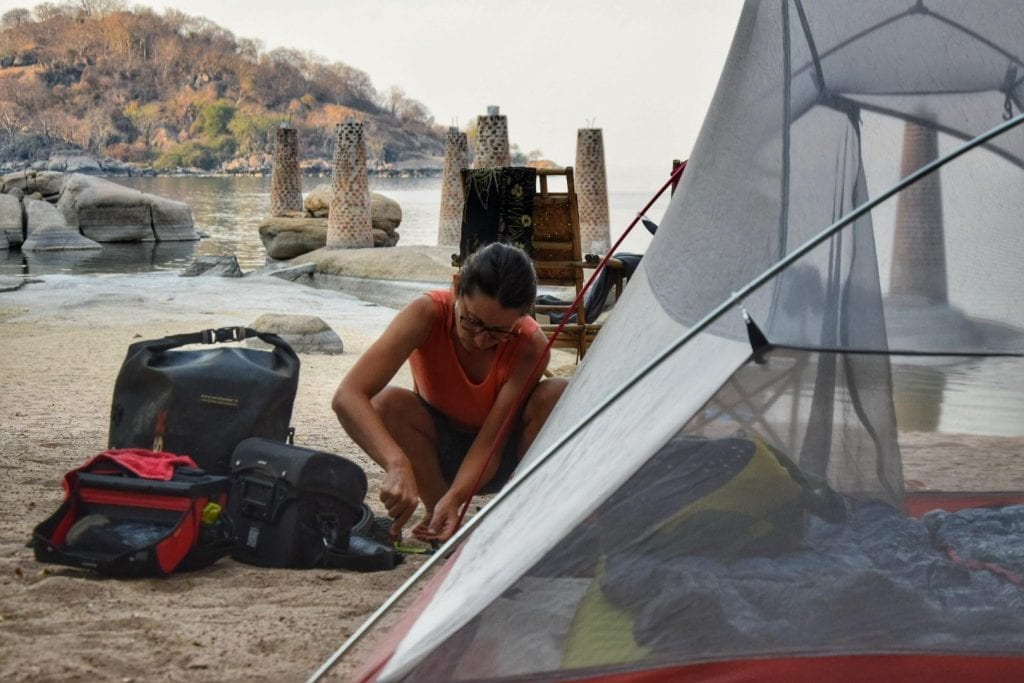 Spot on Cape Maclear
Cape Maclear, known also as Chembe is the most popular tourist destination on Lake Malawi. Situated on the Nankumba Peninsula (Mangochi district), on the southern end of the lake, it's the center of gravity of Lake Malawi National Park.
This busy tiny town is basically a strip of beachfront lodges and bars, a sandy road runs parallel to the 4km long beach, lined by small shops, stalls, local houses, and many monumental baobabs.
Cape Maclear was the first attempted site of the Livingstiona Mission but was doomed to fail and all that remains are the graves of the original missionaries.
The Scottish missionaries arrived in 1875 eight Europeans and four ex-slaves. The mission was called Livingstonia after David Livingstone, whose death in 1873 had rekindled British support for missions in East Africa.
Unfortunately, the area was malarial and after a few years, the mission was forced to move north to Bandawe and then again to healthier high ground between Lake Malawi and the Nyiaka Plateau, where the actual town of Livingstonia is located, in 1894.
What makes Cape Maclear so evocative is its lively humanity, busy with its daily chores on the light-gray beach, fishing, playing, washing stuff in the surreally calm waters of the bay, with the islands of Domwe and Thumbwe (Mumbo) as a scenic backdrop.
Overall, Cape Maclear is one of our favourite places on Lake Malawi. There might be better beaches but, if you like to be immersed in Malawian culture and lifestyle, Chombe (Cape Maclear) is the right place for you.
Things to do in Cape Maclear
Diving, Snorkeling – Scuba Shack, CapeMaclear Scuba
Kayaking, SUP – rent from Heeed Ecolodge, Kayak Africa
Hiking – Cape Maclear Nature Reserve, Otter Point
Sailing – Kayak Africa (rents a catamaran and dinghy sailing boats)
Swimming – everywhere (Otter Point and the Islands are the best)
Camping – Domwe Island (arrange with local guides)
Drink, Eat, Socialize – Banapaya, Hiccups, Mgoza
Shopping – from street stalls and beach vendors
Workshops – recycled-paper making, eco-fuel
Hairdressing – dreadlocks and braids
Lake Malawi National Park
The Lake Malawi National Park is the world's first freshwater national park and a World Heritage Site. Besides Chombe and the upper part of the Nankumba Peninsula, the park includes the lake water and islands up to 100 metres (330ft) offshore.
The Lake Malawi National Park also covers the Marelli Islands further north than Cape Maclear. Accessed via Salima/Senga Bay these exclusive islands are now home to the luxurious Blue Zebra Island Lodge.
The whole park is a veritable aquarium of tropical fish in crystal clear waters, providing a colourful kaleidoscopic display. The countless thousands of freshwater fish, the mbuna, are more abundant and varied here than anywhere else in the world.
Away from the Lake, the park has baboons, antelope and hyrax, and a great variety of birdlife including fish eagles, cormorants and hamerkops.
Diving in Cape Maclear

Lake Malawi is very far away from any oceans or other water bodies, this isolation created an outstanding example of biological evolution. The 500+ species of cichlid (rockfish, known locally as Mbuna) of Lake Malawi evolved from a common ancestor within the last million years (the actual number of species is still unknown).
Those species are incredibly different from each other, in size, color, and behavior – although all of them give care to their offspring by 'mouth-brooding' which is carrying the young in the mouth until they are ready to swim and fend for themselves.
The Lake Malawi in the Cape Maclear bay is very flat and has no currents, which makes it a great location to get a PADI Open Water certification, especially for those who are nervous about it. Moreover, to learn diving in Lake Malawi's freshwaters make it easier for your eyes when doing the mandatory safety exercises.
Add to this the unicity, plentifulness, and shining colors of Lake Malawi's fish, the chilled atmosphere, the quiet and slow life of the locals, and the general cheap prices and you'll see why I wanted to do my PADI Open Water Course in Cape Maclear on Lake Malawi.
Read the full article about Diving in Lake Malawi
Kayaking, SUP, and Sailing in Cape Maclear

Kayaking is very pleasant for most of the year in Cape Maclear, the waters are very flat, there are no currents, and there are many spots to explore, with the nearby islands of Domwe and Thumbwe, and the beautiful Otter Point.
Winds are often good for sailing, Kayak Africa does sailing classes and rents railing boats, including a big catamaran, you can ask there for prices
Cape Maclear on Lake Malawi is also a perfect spot to learn or simply enjoy Stand Up Paddling (SUP). Just go out at sunset and feel like you're in another world.
Single or double kayaks can be rented from HEEED Ecolodge or Kayak Africa. HEEED is cheaper (5USD x 2 hours) but Kayak Africa has better and well-maintained boats.
Hiking around Cape Maclear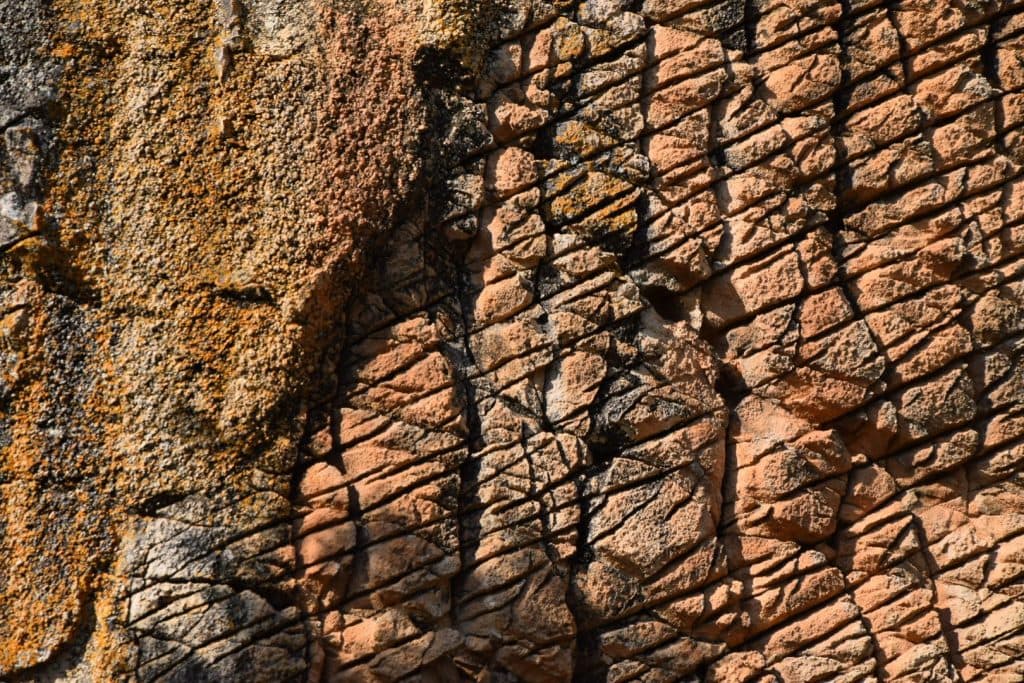 There are a few hiking trails in the Cape Maclear Nature reserve. One of them starts from the missionary cemetery and goes up the hill, offering great views from the top.
A detour can bring you to Mwala Wa Mphini, a huge rock, crisscrossed with eroded grooves resembling tribal facial scars, it looks manmade but it's a natural rock formation. The walk from Chombe is about 4km but this National Monument can also be accessed from the main road.
Another hike begins near the Scuba Shack and leads you to Otter Point through the forest. Otter Point has crystal clear waters and its the best spot for snorkeling in Cape Maclear.
Snorkeling and Boat Trips

The best spots for Snorkeling are for sure the islands of Domwe and Thumbwe and Otter Point. besides Otter Point, that can be reached via the previously mentioned hike, all of these places require a boat. You can rent a kayak and get there yourself, or you can arrange a boat trip with the locals.
You'll be approached by people trying to sell boat trips on the beach, your accommodation should be able to assist you in getting a fair price and a reliable operator.
Snorkeling is absolutely amazing in Cape Maclear, especially when going to the right spots. The waters are so clear that you can see a lot of fish straight from the boat!
Shopping in Cape Maclear
Chembe's only street is crowded with street vendors. Many of them offer tailor-made clothes, tailored from local colorful fabrics – those are really beautiful and good value for money, if you can bargain a good price. You can choose the fabric you like the most among many different designs and have the local tailors make almost everything out of it, from shorts to shirts, from bags to visors.
Other vendors sell wooden handcrafts, such as statues, masks, pipes, drums, etc. The best souvenir to bring home, in our opinion, is the local boardgame Bao.
There are also two recycled shops in the village, one connected with the Ecolodge and another one called Gaiatar, where you can buy all sorts of Malawian sourced crafts and goods – tea, coffee, nuts and fruits, local cloths (chitenje), notebooks made out of recycled paper, and so on.
In the Gaiatar, you can also buy crochet bikinis, made on-site by a group of village ladies who sit and crochet in the garden. You too can also taste tea or coffee and homemade biscuits in the shade of a frangipani tree and. Overall Cape Maclear is a very good place to shop ethically.
The few grocery shops are very basic, hard to find anything more than bread, biscuits, and eggs – other available goods are cold beers, local alcoholic drinks, Airtel scratch-cards, cigarettes.
Swimming

Swimming is certainly possible over the whole length of the Cape Maclear beach. Besides the concerns about bilharzia and crocodiles (that we discuss down below), which you should keep in mind but shouldn't allow spoiling your time here, Cape Maclear is great for swimming.
Avoid the more crowded areas, since people bath and wash clothes and dishes in some parts of the beach, the water can be sometimes a bit soapy, burning the eyes a bit. Swimming far from washing points will solve the problem.
Local kids engage in epic water-polo matches at sunset, joining them might be a great experience! Don't be shy!
Camping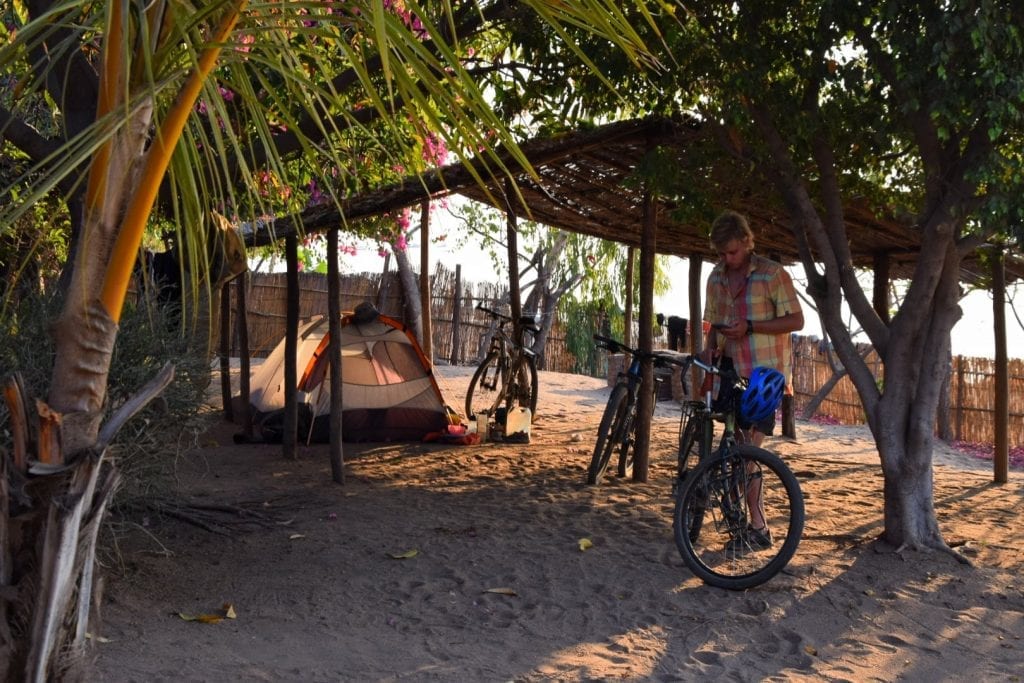 Maybe one of the most interesting things to do in Cape Maclear is the Donwe Island wilderness camping experience. It is organized by some locals and it really is fantastic.
Basically you'll go to Donwe with a kayak, bringing your food and drinks, there you'll cook yourself dinner with the help of the locals and spend the night in a shelter or tent provided by the organizers.
The island is uninhabited, covered in dense vegetation, with pristine waters and plenty of fish swimming around. In the night you'll enjoy the silence and the beautiful stars above you. The whole thing costs about 25USD per person, food is not included.
---
Hairdressing
There are a few hair salons in the village where you could try to get African hairdressing if you dare endure the suffering!
Guys on the beach will stop you and ask if you want dreadlocks, those might also try to sell you some Malawi Gold (local marijuana) – bear in mind that smoking weed is illegal in Malawi.
Where to eat in Cape Maclear – the best restaurants in Chombe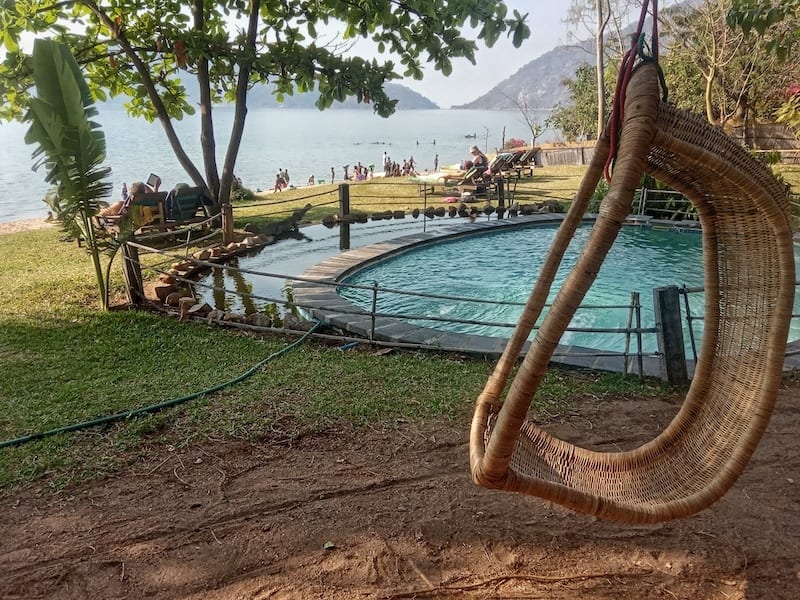 We stayed in Cape Maclear for about 12 days and tried most of the restaurants ourselves. Generally speaking, restaurant prices in Cape Maclear are slightly cheaper than the rest of Malawi, with main courses going at about 5,000 kwacha. Most restaurants offer a mix of international western cuisine and local dishes.
The Banapaya, owned by locals, claims to have the best curries in town, they are indeed very good and reasonably priced. The place is home of what themselves call the "African Drums of Malawi", the drums are available for everyone to use (don't be an asshole), but every now and then, especially in the weekends, the best drummers in the area come here to play the good stuff.
The Hiccups is a pub offering a mix of local and western cousins, they make a dubious and expensive pizza. The Funky Cichlid has a backpackers menu but the quality is low, in our opinion.
HEEED Ecolodge has good food, but the prices are higher than in most other places and the choice is pretty limited. A very good one is the Malambe Camp, which has the cheapest prices both for accommodation and food.
Their food is the second-best in town, in our humble opinion. They might take a while to prepare and their kitchen closes at 8:30.
Mgoza Lodge has definitely the best restaurant and bar, we tried many places in Cape Maclear and no-one gets even close.
The food menu is very diverse, mixing local dishes (especially curries) and western cuisine (the vegetarian burger is the best ever). Fresh fish is available every day, you'll see the fishermen bringing in the catch of the day.
The bar always stocks in home-made fruit juices, according to the season, which they use in delicious cocktails, smoothies (a sort of ice cream, closer to Sicilian granita), and milkshakes. Prices are fair, lower than surrounding places.
If you like to support young locals, at the same time spending very little, you can arrange your dinner with King Foster. He has a souvenir stall in front of the HEEED and can arrange a local meal or even pancakes, but you must discuss it in advance.
About Monkey Bay

Monkey Bay is the major town in the Nankumba Peninsula but it's really not much. There are several shops – hardware, basic electronics, and local utility goods – a few grocery stores where you won't really find much more compared to Cape Maclear (maybe spaghetti… a can of beans?).
There's though a small market where to buy fruit and vegetables, which would be your best bet if you want to have a decent dinner here.
Monkey Bay it's not touristy at all, the only accommodation options are the Mufasa Lodge and the XXX, plus a couple of local guesthouses. None of that has a real restaurant, the Mufasa has a little lunch menu and serves an overpriced fixed dinner.
A few local restaurants would provide you with rice or nsima, vegetables, chicken, beef, goat, fish, beans are the usual garnishes.
Overall, there are not many reasons to stay in Monkey Bay, besides if you plan to take the Ilala Ferry across Lake Malawi, something we really recommend doing!
Getting From Cape Maclear to Monkey Bay

The most convenient way to get from Cape Maclear to Monkey Bay or vice-versa is by motorbike taxi. Just ask in the village, the usual price is around 2,000 kwacha.
The distance between Cape Maclear and Monkey Bay is about 18km, there's a steep but short hill between the two villages. The road is scenic, through the Cape Maclear protected forest.
---
Things to do in Monkey Bay
Kayaking – from Mufasa, be very careful of crocodiles
Swimming – from Mufasa or
Eat Local – walk in town and find your favourite among the few local restaurants
Take the Ilala Ferry – Friday at 8 am
Accommodation in Cape Maclear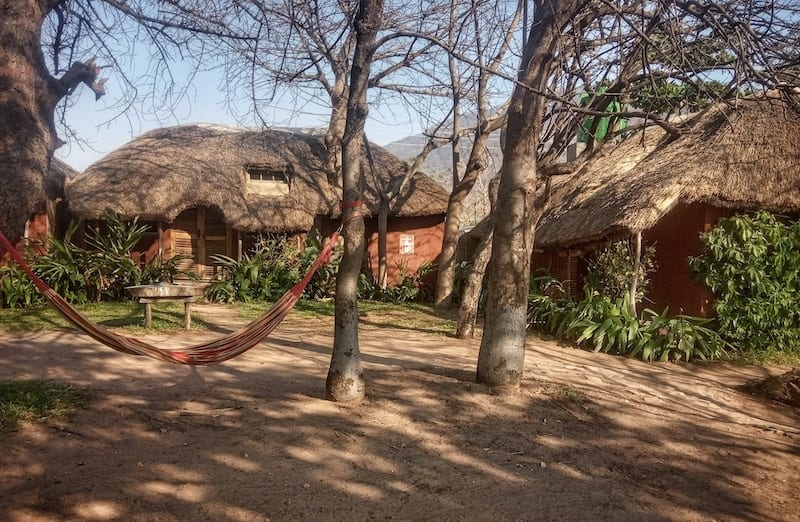 Cape Maclear has maybe too many lodges, although, among the most touristic destination in Malawi, it's still off-the-path beaten by mass tourism. Many lodges are often empty of customers, with the bulk of the visitors crowding around the most popular ones.
---
Mgoza Lodge
Mgoza Lodge is our recommended place to stay in Cape Maclear, we spent 10 days there, aways felt home and welcomed and never got bored.
Situated right in the middle of Chombe village in Cape Maclear, it offers nice en-suite rooms (45$), cozy huts with 2,3, or four beds (shared bathroom), and a spacious dorm (12$ per person) – all of those are right on the beach.
The Mgoza allows the local the use of this section of the beach, while several other lodges don't – this is already an important point in their favor, not only because of course, they shouldn't deprive the Malawians of their resources, but also because you'll witness the everyday life of a fishermen community straight from your accommodation. A full immersion in Lake Malawi's life, although of course this life has been modified by tourism itself.
What really makes the difference at Mgoza is their restaurant and bar, which we already mentioned in the section about food above.
The Mgoza also has a well-maintained lawn with a small but clean swimming pool, and, most important, is one of the very few places with free unlimited WiFi in the whole Malawi (very expensive here). Definitely the best place for digital nomads, indeed some days it looked like a co-working space in paradise, with up to five of us guests working at the same time from the restaurant terrace.
The manager, Allan, is a cool and relaxed person and the staff is active, friendly, and efficient. Card payment is possible also when the network is down.
Check here and book Mgoza Lodge on Booking.com
Other Accommodation options in Cape Maclear and Monkey Bay
Our second favorite in Cape Maclear is the only lodge cheaper than Mgoza, the neighboring Malambe. A double hut is 12,000 Kwatcha here, about 17$, but the huts have no electricity or plugs and are pretty small.
Very nice and cool though, made of reeds and straws. Malambe also has a small beachfront camping site for 4,000 Kwatcha per person. The restaurant doesn't have a big choice but the food is very good.
The other backpackers' accommodations in Cape Maclear are the Funky Cichlid (noisier, mediocre food, paid WiFi… maybe more interesting for party-people) and the Fat Monkey – those have prices very similar to the Mgoza (whose food is a bit cheaper though).
Upper-range lodges are the Gecko, Cape Maclear Lodge, and several others which we didn't visit – from 50$ to 200$ per room.
The NGO named HEEED, collaborates also with the Eco Lodge, where the Scuba Shack has its headquarters. The place is very beautiful and so are the en-suite apartment, partly built on a big baobab – the standard rooms are pretty basic and overpriced though. They also have a slightly more expensive restaurant, but all the profits of these activities go to support HEEED.
If you want to spend one or more nights in Monkey Bay (great idea if you're going to catch the Ilala Ferry), the best place is probably the Mufasa Beach Lodge. Although runt pretty amateurishly, it is set in a great location. Camping or en-suite rooms are the best options also here, standard rooms are very grim.
If you stay at Mufasa, be careful not to go to the bay next to it, it's a military protected presidential villa in whose waters crocodiles and hippos roam free (personally seen from up-close!).
Check All the Accommodation Available in Cape Maclear!
Safety In Cape Maclear and Monkey Bay – Belharzia and Crocodiles

Thefts, robberies, or attacks are very rarely (if ever) experienced in this area, in general, the whole of Malawi can be considered pretty safe for tourists if the obvious concerning precautions are applied.
Scams happen but usually, those are just overcharges for a product or service, if you want to buy some souvenirs or go on an "unofficial" tour, try to understand what a fair price for that will be by asking around. Always bargain reasonably and never accept the first price.
The real dangers of Monkey Bay and Cape Maclear belong to the animal kingdom, specifically to the world of big creatures and those of the very small ones. The smaller one is actually the most dangerous
Despite what Malawians and lodge managers say, crocodiles are very common on Lake Malawi, especially in the South. We heard of three Malawian persons killed in the last month in the Cape Maclear area and we also got to personally experience the thrill of meeting a big "presidential" croc at about 3 meters distance.
We are kayaking the rocky bay at the back of the Mufasa Lodge in Monkey bay, long and thick underwater weeds scrape the bottom of our plastic boat, locals fish from the boulders and wash themselves in the placid waters. While slaloming through the islets we surprise it, and it surprises us…

It is big, at least 3.5 meters long, we make a quick contact with its yellow eyes, eyes from another era of this planet, eyes that install ancestral terror… then it goes into the water, as quick as a demon of the human mind. Will it run away or come after us? Elena panics, I try to calm her down and calmly but steadily we resume paddling towards safety. We have to cross the underwater forest again, can't help but think this is perfect hunting ground for a prehistoric monster.

We tell some locals playing around there, they say they know him "the small one"… "no bro, it's the big one" I say. Their faces change for a moment, then one recovers his guts and goes "I'm not afraid! It's my friend". "Good for you brother, I hope you won't be the next meal".

Once back at the lodge, we realise we were in a military area, the president has a holiday villa there and access is restricted, we would have been arrested if had lended on that nice beach. Great the lodge people didn't tell us… we got to meet the Presidential Crocodile, a once in a lifetime opportunity. Too bad we missed the hippos.
Even though far to be considered "infested" crocodiles and hippos are a real concern of Lake Malawi you should be aware of. The government and tourist operators are trying to hide the real numbers but do not trust them and always be careful in shallow waters and isolated areas of the lake, especially when kayaking. Getting attacked while swimming from a busy beach though is almost impossible, so enjoy it.
---
ATM and Card Payment in Monkey Bay and Cape Maclear
There's no ATM in Cape Maclear, one is present in Monkey Bay but only accepts Visa cards and only works when it feels like. For MasterCard owners, the nearest option is in Mangochi, 60km from Monkey Bay, where there's a Standard Bank.
Most of the lodges will accept card payment but also that is prone to problems, Mogza offers an alternative way of electronic payment through an App. Small shops and vendors only accept Kwatcha so bring some.
---
Check Also
In Malawi – the most complete travel guide about Malawi on the web
Diving Lake Malawi and the secret of the cichlids
Mzuzu – 7 Unusual Things To Do & Experience Like a Local
Roaming Africa?
Safari in South Luangwa National Park – options, prices, and our opinion
Cycling in Zimbabwe – a stunning itinerary of from the Eastern Highlands to the Zambesi River
Backpacking or cycling through Southern Mozambique
Praia do Bilene – maybe the best beach in Mozambique?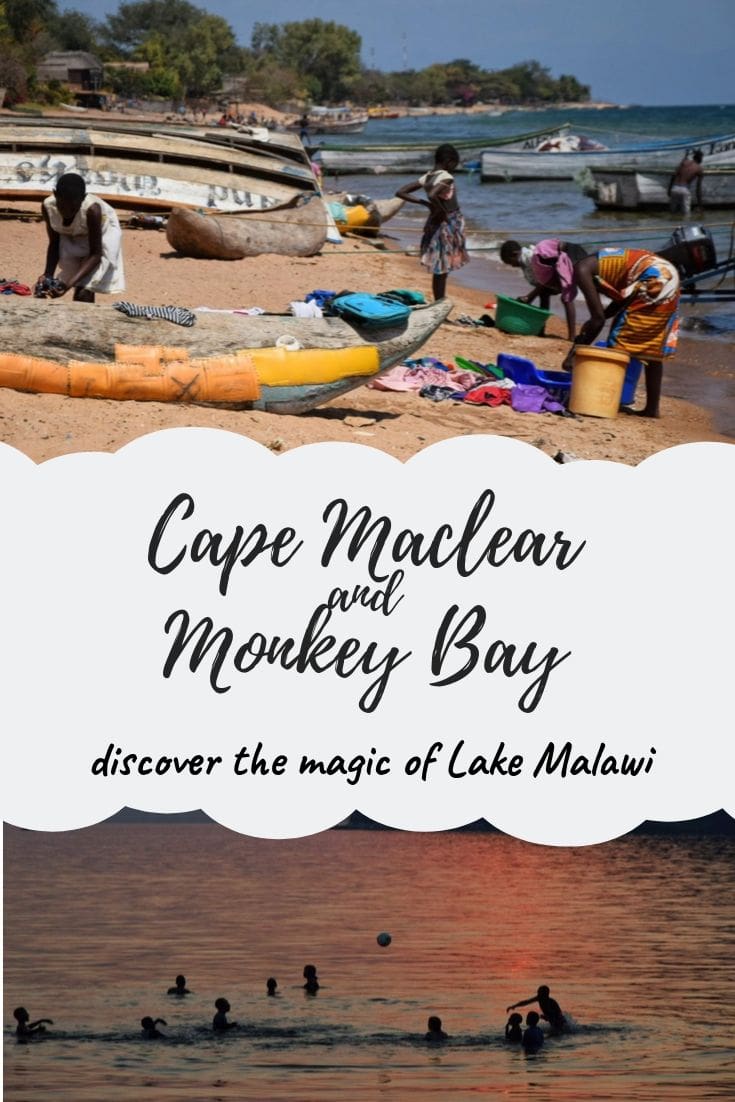 Stay in touch while we get lost! Follow us on Social Media