How far should you cycle in one day when bike touring? What's a good average mileage per day?
How far should you cycle in one day when bike touring? What's a good average mileage per day? We have been asked this question dozen times, by people met during our bike trips, and online.
One of the most rewarding things of cycling around the world and keeping a blog about it, is to often realize being an inspiration for others, several people got started in the world of bike traveling after meeting us, and that really makes us happy.
People who are willing to try bike touring or bikepacking have many questions, that's normal, we had that too and still have quite a few, among these. Although the average mileage for a bike trip widely varies, depending on many factors (mostly your will), we'll try to answer this question about bike touring mileage planning according to our experience and what we heard from other fellow bike travelers.
If you have more questions try to check these other articles
How to start bicycle touring
Essential Gear for Bicycle Touring and Bikepacking
How much does it cost to cycle around the world?
How to turn a piece of junk into a decent touring bike
9 easy destinations for your first bike trip
21 best touring bikes under 1000$
Our average mileage
During our 30 months on the road so far, we averaged about 75km per day (45 miles), with our shortest day being about 10km, and longest one around 120km (74 miles), guess where? In China of course. Why do I say "of course"? I'll tell you in the next section.
Disclosure: Some of our articles contain affiliate links. This comes at no additional cost for you and helps us keep this website up and running. (as Amazon Associates we earn commission from qualifying purchases)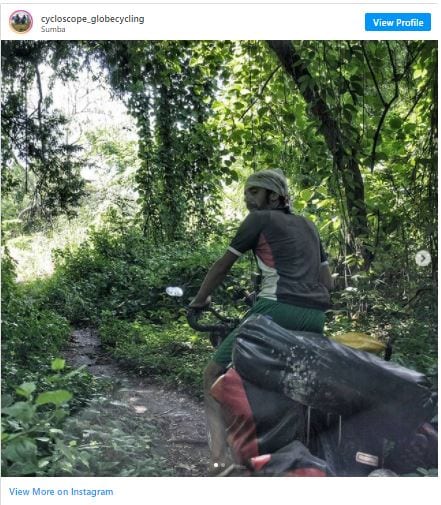 What are the factors that influence your daily cycling mileage?
Terrain and road conditions
The most obvious. Our 70/80km per day easily became 50/60km or even less if there was a steep climb to face or a muddy track to struggle with. Advice: do not plan a daily mileage without being sure about the road conditions.
Distance/Time
The time you have available, for the whole trip or a section of it, and the distance you want or have to cover might have a big influence on your daily average mileage. China, for example, was the country where we pedaled the highest daily average since the Visa was short and the country is huge!
In South Korea instead, we really took it easy, we had 3 months free Visa regime to explore a country that's smaller than the smallest of China's provinces, we stayed two months averaging around 30km per day. Which brings us to the next point.
Your physical and mental condition
After the stressful month in China, during which we had also been arrested, we really wanted to take it easy, that was another reason why we cycled in South Korea (where we went after China) at a very slow pace. After that, we felt rested and energized, and we could challenge the steep hills of Japan with full vigor and enthusiasm.
Your team
Of all the long-term bicycle travelers we met, almost without exception, those who traveled solo cycled more in one day than those who had a companion, no matter if they were guys or gals.
When you have a travel buddy, you can spend more time doing other activities, even just chatting after a meal, while when you're solo…. well, you just chat with your bike while you ride. Couples like us are the ones with the shortest mileage, maybe to preserve some energies for other activities?
The landscape and general awesomeness of the place and the people
As a rule of thumb, people tend to go faster on boring roads, while taking it easier when the place is beautiful. That's also pretty obvious.
Why you shouldn't plan your trip
Ok, that sounds exaggerated, you should plan your trip a bit. You should research the best routes, know what you'll face, try not to miss amazing places, and most of all learn about the place you're in.
What we really advise not to do is to set fixed trip stages, meaning getting from A to B on day one, from B to C on day two, and so on.
We did this mistake for the first 40 days of our trip before realizing we were missing a lot of stuff, and stressing ourselves over nothing.
Keep your trip as open as you can, follow people's suggestions, be ready to modify your route and plan. If you have a fixed amount of days, and those are not many (maybe two weeks or less), what we suggest is to cut in distance, do less to do more. Plan more days for rest than what you think you'll need because you could find a great use for that extra time.
If you have to reach a destination in a given day, consider taking a bus to gain one or two days if you find it's worth to spend more time in a particular place or follow a different longer route.
For some people cycling is more about challenging themselves, trying to break their limits, we don't criticize that but we have a very different mindset. For us, it's more about exploring places, enjoying the road, learning about the people and costumes and ways of living, in short: slow tourism. What we found out is that people with a similar bike touring style tend to stay more on the road, while those going for the challenges usually get tired faster and eventually give up. That's what we saw.
Initial and advanced stages of a bike tour, what does change once you're on the road for a while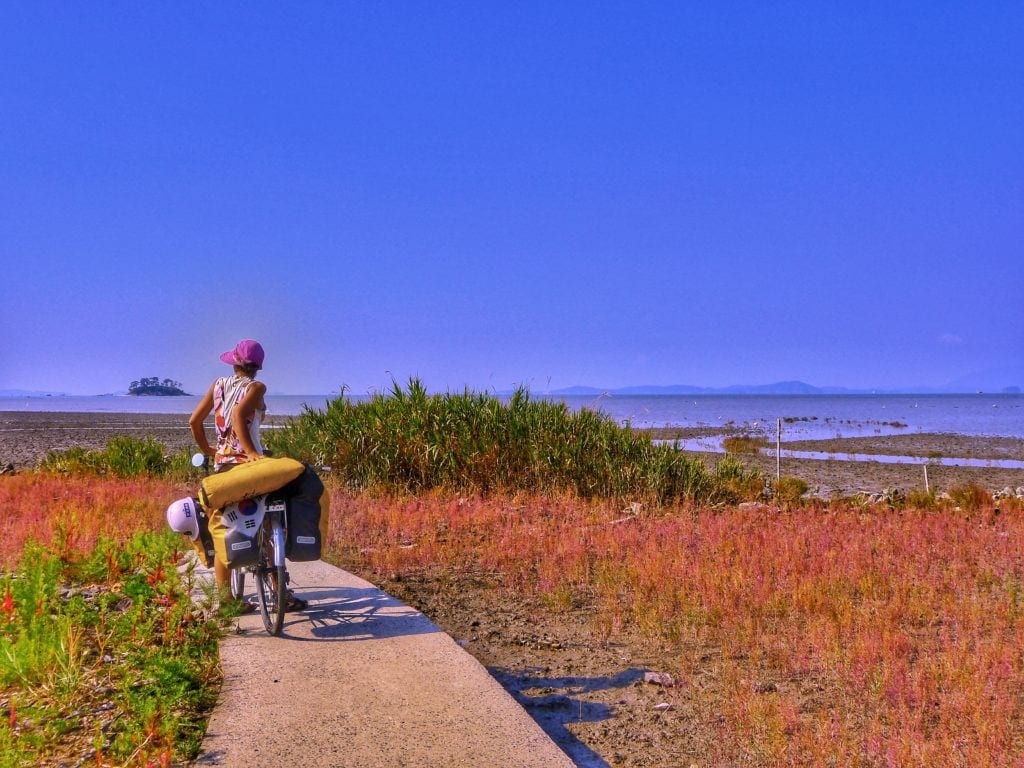 You may assume that most people start easy and then increase the average daily mileage, but the truth is often quite the opposite. Many begin overconfidently and then realize they better slow down, or eventually give up.
Unless you've done a lot of training, and that meaning training with a fully loaded bike, take it really easy on the first days of a bike trip. The body needs to adapt to the new routine and these are the days when it's more prone to injury.
I learned this on myself when on my third day my knee started aching terribly, I needed a huge painkiller injection and two days of total rest (luckily I was in an enjoyable seaside area).
Once you're days, week, months, and even years on your tour, you'll find that your ideal mileage really depends on your mood and the road you're cycling.
---
Rest Days
Rest days are very important, when you're on the road for days in a row your body hardly recovers just with an 8 hours sleep. I think one rest day per week is fine, riding longer every day will call for more rest days, while if you take it really easy (let's say less than 50km per day) you could ride more days in a row.
A rest day should be a day in which you basically rest. While going for a walk or take a swim are totally fine activities, it's not a rest day if you hike 15km up a mountain. Give yourself a good recovery time and you'll see how much enjoyable the trip will be.
Have a look at
When to rest and how to recover during a bike trip
Mind the unexpected
When you travel by bike, unexpected things happen all the time. You may take a wrong turn, ending up riding a fair bit of miles, a landslide may block the road, you can get a flat, a broken spoke, or even worst.
When planning to ride very long daily distances you should consider the unexpected. That's one of the reasons why it'is never a good idea to book your accommodation for the night in advance when bicycle touring.
If you have more questions try to check these other articles
Stay in touch while we get lost! Follow us on Social Media