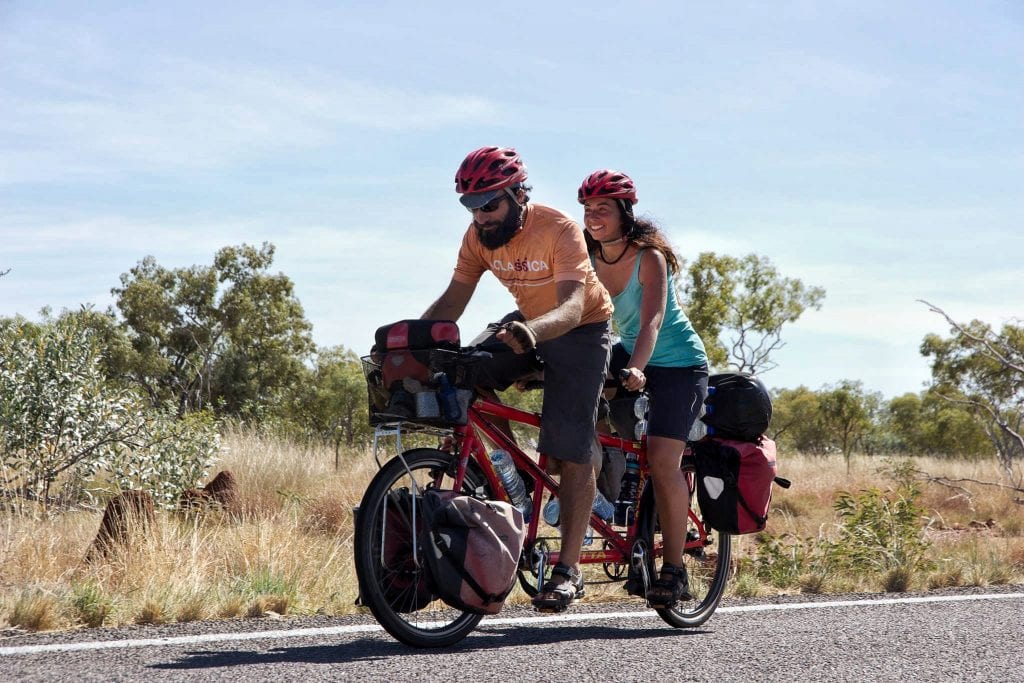 The Best Tandem Bikes of 2023
Steel, Aluminum & Titanium
Touring, leisure, kids, holidays, recumbent
14 tandem bicycle models readily available for all purposes and budgets
Tandem Bicycles. What's the best tandem bike for any use? We'll discuss this with true experts Alessandro and Stefania, who have been riding a touring tandem around the world for 7 years.
In the utterly lavish cycling lot, tandem bikes still come as an extravagance. Not only does the tandem defy our shining depiction of the exulting pink jersey hero at the end of his lonely final sprint.
It also overturns any embraceable idea of a dream bike: aerodynamic like a jet, agile like a panther, light like a feather…the tandem is not.
However, once you got past its rather hilarious appearance, you'll discover an enthralling machine originally designed for the greatest speed.
Since tandems have better force/weight ratio and equal wind resistance than a single bike, two trained riders who can develop a perfect synchronization are surely faster than the same guys cycling solo.
That being said, tandem has always been associated with courting and family time.
Disclosure: Some of our articles contain affiliate links. This comes at no additional cost for you and helps us keep this website up and running. (as Amazon Associates we earn commission from qualifying purchases)
How we compile our gear guides: during the almost 10 years of cycloscope.net our team personally tested dozens of similar pieces of gear. For what we can't test personally, we involve other people in the cycling community to give their feedback and opinion about gear they have used. Our decade-long experience in bicycle touring enables us to find the key cons and pros of every product we mention.
The Best Tandems 2023 In a Nutshell
The list of tandems we've put together is just an example of models readily available on the market that we've researched or seen around and that would fit a diverse range of purposes and budgets.
ALUMINUM
Trek Electra Deluxe Unpretentious cruiser for fashion enthusiasts
Cannondale Tandem 29 Reliable all-rounder
Co-motion Periscope Scout Highly adjustable riders' size, for all family members
Koga Traveller Full-optional foldable touring tandem
Santos Double Travel A purebred pack mule for long journeys
Co-Motion Kalapuya High-performance gravel with open frame
Da Vinci Tailwind TBD Electric handcrafted tandem with independent coasting
STEEL
Northwoods Dual Drive For the occasional Sunday spin
Khs Sport Solid starting point for beginners
Khs Americano Little foldable with 20 inches tires
Hase bike PINO Semi-recumbent tandem for thrill-seeking stokers
Thorn Raven Twin The British masterpiece
TITANIUM
Santana Journey Only for the obsessed
So, let's get started with the description of the best tandem bikes. If you want to know more about tandem bikes and would like some expert advice on how to choose, you'll find all the info you need at the bottom of this article.
The Best Tandems Readily Available [2023]
THE BEST ALUMINUM FRAME TANDEM BIKES
Tandem bikes can be heavy machines, so why not save some weight by going for an aluminum frame? Some of the best and sportiest tandems in this list are indeed made of alloy, let's check them out.
Trek Electra Deluxe [+/-] 1300$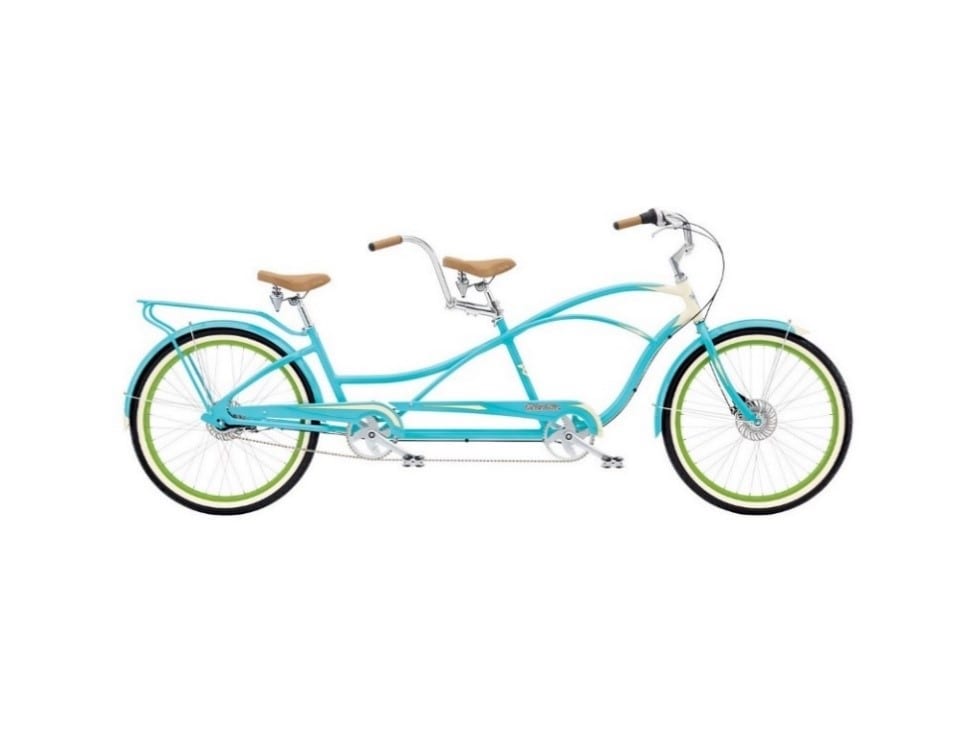 The Super Deluxe Electra by Trek is colorful and fun. The lightweight aluminum frame is the curvy soul of this comfortable and reliable city tandem, garnished with fenders, chain covers and Nexus gear hub for low maintenance.
A cloud-shaped bike that can be used every day, for shop hopping or romantic beachside strolls.
Trek Electra Deluxe – Specs
Rims Painted alloy
Tires RetroRunner 26 x 2.125″
Shifters Shimano Nexus Revo 7-speed twist w/optical display
Crank Electra custom alloy 3-piece w/44T steel chainring
Bottom bracket Sealed cartridge
Cassette 22T
Chain KMC S1 nickel plated
Pedals Electra retro
Saddle Electra low profile w/double-coil springs
Seatpost Classic alloy pillar
Handlebar Front Electra café & rear: Electra custom tandem
Grips Hand-stitched leatherette
Stem Alloy classic
Headset 1 1/8″ steel threaded
Brakeset Front and rear Shimano BR-C6001 roller brake
Extras Painted fenders integrated kickstand, stainless steel, and anti-rust hardware
Weight 26.3 kg / 58 lbs
Co-motion Periscope Scout [+/-] 3000$
With a frame designed to suit differently sized riders, the Co-Motion Periscope Scout is ideal for any off-road family adventure.
Easy and quick to adjust, it will please children and adults alike. The 26″ wheels paired with wider tires offer great stability and can fit smaller riders.
Co-motion Periscope – Specs
Frame Handbuilt frame with zonally-butted cro-moly steel tubing
Fork Co-Motion Taper Gauge w/ CNC Tandem Steerer
Derailleurs/Shifters Shimano Deore SGS rear, Shimano Deore front, 2 x 10-speed trigger shifters
Brakes Avid BB5 w/ 200mm Rotors / Tektro Eclipse Mtn levers
Headset FSA Orbit Z Internal
Drivetrain Shimano 44/32t cranks with 11-34t cassette
Cockpit Co-Motion Cruiser and Stoker bar / FSA Gossamer and Co-Motion adj. stoker stem
Post/Saddle Co-Motion 29.8mm, PeriScope Seatmast System / Selle Italia X1 & X1 Lady
Wheels Co-Motion A-20 tandem hubs / Velocity Dyad 26″ rims
Tires Schwalbe Spicer 26×1.5″
Cannondale Tandem Bike 29 [+/-] 3000$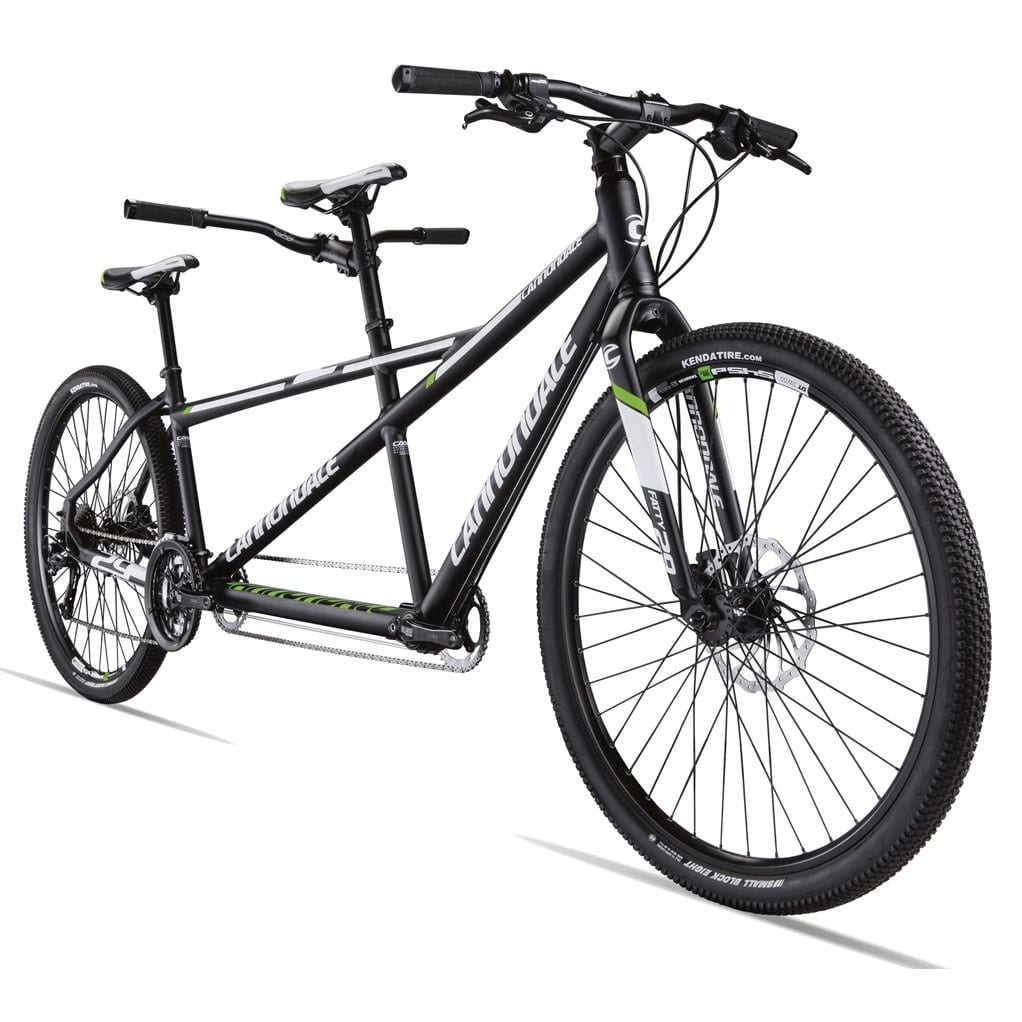 Cannondale is a solid starting point for all people approaching for the first time the tandem world.
Their trustworthy aluminum frames are well-tested by cyclists of all sorts. With this 29er MTB-style beast, you will look forward to the next trail to explore with your partner.
Cannondale Tandem 29 – Specs
Frame Tandem 29, SmartFormed 6061 Alloy, 1.5 head tube, BB30
Fork Cannondale Fatty Tandem 29, OPI, 1.5″steerer
Rims DT Swiss Tandem 29 wheelset, 40-hole
Hubs DT Swiss
Spokes DT Swiss
Tires Schwalbe Racing Ralph Performance, 29×2.1″, folding, tubeless ready
Pedals Cannondale Reinforced Composite
Crank Truvativ Firex Tandem, 44/33/22, 38t timing
Bottom Bracket Truvative
Chain KMC Z72 drive / X9 timing
Rear Cogs Shimano 11-36 10 speed
Front Derailleur SRAM X7
Rear Derailleur Shimano XT Shadow Plus
Shifters Shimano SLX
Handlebar Cannondale C4, 6061 alloy, 680x25mm rise
Grips Cannondale Locking Grips
Stem Cannondale C4 1.5″, 3-D forged, 6 deg. / C4 extender stoker
Headset Tange Custom 1.5″
Brakes Magura MT5 Hydraulic
Brake Levers Magura MT5
Saddle Cannondale Ergo Performance
Seatpost Cannondale C4, Alloy, 31.6x350mm front & 27.2×400 rear
Koga traveller [+/-] 5000$
Koga is a well-known company based in Holland. The Koga Traveler, as the name suggests, is designed for touring.
It's an eye-catching vehicle that doesn't inspire a honeymoon tour on the Danube cycle trail as much as a lunar expedition.
It is the ultimate touring companion equipped with all arrangements for any bike travel accessory.
Koga Traveller – Specs
Frame Completely hand-built Super Smooth TIG-welded full suspension, Y-tech tandem folding frame. Tubes manufactured in triple-hardened and super oversized 7005 aluminum for extra stability. Rear swing arm with adjustable oil/spring suspension unit (80mm travel) and extra disc brake and a replaceable rear derailleur hanger.
Fork Fastrax double bridge – Fastrax air ARL – Rebound adjustment
Front Derailleur Sram X.9
Rear Derailleur Sram X.9
Shifters SRAM X.9 twist shifter with micro index and optical gear display
Chainset FSA Alpha Drive, 48/36/26T, 170mm (47/50/53/55) 175mm (57/59/62)
Brakeset (rear) Shimano disc brake controlled by Sram X.9 twist shifter – Extra rear brake for descending plus Magura HS-11 Hydraulic rim brake
Brakeset (front) Disc-/Hydraulic brake set (front) Magura HS-11 Hydraulic rim-brake – Excellent braking power maintenance-free – Turbo Pad Adjustment – Reach Adjust – Easy Bleed Technology
Wheelset Rims KOGA KM21-622 XStrong alloy – Double wall and double eyeletted 48 holes – Durable finished
Crank set Shimano Octalink & Hollowtech – Lightweight – Hyperdrive chainrings for smooth and precise shifting: 48x36x26T with chainguard and 32t 2x with chainguard
Spokes Sapim stainless – Cold forged reinforced and butted
Saddle Selle Italia FLX Man – Genuine full-grain leather
Weight 29 kg
Santos Double Travel [+/-] 7000$
Santos Double Travel is designed for long journeys. It has a comfortable seat for riders who like to sit deep as well as for those who prefer a higher handlebar.
The stiff 7005 aluminum frame with a special cr-moly steel fork steers you through tight corners, keeps you stable when descending fast, and feels efficient at every pedal stroke.
The Double Travel is a purebred pack mule with stable driving even with lots of luggage. The extra-strong 26 inches wheels are hand-built by Santos to ensure an efficient and comfortable ride on both paved roads and unpaved routes. The Rohloff speed hub is just the cherry on the cake.
Santos Double Travel – Specs
Frame Santos 7005 aluminum
Fork Santos cr-moly steel special version
Gearhub/Shifters Rohloff speed hub 14 gears
Brakes disk brake hope tech 3-V4 with extra tick and strong 203mm Santos disk
Headset Santos with stainless steel bearing and anti-twist system
Drivetrain Aluminum tandem crankset / KMC X1 gold, extra-strong Singlespeed chain with anti-rust layer
Cockpit Tandem, adjustable, black
Rim 26″ holiday rims
Tires Schwalbe 26inch marathon green guard
Co–Motion Kalapuya Tandem Bike [+/-] 7500$
The name Kalapuya sparks the image of steep forested mountainsides glowing with bright green moss. Co-Motion Kalapuya open frame design is neat and elegant, with tubes tastefully arranged in the frame and a carbon belt placed on the left side.
Kalapuya definitely belongs to the gravel category. The compact frame has a wheelbase just a few centimeters higher when compared to its roadie brother, the Macchiato.
The fork of this tandem is sinuous and intriguing: the two carbon blades are generous at the top; they bend a little backward, then, right after the eyelet appears somewhere in the middle, they become flat at the bottom.
The beautifully designed fork can host a rack, but it doesn't mount any eyelet behind the seat stay. This tandem can take you deep into the backcountry when equipped with a proper bike-packing setup.
As chic as it is, you could ride to a wedding party. And nothing can stop you to carry along a spare wheel and follow your roadie or gravel mood.
Co–Motion Kalapuya – Specs
Frame ACMUltra7 7005-series zonally butted tubing / Boost 148 x 12mm thru-axle / Tapered head-tube / 68mm English threaded BB
Fork Co-Motion Boost TA carbon fork/ 15mm thru-axle / 1.5″ tapered steerer
Derailleurs/Shifters Shimano Ultegra R8000 2×11-Speed
Brakes TRP Spyre w/ 200mm disc rotors
Headset Cane Creek 110 Tapered
Drivetrain Co-Motion Compact Tandem Cranks 50-34t / Gates Timing Belt / 11-40t cassette
Cockpit FSA Omega compact and Co-Motion stoker bar / FSA SL-K and Co-Motion adj. stoker stem
Post/Saddle Co-Motion 31.6mm / Selle Italia Nekkar and Lady Flow
Wheels Hand built Astral Leviathan/ Co-Motion Boost 148/110 thru-axle wheels
Tires WTB Riddler 700x45mm
Da Vinci Tailwind TBD Tandem Bike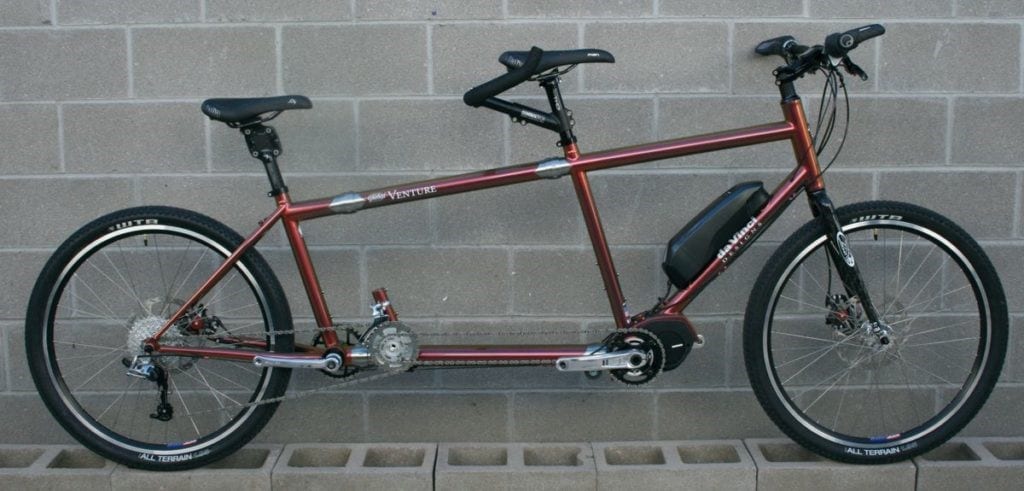 Wow and only wow. This gorgeous game-changing electric tandem is the ultimate choice for those who want to find the ideal partner at all costs.
On my long tandem experience, I've always underestimated DaVinci Independent Coasting System Design. It comes to me as an awkward useless piece of machinery.
On the one hand, it makes things easier, since "Captain and stoker can independently relax, take a drink, adjust the seat position, stand for a few seconds to relieve weary sit bones, even take a moment to gaze at the scenery, while the other keeps pedaling.''
On the other hand, it ruins the perfect synergic coordination of an ideal tandem experience. That being said, here we are looking at an e-tandem with a powerful Shimano engine.
I would never buy an electric tandem without the DaVinci Independent Coasting System. This tandem is just beyond the imagination.
Da Vinci Tandem – Specs
Shifters Shimano XT 3×11 – Option XT Di2
Rear Derailleur Shimano XT – Option XT Di2
Front Derailleur Triple – Option XTR Di2
Brakes Avid BB7 Front and Rear Disc with 200mm rotors
Front Bars Flat or riser mountain bars
Rear Bars Profile Stoker 26 – 47cm
Front Stem Thomson Elite X2
Rear Stem Control Tech Adjustable Stoker
Cranks Da Vinci Designs Billet Machined (wide choice of lengths)
Rear Cogs 11-36 or 11-40
Driving Gears Shimano Hyperglide 13-21-28 Equivalent to 26-42-56 (this is very customizable)
Eccentrics da Vinci Designs
Front Hub White Industries
Rear Hub White Industries Tandem Disc – 145mm
Rims da Vinci Designs V-23
Tires Panaracer RIBMO
Front Seatpost Thomson Elite 31.6mm
Rear Seatpost Cane Creek Thudbuster ST or LT
Saddles Selle Italia Man Flow and/or Lady Flow
THE BEST STEEL TANDEM BIKES
Is steel still real? Let's check it out!
Northwoods Dual Drive Tandem [+/-] 500$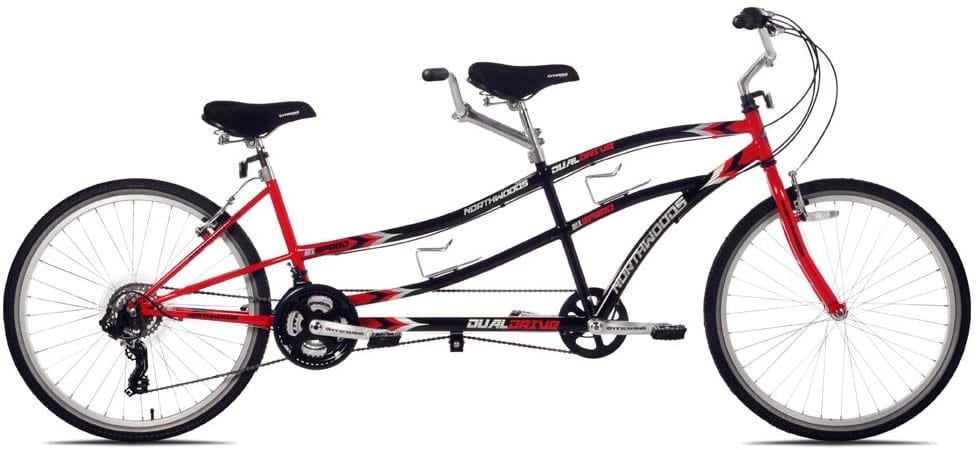 This is the cheapest and the heaviest on the list. It is made of metal fences kind of steel and could rust quite easily if you don't take the proper care.
For less than 500 bucks it's probably a wiser choice to opt for a second-hand better quality tandem, but if you can't stand your impulse to buy it, you'll probably be quite surprised by its performance.
If you're looking for a budget tandem bike for leisurely weekend activities by the beach, this might just be the best buy for you.
KHS Sport [+/-] 1400$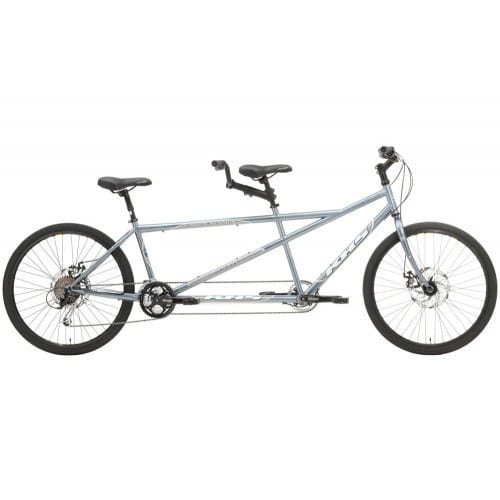 If you are looking for a bargained-price tandem to start riding this steel-framed KHS sport with 26-inch wheels has a decent group set.
KHS Sport – Specs
Frame Hi-Tensile w/CrMo Seat & Down Tube, w/Disc Tab
Fork Oversized CrMo Unicrown
Headset FSA TH888 1 1/8" Threadless
Rims Weinmann U28 Disc, Double Wall, w/Eyelets
Hubs (F/R) F: Alloy QR23, S/B, Disc; R: Alloy QR, Cassette, S/B, Disc
Tires Maxxis Overdrive, 26" x 1.75, 60 TPI w/Silkworm
Spokes 14g Stainless Black, 40×40
Derailleur, Front Shimano Acera
Derailleur, Rear Shimano Alivio
Shifter Shimano Acera Rapidfire
Chain KMC Z9
Crankset Drive Line Alloy Forged Tandem, 44/32/22 +38T
BB Cartridge Isis Spline
Cassette Shimano CS-HG20, 11-34T, 9-Speed
Pedals Wellgo C28DU, All Alloy w/DU Bearing
Seatpost Captain: Alloy Micro-Adjust, Stoker: Suspension
Saddle KHS Ultra Comfort, Soft Shell
Handlebar F: Alloy Riser 31.8mm, R: Alloy Riser
Stem Captain: Threadless 3D Forged, 25D, 31.8mm, Stoker: Alloy, 35 Degree Adjustable
Grips KHS Sport, Dual Compound
Brake Levers Promax Alloy Linear Pull
Brakes Bengal MB700, Mechanical Disc, 203mm Rotors, Wave12
Color Silver
Frame Size S (18″x16″), M (20″x16″)
KHS Americano [+/-] 1700$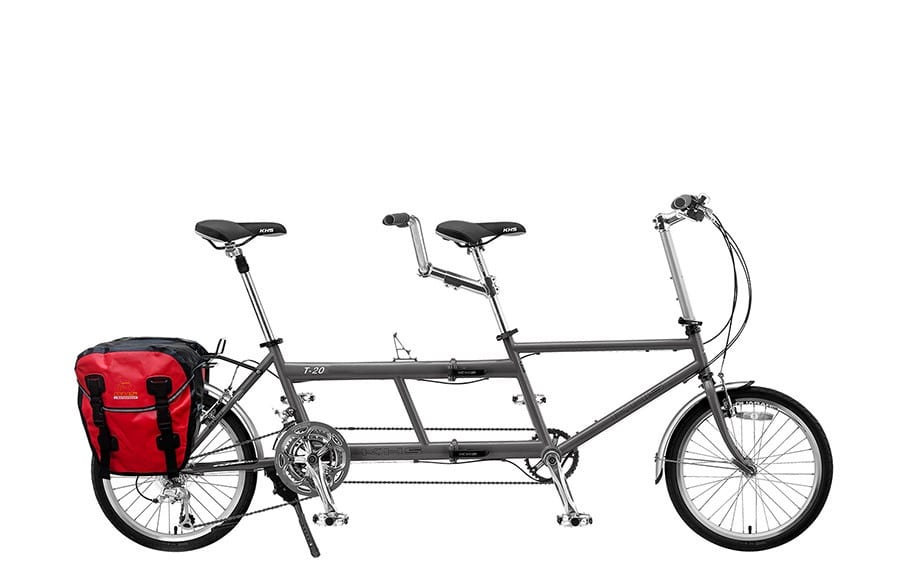 This tiny 20 inches wheels tandem is easy to set up and it's smartly designed to fit multipurpose situations. The steel frame can be folded in half and offers a great range of measure adjustments.
KHS Americano – Specs
Frame Folding, 4130 CrMo Tubing w/Carrier Bosses
Fork Full CrMo Unicrown, w/Fender Bosses
Headset Alloy Threaded 1 1/8″
Rims Weinmann SP-17, 20″x32H, Double Wall w/CNC Sidewall
Hubs (F/R) Formula Alloy QR, Cassette
Tires Maxxis Gypsy M2015, 20×1.5 w/Silkworm
Spokes 14G Stainless, 32×32
Derailleur, Front MicroShift FD-R539 Braze-On
Derailleur, Rear Shimano 105 RD-R5701
Shifter Shimano Sora Trigger
Chain KMC Z9
Crankset Drive Line 3-pc Alloy Forged, 52/42/30
Bottom Bracket ISIS Cartridge Bearing
Cassette SRAM PG-950, 11-28T, 9-Speed
Seatpost Alloy 2-bolt FT, Alloy Suspension RR
Saddle KHS Sport
Handlebar F Alloy Riser; R: Alloy Riser
Stem Captain: Threadless 3D Forged, 10D, 25.4; Stoker: Alloy, 35
Grips Velo Ergo Triple Density
Brake Levers Tektro BL-39B Linear Pull w/Bell
Brakes Tektro Linear Pull
Color Metallic Gray
Extras Rear Carrier, Fenders, Pannier Bags, Kickstand
Frame Size One Size
Salsa Powederkeg [+/-] 4000$
If you want to spray the stoker with mud before falling on a mossy bed in the wood, this Salsa Powderkeg is what will set you up.
It's a 29er tandem designed to mount a suspended fork in the front. The oblique tube in the center ensures more lateral stiffness to the steel Cromoly frame. 
It has a long wheelbase for stability, but it holds a short chainstay for responsiveness.
Salsa Powederkeg – Specs
Frame Powderkeg Cobra Kai 4130 Chromoly.
Fork Powderkeg Tandem, 4130 Cromoly, 15x 100mm
Front Derailleur Shimano SLX HDM
Rear Derailleur Shimano SLX Shadow Plus
Shifters Shimano SLX
Chain KMC X10
Crankset Truvativ FC Firefox TD 44/33/22 front, Truvativ FC Firex TD rear
Brakeset (rear) SRAM BB7
Brakeset (front) SRAM BB7
Wheelset Rims Notubes Flow, 32h. Hub Shimano SLX, Spokes DT Swiss Champion
Spokes Sapim stainless – Cold forged reinforced and butted
Tires Schwalbe Nobby Nic 29 x 2.25'' performance folding
Saddle WTB Pure V Comp
Weight 20 kg without gadgets
Hase PINO [+/-] 4300$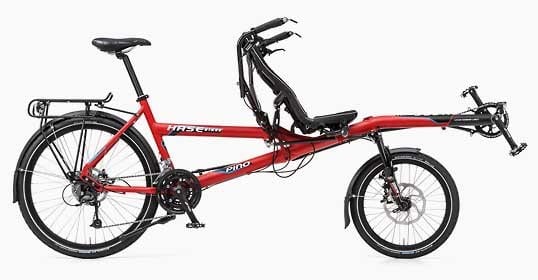 The next level of rideability is delivered by Haze.
Just think that among all the awards earned by the German company Haze, there is also The Guinness World Record for the creation of the longest trike, connecting 62 trikes together.
The semi-recumbent tandem Pino offers unprecedented comfort and an exhilarating ride. The wheelbase is so short that you won't need to speak loudly, the front rider can surely get the best selfies ever, and most importantly this brilliant creation is maneuverable almost like a single-seater.
If you can manage to ride recumbents, the Pino offers beautiful views and optimal panorama to both riders. In addition, switching positions it's easy like in no other tandem.
The front rider can just enjoy the comfort of a ride without pedaling because there is a freewheel in front, so the bike can readily double as a taxi.
You can smoothly accommodate children with their dedicated crankset, which can be mounted in a flash. And adding the foldable Haze bag, the Pino can easily carry a week of groceries.
If you aren't impressed by PINO's size, don't worry. The frame can be split into two pieces, so that it's possible to carry the parts in any compact car and, once you've reached your destination, reassemble your tandem in a flash.
Hase Pino Tandem – Specs
Total length 83″-93″ (210-237 cm)
Total width 25″ (64 cm)
Total height 41″-43″ (104-110 cm) depending on seat adjustment
Seat height, front 25″ (64 cm)
Bottom bracket height, front 24½" (62 cm)
Wheelbase 57″ (145 cm)
Two-part frame/front boom 7005 aluminum, with adjustable and replaceable dropouts in the rear (Patria patent)
Max. load 495 lb (225 kg)
Fork Spinner 300
Brakes TEKTRO HD-M750 hydraulic disc brakes
Wheels Rear 26″, Rim: a double wall with double eyelets
Hub HASE BIKES Tandem Hub
Spokes Sapim; Front: 20″
Rim a double wall with eyelets
Hub dynamo Shutter Precision
Spokes Sapim
Tires Schwalbe Marathon 47×406 (front), 50×559 (rear)
Gears Shimano Deore 27-speed derailleur
Front derailleur Microshift FD-R539 cold-forged
Shifters Microshift bar-end, Herrmans Ergo grips
Crankset/bottom bracket: HASE BIKES crankset for tandem with integrated freewheel mechanism, Rear: 170 mm 28-38-48 tooth, left 36 teeth; Front: 165 mm 38 tooth
Lighting system Hub dynamo Shutter Precision
Taillight: B&M Toplight 2C plus
Headlight: Herrmans Black MR8 50 LUX
Fenders: SKS black matt
Luggage rack: Racktime Addit, Max. load: 66 lb (30 kg)
Kickstand: Humpert double kickstand
Weight: 55 lb (25 kg)
Colors: RAL 3002 Carmine Red matt/powder-coated, front boom black anodized with length-adjustment markings
Thorn Raven Twin S&S Mk3 Tandem [+/-] 6000$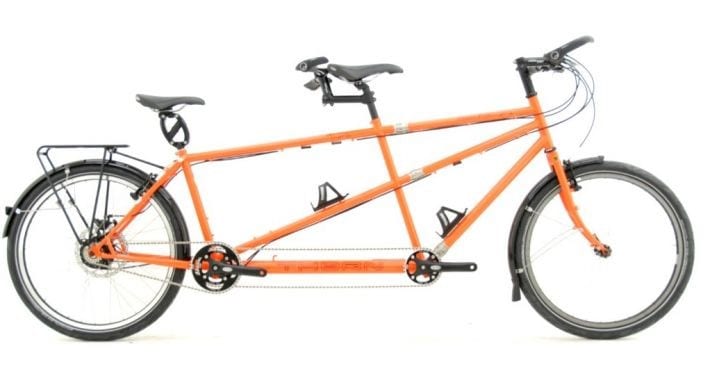 How not to mention Thorn, the British company that firmly believes in the motto ''Steel is real''.
Thorn tandem surely offers a lot of value for money. 26 inches hand-made wheels, Rohloff speed hub, neat crank-set all on one side, heat-treated steel frame with the diagonal tube, and S&S couplings installed.
Please take notice of the diagonally sliced seat stay at the seat tube weld, it's Thorn signature. 
This tandem is beautifully designed and multifunctional; considering what you get, it comes at an unbeatable price.
Thorn Raven Twin S&S Mk3 – Specs
Frame: mega-oversized, seamless, cold drawn, butted, heat-treated top quality Japanese Cro-Mo tubes – "Thorn 9/6/9.
Fork: (A) twin-plate crown fork rim brake bosses, Reynolds blades fork (B) unicrown fork only disc, ISO disk mount.
Gearhub/Shifters: Rohloff speed hub 14 gears.
Brakes: ventilated disk brake system available.
Headset: Thorn high quality.
Drivetrain: Thorn cranks 7075 aerospace alloy ratio TBD.
Cockpit: Thorn expedition handlebar.
Rim: Andra 30.
Tires: Schwalbe 26 inches of choice.
Santana Journey [+/-] 10000$
For the sake of inspiration, we couldn't leave out a marvelous titanium frame by Santana! Well, here you'll have all the benefits of the everlasting and spacecraft-looking titanium frame with a carbon fork.
At 10 grand price tag, the Santana Journey is a tandem recommended only for the passionate of titanium tubing frame composition. It is more a journey to a still undefined prototype than a smart and well-engineered set of features.
Standard Build Kit
Wheels Hadley/Velocity Fusion 32 spoke or 48 spoke (48 spoke wheels are a $50 Upgrade Option)
Tires Continental Gatorskin 28 or 32mm steel bead
Fork Santana 1 1/8″-1 1/2″ full carbon, road caliper (fits 28mm tire) or Santana Steel V-brake (fits up to 40mm tire)
Headset Cane Creek Hellbender 1 1/8″-1 1/2″
Captain Handlebar Santana 31.8mm round drop, alloy
Stoker Handlebar Santana 31.8mm round bullhorn, alloy
Captain Stem Control Tech 1 1/8″, choice of length & angle
Stoker Stem Control Tech 31.6mm, adjustable length
Seatposts alloy 31.6mm (alloy stoker suspension post option, $150)
Saddles Terry Chromoly Fly & Butterfly
Crankset Santana BB386 alloy w/modular spider, PF30 BB
Timing chainrings Gates CDX
Timing belt Gates Center track
Confused? Don't worry, read on for our full buying guide to the best tandem bikes! Learn how to chose the tandem of your needs and things you should consider before buying a tandem.
The Tandem Bike Buying Guide (by the experts)
Global Tandemic – A Brief History of Tandem
The visual impact of the odd tandem you have seen on the beachside is probably not the same you expect from the sporty bike of your dreams.
Oddly enough, tandems had initially been developed to be the fastest of all bikes, for the very purpose of record-breaking.
At the end of the nineteenth century, state-of-the-art tandems, triplets, quads, and quints ridden by professionally trained teams were widely used as pacing bikes in track and road races, shortly before the invention of motorized pacing tandems.
Since then, tandems' fame has seen many ups and downs, culminating in the late 1990s, when tandeming was the most promising discipline in the racing compartment.
Some suggest the decline of the sports circle's attention towards tandem has been the unintended consequence of the spreading of an evil training tool: the force meter.
This sensor was meant to improve the performance of a cyclist by buzzing each time he wouldn't impress the same force on both pedals.
When installed on the pedals of two tandem riders, results immediately showed: times decreased and miles bumped up at stellar rates, while riders' motivation dropped equally fast.
It's probably a coincidence, but it casts a light on a tandem's ground rule that can't be set aside: its intrinsically social nature.
Are you a Tandem Person?
When two people ride the same pair of wheels something intriguing happens: the synchronized cadence is no anymore only a competition concern.
It forces them into a pattern of movements that it's quite like dancing. In order to enjoy the dance, both have to let go of the performance anxiety and embrace the joyful and comical side of cycling.
It means for the captain to take the lead with the most attentive and courteous attitude, and for the stoker to be led with complete trust and lightness.
That's why tandem is most successfully used as an auxiliary kind of bike for people who cannot cycle themselves: when accompanying a small child or a visually (or otherwise) impaired bicyclist, the captain is automatically more aware of his co-riders special needs, while the stoker is naturally trustworthy.
Anyway, tandem enables people with no physical aptitude or cycling experience to ride together enjoyably.
Especially when the captain can cope with his first-of-the-class complex and the stoker develops a marble ass able to survive unseen bumps. Our case is a classic example.
Our recommendation: try as many tandems as possible before making up your mind. Every team has a unique feeling and a special way of working together pleasurably. Only they can understand which tandem suits their personality better.
Different Tandem Categories Explained
You can easily find tandems declined in all most representative single bicycle categories, i.e. road, MTB, touring, and gravel.
A peculiar type is the telescopic, or family tandem, whose frame has been designed to ensure ample adjustability of saddles and handlebars' height, in order to fit stokers of different sizes. Fairly common are tandems capable to split or fold into two or multiple pieces.
The road tandem is sometimes built with sensual carbon fiber frame and components, crazily short wheelbase, and tiny shiny wheels.
The compact frame entails the highest level of intimacy and the greatest speed possibilities: recommend only for well-knit couples.
You must trust your partner but especially your tires because you risk staining your pants on a 100 km/h descent.
A new entry in the tandem lot, the gravel has a compact reinforced frame capable of withstanding the Eroica off-road, relatively short wheelbase, drop bars, and wider tires. It's barely a pinch higher from the ground than a road tandem.
The MTB tandem presents a longer wheelbase, wider clearance to accommodate bigger tires, and a more upright position.
If equipped with a proper suspension system can assure delightful off-road moments, and bounce the stoker enough to hug the captain when most needed.
The touring tandem is the one that offers more flexibility of use. Some have the longest wheelbase and the biggest tire clearance of all categories.
All materials are allowed without compromising reliability and appeal. All sorts of bike bags or panniers can be hung to get ready for a lifelong honeymoon.
Things to Consider When Buying a Tandem
Tandems are often purchased on a whim by over-enthusiastic couples who won't actually find the time and the patience required to get to ride together.
The good news is that tandems' second-hand market is full of good-value options. Checking a lesser-known hand-crafted bike manufacturer is also a good idea since an affordable capable artisan is often your best bet if you need a custom-built frame.
Our world tour tandem bike was built by Paduan "Vetta telai" bike frames laboratory. The master artisan Antonio Taverna took the time to personally get our measurements and understand our needs; he delivered us a painted frame with crank-set and bottom brackets for a very reasonable 1000$.
If you've already laid your eyes on a tandem, there are a few single elements to consider before getting your first double rig: frame, wheels, and brakes.
FRAME
The frame must hold lateral stiffness at an optimal level, otherwise, the wobbling of the long structure will scare you out.
Tandems nowadays tend to have an open frame without the diagonal tube that is used to increase the natural stiffness (and weight) of older models.
To achieve this result companies have invested time and resources in researching materials, tube shaping, and geometry and have increased accordingly the price tag.
You can save a lot of money without scratching the surface of a suggestive look by choosing aluminum frame models with diagonal tubes: they are perfectly up to the job.
A word about size should be said: stokers who are taller than the captain may have problems with handlebar height. For a pleasant ride, double-check the sizing of your frame before proceeding to other adjustments.
WHEELS
You need to trust your wheels. Look for a professional wheelmaker able to build strong and long-lasting touring wheels.
The ideal wheel doesn't need 48 spokes to resist the stress of a great journey. We have been riding our fully-loaded tandem (220 kg) for six years on every kind of road and never broke one of the 36 spokes mounted on each wheel.
The Rohloff gear hub ensures equal spokes length and a much stronger structure: in fact, we cycled 50.000 km with the same rear wheel.
BRAKES
Tandems are significantly quicker than solo bikes on down-hills, so they need to have the best possible brakes.
We have been cycling around the world relying only on normal v-brakes, and surely, we had to be extra careful in many descends.
Even disc brakes, anyway, aren't to be used carelessly. Unless you are planning to compete, you won't need huge disk brakes to slow you down, since it's cautious to stop sometimes in all cases and make sure the disks are not melting.
You could consider installing an additional ventilated disk brake on the back to alternate the braking heat in long descents.
Why a Tandem: Love & Speed
Tandem fans will tell you over and over how they fell in love while cycling together or that they can enjoy fantastic quality time with their children and partners, but be aware: getting on a tandem is sharing the ride in a very real sense, and the truth is that to be a perfectly synchronized couple does take effort, patience, time and compromises.
So if you're ready to watch your once best riding fellows breezing past you (on climbs, let's say) and you don't mind being shouted at "she's not pedaling on the back" till your nerves collapse, this article will introduce you into the heavenly world of tandeming.
Heaven, it can be. Finding a tandem partner is adding a compelling new dimension to the already orgasmic pleasure of cycling.
In order for that to work, both the captain (the guy in the front) and the stoker (the one in the back, apart from some notable exceptions like the Pino tandems) have to feel a similar level of gratification while riding together.
That's most easily happening when the stoker is someone who can't ride on his own, and the cycle is likely to be a memorably satisfying experience for both riders.
But even experienced cyclists willing to rediscover the participative side of the sport will be blown away by tandems' thrilling speed possibilities, while good-humored couples can strengthen ties and appeal over a laugh or two.
Long known as the divorce machine, tandem can indeed be seen as the ultimate love machine.
Conclusion
In a world of social distancing, tandem could be the key to post-pandemic socialization. Life is getting more and more individualistic, lonely are the people in front of the bright screen, few and far between the chances of being together.
Cycling in itself – when it's not only dictated by Strava addiction – it's a medicine for nerves, health, and social flair.
Cycling in tandem, in addition, can improve the cycling capabilities and self-esteem of people scared of traffic and solitude. Changing tandem mates is still morally acceptable.
You could even follow the example of that smart guy who ventured on a solo tandem world tour all by himself and came back home with a wife on his empty saddle. Try your chance, the perfect cycling partner could be just around the corner.
Is it easy to ride a tandem bike?
A tandem bike requires teamwork, it might not be immediate for you to get a hang of how to ride with a partner. You'll have to sync your shifting and get along well. Besides that, the passenger will have to cope with the scary feeling of not being in control.
Can you ride a tandem bike if you can't ride a bike?
Yes, riding in the back of a tandem bike doesn't require any riding skills, just confidence, and trust in the pilot. The only difficulty stays in standing up on the pedals to push harder, which requires a concerted balance.
The Authors, Ale and Ste and Their Around the World in Tandem
In this article we want to draw an overview of the tandem world for first-time users, presenting some ideas about an often-overlooked kind of experience.
We have been building our opinion on a 50.000 kilometers tandem journey across 30+ countries.
Alex has always been a passionate cyclist, while Steff couldn't give a damn. What we both loved was traveling.
We were both intrigued by bike traveling, but we couldn't put a mile together on singles without starting a fight or rescuing Steff up from a ditch.
The idea of the tandem came up as a joke, but we realized immediately the advantages for our unpaired couple: Alex wouldn't have to wait for Steff half day or to save her from each ditch, while Steff could – slowly – forget the suffering of trying to keep up with a cycling fanatic and with the fear of being ditched at every curve.
She had to concentrate on building up pedaling muscles and discovering the pleasure of cycling, while Alex had to accept setting up a slower pace and being outmatched by chubby cyclists.
Ever since we have been learning a lot about each other and about how our couple can work efficiently.
We've figured out that arguments can be solved if we think about ourselves as a team collaborating on a happy project of life instead of behaving as two individuals competing to claim our space in the relationship.
Alex has realized how to slow down on steep descent while Steff has learned how to stand up on pedals on steep hills.
Having successfully survived the divorce machine and truly enjoyed every second of it, we gaily give you our two cents.
Stay in touch while we get lost! Follow us on Social Media