An honest opinion about the Extrawheel Voyager Bicycle Trailer
after testing it for 25,000km, 24 countries and all the possible conditions
The argument of panniers VS trailers is a long-standing diatribe among bicycle travelers, with the classic 4-pannier solution being the most common winner. But there's a bicycle trailer that is becoming more and more popular among long-term bike tourers, and that's the Extrawheel.
I personally rode with an Extrawheel trailer for 30 months, all around Asia for 25,000km, crossing deserts, sandy roads, muddy tracks, and climbing steep passes above 4,000msl. I feel I can give honest feedback about how the Extrawheel trailer handles all this.
This is the review of the current model of the Extrawheel Voyager Trailer, the previous version, called Extrawheel Classic, has been discontinued.
Check also
Essential Gear for Bicycle Touring and Bikepacking
How to turn a piece of junk into a decent touring bike
How to start bicycle touring
9 easy destinations for your first bike trip
21 best touring bikes under 1000$
TiGr Lock Review: is this the best bike touring lock?
8 Best Bike Trailers for Dogs, Large and Small
Disclosure: Some of our articles contain affiliate links. This comes at no additional cost for you and helps us keep this website up and running. (as Amazon Associates we earn commission from qualifying purchases)
Why using a trailer?
There's no doubt a bike trailer is added weight, so what are the reasons yo use it? Well, the reason I used it is the same one as many people do: to travel on a bike not specifically designed for touring.
Touring bikes are built to carry heavy loads, they behave at their best when putting panniers on it, they are stiff, they don't wobble under the weight.
But maybe you don't want to invest in an expansive touring bike when you already own a nice road bike or MTB or whatever. I like to say that every bike is a touring bike as long as you tour with it, but it still is not a great idea to load panniers on your expansive carbon bike.
Using a bike trailer such as the Extrawheel will allow you to travel on your favorite bike avoiding the risk of compromising the frame or the wheels. I toured Asia on a 1936 antique Belgian road bike, which I treasure like a relative of mine, so I really didn't want to stress the front fork with panniers.
Another reason is the improved handling and fatigue relief. Some more technical roads require more force to handle the steering and adding weight to the front wheel certainly doesn't help to keep the bike on a dirt track.
A third reason is the increased cargo capacity. Nothing stops you from using both a 4-panniers setup and a trailer if you really need to carry a lot of stuff! I know many people argue that there's no reason to carry all that gear, that bike touring should be minimalist and bla bla bla, I'm afraid those people fail to see the world with other people's eyes.
Everyone is different and so is everyone's bicycle travel style. Some people literally live on the road for years and years, it's normal for them to carry more commodities, maybe a table, a chair, the musical instrument of their choice (I hope that's not a double bass), or whatever they fancy. Some other people travel with young kids, and that means more gear.
We'll talk more about this topic in an upcoming article about Panniers VS Trailers (subscribe to the newsletter to be sure not to miss it).
About Extrawheel design
The Extrawheel trailer was designed in 2004 by Radoslaw Rakoczy in a garage in Poland. The concept is pretty innovative compared to the classic bike trailers, with the main feature being the size of the wheel.
The Extrawheel trailer is indeed a real spare wheel, supposed to be the same size as your bike's wheels. Indeed, while trailer as the Bob Yak or the Topeak has a 16″ wheel, the Extrawheel is available both in a 26″ and 700cc wheel version, the most common wheel sizes for touring bikes. It's manufacturer indeed, likes to mark this point, that you could use it as a spare in case your front wheel fails somehow.
The concept is genial in its simplicity, the trailer itself is basically a rack, attached to the back wheel's hub using special bolts (those can be mounted on braze-on or quick release).
They are clipped to the hardened sprung steel fork, whose width can be adjusted, which is then connected to the welded steel frame (see the pictures for reference).
The clipping is made in a way so that the trailer will detach itself in case of an accident, to avoid dragging you and your bike with it. This also makes it really simple to disengage the trailer from the bike. No screws or nuts involved.
The forks come in three versions: standard, long (recommended for 29ers), and wide (for fat-bikes).
The frame itself is basically a pannier rack, you can also purchase it without a wheel to use the wheel of your choice. You can use a smaller wheel if you want, although this will reduce the rolling benefits of a larger one, and you'll also lose the spare-wheel deal if you do so.
The Extrawheel came equipped with a pair of Ortlieb back-roller classics or bike-packer classics included in the retail price, but you fit all the most common bike panniers on it. Now Extrawheel is producing its own bike pannier brand and they are not included.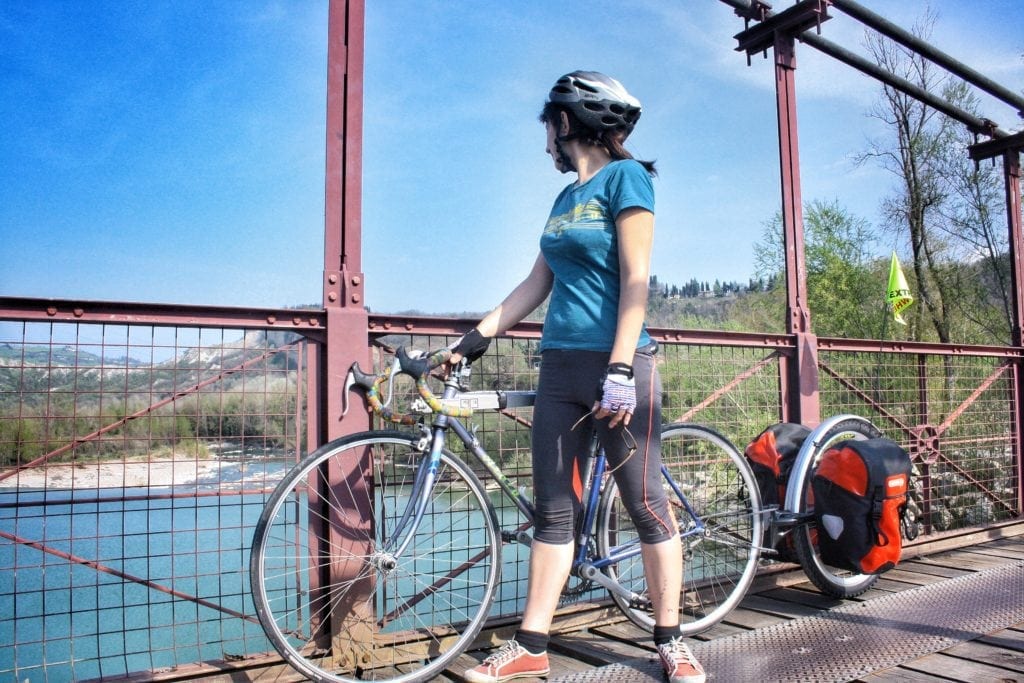 Bike trailer's Technical Specifications
Taking a look at the specs, we can immediately see the Extrawheel is lighter than the Bob Yak (6.1kg), and about the same weight as the Topeak, but way shorter than both of them, making it easier to handle. Here the Specs of the ExtraWheel Voyager Pro, the cheapest trailer for this brand:
Frame and Fork
Material: Thin-walled steel, stainless steel, plastic, cordura
Length of trailer: 85cm
Length of trailer with fork: 128 cm
Weight of frame with mudguard: 1,9kg
Weight of wheel: 2kg
Weight of fork: 1,2kg
Weight of quick release Standard (width 135-155mm): 120g
Length of Extrawheel flag: 70cm
Made in Poland
Reliability – 5 year warranty!
Wheel
For choose front wheel as standard components: 26×2.1″ Schwalbe Smart Sam tire, 28×1,75″Schwalbe Land Cruiser PLUS tire, 29×2.1″ Schwalbe Smart Same tire, Shimano axle, rim capsolute Riedel, 32 spokes Sapim Leader stainless steel, Schwalbe tube,
Available without wheel too
The Voyager PRO frame is fit wheels up to 29×2.6″ – For 29″ wheels, the fender must be removed
Price
Available for around 350USD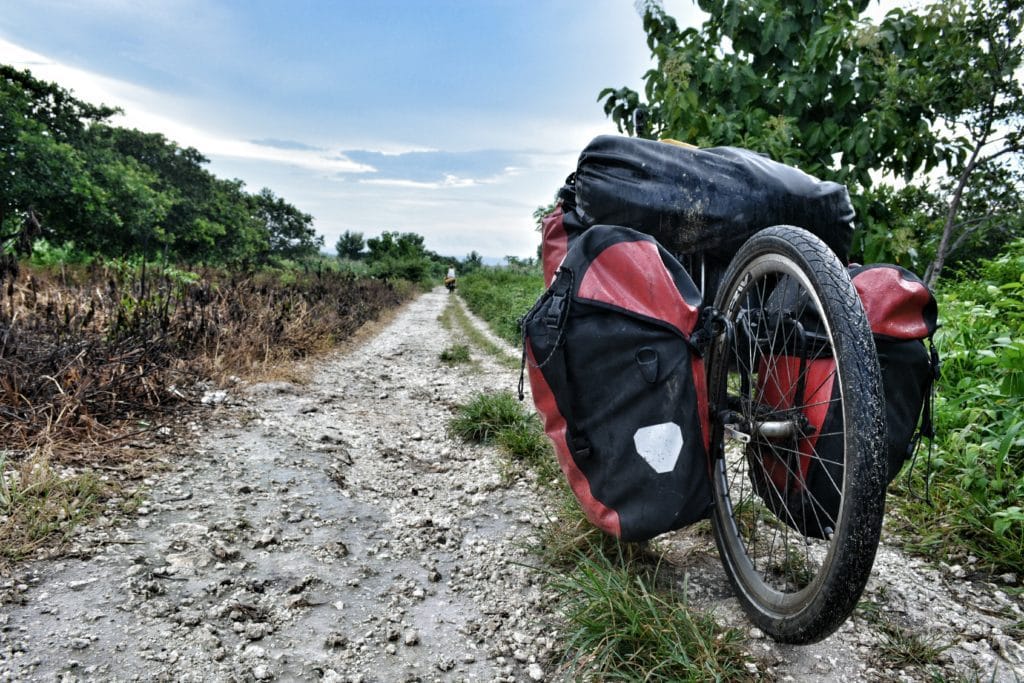 Riding with an Extrawheel Trailer
Let's have a look at how this trailer behaves on the road.
Tarmac
The Extrawheel Voyager Trailer rolls smoothly like silk on tarmac, on a flat road you won't even notice it. Thanks to the hardened sprung steel fork and full-size wheel it perfectly handles potholes and road irregularities, you really don't have to mind about it.
Dirt Roads
For the same reasons mentioned before about the potholes, this trailer handles dirt roads quite well. In technical sections it proves itself a better alternative to front panniers (in my humble opinion), giving you more agility in steering than you'll ever have with a load on the front.
An extremely bumpy road can unhook the panniers from their stays, as it also happens on normal racks. That's more a pannier's issue, you can't blame the trailer for it.
The limit becomes noticeable in more extreme road conditions. Given the shallow clearance between the panniers and the ground, big rocks or vegetation may stroke your panniers, resulting in rips and cuts on the fabric that will compromise the pannier's waterproofing. On a very muddy road, the same problem will make the panniers very dirty.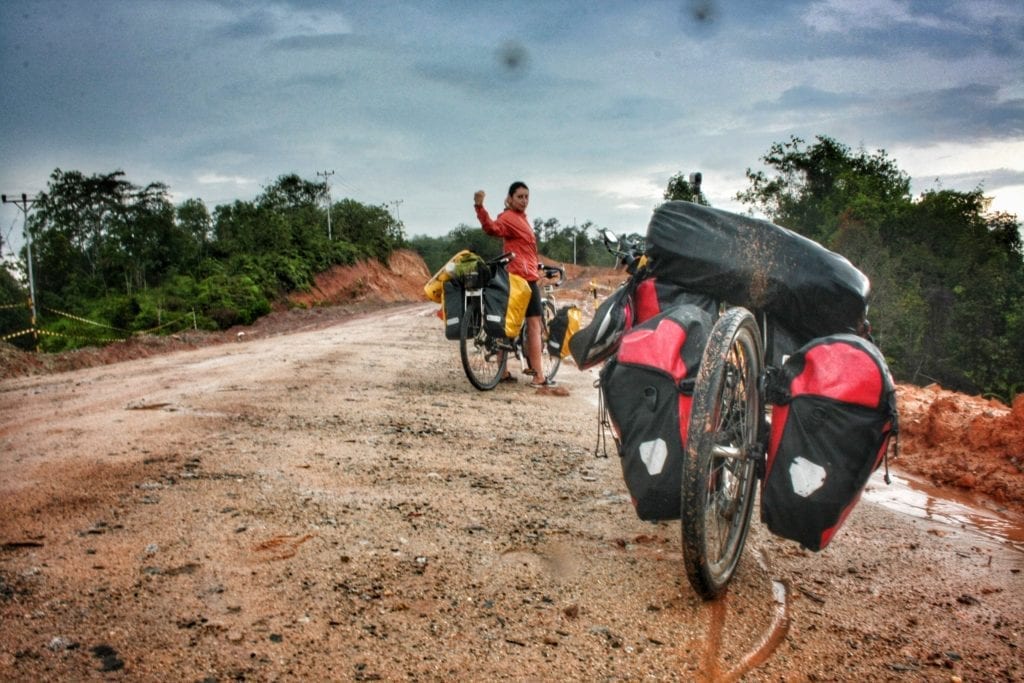 Mud and sand
This is the moment when you'll really hate your trailer… well, you'll really hate your idea of bike touring that route overall. Indeed, when you're forced to push the bike, the drag of a third wheel will really make you sweat. Of course, everybody will swear on such roads, but a trailer user will swear more.
Going uphill
I honestly didn't notice any difference while climbing steep roads with a trailer or with front panniers, except, of course, the added weight (if anyone good in calculations wants to try itself in the physics involved, be my guest in the comments). Having the weight on the back makes it harder to push the bike when you're not able to stay on the saddle anymore, or at least that's my feeling.
Downhills
If properly secured and assembled, the Extrawheel Voyager is not really noticeable on downhills… up to a certain speed. The manufacturer recommends not going faster than 50kph, and I'm seriously convinced nobody should ever go much faster than that on a loaded bike, why should you risk your life?
In my experience, I noticed a little wobbling when reaching about 55kph, increasing to a more nervous one at around 60kph, I never went faster than that in my life and never will.
Once I completely lost the trailer on a downhill, it detached and went on his own, one of the scariest moments of my journey… but that was my fault, I realized the quick-release was lousy, I didn't tighten it enough after unmounting the wheel to service the hub.
Tight corners
Extrawheel can bend about 270°, making it easier to pass through tight corners such as those kinds of bollards used to avoid motorcyclist on cycling paths.
Load distribution
While the manufacturer sets the load limit for this trailer at 35kg, I advise not to put that much weight on it. The uphill drag will increase if the trailer is too heavy. I found my favorite set up using the Extrawheel to carry all those bulky items like kitchen equipment, food, spares, water filter, and ukulele. I guess the load was about 12/18kg, depending on how much food I carried.
Other handling issues
Using a trailer makes it harder to lean your bike against a wall, the trailer will almost surely unfasten from the bike if you lay it on the ground. This means you basically need a double kickstand (which I really love to use even when riding without the trailer, by the way, but I understand not everybody does).
Another downside of riding with a trailer is that you can't move your bike backward, since the trailer won't backtrack but bend.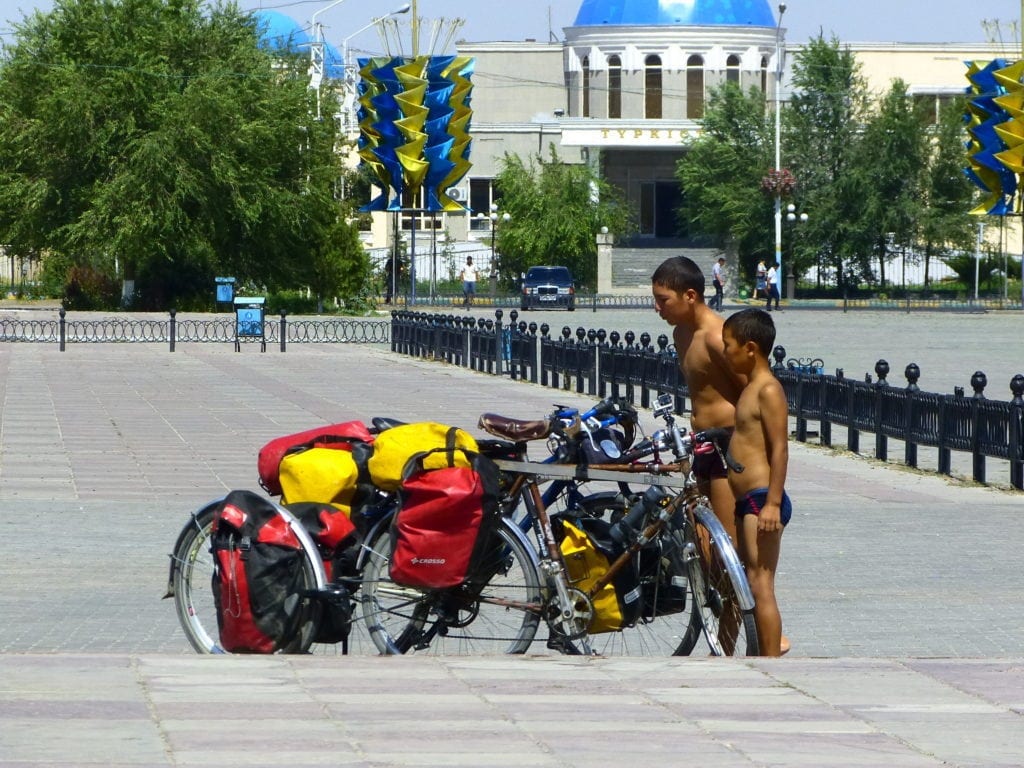 Attention seekers special weapon
One thing that really happens everywhere when riding with an Extrawheel, is people approaching you, staring at this weird piece of equipment and asking loads of questions.
Could be a nice way to meet new people, or an annoyance to deal with, it really depends on your attitude.
Size and Transportation
The Extrawheel is really small when packed, the only added bulk is the wheel, the frame itself is almost unnoticeable. Extrawheel won't give you to much trouble to fit it into a bike box.
Final opinion about the Extrawheel Voyager Trailer
Extrawheel seems to overcome all its competitors in terms of weight, handling, and transportability, making it thus the best bicycle touring trailer available on the market. Find out where to buy it on the Extrawheel official website.
Disclaimer: I was given an Extrawheel trailer for free in 2014, and I'm very grateful to Radoslaw, who believed in our project from the first moment. Anyway, I'm not using it anymore, since I got it stolen in China and now I switched to a different setup. I'm no longer related to the company in any way and all opinion in this article are base on my own unbiased experience.
Thanks to Andrew AKA Aushiker for providing the pictures of the details. Be sure to have a look at his website.
Check also
Essential Gear for Bicycle Touring and Bikepacking
How to turn a piece of junk into a decent touring bike
How to start bicycle touring
9 easy destinations for your first bike trip
21 best touring bikes under 1000$
TiGr Lock Review: is this the best bike touring lock?
8 Best Bike Trailers for Dogs, Large and Small
Stay in touch while we get lost! Follow us on Social Media