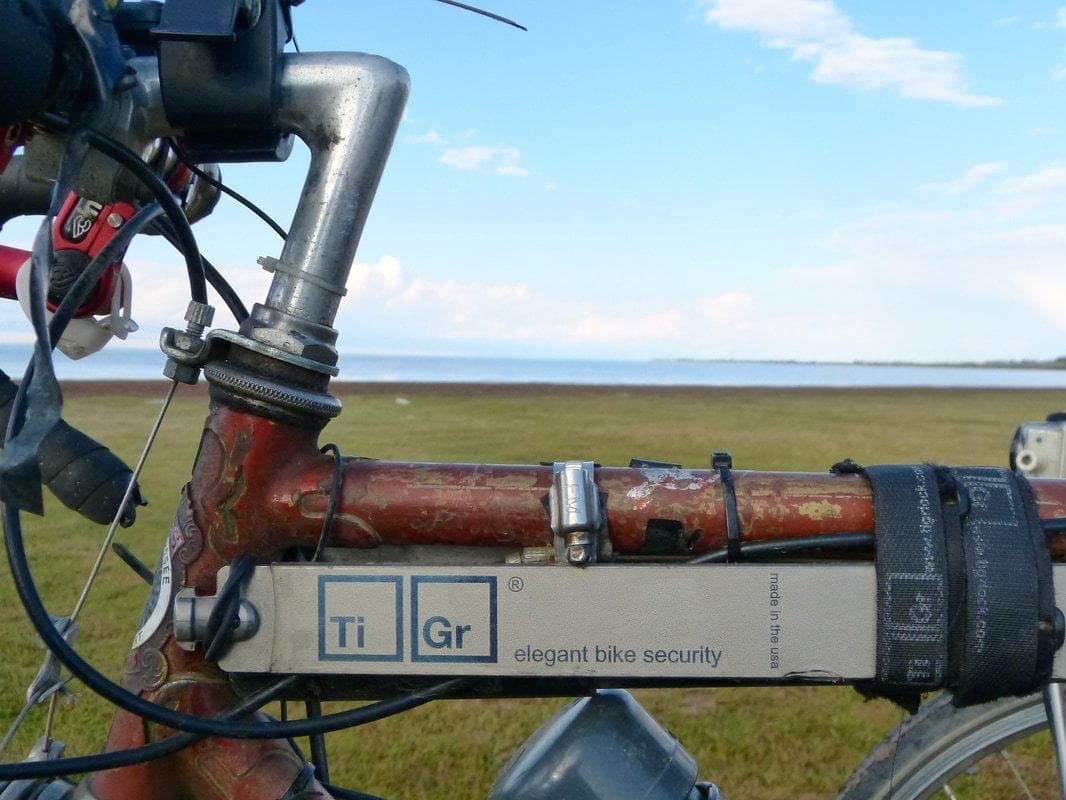 An in-depth review of TiGr lock, one of the best bike lock on the market. Check out our opinion on this titanium bicycle locks after a 25.000km test.
Bike locks are an essential component of a bicycle, meaning that there's a good chance your bike won't exist without it.
Therefore choosing the best lock for your bike is a challenge you are not allowed to give up. Some say to invest even 1/3 of the value of your bike in your lock, that won't be the case if your bicycle is worth more than a thousand dollars, there are no such expansive locks (to the best of my knowledge). Anyway, buying a top-notch lock will seriously relieve your worries.
When it comes to bicycle touring some are so brave to tour without a lock, I honestly won't advise doing so. It's true that a bulky bike is harder to steal, but if someone manages the theft… well, most likely your tour is over.
TiGr Lock was born in 2011 thanks to a successful Kickstarter campaign run by John Loughlin. In it's "bow" version, the one we'll review here, It's basically a titanium bar bent in half and closed by a steel cylinder.
The bow version comes in three sizes: short, standard, and long. We have tested the standard and long versions.

The locks have been with us on a two-years-long bicycle journey, 25,000km across 23 counties so, even though apparently the lock was never attacked, you can consider this review a real product testing on-the-road.
Disclosure: Some of our articles contain affiliate links. This comes at no additional cost for you and helps us keep this website up and running. (as Amazon Associates we earn commission from qualifying purchases)
Technical specs: materials and size availability
The Lock Cylinder is made of a Stainless Steel housing and a Rotary 7-disc locking mechanism it measures 2,54 x 4,57 cm and weights 14,2g (1.0 x 1.8 in., 5.0 oz).
The Titanium Bow is made of Titanium alloy and it's 3,17cm wide (1.25 in.)
TiGr® bow Short weights 590g (1.3 lb) with a total length of 46cm (18 in) and an inside length of 38cm (15 in)
and costs $159
TiGr® bow Standards weights 760g (1.7 lb) with a total length of 61cm (24 in) and an inside length of 53cm (21 in)
and costs $175
TiGr® bow Long weights 903g (2.0 lb) with a total length of 76cm (30 in) and an inside length of 69cm (27 in)
and costs $199
So, as you should've noticed, here stands one of the biggest strengths of the TiGr, its weight. With the longer version still way below 1kg, all of their competitors are no match for the TiGrs.
But what about its security? Check down below.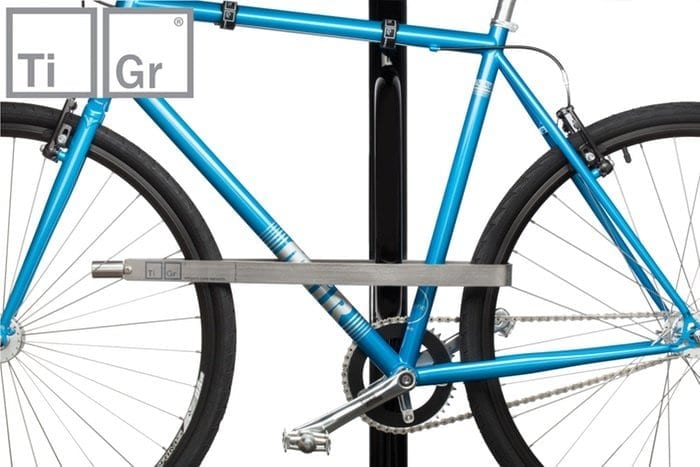 level of security
TiGr Locks scores an average 2 on the very demanding ART rating tests and hasn't yet been rated by Sold Secure. That means it is not as tough as a Kryptonite New York Fahgettaboudit Mini, the strongest on the market with an ART rate of 4.
Bear in mind though that U-Locks like this Kryptonite are unable to lock even just the basic configurations, such as front wheel and frame to a stationary object. That means one of these is not enough to safely lock your bike.
Moreover, not even the lightest of this lock goes below the 1kg barrier.
The bow lock, in its long version, is instead able to lock both wheels and the frame to a stationary object, the flexibility of the titanium makes it possible for it to go around larger objects.
Another strength of the TiGr is its intimidating look, most of the thieves will not even give it a try, at least that's what happened to us: in a two-year journey across Asia, we basically left the bikes in unsafe places for the night at least 50% of the time, despite that nobody ever tried to steal them.
Portability
TiGr locks are designed to be carried along the bicycle's top tube, tied with the Velcro straps provided. This position makes it almost impossible to feel the presence of the lock while riding, though it may be somehow in the way when carrying the bike on your shoulders.
The whole length of the lock, except for the small part that goes into the cylinder for locking, is covered in PVC, to avoid scratching the bike frame, two more small PVC sleeves are used to distance it even further from your beloved bike. That said a careless use can still scratch the frame, especially with the shorter versions, so be careful to use the sleeves properly. The shortest version can also be carried in panniers or backpacks.
In areas populated by nasty dogs, we used to carry the locks above the back panniers, to reach them easily in case of needs… what needs? Well, thanks to its size and shape TiGr locks can be easily used as clubs against threatening living beings, it usually works as a deterrent with dogs and humans (tested), though it was powerless against this cattle on psychedelic mushrooms, fortunately, there are not many of those around.
Customer care
TiGr is a family company, all locks are made by John and his pals in their workshop in the US. Whenever I wrote them a mail I got very quick answers and they were willing to solve my issues.
Issues
We only had one issue with our TiGr locks in two years of daily use. Though the titanium doesn't suffer from any kind of corrosion, that's not true for the steel: after 10 months in the humid areas of South East Asia, one of the cylinders got a little rusty and the key won't open it anymore.
After some struggle, we use some lubricant oil and waited a few hours, the cylinder started working again. When I told of this issue to Jim he immediately sent us two new cylinders free of charge (in Indonesia).
Conclusions
Of course, there's no way to determine a single winner for the category "best bike lock ever". However, IMHO TiGr ranks first as Safety to Weight ratio and scores good points for its versatility.
We haven't had any serious issue with it in two years and we love the way they look, the only real downside is the price, as these locks don't come cheap, if that is not a big issue for you, we feel we can highly recommend the TiGr locks (bow version), they are well suited for bicycle touring, everyday commuting and weekend rides.
Follow Us on Social Networks
Stay in touch while we get lost! Follow us on Social Media