HI! We are Daniele Giannotta (1982, musicologist, yoga teacher, and sound artist) and Elena Stefanin (1984, culture and human rights political scientist), and our project is just a respectful exploration of the world by bicycle for documentary purposes.
A journey in search of images, sounds, and words, hunting for unknown or forgotten treasures. A way to travel slower, closer to ancient rhythms, a kind of neo-nomadism.
A series of reportages about contradictions and conflicts, traditions and cultural evolution, natural wonders, and environmental risks of a quickly changing world.
2 Years by Bike in Asia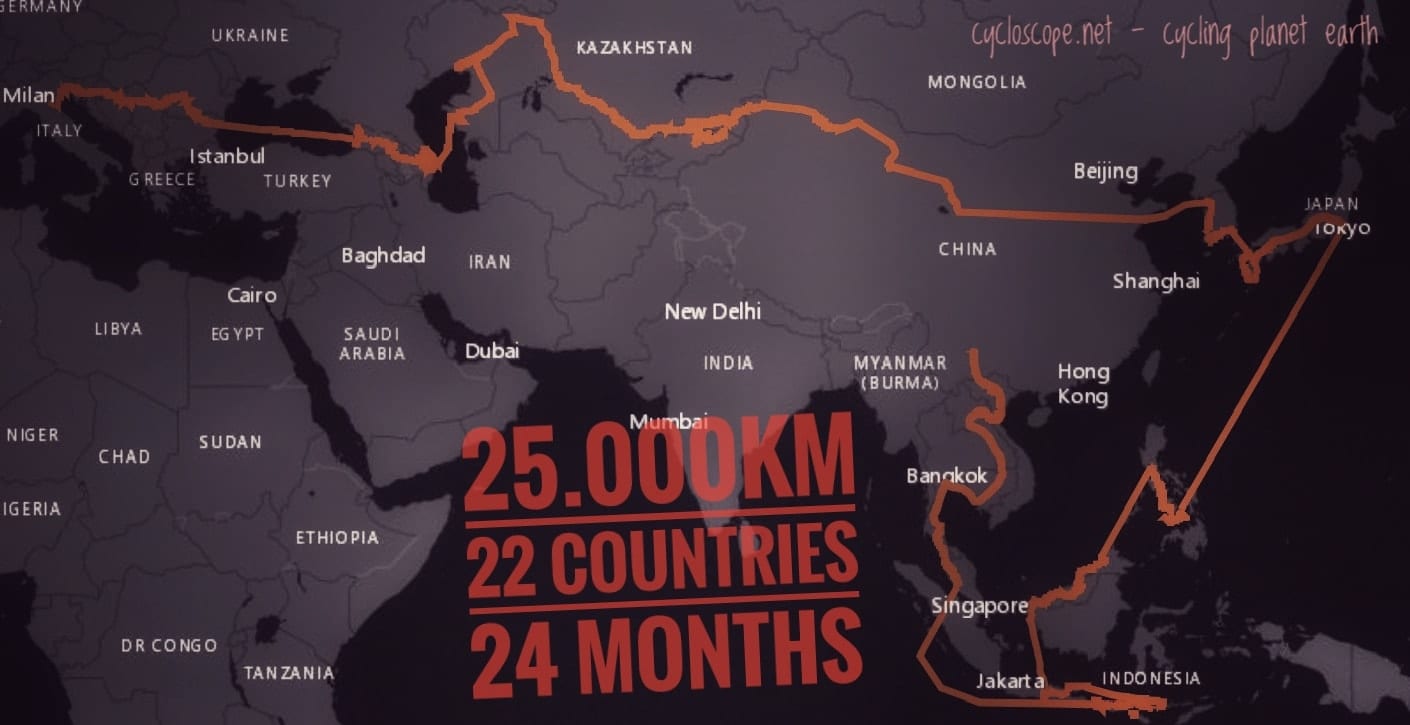 We left Bologna in May 2014, and since then we are on the road, pedaling Asia, Europe, and Africa.
We have traveled more than 60,000 Km, across 53 countries, trying to gather knowledge and information that shared, could simplify and at the same time deepen the experience for the next travelers.
Unlike non-human-powered vehicles (trains, planes, cars…), the bicycle puts travelers in close contact with the road, the landscape, and the people.
When you are cycling it is not the destination that matters but the trip itself
our blog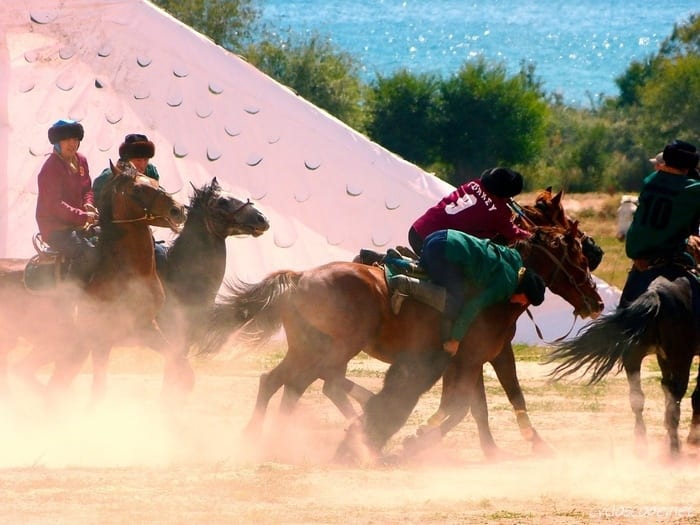 Welcome to our blog, cycloscope.net! This is the place where we share our thoughts, our experiences, failures, and misadventures, facts we witness, and hacks we learn.
If you like it, share it with your friends, comment on our posts, or get in touch.
If instead, you think we can do great things together, here is how to work with us.
Mapping the World
a Space Lapse video, composed of street-level pictures
One of the most ambitious parts of our ambitious project is our attempts to map the world by bicycle.
To pursue this goal we developed a system called Automatic Road Sampler, it's basically a device that automatically takes a picture from the bike every 250m and geo-tags it, to create a street-level photo map of the journey.
We invented it together with the makers' group RaspiBo, in order to create a database of geotagged pictures of remote areas of the world.
We are now uploading our pictures to the crowdsourced street-level photos website Mapillary, and putting together Space Lapse videos like the one above. We hope this could be of some use to other travelers.
Here's what one of our photo sequences looks like:
our videos
In 2015 we produced a series of video episodes about our journey that were broadcast by BikeChannel Italia (group Sky), the first 14 episodes are now available on our YouTube channel although only in Italian yet.
We are now working on the second series while looking for new investors, sponsors, and partners to produce it.
Here's one of our favorite episodes, about a small village in the Georgian Caucasus and the serious threat its people are facing.
what's next?
We lived in China for almost 2 years, working to fund future travels, until June 2018 when we hit the road again.
We cycled Europe for 6 months and then we flew to Cape Town, South Africa, in February 2019.
From there we started our African Tour, crossing South Africa, Lesotho, Swaziland, Mozambique, Zimbabwe, Zambia, Malawi, Tanzania, and Morocco.
After 4 years in Africa, in 2023 we traveled back to Asia to cycle Sri Lanka, and most notably, the highest roads in the world in the Indian Himalayas
Our next plan? To cycle the Americas of course!
We would like to find a way to mix some canoeing on our bike trips, but we still have to find out how. We're also thinking of hang-gliding with folding bikes… are we going too far?
Us
[column size=one_half position=first ]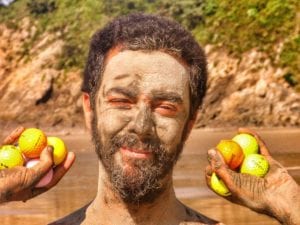 Daniele Giannotta
born in Catania (Sicily) in 1982, I'm fond of soundscapes, ethnomusicology, bicycles, natural living, science fiction, canoeing, writing, making music… yes that's a lot of things, can't help it.[/column]
[column size=one_half position=last ]
Elena Stefanin
I saw the world for the first time in '84 in a little town close to Bologna.
I love nature photography, hiking volcanoes, and say what I think. I studied cultures and human rights and I'm interested in nomadic cultures and anthropological and naturalistic reportage. [/column]