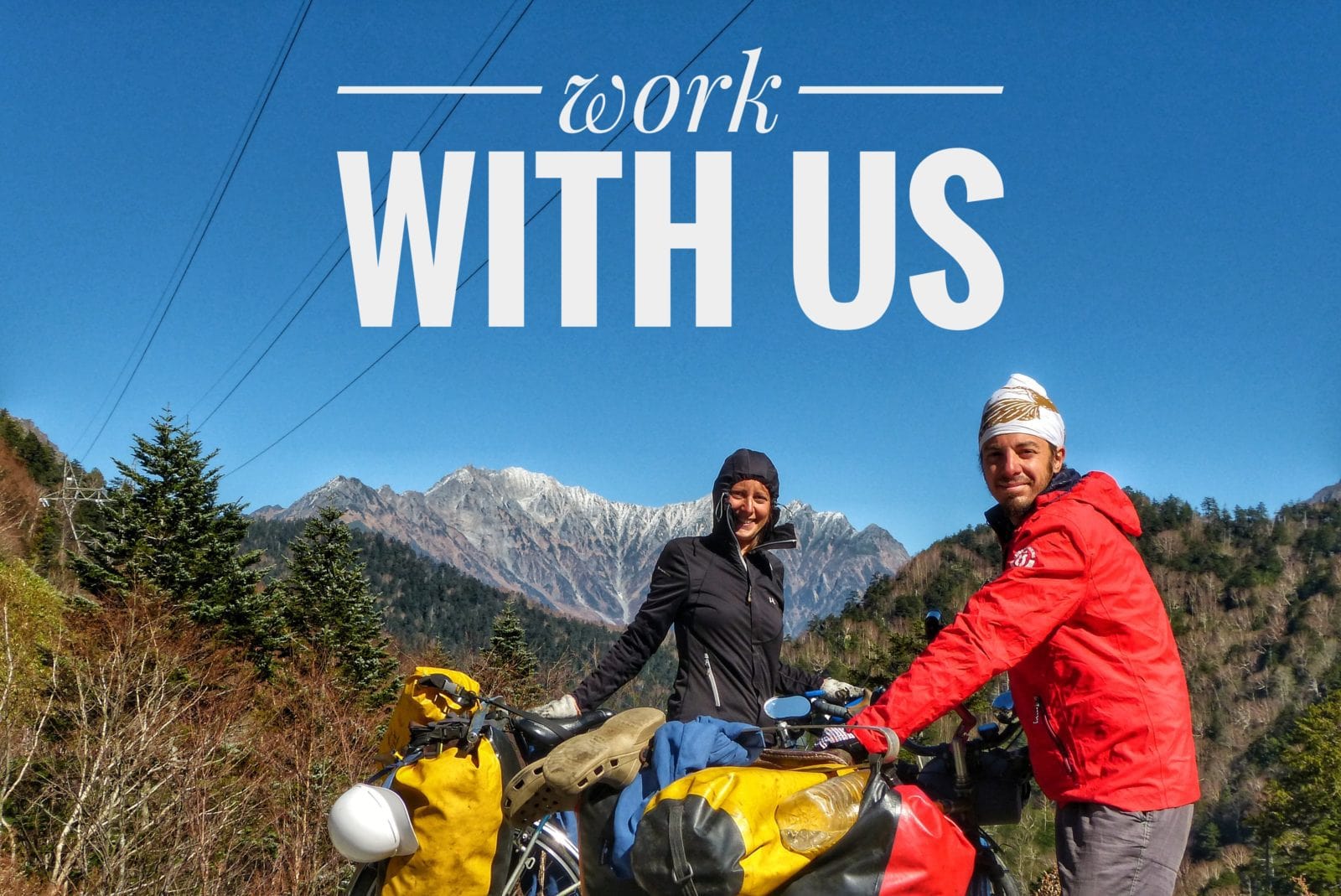 Looking for trusted adventurers to partner with? Start working with us today! Cycloscope is a quickly growing bilingual (English/Italian) Travel Blog, already on the path to lead the Bicycle Touring and Adventure Travel niche. We blog about destinations, itineraries, gear, travel hacks and general advice, our voice is trusted by thousands of outdoor lovers, cycling enthusiasts, budget travelers, and hikers. We think experiencing adventures and meeting new cultures is the key to knowledge and happiness. We deliver a clear message: adventure travel is for everybody who dreams of it, no matter the budget nor the age.
[divider]Let's Work Together[/divider]
What we can do for you
We love to work with people and organizations who share our cultural values and love for adventure. We are open to partnering with gear brands, travel companies, hotels, media, websites, official tourism boards and embassies.
Technical partnership
We live on the road since 2014 and do not wish to stop. Our plan is to cycle, hike, and paddle all the continents. Let us be your brand ambassadors: working with us will get your brand a real boost in visibility and that epic aura only real adventure can give.
Your products will be heroes of a great tale, featured in dozens of pictures and videos, tagged in social network posts, reaching hundreds of thousands outdoor and travel enthusiasts, endorsed, tested and reviewed by trusted adventurers.
Product Testing
Let us try your product: we live every day on the edge, putting ourselves and our gear into different and sometimes extreme conditions. We can give you feedback on how your product withstands a real adventure, the good, the bad (we keep this strictly between you and us), what can be improved and what's already perfect.
Expert Review
A full in-depth review of your product: thanks to our premium review Wordpress theme, our users will get a quick overview of your product rating on different aspects. They will ear a trusted opinion on how your product stands adventure, what makes it great, and why they absolutely need to buy it.
Check our review of TiGr bow lock for reference
Pictures and Videos of your product in real action
Professional Hi-Res pics and videos to share on your Social channels, use in your product catalogs or whatever else you may want to do with it. Imagine your tent in the Himalayas, your shoes walking the trails of Northern Vietnam, your raft paddling the Mekong river.
Social Media Coverage
Your brand as a protagonist on our social media channels. Reach thousands of hi-targeted followers by being featured on Instagram, Facebook, and Twitter. Gain traffic to your website and social media through our links and tags.
Get some of this or all of the above by partnering with us, we can design for you a brand-specific campaign, over months or even years, bringing your products to the eyes of thousands of potential new customers.
---
[aps-counter]
External Partnership
Banner Ads
Advertise with us: place your banner into our sidebar, footer, header, and even in the middle of our content. We offer great rates for such a rapidly growing blog.
Sponsored Posts
Let us cast a spotlight on you, we can help you stand amidst your competitors. Get guaranteed lifetime visibility for your company with a dedicated post on our blog, provide your content or let us write it. We offer social media shares and homepage featuring.
Social Media Shoutout and Giveaways
Gain followers and visitors to your websites, attract potential customers for your business by being featured on our social media profiles. Let us handle your giveaways through our loud social voice.
Press Trips
Boost your travel company or destination by inviting us for a sponsored trip. We offer full social media coverage, trip review, pictures and videos to help you reach a wider audience.
Drop us an e-mail
or use the form at the bottom of the page

Why Us
We may not have the most impressive numbers (yet) but we are long-term adventurers, living a life on the road, our experiences are highly engaging and inspire people to fulfill their dreams. And it's not just that, we are also communication experts, with high-level skills in social media management, photography, writing, and videography. Our videos have been broadcasted by Sky Co. (BikeChannelTV), we've been interviewed by major Italian newspapers and featured on a great number of online magazines and blogs.
---
Our Readers
The audience of Cycloscope is broad but mainly targeted to individuals/couples with a taste for adventure. As of October 2018, 22% of our users come from the US, 11% are Italians 8% both from Germany and UK, many visitors also come from Japan, Malaysia, Australia, Canada, and France. Our fanbase is evenly split (50%) between women and men, 35% of whom are aged between 26 and 40 years old.
Drop us an e-mail
or use the form at the bottom of the page
[divider]what's next[/divider]
We are living in China at the moment, working to fund the future travels.
We will be on the road again in 2018 to ride Vietnam, Laos, Thailand, Myanmar, India, Nepal, Sri Lanka, Pakistan, Iran, Armenia, Turkey, Greece and finally be back to Italy (at least that's the plan right now).
We plan then to stop a few months in our hometowns before heading to Africa for another several years journey. Then, of course, there will be the Americas.
We would like to find a way to mix some canoeing in our bike trips, but we still have to find out how. We're also thinking of hang-gliding with folding bikes… are we going too far?
[wpforms id="1552″]