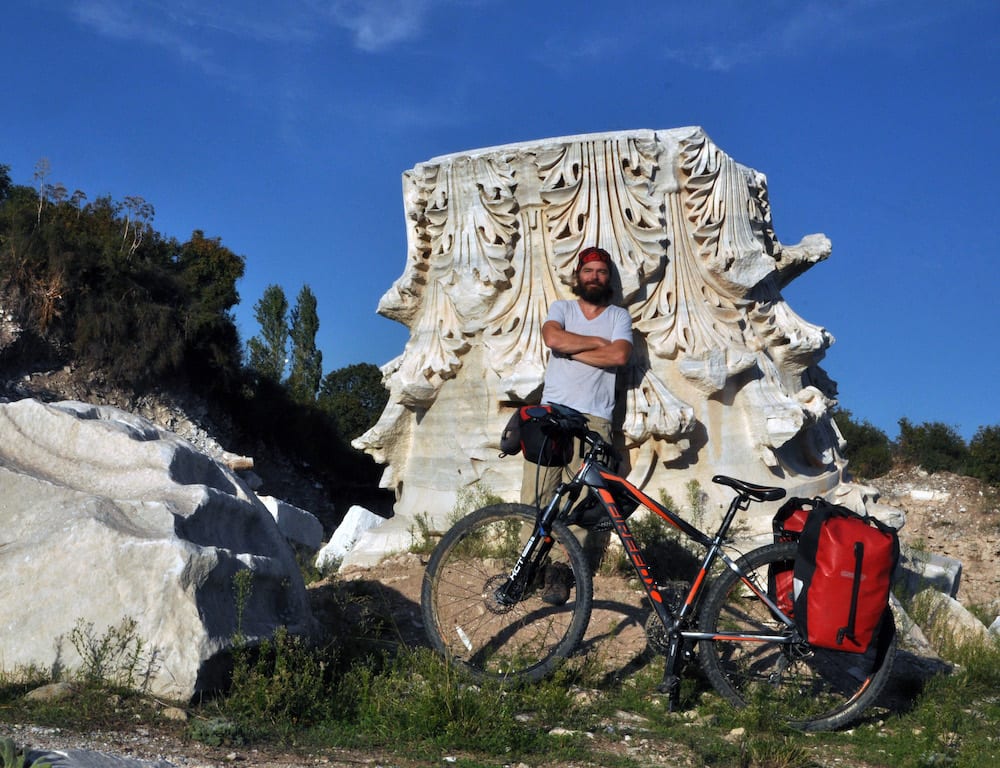 Cycling in Turkey
Bicycle touring across or a short bike holiday? Looking for MTB trails in Turkey?
Here are itineraries, advice, and everything you need to know to ride through Turkey on a bike
If you arrived here on this blog post, you're most likely planning to ride through Turkey on a bike. Let me tell you, smart idea!
Turkey is a great cycling destination, although underrated and lacking bike holidays infrastructures, bicycle touring in Turkey is a great experience.
If you're on a longer bike trip, crossing Turkey on your way to the Silk Road and the Far-East, this guide we'll see you through with 5 different long-distance bike routes.
If instead, your idea is a bike (or MTB) holiday or a shorter bicycle tour, we'll provide you with 8 detailed bicycle itineraries, all of them stunning and memorable.
Turkey is more known for beach holidays and those who do cycle there tend to be trying to get somewhere else.
It is though a big beautiful country, with diverse landscapes, friendly people, gorgeous ancient ruins and monuments… lots of stuff to see, and seeing it from a bike is a great way of escaping the tourist bubble and truly enjoying it.
This article is completely the work Scott Newman, based on his own many trips in Turkey and the advice of other cyclist friends. He is a freelance writer and former archaeology postgraduate student.
Scott has been a regular visitor to Turkey since 1994 and has traveled the whole country many times both with and without his bike. Scott took all the photos in the article, for more photos and video of Turkey and his other adventures around the world check out his Instagram: SCOTTMINEWMAN
Check Also Scott's book: Bloody Istanbul! A history in murder, riot, and revolution
Planning a bike trip around Central Asia? Check also
Bike touring beginner? Have a look at
---
Disclosure: Some of our articles contain affiliate links. This comes at no additional cost for you and helps us keep this website up and running. (as Amazon Associates we earn commission from qualifying purchases)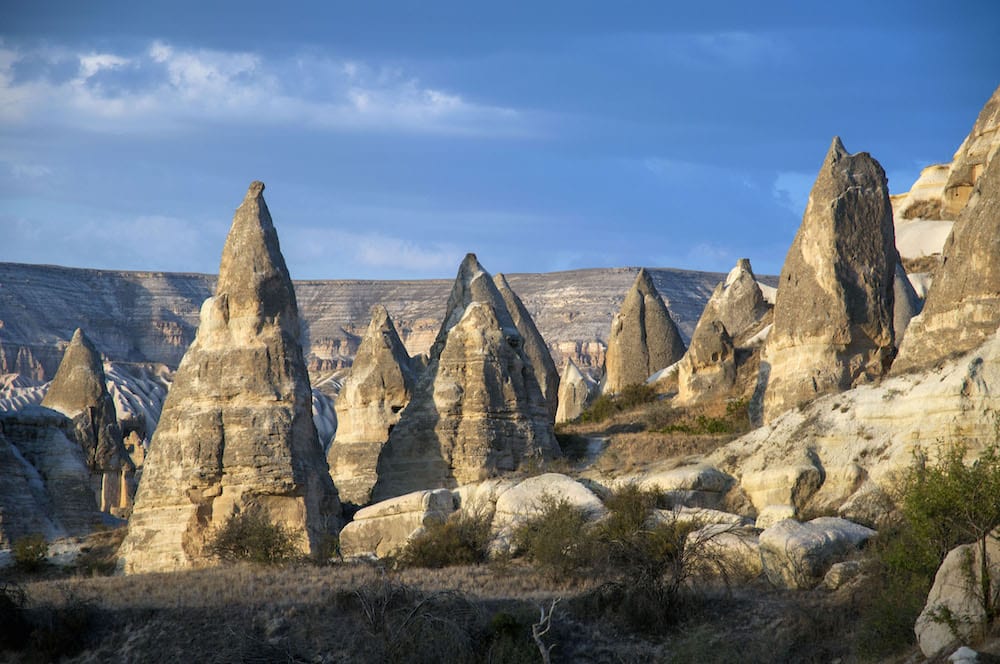 Geography of Turkey
Turkey is a large country bridging Asia and Europe measuring 783,356 square kilometres and west to east by road is about 1.700 km. The population is around 80 million, more densely on the western coast.
Only 5% of a Turkey is in Europe, a small triangle land stretching about 200 km between the Greek and Bulgarian borders and Mega-City of Istanbul. The land itself is dominated by low hills and a mix of agriculture and dense scrub.
The remaining 95% of the country is effectively a large rectangular peninsular projecting westward from Asia known is Anatolia, or Anadolu in Turkish.
Most of Anatolia is a grassy high plateau at 1.000 – 2.000m dropping steeply to long Mediterranean, Black Sea, and Aegean Coasts but rising to some serious mountains in the East cut by the Euphrates and Tigris rivers.
The Aegean coast is a classic Mediterranean landscape of hilly Olive tree county centred around the industrial, port city of Izmir.
Several major rivers flow from east to west and have made wide, Agricultural planes. Between Bodrum and Marmaris the coast turns sharply east and becomes the Mediterranean.
Here is the coast of ancient Lycia, the mountains are steeper and more covered in pine forests and the coastal plane often very narrow. The Lycian coast ends at the major City of Antalya, with major tourist resorts and long way plain.
From here the coast becomes even steep and rugged, around Anamur and Silifke, before ending with the wide cotton-growing Çukurova plain and the cities of Mersin and Adana.
Turkey's Black Sea coast is wet and green and step hill covered with dense vegetation drop steeply to the coast and densely packed towns and village fill anything vaguely resembling flat land.
The mountains behind the coast get higher from west to east with the highest peak Mount Kaçkar reaching almost 4.000m.
Many north-south river valleys cut these steep, almost Alpine mountains, but the Çoruh valley is the most important is the major route from the interior to the coast. What once was a world-class rafting destination, is now dominated by several large hydroelectric dams.
The interior of western Turkey has suffered major deforestation and is dominated by grassy hills and plains where sheep and goats graze at an altitude of around 1.000m. Here is the capital of Ankara, and the volcanic lunar landscapes of Cappadocia.
The east is higher and more mountainous, with major cities like Van and Erzurum at nearly 2.000 m. In the North East, near the borders of Iran and Armenia is Turkey's highest and most famous mountain the 5,137m Mount Ararat (Ağrı Dağı).
Two of the World's most famous rivers, the Euphrates and Tigris are born in the mountains of Eastern Turkey and flow south to the great wide plain of Mesopotamia on the border of Syria. In the centre at 1.600m is Lake Van, it's 3,755 km² makes it almost an inland sea.
Weather and Climate in Turkey
Turkey's diverse landscape produces diverse local climate but a simple summary is – hot, humid summers and cold snowy winters, but both cooler and drier away from the coast.
Summer days in Istanbul and European Turkey are around 30°C but high humidity makes them feel much hotter.
Winter is dominated by cold air coming off the Balkans but the sea generally keeps temperatures above freezing.
Late spring has the most reliable weather, generally sunny with daytime temperatures around 20-25°C while autumn tends to have more rain.
The Aegean and Mediterranean are also humid, but even hotter with 40+°C days common in July and August.
Spring and Autumn are ideal with most days sunny and 25-30 °C but broken by around one day a week of heavy rain.
Winters are mild with the average temperature around 15°C, there's still a lot of sunny days but expect 2-3 days a week of rain.
The Black Sea coast is milder but wetter. Summer days are around 25°C but about 2 days a week rain. The rest of the year is around 3-4 days a week I'd rain and around 1 day of sun, but days around 15°C during spring and autumn and 10°C in winter.
Central and Eastern Turkey have significantly less humidity than the coast with milder summer but much colder winters.
Expect summers days to be around 30 C with the occasional thunderstorm. Autumn and Spring are milder but with more rain, particularly in Western Turkey.
Winters tend to be snowy, with daytime temperatures just above zero in the western, but the higher altitudes in the east mean regular heavy snowfalls and daytime averages more like -5°C and much colder at night.
The Mesopotamian plain though have the same cold winters but extreme summers with 40+ C common.
Best time to cycle in Turkey
Basically the best time depends on where you want to go. Anywhere you will go though you will find the high summer hot and the sun strong. The higher you get though the more bearable it will be.
Summer in the Aegean and Mediterranean though is extremely hot and humid and with peak crowds and traffic and it's best to leave it to the beach lovers.
If you're planning a tour the 1.700+ km from one side to the other, then May-June and September-October are ideal – but the closer you get to summer the hotter will some places be – while May and October can be rainy in some areas and cold in others, with the possibility of snow on higher passes in the east.
If you can deal with the intense sun, cycling in the higher altitudes of the east can be bearable even in August especially with a midday siesta.
If your plan is to cycle Turkey along the Black Sea coast, the summer might be ideal, although humid it is less hot much less rainy compared Spring and Autumn.
If you want to do a bike tour in Turkey near the Aegean and Mediterranean areas, then Spring and Autumn are ideal cycling weather and the crowds are gone. Even half the days in winter are perfect but you will have to deal with a couple of days of serious rain a week.
The Roads of Turkey on a Bike
Turks love building things and a lot of money had been spent in road-building in recent years. Turkish roads tend to be new and well maintained and often surprisingly good relatively to the amount of traffic.
As a rider on a cycling tour of Turkey, this means that on major roads with any traffic you will have a good shoulder to ride on, while minor roads will rarely have enough traffic to make you feel unsafe.
The downside of this is that a lot of tunnels have been dug in the last few years. These tend to be well lit and properly ventilated but some are narrower than others and a few even off-limits to cyclists.
Generally the ones that are unavoidable like those in the Çoruh valley around Artvin are wide enough to be safe while the narrower tunnels are often off-limits to larger trucks and the old road still exists.
Dedicated cycle paths basically don't exist, though some municipalities are developing urban cycle routes.
Cities in Turkey are high density and a major increase in car ownership in recent years has produced heavy and often chaotic traffic.
Dedicated bike lanes and paths are starting to appear in major cities but are rarely useful for getting in and out of town. Major cities, particularly Istanbul are not well designed to cycle in and out of and – while less bad than other major Asian cities – they are best avoided.
The best way in or out of Istanbul is by boat. The metro system is growing rapidly and takes bikes outside peak hours but does not reach far enough to be particularly useful – that will hopefully change soon.
The port of Yenikapi in Central Istanbul, accessible by a coastal cycle path and multiple metro lines has several ferries a day to Yalova, Mudanya, and Bandirma on the southern side of the Marmara Sea and they take bikes for free.
The Metro lines in Izmir and Ankara and most usefully Izmir will take bicycles outside peak hours and have lines in some useful directions to the edge of the city or even nearby towns, similarly the tramway in Antalya can save you some ugly urban fringe freeway cycling.
Finding Accommodation when Bicycle Touring in Turkey
Warmshowers has a limited presence in Turkey, hosts are rare outside major cities in the West. Similarly, formal campsites exist in some smaller coastal towns and places popular with hikers like the Kaçkars but are otherwise rare.
There are hostels only in Istanbul and some touristic places, most towns though will have one or more two to three-star hotels with breakfast from 50 – 100 Turkish Lira (7-14 Euro).
The vast majority of hotels will find a place for your bike, usually some kind of storage room, sometimes this will be in the basement and you will have to carry your bike down some stairs.
Wild Camping in Turkey
Turkey is generally fairly accepting of wild camping, with apparently few formal rules. In remote areas, stealth camping is often possible, but be warned that rural areas have plenty of dogs, particularly the infamously fierce local sheepdog known as the Kangal, one of the biggest danger to those cycling in Turkey.
Further from civilization, there are abundant wild boars in the Mediterranean region and some bears and wolves, particularly in the North East. The Turkish countryside is though overwhelmingly rural and if you're planning on a lot of camping you're most likely to be on someone's land.
Turks are generally welcoming and hospitable and the places you're likely to cycle through see few foreigners – requests to camp by a bicycle tourist will frequently be treated with warmth and generosity.
Villagers, though, rarely have any knowledge of English, – the word 'camp is simply 'kamp' in Turkish, so that should make you understood.
Safety in Turkey
Turkey has been in the news a lot for the wrong reasons and now many people's first question is "is it safe to cycle in Turkey?" The answer is overwhelming yes, but the county is not without issues.
And while yes, violence and terrorism exist, fundamentally earthquakes and bad drivers are more likely to kill you.
Eastern Turkey, in particular, has suffered ongoing violence between the Turkish Military and the PKK, an armed separatist group from the Kurdish minority.
While you are extremely unlikely to be caught up in any violence you will come across a heavy military presence which will mean checkpoints and some limits on where you can go and particularly where you can/should camp.
Fundamentally the mountainous region in the extreme south-east of the country, south of Lake Van and east of the Tigris river and Batman, are best avoided. A lot of this conflict happens at night and so wild or stealth camping in the Kurdish areas is absolutely not advisable – don't camp anywhere here without the knowledge, advice, and consent of locals.
Finally, Turkey has a reputation for being a country more enjoyable by male than female travellers. Female travellers, particularly solo female cycle-travellers, will have to face excessive attention from local males.
Outright violence, while it happens, is rare but, for comfort and peace of mind, female cyclists will have to ask themselves a few fundamental questions, particularly involving camping and choosing more remote routes. These are questions that we cannot answer for you, but questions that every female cyclist will have to confront
Costs of Cycling in Turkey
Turkey is cheaper than many European countries but more expensive than countries further east in Asia.
Over the last few years, the Turkish Lira (TL) has fallen steeply, making it more and more affordable. Inflation though has risen to around 20% so prices for 2020 will go up.
How much you spend will vary on the level of comfort you choose, and where in Turkey you are.
Turkey has an abundance of hotels with a variety of prices. Turkey has plenty of comfortable two to 3-star hotels 50 – 100 TL (7-14 Euro) with breakfast.
A local meal, such as a kebab in an average restaurant is around 20-25 TL (3-4 Euro) and a smaller lighter meal such as a Dürüm (Kebab wrap) 7-15 TL.
Thus, on average, the 'comfort' option is around 100-150 TL a day (15 -20 euro). If you camp regularly, this price can come down a lot, similarly, if you also cook your own food – cheap supplies are readily available, making the budget drop to a few euro a day.
Cycling Turkey on The "Cultural Routes"
The opening of the 540 km Lycian Way Hiking path in 2000 was a key moment in the development of adventure tourism in Turkey.
While the Lycian way itself is most definitely not bike-friendly, it has become the first of an increasing number of 'cultural routes', many of which have cycling options.
They're often not well marked, but basically, they've done the hard work of finding roads that are good cycling, and pass by interesting sites.
Useful routes include:
the 'Mimas Route' around Izmir
the 'Sultan's Way' in European Turkey
the 'Phrygian Way' in central-western Turkey
the 'Evliya Çeliba Way' from Izmit through Iznik to Kuthaya
the 'Sufi Trail' from Istanbul to Konya a
the 'Hittite Way' and 'Gastronomy route' around Çorum, northeast of Ankara.
More details can be found on their website http://cultureroutesinturkey.com.
8 Best Cycling Routes in Turkey
1. Izmir and the Central Aegean
Izmir is Turkey's third-largest city, while it has limited interest in itself, the region attracts tourists for beaches and archaeological sites like Ephesus.
Izmir region has a dense network of rural roads that lead a cyclist through olive groves to less-visited ruins and beautiful sea views.
It can be astonishing how easy it is with a bike to get off the beaten track even within sight of one of the country's most visited tourist attractions.
The Izmir metro has absorbed regional train lines, making it easy to take a bike in and out of town – north towards Menemen and Aliağa and south towards Tobali and Selçuk – while heading west towards Çeşme, you're going to be stuck on the highway for as much as 40km.
With a dense network of country roads and plenty of relatively cheap accommodation, it's also prime territory for anyone who wants to dump their bags in a hotel and take a bike out on 1-2 day trips or bikepack light.
The local municipality is waking up to this and has established a network of cycle routes, though for the moment this seems to consist of little more than largely ignored signage.
1a. The Çeşme peninsula
The Çeşme peninsula is a very popular summer destination on the doorstep of one of Turkey's largest and most developed cities but, especially out of season and away from the main resort towns, it can feel surpassingly rural.
The combination of concentrated development, lots of beautiful coastline, and loads of bike-friendly roads through the rural interior adds up to an ideal cycling destination in coastal Turkey.
The most attractive bike route here is the 140 km coastal ride from Urla to Ildır along the northern lobe of the peninsular.
There's also a 90km route, largely along the coast from Urla to Selçuk, via Seferhisar and the extensive ruins of Teos. But there are many, many country routes suggested on the official map that would take a week or more to explore.
The main downside is the first 40km from Izmir to Urla where there are few alternatives to the main Highway.
---
1b. Around Selçuk
Most tourists visit Selçuk for a one-day to visit the world-famous ruins of Ephesus, but the Aegean coast and hinterland, filled with olive-tree-covered hills make for some good cycling and it can be a good base for day trips.
There are so many potential routes in the area, our favourite cycle route though was not in the official network – a 40 km route from Torbali train station, via the ruins of Metropolis then south to Ahmetli and crossing a remote ridge before descending with incredible sea views to Zeytinköy to Selçuk.
The hills behind Selçuk are known for the somewhat touristy former Greek village of Şirince, but beyond this, they get remote and rugged quickly and the dirt roads make good mountain biking, though with an unmapped web of forest roads it's very easy to get lost.
21km along the coast is Ahmetbeyli with the little-visited, barely touch ruins of Notion with spectacular sea view, and 2km inland is the temple of Claros.
1c. Foça and Eski Foça
Another popular Izmir getaway is the northern coastline around to old former fishing towns, Foça and Eski Foça.
You can take Izmir's metro north to Menemen and return from Biçerova or Aliağa, this opens up a 70km day ride with a beautiful section of coast around Foça and Eski Foça.
Unfortunately, after Eski Foça is Aliağa, a large industrial port town, while further north you're going to be stuck on a very large freeway.
2. The Southern Aegean & the Beşparmak Mountains
The Southern Aegean has some beautiful, countryside and less-visited ruins that are surprisingly unaffected by the nearby tourist hotspots.
The area is crossed by several major highways but there's an abundance of good quality secondary roads that make this area of Turkey good cycling.
2a. Around Sõke
From Selçuk it's a steep climb southwards then 45 km to Söke via the ruins of Magnesia with the extraordinary but little known Stadium, a huge building that is only now being slowly dug out of the sand dunes.
From Sõke you can make a 105 km loop to visit the ruins of Priene, Miletus and the temple of Didyma (modern Didim). This loop is a long day but it's large, flat, easy cycling. Otherwise, you can stay in Didim if you're heading south from there.
2b. The Beşparmak Mountains.
Alliteratively, from Magnesia you can head southeast to begin a loop of the Beşparmak Mountains.
From Magnesia, head southeast across the plain of the Büyük Menderes river towards the mountains and then a good little road takes you through Koçarlı following the northern and eastern fringes of the mountains to Çine, about 92km from Selçuk.
From Çine, head east through the hilly olive country for the ruins of Alabanda (Doğanyurt) and Alinda (Karpuzlu), make sure you take the Ömerler road.
From Karpuzlu it's a tough 700m climb to the mountain-top ruined temple town of Labraunda, then a glorious downhill to Milas.
From Milas it's 12 km north on the highway to the well-preserved temple of Euromos, backtrack a little and then cycle the 19km up and over to the little fishing town of Kıyıkışlacık and the ruins of Teos.
44Km more will take you to Didim or 90 km to Sõke to complete the loop.
2c. Muğla – Akyaka – Bodrum
On the southern edge of Milas, there is a worthwhile 5km detour to Beçin Castle, though at some point you may want to chain your bike and walk up!
Beçin is a crossroad, you might continue south for 45 km, up and over to Ören, but you're more likely to ride the 49km west on the highway to Bodrum.
Going east it's 30 km to the impressive ruins of Stratonikeia, but that's also a 700m climb on a major highway which is not the most enjoyable bike ride in Turkey – 5km further is the town of Yatağan, and 10km up a side road the ancient Temple of Lagina is also a worthwhile detour.
There's also another highway from Çine but it's effectively the same climb in 38 km. Yatağan is though pretty much the top, and the 25 km to the provincial capital is a straightforward slightly downhill to the small provincial capital of Muğla.
More interesting is the remaining 27km to the sea in Akyaka, which drops 750m in the last 7.5 km – it is a glorious downhill but I wouldn't want to ride up it.
Finally, the road from Akyaka to Bodrum is a beautiful 109 km bicycle route through a remote and rugged coastline.
That extreme ruggedness though means that at multiple points the road turns inland, with two major 400m climbs, and several lesser climbs.
The first 24 km is an easy coastal ride to the very pretty little seaside village of Akbük which can get very crowded in summer but heaven any other time.
From Akbük to the next beach in the small town of Ören, built over the ruins of Keramos, is only 21 km but has the first 400 m climb.
From Ören it's is 63 km to Bodrum, a beautiful ride except for the huge coal-burning power plant. The road though, soon climbs another 500m in 16km, with several other lesser climbs before reaching Bodrum.
There are many things to do in Bodrum itself, another trendy tourist town that turns back in a chilled coastal town out of season and has an eye-catching Crusader Castle and the remains of the Mausoleum of Halicarnassus, one of the seven wonders of the world.
3. Turkey Cycling Routes on The Mediterranean Coast
The Western Mediterranean coast map
It's 500 km from ancient Knidos on the tip of the Datça to the provincial capital of Antalya and the Turkish Mediterranean coast is arguably even more beautiful than the Aegean.
The best sections of the highway like Kalkan to Kaş and Demre to Finike are truly glorious cycling. It's definitely worth cycling west to east to be on the scenic side of the road!
The downside though is you usually have few alternatives to the main highway and a lot of that highway is inland.
3a. Marmaris & Datça
Marmaris & Datça are basically one multi-pronged peninsular sticking out from the southwest of Turkey. It's quite hilly, green and outside of the main resort town of Marmaris, it can be quite remote.
If you're on a longer cycling trip across Turkey, you can take the ferry from Bodrum to Datça or continue east from Akyaka for Köyceğiz and Fethiye.
Datça is a seaside town that has tourism but has managed to avoid being dominated by it. The 35km to the ruins of the Knidos on the peninsular's tip makes a good day trip, the main road heads down the centre but the detour down to the coast at Palamutbükü and Mesudiye is a beautiful bike ride.
From Datça to the resort town of Marmaris is 68km through surprisingly remote countryside, following the ridge of the peninsula with, again, a lot of ups and downs, totaling at least 1000m climbing.
Marmaris itself is one of the least inspiring tourist towns on the coast, but it calms down a lot outside of summer and it's location stunning.
It has also set up a network of day-trip cycling trails in the area if you want to stay somewhere for a few days.
The western coast through Selimiye and Bozburun is equally spectacular, less developed and magnificent cycling. You can either detour south off the Datça-Marmaris road or make one or two-day trips from Marmaris, but crossing the centre of the peninsula means a 500m climb.
3b. Marmaris to Fethiye
East of Marmaris the coast is an off-limits military area, and the 140km to Fethiye is largely inland, via the lakeside town of Köyceğiz, Dalaman airport, and the trendy yachting town of Göcek.
To reach Göcek the highway passes through a 900m tunnel, but cyclists have to climbs the 345m high Göcek pass, – this may change when the second tunnel is opened to relieve the traffic.
You can break the section in Köyceğiz or 10km to the south is the resort town of Dalyan, famous for its Loggerhead sea turtles, the ruins of Caunus (there are rowboats to take you across the river) and the nearby beach of Iztuzu.
3c. Fethiye – Patara
Fethiye is a growing town on a great wide bay, it's a pleasant enough place to stay, but it's more of a base to visit the surrounding region than an attraction in its own right.
Heading east is 80 km of relatively boring highway. Instead, you can head to Esenköy and take a much more quiet and scenic route, aiming for the village of Minare, with the wild and extensive ruins of ancient Pinara.
Alternatively, take the highway as far as Kemer, and then climb up to the ruins of Tlos and explore on foot the canyon of Saklıkent, cross the freezing stream and head up the canyon as far as you can.
Both these ruins bring you back to the highway near Kınık with the ruins of Xanthos, and 7km of the Highway is the temple of Letoon.
Your final side trip option is 3km off the highway the little town of Patara-Gelemiş which has perhaps the best ruins along the coast, don't miss the lighthouse at the far end of the site and, beyond the ruins, there is a big long beach.
One of the main attractions of Fethiye though is the gorgeous stretch of coast to the south beginning with the 'blue lagoon' of Ölüdeniz and ending with the isolated hip hippies of little Kabak.
The ride to Kabak is beautiful but, unless you're hiking through Kabak unfortunately, it is the end of the road. But if you backtrack to Faralya and are willing to do a 1000m climb on gravel, you can take the road through Kirme and Alinca to rejoin the highway at Esen. It's a tough climb but the reward is a stretch of gorgeous scenery.
3d. Kalkan – Kaş – Demre – Finike
The 110 km from Patara to Finike has two long gorgeous coastal rides, that are basically why you've come cycling in Turkey. This is one of the greatest coastal roads anywhere and there is no better way to see it than on a bike.
There are four towns along the way:
Kalkan is known for being a bit upmarket but with no beach and little to actually see;
Kaş, though touristy, can feel a little more relaxed and the view over the sea from its Roman theatre is wonderful;
Demre is very much tomato town, but the Byzantine church of St Nicholas is most definitely worth a stop; The ruins of ancient Demre/Myra itself are pretty much just a Roman theatre, similar to a lot of others you've seen along the coast but the nearby ancient port of Andriake with Hadrian's giant granary is more interesting.
Finike makes better use of its coast than Demre, but it's not exactly memorable.
After the big climb out of Kaş, look for the turn off to the right for Çevreli and Üçağız which is the next good escape from the highway.
The little port village of Üçağız is the hub for popular boat trips to the sunken city, there's not a lot to see but a boat trip can make for a nice change.
If you take cycling Turkish dirt roads, to the left/east past the cemetery you can walk up the Lycian tomb studded hill and visit the little former Greek village of Kaleköy– the waterfront restaurants make a very enjoyable luxury.
There are two minor ruins along this road, visited largely by Lycian Way hikers. Near the village of Kılıçlı, west of Çevreli a very basic road leads southwest from the village, and to the right, a low hill contains the meager ruins of Apollonia.
There are lots of Lycian tombs, a Byzantine church and a tiny theatre, but the castle on the top of the hill is worth the climb for the view. While to the east, right where the Çevreli road meets the highway, another cluster of Lycian tombs marks the site of ancient Sura.
In the valley below was a fish temple where priests would read the future by watching sacred fish swim.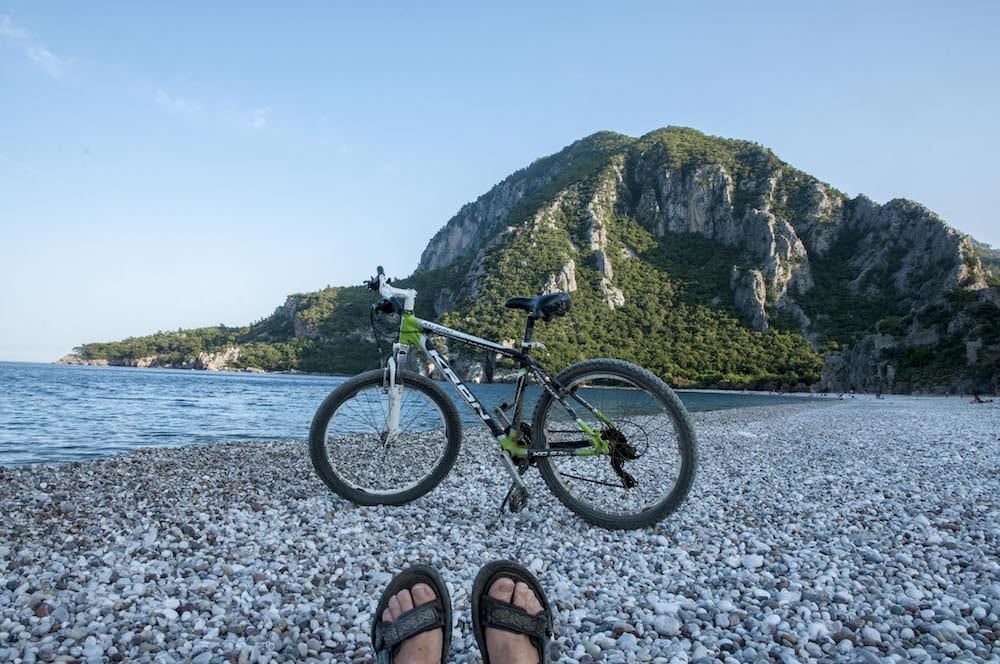 3e. Finike – Olympos – Antalya
From Finike it's 130 km to Antalya, mostly inland on the highway but with a lot of patches of sea-view. There are two tunnels but they are nothing to be afraid of.
Heading east from Finike there's a long ride on the highway by the beach but, when the road turns inland for Kumluca, you can keep going along the coast to Mavikent and Karaöz and then turn north. Here you'll find three very different beach towns.
The first is Adrasan, which feels very spaced out with a very sleepy feel of a half-forgotten beach town.
The second is Olympos, set in a dramatic forested valley with Roman ruins in the jungle and a beautiful undeveloped beach.
In summer Olympos is heaving with Turkish University students, but the rest of the year it returns to its peaceful self.
The bad news is getting back to the highway, a big climb. Beyond Olympos, but sharing the same beach, is Çıralı, which attracts an older, calmer crowd – it lacks the drama of Olympos but don't miss the natural eternal flame, the Chimera (Yanartaş) on the hills above.
From Olympos into Antalya the only worthwhile detour, is another set of beaches and ruins at Phaselis. The remaining towns, Tekirova, Göynük, and Kemer are package tourist ghettos with little to offer.
Antalya town, calls itself Turkey's capital of tourism. It' is though a real city with a population of 2 million. The main attraction is the well preserved walled old-town of Kaleiçi perched on the cliff tops with a magnificent view back along the coast towards Olympos. The local archaeological museum is also one of the best in the country.
East of Antalya are two more major ancient sites, Perge and Aspendos, with its perfectly preserved Roman theatre. You can take your bike on the Tramway, and from Aksu station its just 3km to Perge, but 31km to Aspendos.
3f. Erdek, the Kapıdağ Peninsular and the Southern Marmara Coast
While Istanbul is not a particularly bike-friendly city, a short ferry ride around the Southern Marmara Coast is a very different story.
Ferries from Yenikapı (Metro station and coastal bike path) leave regularly for Yalova, Mudanya, and Bandirma. The ferries take bikes for free though there is a rarely-reached maximum.
Bandirma is the gateway for the Kapıdağ Peninsular, a hilly island than joined to the coast a few centuries ago.
The main town, Erdek, a pleasant, relatively low brow tourist town more popular with Turks than foreigners, is 19km from the port. Halfway are the unexpected ruins of ancient Kyzikos, with its massive temple of Hadrian, one of the biggest temples in the whole Roman world.
If you follow a path up the valley behind the site, you can find the overgrown ruins of the ancient amphitheater, but otherwise there's little to see.
A coastal ring-road makes a 110 km loop of the 'island' with spectacular sea views all the way around, though be warned there are a lot of ups and downs. If you're lucky you might find accommodation in Turan, the biggest town on the northern side.
There are also many camping opportunities, official and unofficial. There are also two roads that cross the peninsular north-south, both involving major climbs.
There is the main road which is 15 km from Turan to Erdek. The second is 29km from Erdek to Ballıpınar, mostly on gravel. The trail down the north side is a beautiful for-rested landscape, and you will see an open grassy 'picnic ground' on the right/east where you can find the old ruined Greek Kirazlı Manastırı.
The second obvious destination is Yalova. A full circuit of the peninsula would be around 130km, but the peninsula itself has abundant possibilities for cycling country roads and even for serious mountain biking.
A loop of the nearby Iznik lake is also possible and a visit to the old town of Iznik, with it's Roman, Byzantine, and Ottoman, walls, churches, and mosques.
---
4. Turkish Thrace [cycle route and GPX track]
Turkey's little corner of Europe known as eastern Thrace is neither the best nor the worst cycling in Turkey, but those bike-touring Turkey on longer trips are likely to pass through it. It's an area of low rolling hills with small agricultural towns that see few tourists.
If you're coming from Bulgaria you'll probably arrive in the town of Edirne. This is a former Ottoman capital famed for the magnificent 16th century Selimiye Mosque by Turkey's most famous architect, Sinan. Edirne also has a small, largely tourist-free covered bazaar and many important historic mosques that can easily fill a day or two.
If you're cycling the 230 km to Istanbul then your starting reference is the 'Sultan's Way' the Cultural route that goes all the way from Vienna to Istanbul. For touring cyclists, the recommended route takes the old Highway through Hafsa with the 16th Century Sokullu Kasim Mosque, Babaeski, with its Semiz Ali Pasha Mosque and stone bridge of Sultan Mehmet IV, and Lüleburgaz with its large 16th century Sokullu Mehmet Pasha Mosque.
The alternative main MTB trail is north of the highway through smaller country roads, but without anything to see. Check their website for details.
4a. Cycling Istanbul
Giant Istanbul isn't the greatest city to cycle in or out of, if you must then avoid the main coastal highway and head to the small town of Arnavutköy and then south to the Halkalı Metro station, southeast to the Basaksehir Metro station or east through the Belgrade forest and the Haciosman Metro Station. If you're really determined to ride all the way then you can aim for Eyüp.
You may though wish to avoid cycling Istanbul altogether and head south, past Uzunköprü and its 1.4 km Ottoman stone bridge, 230 km to Çanakkale.
There are two ferry crossings of the Dardanelles, Gelibolu-Lapseki and Kilitbahir – Çanakkale.
From Çanakkale you can head east to Bandırma and the Kapıdağ peninsular and onwards east into Turkey or south towards Izmir.
If you do want to visit Istanbul then you can take the ferry from Bandırma or Yalova. This is also good for those taking the southern Ipsala crossing from Greece.
---
5. Cycling Cappadocia [bike route & GPX track]
Cappadocia is one of Turkey's most famous landscapes and, of course, you can enjoy it by bicycle.
A good cycle tour in Cappadocia, 180km, would start in Aksaray and head south to visit Selime in the Ilhara valley with its rock-cut houses and churches. You can ride a dirt road as far as Belisırma but to explore the main part of the valley with the best churches you will need to continue up the valley on foot.
From Belisırma head to Güzelyurt with it's former St Gregorius church. Backtrack and head east to Derinkuyu past the Gaziemir and Derinkuyu Underground cities, then continue east to Soğanlı Valley, with another cluster of rock-cut houses and churches, then north through Ürgüp to Göreme, the epicentre of tourism in Cappadocia, with plenty of day ride options.
You probably don't want to miss out on the iconic hot air balloons of Cappadocia. If you only want to ride around this region, here's how to reach Cappadocia from Istanbul.
Check this video about cycling in Cappadocia – by the author of this article (Scott Newman).
6. The Kaçkars cycle route and GPS track
The Kaçkars: Erzurum – Artvin – Georgia
This is a road you're likely to pass through if you're heading to Georgia but it's also one of Turkey's most beautiful mountain regions so it's worthwhile in its own right.
The bad news is that the main Çoruh Valley, once a beautiful wild river that even hosted the world kayak championships, has been replaced by a series of large dams that you pass along a new highway carved halfway up the deforested cliff throng a dozen or more tunnels. The one good news is the tunnels are wide and well lit and pose no major risk for cyclists.
From Erzurum it's an easy 35 km climbing, then the long easy downhill begins. Around 100km from Erzurum, Lake Tortum was formed a century ago by a landslide, and there is a small peninsula, near Balıklı, which is a popular picnic spot and kind of designated free camping area. There's are also a few guesthouses in the area.
It's 5 km more to the impressive Tortum Waterfall (Tortum Şelalesi). From Balikli it's a beautiful 38 km bicycle ride to Yusufeli (which is due to be drowned in a few years by the next dam).
Near the Erzurum-Yusufeli road are three medieval Georgian churches, signposted from the highway.
First Haho-Khakhuli now the village mosque in Bağbaşi, this is 8 km and 300m climbing from the highway, the turn is better marked for Pehlivli.
The second is Öşkvank in the village of Çamliyamaç which is 7 km and 300m climbing from the highway.
The third is Işhan, in the village bearing the same name. It is after Tortum Şelalesi where, instead of turning left for Yusufeli and Artvin, you should turn right and go another 5.6 km then turn left onto the village road and then it's a 6.3 km steep climb.
From Yusufeli to Artvin is 74 km or 103 km Borçka. This road is tunnel after tunnel along a road carved halfway up a cliff, and there are no other towns along the way and very limited camping options.
The dozen or more tunnels are around 1-2 km long, well lit, with one very wide lane in each direction. This means cars will see you and have plenty of room to avoid crushing you. Artvin itself is a tough 300m climb in 3.5 km on a busy road so you're best to stick to the highway and look for accommodation or a campsite in Borçka.
Direct from Balikli to Borçka would be 120km, though essentially all downhill. From Borçka, you leave the river and the 40 km to Hopa on the coast, and about 400 m climbing if you take the tunnel or 700m if you take the old road. From Hopa, it's an easy 20 km on the highway to the Georgian border at Sarp.
In theory, the Kaçkars should make a great country to explore and do some mountain biking, but in practice, the side valley roads are too steep. Some options are though better than others.
From Yusufeli, it's 17 km via Tekkake to the impressive ruined church of Dörtkilise but the last 6 km is 400m climb. Olgunlar, the end of the road and access to hikes to Mount Kaçkar, is 54 km away but that's a 1400 m climb.
You can break the climb into two stages staying in Altiparmak-Barhal, which has its own former Georgian church which is about to complete a major restoration.
Unless you're planning some intense mountain biking in Turkey, and a lot of portages, this is a return trip, but the long downhill on a good but quiet road beside a beautiful stream is one of the country's best rides making it more than worth the return journey.
Wild camping is discouraged in the area but there are pensions in Olgunlar and Barhal and a campsite 3-4 hour walk from Olgunlar towards Mt Kaçkar.
It's definitely a good trip to cycle up, spend a day or two hiking, and then cycle back down again. Staying in Olgunlar you can reach the beautiful mountain lake of Deniz Gölü on a day hike, while if you stay at the campsite, you can attempt the 3,973m peak of Mount Kaçkar itself.
Finally, the road between Ispir and Yusufeli follows the upper section of the Çoruh river is currently the closest thing to what the main valley was once like. Though unfortunately there are dams planned here too and one is about to be completed between Ispir and Bayburt.
There are various options here, including a day ride from Yusufeli visiting the various small castles besides the river, or taking the slightly longer 220 km route from Erzurum via Ispir, or even coming from much farther west and cycling the 175 in from Bayburt to Yusufeli.
Bayburt is also the beginning of the legendary Bayburt-Of road, a partly dirt road that drops spectacularly to the coast and has been dubbed "the most dangerous road in Turkey".
7. The North East: Artvin – Doğubeyazit
The 400km between Artvin and Doğubeyazit is tough, remote, but rewarding cycling in Turkey, mixing in the lush green mountains around Artvin with the barren high plateau around Kars.
You pass the beautiful high altitude Çıldır Lake and 5,137 m Mount Ararat. There are abandoned Georgian churches, the ruined Medieval Capital of Ani, the awe-inspiring Devil's Castle and the magnificent Ishaak Pasha Palace.
The biggest challenge is the 2,520 Cam Pass between Şavşat and Ardahan, that's a 1,200m climb if you're heading east from Şavşat but a mere 700m heading west.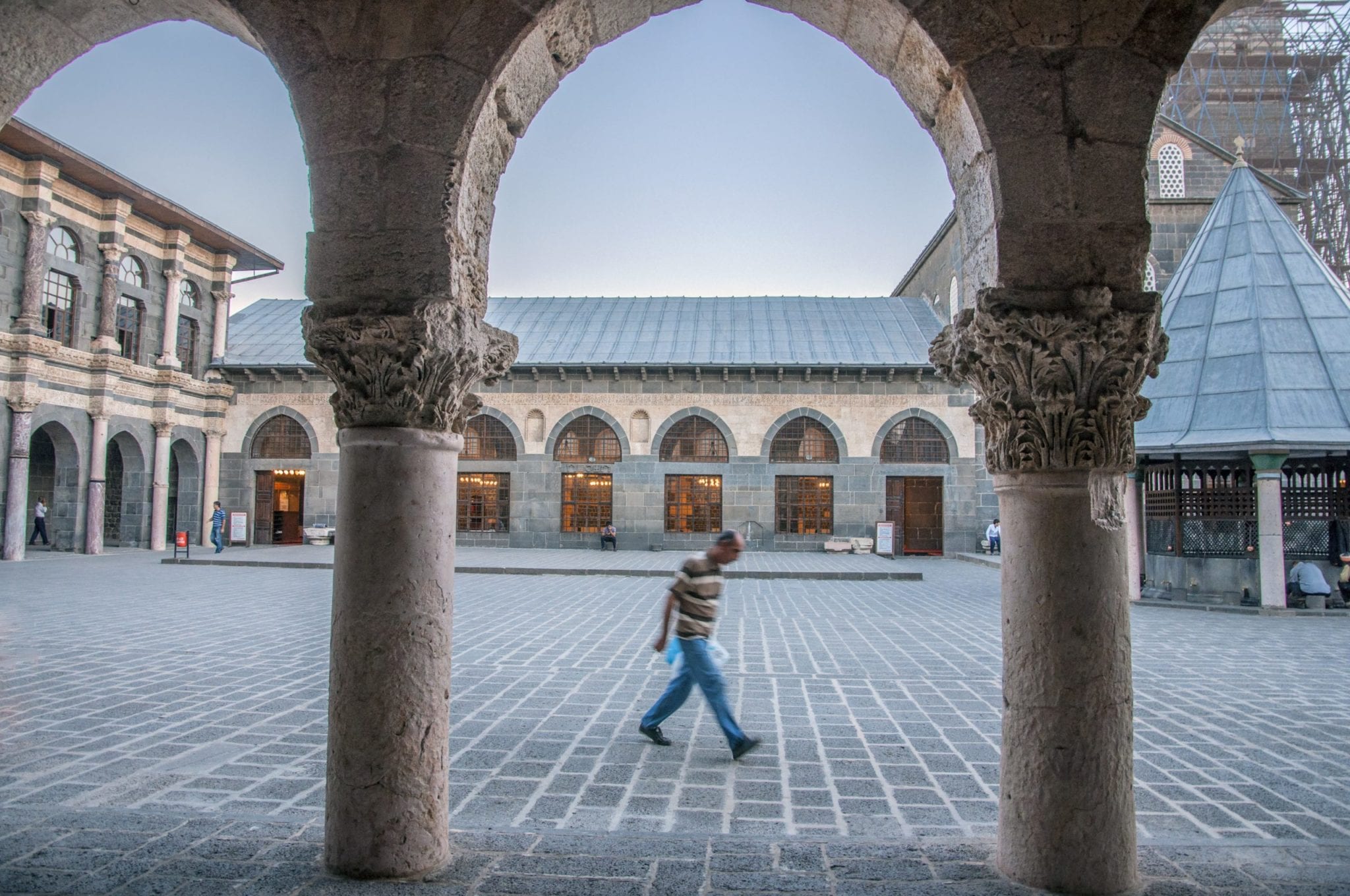 8. The East: Doğubeyazit to Diyarbakir
This is a 535 km bicycle ride through the heart of Kurdish Eastern Turkey. Not as remote as it once was, you're on the highway all the way, but that usually means a good road with little traffic.
The scenery is rugged, though that means a decent amount of climbing, the land is unfortunately largely deforested.
Leaving Doğubeyazit you have the 2600m Tendurek Pass to deal with. It's 160km to Van, and the only hotel en route is in Muradiye, where the waterfalls are a worthwhile stop just off the route.
Van to Tatvan is 137 km, unfortunately, there is no road beside the lake and you have a lot of ups and downs, but the highest pass has been replaced by a relatively safe tunnel. Along the way, you can stop in Gevaş and take one of the regular boats out to the small island of Akdamar with its wonderful Armenian Church.
The ambitious can take a turn-off and go north 17km along a beautiful dirt road beside the lake to the village Altınsaç, just past the village leave your bike and walk up to the abandoned monastery of St Thomas.
From Tatvan it's 80km downhill on the highway to the little town of Ziyaret, which is a tough 1000m climb going north.
Ziyaret is of little interest to tourists but the tomb of the local holy-man Veysal Karani is a popular attraction. From Ziyaret, it's 150km to the provincial capital of Diyarbakir past the 12th Century Malabadi bridge and Silvan with its ancient walls and 12th-century Great Mosque.
Diyarbakir itself is a major old city with its great black basalt walls dating to Roman towns and 11th Century Great Mosque.
Crossing Turkey on a bike
Most bicycle tourers in Turkey are, for better or worse, trying to get from one side to the other. Cycling across Turkey from Greece or Bulgaria to Georgia or Iran.
There is no obvious candidate for the best route and an abundance of choice depending on distance, weather and what you want to see.
There is an almost infinitive number of variations on variations. We will try to break it down to 5 basic routes.
Black Sea Coast: Istanbul – Hopa [ca.1350 km]
North Central Crossing: Yalova – Dogubeyazit [ca. 1750 km]
Through Central Turkey: Bandirma – Doğubeyazit [ca. 2000 km]
The Inner South Route. Izmir – Doğubeyazit [ca. 2250 km]
The coastal route and East: Izmir – Doğubeyazit [ca. 2500 km]
Bike Touring Turkey on the Black Sea Coast – Route 1 map
1. Cycling the Black Sea Coast: Istanbul – Hopa [ca. 1350km]
Pros: Flat, shortest route to Georgia, less hot in summer.
Cons: Very humid and lots of rain, eastern section is a long boring highway.
The route:
Looking at a map this is the obvious way to go especially if you're heading to Georgia. The route though has two major drawbacks, the rain and humidity, and the boring eastern section.
One of the benefits of the route is an easy exit from Istanbul, heading east from Beykoz on the eastern side of the northern Bosphorus.
Once you pass the industrial town of Zonguldak, the route to Sinop and Samsun is one of the remotest parts of Turkey, with a small country road joining fishing villages, and this is one of the highlights of this route.
After Samsun though the eastern section is one wide, busy ugly freeway. The land is so steep that there are no alternate east-west roads and much of the road itself is an ugly scar to view, particularly if your cycle eastwards on the inland side.
This is the one route that there is basically one and only one route. One option though, especially if you're going to Iran rather than Georgia, is to ride the beautiful remote central part then turn inland from Samsun towards Amasya and Tokat and join route 2.
Things to see:
One of the downsides of cycling this route across Turkey is that there is less interesting stuff to see compared to other routes, but there are still some attractions.
At the western end, there are the old towns of Amasra and Sinop while to the east is the large city of Trabzon, once the capital of an independent medieval Greek kingdom.
The main attraction there is the former monastery of Sumela deep in the mountains, but for a day-trip you'll need to take the bus.
The interior of this coast has lush green forests and many villages of old wooden houses but the roads are generally too steep to be bicycle-friendly.
There are some valleys, like from Pazar, past Çamlıhemşin to Zil Castle, past many old stone humpback bridges that can be attempted.
Cycle touring Turkey: Route 2 map and GPX
2. North Central Crossing: Yalova – Dogubeyazit [ca. 1750 km]
The shortest crossing from Istanbul to Iran
Pros: The shortest cross country route, good summer option.
Cons: Less to see, and less variety than routes further south. No coastal cycling.
The bike route:
Take the ferry from Istanbul to Yalova, head south and east to Iznik. Continuing east the old road through Geyve, Göynük, and Beypazarı is a better option than the two highways either side of this.
If you want to can visit Ankara, but it is easily detoured, before heading east towards Yogat and the ancient Hittite capital of Boğazkale – here you can explore the "Hittite Way" cycle routes. From here it's the historic town of Amasya, then take the highway through Erzincan and Erzurum to Doğubeyazit.
If you want to get off the highway, you can go north and explore the mountain road through Bayburt and İspir, and even Yusufeli if you have time or are heading to Georgia.
Or, from Boğazkale, instead head for Sivas and Divriği with its UNESCO listed medieval mosque and hospital. From there you can follow the upper Euphrates through Kemaliye and Kemah to Erzurum.
Things to see along the central Turkey cycle route:
This bike route takes you through a lot of Ottoman and pre-Ottoman Turkish towns. The first is the lakeside town of Iznik with its great Romano-Byzantine walls and gates and several important early Ottoman mosques and madrasas, both Taraklı and Göynük are little visited Ottoman-era museum towns, more houses than monuments.
Riverside Amasya prides itself as the former residence of Ottoman princes, and preserves many riverside mansions, some now turned into hotels, as well as many Ottoman mosques and rock-cut tombs of the ancient Pontic kings.
Austere Erzurum was the capital of a small principality or beylik and has two magnificent early Turkish medreses.
This route also passes the heartland of the Hittites, the Bronze Age rulers of ancient Turkey. The extensive site is perhaps more interesting than eye-catching but the claustrophobic canyon of Yazılıkaya, a virtual chapel to the Hittite Gods carved on its walls, is unique.
The site is extensive with many ruined temples and long walls with the famous lion gate. Exploring the "Hittite trail" also lets you visit other nearby sites like Alacahöyük with its Sphinx gate and the Great Temple of Sapinuwa near Ortaköy.
Route 3 through central Turkey: map and GPX
3. Through Central Turkey: Bandirma-Doğubeyazit [approx 2000 km]
Pros: good balance of distance and sightseeing.
Cons: no coastal cycling.
The Bike Route:
The most straightforward first section of this route is to take the ferry to Yalova and start with the 'Sufi Trail' route, through Iznik, Eskişehir, and Afyon to Konya. You can either follow the hiking route relatively closely on dirt back roads or less closely on nearby bitumen.
From Konya, you can head east via the Neolithic remains of Çatalhöyük towards Cappadocia. From there head east via Tufanbeyli and Malatya to Elazığ and then across the mountains to Diyarbakir.
From Diyarbakir, head east to Silvan and the little town of Ziyaret where you'll turn north climbing to Lake Van at 1,600m.
From Van City, you can head east to the first border crossing to Iran or north over the 2600m Tendurek pass to Doğubeyazit (and the second crossing to Iran) or the route northwards to Georgia.
There are many possible variants in the first half. You could take the ferry to Bandrima instead, explore the Kapıdağ peninsular and then head southeast to Kütahya and join the Sufi way south of Eskişehir.
Around Kütahya, Eskişehir, and Afyon you can explore the Phrygian valleys, particularly don't miss Yazilikaya with the impressive remains of Midas Şehri, with its Petra like 'Tomb of Midas'.
From Yazilikaya to Cappadocia you can skip Konya and take the shortest route through Emirdağ and Cihanbeyli and around the fringes of the salt lake plain of Tuz Gölü. This area is flat and quite remote.
Another alternative takes you via Yalvaç, with the ruins of Psidian Antioch to Konya via Beyşehir with its 12th-century Eşrefoğlu mosque.
Things to see:
This route offers a lot to see, the old town of Iznik, the impressive 'Tomb of Midas' in the Phrygian Valleys, the tomb of Rumi in Konya and neolithic Çatalhöyük.
There are the landscapes of Cappadocia and its underground hoses and churches and the massive walls of Old Diyarbakir.
There is the giant inland Lake Van with the medieval church of Akdamar on its little island and the remote ruined palace of Ishak Pasha in Doğubeyazit.
Bicycle Touring Turkey: Route 4 map and track
4. The Inner South Route. Izmir – Doğubeyazit
[ca. 2250 km]
Starting in Izmir you get a sample of the coast before a long inland cross-country with a good variety of scenery.
Pros: A bit of everything, mix of scenery and opportunities to explore secondary roads. Still hot but possible in summer, but more bearable.
Cons: Too many choices!
The Route:
Head south through Selçuk and take the Koçarlı road, you can stick south of the main Aydin-Denizli road (or you can explore the coast south of Didim and cross from Milas via Labranda to Çine).
From Denizli you pass Turkey's "lake district" to Burdur, then head to Sagalassos near Isparta, then you can explore the mountains around Sütçüler before heading up through Beyşehir to Konya.
Here you join route 2 to Cappadocia and head east through Tufanbeyli and Afşin. There the routes branches again and you head southeast through Göksun, across the Anti-Taurus mountains heading for Kahta and Mount Nemrut.
From Kahta head east to Siverek and Diyarbakir and Batman and then the big climb up to Lake Van at 1600m. Van city is the site of one border crossing to Iran, the other, Doğubeyazit, lies across the 2600m Tendurek pass. If you're cycling towards Georgia then continue north, pass Kars and Lake Çildir.
There are many possible variations, particularly joining routes 2 or 3 after Cappadocia or route 5 after Nemrut. One more major variation would be to skip Cappadocia and instead head south to Karaman and take the Mut road south to Silifke and catch a little Mediterranean coast and join route 5.
Things to See:
One of the pros of this route is the huge range of sights and scenery along the way. From biggies like Ephesus and Pamukkale, through lakes and mountains to less-visited sites like Sagalassos and Adada, near Sütçüler.
Then there is the 13th-century Eşrefoğlu Mosque in Beyşehir, the tomb of Rumi in Konya and the nearby Neolithic Çatalhöyük.
After that, it's the lunar landscapes of Cappadocia, with their Byzantine churches, and then the remote Anti-Taurus with the spectacular mountain top statues on Mt Nemrut.
From there it's the Kurdish heartland, with the Medieval walled city of Diyarbakir followed by the abandoned Armenian churches around the great high altitude Lake Van.
Cycle across Turkey: route 5 map and GPX
5. Cycling coastal Turkey and the East: Izmir – Doğubeyazit [ca 2500 km]
A longer route, that makes the most of the beautiful coast. Seriously hot in summer, it's prime spring and autumn cycling, perfect weather and less fatigue.
Pros: Lots of beautiful coastal cycling, a mix of 'Mediterranean' and 'middle-eastern', lots to see along the way, good for arriving from the Greek Islands.
Cons: Some parts quite touristy, hot and crowded in summer, potentially longer.
Weather: Summer is often 40+ C, humid in the west, dry in the east. Spring and autumn are generally stable at 20-30 C, perfect sunny weather. Winter in the west is a mix of rain and cool sunny days, the east can be below zero and snow.
The Route:
The most straightforward route is to head south from Izmir, through Selçuk, Söke, Didim, and Bodrum, take the ferry to Datca, and then follow the highway through Fethiye and Kas to Antalya. Then continue east through Anamur and Silifke to Mersin and Adana.
Here the Mediterranean ends and you pass some of Turkey's most middle-eastern cities, GaziAntep, ŞanlıUrfa, and Mardin.
Then turn north to Batman and climbing to Lake Van at 1600m. Van province is the site of one border crossing to Iran, the other, Doğubeyazit, lies across the 2600m Tendurek pass. If you're cycling from Turkey to Georgia then continue north, pass Kars and Lake Çildir.
If you're coming from the Greek islands there are also multiple possible arrival points, Çeşme-Chios, Kuşadası-Samos, Bodrum-Kos, and Marmaris-Rhodes..
Things to See:
The Aegean and Mediterranean regions include many of Turkish tourism's 'greatest hits', from the ruins of Ephesos and the Roman theatre of Aspendos to the beaches of Oludeniz and Olympos, and, if you visit in cycling-friendly spring or autumn, the crowds are more bearable.
But there are many many more places, big and small, well known (like Knidos and Patara), and less-visited (eg. Magnesia with its extraordinary stadium and remote hilltop Labranda).
East from Antalya sites become rarer but more off-the-beaten-track, there are good Roman ruins in Anamur, and the magnificent offshore castle of Kızkalesi. Nearby you can also visit the canyons of 'Heaven' and 'Hell'.
Around Adana there are plenty of castles, and Yılankale and Toprakkale are both close to the highway. One variation, especially if you want to get off the highway, is to head north from Yilankale to the Roman ruins of Anavarza and the Neo-Hittite Temple of Karatepe.
From Urfa, you can do side trips to the ruins of Göbeklitepe and Harran while in Midyat you can visit the Suryani churches. Heading north there is less to see until you reach old Bitlis and the Armenian churches around Lake Van.
Looking for a Travel Bike? Check these!
Conclusions about cycling in Turkey
Cycling in Turkey is a great idea. It doesn't matter if you're planning on bicycle touring across the country or coming to Turkey for a short bike holiday.
Even if you're an avid mountain biker (MTB), there are a lot of trails waiting to be explored in Turkey.
Also, make sure to get your visa to Turkey online prior to departing. Currently, there are 95 nations that are eligible for the eVisa.
We hope we've given all the itineraries, advice, and everything you need to know to ride through Turkey on a bike.
Please contribute in the comment section to make this blog article better!
Planning a bike trip in Eastern Asia?
Stay in touch while we get lost! Follow us on Social Media