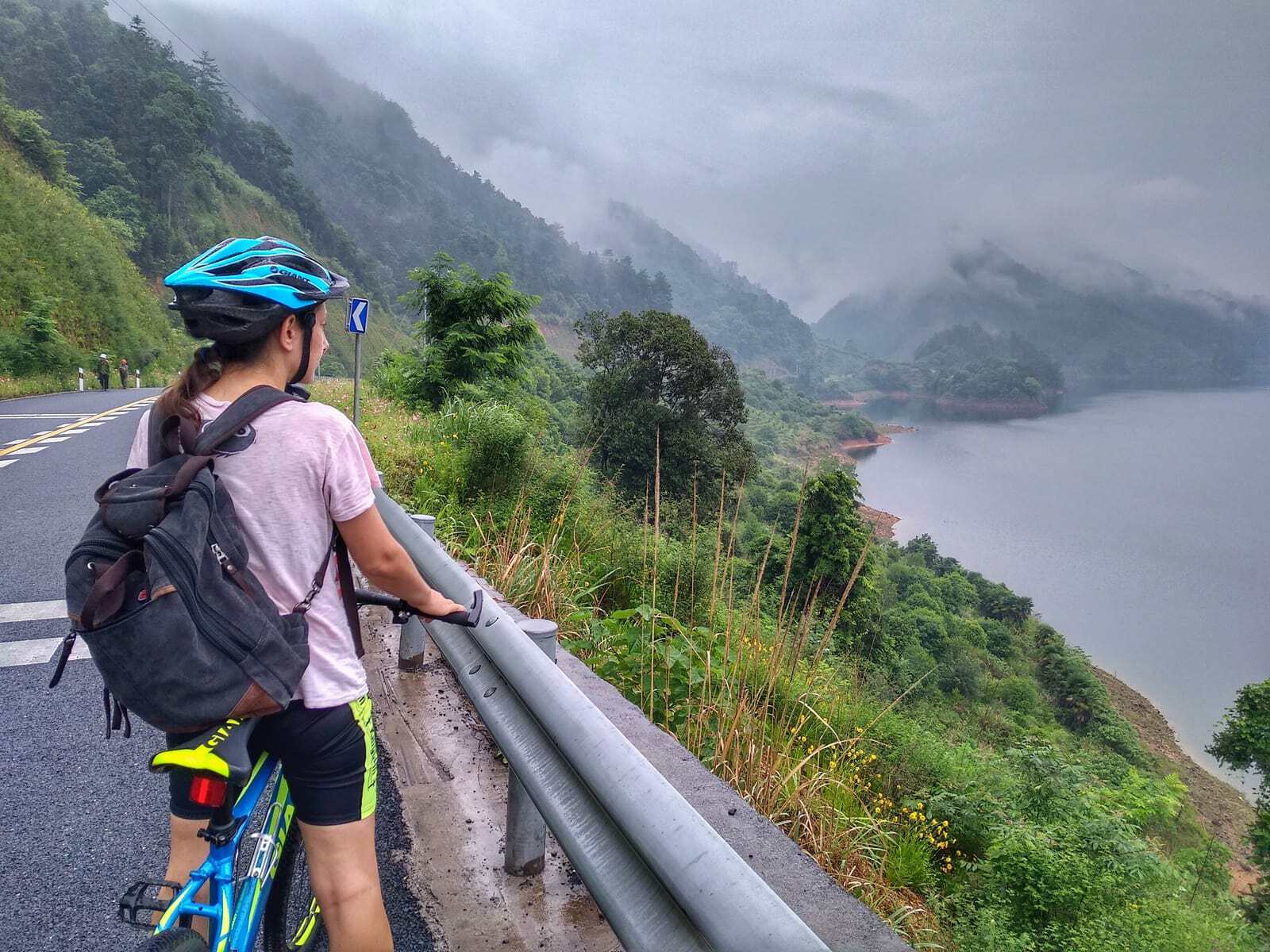 Cycling China – All the info from local expats!
Bicycle touring across China or a short bikepacking holiday?
Here are Itineraries, advice & tips to Cycle through China
Ever thought of doing some cycling in China? A short cycling holiday? Or maybe bike touring across China along the Silk Road? Or an off-road bikepacking adventure?
China is an immense and wonderful country with a cultural and geographical diversity that is not found anywhere else, and there's no better way to really explore and get to understand it than cycling through it.
Traveling with the freedom of your own means of transport is not easy in China, but with a bicycle you can go almost everywhere you want with no additional paperwork.
Unfortunately, China in the West is seen only as a polluted country full of skyscrapers and gray building blocks, but nothing is further from reality.
China is many countries in one and if it is true that the east coast is characterized by the wild building boom, also there you'll just have to leave the big cities behind you to find the authentic atmosphere of the Chinese countryside.
Furthermore, the west, south, and north of China are still huge areas rich in wild nature, nomadic cultures and slow rhythms.
Disclosure: Some of our articles contain affiliate links. This comes at no additional cost for you and helps us keep this website up and running. (as Amazon Associates we earn commission from qualifying purchases)
Cycling, Traveling, and Working in China: Our Experience
We lived in China for two years, traveling and working. The first time we arrived by bicycle from Kazakhstan, we entered the Xinjiang region and went south, through Gansu and Qinghai.
Here we had some misadventures and we took a train to Eastern China, Qingdao, from where we went to South Korea.
After traveling Eastern Asia and South-East Asia we returned to China in 2017, always by bicycle.
From the Vietnamese border, we arrived in Kunming and then we stopped to work for a year and a half: first in the beautiful Hangzhou, before moving to Sanmen, using every weekend, holiday or vacation to travel and cycle China trying to see as much as possible.
At that time we traveled mainly to Zheijang, Fujian and Shandong. We also explored Taiwan by bicycle, from Fujian it is very easy and economical to reach Taiwan by ship or plane.
Besides being rich in culture and landscapes of all kinds, China is also a very safe country, camping freely is not a problem and people are very helpful and hospitable.
In this article we will try to give you all the useful information to organize a bicycle trip in or through China: how to obtain and extend the visa, where to sleep, culinary specialties not to be missed, and some possible itineraries.
We will, of course, talk about the paths we have taken but the general information is applicable to any region of China you decide to visit (Tibet and Xinjiang being "a bit" different).
Planning a bike trip in Eastern Asia?
---
China in a Nutshell
Population: 1.4 billion
Climate: vast climatic differences, see the climate section below
Visa: tourist, 30 days extendable, to be obtained before arriving in China
Currency: Yuan, 1$ ca. 7¥
Language: Mandarin Chinese (universal), Cantonese & thousands of dialects
Mandatory vaccines: none
1-Month Bike Touring Itineraries in China (in Pills)
China is huge and has a very developed and tentacular road network, the alternatives to create a cycling itinerary in China are infinite. Here are some recommendations that we'll describe more in detail at the end of this blog post.
Silk Road – Mountains and deserts of the West: the most complicated
[Xinjiang, Gansu, Qinghai, Sichuan, Shaanxi (finishing in Xi'an)]
Tibetan culture and Southern wilderness: the toughest uphills
[Sichuan, Yunnan, Guizhou, Guangxi (Guilin)]
Central China and Avatar Mountains: off-the-beaten-path
[Hunan, Jianxi, Fujian, Zhejiang (finishing in Hangzhou or Shanghai)
Bicycle culture in China
The bicycle was introduced in China in 1860. Brought from the West, this new invention initially did not fascinate the Chinese who mocked Westerners who were pedaling through the streets of Shanghai.
Sweating and struggling was not really in Chinese culture, especially if they had the money to get carried around by porters.
During the 1920s, however, when the 6-days working week became common in the cities and people had free time for themselves, the enthusiasm for cycling increased. In the inland regions of China, the bicycle was widely accepted only in the 1930s and 1940s.
The bicycle industry in China began in the 1930s, when the assembly plants for foreign-made bicycles were founded. But Chinese-made bicycles began to appear only a decade later in the 1940s.
The creation of the People's Republic of China in 1949 was a turning point for the bicycle industry. The Communist Party decided to promote the bicycle as a popular vehicle and began a massive production initiative.
Bicycles were taken into consideration in urban planning and those who used bicycles to travel to and from work got additional benefits. For the moment, apparently, the lack of a public transport system had been solved.
China's first five-year plan actually included a 60 percent growth in the bicycle sector, and in 1958, China produced more than one million bicycles a year.
Today, China is the leading bicycle manufacturer in the world and produces almost 60 percent of all bicycles sold worldwide.
During your bicycle trip in China, you will see old bikes carrying portable ovens where people bake bread or sweet potatoes to sell to passersby, large tricycles used as taxis or to collect garbage or simple bikes used by farmers.
Then there is modern China, in all the cities you will see hundreds of bikes around that can be unlocked by scanning the QR code from the company app, there are several of those, in fierce competition.
Renting a bike costs a few cents and is ideal both for citizens who go from the metro to their workplaces, and for tourists who want to explore the cities by blending into the crowd of bikes.
In recent years there has been a decline in the daily use of the bike, people are richer and prefer to get around by car.
Then there are also a lot of "Sunday cyclists", road bikers, MTB addicted, and also plenty of cycle tourers. Leisure cycling is a phenomenon in great growth in China, also thanks to several cycling races in different parts of the country, here a list of the most scenic and popular.
Bike gear for a cycling trip across China
If you do not intend to go to very remote areas, keep in mind that the hotels are very cheap, you could avoid bringing any camping gear for your bike trip, if you wish to travel light.
If instead you want to travel between deserts and remote mountains, a tent could prove very useful if not indispensable. You can also find some truly epic camping spots in the wilderness of China (See more about camping in China later).
Even the cooking equipment, if you want to be lighter, can be left at home. Food in China is very good and often costs less to eat a plate of noodles in a restaurant than to buy cooking ingredients.
If you have tried Chinese cuisine (in China of course) and don't like it then stove and pots will be a good investment. Moreover, everywhere, hot water is widely available (in hotels, on trains, in restaurants, at the stations) so in case of emergency, instant noodles and a coffee are always easy to make.
Depending on the season and the area of ​​China you visit, you will need to bring rain or windproof clothing. Most of China can get pretty cold in winter and at high elevations.
What to pack for a cycling holiday in China
Bike Gear
Pro Tip!
You don't need an expensive bike to cycle here. You can easily ride on a refurbished bike that you can get for free (or almost free) – learn how here!
---
Cycle Clothing
Pro Tip!
1. Use common running shorts to cover your cycling shorts in conservative countries!

2. This should be enough until a few degrees below the zero. If you plan something a bit more extreme, consider lightweight insulated down jackets like these ones.
---
Accessories
What bike should you use to Cycle China?
The type of bike you travel with is a very personal topic. Let's start by saying that a bike trip can also be done with a scrap, but if you want to be more comfortable, you can choose from a wide range of travel bikes.
You will have to choose the bike based on the route, do you want to cycle mostly dirt roads or will you travel on smooth Chinese asphalt? Will you climb 4,000-meters mountain passes or stick to flat roads? And so on.
Looking for a Travel Bike? Check these!
Check Also
Tourist visa for China
Let's start with the bureaucratic matters: the visa for China can be easy or difficult to obtain, depending on your nationality and the country from which you will make the request.
If you depart from your country by plane and your destination is China, you will have to ask for a visa from the Chinese Embassy or Consulate in your home country.
Getting a Visa beforehand is always advisable, but you need to remind you'll only have 3 months to enter China after the day of emission. If you're cycling to China all the way from Europe, that is probably not enough.
Alternatively you can contact an agency, if you live far from the Embassy it might be convenient (check if you elegible to do it through an agency). We recommend using iVisa.
We asked for our first Chinese visa in Kazakhstan, in Kyrgyzstan it was no longer possible to obtain it at the time of our passage but the rules change often so it is not possible to give definitive information.
Important! At the present moment (Dec 2019) it is ABSOLUTELY IMPOSSIBLE to obtain a Chinese Visa in any Central Asian country. Doesn't matter if you have a flight tickec, hotel bookings, or contacts in China, you'll be stuck!

The best place to obtain a Chinese visa at the moment is probably Iran. If you have differen experiences please contribute in the comments to help your fellow travelers.
From the countries of Central Asia, it is generally more complicated to obtain a visa, especially for those who want to cross the border by land, because from there you can only enter Xinjiang, a region that belongs to China but inhabited for the most part by the Uygur people, of Turkish origin and of Muslim religion, who claim independence with the name of Turkestan.
In this region the presence of Chinese occupation is everywhere and oppressive, people are under constant control and there are several concentration camps, or as the Chinese call them, rehabilitation centers.
Let's say, therefore, that in general the government does not like people who roam autonomously in this region. That said, if you get a visa in Europe or elsewhere and arrive at the Xinjiang border there should be no problem.
However, we know of people who have been rejected or told they could not enter without being accompanied by a local guide.
The situation could change, so always look for fresh news. We got the second Chinese visa in Laos and it was pretty simple.
The third Chinese visa we got was the work visa we got in Hangzhou after passing through HK but this would require a separate article. In short, there are no guarantees or fixed rules over time on the best places to get a tourist visa for China.
The situation can change abruptly depending on the change in relations between China and the country from which you will make the request or with the country from which you come from. For example, it is very difficult to obtain a tourist visa if you are a Turkish citizen.
What we can say, in general, is that you will be requested a declaration of your itinerary, we presented a completely false but realistic one in which we cited several unsuspected tourist places such as national parks, Xi'an and the Terracotta Army, Beijing etc. They could also request a hotel reservation and proof of booking an entry and exit from China.
If you are in a country on the border they will be less taxing, especially if there are trains or buses going to China they may not require an air ticket.
In Laos the agency that took care of our visa made us an aerial reservation that we presented to the embassy and then it was canceled. It is not forbidden to enter by land, but some embassies still require a plane ticket.
Another document you could be requested is an account statement proving you have at least $ 100 a day for the time of your stay in China.
How to extend a tourist visa in China
The Chinese tourist visa is valid for 30 days from your entry into the country and can be renewed for another 30 days by going to a PSB (Public Security Bureau), generally those in small towns are faster and ask less questions.
Where to sleep in China
Camping in China
Camping in China is very safe and we have never had any problems, especially in the west of China. On the east coast it could be more difficult for population density.
Keep in mind that the rural countryside is incredibly dense with crops and cultivated fields, so it might not be easy to find a spot to camp.
Asking people works pretty smoothly. In general, people are very welcoming and if you have difficulty finding a place to sleep, they will definitely help you.
In two years we have never seen a real organized campsite, surely there are in the national parks but do not count that. On the other hand, a room costs so very little, especially in the countryside.
Hotels in China
Hotels in China are excellent, even if simple, and they cost very little. From 5 to 16$ per room for a cheap but decent hotel. In general they cost less in the West and South-West and are more expensive in cities on the east coast.
The only problem is that sometimes hotels in China don't accept foreigners. To do this they need to have a government permit and they should pay a fee, which many do not, especially in areas where foreign tourists are scarce. Often, the only hotels accepting foreigners are the most expensive structures in the city.
This problem occurred to us several times in different regions of China. But in the end, we always found a place to sleep.
If you don't want to find yourself spending hours knocking at all the hotels in the city you can book through Ctrip (now known as Trip.com globally). Ctrip is the most popular app in China, similar to Booking.com (which exists in China but doesn't work very well).
Booking through Ctrip, if the hotel does not accept foreigners, the customer service will contact you immediately and find an alternative option for you.
Transportation: take a train or a bus with your bike in China
Being China a huge country, and having only 30/60 days available, you could have the wise idea to load the bike on a train to skip some boring parts and have more time on hand to explore the real marvels. We skipped a part of the Taklamakan desert in Gansu, for example.
Taking the train with a bike is very simple and pretty cheap. In each train station you will see, next to the ticket office, an office called CRE. Trains and other transports can also be booked through Trip.com.
Go there with your bike, tell where you want to go, they will tell you how much it costs and give you a receipt for picking up the bike at your destination.
The CRE workers will take the bike and luggage and take care of everything. Buy a train ticket, and get to your destination without having to struggle to load the bike on the train, at the station of arrival you will go to collect your rig at the corresponding CRE office.
The bike could travel on your own train or on the cargo train of another train, so it could arrive a little later. There's a remote chance of your bike getting lost, but be confident, those guys know their job (more or less).
If your destination is not reachable by train, you can also load the bike on large long-distance buses, the problem is that if the luggage compartment is full they will try anyway to stash your bike in, usually mistreating it.
Sometimes a driver's bribe will be requested, especially if you take the bus outside the stations.
Food and supermarkets in China
China offers an immense variety of food, which changes from city to city. Wherever you are, except perhaps the Inner Mongolia region, you will find plenty of fruits and vegetables, pasta, legumes, rice, all kinds of meat.
In short, food will be the least of your problems when cycling in China.
Often it's better to eat in one of the many restaurants found all over the place (usually they have a green plastic tent), it's sometimes cheaper than cooking on your own and it's worth trying the local specialties. The cost varies but for 1.5$ you can eat a bowl of noodle soup everywhere (and they are delicious, especially in the west).
Every restaurant specializes in something, there are small restaurants where you only eat noodle soup and fried rice, usually frequented for a quick lunch, then there are restaurants with the classic round table where you go with friends or family for dinner… and yes eat to infinity.
Then you will see restaurants with an open fridge from which you can choose what you want to be cooked for you, the contents of the fridge depend on where you are but there are always vegetables and meat and, if you are close to the sea, fish and seafood.
Then there is street food that would require a separate chapter. One of the things we liked the most was the bread cooked in street ovens, usually by Muslims, there are dozens of types, stuffed with vegetables or minced meat or of sausage. Roadside barbecues are ubiquitous in cities and towns
Apart from remote areas of nomadic shepherds, where meat is the master, it is very easy to be a vegetarian in China, I have never had any problem finding different dishes every day.
The Chinese eat lots of vegetables, vegetarian noodles, tofu in thousands of forms, you certainly won't have to eat the same thing every day like in other countries.
There are also plenty of Buddhist restaurants that are 100% vegan.
Chinese cuisine is indubitably one of the best in the world, you should enjoy as much as you can here, and not being scared of trying new stuff. If you'll love it as much as we did, why not trying your hand at it by getting a Chinese food cookbook?
Getting Water (and alcohol) when cycling China
Do not drink water from the tap, even where they say it is drinkable. The water situation in China is catastrophic and nobody seems to trust the government's statements on the goodness of water. The situation is probably different in the mountains.
The advice is, however, to drink bottled, boiled or filtered water. Often houses and hotels are equipped with water filters and always have a kettle available. Many hotels have a drinking water dispenser or have bottles available.
Chinese people like to drink. In supermarkets, you will find imported wine and Chinese wine, which is the new fashion and is not even that bad, at least the red one.
Locals drink beer and baijiu, which you find in 1$ bottles or loose in restaurants. The most classic is the one flavored with hawthorn berries, but there are also kiwis or other fruits. Industrial baijiu is pretty terrible, but the homemade one can be quite good.
Beer could be hot or served with ice, and not because of a lack of refrigerators or electricity, but simply because the Chinese generally don't drink cold things. Even water is almost always served hot.
Best Apps and VPNs to download for a trip to China
We are not here to talk about the implications and control systems of the Chinese government but if you want to read something before downloading one of these apps you can take a look at this article and do some research yourself.
You should download the apps before entering China, since Google Play will not be accessible. You will have to download them via VPN, or use a Chinese app store, which might not be so straight forward.
Best VPNs for China
To access most of the internet in China, you'll need a VPN app (Virtual Private Network). Most of the biggest websites are banned in China, including:
all Google products (even Gmail)
Facebook
Instagram
Twitter
and many others
The best VPNs are Express and Astrill, we have used Express VPN for a couple of years and have never had any major problems, absolutely recommended and worth the price.
There are also numerous free VPNs but many do not work or have a limited time during the day, usually an hour.

WeChat
WeChat is an application similar to WhatsApp (but much more evolved) that ALL Chinese people use.
It has a chat with a translate function (very useful), you can make video calls, audio calls, book taxis, pay anything by reading the QRcode (but you will need a card from a Chinese bank), find a job, get spied by the government and so on.
In reality, it is not so essential if you do not live in China but if you want to keep in touch with Chinese people this app is practically the only option available.
Baidu Translate
Similar to Google Translate but you don't need a VPN to use it. If you don't speak Chinese, it will probably be the application you'll use the most.
Remember to download the keyboard in Chinese so the other person can reply by writing.
Learn Chinese – ChineseSkill
If you want to learn a little Chinese, this is a very simple app to use to get some basic vocabulary and try to pronounce words in a more or less understandable way.
DiDi
Didi is the Chinese version of Uber, it is a very cheap option to get around in China, even for medium-long distances.
The only problem is that once the taxi is called the driver will contact you to ask your wherabouts, and in 99.9% of the cases, he/she will only speak Chinese.
You can still ask some passersby to talk to the driver and give him directions. The Chinese are among the most helpful people ever met and will help you for sure.
Trip.com
As mentioned before Trip.com is the best application to book hotels and flights in China, it is the English version of Ctrip. You will need to have a Chinese phone number to register.
Paying in advance is not always required. Customer service is great and they will contact you immediately if there are any problems. Great to find some great hotel deals while cycling through China.
Baidu map
Without VPN you will not be able to access Google Maps and Baidu is the only alternative. The only problem is that it is in Chinese but if you have to navigate to a specific place where you know the name or address is fine.
Baidu also knows a lot more roads and possibilities than Google Maps, very handy to have detailed maps when bike touring China.
aQI (Air Quality Index)
This is an app that serves to access real-time pollution data, not that you can do much after knowing how polluted is (or isn't) the place you are, but if you are curious to know it may be useful to you.
Roads in China
The roads in China are excellent, everywhere, you need to go in quite remote places to find unpaved dirt roads (mostly in the South and the West). In the East and the North, the road network is very extended, with a lot of different options to get from A to B.
Either in huge cities like Shanghai or small villages in the countryside, there is always a large lane for bicycles and electric scooters.
Of course, especially in the mountainous areas of the South-West and in the desertic ones of the north, it is possible to get lost in dirt roads.
Connectivity – WiFi in China
Wifi in China, in hotels and public places, is generally rather slow, and since it is essential to use a VPN to connect to everything that is censored in China (what we know as the Internet), the connection becomes even slower. Mobile internet connection is instead much faster.
Getting a Chinese SIM card is a pretty straight forward process, you'll just need your passport and a bit of patience.
Language and communication
Unless you speak Mandarin your level of communication in China will be limited to gestures. English is totally unknown outside the big cities, with great luck you can meet someone who can say "hello" and numbers from 1 to 10.
In cities, however, the situation is a little bit better, it is easier to meet young people who know a little English. Quite often, even if they know how to speak, Chinese people are ashamed and afraid of making mistakes, so always try to use very basic English and to punctuate the words.
Learning Chinese is very difficult but try to learn the greetings, how to thank, the numbers and the corresponding signs with your hands, which are different from ours, and some food names, at least "rice", "noodles", "with meat" or "without meat".
On the other hand, to say "noodles" in a Chinese restaurant is like saying "pasta" in an Italian restaurant, they will ask you what pasta you want, seasoned with something, spicy, not spicy and so on, it will get confusing.
Many restaurants, fortunately, have photos of the dishes on display and you can simply point them out, we always went to places like these or, where there were no photos but other customers, we pointed at what someone else was eating.
The Chinese are very communicative and will make every effort to understand what you want, several times we were taken directly to the kitchen to choose what to eat.
The Chinese, given the Buddhist tradition, know what vegetarian means but you don't have to use the translation that google translate gives you because, by experience, they don't understand that word. You simply have to say "I don't eat meat".
Climate and best time to cycle in China
China is huge and has many different climate zones, you will need to check the climate specific to the region or regions you plan to bike through for your trip.
In general, it can be said that Winter is very cold in the north, or on mountains and plateaus, while it is mild in the south. Summer is hot everywhere except in the highlands and mountain regions.
Excluding the vast western desert areas where the rains are scarce and irregular, summer is normally the rainiest season.
The rainiest part of the country is the south-east, the least rainy is the north-west. Check this site for more detailed information.
Bicycle tours in China, some Itinerary Ideas
It is very hard to choose the best cycling itinerary in China, I would actually say it's impossible, how could such a thing even exist?
China is so vast, diverse, and full of marvel that any cycling route outside the main road is likely to be at least interesting if not gorgeous.
Here are a couple of bike touring itinerary suggestions, we plan to add more in the future and update this blog guide constantly – if you have a bike route you would like to recommend, please contact us or leave a comment.
One-Week cycling trip in Zhejiang: marshes, waterfalls, rivers and tea terraces
This is not an area of China very well known to foreign tourists but it is really beautiful: green hills, streams where to bath, tea terraces, rice fields, and very slow rhythms – archetypical China.
Furthermore, this is a route suitable for everyone, even cycle touring beginners, it is completely paved but with little traffic and there are many hotels and infrastructures for tourists, at very low prices.
If you want detailed information on this part of China you can read our guides dedicated to the Zhejiang region.
This rout lays entirely in the Zhejiang province, it is 312 miles long (516km) and can be easily cycled in one week. Have a look at:
The Silk Road
We have cycled this route coming from Kazakhstan, now it seems to be more difficult to get a visa but the path could be done in reverse, entering China from more friendly borders or flying in.
If it is not possible to cross the Xinjiang region you can enjoy the beautiful mountains of Qinghai, once part of Tibet, and the oases of Gansu, rich in scenic beauty, such as the unmissable colorful mountains, and of culture, such as the impressive Buddhist caves of Mogao and the huge sand dunes around the Crescent Moon Lake. Have a look at:
Travel Insurance for Cycling in China
It doesn't matter how safe a country is, things can always happen – accidents, thefts, injuries, etc are unfortunately very common in the real world. We recommend ALWAYS getting a TRAVEL INSURANCE

The most versatile and best value-for-money is undoubtedly WORLD NOMADS, have a look a their website to get a quote.
Getting Out of China by Ferry
There are several ferry connections from China to South Korea, Japan, Taiwan. Ferries are very good and mostly bike-friendly, a great option to proceed further on your bike trip in Asia.
Check our account of the ferry from Qingdao to Incheon
When it comes to flights, our pick, since already several years, has always been Kiwi.com. It is, in our opinion, the best search engine for flights by a long shot.
Kiwi has a very flexible search function – you can, for example, select several departure locations or a variable geographical radius, and then check for flights to a wide region (like Southeast Asia for example) or even to "everywhere".
You can then compare the best deals, combining the various options of departure and arrival.
Also the dates are super-flexible, Kiwi allows you to select entire months or even longer periods of time, and then select a trip duration (the interval between the departure and the return flight) which is also flexible!
You could, for example, search for flights from "Italy+Austria+Switzerland" to "Southeast Asia" between "June 6" and "September 24" with a duration of "24/32 days", what other flight engine gives you that?
Through Kiwi.com you can also check the fees for luggage and sports equipment (ie. bicycles).
Best VPNs for China
To access most of the internet in China, you'll need a VPN app (Virtual Private Network). Most of the biggest websites are banned in China, including:
all Google products (even Gmail)
Facebook
Instagram
Twitter
and many others
The best VPNs are Express and Astrill, we have used Express VPN for a couple of years and have never had any major problems, absolutely recommended and worth the price.
There are also numerous free VPNs but many do not work or have a limited time during the day, usually an hour.

Planning a bike trip around Southeast Asia? Check also
Bike touring beginner? Have a look at
Stay in touch while we get lost! Follow us on Social Media