Bicycle Touring and things to do in Turpan. Adventure Travel in the oasis of Xinjiang, the ancient city of Yar (or Jiaohe)
A Turpan travel guide, how to get there traveling by bicycle and some more facts about Xinjiang, Western China. This article is part of our bicycle trip in China.
From Urumqi to Turpan
We leave Urumqi, keep on cycling along the Silk Road. Trough traffic, highways, forests of wind turbines, quicksand and desert we finally reach Turpan, an incredible green oasis with grapes and freshwater. The lowest (-154 msl) and hottest city in China.
About 10 Km from the "new" Turpan (exactly here 42°57′02″N 89°03′50″E ) there is the ancient city of Jiaohe (in Chinese 交河故城) or Yarkhoto (in Uygur يارغول قەدىمقى شەهىرى).
It's incredibly beautiful and conserved, considering that all the houses and temples were built with a technique that we could call subtractive, completely dug into the ground, using mud and bricks to add strength to the structure. And also, the city is more than 23oo years-old.
Out of Urumqi
Off to Turpan (or Turfan or Tulufan) from Urumqi, just left the hostel the bike handlebar leaves me. The screw which is inside the pipe is gone for good. We get to a mechanic near the hostel, there is a street where all the bike shops are.
This custom is practiced a little everywhere, at least since Georgia: do you need glasses? there is a shopping zone for glasses, do you need a guitar? there is a zone of musical instrument shops. Very convenient and practical.
But mostly here they sell brand new road and mountain bikes (mainly, if not only, Giant) and do not know anything about mechanics. A tiny deaf gentleman in cycling clothes takes us to an old man who repairs cheap city bikes and helps explain the problem. With mute gestures, we understand each other very well. So the old repairman starts to struggle and finds the right screw.
Turpan we're coming! The way out the city of Urumqi is long and uphill. Maybe it seems longer than it is because it is in the city, very busy with traffic. After the city begins the stony desert, desolation.
This is the western stretch of Gobi desert where it meets the Taklamakan, names that summons epic images, but indeed it's just an ugly rock expanse. When reality kills your dreams.
A ghost town, metal detector and poverty
Disclosure: Some of our articles contain affiliate links. This comes at no additional cost for you and helps us keep this website up and running. (as Amazon Associates we earn commission from qualifying purchases)
Every now and then emerges a ghost town. Many buildings all alike that seem parachuted there by chance. New and uninhabited, some kind of prospect settlement in the project area of some new big factory, maybe.
This is huge in China, and it's one of the reasons for the enormous growth of the "Red Dragon" GDP. But those houses are too many even for the insane and ever-growing (despite the birth control) Chinese population. Moreover, prices are unreasonably high, so those towns are fated to remain ghostly, this is, in short, the Chinese real estate big bubble.
We cross an older and inhabited village, it seems that everyone is a car mechanic here, even here mud houses. There's a nice bazaar with many sorts of dried fruits and baked poultry.
Here also everybody should get through a metal detector and opens the bag to get in.
Anti-terrorist measures everywhere in Xin Jiang. We go in search of a pond that, according to the Garmin, should be nearby. We find it, the water is not much and still is at the center of the village. Not a good place to camp. We continue, even here rows of trees are planted on the roadside.
Camping on the Salt Lake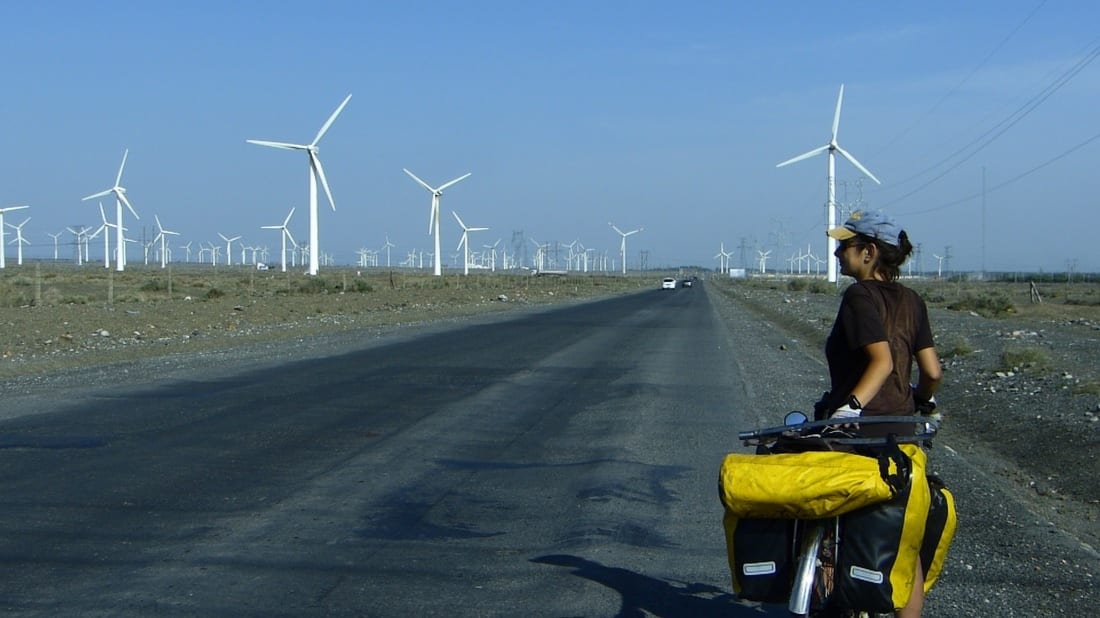 At some point, we enter a real forest of wind turbines on the right and left of the road. It seems never-ending. For more than thirty kilometers it's just desert and wind turbines, thousands.
We follow the old road, next to the new, crowded with abandoned service stations and deserted villages. The construction of the new road had killed the weak economy of this poor roadside towns. We pass the Chaiwobao lake and reach the so-called Salt Lake, where we decide to camp.
The landscape is alien, to reach the lake you need to walk a long stretch of mossy bulges of the soil, they move as you step on, there's water down there. Once you reach the lake you find that it was an optical illusion.
In fact, the water is not there, but further away, here there is only what was the bottom of the lake and now is a quicksand. We know this because Daniele has put a foot and a second later sunk up to his knees!
In the distance, to our left, there are the shepherds and to our right a small brick cottage where lives a man with his dog, weird birds dot the lake in the distance.
We sleep well, weird dreams. In the morning a host of midges, that wasn't here last night attacks us. It's really an alien place.
Keep on cycling to Turpan
Taking the road we meet another poor Uyghur village, open-air latrines shed unwholesome fumes that tingle our nostrils, garbage is everywhere. The smell of rubbish is a bit of a constant, but here is almost unbearable.
After a few kilometers, we reach another city, larger and cleaner, and we stop at the bazaar.
Even here to enter the bazaar you go through the usual metal detector, although the gals who are in control do not seem very convinced. At the market there is so much stuff, we buy dried figs that are perfect when you go cycling.
Finally the oasis of Turpan
Then the descent begins. Turpan, in addition to being the hottest spot in China, is also the lowest in altitude. And in fact, it's hot. Just before reaching the town, we wash in a beautiful fresh stream that then we will discover to be the famous Kerez.
The Kerez (or Karez) is a passage dug underground that allows water to reach the city from the mountains.
Since the tunnel is underground water remains fresh and does not evaporate too much for the desert heat. It's thanks to the people who dug this, almost with bare hands, that this and other oasis exist, since ancient times (around 206 BC). There are more than 5000km of Kerez in Xinjiang, quite impressive.
We arrive in the evening, after a very long day on the saddle, our butts are sore… we wish we had anti-chafing cream today.
The town is really nice, a green paradise in the middle of this desert of stones, full of vineyards and beautiful clay houses with large low outdoor tables where people are sitting to eat, sleep or chat. It seems to have been teleported.
The incredible ancient town Jiaohe (or Yarkhoto)
The outskirts of the city are full of outdoor restaurants and are shaded, it really seems to be still in Central Asia. We assemble the tent near the entrance of the town of Yarkhoto (or Jiaohe) that we visit when we wake up.
Of course, to pay the entry fee (40 Yuan), the trail is about 2 km and runs through this city, built as a natural fortress on a large islet between two rivers. It ruled the area for about 1500 years (from 100BC to the Mongolian invasion in XIV century). It's completely dug into the ground, built with a technique that we could call subtractive, and perfectly preserved.
Fortunately, the day is not sunny, it's yet crazily hot. The Chinese anyway go wander around completely covered, long sleeves, long pants, closed shoes, hat and headscarf, and often mask.
They try to avoid exposing the skin to the sun as much as possible.
The town is a sort of Central Asian Pompei, with well-preserved houses, several Buddhist temples, and at the end of the city the "forest" of 100 Stupa.
Kerez Paradise
From the top of Jiahoe you can see the river below and the houses that were, and still are, used for drying grapes. Turpan is indeed very famous for raisins and fresh grapes, and also has a bustling and interesting wine production.
Back in Turpan, we see a sign from the ominous name: "Kerez paradise", it seems nothing more than a tourists trap (watch out, in China there are many many many).
There is a swimming pool with water from the kerez and a sort of garden. We take a bath in the fresh stream of the same water that runs right in the parking of this pickpocket plant.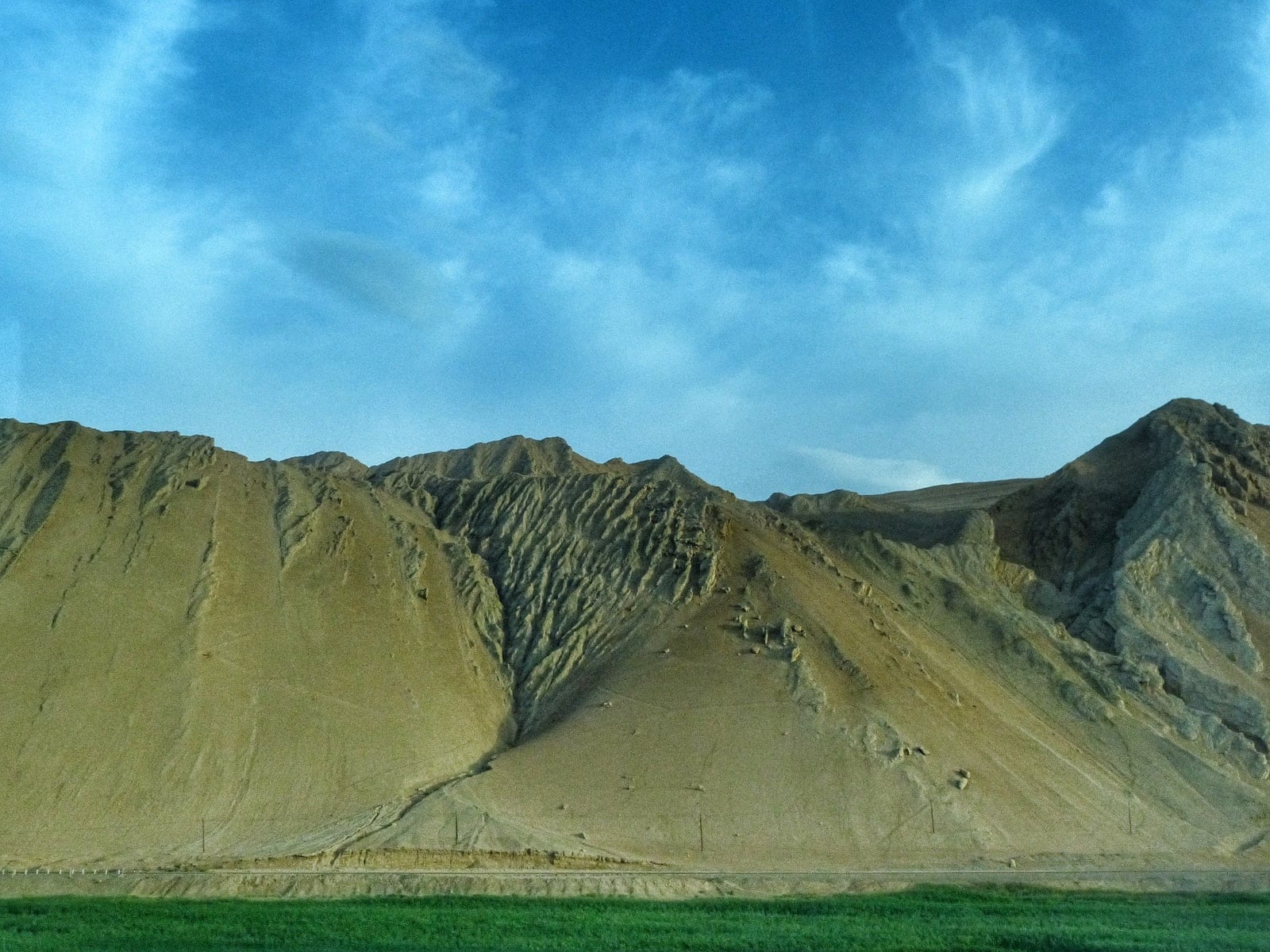 Life in Turpan
We eat in a restaurant nearby, Daniel takes some big green cold tagliatelle and I choose some thick spaghetti (Laghman) ultra-dressed with peppers and mushrooms sauce, we eat even those leftovers from the girls' next table!
Meanwhile, the sun peeps and it's suddenly 49 degrees. Feeling that resembles the Kazakh steppe. But we're in China so there's a brand new city center even here, it's full of new residential buildings under construction, it is not clear for whom.
Like an oasis, Turpan is a small town in the desert, in addition to grapes and local tourism (we are the only westerns here), there isn't much left to support the economy. And the kerez water coming from the mountains can't probably support a large city.
The desert does not end here of course, and we are a bit tired of steppes, we go to the bus station and get a ticket. Tomorrow morning we will be in Dunhuang, always in the desert, again an oasis. Oasis hopping in Xinjiang.
Follow us while we get lost
Stay in touch while we get lost! Follow us on Social Media