Where to find Giant Bike Rental Shops in Taipei, Kaohsiung, Hualien, Taichung, and all over Taiwan.
Prices, terms and conditions, models, reservation policy. Everything you need to know to rent a bicycle in Taiwan.
One of the things that make Taiwan one of the easiest cycling destinations is that you don't even need to bring your own bicycle!
There is a capillary network of Giant Stores, all over the island, which provide bike rental service of basic trekking bicycles, with panniers, multi-tool, lights, cycle computer, and pump. The great thing is that you can pick up a bike in one shop, tour the island and then drop it at another shop elsewhere.
If you want a more flexible bike rental, we advise you to contact the guys at Mathew Bike in Shilin district of Taipei. They have a good chose of bikes, and no credit card is needed.
Moreover, they are a really nice couple whose work is worth sustaining, we went with them and we didn't regret. They also will provide you with helmets and patch kits, which Giant stores won't. The only downside is that you have to return to Taipei with the bikes.
Disclosure: Some of our articles contain affiliate links. This comes at no additional cost for you and helps us keep this website up and running. (as Amazon Associates we earn commission from qualifying purchases)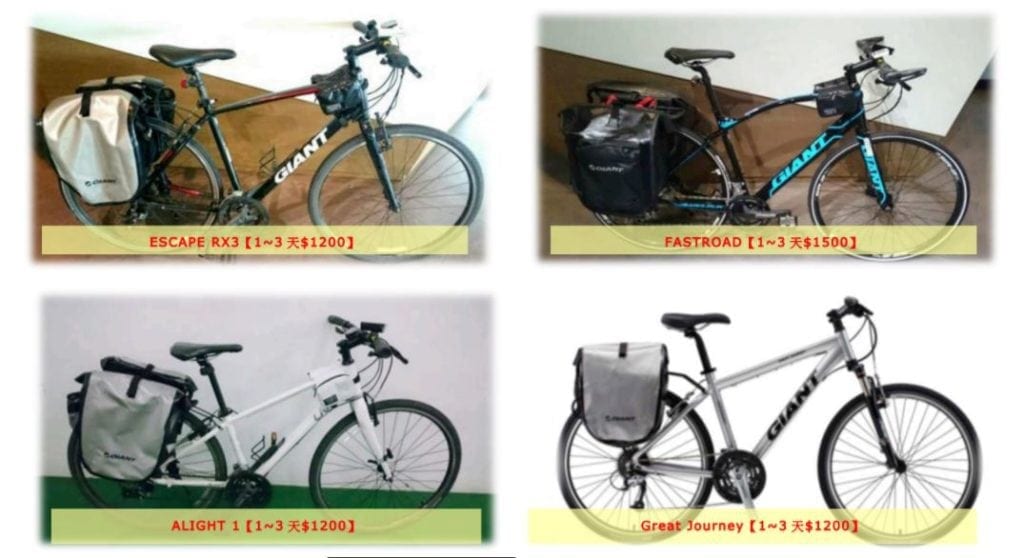 How much does it cost to rent a Giant bicycle in Taiwan
The rental costs NT 1500 (51USD/41€) for the first three days, and NT200 (5.5€/6.8USD) for each additional day. Normally, you will be asked your credit card data, and the booking should be done two weeks in advance with exact dates, although we found out this is not as rigid.
For example 7 days will cost you = 1500 + 200 x 4 = 2300
What you get
Rates include :
1 bike
1 front lights
1 rear lights
1 lock
2 rear pannier bags (Giant brand)
1 multitool
1 pump
Giant does not provide tire levers, inner tubes, or patch kit. You must remember to purchase your own flat repair equipment. They also do not provide helmets.
About Giant Rental Bikes
Giant store offer only flat-bar hybrid trekking bikes, forget about riding a fast road bike or a reliable touring bicycle. These bikes are not designed for loaded touring, although all of them have rear racks to fit the panniers.
Do not load to much gear to avoid wobbling. Tires are a bit narrow for my taste and adherence on wet asphalt is not the best when loaded.
They are, by the way, pretty decent and well-maintained bikes, that will bring you and your gear to the destination without too much hassle. Of course, if you're used to riding your own beloved bike, you won't feel great on this wholesale stuff.
Featured bicycle models are Fastroad, Alight, Great Journey, Escape but availability will depend on your body measures. Each frame is marked with a Giant serial number for tracking.
What do you need to provide
Although renting a bike in Taiwan from Giant stores is very convenient, it doesn't come hassle-free. Most of the stores, if not all of them, require you to authorize them your credit card (Visa or MasterCard only), just in case of losing the bike & gears. Giant values each bicycle at about NT$30,000 and you are liable for any loss or damage.
According to the rules, Giant rental shops are also very strict about reservations and exact pick-up and return dates. They ask to book the bike at least two weeks in advance, better if 1 or 2 months (!), providing the exact dates of your trip and where you will return the bike. Note that all Giant rental shops are closed on Thursday.
In my experience, contacting basically all the shops in Taiwan, that is not always true. Of course, especially in peak seasons and holiday, they might run out of bikes, and indeed no shop in Taipei had any available when we asked, but we just contacted them 4 days in advance.
Many other shops had bikes available and where willing to discuss alternatives to the credit card procedure (since we didn't have one).
By the way, with the guys at MathewBike, everything was just way more easy and informal. I first booked the bikes for 5 days and ended up keeping them for 14, without any trouble.
2020 Update! The guys at MathewBike recently expanded their activity, they have new and fancier bikes, and provide planning and support car services – proud of you guys! You can contact them through their facebook page or their brand-new website.
Terms and conditions of Giant bike rental service in Taiwan
The most official shops will send you a PDF with the rental condition, but it's in Traditional Chinese, so here's an approximate translation. This translation is purposely left almost unchanged, like Google Translate reflects it, to avoid any misinterpretation by our own side, you're welcome to contribute to improving it.
Hello, please read the following instructions before leasing a bicycle for a tour of the island. Because the Giant Island touring is the province's mobile (?), we will answer whether we have a bike to rent within about one week after receiving your appointment notice.
Afterward, an official appointment will be mailed to you. If the following instructions cannot answer your questions, please feel free to ask us. We will serve you wholeheartedly. Thank you!
First, the rental method:
1. Please call or MAIL appointment 2 to 1 month before departure to make an appointment. After the appointment, the store will send a MAIL notice to accept the appointment.
2. (Domestic Traveler) After making an appointment, you need to deliver the deposit within three days to the store. If not, the store will have the right to cancel this transaction. Please send the remittance to the following account.

Account Name: Giant Co., Ltd.
Bank: Changhua Bank – Nantun Branch
Account Number: 4042-01-00288-0-00

3. (Foreign Traveler) After receiving the mail for confirming the booking, please pay the deposit within 3 days. The minimum deposit amount is NT$1,500. Please remind you to select [Full Payment to Full Payment] when remittance.
Or Received In Full Amount, if not ordered, the store will have the right to cancel this transaction. Please be sure to confirm with the store staff.
Giant Company Account Payee Information (Beneficiary's Details)

銀行名稱(A/C with Bank): CHANG HWA COMMERCIAL BANK
分行別(Branch): NANTUN BRANCH
SWIFT BIC: CCBCTWTP404
銀行地址(BANK Address): NO.306 SEC. 1 WEN HSIN RD,TAICHUNG 408 TAIWAN
受款人姓名(Beneficiary's Name): GIANT SALES COMPANY
受款人帳號(Beneficiary's A/C NO.): 4042-01-002880-00
備註(Notice): Giant Sales Company have to receive in full amount, do not allow to deduct handling charge!

4. Please provide "contact name (full name), telephone number, MAIL, rental period, height, number of people" when making an appointment.
5. Rental bikes can be rented at an A place and returned to a B place (only limited to official stores), the stores does not provide rent/return, maintenance services on Thursdays (except Taichung flagship store)
6. The lease of a touring bicycle can be picked up one day in advance.
Second, rent calculation: $1200, $1500 for 1~3 days, $200 daily starting from the 4th day

Third, the payment method: credit card (if you use UnionPay cards we will not be able to back brush)

Fourth, for models please refer to the following picture (real bike spare parts, please refer to the site of the vehicle)

V. With bike accessories: headlights, taillights, stopwatch, tube bags, shelves, rear saddlebags, pump, bottle cage, locks, tools
Sixth, spare parts damage compensation explanation
When taking the vehicle, please confirm with the staff of the store, if because of the user operation improperly damages or loses, needs compensations according to the retail price.
Seventh, other:
1. When you pick up the bike, you must fill in the contract for the rental and you need to provide photo ID for photocopying. The foreign visitors are required to provide passport copies.
2. If you are ringing Taiwan for about 9 days, please consider the number of days you are renting. If you return earlier, you will not be refunded.
3. If you want to change the location of returning a bicycle, you need to inform the original bike rental shop to facilitate vehicle scheduling.
4. The front and back lamp batteries are consumables, and they do not provide free replacement service.
5. Because the island can not select vehicle models due to the flow of the entire province, it will provide the existing suitable size vehicle models according to the height of the consumers. If the models of the same type are insufficient, they can rent the model with the same size at the scene.
6. There is no timely roadside assistance service for leasing around the island. Except for Article 8 of the bicycle leasing contract, the remaining costs derived from the remaining issues shall be borne by the lessee and the charging method shall be borne by Yimen City.
List of bike rental shops in Taiwan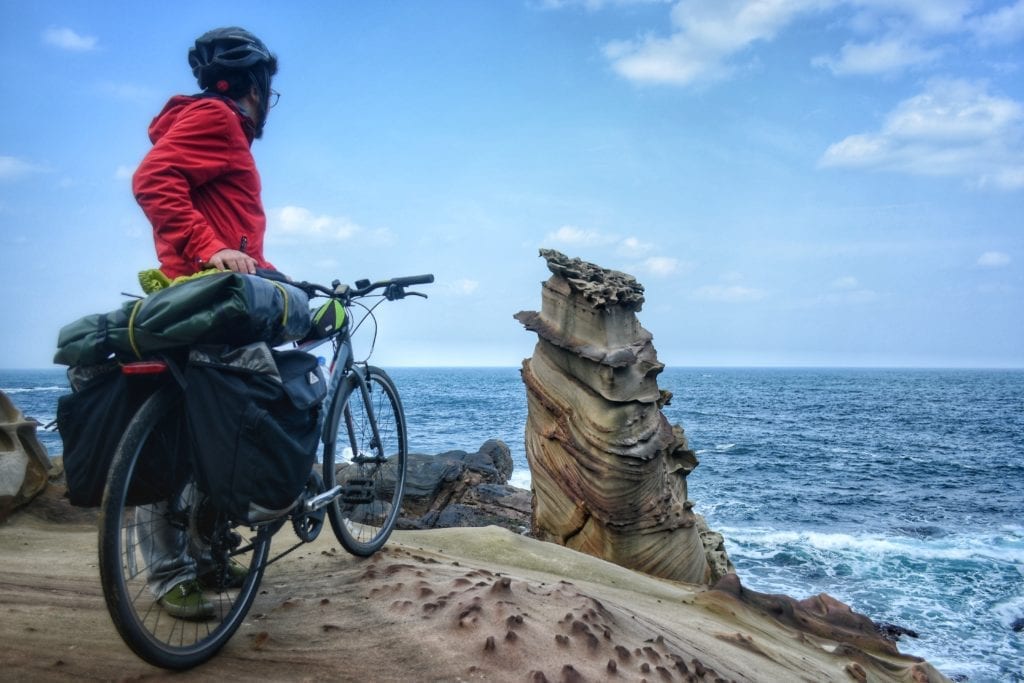 Giant Bike Rental Shops in Taipei and New Taipei
Giant – Taipei Nanjing Shop 105 1st Floor, No. 278, Section 3, Nanjing East Road, Zhongzheng, Songshan District, Taipei
02-87714045 / 02-87716858 0980-309-016 / 0906-605-960 / giant.d21080@msa.hinet.net / 11:00-21:00
Giant – Taipei Zhongshan Shop 203, 1/F, No. 98, Section 2, Minsheng East Road, Zhongshan District, Taipei, Taiwan
02-25419739 / 02-25362172 / 0982-790-926 / giant.d21163@msa.hinet.net / 11:00-21:00
Giant-Taipei Xinzhuang Shop 242 No. 38, Siyuan Road, Xinzhuang District, New Taipei
02-29942655 / 02-29942739 / 0980-872-234 / giant.d21066@msa.hinet.net / 11:00-21:00
Giant-Taipei Tucheng Shop 236 No. 1, No.42, Section 3, Central Road, Tucheng District, New Taipei City
02-22693362 / 02-22692029 / 0980-276-362 / giant.d21086@msa.hinet.net / 11:00-21:00
Giant – Taipei Forest Store 238 1st Floor, No. 192, Zhonghua Road, Dongyangli, Shulin District, New Taipei City
02-86849639 / 02-86849650 / 0980-949-242 / giant.d21127@msa.hinet.net / 11:00-21:00
Giant-Taipei Women's Flagship Store 105 First Floor, No. 345, 347 Lidung North Road, Songzhong District, Songshan District, Taipei
02-27160421 / 02-27165765 / 02-27164272 / 0980-969-345 / giant.d21094@msa.hinet.net / 11:00-21:00
Giant Bike Rental Shops in Kaohsiung
Giant-Kaohsiung Ersheng Shop No. 82, Ershengyi Road, Qianzhen District, Kaohsiung City
07-7210618 / 07-7215562 / 0980-276-369 / giant.d21056@msa.hinet.net / 11:00-21:00
Giant-Nanjing Store 811, 1st Floor, No. 46, 48 Qinan Road, Nanxun District, Kaohsiung City
07-3520149 / 07-3521723 / 0980-276-361 / giant.d21076@msa.hinet.net / 11:00-21:00
Giant – Kaohsiung Jiuru Store 807 1-4F, 278, 280 Jiurui Road, Sanmin District, Kaohsiung City
07-3223267 / 07-3220647 / 0980-276-367 / giant.d21092@msa.hinet.net / 11:00-21:00
Giant – Kaohsiung Aihe shop 803, 1/F, No. 16, Wufu 4th Road, Yancheng District, Kaohsiung City
07-5218512 / 07-5218451 / 0980-276-366 / giant.d21087@msa.hinet.net / 11:00-21:00
Giant-Pingtung Second Store 900, No. 8 180, Minsheng Road, Qingchunli, Pingtung City, Pingtung County
08-7327959 / 08-7326430 / 0980-276-368 / giant.d21124@msa.hinet.net / 11:00-21:00
Giant-Kaohsiung Women's Flagship Store 804 2218 Zhonghua All the Way, Gushan District, Kaohsiung City
07-5531412 / 07-5531521 / 0980-276-365 / giant.d21123@msa.hinet.net / 11:00-21:00
Giant Bicycle Rental Shops in Taichung
Giant – Fengyuan Ring Shop 420 723, 725, 727 East Ring Road, Fengyuan District, Taichung
04-25230887 / 04-25230873 / 0980-215-465 / d21041.giant@msa.hinet.net / 11:00-21:00
Giant – Taichung Flagship Store 407, 1st and 2nd Floor, No. 117, South Section of Henan Road, Xitun District, Taichung City 407, Taichung City
04-23159436 / 04-23155923 / 0980-014-280 / 0906-650-967 / giant.d21140@msa.hinet.net / 11:00-21:00
Giant – Taichung Women's Flagship Store 407 No. 166-81, Section 3, Xixitun Road, Yongan, Xitun District, Taichung
04-24615873 (representative) / 04-24613049 / 04-24619648 / 0985-601-828 / giant.d21131@msa.hinet.net / 11:00-21:00
Giant – Dali Store 412 1st Floor, No. 696, 698, and 700, Section 2, Guoguang Road, Daxing District, Taichung City
04-24820599 / 04-24824646 / 0980-215-460 giant.d21075@msa.hinet.net / 11:00-21:00
Giant – Hing Dae Station 402 1st Floor, No. 200, Lixing Road, Jishan, South District, Taichung City
04-22851540 / 04-22851539 / 0980-350-978 / giant.d21073@msa.hinet.net / 11:00-21:00
Giant – Dajia Store 437 No. 482, Jingguo Road, Dajia District, Taichung City
04-26765915 / 04-26765913 / 0982-734-198 / giant.d21101@msa.hinet.net / 11:00-21:00
Giant Bike Rental Shops in the rest of Taiwan
Giant – Yilan Luodong Store 265 1-3F, No.1, Section 4, Zhongshan Road, Hanminli, Luodong Town, Yilan County
03-9961127 / 03-9611820 0980-309-014 / giant.d21083@msa.hinet.net / 11:00-21:00
Giant – Taoyuan Second Store 330, 1st Floor, No. 128, Section 1, Zhuangjing Road, Taoyuan, Taoyuan City
03-3468016 / 03-3462842 / 0980-215-475 / giant.d21108@msa.hinet.net / 11:00-21:00
Giant – Taoyuan Nanxun Shop 338, 1/F, No. 116, Nanxun Road, Luzhu District, Taoyuan City
03-3213782 / 03-3214031 / 0982-790-927 / giant.d21110@msa.hinet.net / 11:00-21:00
Giant – Hsinchu Zhonghua Store 300 1/F, No. 124, 126 Section of Zhonghua Road, Qianxili, Dong District, Hsinchu
03-5353398 / 03-5421311 / 0980-309-010 / giant.d21079@msa.hinet.net / 11:00-21:00
Giant – Zhunan shop 350 No. 160, Section 2, Neighbourhood City Road, Zhunan Township, Miaoli County
03-7461456 / 03-7474641 / 0980-829-746 / giant.d21082@msa.hinet.net / 11:00-21:00
Giant – Nantou Store 540 1~2nd Floor, No.339, Nanyang Road, Kangshou, Nantou, Nantou County
049-2202300 / 049-2208721 / 0980-215-461 / giant.d21070@msa.hinet.net / 11:00-21:00
Giant-Sun Moon Lake Station 555 1st Floor, No.163 Zhongshan Road, Yuchi Township, Nantou County
049-2856713 / 049-2856712 / 0980-309-011 / giant.d21103@msa.hinet.net / November ~ April 07:00 to 18:00 / May – October 06:00 – 19:00
Giant – Chiayi Store 600 1st Floor, No. 298 Linsen West Road, West District, Chiayi City
05-2250923
Giant – Tainan Store 702 No. 416, Section 2, Jianshe Road, South District, Tainan City
06-2638597 / 06-2634921 / 0980-884-645 / giant.d21095@msa.hinet.net / 11:00-21:00
Giant – Tainan Yongkang Shop 710 No. 577 Zhongzheng South Road, Yanzhouli, Yongkang District, Tainan
06-2438421 / 06-2430235 / 0980-276-364 / giant.d21121@msa.hinet.net / 11:00-21:00
Giant – Hualien Station 970 No. 35, Guoxing First Street, Guolian Li, Hualien City, Hualien County
038-336761 / 038-337573 0980-301-547 / giant.d21134@msa.hinet.net / 09:00-18:00 / 08:00-18: 00
Giant – Taitung Station 950 No. 255 Xinzhan Road, Taitung City, Taitung County
089-235879 / 089-233710 / 0980-014-283 / giant.d21139@msa.hinet.net / 09:00-18:00 / 08:00-18:00
check these blog posts for
Everything you need to know about cycling in Taiwan
A great itinerary around Taiwan
Hiking Yangmingshan and soaking in Beitou hot springs
Essential gear for bicycle touring
How to travel by bicycle
How many miles should you cycle in one day
How much does it costs to travel by bicycle?
Stay in touch while we get lost! Follow us on Social Media