Cycling Taiwan: all you need to know to plan your Taiwan bike tour. Free camping, accommodation, roads, bikepacking itineraries, weather, and packing list to travel Taiwan by bicycle on a budget.
Cycling is a big thing in Taiwan, there's no other Asian country (yes, we'll talk about Taiwan as a country here) where cycling and cycle touring are so widespread and even institutionalized.
Everything is focused on cycling in Taiwan, and the bicycles are almost worshipped, being considered the prime means of transport to explore the island also by the government and tourism board.
There are plenty of cycling paths, dedicated cycling lanes almost everywhere, and several routes to cycle all around the island and even across its mountainous interiors. Bikepacking is certainly the best way to explore Taiwan, whose territory is very variegated and constantly scenic.
Taiwanese people are fond of cycling, and you will see many along the coastal roads, some just on a day ride, and some cycle touring longer distances, with panniers on their Giant bikes (almost just Giant here).
Disclosure: Some of our articles contain affiliate links. This comes at no additional cost for you and helps us keep this website up and running. (as Amazon Associates we earn commission from qualifying purchases)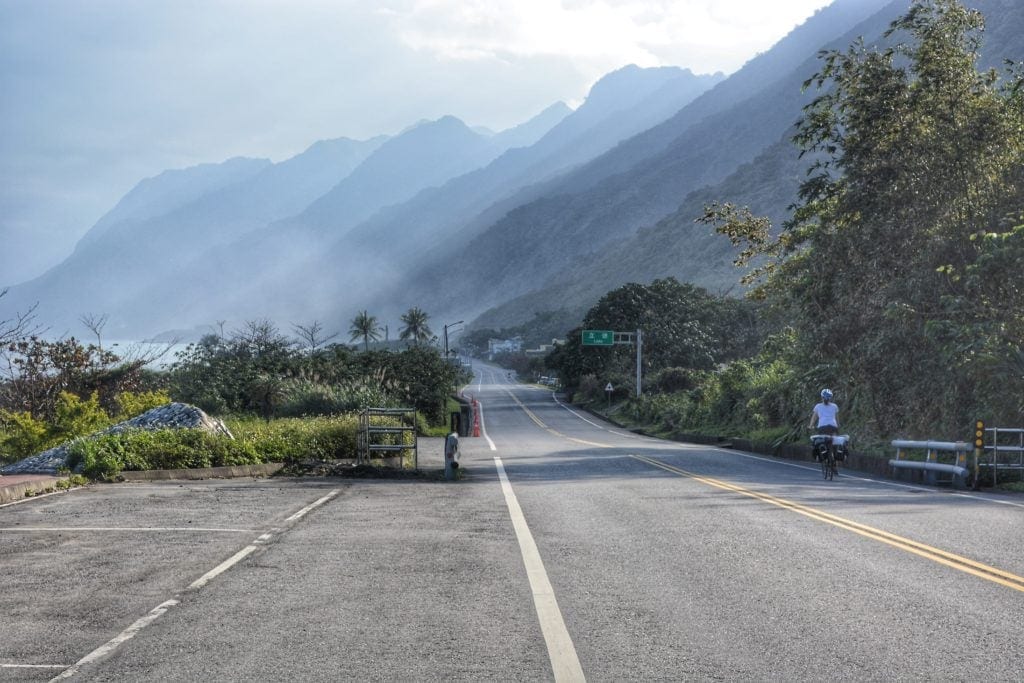 Where to go cycle touring in Taiwan
Being an oblong island, shaped like a seed, there are basically two coasts in Taiwan, east coast and west coast. The northern coast is very short but worth cycling in its easternmost part. There's no southern coast, just a cape.
Besides the lush and mountainous interiors, really challenging to cycle, there's no doubt that the best of Taiwan is to be found along the east coast.
Its northern part is made of steep mountains dramatically dropping into the sea, covered in grass they look like anything else we saw in Asia, reminding a bit of western Ireland.
Riding south, crossing the Tropic of Cancer, the landscape changes completely, becoming covered in thick tropical jungle. There are still mountains, but they get further away from the coast.
The southernmost area is amazing and really worth riding, be sure not to miss the east shore of Kenting National Park, just don't go to the silly southernmost tip of Taiwan, one of the most useless hike we've ever done, one and a half hour of out trip lost for a crappy concrete monument.
Taiwan Cycling itinerary in a Nutshell
Day 1/2 – Taipei and Beitou Hot Spring area
Day 3 – the north coast to Keelung
Day 4 – Jiufeng and the nearby mountain area
Day 5 – Shimen, Jinshan, and Yehliu Geopark
Day 6 – Northwest area, overnight in Toucheng Township or Yilan
Day 7 – Cycling to Hualien
Day 8 – Taroko Gorge and back
Day 9 – Shitiping, Sanxiantai, and Xiaoyeliu
Day 10 – bike touring Jiupeng Desert and Nanren Shore
Day 11 – getting lost in Manzhou aboriginal area
Day 12 – Kenting or Hengchun: Fengchuisha, Longpan Park, Kenting beaches, and White sand bay
Day 13 – Back to Taipei by train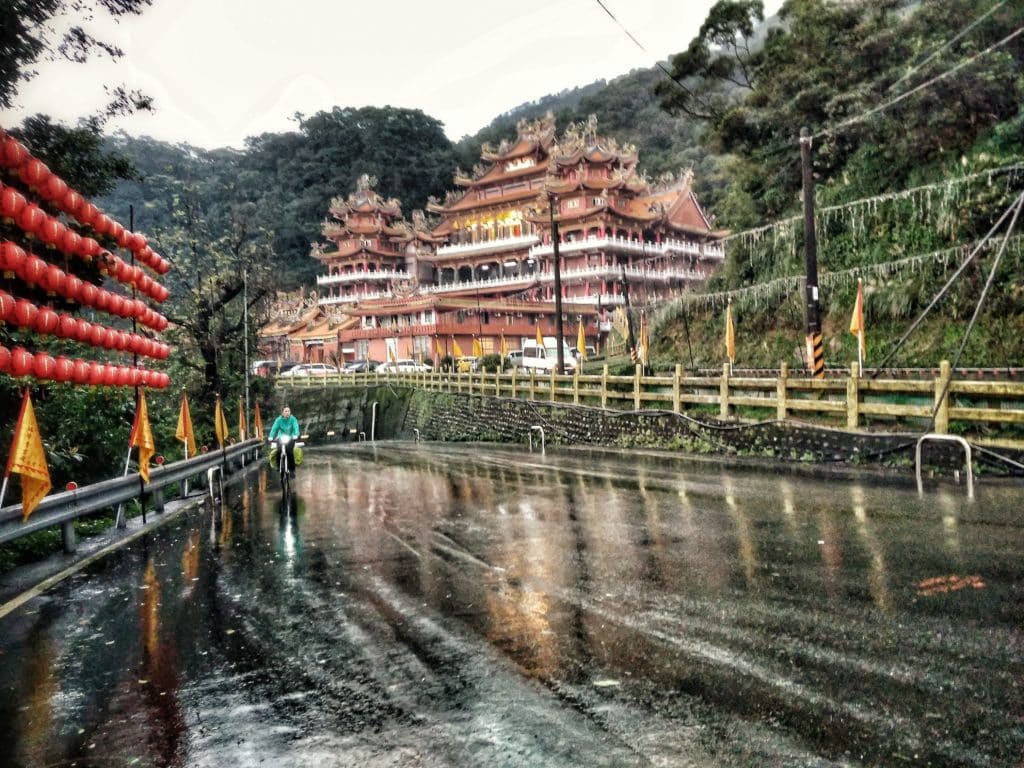 Camping in Taiwan
When cycling Taiwan, camping is certainly the way to go. Free camping is legal in Taiwan and there are hundreds of great spots to pitch your tent, whether along the coast, in the mountains, or even inside the cities. Gazebos for resting are literally everywhere, and they make great camping locations, especially when the weather is not friendly to you.
When on a Taiwan cycling tour, it's also very easy to find proper campgrounds, not all of those are free (like in South Korea), but they are mostly cheap. There are official campgrounds nearby many of the touristic highlights of Taiwan, like Taroko Gorge or Yehliu Geopark.
Accommodation in Taiwan
If camping is not your thing, you can stick to hotels and motels. Finding an accommodation when bike touring Taiwan is not always easy and rarely very cheap.
Some stretches of the east coastal road do not feature any type of accommodation for several kilometers, always check on your GPS or map when the next accommodation will be, and keep in mind that there could be only expensive ones. Booking in advance is often a good idea in Taiwan.
A hotel might be considered cheap in Taiwan when priced below 45/50USD per night (double room), the only places where you'll find cheaper accommodation are the most touristic cities. Often there is a quite big difference in quality between 40$ rooms and 50/55$ ones.
The cost of traveling Taiwan by bicycle greatly varies in function of the type of accommodation you chose, it can be absurdly cheap if you camp all the way, while it becomes more expansive if you wish to have a proper roof over your head.
Couchsurfing and other hospitality networks in Taiwan
There is a big Couchsurfing community in Taiwan and also one of the biggest Warmshowers networks in Asia. Try contacting the hosts in advance and remember to write considerate requests.
Check also our article about the best hospitality networks online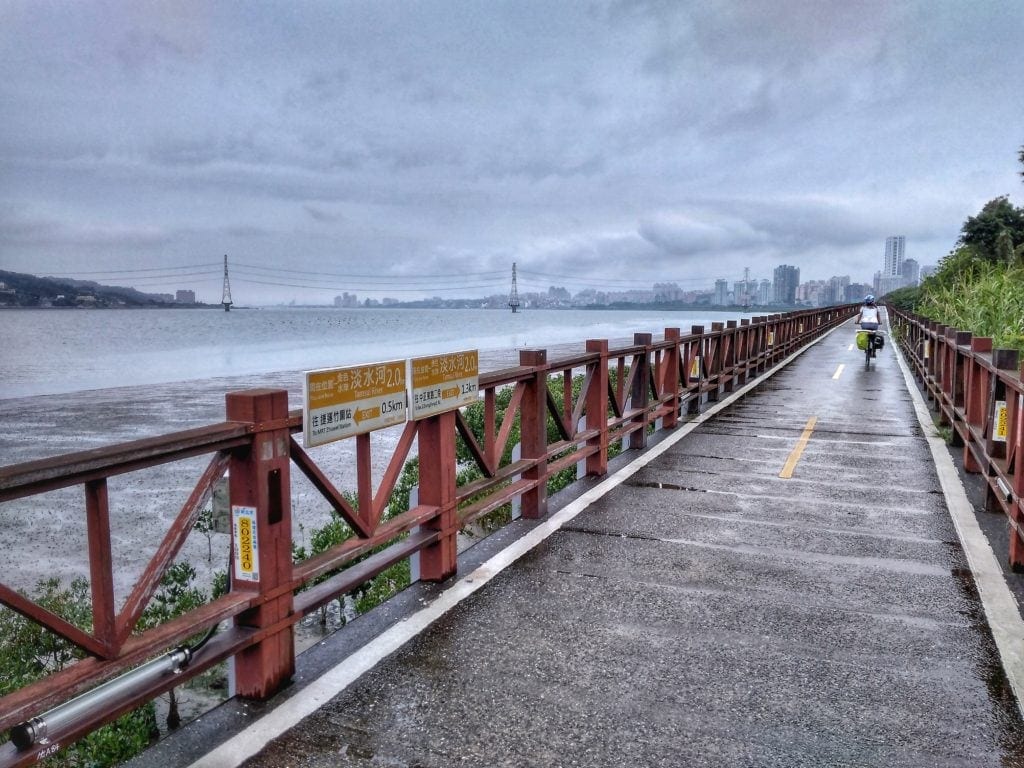 Cycling Taiwan roads and bike paths
We can be confident saying that almost all roads in Taiwan are sealed, the only dirt tracks you might find are probably leading nowhere. There are cycling lanes along every coastal road, when not a proper dedicated bike path. Bike paths are very commons in urban areas, there's always one on every side of each river.
That said, it's not all just sunshine and rainbows. The west coast is pretty horrible to cycle, one seamless urban area from north to south, not really worth cycling that part of Taiwan in my opinion. Still, it has some very interesting cities worth visiting, like Kaohsiung for example.
Also, some parts of the coastal road on the east coast is not so cycling friendly, mostly the highway 9 south of Taitung, where the three main roads coming from north converge into it, bringing heavy traffic.
Cycle Touring Taiwan Interiors
As easy as it is to cycle Taiwan along the coast, as though it becomes when heading to the interiors. Central Taiwan is very mountainous, with its highest peak being Mt Yushan, with its 3,952 meters, climbing those mountains by bike is not for the faint-hearted, although it certainly is very rewarding in terms of landscape and personal achievement.
Like cycling in the East? Check Also
Cycling in China – the Ultimate Guide
Everything about Cyle Touring in Japan
South Korea on a Bike – Beyond the 4-Rivers Bike Path
Cycling Thailand – Tips, Advice and Itinerary
Bike Rental in Taiwan
One of the things that make Taiwan one of the easiest cycling destinations is that you don't even need to bring your own bicycle! There is a capillary network of Giant Stores, all over the island, which provide bike rental service of basic trekking bicycles, with panniers, multi-tool, lights, cycle computer, and pump. The great thing is that you can pick up a bike in one shop, tour the island and then drop it at another shop elsewhere.
The rental costs NT 1500 for the first three days, and NT200 for each additional day. Normally, you will be asked your credit card data, and the booking should be done two weeks in advance with exact dates, although we found out this is not as rigid.
If you want a more flexible bike rental, we advise you to contact the guys at Mathew Bike in Shilin district of Taipei. They have a good chose of bikes, and no credit card is needed. Moreover, they are a really nice couple whose work is worth sustaining, we went with them and we didn't regret. They also will provide you with helmets, which Giant stores won't. The only downside is that you have to return to Taipei with the bikes.
Learn more about
How to rent a bicycle in Taiwan (complete list of bike rental shops, with contact information)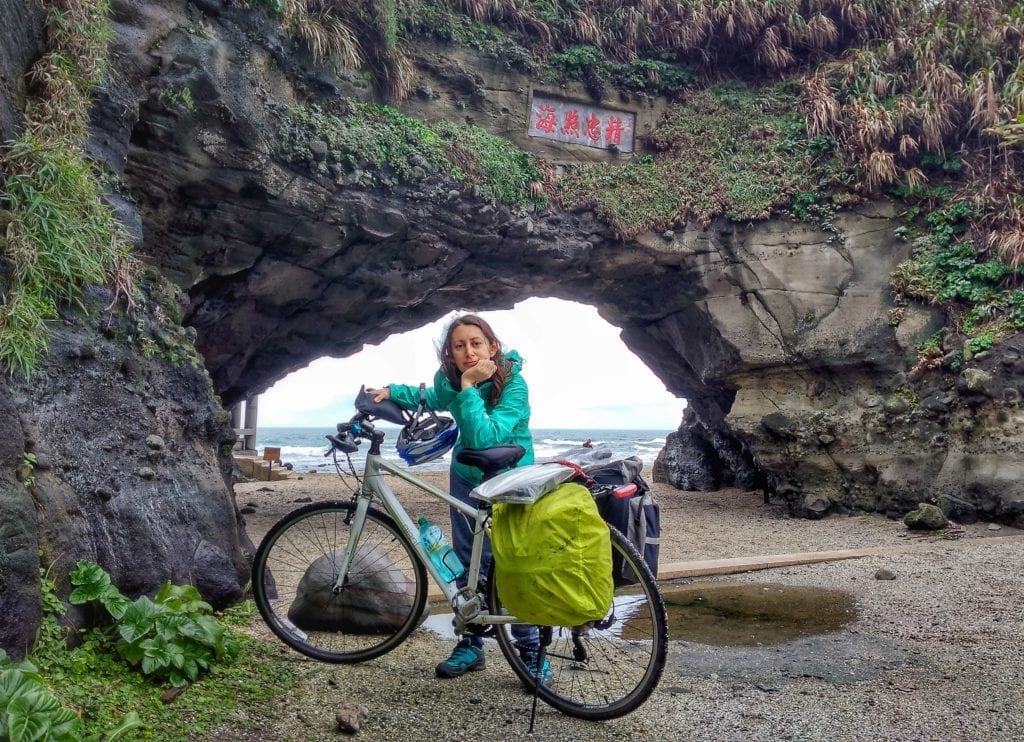 Can you take your bike on trains or busses in Taiwan?
Well, here comes the less friendly part. As we sorely discovered, bicycles are allowed only aboard a few local trains every day. These trains are very slow and you need to do a lot of transfers to get far. It took us two whole days to get from Kaohsiung back to Taipei. The bike fee is about half price of a normal ticket.
They try to justify themselves saying that you can carry folding bikes and bikes stored in bags on every train, but that is just normal luggage, there's no place in the world which forbids carrying a bag on a train. Moreover, the information desk at Kaohsiung station was very unfriendly, at the edge of racism, didn't provide correct information and refused to write down the names of the station in English (I mean in Latin alphabet). No such problems in other trains stations, fortunately.
Another weird thing about Taiwan's railway system is that it seems to be stuck in the 80s. Employees still look for trains on paper books, and you have to register your bike at a desk where they'll write down stuff with pen on paper. Quite weird for such a developed country.
About bicycles on long-distance buses, there is no specific rule, they will let you carry it if there is space in the luggage trunk. Moreover, not all long-distance buses have big trunks, which adds to the gamble.
You can carry your bike on Taipei subway network, but only during the weekend and holidays.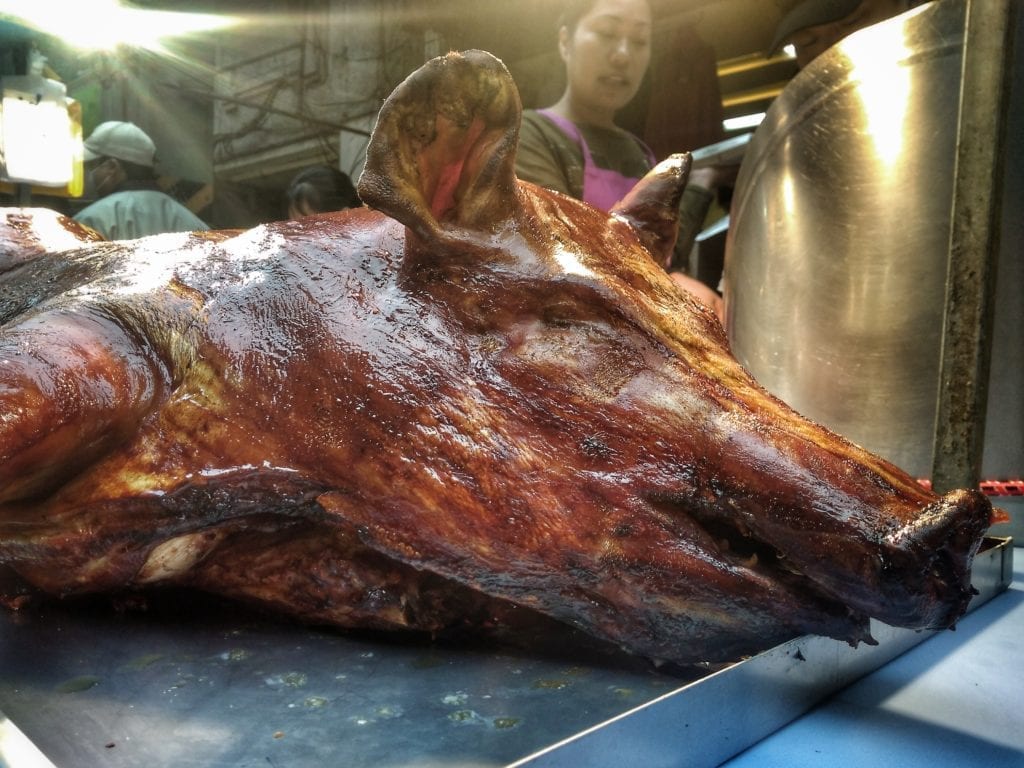 Getting food and water when cycle touring Taiwan
Water from the tap is not drinkable everywhere in Taiwan, the government advise to boil it first. Ask your hostel or guesthouse, or just some locals. Buying bottled water is never a problem, but it's not super cheap.
Taiwan is another convenience store country (like South Korea and Japan), 7eleven and family mart are in every town worth the definition. Here you can find the usual choice of junk food, drinks, and canned black coffee. Some have toilets and ATM, all have microwaves and boiled water, WiFi is available upon registration.
Taiwan is famous for street food, but it is not so easy to find food stalls along the east coast, except of course in the cities. What you'll mostly find is noodle soup restaurants whose quality honestly pales in comparison with Chinese soups, sorry guys. In the deep south, where Taiwan really gets tropical and the aboriginal natives are a majority, food stalls are more frequent but the variety is not great.
The notorious Taiwanese night markets are pretty cool, you can find more than one in each city and sometimes even in small towns, Google maps knows all of them. The night market in Hualien is great but the best of the best is in Keelung, here we finally found out why the Taiwanese food is so famous!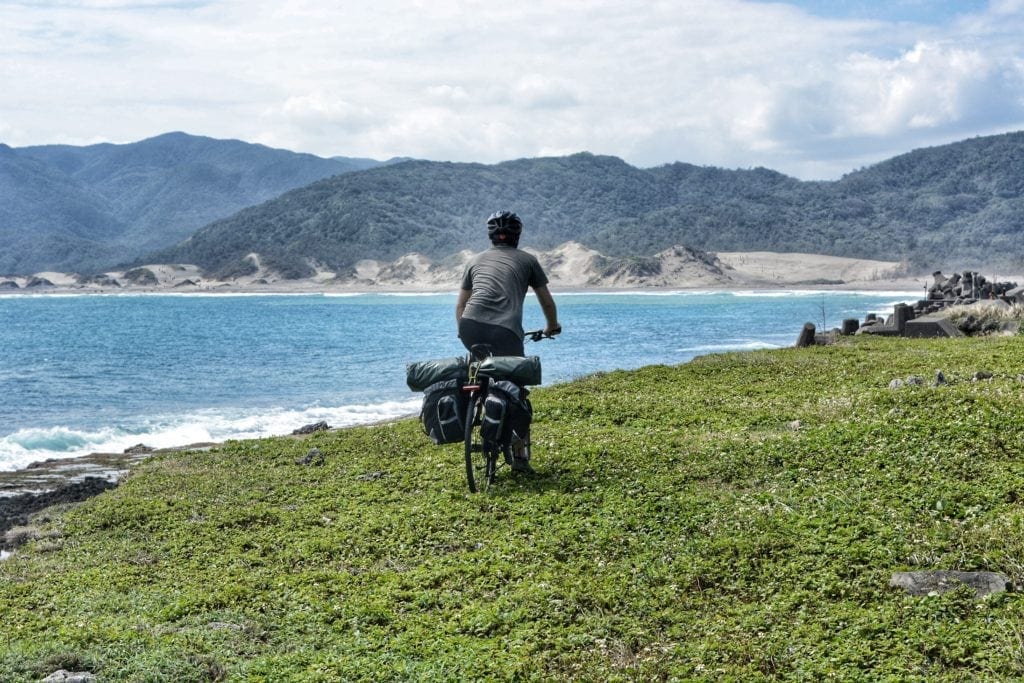 How to get in and out Taiwan with a bicycle
If you don't want to be cycle touring Taiwan on a Giant bike, but bring your beloved bike with you, just check the most bicycle-friendly airlines here. Cosco ferry operates passenger ships from China to Taiwan, one ship per week from Xiamen to Keelung, and one from Fuzhou to Taichung. This is certainly the cheapest and most bike-friendly option to get to Taiwan from China. Indeed bikes go free on Cosco!
When to go cycling in Taiwan: weather and climate
Taiwan is crossed by the tropic of cancer, which cuts it more less in half, the north part of so belongs to sub-tropical climate zone, while the southern part is properly tropical. Winters are warm and summers are hot and wet, with typhoons and thunderstorms, anyway there's a lot of rainfall throughout the year. We got considerably wet during our bike tour of Taiwan.
The best time to cycle is from October to April, when temperatures are milder, we went in February and experienced quite a cold weather in the north, but 2018 was a peculiar year. When we reached the southern part, the weather was very warm and we even could take a couple of swims in the sea.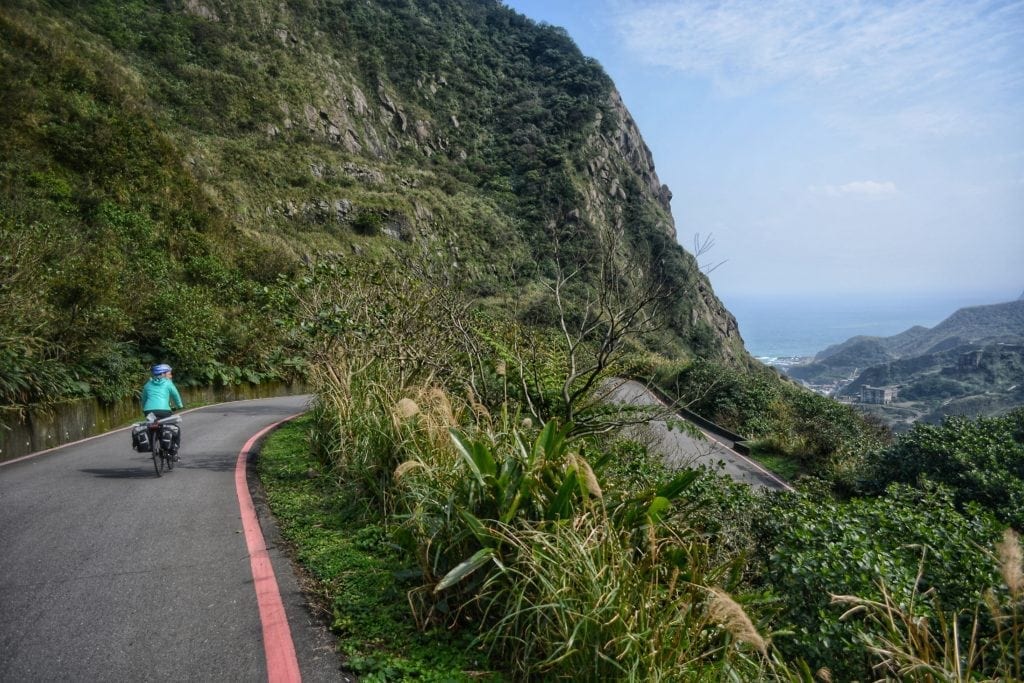 Language and connectivity
Among the Eastern Asia countries, Taiwan probably ranks best for number of English speakers. Don't expect though to be understood like you're on a native speaking country. Speak slowly and use simple sentences.
You can buy sim cards or rent WiFi routers with data at Taoyuan airport to access the internet in Taiwan. Check out the price plans for SIM cards and WiFi routers on Go!Taiwan website. WiFi is also available in all hotels and at major convenience stores (upon registration).
---
What to bring on a Taiwan cycling tour
First of all, rain gear. Camping equipment is great to budget down and gives you the opportunity to enjoy some beautiful sceneries. Mild weather cycling clothes are enough, even if it gets colder.
The basic cycling tools and spares are a must, but there will be always a bike shop in the next major town, so don't overload. As already mentioned, the roads are good and sealed so you literally can cycle tour Taiwan with any kind of bike, we saw many Taiwanese cycling with suspension forks, absolute no-sense.
When it comes to flights our pick, since already several years, has always been Kiwi.com. It is, in our opinion, the best search engine for flights by a long shot.
Kiwi has a very flexible search function – you can, for example, select several departure locations or a variable geographical radius, and then check for flights to a wide region (like Southeast Asia for example) or even to "everywhere".
You can then compare the best deals, combining the various options of departure and arrival.
Also the dates are super-flexible, Kiwi allows you to select entire months or even longer periods of time, and then select a trip duration (the interval between the departure and the return flight) which is also flexible!
You could, for example, search for flights from "Italy+Austria+Switzerland" to "Southeast Asia" between "June 6" and "September 24" with a duration of "24/32 days", what other flight engine gives you that?
Through Kiwi.com you can also check the fees for luggage and sports equipment (ie. bicycles).
Travel Insurance for Taiwan
It doesn't matter how safe a country is, things can always happen – accidents, thefts, injuries, etc are unfortunately very common in the real world. We recommend ALWAYS getting a TRAVEL INSURANCE

The most versatile and best value-for-money is undoubtedly WORLD NOMADS, have a look a their website to get a quote.
Check also
Some more cycling in Asia?
Cycling Thailand – the ultimate guide
Bike Touring in Cambodia – Advice, tips, and Itinerary
Stay in touch while we get lost! Follow us on Social Media