A blog about cycling Thailand: from easy bike holidays to expert bicycle touring itineraries
What to pack, where to sleep, best times to go Bikepacking Thailand
Thailand is still the most touristic destination in South East Asia, and that's also true for cycle tourism. Every year hundreds of bike tourers, experienced and beginner, embark on cycling tours of Thailand, both short bike holiday trips and nation-wide expeditions.
The southern beaches, the paradisiac islands, the northern mountains, and the bustling cities make a great combination of sceneries that could make cycling in Thailand a very diversified experience.
World-renowned Thai food is a perfect add-on for the hungry cyclist: cheap, tasty, healthy and widely available.
Cheap motels, nice lodges, cool resorts and the opportunity to stay (often for free) in Buddhist temples make accommodation in Thailand a pleasure more than a necessity.
Well paved roads with wide shoulders and the helpful police stations with dedicated bike facilities will help you feel always safe. Moreover, riding a bike is a great idea if you want to travel Thailand responsibly.
Planning a bike trip around Southeast Asia? Check also
Bike touring beginner? Have a look at
Cycling the Roads of Thailand
Disclosure: Some of our articles contain affiliate links. This comes at no additional cost for you and helps us keep this website up and running. (as Amazon Associates we earn commission from qualifying purchases)
Thailand's road network is the most developed in South East Asia. Good tar highways with wide side lanes and a number of secondary roads both paved and gravel, especially in the mountainous north.
In the south, alternatives are less frequent and traffic a bit heavier. You'll have though the nice getaway of the islands, and several flat and scenic coastal sections.
Bicycle Culture in Thailand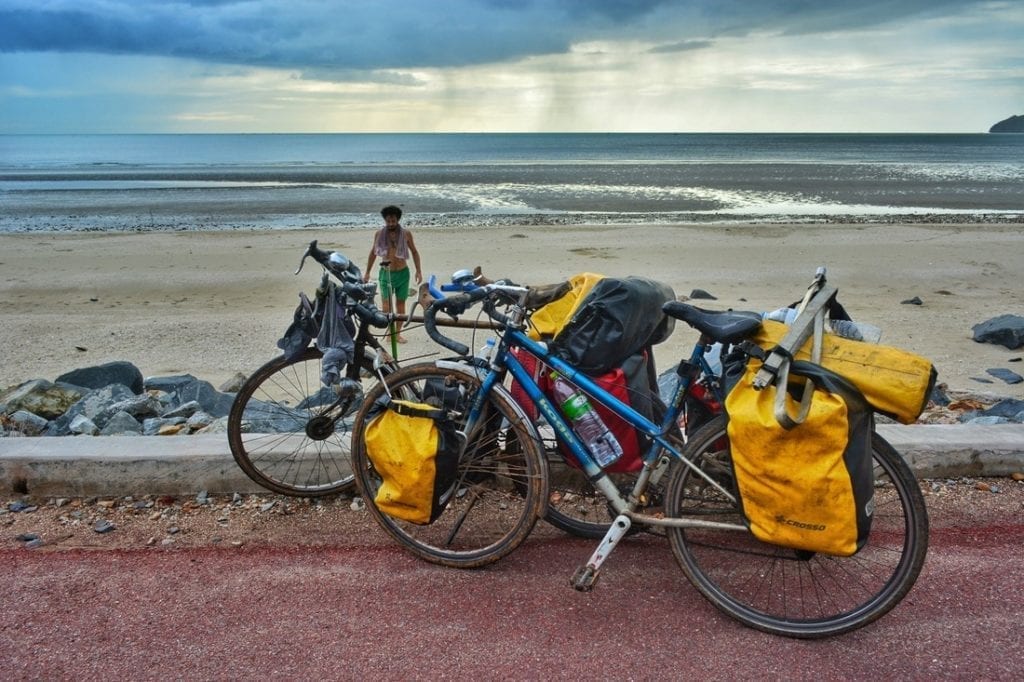 Like all Southeast Asian countries, the bicycle has been the main means of transport for quite a while in Thailand, that has been unfortunately replaced by motorbikes in the last decades.
Still many people use bikes though, and cycling as a sport and/or means of travel is on a rise in Thailand. There are several cycling clubs in the country and Thai touring cyclists are traveling the world.
Cycling races are getting more popular in Thailand, including multi-day endurance races. Also Critical Mass events are seen once in a while.
Bicycle Touring Shops in Thailand
Thailand has decent bike shops in most of its cities, common Shimano components are easy to get, while SRAM might be harder to come across, except in Bangkok.
There are some very good bike shops in Bangkok, which stocks also some touring gear, including Schwalbe tires. They are called BoVelo, CRAZY Touring, Rit Touring, and BokBok.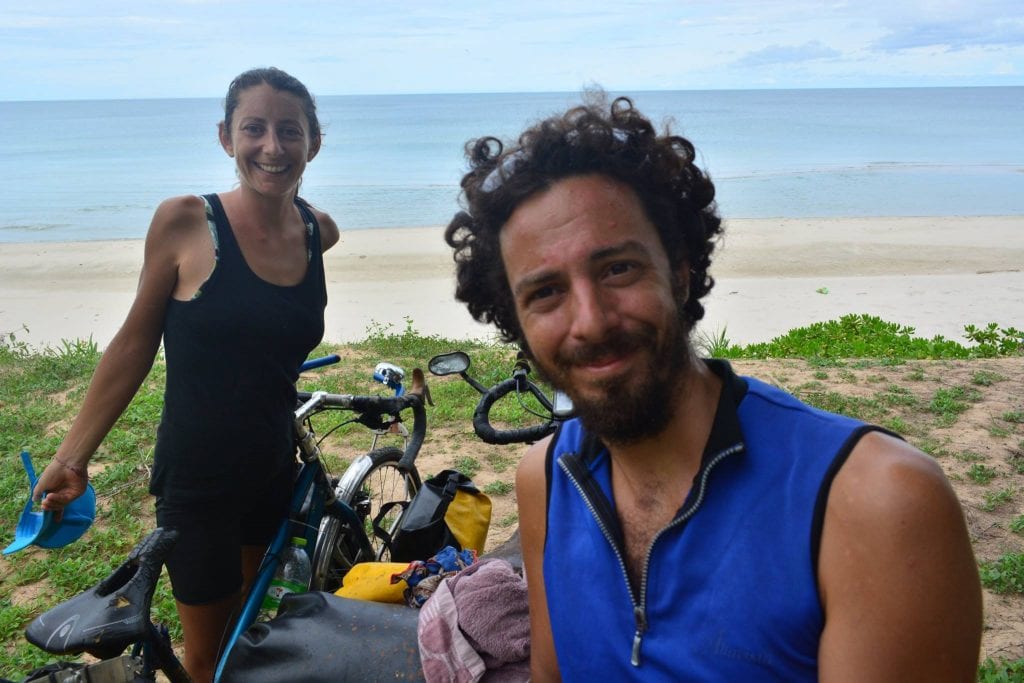 What to pack for a cycling holiday in Thailand
Bike Gear
Pro Tip!
You don't need an expensive bike to cycle here. You can easily ride on a refurbished bike that you can get for free (or almost free) – learn how here!
---
Cycle Clothing
Pro Tip!
Use common running shorts to cover your cycling shorts in conservative countries!
---
Accessories
---
Should you bring camping gear when bikepacking Thailand?
If you are planning a bike trip only inside Thailand we advise not carrying any camping gear, besides maybe a lightweight sleeping-pad.
As you'll see below, Thailand is not really camping friendly, and the cheap accommodation and overwhelming heat would help you give up to the temptation.
A cycling holiday in Thailand can be affordable and relaxing even without camping gear, if you still want to bring it along, check our Essential Gear for Bicycle Touring.
Cycling friendly accommodation in Thailand
Motels
The whole kingdom of Thailand is dotted with budget motels, mostly very decent, that can be found everywhere along the main roads.
Most of those are one-storey buildings with lanes of large-porched rooms. You can basically ride your bike into the room.
The rooms are usually big, with wide hard beds and cost an average of 8/15 USD x night.
Some of these are actually love-motels, hence the curtains closing the porches (to hide the car and thus the identity of the customers. They're called "man rhut" – " swipe the curtain"
Although we used this kind of motels a lot, we've never seen anything sketchy happening and always felt at comfort.
Bear in mind that motels never have restaurant facilities, the best you can get is a soft drink (and usually condoms), you can usually use your stove to cook under the porch, but always ask for permission from the manager.
---
Beach Resorts
For many years Thailand has been the most popular holiday country in Southeast Asia, also because of the political unrest the neighboring countries underwent for decades.
During the last 40/50 years, Thailand has developed pretty impressive tourism infrastructures, which in recent years – due to competition from neighbors like Cambodia and Vietnam, together with a change in the tourism industry – has been rendered overkill, resulting in many rundown or abandoned resorts, especially in the south of the country.
Some of these old-style resorts receive mostly local tourism, and are thus often pretty cheap or anyway great value for money. Just cycling some coastal areas you'll see quite a few places with nice cottages on mostly deserted white sand beaches, they are really great places to be for a budget touring cyclist!
Of course, if you want something more upmarket there are many luxury options available, even in the least touristic areas.
Get inspired here by some of the best resorts in Southern Thailand
Hostels and Backpacking vibe in Thailand
Thailand has been a prime backpacking destination since the 70s, backpackers are still everywhere, usually armed with authentic interest for the country and spirit of adventure, but sometimes with an even stronger desire to get wasted with alcohol and drugs.
As a cycle-traveler, I rarely enjoyed backpacking hostels. It's often troublesome to properly take care of your belongings and find a place for your bike.
Those places though can offer a nice social experience once in a while, especially to those cycling through Thailand solo.
Dorm beds in hostel cost 7/12USD, just like a private motel room, but if you are looking for company…
Check the best hostels in southern Thailand
Camping and staying in Buddhist temples in Thailand
Campsites are basically non-existent in Thailand, excluding national parks (where campsites are often crammed and overpriced).
If you miss camp life your only options are wild camping and staying in Thai Buddhist temples.
Well, wild camping is not really an option since, although the rules about free camping in Thailand are mysterious – if not illegal wild camping certainly not greatly tolerated nor really safe in Thai.
You might get away with sleeping one night on a lonely beach or a coconut plantation but we strongly advise against that. If you don't have a budget for accommodation the best option is always to ask someone for a spot: fishermen platforms, petrol stations, people's gardens, are all viable options, but the best is no-doubt Buddhist temples
Couchsurfing, Warmshowers and Police Hospitality in Thai
Couchsurfing has unfortunately become more like a dating site in Thailand, the chances to get a reply are slim but it might be worth a try anyway, especially in less touristic areas where hosts receive fewer requests. Check these alternatives to Couchsurfing.
The Warmshowers community instead is growing and quite widespread. As already mentioned, bicycle touring in Thailand is becoming a trendy thing, so you can bet there will be more and more Warmshower hosts in the near future.
You'll find both locals and foreigner hosts, many of the expats are teaching English in Thailand, most for just a year or two, so some of their profiles might be outdated.
A very nice surprise, pretty unique to Thailand, are the road-police stations free rooms for bicycle tourists. Some police stations indeed have a sign representing a bike, stopping here means you'll have basic tools, a free meal, and a simple room for the night, directly from the police officers. This is absolutely awesome and a great sign of how Thailand cares about bicycle tourers.
Food in Thailand – where to eat when bikepacking in Thailand
Thailand has many small restaurants where to enjoy more-less authentic Thai food, those restaurants are cheap enough at about 2$ for a pad thai and 3/4$ for a curry. Restaurants might be very slow in serving you (even one hour), so think twice if stopping for lunch if you still have a long way to go. Restaurants outside the main tourist center close pretty early, about 5 to 6 pm.
The best friend of the bike tourer cycling in Thailand is the convenience store, 7Eleven, FamilyMart, and other local chains. Even if not certainly the healthiest, convenience store food in Thailand is cheap and fast to get and consume. They have microwaves and hot water for noodles, some convenience stores also have toilets and tap water.
Thailand also has good western-style supermarkets in the major towns, often well-stocked in international food basics.
Like in all Southeast Asian countries the real treat for those pedaling in Thailand is fresh tropical fruit. Mangoes, bananas, watermelon, dragonfruit, mangosteen, rambutan, coconut and many more kinds of fruit are easy to find, often sold along the road by street vendors and small stalls. Smoothies are great for a stopover during a hot day.
Cycling Southern Thailand
Southern Thailand is mostly flat, a narrow strip of land covered by rubber plantations. Not many alternative roads available, besides some short detours towards the coast.
There's a main highway, the 41, that traverse southern Thailand from the Malaysian border to Bangkok. The detour towards the west coast (Krabi, Phuket) is on highway 4.
Both these roads can be easily and safely cycled, although they are certainly not the most pleasant in the world.
They are mostly two-lanes separated by a guard-rail and flanked by a very wide side-shoulder, wide enough to cycle safely even if the nearby cars will pass at speed.
Those two lanes not rarely turn into four, a real highway, but you'll still be allowed to cycle and the shoulder wouldn't change.
The southwestern region from Songkhla to Surat Thani has a nicer coastal route, the 408, which is what we actually cycled. Occasional beautiful beaches, quiet Buddhist temples, and a relatively low tourism-impact.
From Surat Thani, you can catch the ferries to two of the most famous Thai islands, Koh Phangan and Koh Samui.
Best places to visit when cycling coastal southern Thailand
We'll list the best places to visit when cycle touring Southern Thailand from the Southernmost (near the border with Malaysia) to the Cambodian border of Koh Khong – following the bikepacking route we cycled ourselves.
While the west coast is probably more interesting, due to the many islands, it's rugged shape makes it hard to cycle. So many rivers and very few bridges mean big detours away from the coast.
The east coast instead is pretty straight, and while it might not be the most exciting place to cycle in the world, it still has many interesting sights and has the advantage to be not very touristy.
Map of Southern Thailand Attractions
Thale Ban National Park
Small but lush national park near the border with Malaysia. There is a lake and several caves to explore. Entrance fee and room for 20USD.
Yala (Wat Khuhaphimuk/Wat Na Tham)
Wat Khuhaphimuk is one of the most important and most revered sites in Southern Thailand. it's a cave-temple containing an ancient reclining Buddha, almost 30m long, the site is believed to have been established in the year 757.
The town of Yala itself is nice to spend a night. It has a market, a clean setting, and a great seafood restaurant.
The region of Yala and the extreme southeast of the country are inhabited by a Muslim majority, there's a very active separatist movement and there have been riots and terroristic attacks sometimes repressed in blood.
This region has a unique culture and great food, but check your country's foreign travel advisory to see if there's something going on.
Songkhla coastal area
A lake-view heritage quarter on one side of town and a golden beach fading into the sea on the other, a very nice stopover.
Road 408 is the best choice when cycling southern Thailand. Loads of pristine beaches, even if not always the water is clear.
Phattalung
A detour from the coast, Phttalung is filled with great food and laidback locals, the provincial capital stretches between striking limestone massifs where forest monks go to meditate.
The rest of the province reveals one of Thailand's best bird-watching venues along with mountains, waterfalls and an ancient palace set near the vast Songkhla Lake.
Nakhon Si Thammarat
Miles of coastal beaches, several waterfalls, a gorgeous mountain range, this is one of the most beautiful provinces where to cycle in Southern Thailand.
Interesting nearby sites are the Suchart Subsin's House of Shadow Puppetry, Khao Luang National Park, Baan Khiri Wong, and Wat Phra Mahathat. This area is definitely worth including in any Thailand itinerary.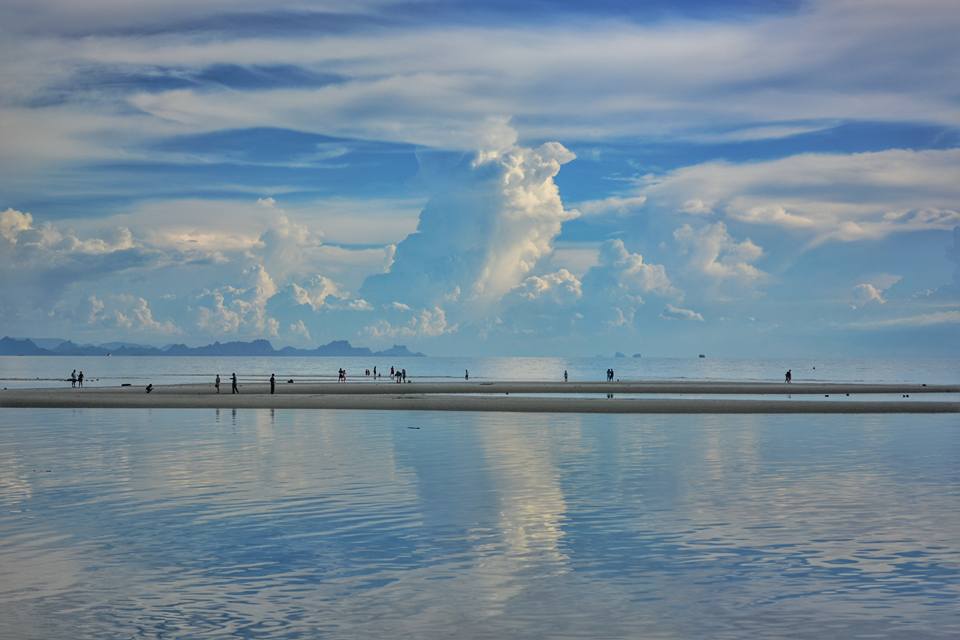 Koh Samui
Koh Samui is one of the most famous tourist islands in Thailand. It's pretty big and mountainous with a lot of stunning beaches. Definitely a great place for bicycle touring.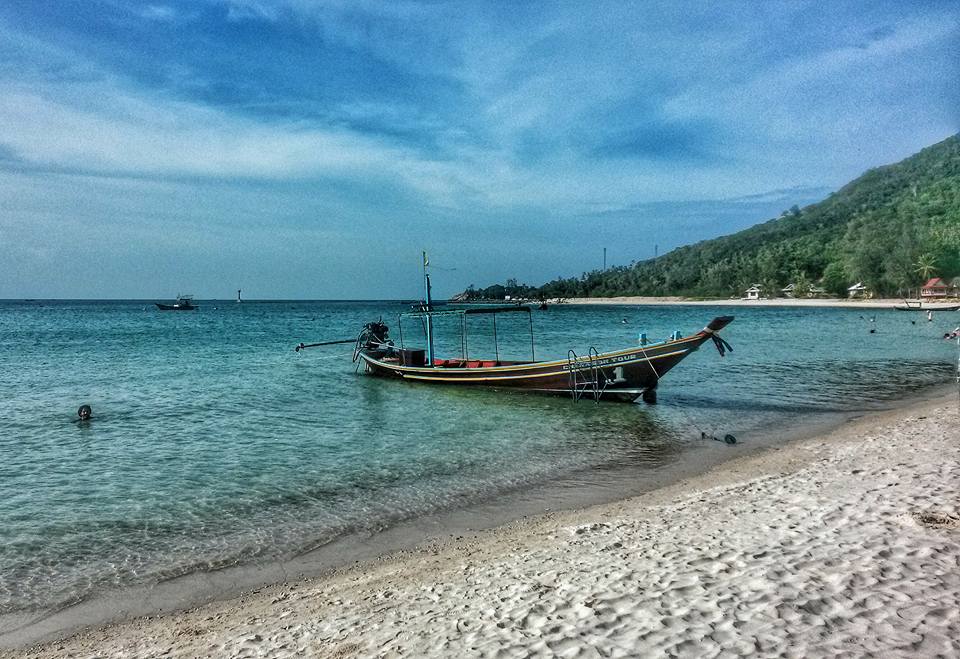 Koh Phangan
Koh Phangan is considered the party island of Thailand, it's full moon parties bring people from all over the world to this small island.
But there's much more to do on this beautiful and verdant island, from yoga retreats to scenic hikes, and of course, stunning white-sand beaches. Visit this guide for the best area to stay in Koh Phangan.
Mu Ko Chumphon National Park
A national park consisting of a group of islands in the Gulf of Thailand. There are nearly 40 islands with long beaches, white sand, and clear water.
There are also many colorful coral reefs that are attractive for swimming, snorkeling, and scuba diving. Two of the islands are swiftlets' habitats, the birds' nests being used in birds' nest soup.
Hat Wanakon National Park
An off-the-beaten-path marine park, situated on a slender coastal plain which stretches from the mountains of Tennessarim to the Gulf.
The deposits are of quaternary origin and consist of layers of material laid down in horizontal beds that are predominantly quartz and sandstone. These deposits can be clearly seen forming the cliffs surrounding Makha Bay.
Khao Sam Roi Yot National Park
Khao Sam Roi Yot ("mountain of 300 peaks,") is blessed with a variety of ecosystems, combining limestone mountains, freshwater marshlands, coastal beaches, shrimp fishing settlements, caves, offshore islands, and mangrove swamps.
It is home to over 316 species of birds and over 50 species of mammals. Not many other places in Thailand provide beaches, caves, wildlife and mountain scenery all in one place.
Thao Ko Sa Forest Park
Thao Kosa Forest Park is a small rock formation area known as Khao Kalok or Skull Mountain at the end of Naresuan Beach.
The rock formation got its name because if viewed from the sea it is seen as a large skull. In the formation are many small caves.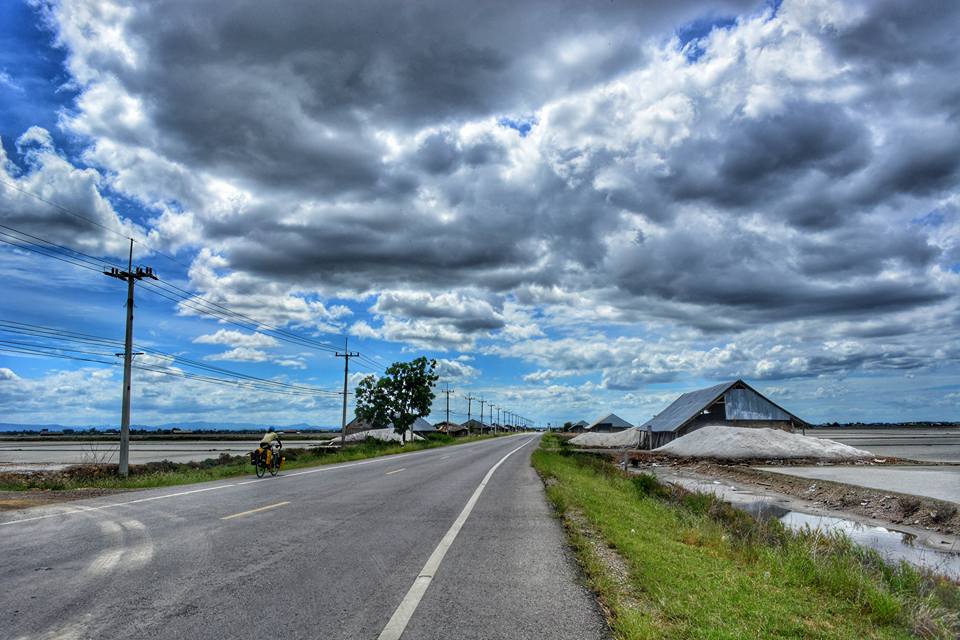 Phetchaburi Salt Farms
The marshy lowlands in the western outskirts of Bangkok are famous for their salt farms. The sight is highly unusual and spectacular in its way.
Some side roads will take you along those scenic salt farms, definitely an unmissable site to visit while cycling in Thailand.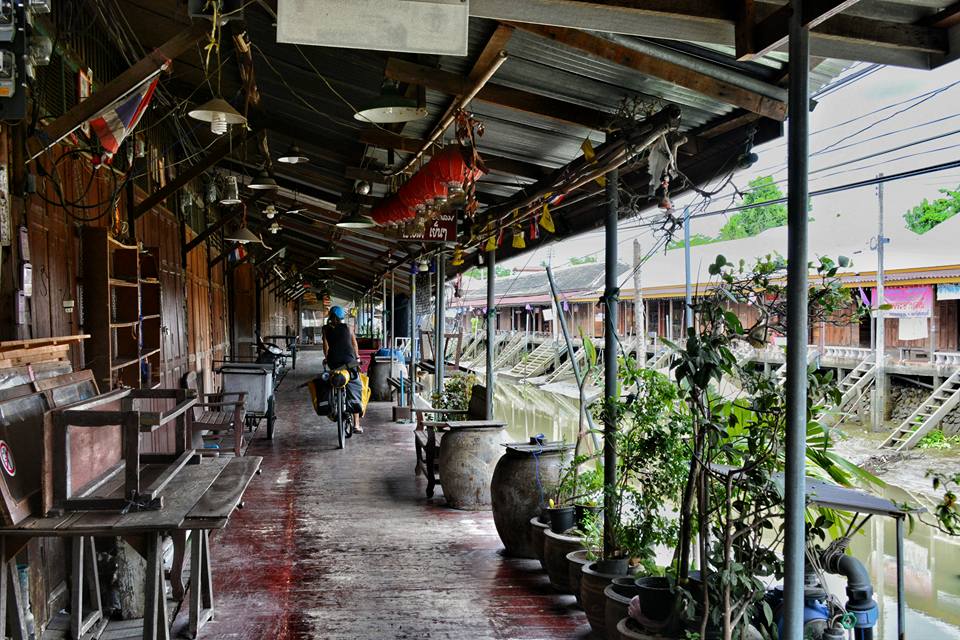 Amphawa Floating Market
Amphawa Floating Market is one of Thailand's best floating markets and a great overnight stay when cycling Thailand towards Bangkok. The market is open on weekends, Friday to Sunday between 2 pm and 8 pm.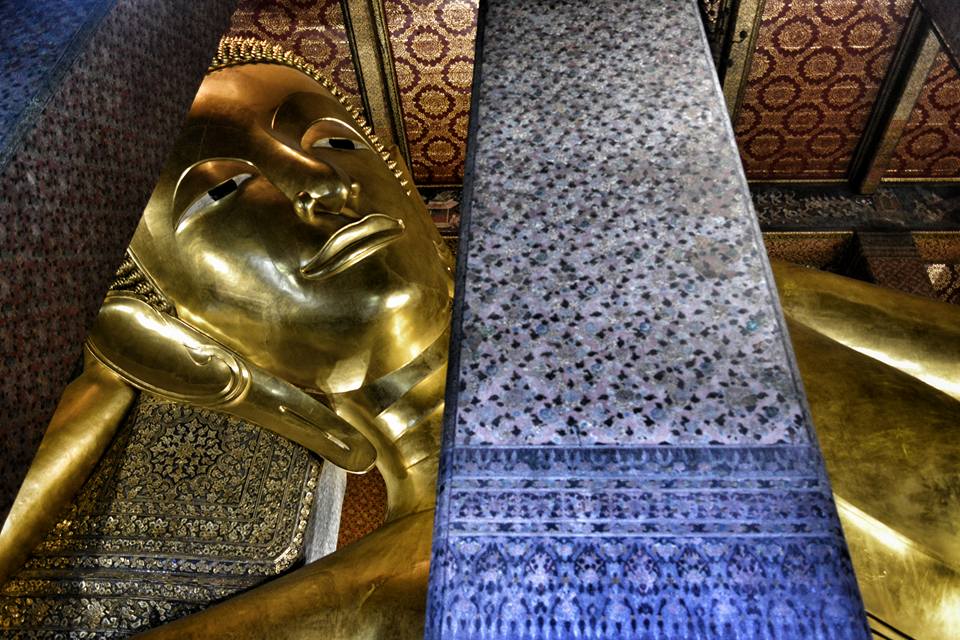 Cycling in Bangkok
Bangkok doesn't need an introduction. We might spend fifteen thousand words writing about Bangkok, but this is not the aim of this article.
Bangkok is one of the most bustling cities in Asia and a mandatory stop during your cycling holiday in Thailand. Here are some fun things to do at night in Bangkok, the city also has a great craft beer scene, which usually appeals to cyclists.
The food scene is fabulous, with a lot of choice from fancy fusion dining options to streetfood night-markets… there is certainly no lack of places to eat in Bangkok.
Cycling in Bangkok, although not as deadly as some describe it, is hardly fun at all. If you are used to big cities with a lot of traffic and no bike paths (eg. Rome) then you'll feel at home, otherwise be very careful, always wear and helmet.
Trat
Trat is the easternmost coastal province of Thailand, pretty off-the-beaten-path but really nice, the ideal route to take when cycling from Thailand into Cambodia.
The Ban Mai Rut fishing village is about 10km from the border and a really folkloristic stopover, with its houses on stilts amongst the mangroves.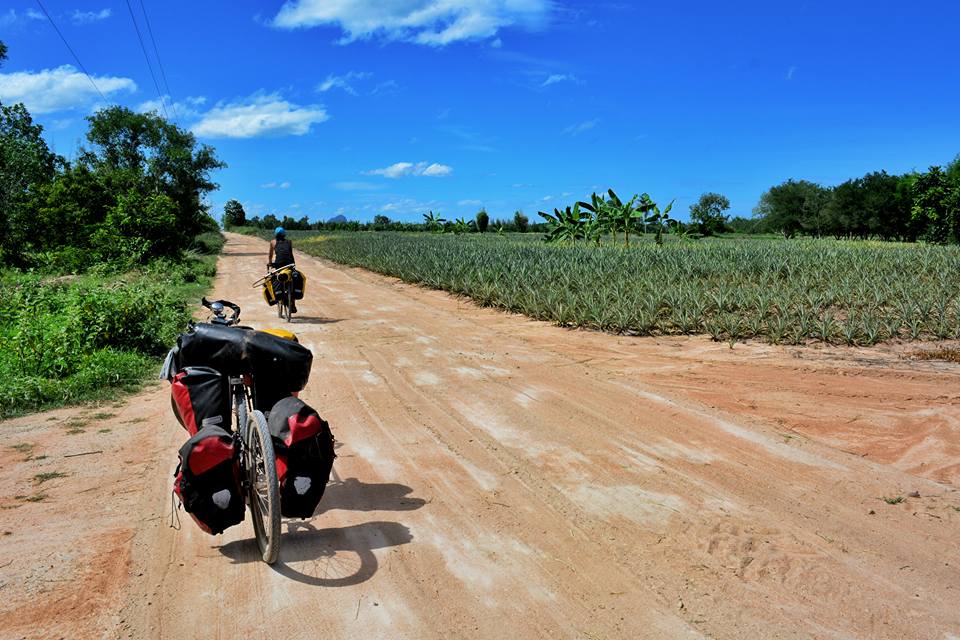 An alternative bike touring route of Southern Thailand
A detour towards the west coast is certainly worth considering when bikepacking Thailand. You'll have to get on highway 4 and then work your way through as many side roads as possible.
Bear in mind that rainy seasons occur in different times of the year along the different coasts of Thailand. Check the dedicated paragraph for the best seasons for a cycling holiday in Thailand.
Krabi
Krabi is a prime tourist destination in Thailand, mostly famous for its rugged coastline and beautiful parks – it is absolutely worth spending at least 2 or 3 days in Krabi.
The city itself though is not bad at all, with its lush Botanical Garden and bustling night markets. The Khao Kop Cave is worth a visit, absolutely try the claustrophobic boat tour.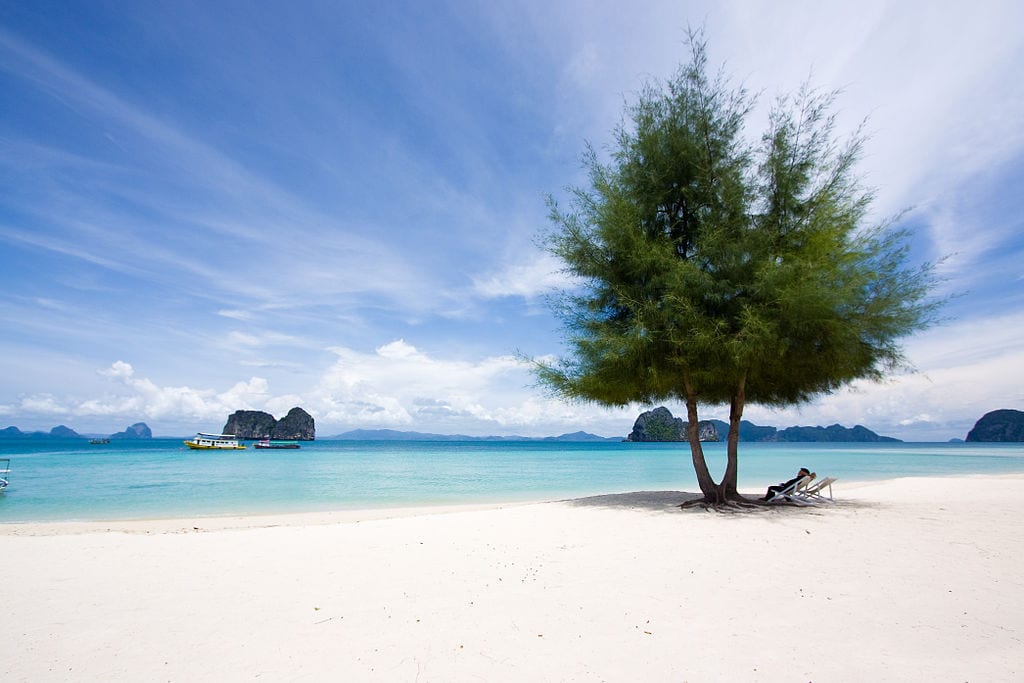 Hat Chao Mai National Park
Hat Chao Mai National Park lies in Trang Province and consists of a stretch of coastline including the gorgeous beaches of Chang Lang, Pak Meng, Hat Yao, and more.
There is an area of mangrove swamps at the mouth of the Kantang River and several offshore islands in the Andaman Sea such as Koh Libong, Koh Muk, Koh Kradang.
The dramatic karst scenery is rich in caves to explore.
Phuket
Phuket is a big and beautiful island, unfortunately it is also a tourist hell. Cycling Phuket though can bring you to some less crowded areas, where you can experience the beauty of this island.
Khao Sok National Park
Elephants, jungle, swamps, mountains… there's everything in Khao Sok. Trekking, cycling, and canoeing are all possible activities. A great place to include in your cycling itinerary of Thailand.
One of the most interesting areas is stunningly beautiful Cheow Larn Lake in the heart of the National Park with its floating raft houses.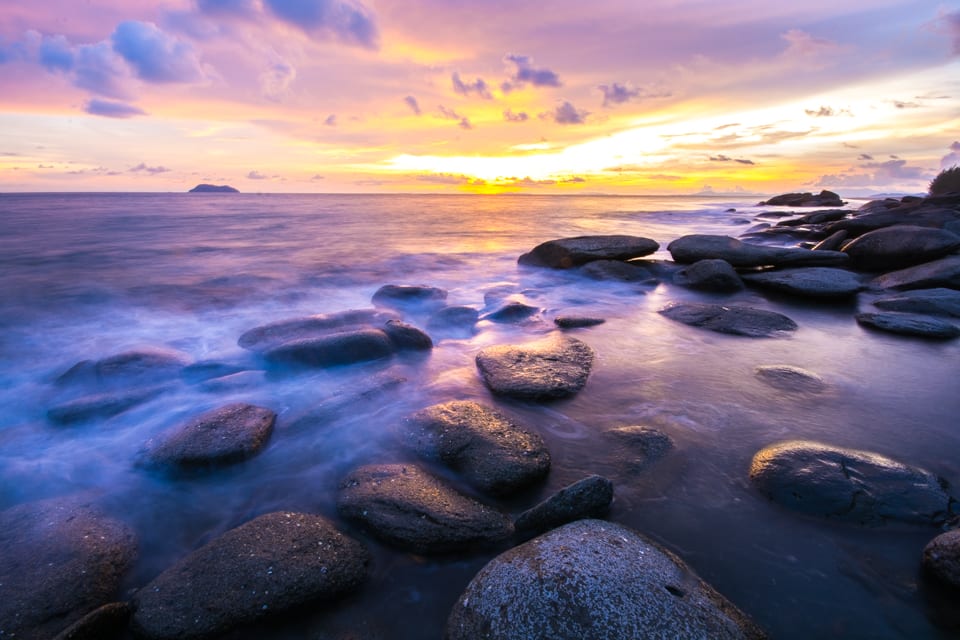 Laem Son
Snorkeling and diving Mecca of the Andaman Sea of Thailand, the Laem Son Marine Park consists of approximately 60 km of coastline and 15 islands.
Great place to have a break from your bike touring trip of Thailand and enjoy the marvelous aquatic nature.
Cycling Itineraries of Northern Thailand
We haven't been to Northern Thailand ourselves (yet), so we'll compile this section with the help of fellow bike travelers.
Check for future updates.
Safety concerns when cycling in Thailand
Generally speaking, Thailand is a relatively safe and friendly country, although it is not certainly the safest country on Earth.
Crime rates are medium/high with a lot of scams happening especially in tourist-crowded areas and the typical places like bus-stations. Luckily, biking through Thailand you'll avoid most of these places.
A dreaded enemy for the cycle tourer in Thailand are stray dogs, although we personally didn't have any bad experience, some people report being bitten often, and you don't want that, there's rabies in Thailand.
If you meet stray dogs, stop and try to reason with them, riding away won't do you any good. Some people carry pepper spray but we are absolutely against that… bring some dog food rather.
The southern region near Yala has seen some unrest and occasional terroristic attacks, in August 2019 a minor bombing injured 7 in Bangkok. Check your foreign ministry advisory page.
When it comes to flights our pick, since already several years, has always been Kiwi.com. It is, in our opinion, the best search engine for flights by a long shot.
Kiwi has a very flexible search function – you can, for example, select several departure locations or a variable geographical radius, and then check for flights to a wide region (like Southeast Asia for example) or even to "everywhere".
You can then compare the best deals, combining the various options of departure and arrival.
Also the dates are super-flexible, Kiwi allows you to select entire months or even longer periods of time, and then select a trip duration (the interval between the departure and the return flight) which is also flexible!
You could, for example, search for flights from "Italy+Austria+Switzerland" to "Southeast Asia" between "June 6" and "September 24" with a duration of "24/32 days", what other flight engine gives you that?
Through Kiwi.com you can also check the fees for luggage and sports equipment (ie. bicycles).
Travel Insurance for Thailand
Thailand has among the best hospitals in South East Asia, but they are incredibly expensive! A small cycling accident in Thailand can ruin you.

It doesn't matter how safe a country is, things can always happen – accidents, thefts, injuries, etc are unfortunately very common in the real world. We recommend ALWAYS getting TRAVEL INSURANCE.

The most versatile and best value-for-money is undoubtedly WORLD NOMADS, have a look at their website to get a quote.
Visa for cycling in Thailand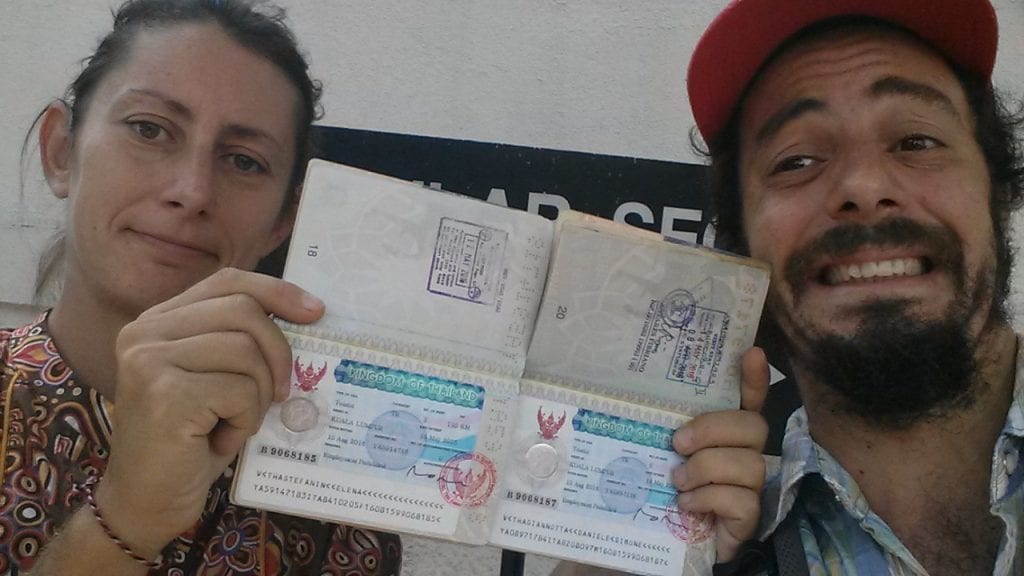 Thailand has a pretty tourist-friendly visa policy, although things are changing in the last years. 51 nations have a 30-days vis exemption in Thailand while citizens of these 6 lucky countries get 90 days!
The exemption is granted at most twice in a calendar year when entering overland or via a sea border but there is no limitation when entering by air. This is a recent change that aimed to crack down on illegal residents doing visa runs to neighboring countries.
If you are not among the lucky ones, you should check if you're eligible for a visa on arrival (2,000 baht). Otherwise, you'll have to apply from a Thai consulate, if you want a trusted agency to handle it for you, we recommend iVisa.
A 30-days visa can be extended for A MAXIMUM of 60 more days without too much hassle. Immigration offices all over the country can handle it, but the length of the extension can vary. The cost is 1900 baht (60USD).
What are the best times to visit Thailand?
The climate in Thailand is a bit messy and complicated to understand. The rainy season along the west coast happens from May to October, then the monsoon front moves to the East Coast until roughly the end of December. Weird for such a narrow strip of land.
One thing that you should note is that rainy season is not always an annoyance, do your best to avoid the wettest peaks but consider planning your trip at the beginning or the end of the wet season.
Daily showers will cool down the temperatures while cloudy skies can protect from the striking sun, making also for epic backdrops of your pictures.
To learn more about the climate in Thailand we recommend this website.
Can you bring your bike on public transports in Thailand?
If you have limited time, or just want to skip a boring leg of the journey to explore more interesting places with calm, bringing your bike on buses or trains is not a problem.
We recommend using 12Go Asia to book long-distance buses and trains in Southeast Asia, it has complete schedules and their service is reliable.
Frequently Asked Questions
Is Thailand Safe?
Generally speaking, Thailand is a relatively safe and friendly country, although it is not certainly the safest country on Earth.
Crime rates are medium/high with a lot of scams happening especially in tourist-crowded areas and the typical places like bus-stations.
A dreaded enemy for the travelers in Thailand are stray dogs, although we personally didn't have any bad experience, some people report being bitten often, and you don't want that, there's rabies in Thailand.
If you meet stray dogs, stop and try to reason with them, riding away won't do you any good. Some people carry pepper spray but we are absolutely against that… bring some dog food rather.
The southern region near Yala has seen some unrest and occasional terroristic attacks, in August 2019 a minor bombing injured 7 in Bangkok. Check your foreign ministry advisory page.
Is Thailand an easy destination for biking holidays beginners?
Southern Thailand is a very easy destination for your first cycling holiday. Just try to avoid the main highways. Northern Thailand is mountainous and challenging so is not really suitable for untrained beginners.
Is wild camping legal in Thailand?
The laws are not very explicit, but wild camping without prior permission is generally NOT TOLERATED in Thailand. Always ask permission first.
Stay in touch while we get lost! Follow us on Social Media