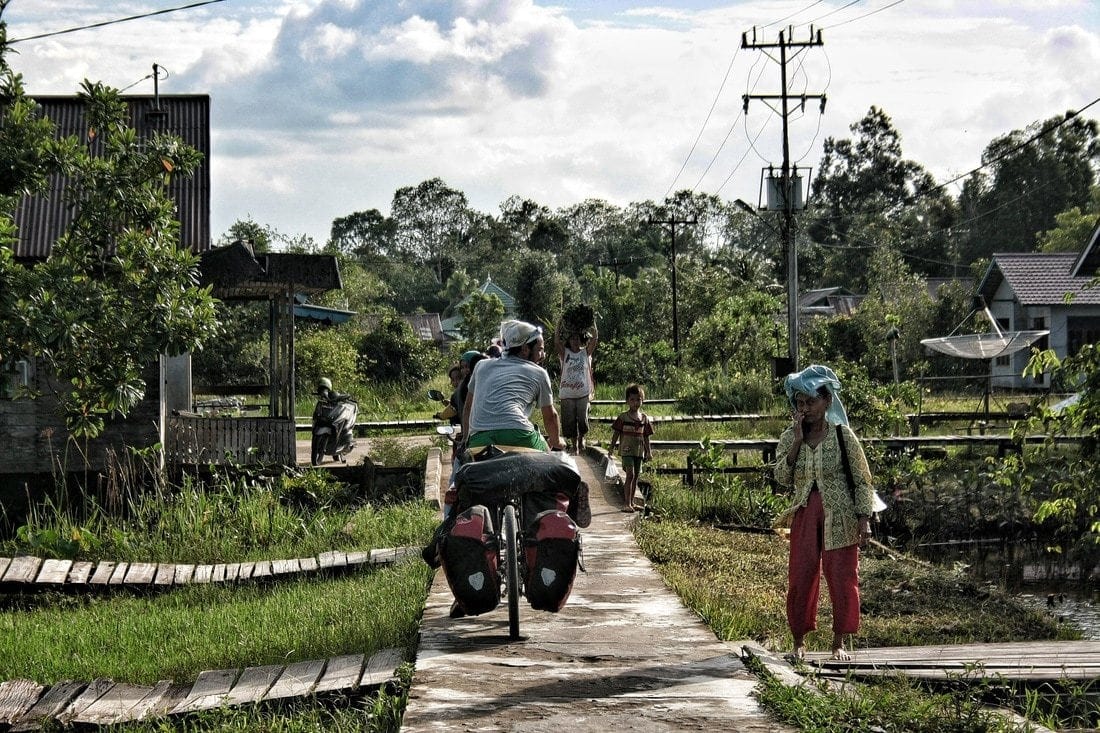 Backpacking or Cycling Borneo on a budget. Travel hacks and hints for cycling or backpacking Borneo on a budget. Save money while exploring more. A collection of 20 blog posts (50,000 words)
Travel hacks and hints for cycling or backpacking Borneo on a budget. During our bike trip in Sabah, Sarawak, and Kalimantan we learned how to stay cheap and enjoy a low-cost adventure. Riding Borneo on a bike or traveling with a backpack, some things you need to know.
Borneo, backpacking or cycling? Borneo isn't for sure a primary cycle trip destination and honestly, it can be a little boring. Most of the time you'll be surrounded by palm oil plantation, even when taking the dirt roads. Backpacking in Borneo might be an easier solution since most of the highlights are easily reachable by bus.
That said, cycling in Malaysian Borneo (Sabah and Sarawak) is easy, people are wonderful and very welcoming, and it left us with great memories of wonderful times.
Kalimantan, the Indonesian part, is much more wild and underdeveloped, mostly muddy roads. We have cycled just few hundred km there so we'll include what little we know in this guide, but that won't be exhaustive.
This guide is based on our experience of a 45-day trip from Kota Kinabalu to Kuching, and then 15 more days from Kuching to Pontianak in Indonesian Borneo (West Kalimantan).
This article is part of our series of guides to DIY adventure travel on a budget. The info can be useful to every kind of traveler with some adventurous spirit (hitchhikers or backpackers willing to travel for cheap).
Below you will find a map with elevation profile recorded by our GPS.
Have a look at our list of
21 best things to do in Borneo – How to plan your itinerary
Check Also
Cycling Indonesia – a full guide and 9 itineraries
About Borneo
Disclosure: Some of our articles contain affiliate links. This comes at no additional cost for you and helps us keep this website up and running. (as Amazon Associates we earn commission from qualifying purchases)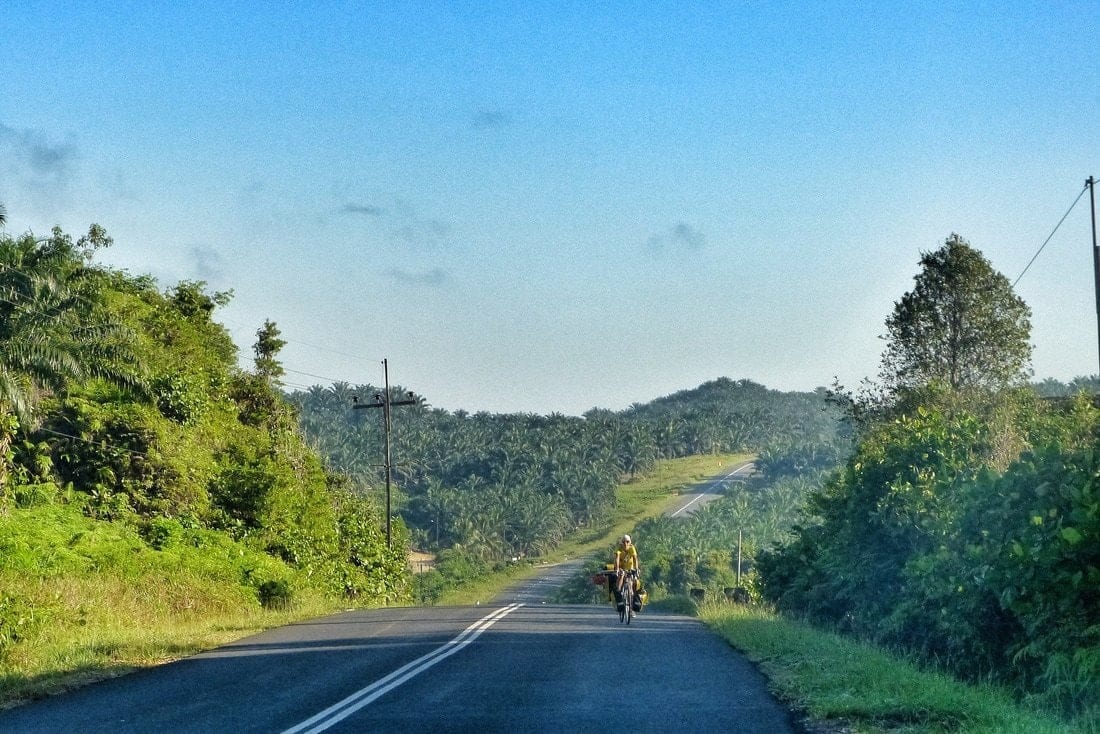 Borneo, the third largest island in the world. Divided among three countries: Indonesia, Malaysia, and Brunei. A name that evokes myths of wilderness, the iconic rainforests, biodiversity, animals, and plants that can be only be found here. Proboscis monkeys, orangutan, the weird bearcat (a mix between a bear a cat indeed) and thousands of other animals.
Unfortunately, everything is disappearing to make way for oil palm plantations and nature resists only in small national parks, created recently by the Malaysian government.
Even if it is already quite late, there is still something to see. Those small fragments that can give a pale idea of what Borneo used to be, just a few decades ago.
Sleeping – where to stay in Borneo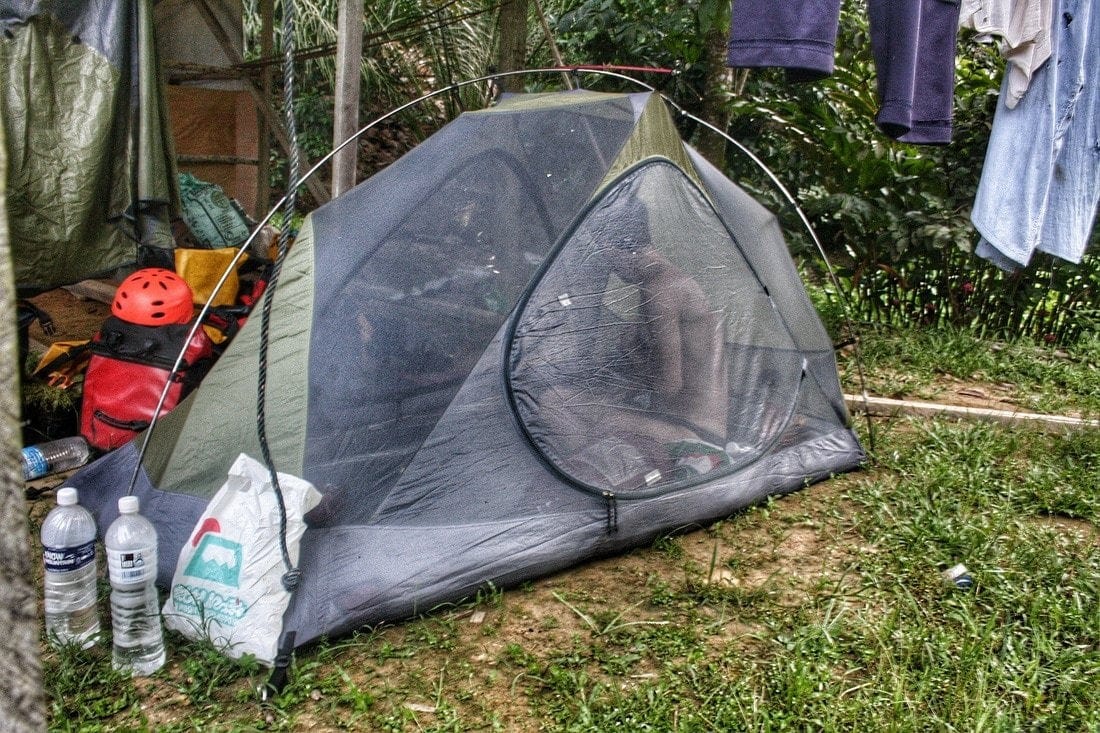 Wild Camping in Borneo
Free camping, being free, is the best solution. To find a secluded place, however, it is not so easy: the rivers are full of crocodiles, so it is not advisable to choose those shores as campsites. There are no lawns but dense forest, and where there is no forest are palm oil plantations.
These are an excellent solution actually. Even though it's private property, so entrance is forbidden, you can ask someone and most likely you'll get permission to sleep there.
Usually, at the entrance of the plantations, there is a small house or a gazebo for workers, and you can put your tent down there.
Some Malaysian friends of ours also use to camp below bus stops; for sure no privacy but a viable option, if locals do it there's no doubt about that. Another option is to ask someone if you can pitch a tent in his/her garden. The Malaysians are very welcoming people.
Anyway, Borneo is far less densely populated than the rest of South East Asia, so wild camping is possible, just hard to find a great spot.
More important, Malaysian Borneo is a pretty safe place and there's not much to be worried about being stressed or worst by the locals. Kalimantan felt a little less safe but still ok.
Also, in all Malaysian national parks, it is possible to camp for 5 ringgit, 1 euro. They often have no sheltered spots for tents, so not advisable in the rainy season. Bringing a tent might be a good idea also for those backpacking in Borneo or traveling peninsular Malaysia on-a-budget.
Hotels and Guesthouses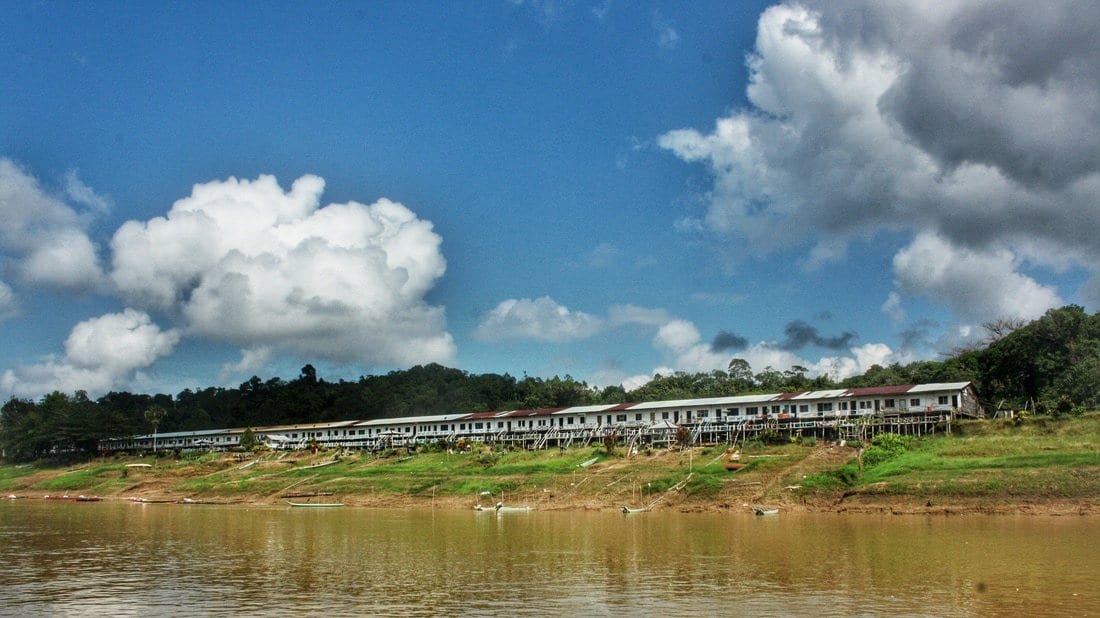 Cheap budget hotels' prices range from 40 ringgit (9€) to 80 ringgit (18€) per night. Cheaper ones are usually managed by the Chinese, so go for the red lanterns.
They are generally clean. Choose the room with the fan, cheaper than with the air conditioning. Sometimes the rooms have no windows, in this case, are all air-conditioned.
Hotels can be found in all towns but rarely in the countryside. Hotels in West Kalimantan are around the same price but we found them more nice and clean. almost luxurious sometimes. Warmshowers and Couchsurfing and are widespread in the cities and larger towns.
The community of Warmshower has few members but very active, we recommend you contact them, you will understand what is Malaysian hospitality. Warmshower has no active members at the moment in West Kalimantan, but a good Couchsurfing community willing to host. Give it a try!
Homestay in a Longhouse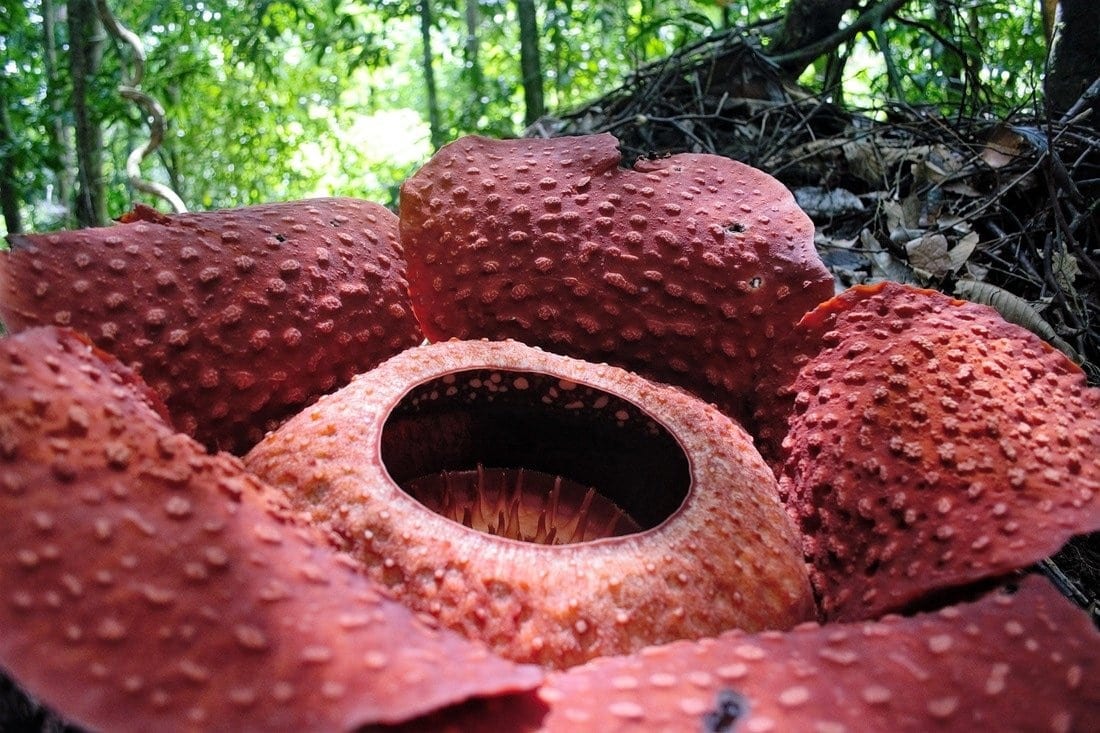 Longhouses (Rumah panjang/Rumah Betang) are the traditional houses of Borneo natives (generically called Dayaks, which includes many different ethnic groups), most of these are made of timber, raised off the ground on stilts and divided into a more or less public area along one side and a row of private living areas lined along the other side. This allows many families to live in close quarters, usually relatives but not necessarily.
Staying in one of those longhouses is a great way to experience the real Borneo lifestyle. There are plenty of those, almost everywhere in the countryside, but rarely on the main highway. There are many tour operators that offer homestay in this kind of house, but according to our experience, the smart traveler doesn't need those.
When you see one longhouse you like, just go and ask the locals if you can stay there, most likely someone will be willing to make an extra few bucks, if not they will probably point you somewhere else.
One great area to do this are the shores of the Rajang river: the public boat does many stops at several longhouse villages where no road leads. Those people's only way to go around is by boat. Just go off at one of these stops and ask around.
We stayed in a Longhouse in Sungai Asap, the area where many Dayaks were relocated for the construction of Bakun Dam, we wrote about this issue here with the help of locals and also interviewed the locals in Sungai Asap.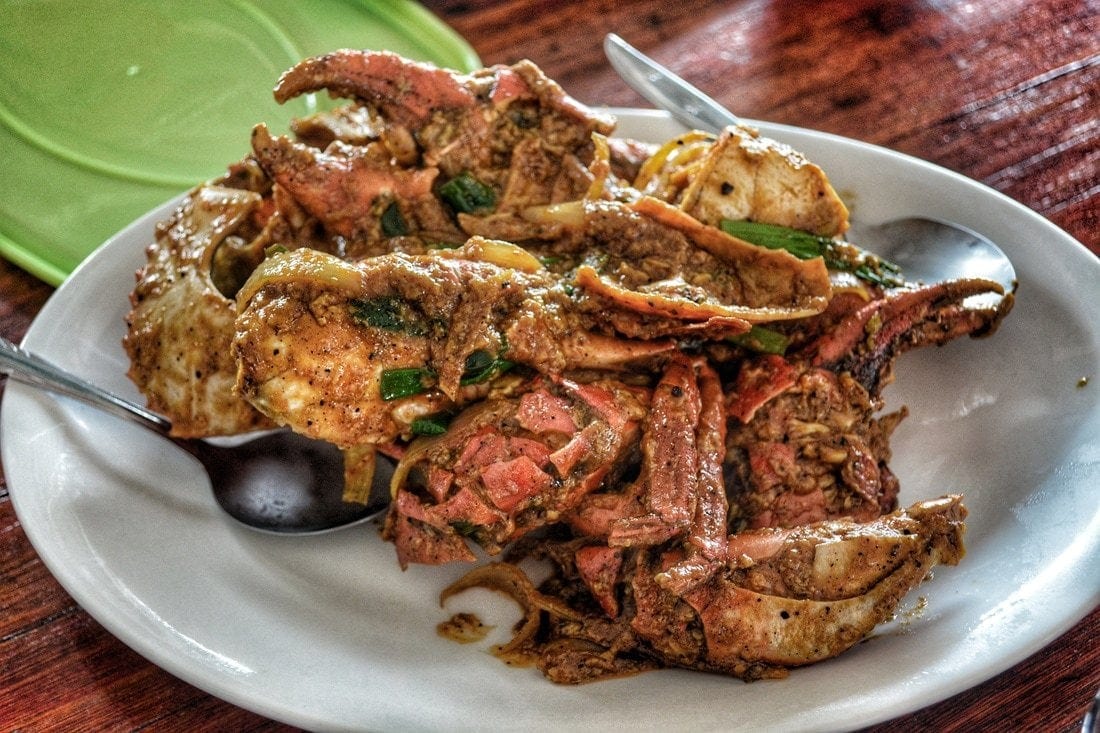 Food in Borneo
Malaysia is made up of people of many different ethnic groups, Dayak (Borneo natives), Chinese, Indians, Malays. This mix makes for excellent cuisine. The best is the Chinese and Indian (in our humble opinion).
A dish in a cheap restaurant costs about 5 ringgit, 1 euro. The water, if you want a glass with ice, is free or almost. In Sarawak it is called "Sky Juice", funny name, don't try that in Peninsular Malaysia as they will think you're crazy.
Eating out is often cheaper than cooking at home and, in fact, restaurants are always full. In Kalimantan, things are not that different, though no Indians around. Stick with the red lantern to have great meals.
Indonesian cheap food is not the best in the world, backpacking Borneo on a budget doesn't mean getting necessarily sick.
Water supplies – How to stay hydrated while Bike Touring or Backpacking Borneo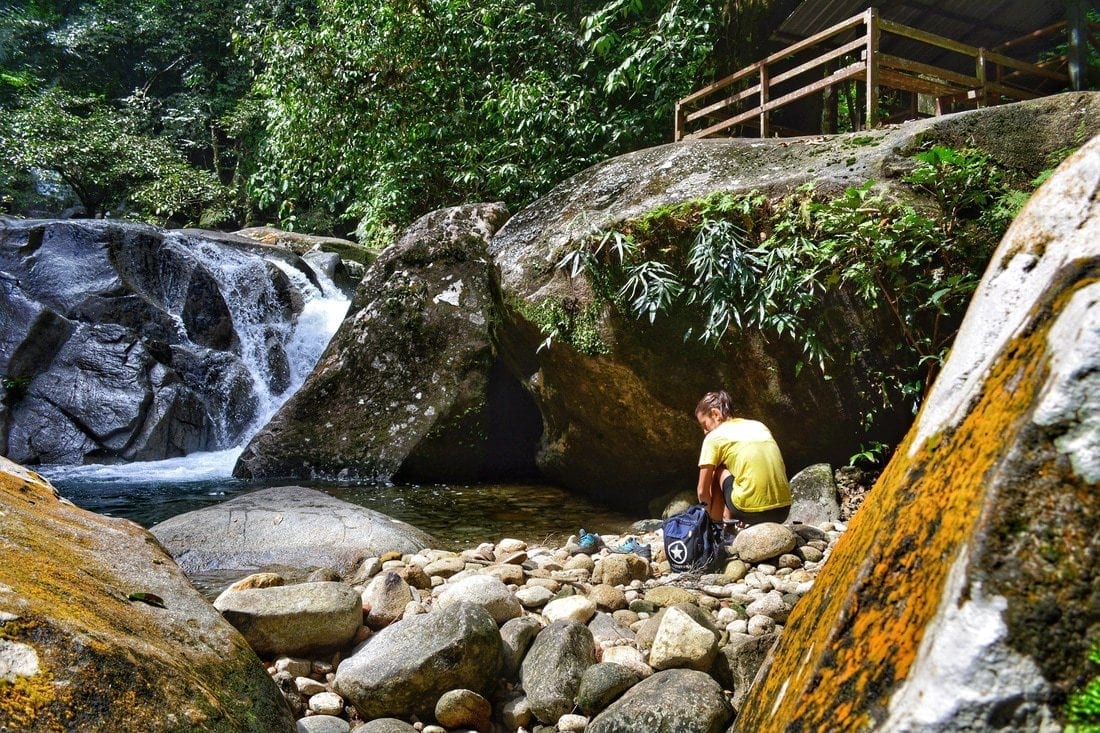 Tap water usually is not drinkable. The government says it is, and many at home or in restaurants have the filter but argue that it is still not good to drink. For your safety is best not to try.
Bottled water costs about 0.50 euro cents and, as I said before, the Sky Juice is free. The hygienic conditions of the restaurants are generally good. Usually, tap water is boiled but if you have a weak stomach avoid tap water and ice.
In the Malaysian part of Borneo, there are water refill machines, small boxes where you can refill your bottles for a ridiculous fee per liter. These are pretty widespread, quite easy to find in the urban areas and common also in the countryside, mostly along the main roads.
Needless to say, when you are longing for one, you won't find it until you decide to buy a bottle, here it will appear after one km, Murphy's law never misses a shot.
As to take a shower, here, well not that hard! Because of crocodiles, bathing in rivers is not recommended and there are no public restrooms on every corner like in Japan.
But in restaurants' bathrooms, there is always a small shower (supposedly used to wash your private parts) or a tub full of water and a sort of ladle with which to pour water on your person.
Even in hotels often the "shower" is this style, a hot shower is a very rare thing. Borneo is very hot all year round, so I guarantee you a nice bucket of cold water on the head is not bad at all.
Communicate and connect while traveling in Borneo
Sabah and Sarawak
Buying a local SIM card is very simple, they sell those everywhere. There are various offers, you can buy SIM cards with only internet traffic.
The WiFi is not very common in restaurants, but you can find it quite easily at hotels in the cities.
Almost everyone speaksEnglish so it is very easy to make friends, but if you learn a few words of Malay, it will make you a nicer person. Malaysian language is very simple.
Kalimantan
English in the Indonesian part of Borneo is instead almost non-existent. I mean you could find some young people who can speak, but don't count on it.
Try Couchsurfing to meet like-minded people with whom to communicate in a common language. That said, Indonesian and Malaysian languages are very very similar, so learn once, use twice.
Riding Borneo roads
Road conditions in Sabah and Sarawak
The main roads are brand new asphalt and there is not much traffic. To reach more remote destinations, however, it is easy to get into dirt roads. Some of these, during the rainy season, are impassable unless you have a 4×4, so, if you want to leave the main road, try to know exactly about the road conditions before you venture out.
Most of Sarawak is flat, while in Sabah there are more mountains. We did the Crocker range and it was one of the heaviest climbs of our life. Along the coast though, there is not a single hill worth mentioning. Riding Borneo in its Malaysian part is overall easy and straightforward.
Road conditions in Kalimantan
Roads in Indonesian Borneo are a completely different story, few are paved and those who are are usually narrow and with many potholes. Be prepared for mud and narrow shoulders on the few paved ones.
Check our report on the overland border crossing between Malaysia and Indonesia in Borneo, for a more detailed account.
Weather, Climate and What to Pack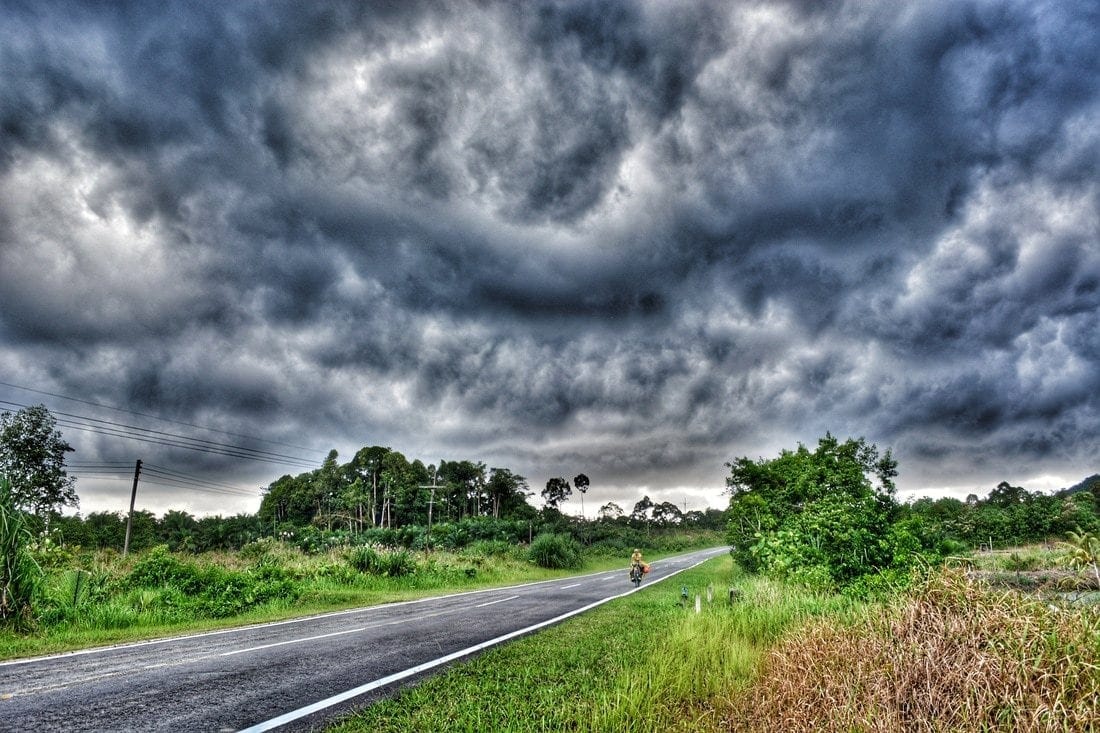 The climate is equatorial so it's always hot, it's humid and it rains often. The rainy season is not uniform throughout the island, meaning that when is dry in Sabah can be rainy in Sarawak, etc. Expect to get wet often and pack accordingly.
For detailed information visit this link or google it. We found "crocs" style shoes to be the best for this kind of weather, find some with holes on the side so that the water can flow out.
Their cheap plastic is perfect to get dry soon, while any kind of Gore-Tex or waterproof shoe won't stand a tropical downpour. Not the most comfortable to cycle with or walk but doable, we cycled all of South East Asia with those.
About raincoats, it's really too hot all year round for any kind of jacket while riding or backpacking Borneo, so the best option is a cheap light plastic poncho or, even better, simply get wet in your clothes and put on dry ones when it's over. Clothes will dry very quickly at these temperatures.
Traveling with a waterproof backpack is a very good idea if you don't want your stuff to get wet. Check the best waterproof backpacks here: www.globosurfer.com/best-waterproof-backpacks.
Transports in Borneo
We never used transport by land in Borneo except for a wonderful experience on the old railway from Tenom to Beaufort that we would recommend.
There are long-distance buses connecting all the towns along the highway. To get to the interior you'll have to stop a minibus on the road or hitchhike a lift, maybe one of the many timber trucks will do.
There are also several airlines that fly very cheap to the interior, for those backpacking Borneo on a slightly higher budget.
Public boats in Borneo
River transport is another amazing way to explore the island. Be sure to look for information though, some routes could be suspended during the dry season. It depends on the water level so it is difficult to obtain precise information.
We took the public riverboat from Belaga to Sibu through Kapiton Rajang river and it was one of the highlights of the trip, highly recommended and very cheap, around 15USD per person.
Safety
Borneo is a safe place, obviously being careful is a must, as in every part of the world. Many may have concerns about wild animals, well, unfortunately, except for crocodiles, there's not much wildlife left. Poisonous snakes can be found so look at where you stomp your feet, do not wear sandals when hiking. Leeches are common in what's left of the rainforest but they are not a threat.
if you are planning to visit also West Malaysia check this blog post about backpacking Malaysia
Did you like this article? Like it and share it! Do you have something to add? Comment!Our adventures in Borneo
pt1: from Kota Kinabalu to Tenom, crossing the Crocker range (you are here)
pt2: Jungle Train, from Tenom to Beaufort
pt3: crossing Brunei by bicycle
pt4: around Miri, Lambir Hills, and Logan Bunut national parks and Tusan Beach
pt5: the caves of Niah National Park
pt6: from Belaga to Kuching by boat
pt7: Kuching and Bako National Park
pt8: Rafflesia in Gunung Gading National Park
pt9: Overland Border crossing from Sarawak into Kalimantan, the secret Aruk border
pt10: Sambas, the wooden Venice of Indonesian Borneo

Reportages
Chap Go Meh in Singkawang:
piercing yourself with swords to please your Gods
Hydroelectric devastation in Borneo
part 1: Interview with SaveRivers
part2: a visit to Sungai Asap
—
Bicycle route with elevation profile
Map of our bicycle trip in Borneo
Click on the track to get the elevation profile
Stay in touch while we get lost! Follow us on Social Media