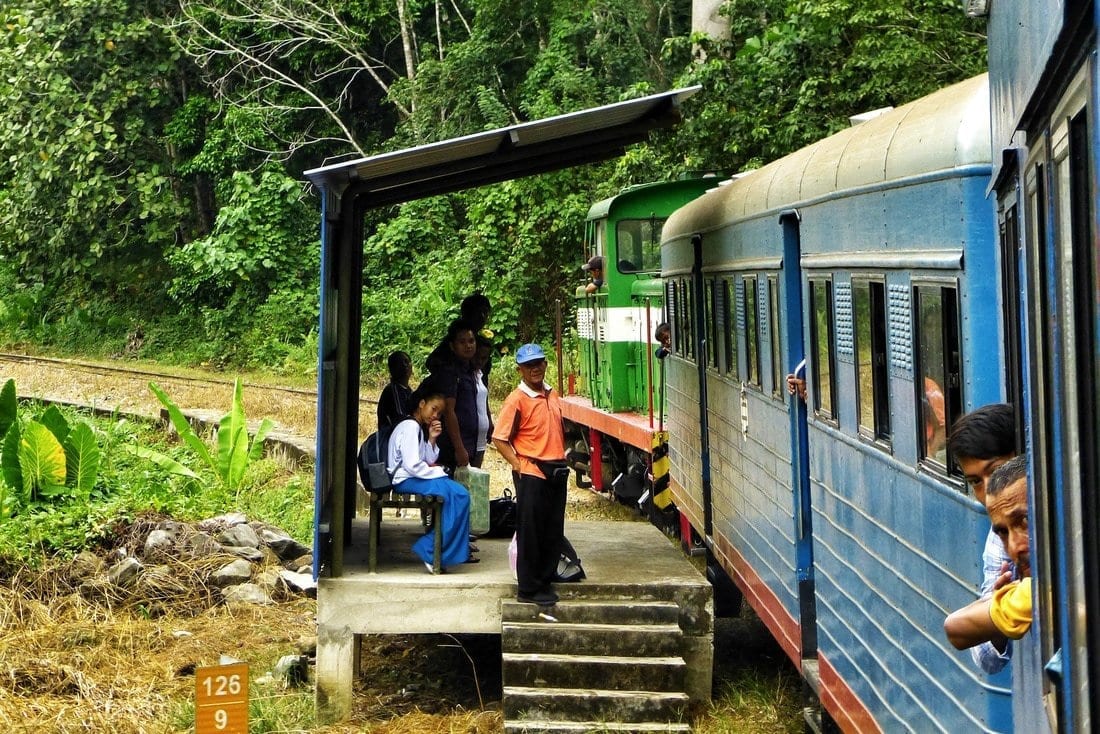 Experiencing the Sabah State Railway
Everything you need to know about the only train in Borneo
The Sabah State Railway, formerly known as the North Borneo Railway, is the only railway on the island of Borneo. It's a piece of colonial history, a very unusual and adventurous train ride worth experiencing.
It's a total of 134km from KK (Kota Kinabalu) to Tenom. Here we describe the 48km from Tenom to Beaufort.
This article is part of our series of DIY budget adventure travel in Borneo, it's the 2nd leg of our trip from Kota Kinabalu to Pontianak (West Kalimantan, Indonesia), links to the other parts are at the bottom go this article.
Check also
21 highlights to include in your Borneo itinerary
History
The construction of this old railway line begun in 1896 and was completed in 1898, the aim was to transport the tobacco from the inland to the coast, from where it was then exported.
During World War II much of the railroad was destroyed and then rearranged in the '60s. Closed again in 2006 for maintenance was reopened in 2011.
It risks now to be closed for lack of money and income, we really hope this little wonder will resist. In addition to being a marvelous route through a wild area, something that you cannot do otherwise unless armed with a machete, it is also the only means of transport for the local population of this road-less and remote area.
The Train Ride (with schedules and prices)
Disclosure: Some of our articles contain affiliate links. This comes at no additional cost for you and helps us keep this website up and running. (as Amazon Associates we earn commission from qualifying purchases)
There are two trains per day going from Tenom to Beaufort, one at 7 am and one at 1 pm. We take the latter one, just out of the house's gate the weather breaks in a tropical downpour, lucky us.
We pay a total of 5MRY (Malaysian ringgit) each, around 1€ for us and the bikes, although our host Barbara says the previous cyclists she hosted didn't pay for the bikes.
Sometimes it depends on the mood of the conductor, however, they have also given us a receipt for the bicycles that makes it all look official.
It seems that we will have to change trains somewhere but we have not figured out where. We load the bikes on the train full of passengers, luggage and hens. Passengers of this train look less wealthy than the average Malaysians.
Departure from Tenom: Every Day at 7am and 1pm (Sunday 1pm)
Departure from Beaufort: Every Day at 7:50am and 1:30pm (Sunday 12:30pm)
Trip Duration: 2:30 to 4 hours
Price: 2.75RM (0.65US$) x Person/1.40RM for kids – Free under 3 years-old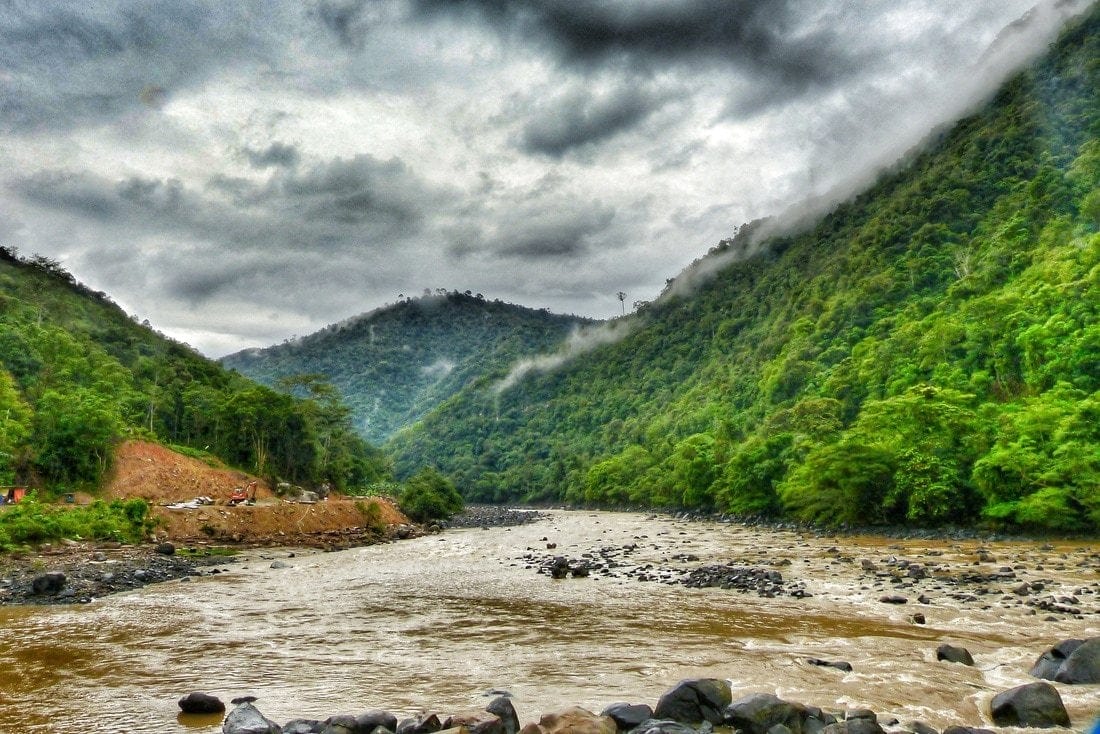 The train consists of three iron carriages, all slightly different, of a gay blue color. Sits are hard and worn out, doors are kept open like some old western movie, so that passenger, I included, can lean out of the car to enjoy the view and, more importantly, to smoke cigarettes.
We proceed very slowly, following a placid river to our left, the water is dark and muddy, there are crocodiles and I spot one in the water, it's the Padas river.
Around us is lush tropical vegetation, some tiny houses can be seen hidden in the jungle, looks like the only way to reach these little houses in the forest is this train.
After a dam the river becomes impetuous and spectacular, there are many large rocks that impede navigation. To our right still seamless jungle, people get down the train in odd spots and penetrate the forest, really worth it taking this train so far.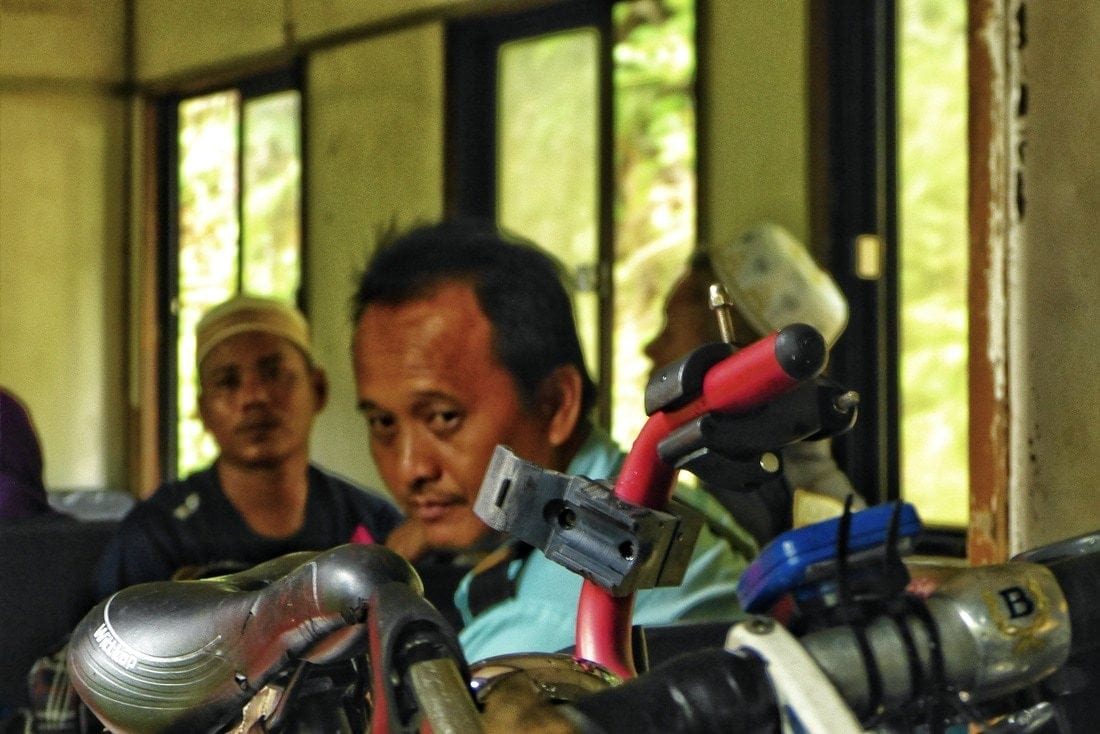 There are a couple of tiny villages, each made by a dozen houses, the school, the church, and the football field. Small orchards, a few fruit trees, chickens, hens and maybe a goat or two are all these people rely on for their surviving.
We stop in one of these villages to change train, apparently, the next stretch's tracks are of a different size, quite odd.
The locomotive doesn't come before two hours of waiting, we are just 7 km from Beaufort, we would have been way faster walking.
---
Arriving in Beaufort
For these last kilometers, a lot of people come on-board and we have a car-less, packed sardines style.
We get to Beaufort, ugly enough, but we find a very cheap (60MYR) and clean hotel in the center of town, there is also a TV with a couple of English channels, so we can watch an American post-apocalyptic movie. We go to a nice restaurant, lamb steak for me and mushroom soup for Elena.
Overall, this was one of the highlights of our trip in Sabah. If you want to explore the region more in-depth we recommend this Sabah Travel Guide.
Liked this article? Share it!
Made this trip? Comment!
Check also
31 highlights to include in your Borneo itinerary
Our adventures in Borneo
pt1: from Kota Kinabalu to Tenom, crossing the Crocker range
pt2: Jungle Train, from Tenom to Beaufort (you are here)
pt3: crossing Brunei by bicycle
pt4: around Miri, Lambir Hills, and Logan Bunut national parks and Tusan Beach
pt5: the caves of Niah National Park
pt6: from Belaga to Kuching by boat
pt7: Kuching and Bako National Park
pt8: Rafflesia in Gunung Gading National Park
pt9: Overland Border crossing from Sarawak into Kalimantan, the secret Aruk border
pt10: Sambas, the wooden Venice of Indonesian Borneo
Reportages
Chap Go Meh in Singkawang: piercing yourself with swords to please your Gods
Hydroelectric devastation in Borneo
part 1: Interview with SaveRivers
part2: a visit to Sungai Asap
here are some general hints to budget travel in Borneo (by bicycle or not)
Train Tenom – Beaufort / The Route

Follow Us
Stay in touch while we get lost! Follow us on Social Media